Purchases made through links earn us a small commission, at no extra cost to you.
We only visited Cologne very briefly, stopping in for about four hours on our way from Bruges to Nuremberg. We came specifically to see the ambitious Cologne Cathedral, a World Heritage Site.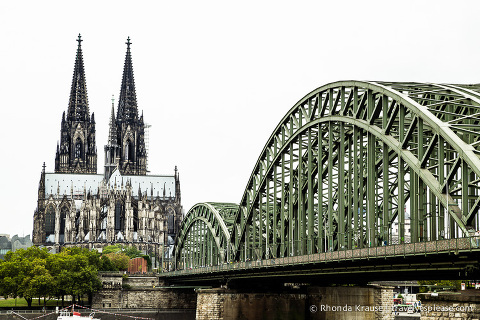 Unfortunately, I wasn't overly impressed with the cathedral itself. We were in Strasbourg a few days earlier, and the cathedral there blew my mind with its sheer enormity. After that, I had a hard time feeling "Wow!" about Cologne Cathedral. What was impressive though, was the decorated north portal and the treasury. There were so many golden and heavily jewelled relics on display.
After visiting the church, we raced to the end of Hohenzollern Bridge so that I could get this photo. The bridge was longer than I expected, over 400 meters! It also is decorated with many love locks, even though the bridge is not a particularly romantic place with over 1,200 trains chugging through daily.
More Germany Destinations and Travel Guides