Purchases made through links earn us a small commission, at no extra cost to you.
After spending 3 days in Zion National Park, we decided to make a quick visit to nearby Grafton, one of the best-preserved ghost towns in Utah.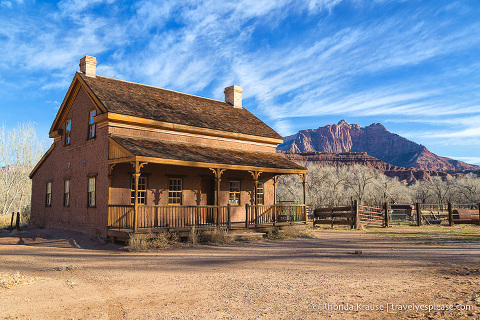 Grafton was settled by Mormon pioneers in 1859 when Brigham Young, leader of the Church of Latter-day Saints, sent some families to Utah's "Dixie" region to start growing cotton and other crops needed for self-sufficiency.
The five families that established Grafton worked together to dig irrigation ditches, plant crops, and build homes. But life in the frontier town soon proved to be difficult.
In 1862, a flood of the Virgin River destroyed Grafton, prompting the settlers to move one mile upstream to the town's current location. But even here, irrigation dams were frequently washed out and ditches filled with sand. It took constant attention and hard work, but these determined pioneers found a way to successfully grow crops and expand their community. By 1864, there were 168 people living in Grafton.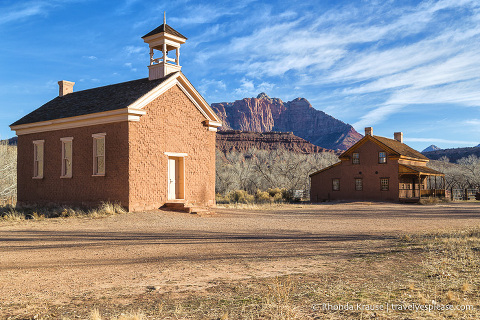 However, as the town grew, so did competition and conflict with the area's native Southern Paiute and Navajo tribes. When the Black Hawk War broke out in 1866, residents of Grafton and other villages along the Virgin River consolidated in Rockville, hoping for safety in numbers.
As the violence subsided, Grafton was resettled and thrived until 1906, when the newly built Hurricane Canal motivated Grafton's residents to pack up and move to Hurricane, where they wouldn't have to deal with frequent flooding.
Over time, more people moved away because Grafton lacked the electricity and convenient access to water that other communities now had. The last resident left in 1945, making Grafton a ghost town for the second time.
All that remains of Grafton are a cemetery and four buildings, including the adobe schoolhouse/church built in 1886, and the Russell home built in 1862. The remnants form the Grafton Historic District, which is on the National Register of Historic Places.
Grafton Ghost Town has been used as a backdrop in several movies, most notably the 1969 western classic "Butch Cassidy and the Sundance Kid".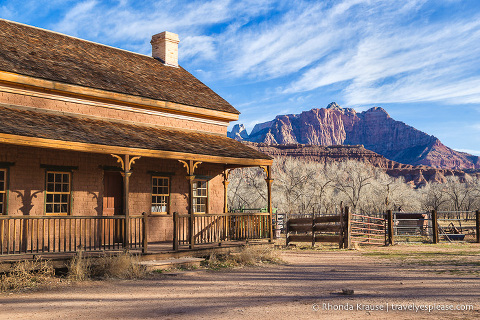 Although Grafton Ghost Town didn't take long to explore and was a spontaneous stop on our southwest road trip, it was one we're glad we made because of the town's historical significance and scenic setting.
To visit Grafton Ghost Town from Zion National Park/Springdale, drive southwest on UT-9 to Rockville. Turn left onto Bridge Road, cross the Virgin River, then go right on Grafton Road until you reach Grafton Ghost Town (you'll pass the cemetery on route to the town). The drive should take about 20 minutes. The site has interpretive panels and pamphlets you can take to learn about the history of Grafton.
More Utah Destinations and Travel Guides