Purchases made through links earn us a small commission, at no extra cost to you.
We ended our 3 days in Zion National Park by checking out Observation Point Trail, one of the park's more strenuous hikes.
Over the next six hours, we followed a rough trail through a canyon, along steep ridges looming above sharp drop offs, then up to a plateau high above Zion Canyon.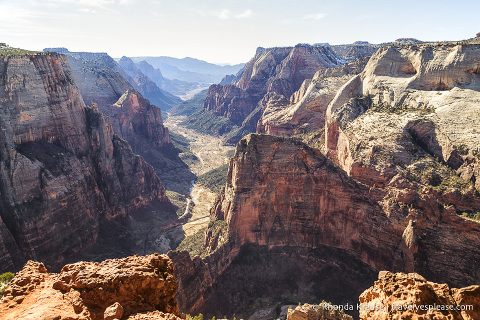 While hiking Observation Point Trail, we got to witness the varying colours of Zion's landscape from the red, rough-edged sandstone lower in the canyon, to the white, rounded rocks at the top. This contrast, along with the transition between low canyon desert to high country forest, helped hold our interest and keep us motivated during the long hike to Observation Point.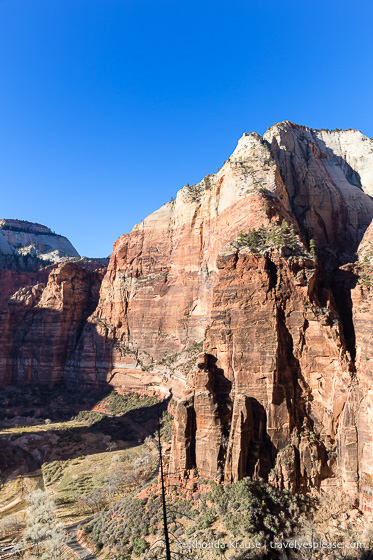 About Observation Point Trail in Zion National Park
Observation Point Trail is located near the north end of Zion National Park, starting at the Weeping Rock parking lot. The out and back trail climbs 655 m (2,148 ft) on the east side of Zion Canyon and is rated strenuous. Round trip, the Observation Point hike is 12.9 km (8 mi) and takes 5-6 hours to complete.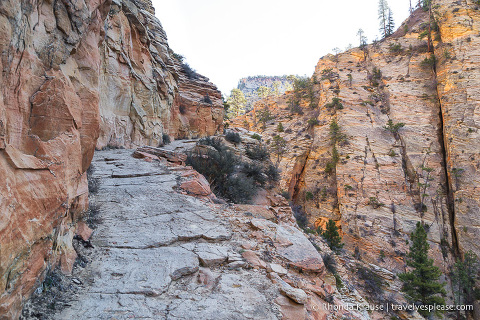 Hiking to Observation Point- Our Experience
Our hike to Observation Point began at 9:20 am, early enough that the trail wasn't very busy (in December), but late enough that we weren't the only ones out there.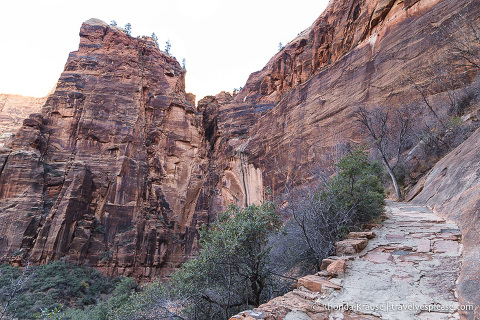 There was no warming up to the challenge of this hike, as almost immediately the trail switch-backed up Zion Canyon's east wall. We stopped frequently on the walk up, admiring three of Zion's well-known landmarks- The Organ, Angels Landing, and Weeping Rock (which wasn't very weepy that day).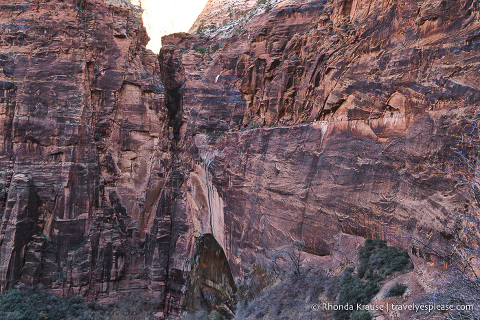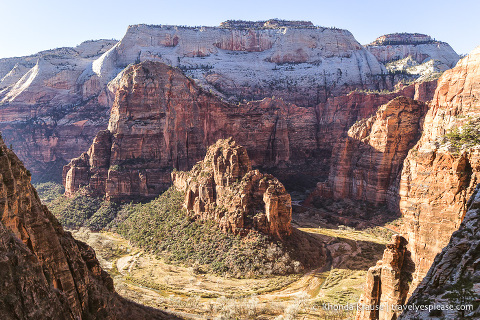 Mike's pace was much slower than usual and even though we'd just begun, I started to think we'd never reach Observation Point. Even a guy dressed in a full Santa costume breezed by us!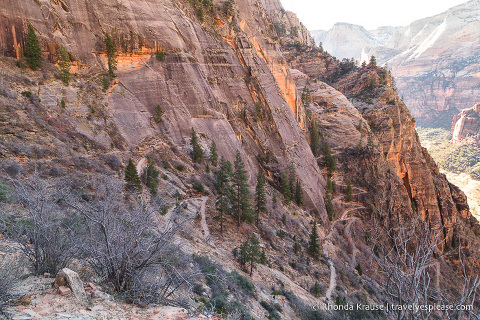 After finally making it up the switchbacks, the trail levelled out and headed towards Echo Canyon.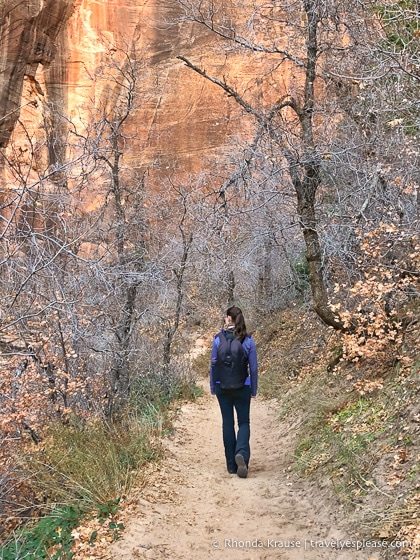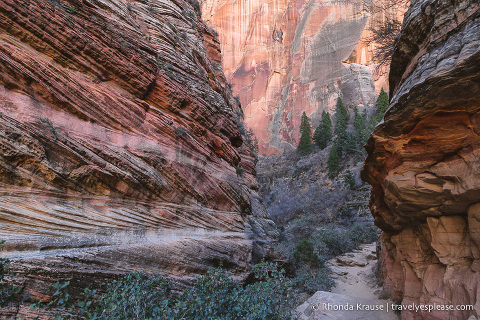 As we made our way through Echo Canyon, the trail became cooler and darker, with rock walls closely framing each side of the trail. Soon we arrived at a slot canyon section with beautiful, wavy rock formations.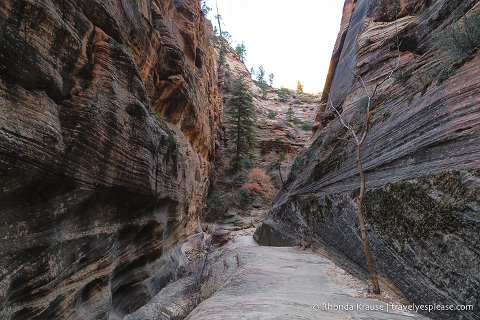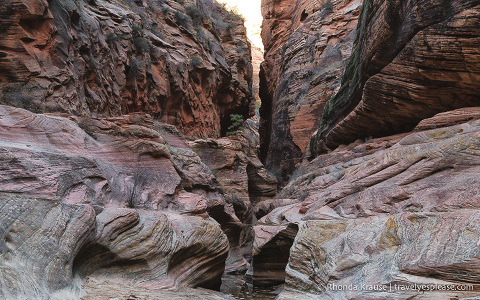 There was a little bit of water in the creek, adding some nice reflections to the scenery. Now I was the one holding us back, wanting to take picture after picture of this photogenic spot, one of my favourite points along the trail.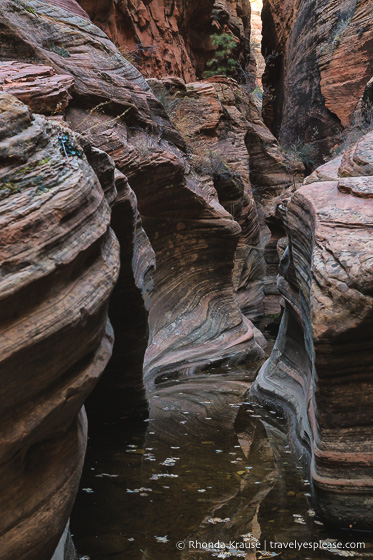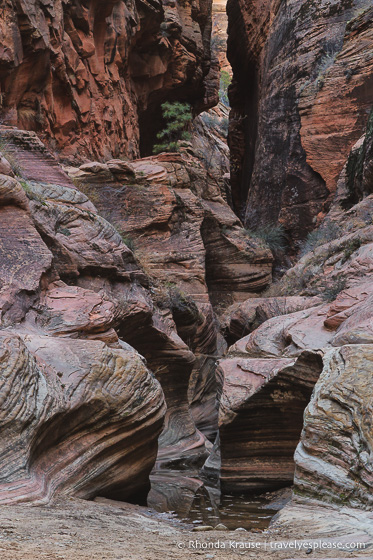 At the end of Echo Canyon, the trail opened up revealing worn and weathered sandstone rock, sparsely dotted with small trees and bushes. This is where we began seeing the shift in rock colour, from the iron-rich red and orange, to the ironless tan, grey, and white.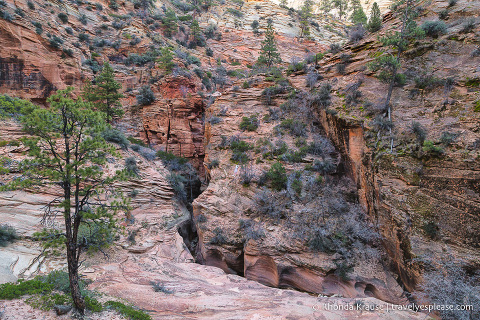 From here, the trail began a slow ascent up the other side of the canyon before coming to a junction with the East Rim Trail.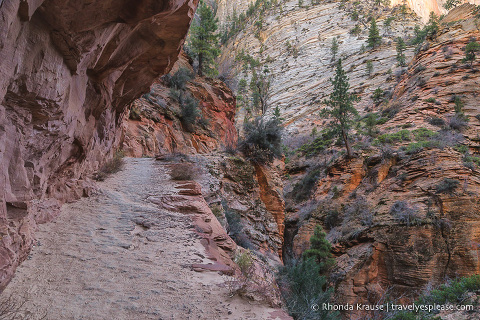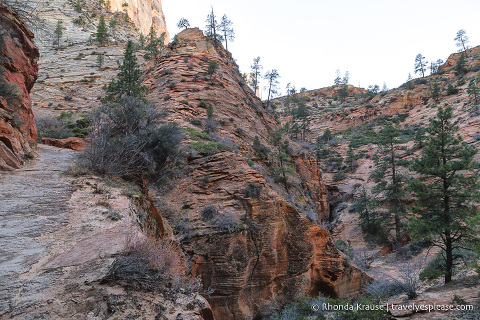 Beyond the junction, we reached another set of steep switchbacks. As we climbed higher and higher, more beautiful scenes revealed themselves until we eventually got a clear view of Zion Canyon.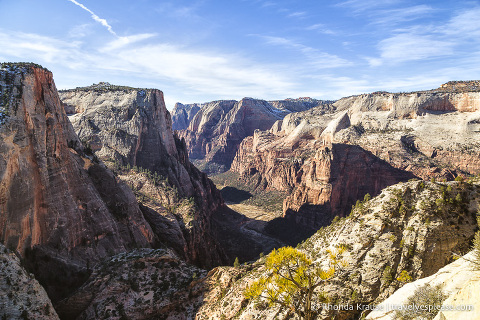 We took this as a sign we were almost at Observation Point, but in actuality, it was still quite a hike to our destination. The trail continued to climb along a steep ridge, showcasing more views of Zion Canyon, before reaching a sandy plateau.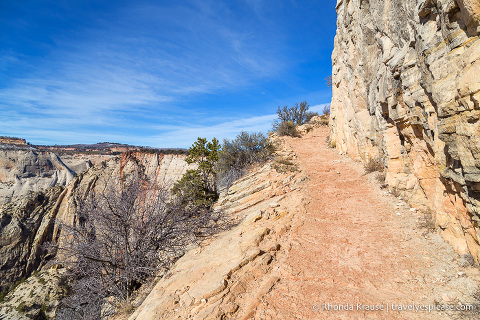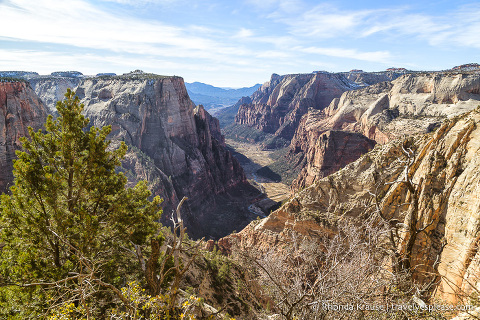 The final approach to Observation Point was, to our relief, on a mostly flat trail. We followed the path northwest, past the junction with the East Mesa Trail, then south towards Observation Point.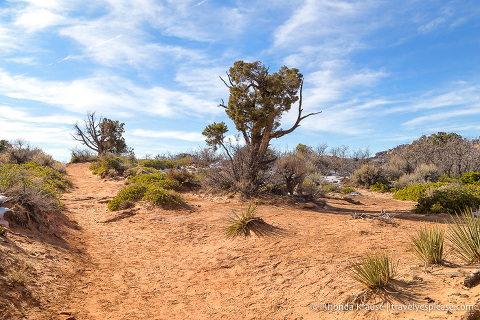 Upon arriving at Observation Point, we were met with a wonderful view of Zion National Park. Looking south down Zion Canyon, we could see the Virgin River and valley road meandering between the canyon's towering walls.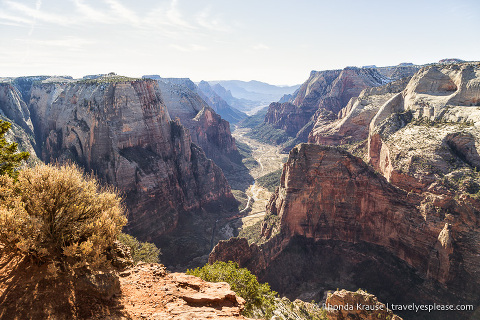 Our favourite part of the view from Observation Point was getting to see Angels Landing, which we hiked the day before. Seeing Angels Landing Trail from this perspective made it really sink in just how dramatic that hike actually was!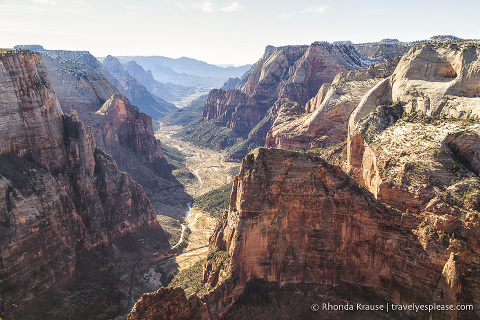 We spent an hour and fifteen minutes sitting and marvelling at the rugged beauty of Zion Canyon while enjoying lunch. It was a pretty special place for a picnic, even if we were sharing it with a lot of other people.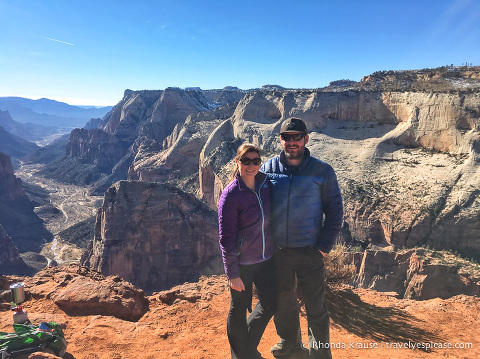 Rested and refuelled, we began the return hike on Observation Point Trail. We weren't looking forward to it because we knew it would be a strain on our not-as-young-as-they-used-to-be bodies.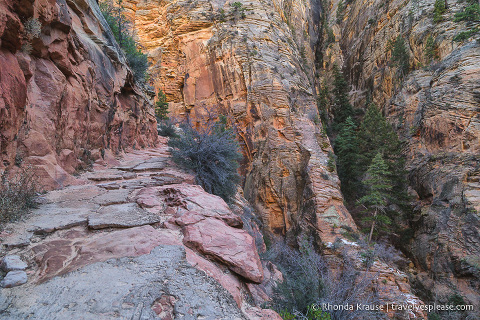 My knees ached and stiffened up as we plodded downhill on the rough pavement. I had to stop a lot to stretch, massage my knee, and curse about not buying hiking poles yet.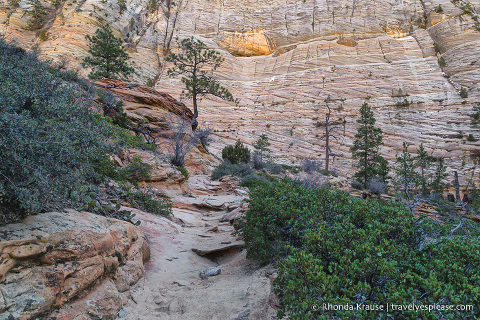 For that reason, we took it very slow on the way down from Observation Point. I don't think I've ever been so relieved when a hike was over!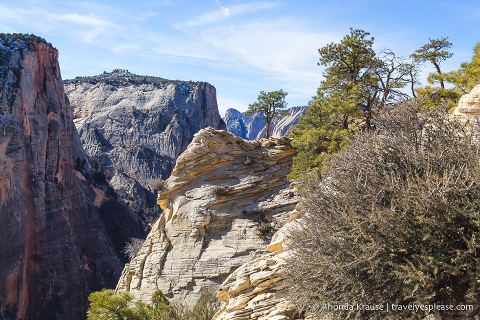 Final Thoughts About Hiking Observation Point Trail
Our hike to Observation Point wasn't our finest performance- Mike struggled on the way up, me on the way down.
We should've had hiking poles and brought more food, because I was ridiculously hungry by the time we reached Observation Point, just before noon. Still, challenges and all, we very much enjoyed hiking Observation Point Trail on our southwest road trip.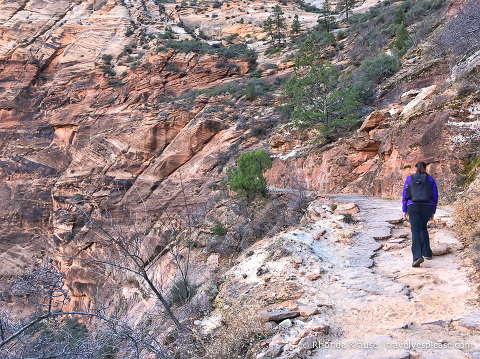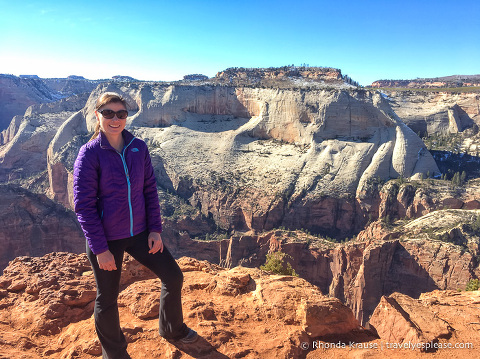 The scenery during the hike helped distract me from how unrelenting the uphill trail was. Luckily, the stunning view awaiting us at Observation Point made the effort we put into getting there worthwhile.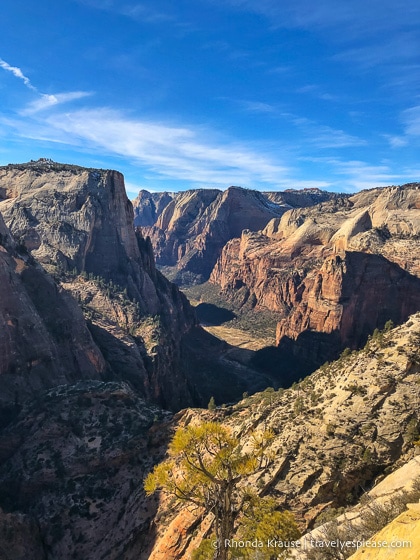 About that view… Someone told me the day before that the view from Observation Point was better than the one from Angels Landing, but I disagree. Sure, Observation Point is a much higher vantage point, and it's cool to look down on Angels Landing, but it's not the 360-degree view that Angels Landing offers. I preferred getting to look both north and south down the canyon, rather than just south.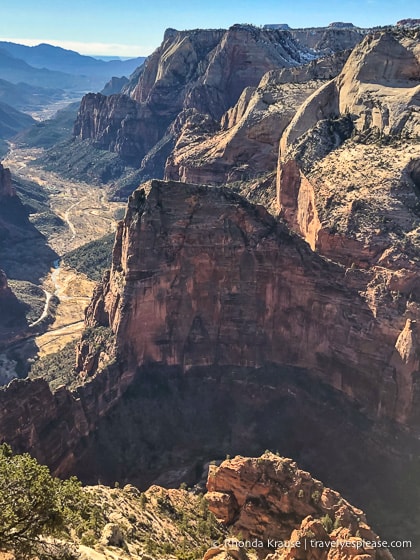 I'm glad we ended our trip to Zion National Park with this hike, not just because my knees couldn't have handled another one, but because it's one of Zion's classic trails, summing up everything that's great about this park.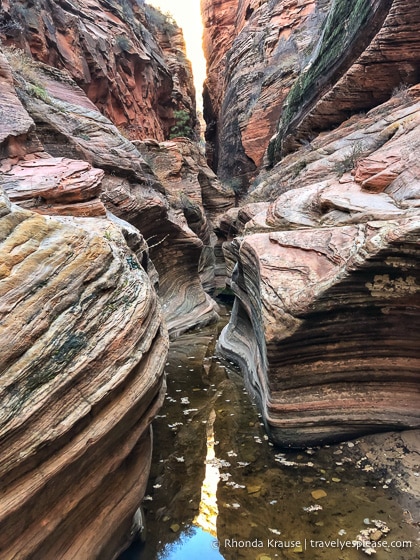 And most importantly, this hike persuaded us to finally buy hiking poles!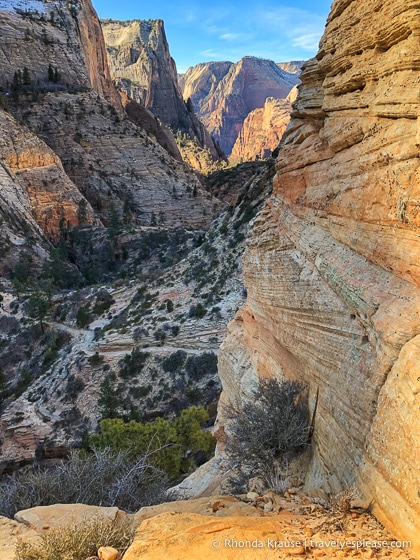 Pictures of Observation Point Trail
Here are a few more photos from our hike to Observation Point.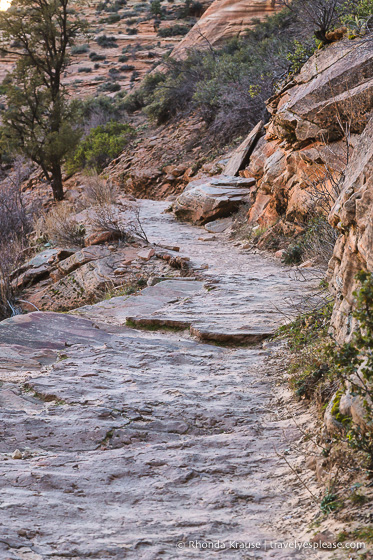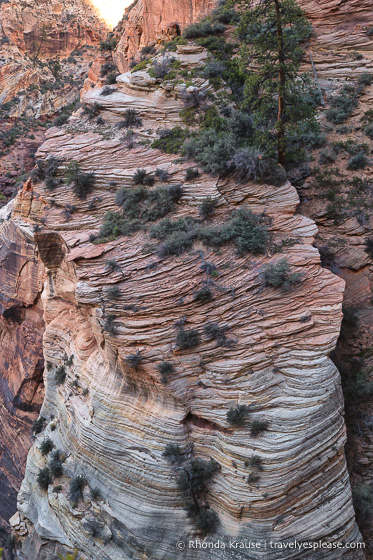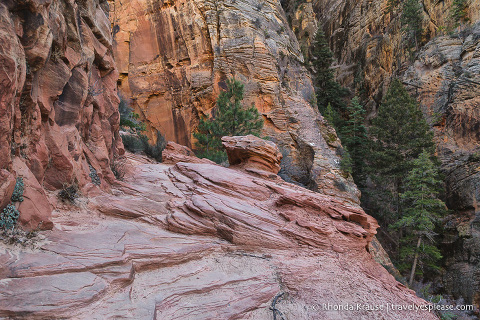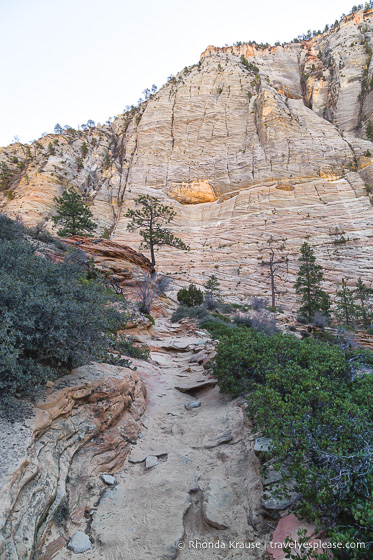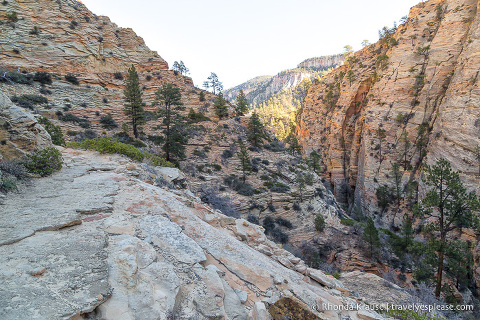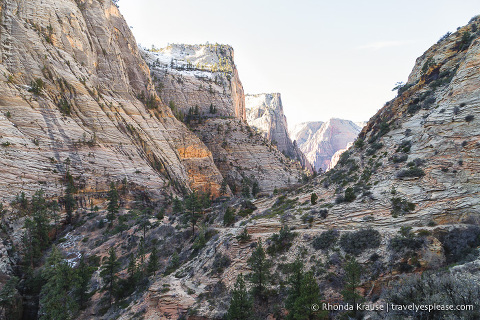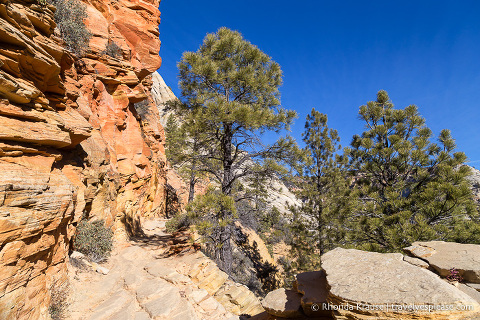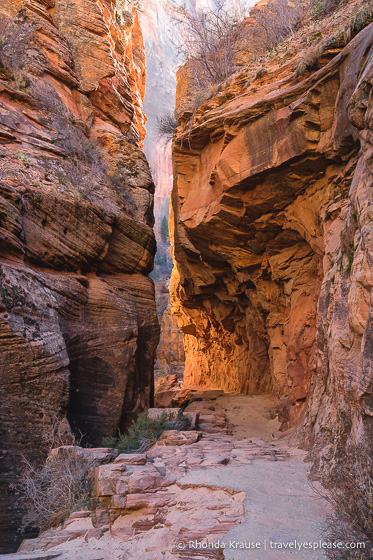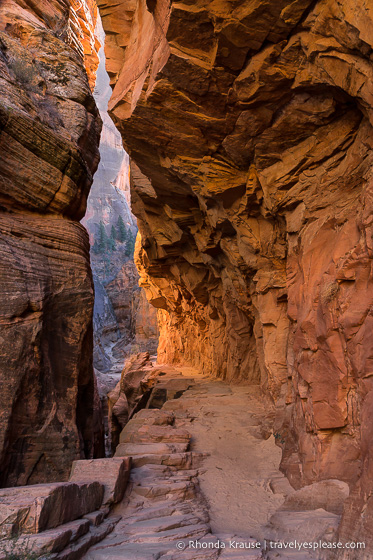 Tips for Hiking to Observation Point
Trail Details: Here is some information about Observation Point Trail so you can prepare for your hike.
Type of Trail- Out and Back
Distance- 12.9 kilometers/8 miles
Elevation Gain- 655 meters/ 2,148 feet
Difficulty- Strenuous
Length of Time- 5-6 hours
Trailhead- Weeping Rock parking area (stop #7 on the Zion shuttle)
Best Time to Hike Observation Point: The trail can be hiked year round but spring and fall are the most pleasant. We hiked it in winter and the trail was fine, minus the odd icy patch.
Getting to Observation Point Trailhead: Take the free Zion shuttle bus to Weeping Rock (stop #7). If the bus is not running, you can park in the lot at Weeping Rock, but be aware that it's small and fills up fast.
Facilities: There are restrooms at the Weeping Rock parking lot (no other facilities along the trail).
Gear/What to Bring: You will need proper hiking shoes/boots with sturdy soles and supportive ankles since the paved trail is rough, uneven, and falling apart. Other sections of the trail are sandy and rocky.
Hiking poles are recommended to take some strain off the knees.
Bring plenty of water and a lunch to enjoy at Observation Point.
Wear sun protection.
Safety: This hike can be physically demanding, so be sure to stay hydrated and take breaks as needed.
There are long drop-offs beside much of the trail, so it's not recommended for people who are afraid of heights.
Avoid Echo Canyon if there is flooding or rain approaching.
Be aware of ice on the trail in the winter.
Information was correct at the time of publishing, but can change without notice. Please confirm directly with service providers.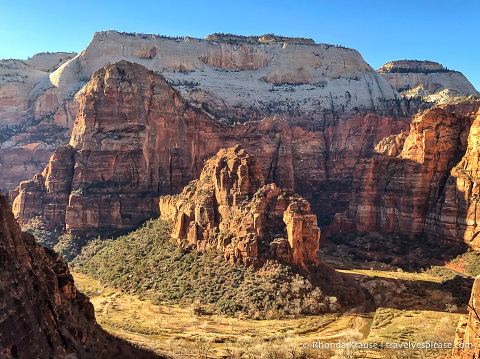 Accommodations in Zion National Park
For your convenience, here is a list of HOTELS IN SPRINGDALE, the closest town to Zion National Park. Please consider booking your Zion accommodations through the included link. It costs nothing extra and helps support this website. Thank you!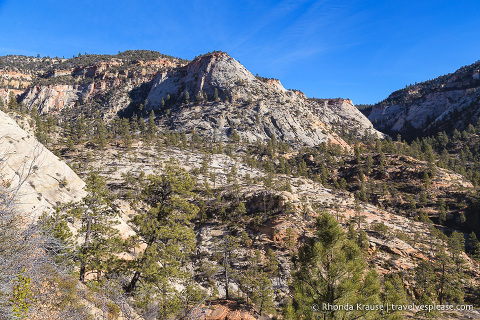 More Utah Hikes and Destinations