Purchases made through links earn us a small commission, at no extra cost to you.
As a huge animal lover, I am always on the lookout for wildlife when I travel. While I don't always have the best of luck in some destinations, I never fail to see wildlife in Jasper National Park.
This is probably one of the cutest animal moments I have witnessed- a mother Mule deer grooming her baby. The baby just stared at me while her mom licked the top of her head. I love how you can see the mother's tongue sticking out in this photo!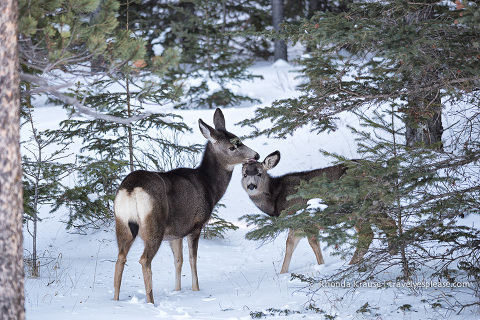 Mule deer are easily identified by the black tip on their tail, white rump, and large ears. They are most likely to be seen on valley bottoms. These two were spotted on Maligne Lake Road, at the end of the Maligne Valley (one of the most scenic places to visit in Jasper).
More Jasper Attractions and Travel Guides