Purchases made through links earn us a small commission, at no extra cost to you.
Peering over the edge of a snow covered bridge, I have to catch my breath when I think about how far down the canyon below is. Fifty-one meters- the same height as Niagara Falls.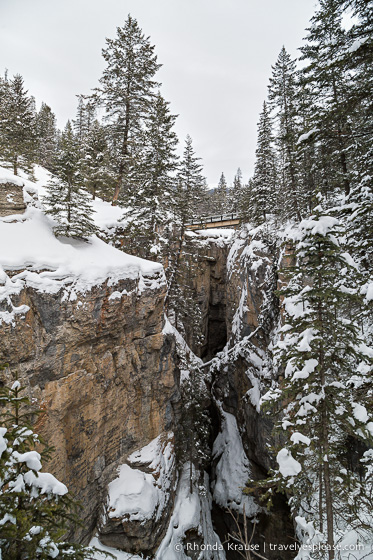 There's no water rushing through curves of Maligne Canyon today. Its floor is frozen, the limestone walls partially concealed by a curtain of ice.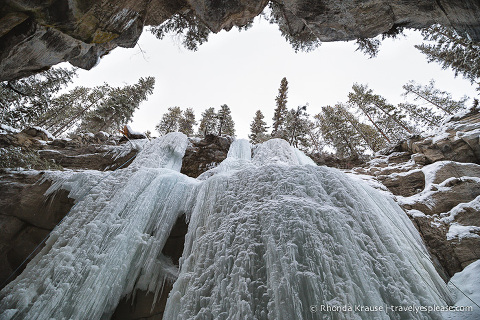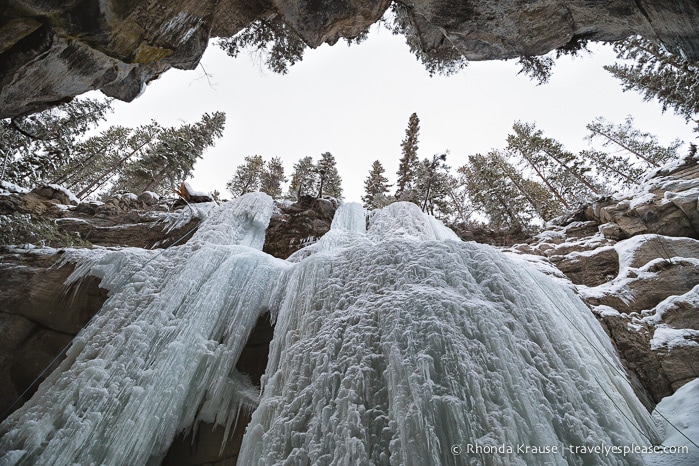 Every year, Mother Nature transforms Jasper's deepest canyon into a winter wonderland. Where a gentle trickle of water once flowed from the earth, a frozen waterfall has taken its place, towering over 30 metres above the canyon floor.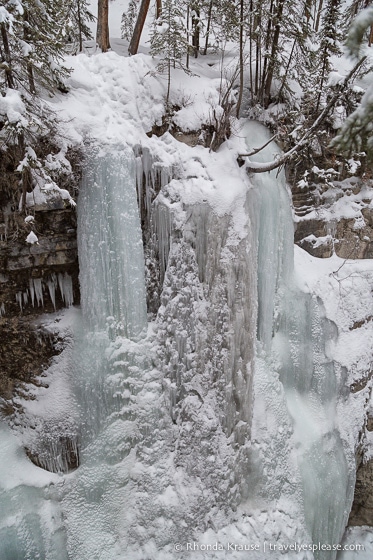 To truly appreciate these larger than life icicles, you need to view them from inside the canyon where you can get an up close look at nature's ice sculptures.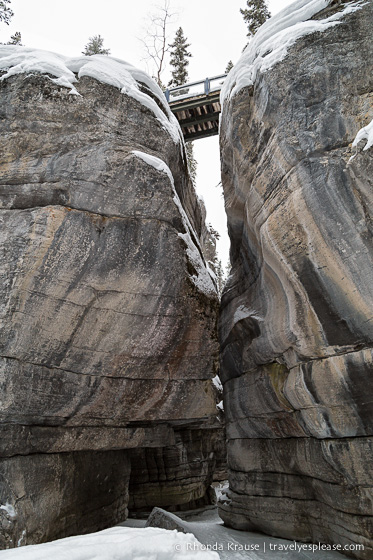 Maligne Canyon Ice Walk
The Maligne Canyon Ice Walk is one of Canada's signature experiences and gives you a unique look at one of the most interesting canyons in the Canadian Rockies.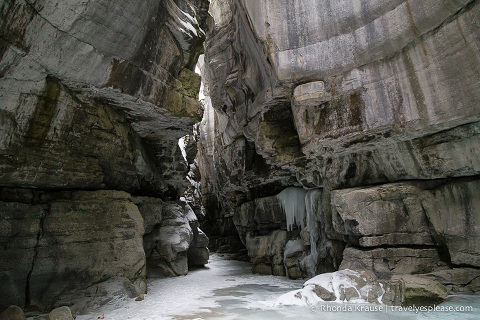 During our tour, our guide told us all sorts of information about how the canyon was created (too much for me to get into here!) To summarize, he said Maligne Canyon was created over at least four ice ages and 70 million years, but I've also read it took up to 160 millions years to form.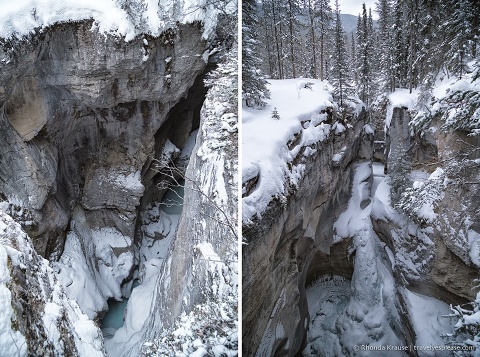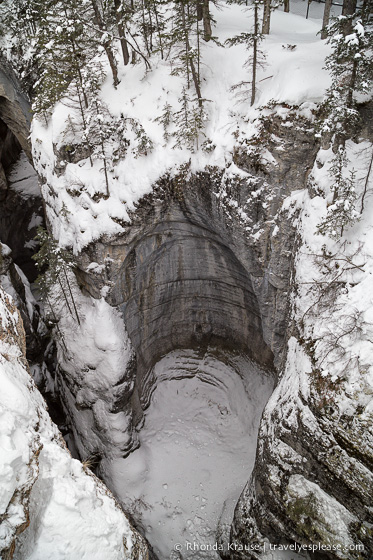 The area where Maligne Canyon is now, used to be underneath an ancient lake all those millions of years ago. You'll see fossil evidence of this down in the canyon. There's one place where if you look up, you'll see imprints of coral in the rock.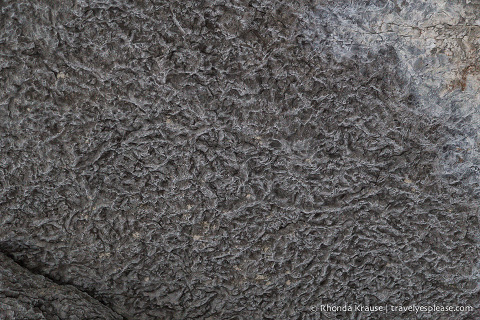 Besides fossils, keep your eyes open for fine ice crystals forming around gaps in the rocks. This indicates an opening to a cave.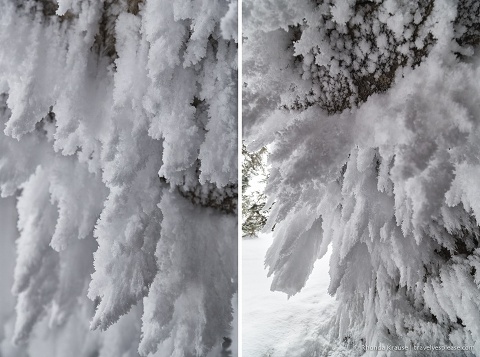 While most of the caves were higher up, there was one near the floor of the canyon that we got to explore the entrance to. The crystals on the rocks were so delicate that if you gently blew on them, they would crumble off the rock. I was wishing I had a macro lens for my camera so my pictures could show the intricate details of the crystals.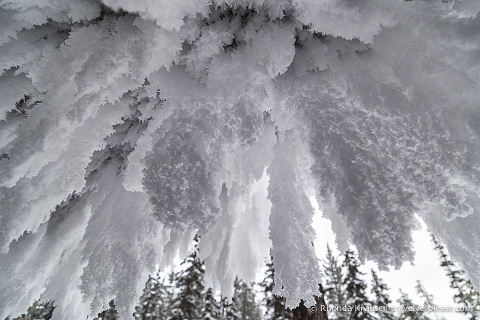 Of course, the highlight of the Maligne Canyon Ice Walk is the gigantic frozen waterfalls. Looking up at these marvelous sculptures, you will realize just how small we are in comparison to nature.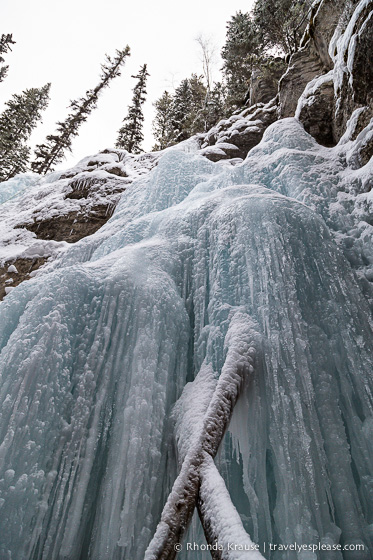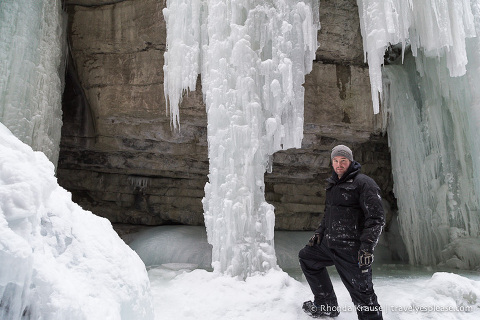 You'll also likely see some very brave people climbing up the ice formations!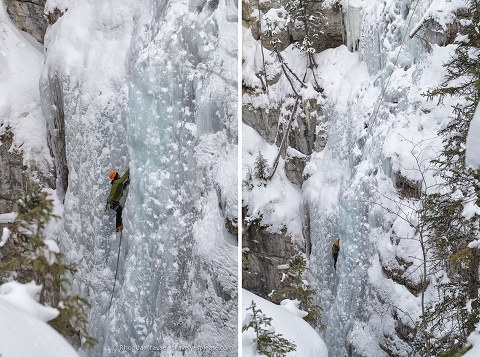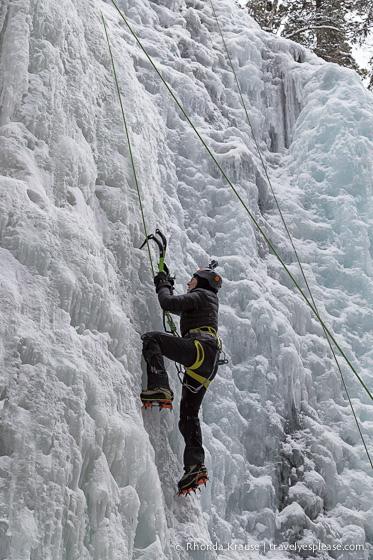 Our Review of the Maligne Canyon Ice Walk
Overall, we really enjoyed the Maligne Canyon Ice Walk. The hike was fairly easy (just a few slippery spots) and the ice formations were very impressive. We also learned a lot about the geology and history of the area.
We've looked down into this canyon many times, but never had the chance to walk on the bottom. The new perspective gave us a sense of scale at just how large the ice falls, and canyon, really are.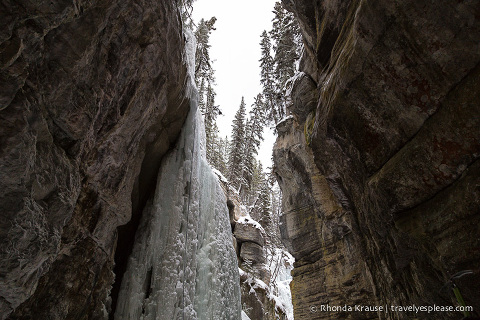 While we had a fun time, we didn't leave the canyon thinking "Wow!" Don't get me wrong, we weren't disappointed in any way. It was definitely beautiful and easy to see why the Maligne Canyon Ice Walk is one of the top things to do in Jasper National Park. I just thought my excitement would have lingered a little longer after the walk.
Mike and I talked about why we weren't "wowed" and we think it's because we had seen the canyon, and its ice formations, from above a few times already. We kind of already knew what to expect. Also, we visited an ice cave in Austria, so large pieces of ice weren't new to us.
Even though we weren't surprised by what we saw, that doesn't mean everyone else will feel the same. We still think the ice walk is a great way to see Maligne Canyon, especially if it's your first visit. The Maligne Canyon Ice Walk is a unique experience that can't be had many other places, so it should definitely be something you do during a winter trip to Jasper.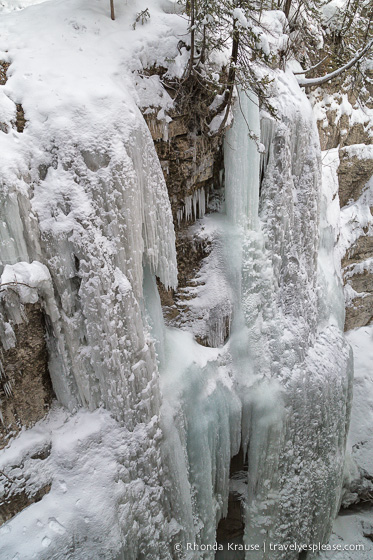 Do You Need a Guide to do the Maligne Canyon Ice Walk?
Parks Canada recommends that people don't do the ice walk without a guide. However, it is not a requirement.
For our first time doing the walk, I'm glad we had a guide. For one, we didn't know where to go to reach the bottom of the canyon. Second, we didn't have the proper footwear.
When you go on a tour, you'll be given anti-slip cleats to wear. If your winter boots aren't waterproof, you'll also be given a pair of insulated boots. Both these things will help you feel safe and secure on the ice.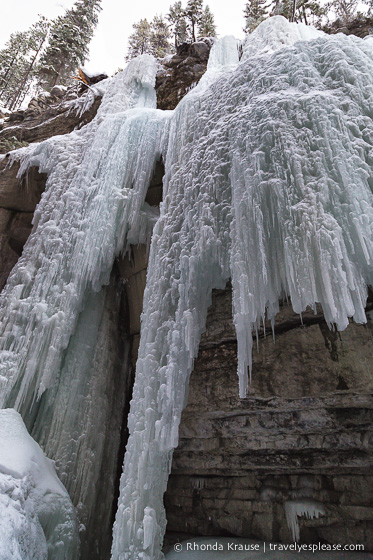 Another benefit of doing a tour is that your guide can tell you stories about the canyon and answer any questions you may have.
If you don't want to pay for a tour, or just prefer to visit at your own pace, you can visit the canyon on your own. Just make sure you are familiar with the area and have cleats to slip over your boots.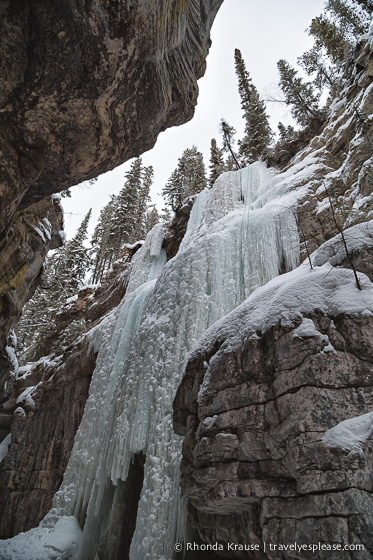 More Photos from the Maligne Canyon Ice Walk
Here are a few more photos of Maligne Canyon in winter.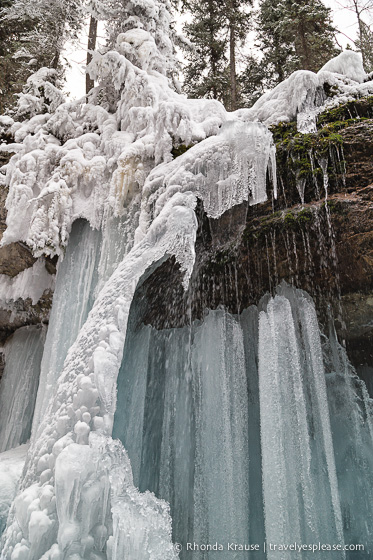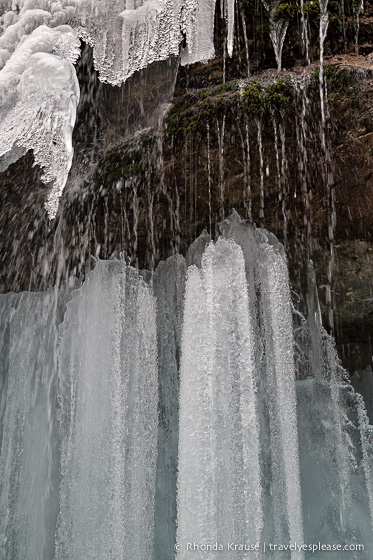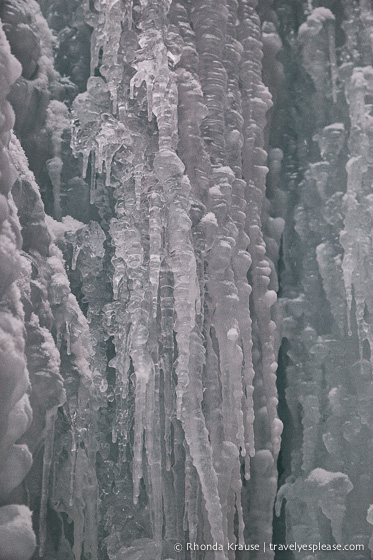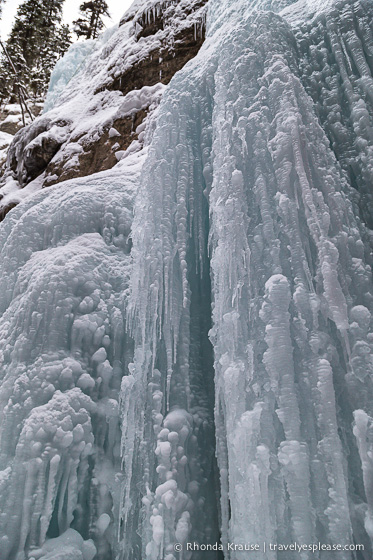 Tips for Taking a Guided Tour of Maligne Canyon in Winter
Maligne Canyon Ice Walk tours typically operate from December to March, if conditions allow. Sometimes December isn't cold enough for water in the canyon to freeze, so it's often better to plan to visit in January.
The excursion was about 3 hours, with 2 hours on the trail. We walked about 3.5 kms.
The ice walk tour includes transportation to the canyon, warm winter boots, ice cleats and helmets.
Reservations are required and free pick up at your hotel is available.
Here is where you can book your Maligne Canyon Ice Walk.
Information was updated January 2022, but can change without notice. Please confirm directly with service providers.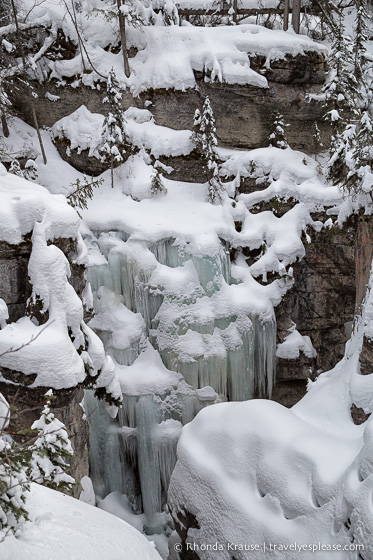 Accommodations in Jasper
For your convenience, here is a list of hotels in Jasper. Please consider booking your Jasper accommodations through the included link. It costs nothing extra and helps support this website.
We'd like to thank Tourism Jasper for hosting us in order to bring you this story. As always, we speak the whole truth and nothing but the truth.
More Jasper Attractions and Travel Guides