Purchases made through links earn us a small commission, at no extra cost to you.
Galveston is a small, romantic island tucked away in southern Texas along the Gulf of Mexico.  It's only 32 miles long and two and a half miles wide, but offers a lot for visitors to see and do.  Even though there are plenty of attractions in Galveston, Mike and I opted for the simple approach- walking around some of the town's six historical districts.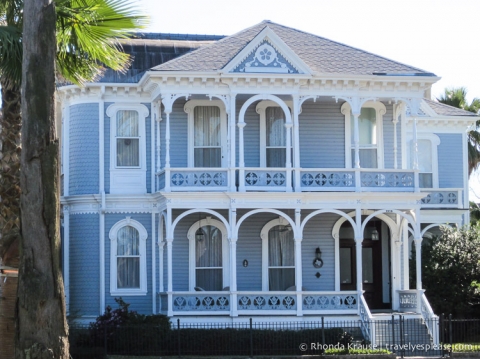 About Galveston and Its Architecture
Incorporated in 1839, it wasn't long until Galveston became the largest city in Texas.  A pioneer of sorts during the 19th century, everything in Texas was first done in Galveston.  The state's first opera house, hospital, post office, country club and golf course were all built in Galveston.
The city has managed to preserve its historic buildings in spite of some significant storms- an impressive feat which shows the dedication and perseverance of its residents throughout the years.
Today Galveston has one of the largest, well-preserved, and historically significant concentrations of Victorian architecture in the United States.  Over 60 of Galveston's structures are listed in the National Register of Historic Places.
What to See and Do in Galveston
The best way to experience the Galveston's charms is to simply walk around. We had lunch at the sophisticated Hotel Galvez, walked through the East End Historic District, toured the Bishop's Palace, visited some shops along The Strand, and ended the evening with a sunset walk along the Seawall.
Since I love looking at architecture, much of our sightseeing in Galveston involved admiring the historic buildings, but there were some other unique things we discovered as well. Here are the places we visited in Galveston during our one day in the city.
Historic Architecture in Galveston
Hotel Galvez
Hotel Galvez can be found steps away from the Gulf of Mexico, on Seawall Boulevard.  It was built in 1911 and named after Bernardo de Galvez, the Spanish Colonial Governor for whom the city of Galveston was named.  The property is sometimes referred to as the "Queen of the Gulf".  In 1979, the hotel was added to the National Register of Historic Places.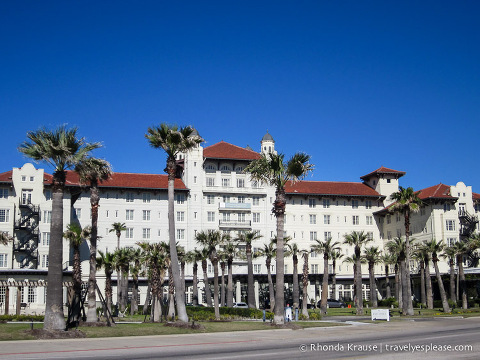 Bishop's Palace
Bishop's Palace is Galveston's best known and grandest buildings.  The home, a Victorian adaptation of Renaissance style, was built from 1886-1892.  It was the residence of railroad magnate and attorney Colonel Walter Gresham and his family.
Estimated to have cost $250,000 when it was built, today's value is estimated at over $5.5 million.  The palace was cited by the American Institute of Architects as one of the 100 most important buildings in America and the Library of Congress has classified it as one of the fourteen most representative Victorian structures in the country.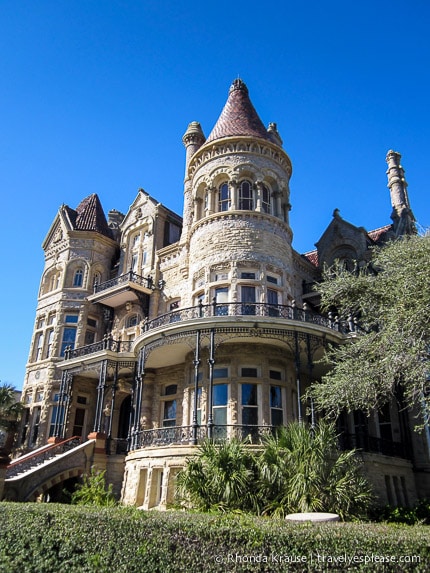 This exquisite building features stained-glass windows, coloured stone, rare woods, exotic marbles, intricately carved ornaments, impressive fireplaces and luxurious furnishings.  Mrs. Gresham herself painted the murals and ceilings.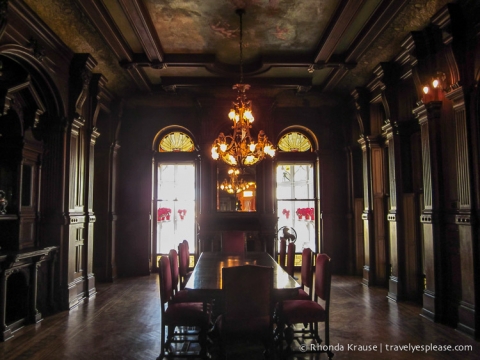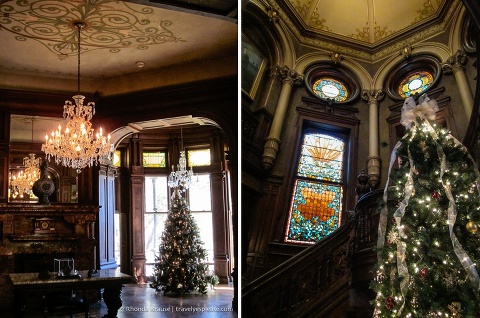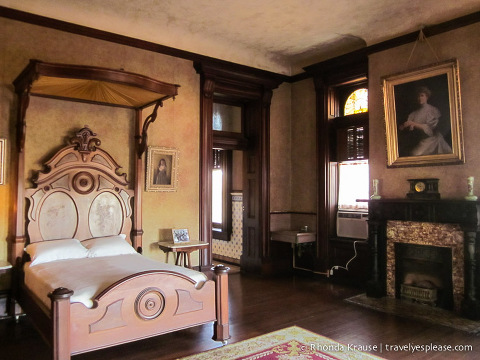 We were quite happy with the tour we took of the palace and found it to be very interesting and informative.
Sacred Heart Church
This brilliant white church was constructed in 1903 after the original structure, built in 1892, was destroyed by the Great Storm of 1900. Its dominant architectural style is French Romanesque.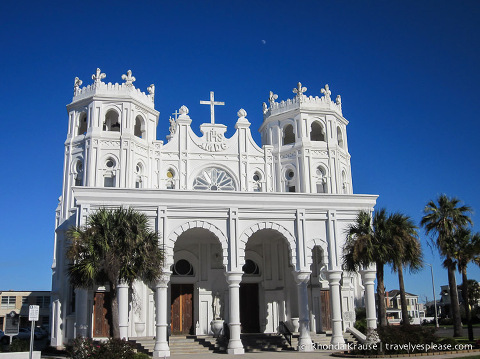 Moody Mansion
Built in 1895 out of limestone and brick, Moody Mansion has 32 rooms that are filled with heirlooms from one of Texas' most powerful families.  The mansion was home to W.L. Moody, a financier and entrepreneur who founded an insurance company, private bank, and one of the largest charitable foundations in the United States.  When Moody died in 1954, he was one of the ten wealthiest men in the country, as proclaimed by Time magazine.
The home is now a museum and is open for guided tours. Unfortunately, we didn't get to take a tour because it was already closed when we got there.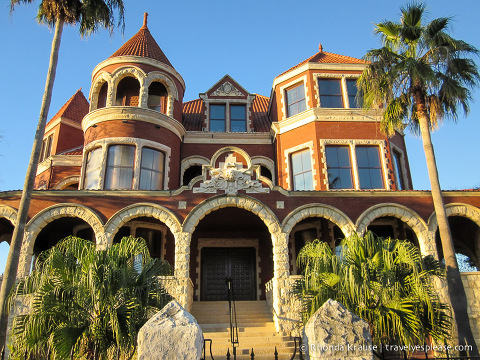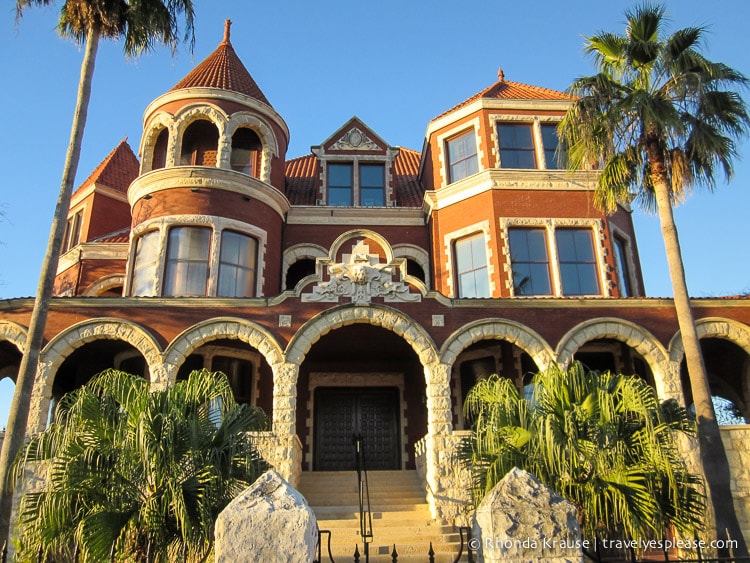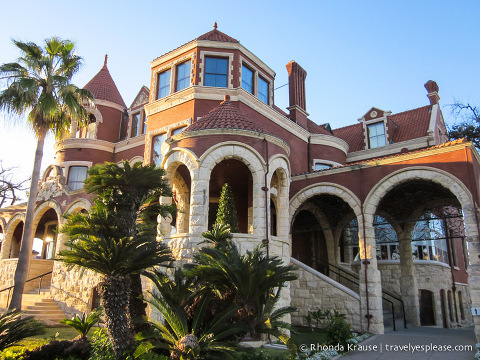 Ashton Villa 
Built in Victorian Italianate style, Ashton Villa was one of the first brick structures in Texas when it was constructed in 1859.
European craftsmen and slave labour were used to build this home for Colonel James Moreau Brown, a prominent hardware merchant and banker.  Today the Villa is home to the Galveston Island Visitors Centre.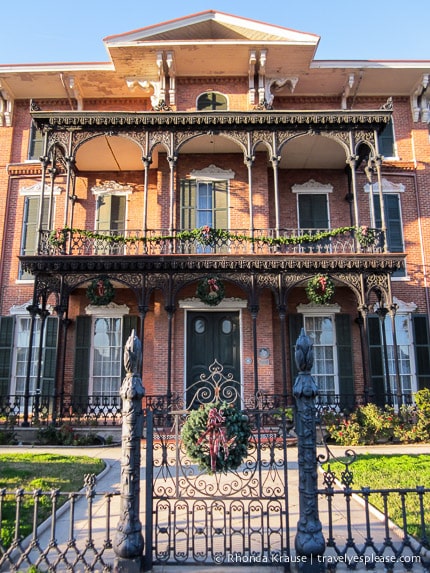 Ashton Villa has an interesting connection to the American Civil War and played a significant role during the fall of the Confederacy.  The home served as headquarters for the Confederate Army for the duration of the civil war, except for a brief period in the fall of 1862 when Galveston was surrendered to the Union Army.  The Union Army then used Ashton Villa as their headquarters until Galveston was re-taken by the Confederates during the Battle of Galveston in January 1863.
On June 19, 1865, Union General Gordon Granger and 2,000 federal troops arrived in Galveston to take possession of Texas and enforce the emancipation of its slaves. Granger read the contents of "General Order No. 3", which declared all slaves to be free, while standing on the balcony of Ashton Villa.  The significance of June 19th, now known as Juneteenth, is celebrated across many parts of Texas.
Other Beautiful Homes in Galveston
Walking around Galveston made me wish that houses today were built with the same character and appeal as in the 19th century.  No cookie cutter homes back then! Here are some more pictures of the historic houses in Galveston.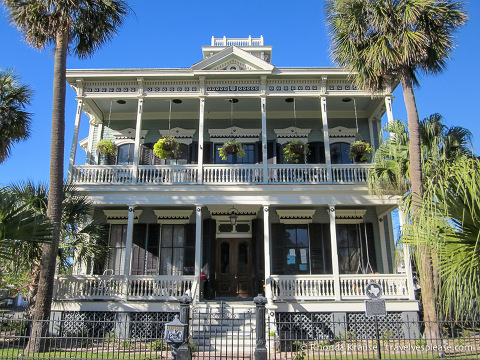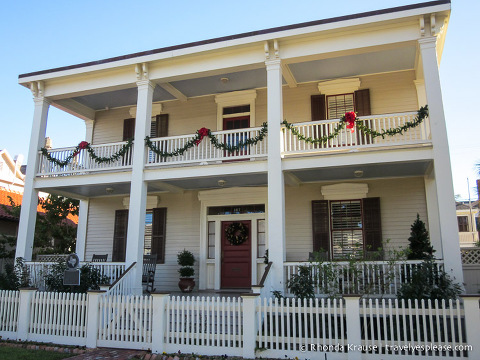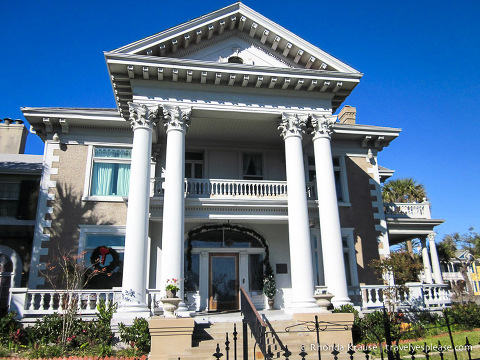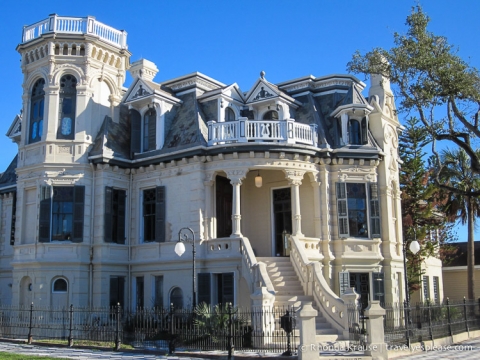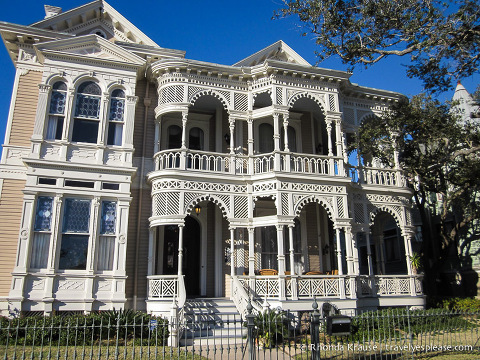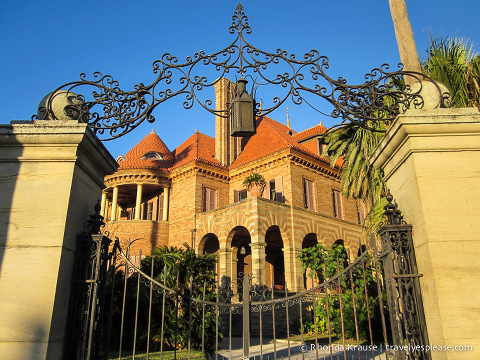 Other Things to See in Galveston
Galveston has much more to offer than just historic stories and Victorian architecture.  We were pleasantly surprised by some of the unique touches we came across during our walk around town.
Tree Carvings
During our walk around the East End Historic District, we came across something very unique that I was not expecting- a tree sculpture!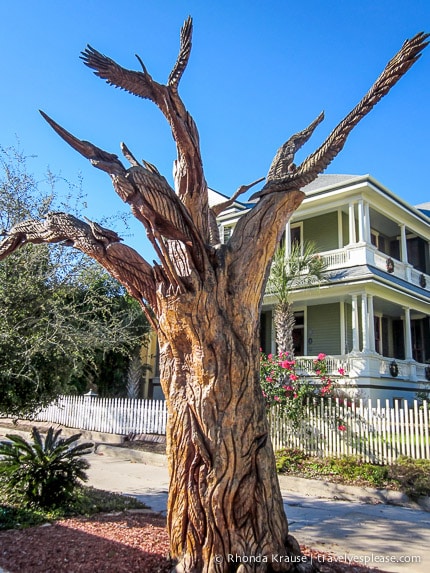 Carved into the branches of this large Live Oak are 17 birds.  Around the trunk are relief carvings of small plants and animals.  The sculpture is aptly named The Birds of Galveston.  I couldn't believe how detailed it was and kept wondering how long it took to carve.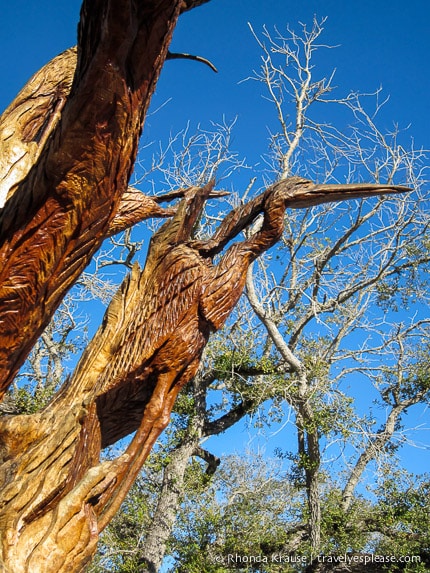 The Birds of Galveston tree sculpture is located at 1620 Sealy.  There are over 30 tree sculptures tucked away in the East End, but unfortunately we only came across one.  I would have loved to seen more- it was stunning!
Rock Stacking
Another unique sight we came across was along the Seawall.  Hundreds of creative piles of stones line the shores of the Gulf Coast, near 49th street and Seawall Boulevard.  The rock stacking started anonymously in 2011 and now attracts both locals and visitors who enjoy perusing, and contributing to, the gallery of stones.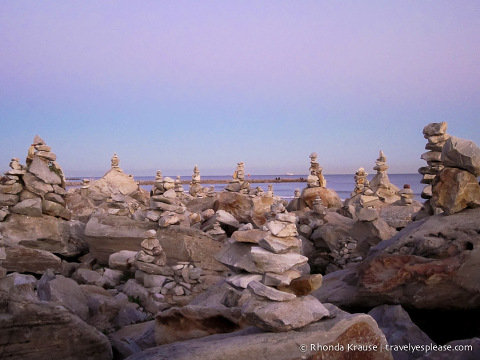 There was something really peaceful and soothing about walking among these rock stacks.  Maybe it was because it was sunset, or perhaps because in some cultures rocks are stacked to symbolize wishes.  Either way, Mike and I quickly got to work and left behind a masterpiece of our own.  I wonder if it's still standing?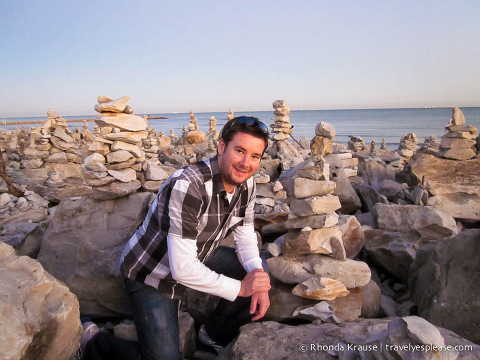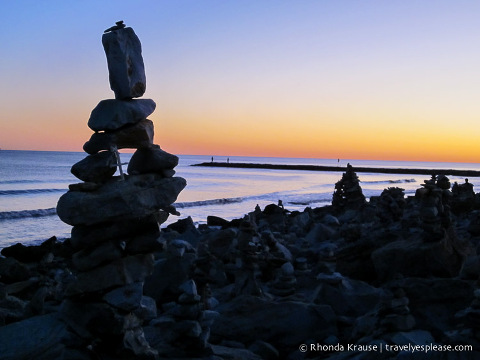 More United States Destinations and Travel Guides