Purchases made through links earn us a small commission, at no extra cost to you.
Large, mossy oak trees as far as the eye can see. Rooted firmly in two strict rows, yet their branches are free, gently arching over the simple dirt road between them.
This is what greets us upon arriving at the Wormsloe Historic Site.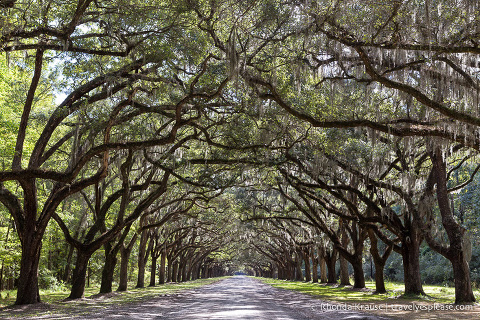 It's a scene that always comes to mind when I envision The South. And to think, we almost missed out on this classic view.
When I was planning our 3 day trip to Savannah, the Wormsloe plantation was not on my radar. I hadn't heard of it at all until our tour guide at Bonaventure Cemetery recommended we go there.
It's worth a visit for the alley of oaks alone, but if you're looking to learn a little more about the history of Georgia, Wormsloe is a great place to spend an hour or two.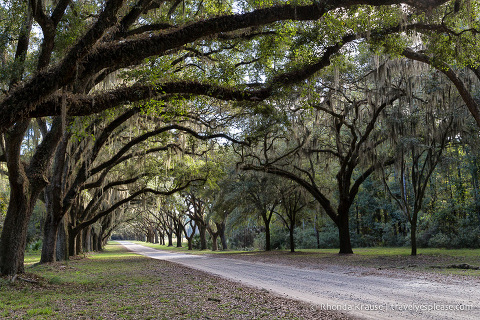 About Wormsloe Historic Site- A Brief History
The Wormsloe estate was the home of Noble Jones, an English colonist who arrived to the Georgia colony with James Oglethorpe in 1733.
In 1736, Jones leased 500 acres of land on the Isle of Hope from the colony's trustees. He called his estate "Wormslow", a name that was common back in Jones' English homeland (the spelling was later changed).
Around 1737, Jones began building a fortified tabby house from which he could patrol the major waterway that flowed past his property, guarding against possible attacks from the Spanish.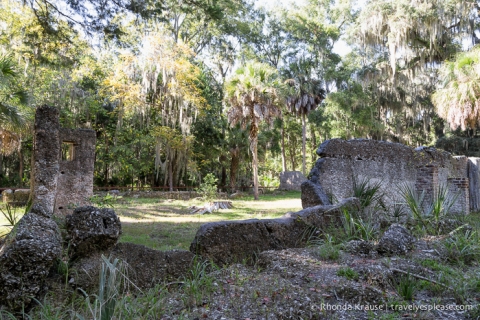 Jones later attempted to turned his estate into a productive plantation, planting a variety of crops. He had mixed results due to the sandy soil.
Besides developing the Wormsloe plantation, Noble Jones played a key role in the colony's development. He commanded Georgia's Northern Company of Marines, patrolling the waterways south of Savannah. Jones also served the colony as a constable, surveyor, treasurer and member of the governor's council.
After Noble Jones' death in 1775, Wormsloe was left to his daughter, who later passed it on to her brother. Over three centuries, ten generations of Jones descendants have lived at the Wormsloe plantation. To this day, the family still resides in a private residence built on the property in 1828.
In 1972, Jones' descendants donated 822 acres of their property to the Nature Conservancy, which then sold the property to the State of Georgia. About 80 acres of the original plantation are still owned by descendants of Noble Jones.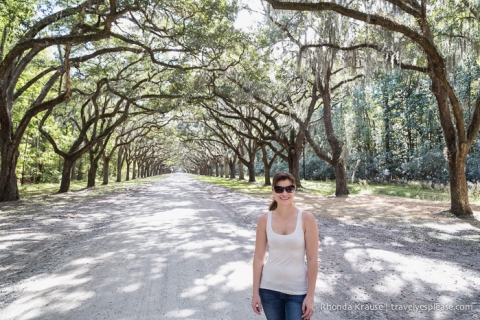 Our Visit to Wormsloe Historic Site
Our visit to the Wormsloe Historic Site started the way most others do- by standing at the end of the avenue of oaks, staring down the path in awe.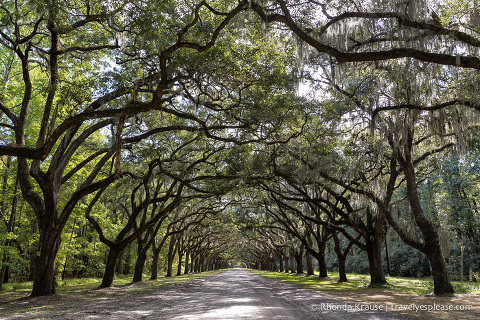 I love oak trees, especially ones that are so old and big that they have grown to form a canopy. It's always such a picture-perfect scene!
We could have just snapped a few photos from the end of the road and been on our way, but we decided to venture down the path to see what waited at the other end.
So, off we drove down Oak Avenue!
We slowly passed by more than 400 spectacular live oak trees, their Spanish moss draped branches shading the dusty road.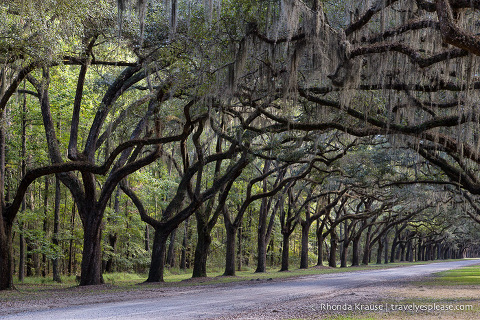 On and on the trees went, much farther than we were expecting. I can easily say this was the longest path of oak trees I have ever seen!
After passing through a white gate, it wasn't much further until we reached the small museum, the starting point for exploring Wormsloe Historic Site.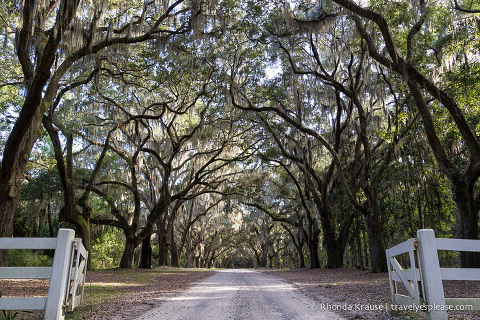 A guided tour was just about to start, so we decided to join in since we didn't know anything at all about Wormsloe.
The first place our guide took us to was the ruins of Noble Jones' 5-room tabby house. Hardly anything remained but there were a few pieces of wall where you could get a close look at the tabby used in its construction.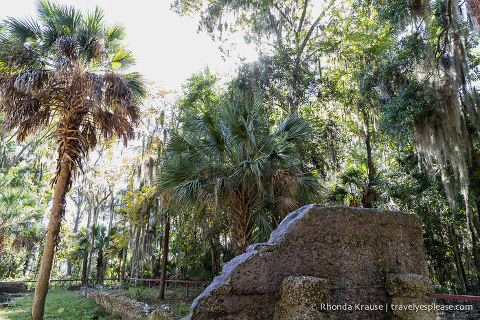 Tabby is a mixture of oyster shells, lime, sand and water that was used as a type of concrete by Spanish settlers in North Carolina and Florida. Later, English colonists began using tabby in South Carolina and Georgia.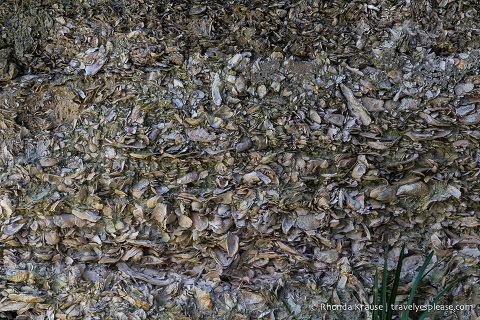 After visiting the ruins, we had a little nature walk along the shoreline of Jones' Narrows, past the Jones family gravesite and on to the observation deck overlooking the narrows. Back in the 1700s, Jones' Narrows was the main waterway for ships passing through the area.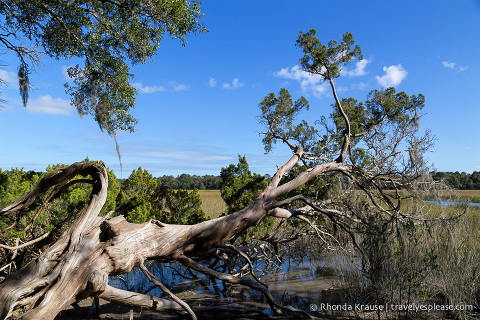 The last stop on our tour of Wormsloe was the Colonial Life Area where we got to see a small wattle and daub house and learn about what was life was like here during colonial times.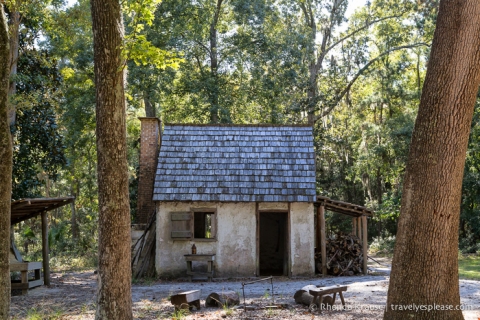 And that was our visit to Wormsloe! While it was different than I expected (I was hoping to see an elegant plantation home), it still was a relaxing place to enjoy a walk in nature, while discovering a bit of local history along the way.
Tips for Visiting Wormsloe Historic Site
Location: Wormsloe Historic Site is located on Georgia's Isle of Hope, 8 miles southeast of Savannah's historic district on Skidaway Road.
Entrance Fees: Admission to Wormsloe is $10.00 for adults, $9.00 for seniors (62+), $4.50 for youth (6-17) and $2.00 for children (under 6). Confirm current prices here.
Hours: Wormsloe Historic Site is open from 9:00 am- 4:45 pm seven days a week. It is closed on Thanksgiving and Christmas Day.
Nearby Attraction: If you love the oak trees at Wormsloe, we recommend visiting the Majestic Oak, an incredible tree not far from the Isle of Hope.
Information was updated January 2022, but can change without notice. Please confirm directly with the venue.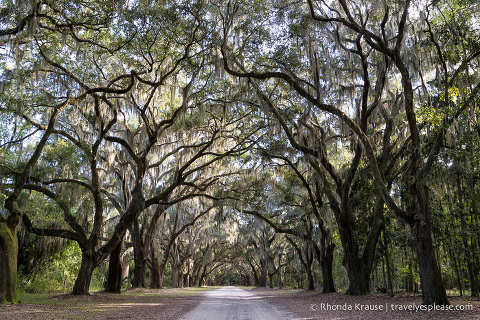 Tours of Wormsloe Historic Site
Here is a trusted site where you can book a tour of Wormsloe Historic Site. Tours typically include visits to other attractions in Savannah.
Accommodations in Savannah
For your convenience, here is a list of HOTELS IN SAVANNAH. Please consider booking your Savannah accommodations through the included link. It costs nothing extra and helps support this website. Thank you!
More Savannah Attractions and Travel Guides