Purchases made through links earn us a small commission, at no extra cost to you.
Mike and I visit Lake Louise regularly, as it's our favourite place to stop on a road trip in the Canadian Rockies or to have a romantic weekend getaway in Alberta.
I always walk to the edge of the lake to take a photo with Victoria Glacier in the background, but this time I wanted to photograph something different.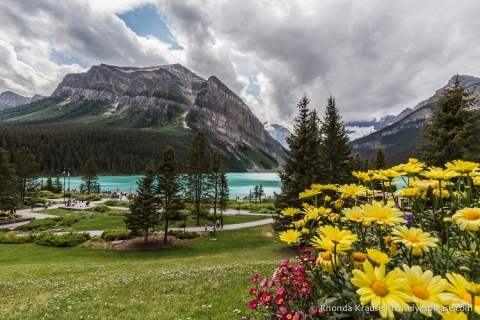 I love how this picture captures all the summertime colours of Lake Louise, from the bright blue of the glacial waters, to the sunny flowers planted around the Chateau Lake Louise. The groups of tourists along the shore line are small in comparison to the grand and majestic Rocky Mountains surrounding them.
More Banff National Park Attractions and Travel Guides