Purchases made through links earn us a small commission, at no extra cost to you.
Lake Louise is one of our favourite places to visit in the Canadian Rockies and Mike and I have made many trips here during our relationship. Lake Louise is pristine, calming and picturesque- the perfect place for couples of any age to rekindle the spark during a romantic weekend getaway in Alberta.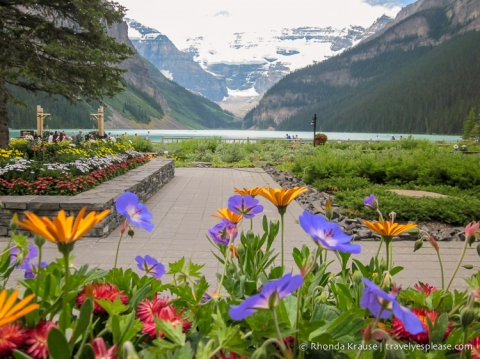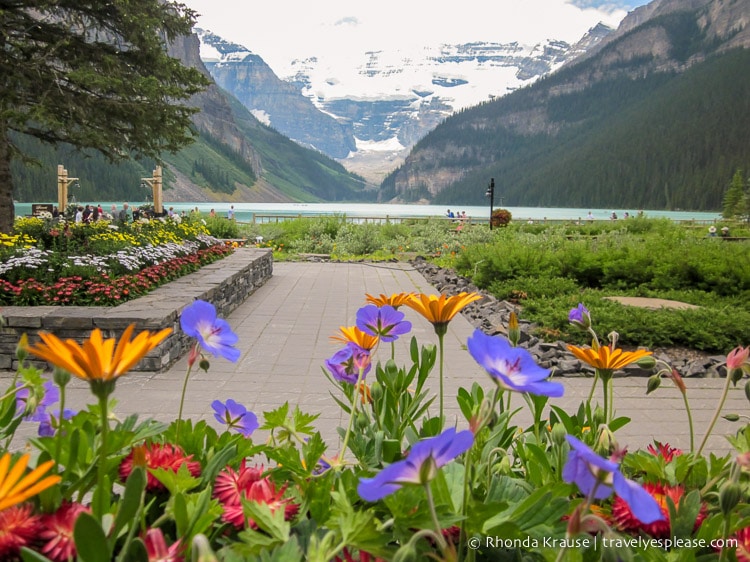 For us, romance doesn't always mean sitting side-by-side in dark corner of a posh restaurant, gazing over candlelight into each other's eyes (although we do indulge in this from time to time). Romance, to us, is all about spending quality time together and enjoying life's simple pleasures, such as a walk in nature or sharing a beautiful view together. We are active travellers and like to try different activities that places have to offer. But at the end of an adventurous day, kicking back over a nice meal in a lovely hotel is the perfect way to unwind together.
Romantic Things to Do in Lake Louise
No matter what your definition of romance may be, Lake Louise has a little something for everyone in each season of the year. Here is a small sampling of our favourite activities for romance in the oh-so romantic Lake Louise.
Go Canoeing
Picture this: you and your Love alone in a bright red canoe, paddling across sparkling blue-green waters, majestic Victoria Glacier in the background, no sounds other than the water gently lapping up against your canoe. Actually, don't picture it, just do it! It is a wonderful way to spend some uninterrupted alone time together in one of the most beautiful locations in Alberta, if not all of Canada.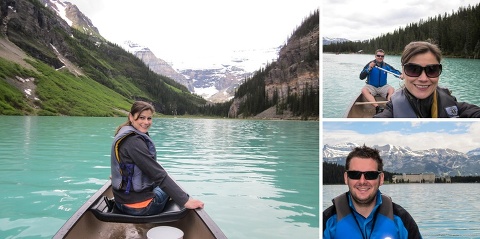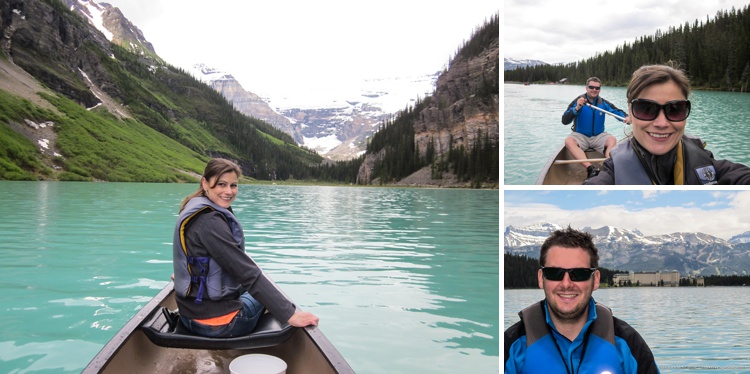 Go Dogsledding
Dogsledding is something I have always wanted to do, so I was thrilled when Mike surprised me with a dog sled adventure. We met the dogs at the base of the road that heads up to Lake Louise. Our guide introduced us to his team of dogs and told us a little about the responsibilities each one has. After I was done telling each dog how cute they were, we headed off on the near eight kilometre ride to the Continental Divide.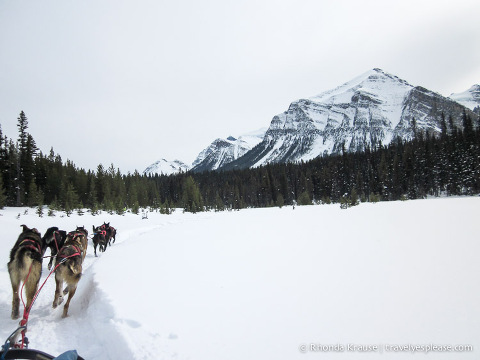 The romantic part was being snuggled together under warm blankets, looking up at the mountainous peaks as we glided by. The adventurous part was being able to drive the dog team part of the way back to the trail head (yes, they let you do that, with help of course!) Out of all the things we've done in the mountains, dog sledding is our most memorable experience.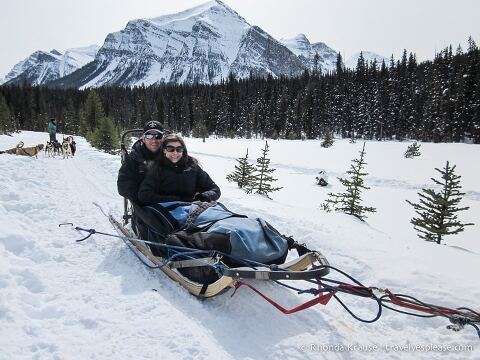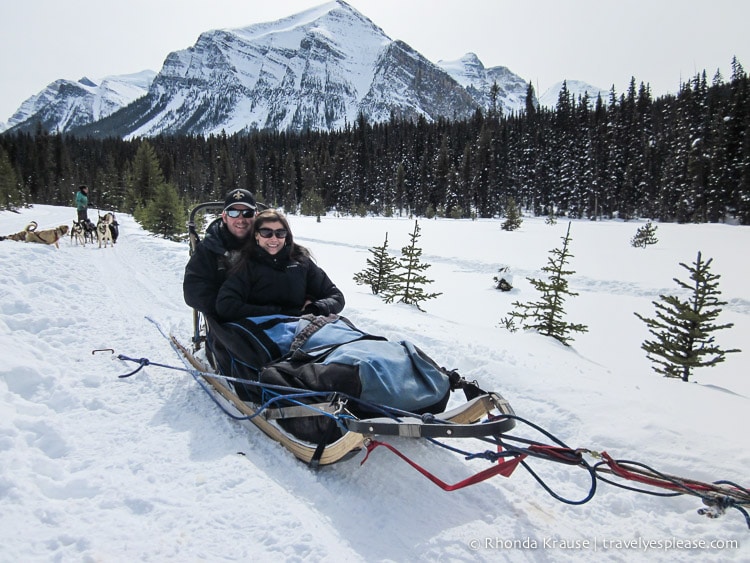 Go Tobogganing
A playful thing to do during a romantic getaway to Lake Louise is go tobogganing on the small hill by the Chateau. I guarantee you will have some good laughs acting like a kid again. How does that saying go…the couple that laughs together stays together?
Enjoy a Fondue
Fondues are the perfect choice for a romantic meal because, by nature, they are slow and leisurely, allowing you plenty of time to converse about the day's activities.
We ate at The Walliser Stube, which is right inside Chateau Lake Louise. They specialize in Swiss-German influenced dishes and serve a variety of classic cheese fondues.
Another one of our favourite meals at the chateau, and a big reason why we keep returning to Lake Louise, is the French Onion soup. I cannot even describe how good it is, other than to say it is THE BEST French Onion soup I have ever had, and I've eaten it at a lot of different places.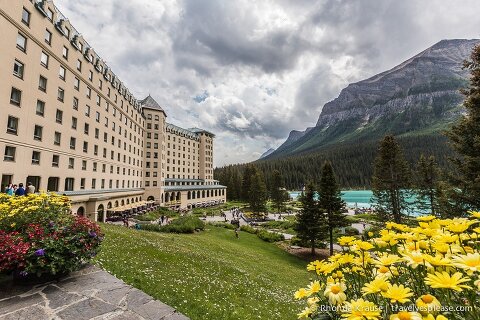 Stay at the Deer Lodge
The Deer Lodge is a very short walk (5 minutes) from Lake Louise and is the ideal location for people who are looking to enjoy the Chateau, without actually having to pay the high prices of staying there. During the day we would explore the lake area, visit some shops in the Chateau, enjoy a light lunch (french onion soup, of course) and then head back to the Deer Lodge. Our nights were spent relaxing in the Lodge's rooftop hot tub which has a nice view of the glacier.
The Deer Lodge is a very old building, with rustic decor and smaller rooms. The Lodge also forgoes some modern conveniences, such as a TV in the room. I'm sure for some people this is a deal breaker, but that's what I liked about it. Without a TV to distract, couples actually have to talk and interact face to face, something that probably doesn't happen as much as it should in our fast-paced, technology driven world. We enjoyed passing the time by playing cards in front of the fireplace, relaxing in the hot tub and playing pool down in the games room (where there is a TV if you get desperate). I thought the lodge was a nice choice for a laid-back, romantic trip to Lake Louise.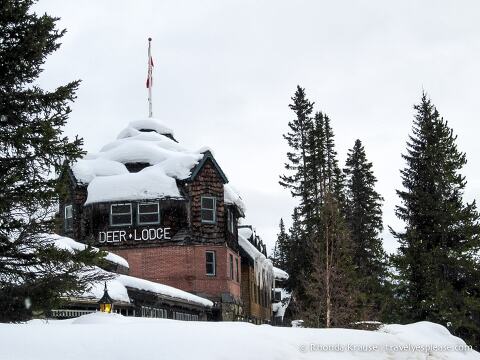 Tips for Visiting Romantic Lake Louise
Canoe rentals can be made at the boathouse at Lake Louise during the summer months. Hours and prices can be found here.
Kingmik Dog Sled Tours is the only dog sledding company that operates in Banff National Park. We took the Great Divide Tour which travels 16 km from Banff National Park, through the Kicking Horse Pass to Yoho National Park.
Toboggans, skates and skis can be rented from Chateau Ski & Snow, conveniently located in Chateau Lake Louise.
Reservations are strongly recommended for dinner at Walliser Stube.
The Deer Lodge gets some mixed reviews and may not be for everybody. Mike and I never had any issues, but we were looking for a rustic escape from our city life.
Information was updated January 2022, but can change without notice. Please confirm directly with service providers.
Accommodations in Lake Louise
For your convenience, here is a list of HOTELS IN LAKE LOUISE. Please consider booking your Lake Louise accommodations through the included link. It costs nothing extra and helps support this website. Thank you!
More Lake Louise Attractions and Travel Guides