Purchases made through links earn us a small commission, at no extra cost to you.
The Tybee Island Light Station is Georgia's oldest and tallest lighthouse, at 144 feet (44 metres). Originally constructed in 1736 under the order of General James Oglethorpe, it has been rebuilt and altered several times. The version you see today was completed in 1916.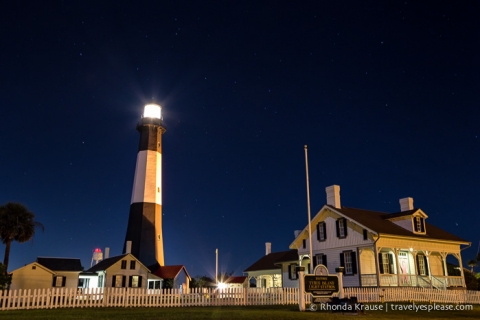 The Tybee Island lighthouse is still used as a navigational aid for mariners entering into the Savannah River. Its beacon can be seen 18 miles offshore thanks to the capabilities of the tower's nine-foot tall, first order Fresnel lens.
The lighthouse is surrounded by its original support buildings, including the renovated head keeper's cottage. This makes the Tybee Island Light Station one of America's most intact historic lighthouse stations.
Visitors are welcome to tour the property, which includes the Tybee Museum (charges apply). You can even climb the lighthouse's 178 stairs. I'm a little disappointed we didn't get to the lighthouse before it closed because I would have loved to see the views from the top. The trade-off was getting to see the lighthouse at night. It was so peaceful, and quite romantic, especially under a clear sky full of stars!
More Georgia Destinations and Travel Guides