Purchases made through links earn us a small commission, at no extra cost to you.
Sometimes the best way to get to know a city is to visit its cemetery. Stories of success, failure, love, betrayal, good and evil are safely kept there, as legends of the past.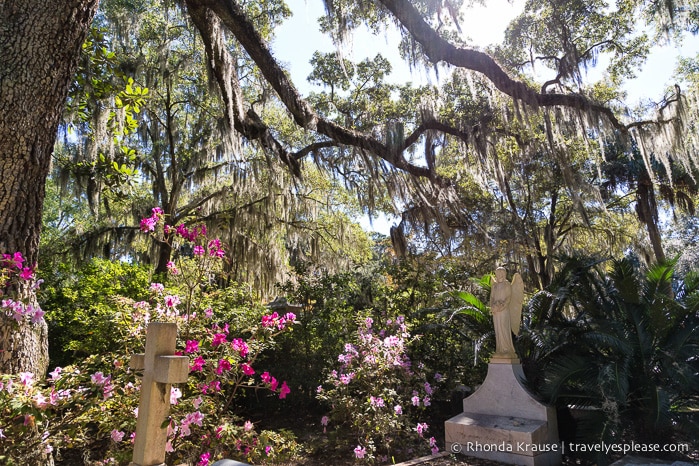 This holds true for Bonaventure Cemetery. Hundreds of years of Savannah's history are buried here beneath the moss-draped branches of live oak trees.
Memorialized at Bonaventure Cemetery are army generals, governors, a navy captain, actors, writers, a singer/songwriter and a famous local photographer.
Oh, the stories they left behind!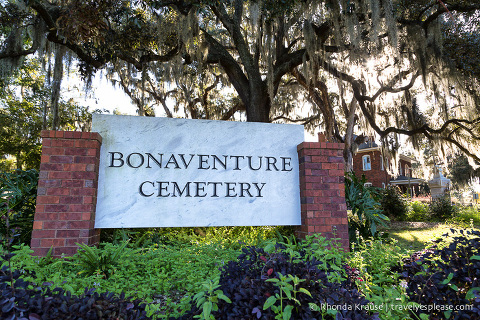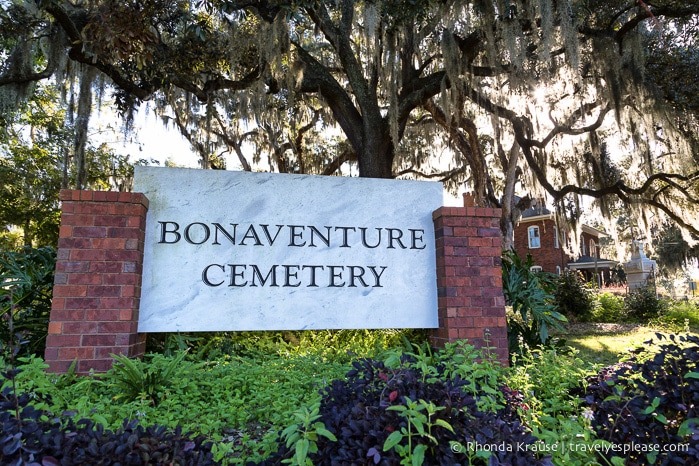 There is perhaps no better place to feel the essence of Savannah than at Bonaventure Cemetery. There's mystery intertwined with history, life among death.
Bonaventure Cemetery is 100+ acres of beauty, secrets and famous characters- all things that captivate and inspire visitors, keeping them coming back again and again.
History of Bonaventure Cemetery
Bonaventure Cemetery began as a small family plot on a 600-acre plantation originally owned by John Mullryne and his son-in-law, Josiah Tattnall.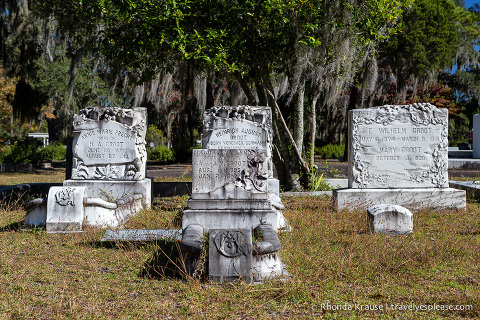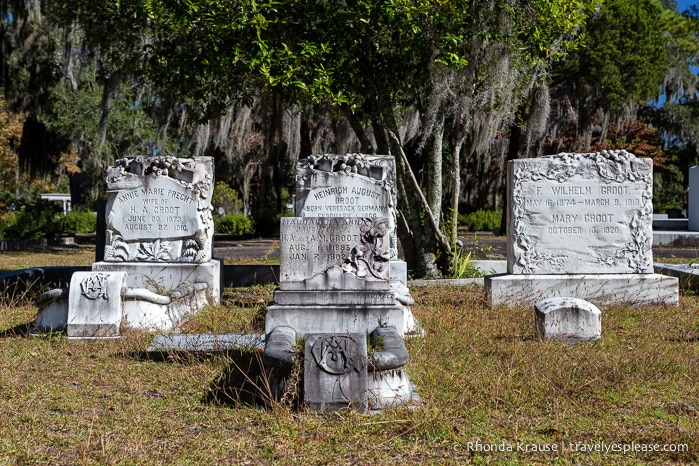 During the Revolutionary War, both Mullryne and Tattnall pledged their allegiance to England, an act that led to them being banished from Georgia. In 1782, all loyalist property in Georgia was auctioned off, including Bonaventure Plantation.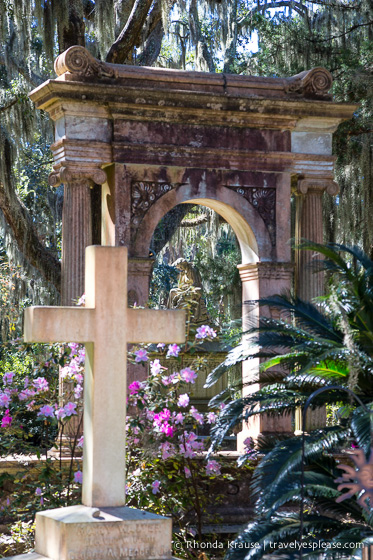 By 1788, Bonaventure was once again in the Tattnall family after Josiah Tattnall Jr. purchased back his grandfather's plantation. The family burial ground continued to be used, with Josiah Tattnall Jr. himself being buried there along with his wife and six of their nine children.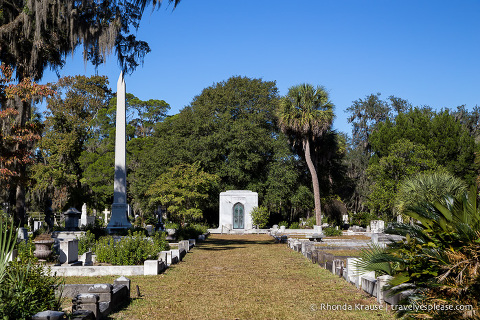 Bonaventure remained in the Tattnall family until 1846, when the plantation was sold by Josiah Tattnall III. Savannah hotelier Peter Wiltberger bought the property and agreed to maintain the Tattnall family plot, even though it was not included in the sale.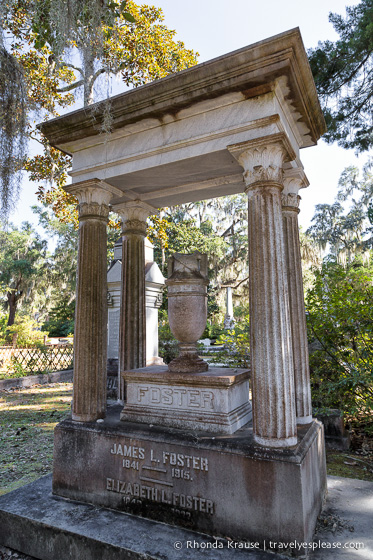 A year later, Wiltberger established the Evergreen Cemetery of Bonaventure, incorporating 70 acres of land in the northeast corner of the property. Bonaventure was now a public burial ground and Wiltberger and his wife were among the first people interred at Evergreen.
In 1907, the city of Savannah bought Evergreen and renamed it Bonaventure Cemetery. The cemetery was later placed on the National Registry of Historic Places, in 2001.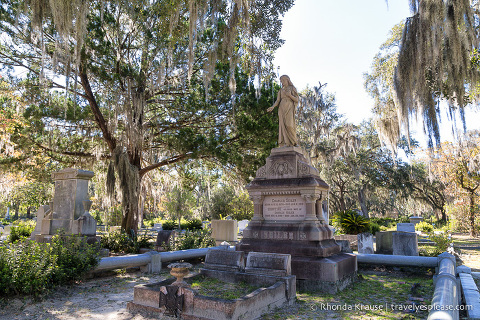 Notable Burials and Bonaventure's Modern Day Fame
Over the years, many notable people have been buried at Bonaventure Cemetery. It's the final resting place for Edward Telfair (governor), Hugh W. Mercer (army officer and Confederate general), Conrad Aiken (novelist and poet), Jack Leigh (photographer and author) and Johnny Mercer (Academy Award winning lyricist/songwriter and co-founder of Capital Records).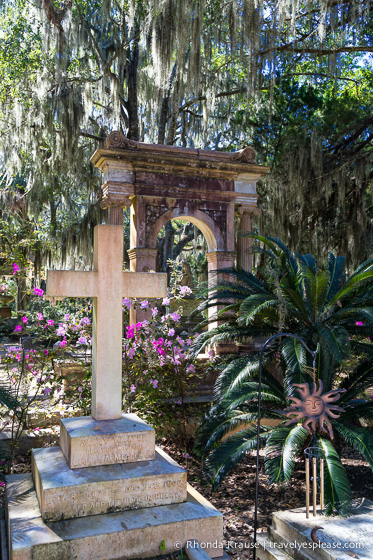 Bonaventure's beauty and intrigue has long captured the imagination of many poets, writers, photographers and filmmakers. The cemetery didn't become world famous though until it was featured in the novel (and movie) Midnight in the Garden of Good and Evil.
Even though Bonaventure has become a popular tourist destination, it remains a peaceful, active cemetery. People can still purchase internment rights and be laid to rest among the oaks, azaleas and sculptures of Bonaventure Cemetery.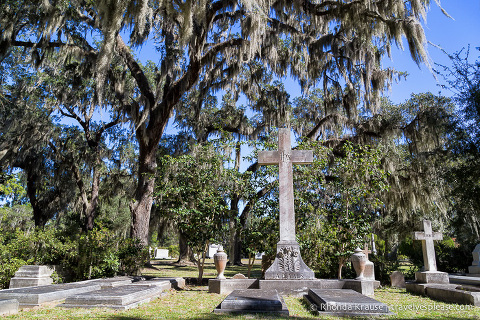 Our Tour of Bonaventure Cemetery
We met many frequent visitors to Savannah and they all said they make a point to come to Bonaventure every time they are in town. As soon as we visited, we understood why.
Bonaventure Cemetery is a unique place, much more than a burial ground. It's equal parts history book, sculpture museum and peaceful garden. It's a place where you can learn about Savannah's history and get to know the locals, long since passed, while taking what feels like a walk in the park.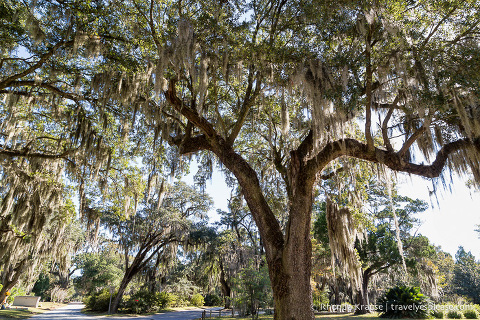 We decided to take a tour of Bonaventure Cemetery in order to make the most of our visit. Without a guide, we wouldn't have known all the fascinating folklore associated with the people buried here, which is what makes the cemetery so interesting.
Our guide was Shannon Scott and he is a master at what he does- one of the best storytellers we've come across in our travels (book his tour here)! For the next 2.5 hours he showed our small group around the cemetery, sharing stories and secrets about Bonaventure and the people buried here.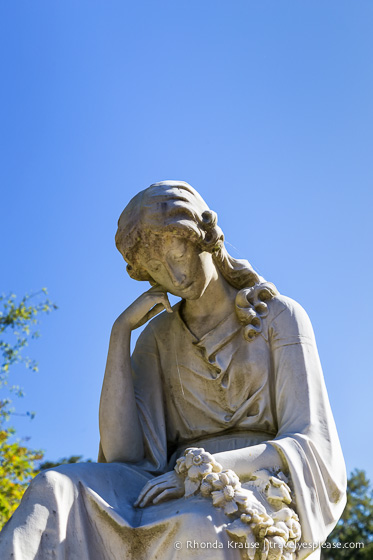 I tend to get bored during tours, especially long ones, but Shannon's tour of Bonaventure Cemetery kept me engaged the entire time. He wasn't just standing in front of us regurgitating facts. He was storytelling, giving us a glimpse into the lives of the cemetery's most famous characters, pulling us into this exciting, mysterious world that is Bonaventure. And we were hooked!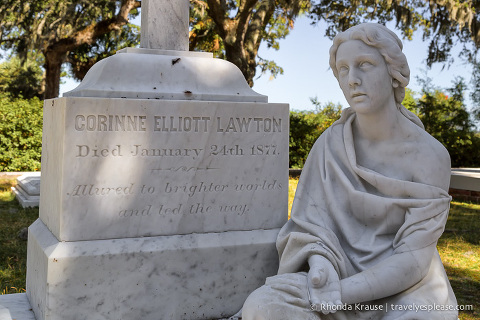 We listened intently as Shannon shared intriguing tales of family drama, forbidden love and acts of good and evil. He even explained much of the Victorian art and symbolism found in the cemetery.
We saw the remarkably detailed statue of Little Gracie, 6 year old daughter of a Savannah hotel manager, who sadly died of pneumonia.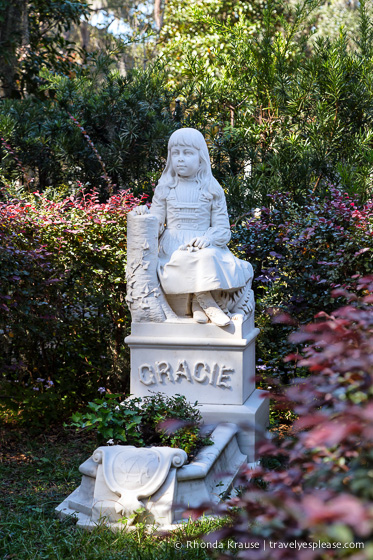 We visited the Mercer plot, hearing tales about the musical success of Johnny Mercer and his intense affair with Judy Garland. It was interesting to find out that the flowers at the Mercer plot apparently are in bloom all year, the only place in the cemetery this happens.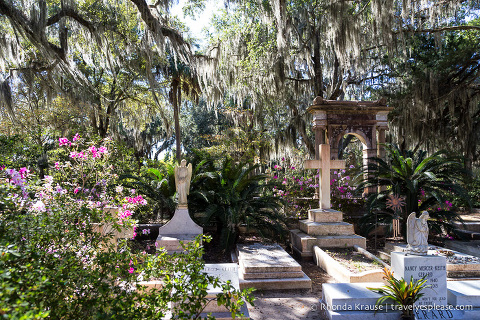 One sculpture we didn't get to see was the "Bird Girl", famous for being on the cover of Midnight in the Garden of Good and Evil. It was moved to Savannah's Telfair Museum of Art to avoid destruction and now is on display at the Jepson Center for the Arts.
Our tour of Bonaventure Cemetery finished at the edge of a bluff overlooking the Wilmington River. It was a beautiful view and as I looked up at the swaying moss of the oak trees, I hoped we'd back one day to explore more of Bonaventure Cemetery.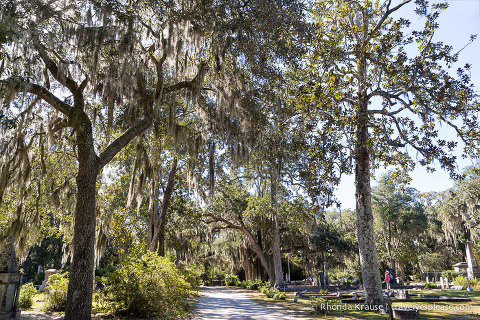 Final Thoughts About Visiting Bonaventure Cemetery
As we walked around Bonaventure Cemetery, we could really feel the soul of Savannah.
Hauntingly beautiful, the cemetery has a distinctive atmosphere that's hard to describe but simple to recognize.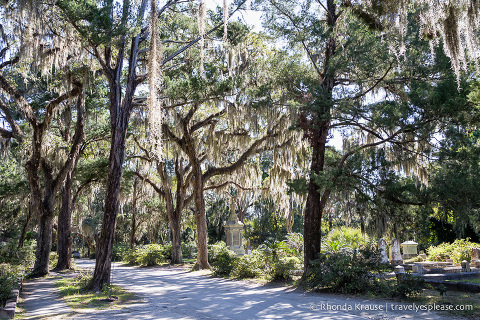 While it's easy to get swept away in the folklore surrounding Bonaventure, a good guide will keep you feeling grounded, connected to the site and the people buried there. We were so glad we signed up for Shannon's tour because he told us some wonderful stories, keeping us engaged and intrigued, without sensationalizing.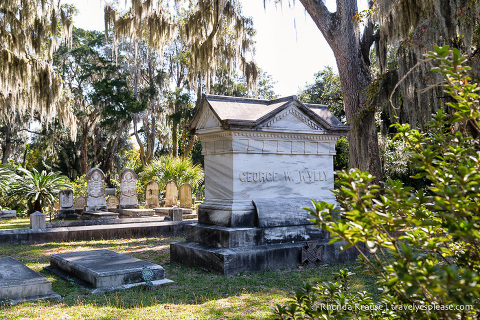 We had such a wonderful morning exploring Bonaventure Cemetery- a definite highlight from our 3 days in Savannah! Even though our tour was quite long and in-depth, I still want to go back and experience the cemetery again. Hopefully next time we'll have a chance to visit when more of the flowers are in bloom.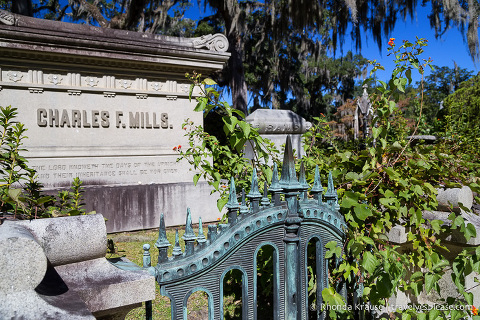 Tips for Visiting Bonaventure Cemetery
Opening Hours: Bonaventure Cemetery is open from 8:00 am- 5:00 pm every day of the year.
Location: The cemetery is located at 330 Bonaventure Road, Savannah GA.
Bonaventure Cemetery Tours: Free guided tours are provided by the Bonaventure Historical Society on the second weekend of each month (Saturday and Sunday). These tours start at 2:00 pm. Confirm current times here.
We did the Bonaventure Cemetery tour presented by Shannon Scott and highly recommend it. The tour takes about 2-2.5 hours. Here is where you can book your Bonaventure Cemetery tour with Shannon Scott. They are very popular and do sell out.
Nearby Attractions: After touring the cemetery, head to the nearby Isle of Hope to visit the Wormsloe Historic Site. It's a great place to see some beautiful live oak trees and learn a little more about the area's history.
Information was updated January 2022, but can change without notice. Please confirm directly with service providers.
Accommodations in Savannah
For your convenience, here is a list of hotels in Savannah. Please consider booking your Savannah accommodations through the included link. It costs nothing extra and helps support this website. Thank you!
More Savannah Attractions and Travel Guides