Purchases made through links earn us a small commission, at no extra cost to you.
The more I visit Québec the more I fall in love with its vast wilderness. One region that exemplifies the province's natural beauty and appreciation of outdoor adventures is Abitibi-Témiscamingue.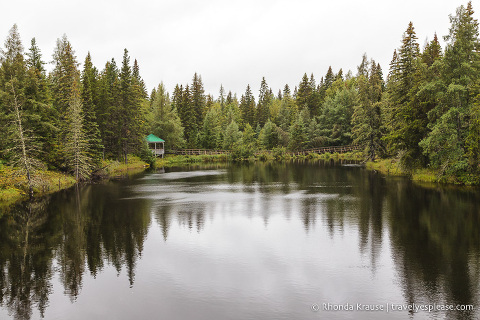 The region's Algonquin name describes it accurately- Abitibi means place where the waters divide and Témiscamingue means place of deep waters.
Abitibi-Témiscamingue's location on a watershed divide makes it a great destination for watersports, whether that be canoeing, kayaking, or fishing. And then there's the boundless forest, both mixed and boreal, providing an ideal setting for hiking, camping, and wildlife viewing.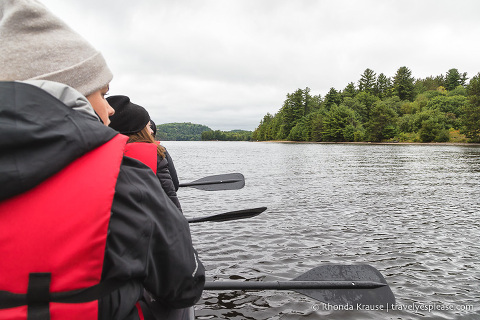 Whether you travel to Abitibi-Témiscamingue for a short getaway (as I did), or a longer wilderness expedition, you'll find plenty of great places to enjoy nature in Abitibi-Témiscamingue.
Things to Do in Abitibi-Témiscamingue for Nature Lovers
For an introduction to Abitibi-Témiscamingue and all it has to offer outdoor adventurers, here are some suggestions of things to do and places to visit in Abitibi-Témiscamingue.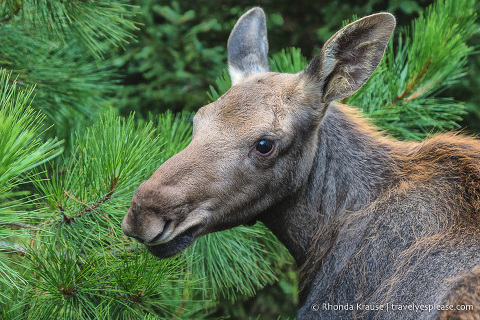 Go Hiking at Parc national D'Aiguebelle
Parc national D'Aiguebelle is an interesting place to go hiking in Abitibi-Témiscamingue because of the variety of geological features and scenic viewpoints you can enjoy along the trails.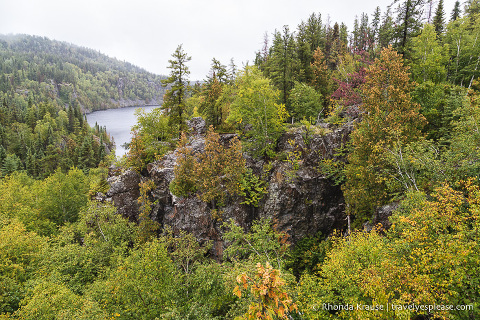 From pillow lava that formed at the bottom of an ancient ocean, to lake-filled faults, a hike in Parc national D'Aiguebelle is not only a walk in nature, it's a window into Earth's geological history.
To take in some of the park's most notable features, I recommend hiking the La Traverse trail. This 3 km loop is an intermediate route that travels though the forest and climbs up to a suspension bridge crossing over Lac La Haie. The view down the fault is wonderful but unfortunately it was raining too hard to take a picture, so you'll just have to trust me on that!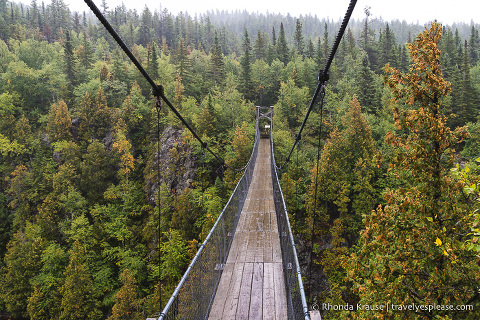 During the hike I saw some examples of pillow lava and a giant's kettle, a glacial pothole that has been eroded into rock by swirling water. There even was a small waterfall and many flavourful blueberries lining the trail.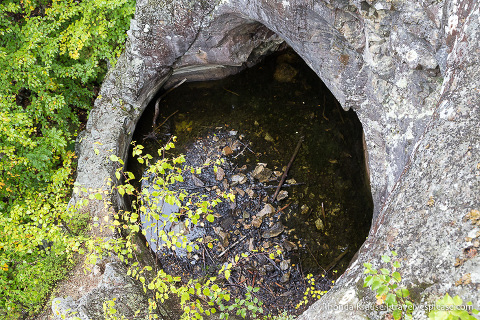 If you do the La Traverse trail, make sure you have good footwear because the trail is steep and the rocky surface can be slippery. Plan for the hike to take about 1.5 hours.
Details:
Parc national D'Aiguebelle is located in the northwest part of Abitibi-Témiscamingue. The nearest city is Rouyn-Noranda, a 45 minute drive away. The town of Amos is about a 1 hour 15 minute drive away.
The hiking routes cover all difficulty levels, from easy to hard, and range from 1 km to 12 km.
In addition to hiking, other summertime recreational activities at Parc national D'Aiguebelle include kayaking, canoeing, fishing, and camping. There are even lakeside rustic cabins you rent.
A daily access fee is charged to visit the park.
Go Camping at Parc national d'Opémican
One of my favourite things to do in Abitibi-Témiscamingue is go camping at Parc national d'Opémican. Located in a wooded area between the long, narrow Lake Témiscamingue and the labyrinth-like Lake Kipawa, Parc national d'Opémican has the perfect scenery and atmosphere for a nature-filled weekend getaway.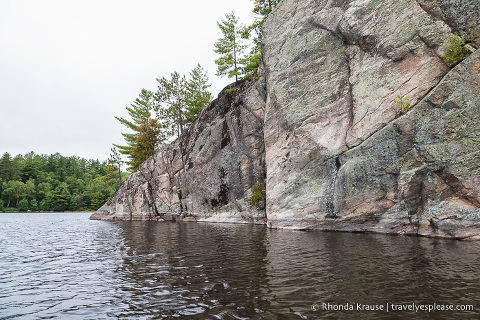 The campground is immersed in a forest of towering pine trees, and even though there are 59 campsites, they are well spaced and sheltered so you can feel like it's a part of the forest just for you.
Since I wasn't travelling with my camping supplies, I decided to rent one of the ready-to-camp Étoiles so I could enjoy a hassle free camping trip at Parc national d'Opémican.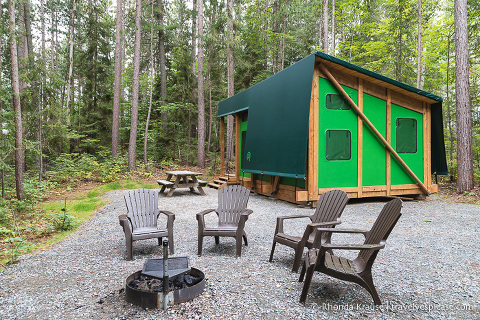 The cube-shaped, canvas-sealed wood structure was a hybrid of a tent and cabin. Inside the single room there were three beds, a kitchen area with pots and pans, utensils, dishes, small fridge, toaster, and coffee maker, plus a dining table. There was even electric lighting, a heater, and privacy screen around each bed to make my stay extra comfortable.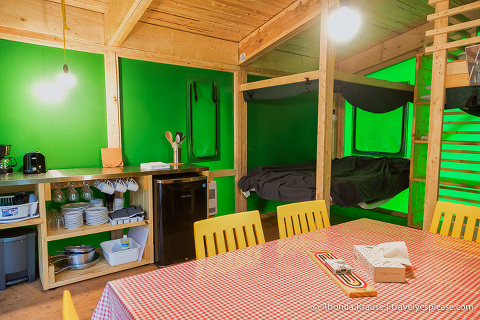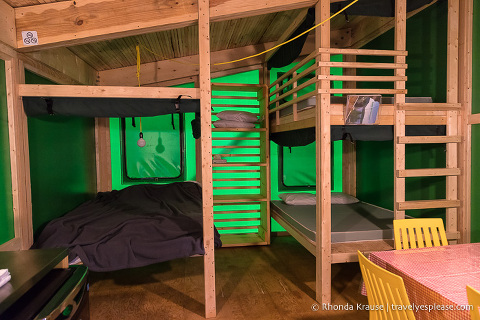 Outside there was a cook stove on the patio and some Adirondack chairs around the campfire. A service site with running water, sinks, toilets, and coin-operated showers was a short walk away.
The best part of the ready-to-camp sites at Parc national d'Opémican was still feeling like I was camping, even though I had some of the comforts of home. I loved falling asleep in my warm bed to the distant howls of a lone wolf, the gentle "hoo hooooo" of an owl, and the crisp freshness of an autumn night. Parc national d'Opémican proves that you don't need to "rough it" or hike miles into the backcountry to enjoy the rejuvenating powers of the forest.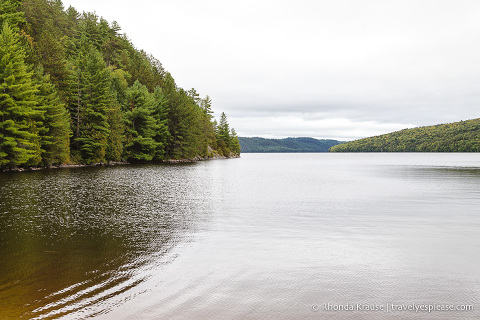 Details:
Parc national d'Opémican is located in the southwestern part of Abitibi-Témiscamingue, near the Ontario border. The closest town is Témiscaming, a 20 minute drive away. The park is roughly a 1 hour 10 minute drive from North Bay, 4.5 hour drive from Ottawa, 5 hours from Toronto, and 6.5 hours from Montréal.
There are 11 Étoile ready-to-camp sites in the Pointe-Opémican sector of the park and 4 in the Rivière-Kipawa sector. They technically can accommodate 6 people, but I think any more than 4 adults would be too crowded. Guests can bring their own sleeping bag/bedding and towels or rent them for an additional fee. Pillows are included.
Recreational activities at Parc national d'Opémican include hiking trails, canoeing, kayaking, paddleboarding, fishing, and biking. Canoe depots are located throughout the park so visitors can access more remote locations and there are designated canoe-bike circuits (visit a park office to arrange a rental).
A daily access fee is charged to visit the park.
Visit the Animals at Refuge Pageau
It's always most satisfying to see wildlife in the wild, but a great alternative is Refuge Pageau where you can not only view a variety of animals, but support a good cause with your admission fee.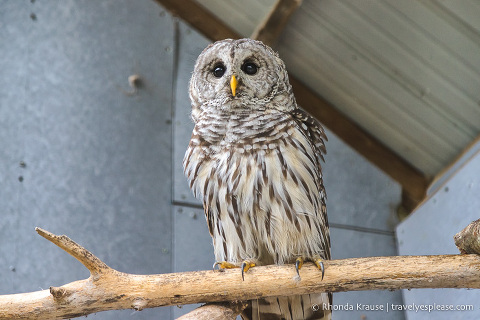 Refuge Pageau is a sanctuary for wild animals that are injured, sick, or orphaned. Unlike a zoo, Refuge Pageau is a hopeful place where animals are taken in with the aim to rehabilitate and return to the wild. In instances where an animal does not have a good chance of survival if released, they receive long-term care and accommodation at the refuge.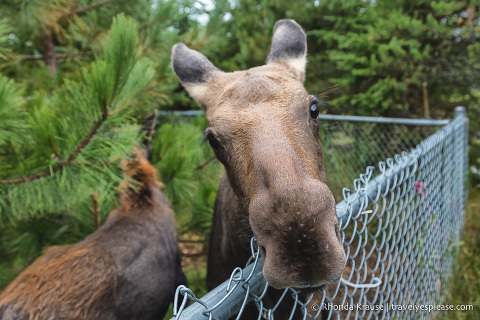 Most of the animals you can see at Refuge Pageau are permanent residents, while the ones that have a good chance of rehabilitation are kept away from the public, so they don't get used to humans.
When I first arrived, I was pleased to see that the facility is spread out within a forested area and some wetlands, so the environment resembles the natural habitat of the animals as much as possible.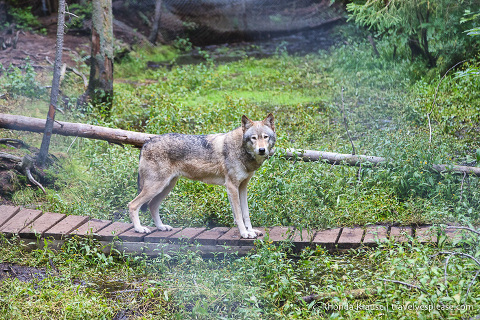 During my guided tour of Refuge Pageau, I got to learn about the different animals and hear stories about how they arrived at the refuge. Sadly, many of the permanent residents arrived as young orphans. Since they had to be bottle fed, they ended up imprinting on humans.
Although unable to thrive in the wild, these animals seemed happy and relaxed in their adopted home. Some were even quite sociable. Chewbaka the porcupine was especially friendly, excitedly waddling out of his enclosure to greet us. He even crawled onto my lap while I was feeding him almonds!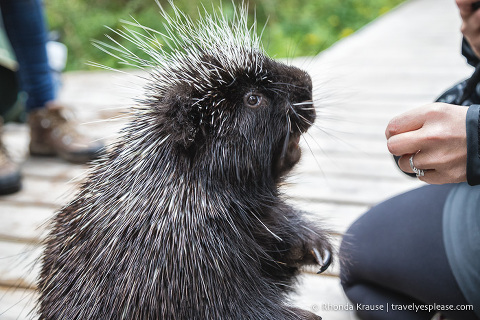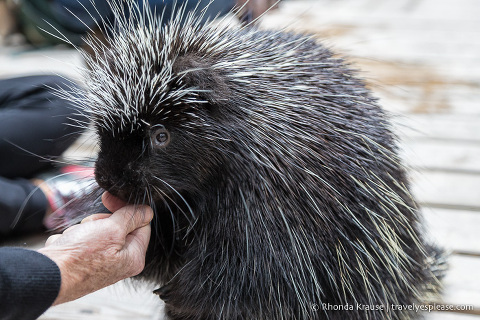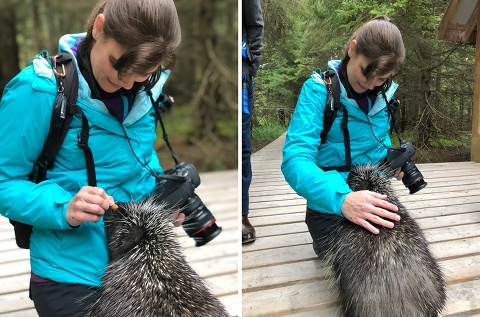 Some other animals I got to see and learn about at Refuge Pageau were baby beavers (cuteness overload!), black bear cubs, moose, lynx, coyotes, grey wolves, foxes (red and arctic), raccoons, owls, bald eagles, ravens, crows, and turkey vultures.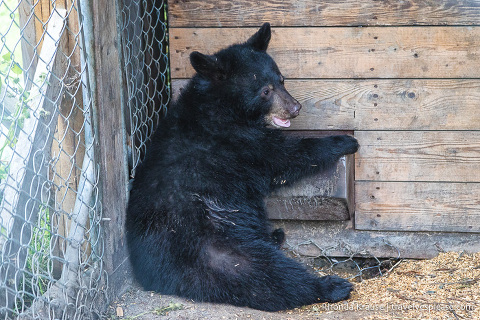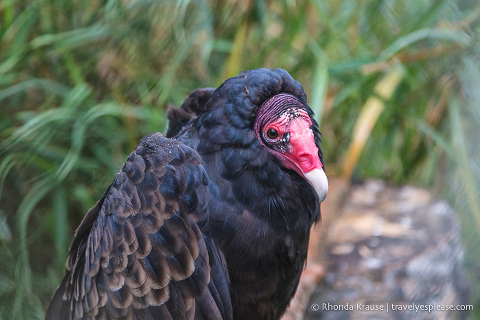 I have to admit, that as an animal lover, I had mixed emotions while visiting Refuge Pageau. On one hand, I felt sad that many of these animals would never live in the wild again because either their injuries would limit their ability to survive, or they had become too trusting of humans. On the other hand, it filled my heart to hear success stories of animals returned to the wild healthy and strong, and to know that the permanent residents at least get a chance at life in a safe, caring environment.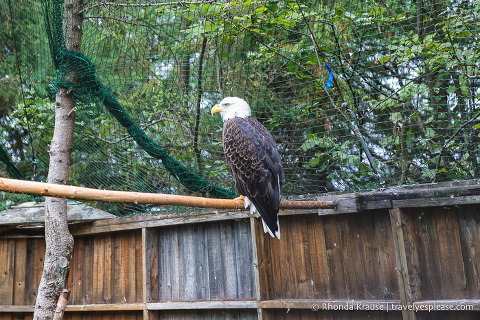 Details:
Refuge Pageau is located a 10 minute drive away from the town of Amos, in the north-central part of Abitibi-Témiscamingue.
Guided tours are available or you can follow the route through the refuge at your own pace. Each enclosure has a sign telling about the animal inside.
Final Thoughts About Visiting Abitibi-Témiscamingue
I only spent three days in this region of Québec but was impressed with the amount of things to do in Abitibi-Témiscamingue for nature lovers.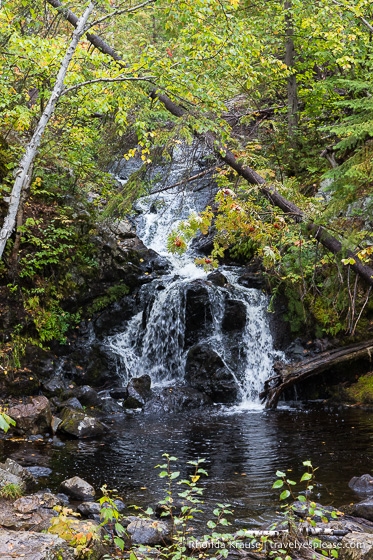 There were so many great places for outdoor adventures in Abitibi-Témiscamingue, especially Parc national d'Opémican and Parc national D'Aiguebelle with all their opportunities for hiking, canoeing, camping, and more.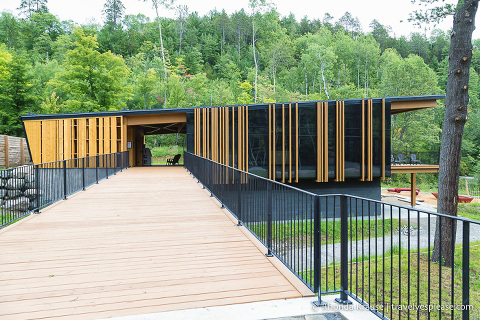 Besides getting out and enjoying some hikes, my favourite thing about Abitibi-Témiscamingue was the scenery. I loved being surrounded by dense forests and big lakes. There was always something beautiful to look at, even during long drives between destinations.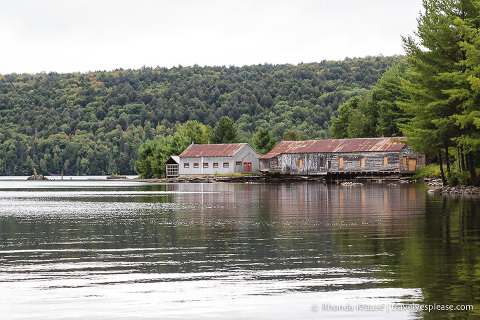 Tips for Visiting Abitibi-Témiscamingue, Québec
Getting There: If coming from the south (say Ottawa or Montréal), the gateway town to Abitibi-Témiscamingue will be Val-d'Or.
From Montréal, Val-d'Or is roughly a 1 hour 15 minute direct flight or a 6 hour drive.
From Ottawa, Val-d'Or is about a 4.5 hour drive or 3+ hour flight (with a connection in Montreal).
Getting Around: You will need a car to explore Abitibi-Témiscamingue. The region is quite large and most the places I mentioned visiting are remote and spread apart from each other. However, don't shy away from long drives because the scenery is beautiful!
Information was updated January 2022, but can change without notice. Please confirm directly with service providers.
Accommodations in Abitibi-Témiscamingue
For your convenience, here is a list of accommodations in Val-d'Or, Amos, and Rouyn-Noranda, which are some major communities in the region (along with Témiscaming). Please consider booking your Abitibi-Témiscamingue accommodations through the included links. It costs nothing extra and helps support this website. Thank you!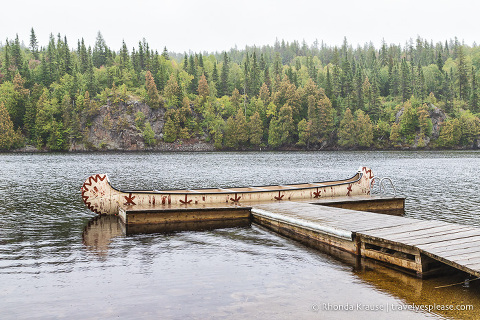 I was hosted by Québec Original and Tourisme Abitibi-Témiscamingue in order to bring you this story. As always, I speak only the truth and hosts have no editorial influence on articles.
More Quebec Destinations and Travel Guides