Purchases made through links earn us a small commission, at no extra cost to you.
Having only visited Quebec's main cities, I was curious to explore the province's more rural area and see what outdoor adventures and historic attractions I could find.
What I discovered during my weekend in Saguenay-Lac-Saint-Jean was a region full of opportunities to connect with nature, history, and small town life.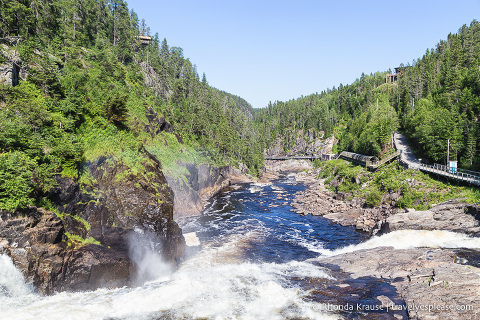 What to See and Do in Saguenay-Lac-Saint-Jean
During my 3 days in Saguenay-Lac-Saint-Jean, I went hiking atop a fjord, enjoyed a scenic boat cruise, stayed in a bayside village, walked along a canyon, and explored a historic site.
Here's a look at my favourite things to do in Saguenay-Lac-Saint-Jean!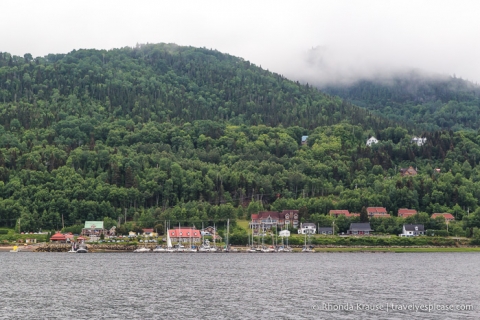 Hike the Statue Trail at Saguenay Fjord National Park
The first thing I did on my trip to Saguenay-Lac-Saint-Jean was go hiking at Saguenay Fjord National Park.
Saguenay Fjord is one of the 10 longest fjords in the world at 105 km, and both shores are lined with long distance hiking trails.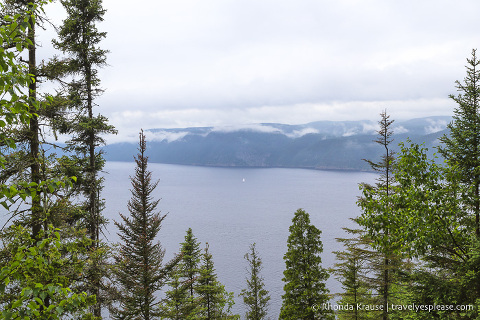 I decided to tackle one of the shorter hikes, choosing to do the Statue Trail (Sentier de la Statue) that begins at the visitor centre.
The Statue Trail follows along Baie Éternité, climbing up to Cap Trinité where the statue of Notre-Dame-du-Saguenay overlooks the fjord and Saguenay River.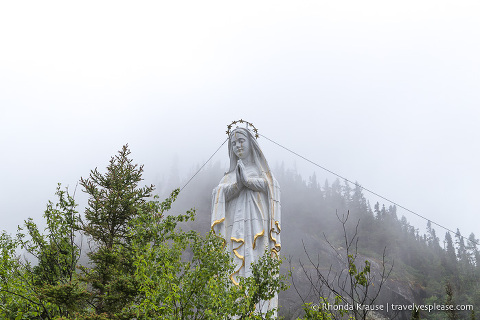 The out and back trail is mostly forested, but there are a few lookouts that offer great views of the fjord and bay. Even on a rainy, foggy day, the scenery was impressive!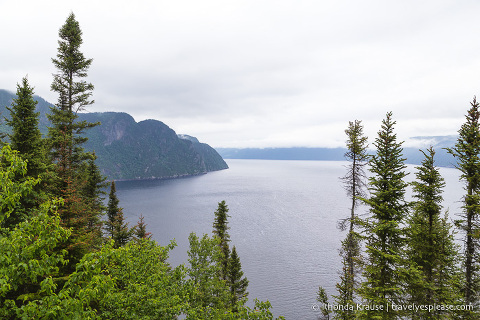 The Statue Trail is rated intermediate to difficult and can be challenging at times because of the rocky path, inclines and declines, and wooden stairs. Hiking poles would have come in handy for the downhill portions, especially since the rocks were slippery from the rain.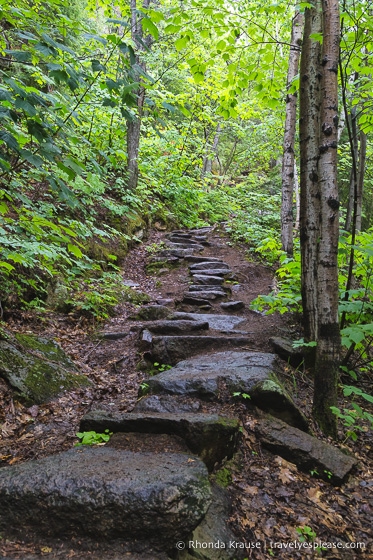 On my next trip to Saguenay Fjord National Park I want to try the via ferrata course, since I had so much fun doing the via ferrata at Montmorency Falls Park near Quebec City.
Details:
Starting point for the hike is at Le Fjord du Saguenay Discovery and Visitors Centre, near Rivière Éternité.
The Statue Trail is 7.6 km round trip and takes 3-4 hours to complete.
There are interpretive panels at the lookout points with information about the area.
Take a Boat Cruise Along Saguenay Fjord
After my hike, I boarded the marine shuttle (Navettes maritimes du Fjord) for a cruise along the waters of the Saguenay-St. Lawrence Marine Park to the picturesque small town of L'anse-Saint-Jean.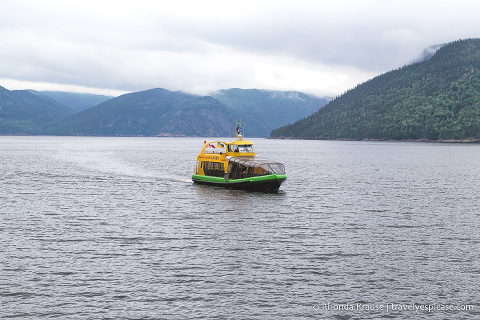 I enjoyed experiencing a different perspective of Saguenay Fjord as we sailed past the tall, rocky cliffs, some reaching 300 metres in places. It was a nice touch when the boat stopped below the statue of Notre-Dame-du-Saguenay and played "Ave Maria", giving us a few moments to enjoy the scenery.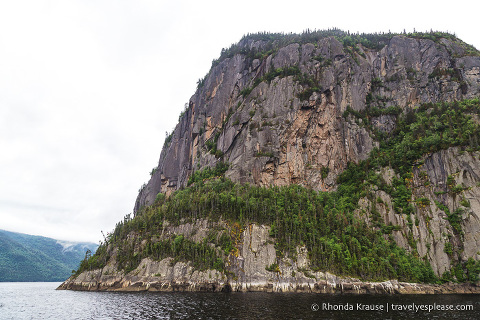 I was hoping to see some whales since the Saguenay-St. Lawrence Marine Park is home to a few species, but no luck. I think chances of spotting whales are better at the St. Lawrence estuary than along the fjord.
About an hour later I arrived at L'anse-Saint-Jean, a quiet bayside village. It's worth spending the night here to see the heritage homes and covered wooden bridge that has art hanging on the inside walls.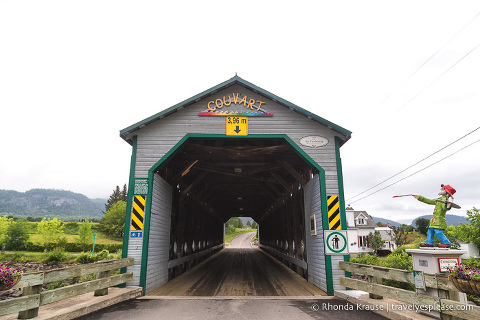 If I had more time, I would have liked to go on a kayak tour, or even one of the multi-day kayak trips that leave from here.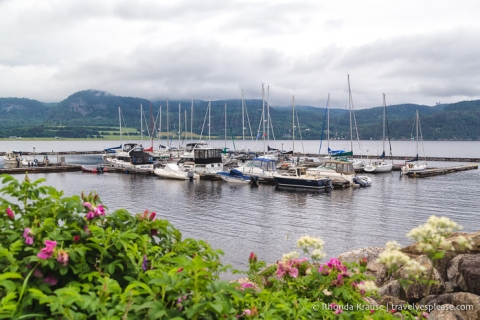 Details:
The marine shuttle links the communities of Tadoussac, L'Anse-Saint-Jean, Rivière-Éternité (Fjord-du-Saguenay National Park), Sainte-Rose-du-Nord, St-Fulgence (Parc Aventures Cap Jaseux), and La Baie. One-way and return trips are available.
The boat is in operation from June-October (precise dates vary from year to year).
The boat cruise is narrated live in both English and French.
Snacks and beverages are available for purchase on board, but feel free to bring your own picnic.
There are covered and open decks for viewing the scenery and washrooms on board.
Visit Parc de la Caverne Trou de la Fée
Parc de la Caverne Trou de la Fée is a tourist site where you can enjoy a few different outdoor activities like hiking, zip-lining, and visiting a bat cave.
I'm terrified of bats so passed on the cave, choosing to go for a walk instead.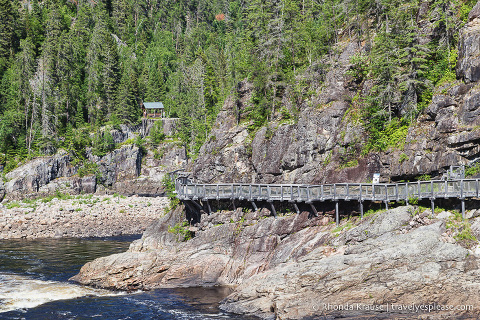 Following a canyon-clinging boardwalk, I strolled alongside a rushing river, over swaying suspension bridges, then through the forest back to the information centre. Along the way I saw a waterfall and the remains of a hydroelectric plant from 1920.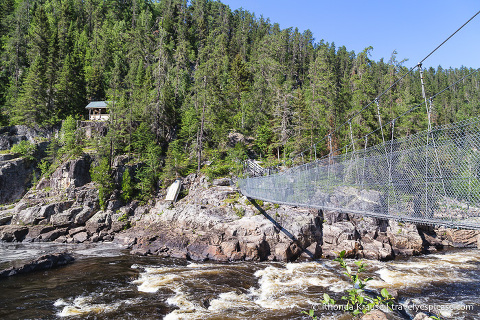 The route I chose didn't take long to walk, but there was another loop I could have done that went past three waterfalls.
While I preferred the feel Saguenay National Park, I liked that the trails here had views the entire walk, not just at lookout points. I think Parc de la Caverne Trou de la Fée is a good choice for families, or those who want to experience a canyon and natural scenery without having to do a challenging hike.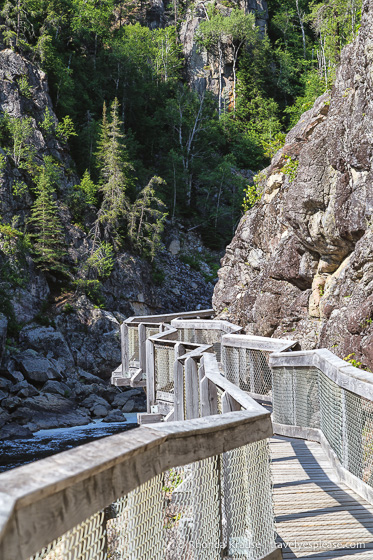 Details:
Parc de la Caverne Trou de la Fée is located near the village of Desbiens at Chemin trou de la fée, 7e avenue.
The park is typically open from early June to early October, with the zipline operating from late June to early September.
Interpretive panels along the trails were in French only.
Tour the Historic Village of Val-Jalbert
The highlight of my trip to Saguenay-Lac-Saint-Jean was visiting Val-Jalbert, an authentic company town from the 1920's.
Val-Jalbert was established in 1901 when a pulp mill was built at the base of the Ouiatchouan Falls. When the mill was shut down in 1927, the residents abandoned the community in search of work. By 1929, the village was a ghost town.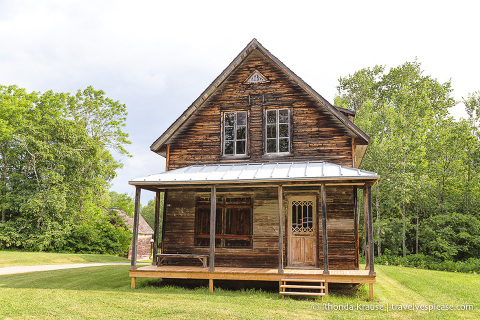 Val-Jalbert has since been preserved and opened to visitors. During my visit, I toured restored buildings, saw crumbling houses, admired a waterfall, had dinner in the old mill, and spent the night in a historic home.
Val-Jalbert was a lovely place to learn about the local history, all while being surrounded by beautiful scenery.
Read more: Visiting Val-Jalbert- An Authentic 1920s Company Town in Quebec
Details:
Val-Jalbert is located near Lac Saint-Jean and the town of Chambord.
Val-Jalbert is typically open from late May to early October.
Accommodations on site include rooms in period homes, or you can stay off-site in a nearby campground.
Final Thoughts About my Trip to Saguenay-Lac-Saint-Jean
As someone who enjoys outdoor activities sprinkled with a bit of history, Saguenay-Lac-Saint-Jean was a great region in Quebec to visit.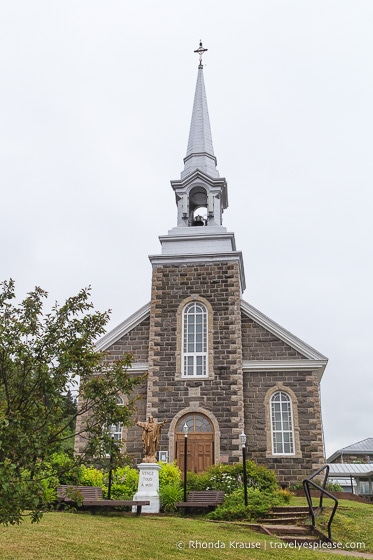 I enjoyed the challenge of hiking in Saguenay Fjord National Park, then relaxing afterwards on a boat cruise along the fjord. Staying in small villages, like L'anse-Saint-Jean and Val-Jalbert, was a great way to get to know a different side of Quebec.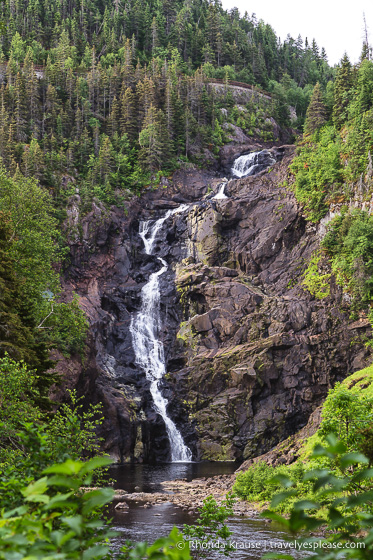 Even though I had a full weekend in Saguenay-Lac-Saint-Jean, there are still more things I'd like to experience on a future visit, especially around Saguenay Fjord.
Tips for Visiting Saguenay-Lac-Saint-Jean
Location: Saguenay-Lac-Saint-Jean is located north of Quebec City and includes areas south and north of the Saguenay River and Lac-Saint-Jean.
Getting There: The main airport for the Saguenay-Lac-Saint-Jean region is the small Bagotville airport, near the city of Saguenay.
Getting Around: The easiest way to get around the region is by car.
Information was updated January 2022, but can change without notice. Please confirm directly with service providers.
Accommodations in Saguenay-Lac-Saint-Jean
For your convenience, here is a list of hotels in Saguenay-Lac-Saint-Jean. Please consider booking your accommodations through the included link. It costs nothing extra and helps support this website. Thank you!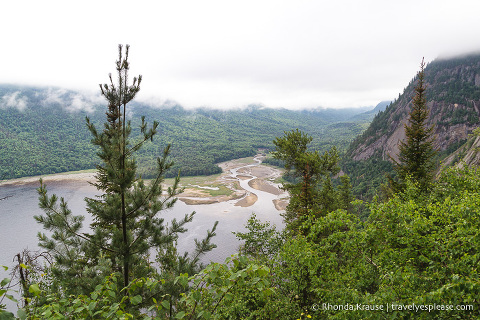 I was hosted by Quebec Original and Tourism Saguenay-Lac-Saint-Jean in order to bring you this story. As always, I only speak the truth and hosts have no editorial influence on articles.
More Quebec Destinations and Travel Guides