Purchases made through links earn us a small commission, at no extra cost to you.
It's well known among locals of Québec that the Laurentians (Laurentides in French) is a terrific destination for a weekend getaway from Montreal. With 9,012 lakes, 103 rivers, forested trails, and part of the Laurentian mountains, the region is ideal for outdoor adventures and reconnecting with nature.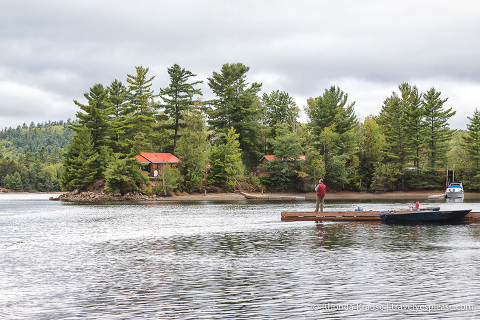 Despite its popularity as an all-season tourist destination, it was easy to find a quiet and secluded area in the Upper Laurentians to appreciate the beauty of Québec's vast wilderness.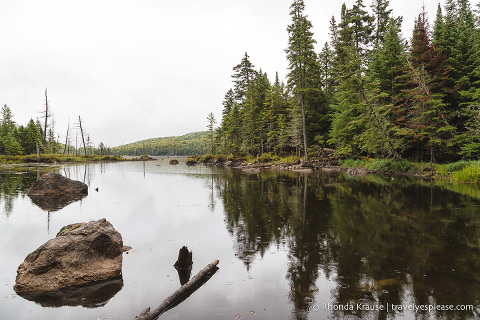 Here's a look at how I enjoyed a weekend getaway in the Laurentians. Hopefully it gives you some ideas for planning your own Laurentian vacation in the great outdoors!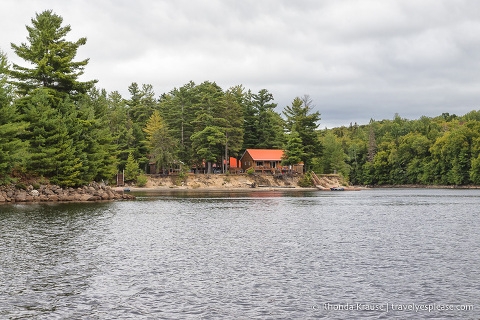 A Weekend Getaway in the Laurentians– Things to Do and Places to Visit
For my weekend getaway in the Laurentians, I headed to the northwestern part of the region to explore around the Baskatong Reservoir.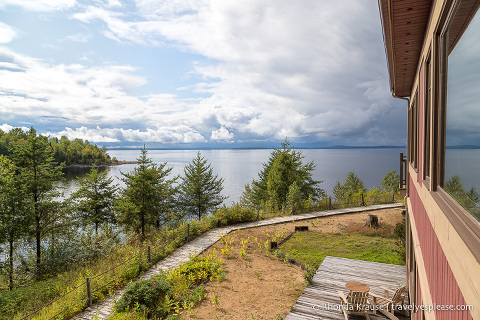 I stayed at a charming lakeside resort and happily filled my days with relaxing walks in the forest, scenic boat trips, and delicious meals.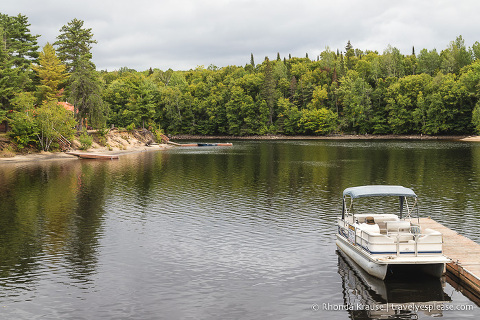 Here's a look at my revitalizing, nature-filled trip to the Upper Laurentians, including places to visit, things to do, and where to stay.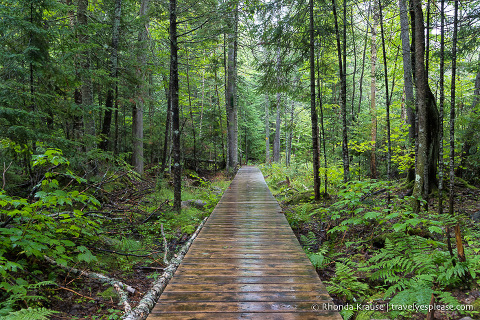 Stay at Le Village Windigo
Overlooking the Baskatong Reservoir, Le Village Windigo provided the perfect location for enjoying the natural scenery and outdoor adventures available in this part of the Laurentians. Not only was Windigo Village close to a large regional park, the property itself had plenty of activities to enjoy.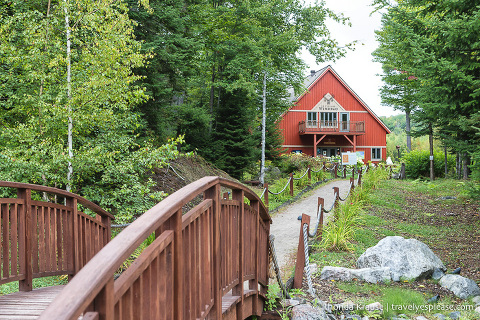 A highlight of the resort was the sandy beach where you can borrow kayaks and paddleboards, play beach volleyball, or just relax in one of the lounge chairs while looking out onto Windigo Bay. I kayaked around the bay one morning and it was a refreshing way to start the day!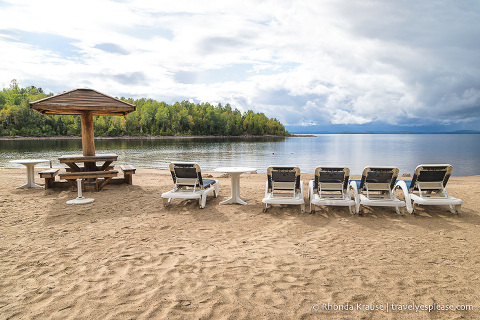 Besides the beach, there are several trails on and around the property that can be used for hiking and biking (or snowshoeing and cross country skiing in the winter). Before setting out, visit the park reception office for a trail map so you can see the different routes, distances, and permitted uses. The map shows nine trails ranging from 0.4 km to 7.2 km. I walked a few of the shorter ones and they were signed with directions and trail numbers.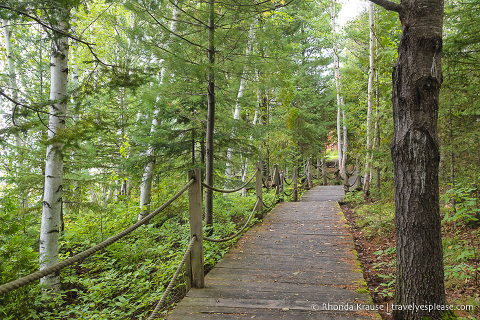 If you'd rather bike than hike, Windigo Village also has bicycles you can sign out from the reception office.
As for the accommodations at Windigo Village, there are a few options to choose from. I stayed in one of the fully-equipped condos and loved that it had a laid-back, luxurious vibe. There was a wood-burning fireplace, king bed, and a balcony with barbeque. My favourite place to hang out was in the comfy living room chairs facing the Baskatong Reservoir. Not a bad view to wake up to!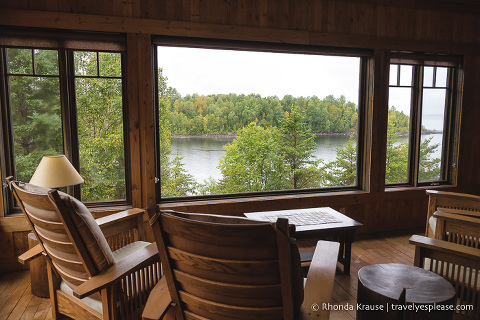 At Windigo Village you can also rent a wooden cottage with 2, 3, or 5 bedrooms. Some of the cottages have views of the reservoir, while others are sheltered by trees.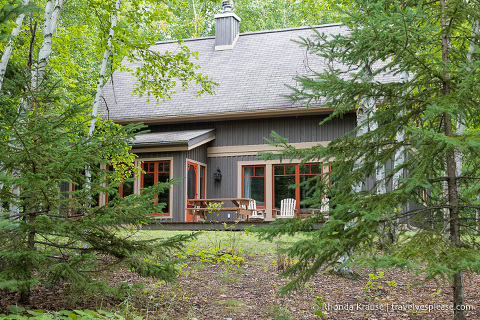 Most uniquely, you can choose to rent a clear dome, just big enough for a double bed, and sleep under the stars.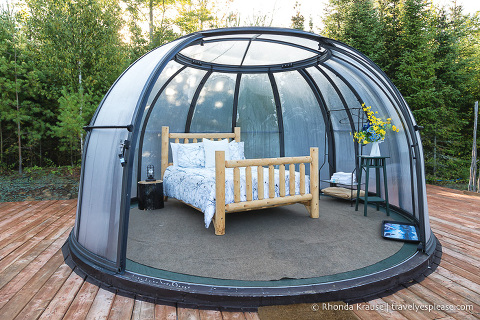 Go Hiking and Canoeing at Parc régional Montagne du Diable
Montagne du Diable (Devil's Mountain) is surrounded by a large regional park perfect for outdoor adventures in the Laurentians.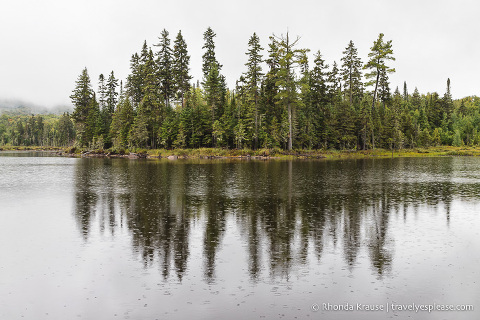 At Parc régional Montagne du Diable, there's an 80 km network of hiking trails meandering through the forest, providing access to several lakes, cabins, campsites, and the summit of Devil's Mountain.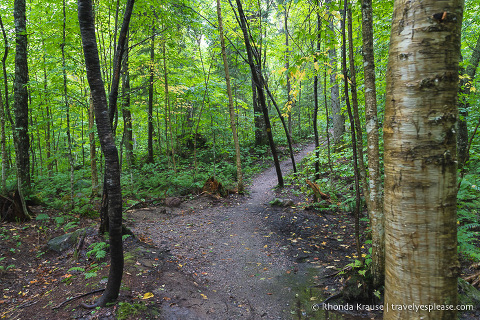 You could easily embark on a larger adventure here, hiking from cabin to cabin, but I decided to stick close to Lac de la Montagne for a nature walk and canoe outing.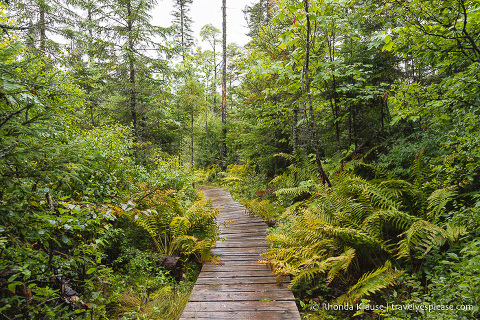 I chose to walk the Windie Interpretation Circuit, a 4 km trail that circles around Lac de la Montagne. The route is dotted with interpretive panels providing information (in French only) about the natural area.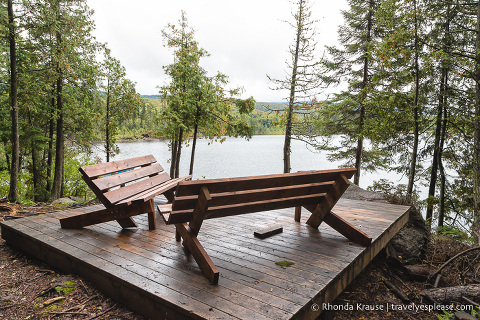 The route was mostly forested, with occasional views of the lake. I was so impressed with the plant diversity along the trail and saw everything from moss covered rocks, conks, lingonberry, bluebead-lily, and ferns.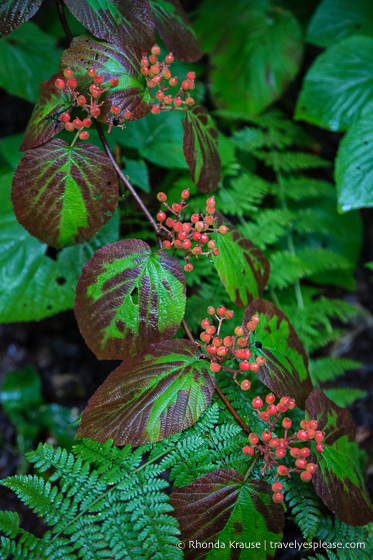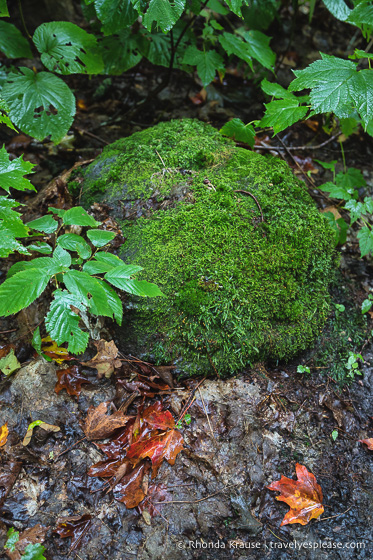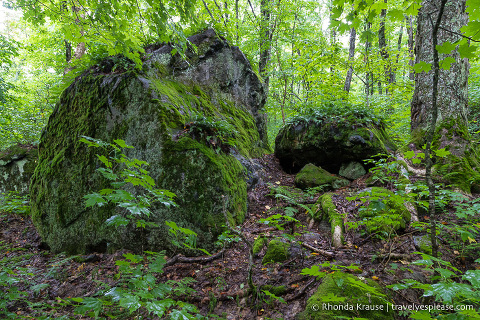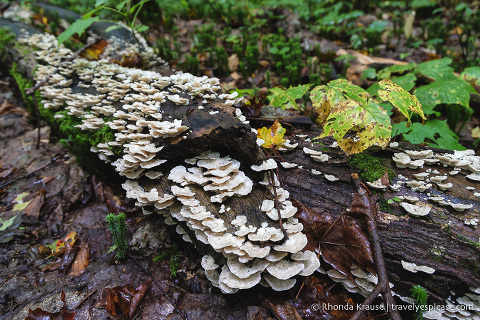 The most interesting thing I saw during my nature walk at Parc régional Montagne du Diable was trees growing on top of boulders, their roots enveloping the large rocks. I'm always amazed at what nature is capable of!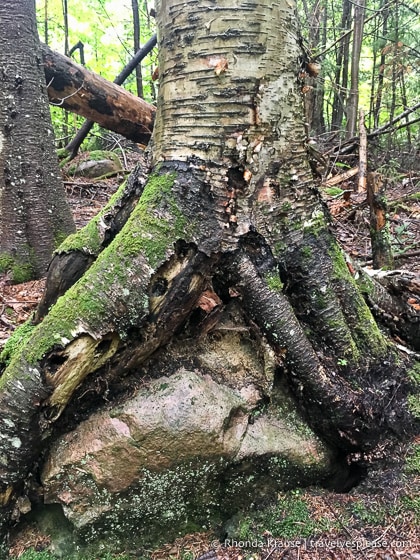 After my walk in the forest, I rented a canoe and paddled around Lac de la Montagne, getting to see the forest from a different perspective. If I had more time, I would have rented a mountain bike to explore further into the park.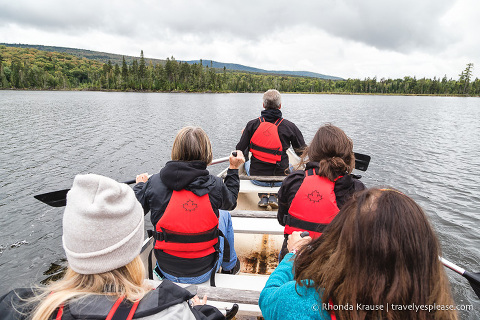 On my drive back to Windigo Village, I stopped at a different area of the park to see Windigo Falls.
Much different than I was expecting, these small falls can best be described as a natural waterslide. It was pretty entertaining to watch a group of locals slipping and sliding down the water-covered rock face and into the pool below. It's definitely not something I would recommend or do myself after seeing the scrapes and bruises one guy ended up with!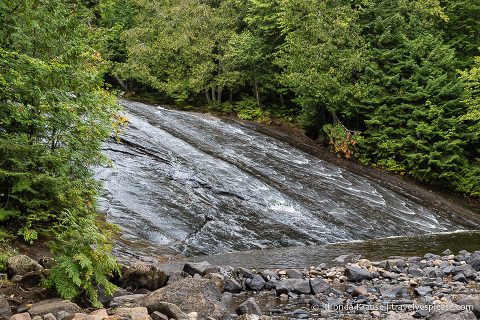 Rent a Boat and Have Dinner at Rabaska Lodge
Rabaska Lodge is another vacation resort along the Baskatong Reservoir that you can stay at to experience the wilderness of the Laurentians.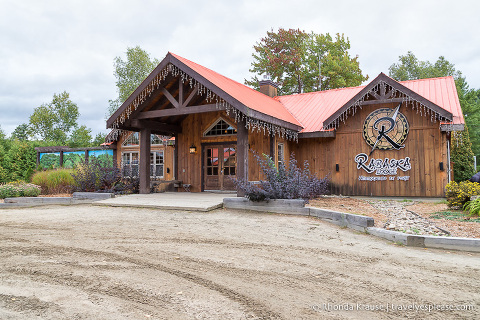 Even though I wasn't staying at Rabaska Lodge, I visited one afternoon so my travel companions and I could rent a pontoon boat and spend a few hours on the reservoir. Once I was out on the water, I got a greater understanding of just how big the Baskatong is- over 400 square kilometres!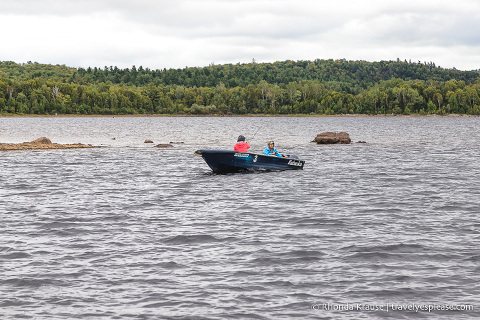 Upon returning to Rabaska Lodge, we enjoyed an expertly prepared meal by the lodge's chef, a delicious end to a wonderful weekend getaway in the Laurentians!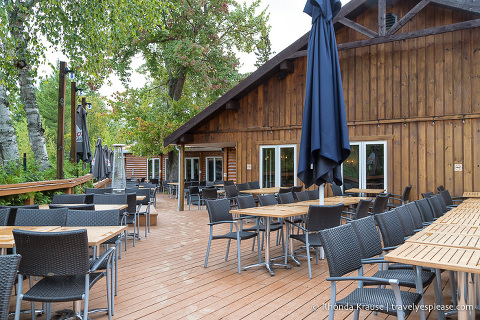 Final Thoughts About My Trip to the Laurentians
I really enjoyed visiting the Laurentians, as it was a great destination for both relaxation and outdoor adventures. The resorts on the Baskatong Reservoir were comfortable and scenic, and Parc régional Montagne du Diable was a beautiful place for a hike and paddle on the lake.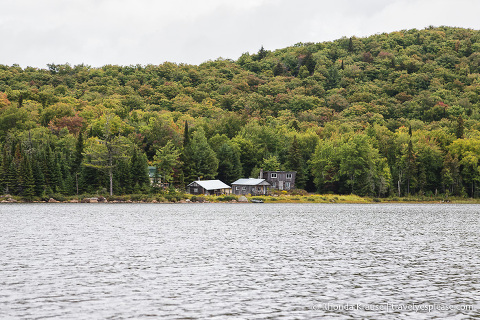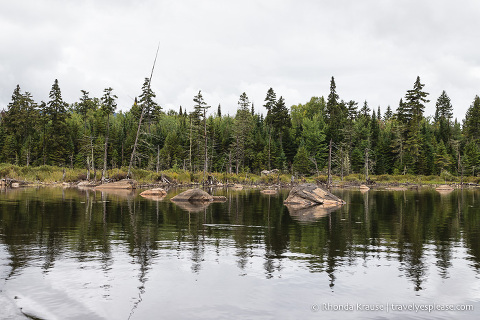 I'd love to come back to the Laurentians in the winter for a snowmobile trip. There were so many trails through the forest that would be fun to explore!
Tips for Visiting the Laurentians
Location: The Laurentian region is located just northwest of Montreal, Québec.
Getting There: From the Montreal international airport, Windigo Village and the Baskatong Reservoir are about a 3.5 hr drive. From Ottawa (Ontario), it's about a 2 hr 50 min drive.
Getting Around: You will need a car to explore the part of the region I visited, as it's quite remote (the nearest municipality is Ferme-Neuve). Expect gravelled/dirt roads around the Baskatong Reservoir.
Information can change without notice. Please confirm directly with service providers.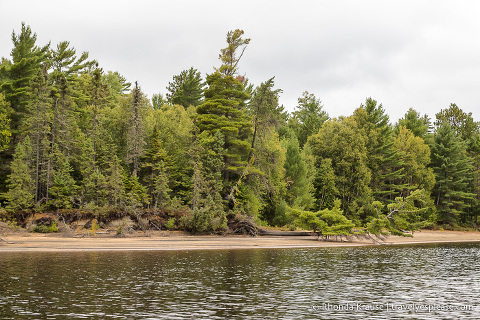 Accommodations in the Laurentians
For your convenience, here is a list of accommodations in the Laurentians, including Windigo Village. Please consider booking your Laurentians accommodation through the included links. It costs nothing extra and helps support this website. Thank you!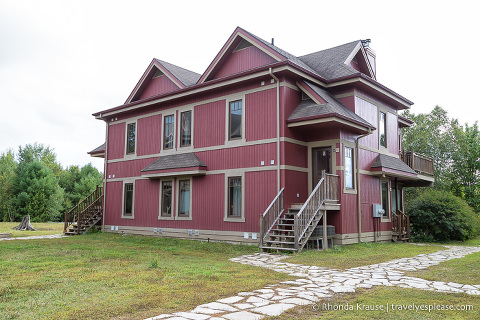 I was hosted by Québec Original and Tourisme Laurentides in order to bring you this story. As always, I speak only the truth and hosts have no editorial influence on articles.
More Quebec Destinations and Travel Guides