Purchases made through links earn us a small commission, at no extra cost to you.
There's nothing quite like disconnecting in a place surrounded by miles and miles of pristine nature. Forests, lakes, rivers- they all have a way of replacing my stress with relaxation, worry with peace.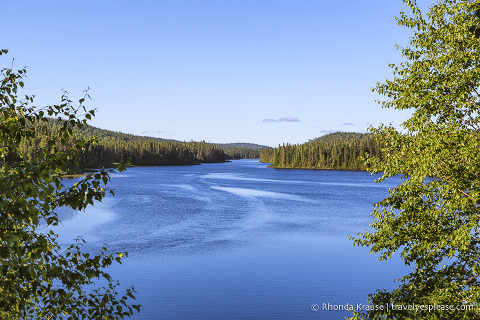 For that reason, I ventured to the Mauricie region of Quebec, an area known for its vast natural spaces. With over 17,500 lakes, two wildlife reserves, and a Biosphere Reserve, nature lovers will have no trouble finding somewhere to escape for a few days.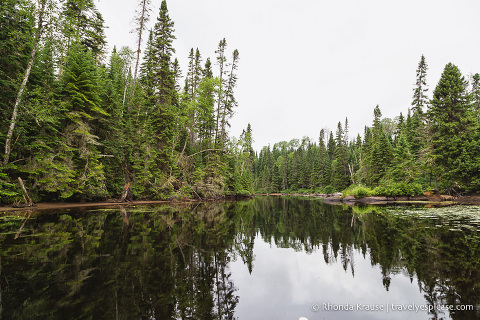 For me, that place was La Seigneurie du Triton, a historic wilderness lodge and outfitter in a remote area of Mauricie. There was no cell service, no television, no WiFi most of the time, and no cars- so refreshing!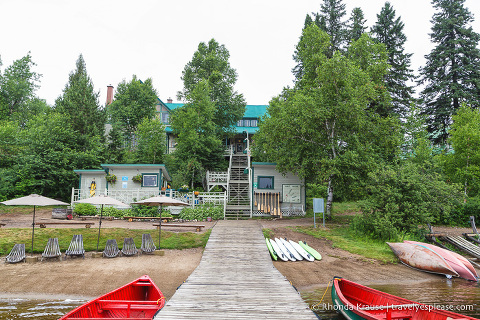 During my stay at La Seigneurie du Triton, I enjoyed plenty of outdoor activities, beautiful scenery, delicious meals, warm hospitality, attentive service, interpretive programs, and modest, yet cozy accommodations in one all-inclusive package.
Here's a look at my visit to La Seigneurie du Triton, including a brief background of this historic property.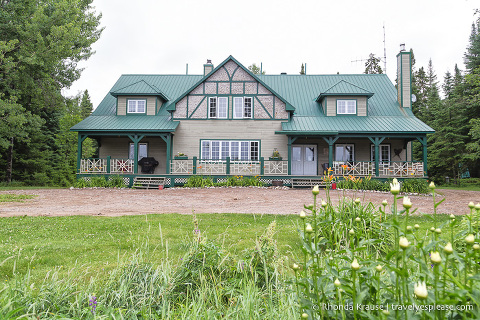 History of La Seigneurie du Triton
La Seigneurie du Triton began as the prestigious Triton Fish and Game Club, founded in 1893 by railroad construction engineer and sportsman Alexander Luders Light.
After leasing land from the Quebec government for sporting purposes, Light decided to form a hunting and fishing club, opening up 200 lakes and 500 square miles of wilderness to paying members.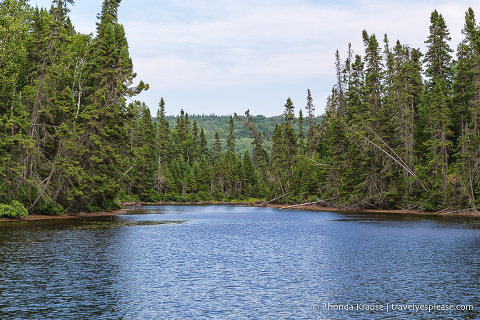 As stories of the first Triton fishermen spread, a growing number of people desired to experience what was being marketed as the most exciting fishing in the world. An elegant clubhouse was built on Lac á la Croix in 1897, and soon the 150-person membership list was now full with notable names like Rockefeller, Roosevelt, and Vanderbilt.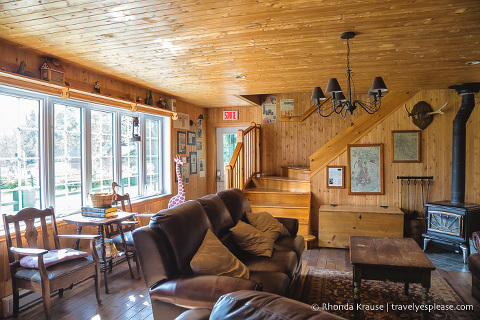 The first half of the 20th century saw the club host prominent political figures like former British Prime Minister Winston Churchill, and US Presidents Theodore Roosevelt and Harry Truman.
The Triton Club carried on until 1981, leaving behind a proud heritage and unspoiled wilderness still enjoyed by outdoor enthusiasts today.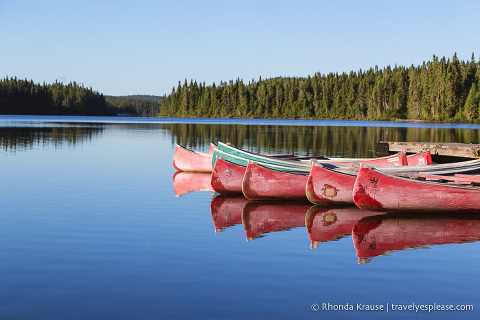 My Stay at La Seigneurie du Triton
I spent 2 nights at La Seigneurie du Triton and could not think of a better place in Quebec to unwind after a busy 3 days in the Saguenay-Lac-Saint-Jean region.
Surrounded by forests and lakes, La Seigneurie du Triton is a remote wilderness resort that can only be accessed by boat or float plane.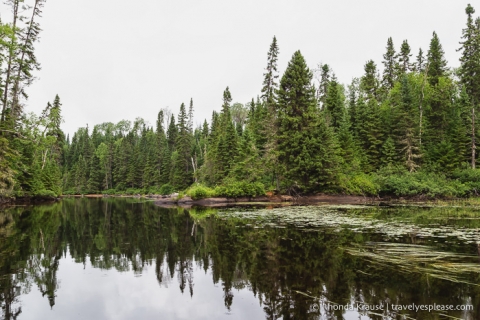 After driving down a long dirt road, I arrived at the parking area at Lac á la Croix and waited for the shuttle boat to the resort.
Once the boat arrived, the staff asked the guests' names then placed their luggage on the covered pontoon boat, nicely organized so they knew which lodge to deliver it to upon arrival.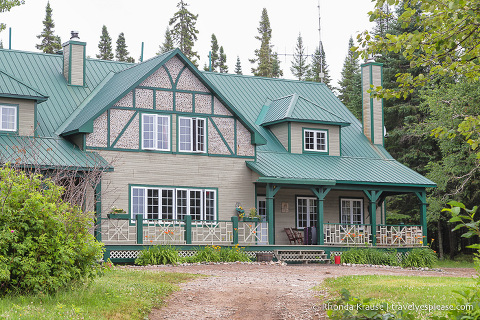 It was during that initial boat ride to the resort that I knew I was going to love my stay here. Slowly travelling across the wide-open lake, the waterway eventually narrowed, surrounding us with dense forest. We passed by a couple canoeing and it made me eager to get out and do some paddling myself.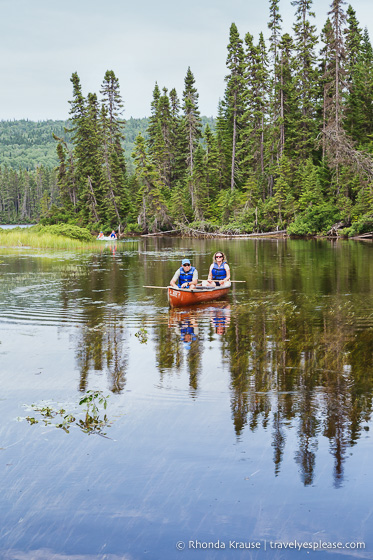 At the end of the scenic channel, the lake widened presenting a beautiful view of the historic clubhouse and small sandy beach.
This is exactly what I was hoping for, I thought to myself.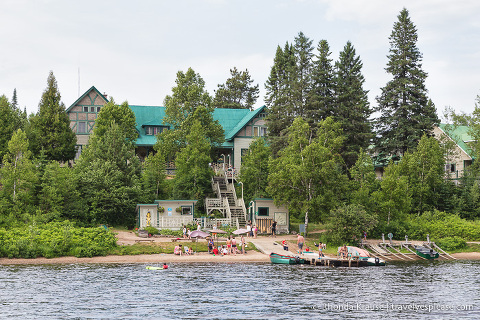 After the boat docked, I made my way up the stairs into the century old clubhouse to check in. The décor was much like I pictured a historic fishing lodge to look like, with wood panels, stone fireplaces, antiques, black and white photographs, and animal trophies.
I took a quick look around then headed to the Batiscan Lodge, where my room was located. Much like the clubhouse, the lodge had a warm atmosphere and rustic charm, with a lovely view of the lake.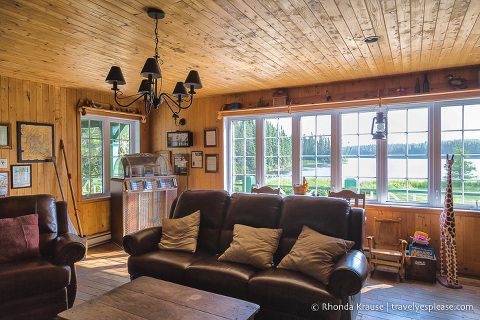 My room had the simple comforts you'd expect from a wilderness lodge- comfy bed, clean bathroom, unassuming decor, and a cabinet to put your stuff. That's all I needed because I knew I would be spending the majority of my time on outdoor pursuits.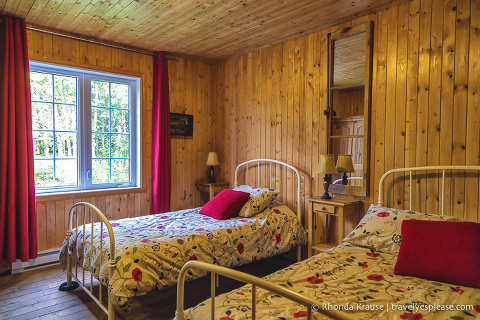 During a stay at La Seigneurie du Triton, guests have included access to outdoor sports equipment and guided activities, so I planned to take advantage of that as much as possible.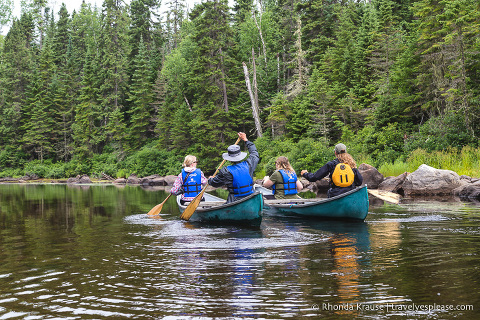 I went kayaking soon after I arrived, then that night enjoyed a campfire on the beach with an interpretation about trapping and fur-bearing animals by one of the resort's guides.
The next morning, a guide took my group out on a 5:00 am canoe ride to look for moose. We paddled a short ways on top of gentle, glossy waters towards Lac aux Biscuits, then hiked in silence to an area of prime moose habitat.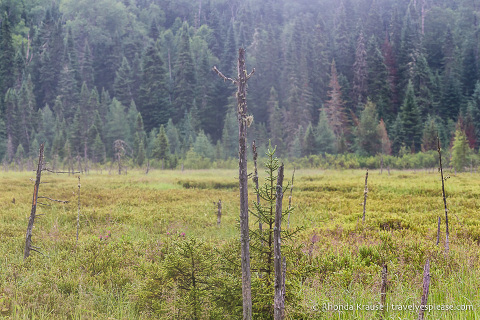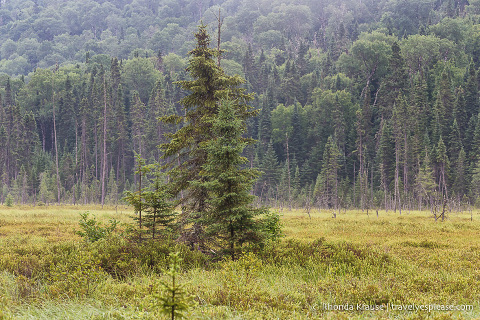 Unfortunately we didn't spot a moose, but did see a beaver swimming in the distance and a very cute little bunny!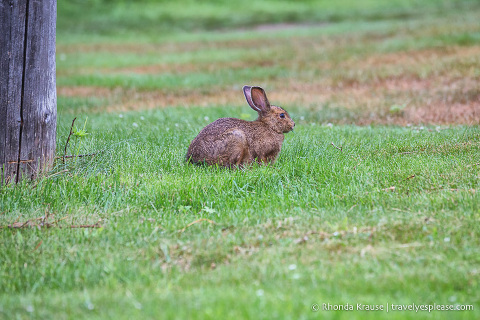 Even though our wildlife sighting excursion was mostly unsuccessful, the calm and peacefulness of being out on the water so early in the morning made the trip worthwhile.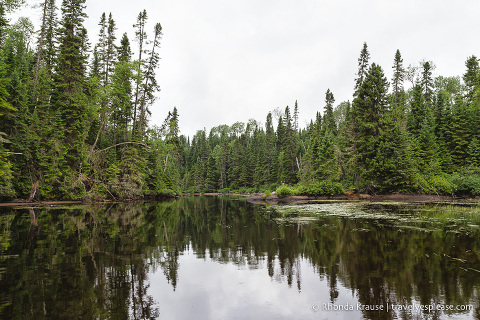 After enjoying a buffet breakfast in the clubhouse, I headed out on another guided canoe trip. This time we paddled across Lac á la Croix to the parking area we arrived at the day before. From here, we did a short walk to the tiny and rarely used Triton train station and a nearby peat bog.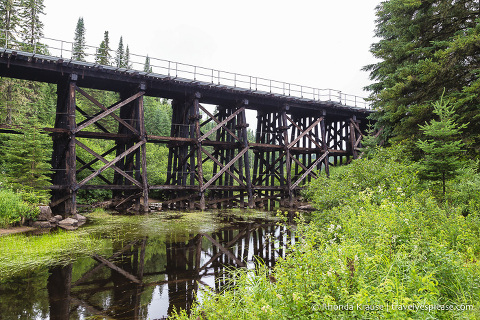 During the excursion, our guide shared the history of the train station and taught us about the plants found at the peat bog. She even stepped out onto a safe area and jumped a few times to show how spongy and flexible the ground is. I couldn't believe how much the ground moved and rippled!
After the peat bog, we got back in our canoes and paddled to Lac la Charité for an included shore lunch. I was expecting a picnic-type lunch so was really impressed to find a small cookhouse and canvas-covered eating area where they served us soup, salad, and pulled pork sandwiches. Not only was the food delicious, it was a good place to take shelter from the rainstorm that unleashed during our walk there!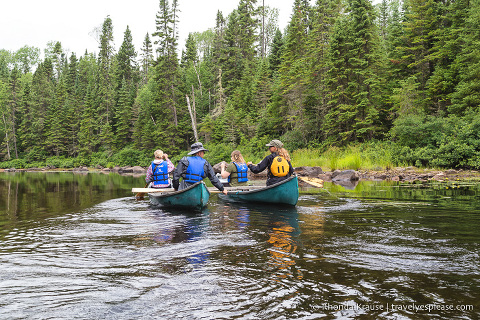 After lunch, I spent the rest of the afternoon enjoying the lake and area around the lodge. I did some stand up paddle boarding, more kayaking, and relaxed on the pier. I wanted to try archery but every time I went to borrow the equipment, they were all signed out. Maybe next time!
The last activity I wanted to do at La Seigneurie du Triton was a guided stargazing trip on the lake, but it was too cloudy. I was disappointed about that, since I think it would have been incredible to admire the stars from a boat (can you tell I love being out on the water?)
I got up early the morning of my departure to enjoy one last view of the lake from the pier. The water was quiet and still, with the most beautiful reflections. While I was sad to leave this serene part of Mauricie, I was grateful for even a short getaway in the wilderness of Quebec.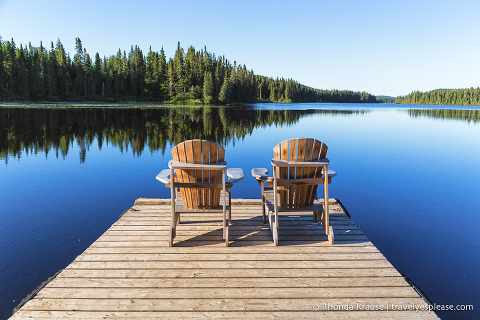 Tips for Visiting La Seigneurie du Triton
Location: La Seigneurie du Triton is in the Mauricie region of Quebec, which is located midway between Montreal and Quebec City. The closest town is Lac Édouard.
Getting There: To get to La Seigneurie du Triton, you need to drive to the west shore of Lac á la Croix. A boat then comes to pick guests up according to a pre-established schedule. You will have to call the resort to book a spot on the boat because if you don't call, the boat won't come. You can use the phone at the General Store (Le Magasin Général) in Lac Édouard since there is no cell service in this area.
Accommodations and Food at La Seigneurie du Triton: You can choose to book a room in one of the 3 lodges, an entire cottage, or a teepee. There is a restaurant in the clubhouse serving gourmet meals, as well as a site where you can enjoy a shore lunch cooked on a log BBQ.
Activities at La Seigneurie du Triton: There are opportunities to explore the area on you own or with a bilingual (English & French) guide. Some things to do include hiking in the forest, kayaking, canoeing, paddle boarding, swimming, fishing, archery, croquet, and campfires.
Information can change without notice. Please confirm directly with the venue.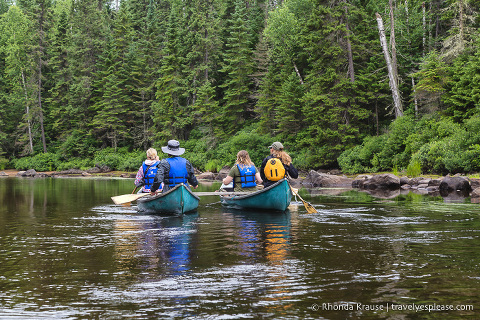 I was hosted by Quebec Original (Tourism Quebec) and Le Quebec Authentique in order to bring you this story. As always, I only speak the truth and hosts have no editorial influence on articles.
More Quebec Destinations and Travel Guides