Purchases made through links earn us a small commission, at no extra cost to you.
I've found myself at a loss for words but filled with emotion ever since our trip to Antarctica, South Georgia, and the Falkland Islands.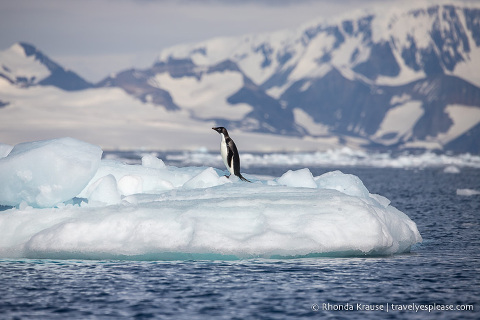 I know I'm not doing our Antarctica cruise, and the places we visited, any justice when friends ask about it and all I can say is, "It was incredible! Best trip ever!"
But if they're really perceptive, they'll see my eyes start to glisten as I try not to get choked up about visiting one of the few wild places left on Earth.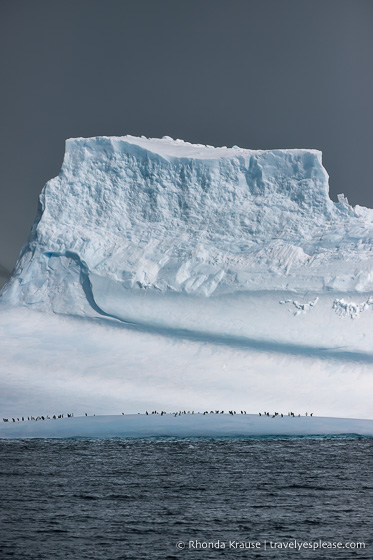 Truth is, our Antarctica trip changed me in ways that I've yet to comprehend. I feel it, but don't fully understand. Conveying such a momentous experience in a short conversation is an impossible task.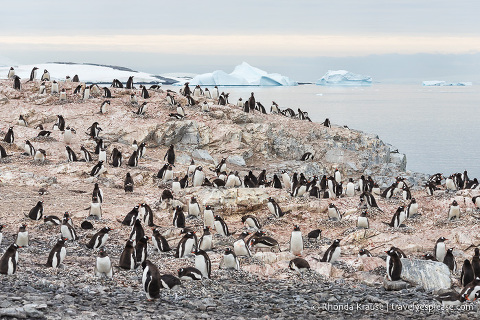 Even writing this blog post about our trip to Antarctica was a struggle. I knew I wanted to share our Antarctica trip itinerary, showcasing all the outstanding destinations we visited on the Antarctic Peninsula, South Shetland Islands, South Georgia, and Falkland Islands. But I didn't want it to be devoid of emotion, stories, and personal thoughts, since those are important parts of a journey to Antarctica.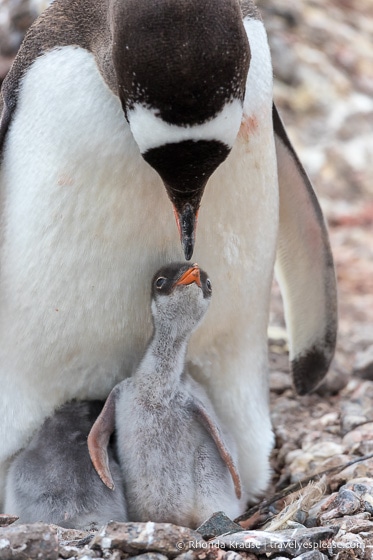 In the end, I tried to strike a balance between informative and inspirational- sharing what an Antarctic expedition cruise is like, giving some background about the places we visited, while also describing what I saw, thought, and felt.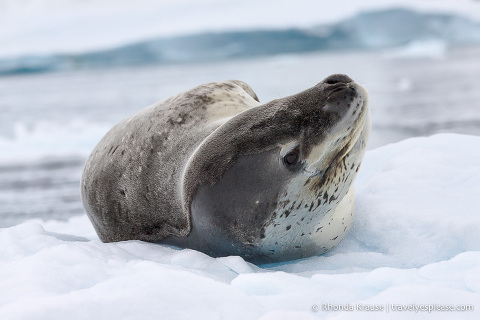 Just in case my words aren't enough, I decided to make a video of our Antarctica trip that summarizes the wonderful moments and places we enjoyed on our Antarctic adventure.
So, here it is, my tribute to our Antarctica itinerary, the trip that all future trips will never live up to!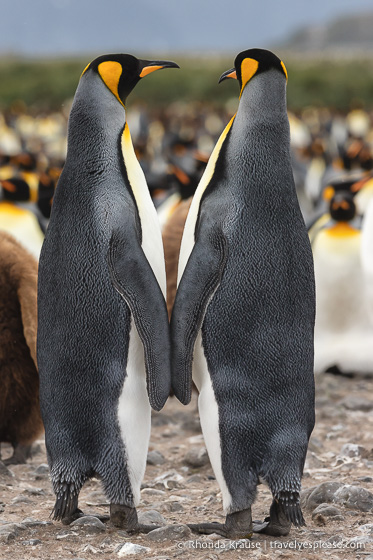 Trip to Antarctica, South Georgia and the Falkland Islands- Our Antarctic Adventure
We chose to do a 19 day small ship cruise to Antarctica that included visits to the Falkland Islands and South Georgia. This gave us plenty of time to experience not only the Antarctic Peninsula, but the surrounding Antarctic and Subantarctic regions as well.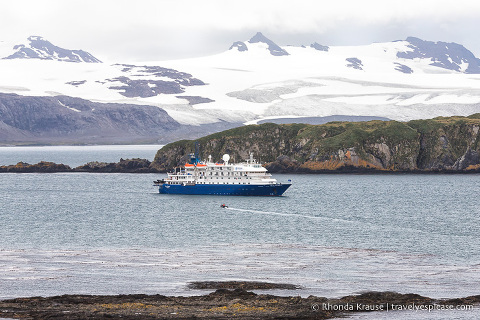 Our trip to Antarctica was an expedition cruise, meaning that the itinerary was a rough guideline and flexible in nature. More than anything, weather and sea conditions dictated our Antarctic expedition, determining our landing sites and how long we spent in each destination.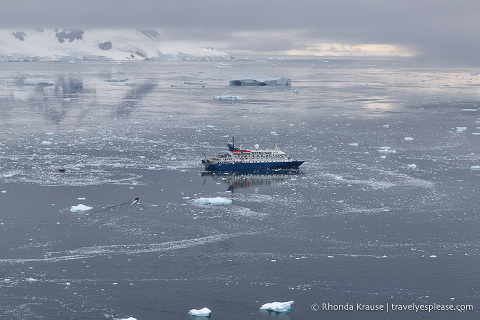 For that reason, our Antarctica cruise was full of adventure, spontaneity, and surprises- all things that drew us to visiting Antarctica. It was a journey that reminded me of what travel is at its core- exploration without expectation.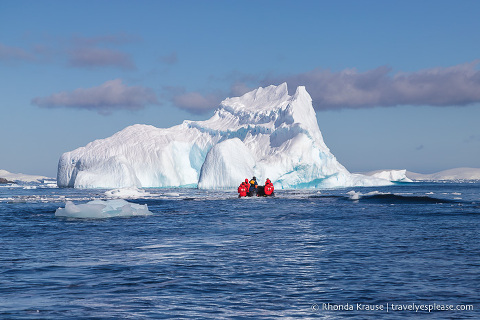 So, as you read through our Antarctica itinerary, don't expect your visit to Antarctica, South Georgia, and the Falkland Islands to be exactly the same. There could be more or less time spent in each place, different landing sites, and varied wildlife sightings. An Antarctica trip is something you could do hundreds of times and each experience would be unique.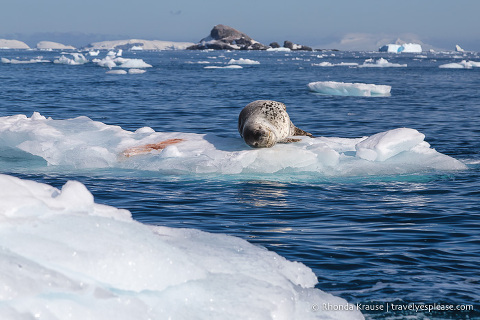 To give you an idea of some places to visit in Antarctica and what your first trip to Antarctica could be like, here's an overview of our Antarctica itinerary, along with some personal highlights and reflections. We hope it inspires you to book your own Antarctica cruise!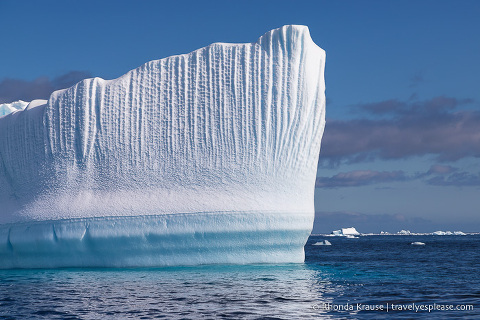 Antarctica Trip Itinerary- Falkland Islands, South Georgia, Antarctic Peninsula
Our expedition cruise to Antarctica had some itinerary changes, since we were trying to avoid a major storm from day one, but thankfully they were nothing to be very disappointed about.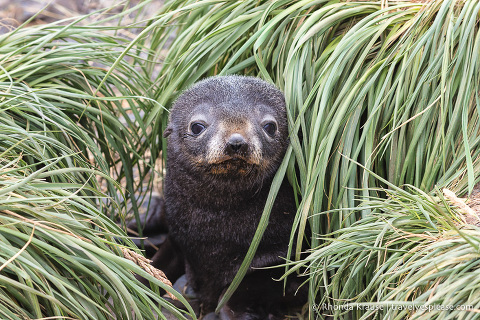 The biggest change from the cruise operator's advertised itinerary was only getting 1 day in the Falklands instead of 2, and 3 days in South Georgia instead of 5, but that meant we got extra time in the Antarctic Peninsula region (7 days instead of 4). There were also 7 full days and an evening at sea, as planned.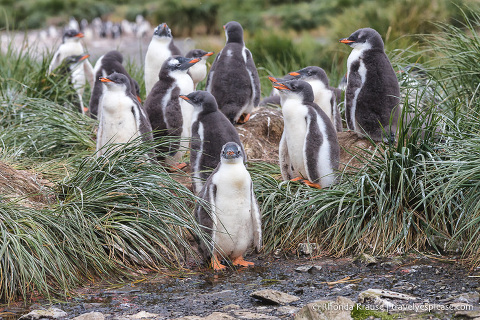 Here's a map of all the places we visited on our trip to Antarctica so you can visualize where we travelled to.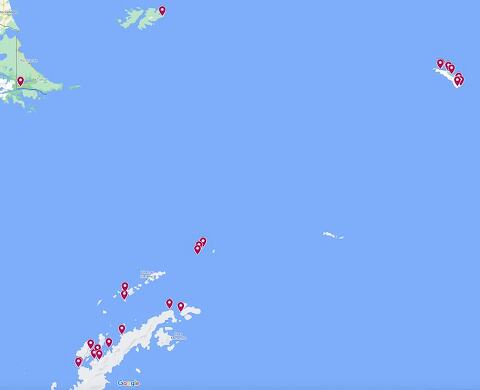 Days 1 & 2: At Sea (Beagle Channel and South Atlantic Ocean)
Highlights: Beginning a trip of a lifetime, bird watching opportunities.
We embarked on our cruise to Antarctica from Ushuaia, Argentina in the early evening.
I'll always remember the excitement I felt as I walked up the gangway to a welcoming line of smiling staff and ship full of enthusiastic passengers. I could feel my eyes tearing up as reality set in- the trip I had been looking forward to for almost 20 months was finally here!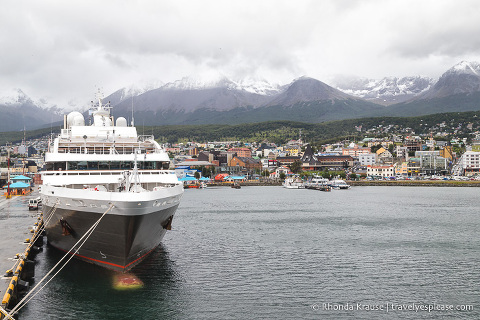 But before our Antarctic adventure could start, there was a welcome briefing and safety drill to attend to. Later, we were called to collect our expedition parkas and patches (which we got to keep), and the rubber boots borrowed for the cruise.
Now that I looked like a polar explorer, I felt like one too, and was eager to embrace whatever experiences Antarctica would present us.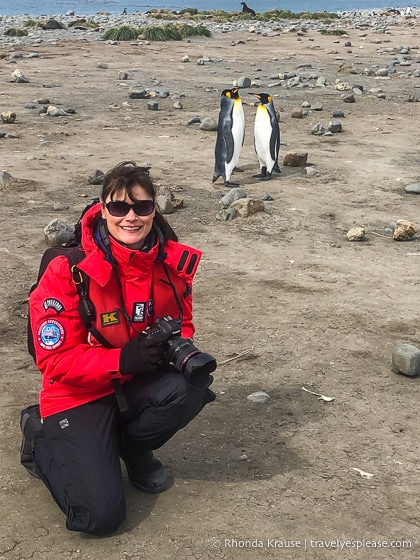 The wonderment that consumed me during our Antarctic journey started during the first full day at sea. Dolphins were spotted from the bridge, playfully swimming beside the ship. Albatrosses showed off their giant wingspans, effortlessly sailing behind the ship. Petrels were nearby too, while whale spouts appeared in the distance.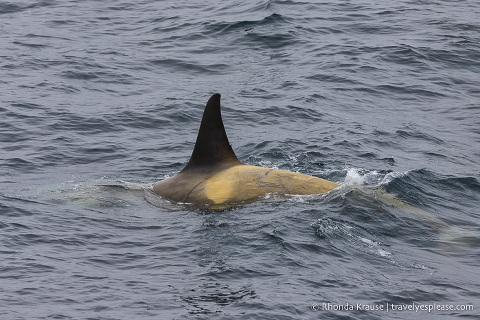 In between wildlife sightings, we attended a presentation about albatrosses and watched a film about the Falklands War, both which provided insight into the wildlife and history of the islands we'd soon be visiting.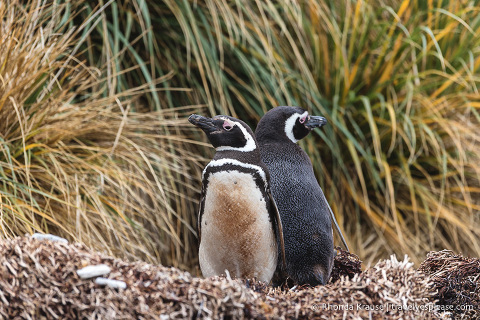 Day 3: Falkland Islands (Stanley, on East Falkland)
Highlights- First penguin sightings of the trip, scenic walks at Gypsy Cove and Tumbledown Mountain.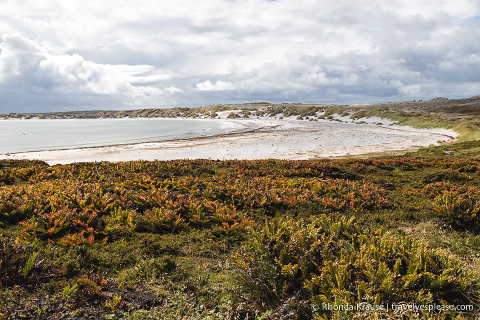 With only one day in the Falkland Islands, we made the most of it by visiting Stanley, the capital city, and going on two walks just outside of town.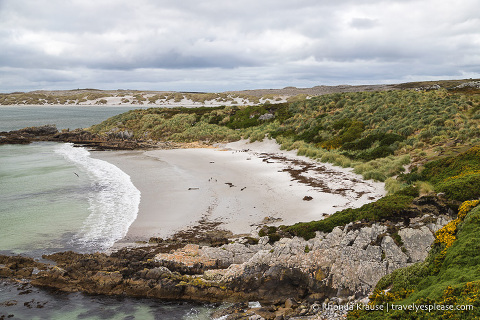 In the morning we visited Gypsy Cove, a sandy bay known for its scenic views and local bird life. The area is a magellanic penguin breeding site and we saw several burrows with chicks sheltered inside.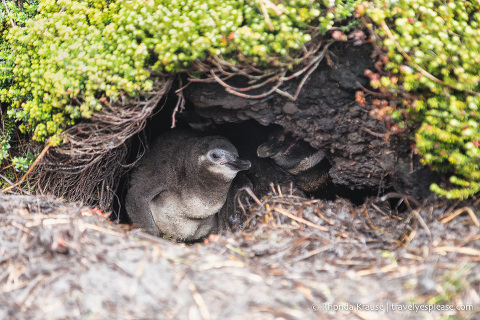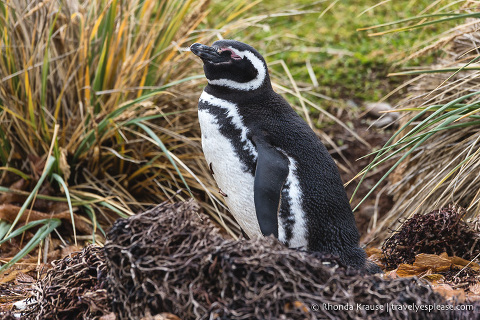 Other highlights of our walk included seeing a mounted gun from WWII and the Lady Elizabeth shipwreck at Whalebone Cove.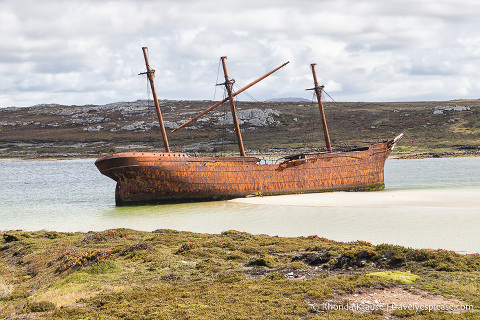 After lunch in Stanley, we took a short walk through town and saw many reminders of its British Heritage. There were red phone booths, lively English pubs serving fish and chips, and numerous Land Rovers, a British sport utility vehicle.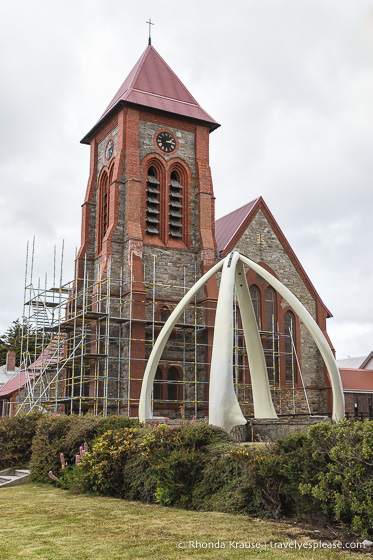 In the afternoon we headed out on a guided walk to Mount Tumbledown. It started off slow at first, with plenty of stops to talk about the local flora and fauna, but got more interesting when our guide told stories about the battles that took place here during the Falklands War of 1982.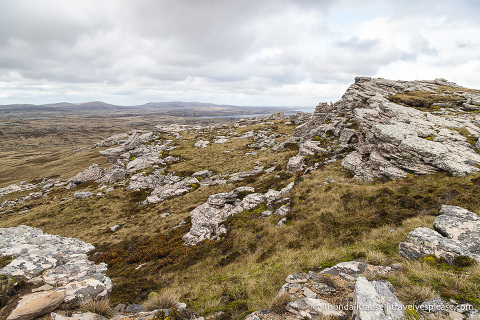 From the top of Mount Tumbledown we could see a panoramic view of East Falkland and its rocky, treeless landscape. There was also a large cross standing as a memorial for the soldiers who died during the battle at Tumbledown.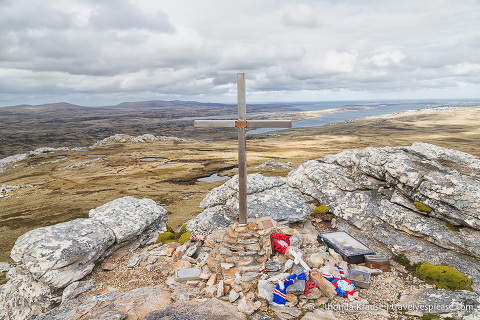 Read more: Things to Do in Stanley
Days 4 & 5: At Sea (South Atlantic)     
Highlights: Passing the Shag Rocks, seeing a large group of humpback whales feeding.
As we sailed across the South Atlantic towards South Georgia, there were plenty of opportunities to learn about Antarctic wildlife and observe seabirds. I attended a lecture about penguin species and adaptations, went on a tour of the ship's bridge, and watched albatrosses, petrels, and prions fly faithfully alongside our ship.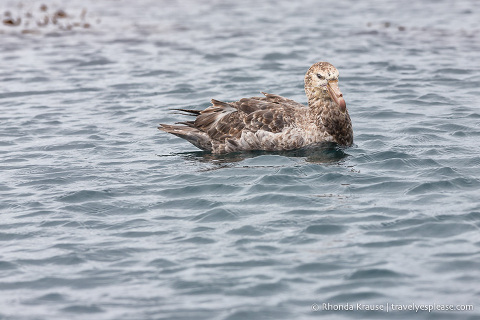 On day 5 we crossed the Antarctic Convergence, where the warmer subantarctic waters meet the cold Antarctic waters. There was nothing visual to mark the occasion, but it meant that we would start seeing some different marine life.
Getting closer to South Georgia, we passed by the Shag Rocks, a group of six rugged and pointy rocks jutting out of the sea.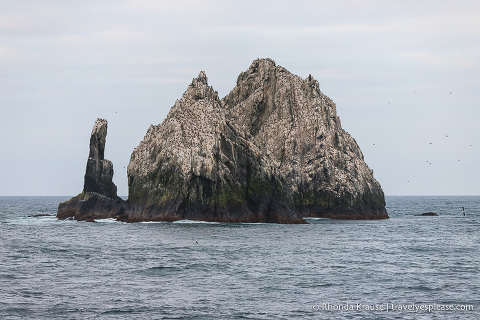 The Shag Rocks were quite dramatic, but it was a group of 20-30 whales feeding nearby that stole our attention. I've never seen so many humpbacks in one place before. I'm almost glad it was too dark to get any good pictures because it forced me to just watch the action and take it all in. This would be the first of several riveting humpback encounters of the trip.
Day 6: South Georgia (Prion Island and Salisbury Plain)
Highlights: Visiting a king penguin colony, discovering the feisty personalities of fur seals.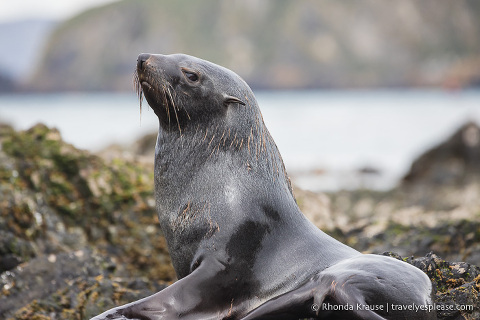 Our first day in South Georgia is where everything became real for me. Here I was, in a place that I had admired in photographs for so long, but instead of looking at a flat, still scene, my senses were overwhelmed with sounds, smells, and rambunctious interactions. The abundance of life was astonishing!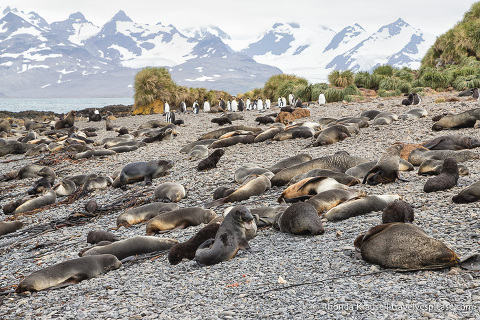 As our zodiac shuttled us along the coastline of Prion Island, we saw penguins up on a cliff face, seals gliding in and out of the water, and masses of kelp bobbing in the waves as seabirds floated and flew nearby.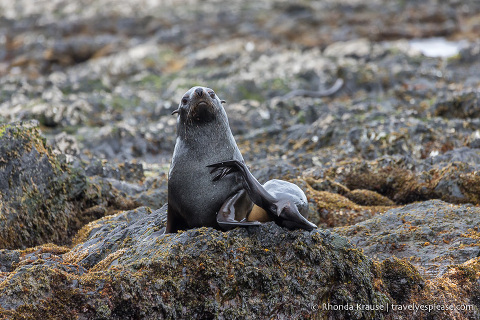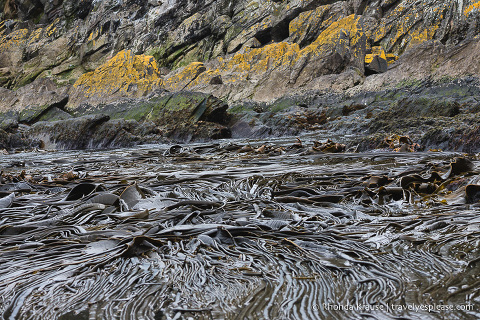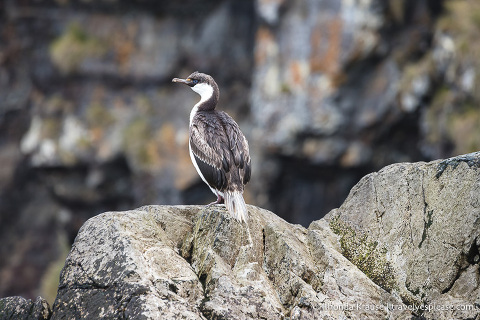 By the time we approached our landing site on the beach, tears were running down my face. I couldn't hold it in anymore once I saw the cute seal pups and their families filling the beach alongside groups of penguins.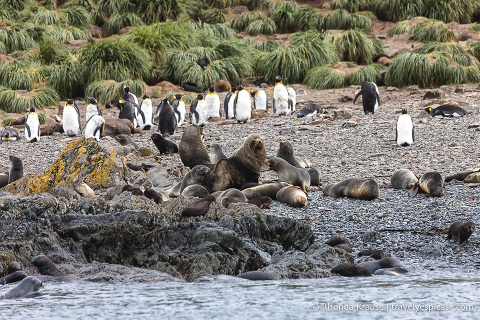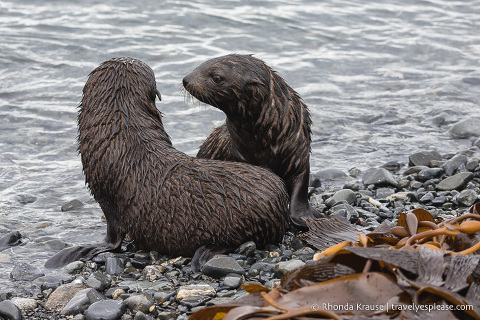 The wildlife encounters got better and better as we walked along the boardwalk to a viewpoint. We had curious fur seals walk right up to our feet, watched a spirited gentoo chick waddle around its crèche, and spotted some nesting wandering albatrosses and a giant petrel chick.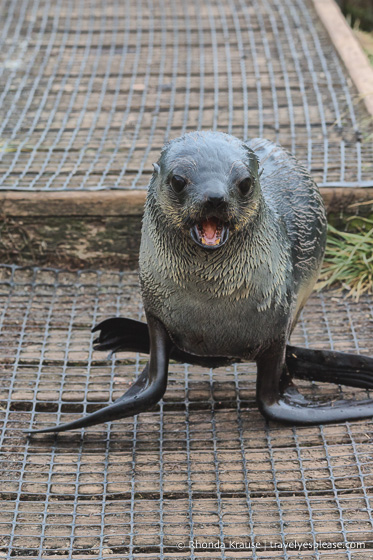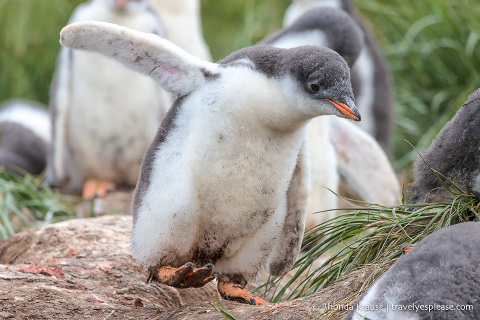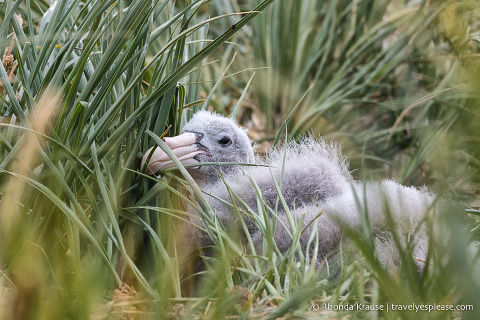 I had a huge grin on my face watching all the animal activity and that smile only got bigger once I saw the view from the top of the hill. Our ship looked so tiny in an expanse of glaciers, mountains, and sea.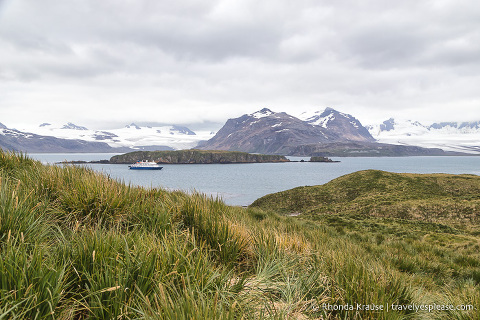 Back on the ship, we sailed a short ways to our next landing site- Salisbury Plain. It was photos of Salisbury Plain and its massive colony of King penguins that inspired me to visit South Georgia as part of our trip to Antarctica.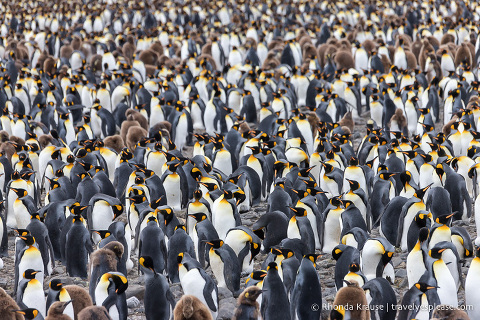 Set against a backdrop of snowcapped mountains, Salisbury Plain was covered with penguins as far as I could see. There were about 60,000 breeding pairs, plus chicks and non-breeding penguins, so the total colony population was between 200,000 and 250,000.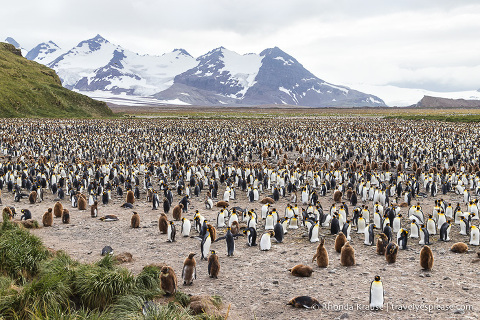 King penguins are my favourite of all the penguin species, so I was easily captivated by their vibrant yellow features, sleek bodies, and wobbling gait.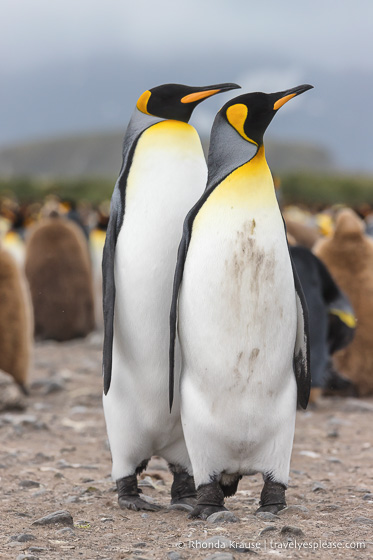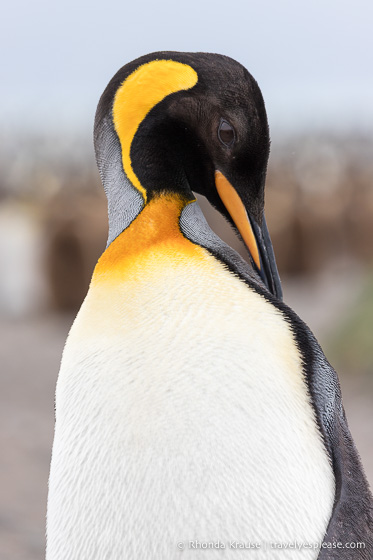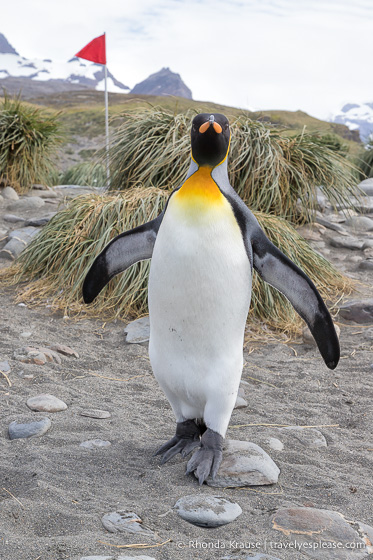 In contrast, the chicks were short and stocky, covered in thick, brown down, with facial expressions that were stern and serious. I kept thinking they looked like penguin versions of Winston Churchill in a fur coat!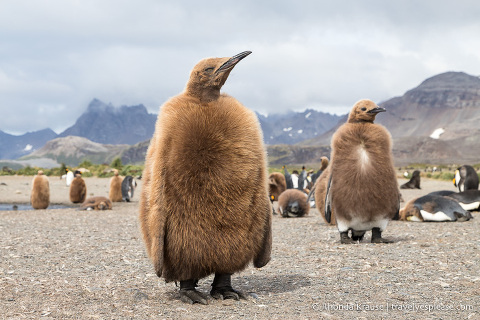 It was so much fun to sit and watch how the penguins interacted with each other. Most memorable was seeing a trio walking together suddenly stop to hit each other with their flippers, then stretch their necks as if competing to see who was the bigger, more intimidating penguin (you can see it in my video at the start of this post).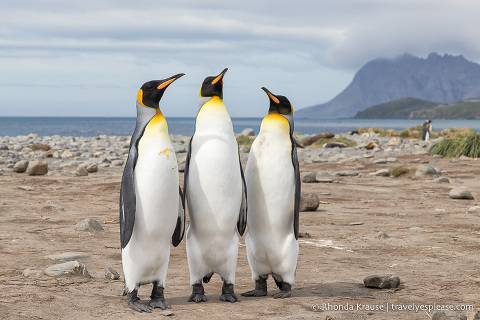 Another engaging moment was seeing a penguin lift its feathered bulge of skin to reveal an egg resting on its feet. Such a simple thing was so exciting to me and I spent the rest of my time on land sitting and waiting for another glimpse of an egg.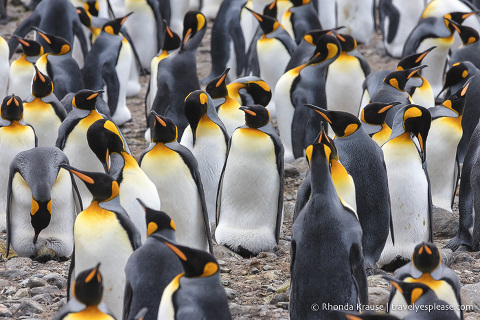 Read more: Salisbury Plain- Visiting One of South Georgia's Largest King Penguin Colonies
Day 7: South Georgia (Stromness Harbour and Grytviken)
Highlights: Mountainous landscape, seeing remains of the abandoned whaling industry.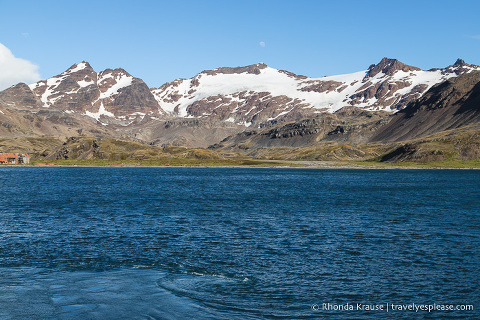 Our second day in South Georgia was spent visiting sites with old whaling stations. Stromness was a whaling station turned ship repair yard and Grytviken was the largest whaling station and settlement on South Georgia. Both stations closed in the 1960's, leaving behind buildings and machinery in states of ruin.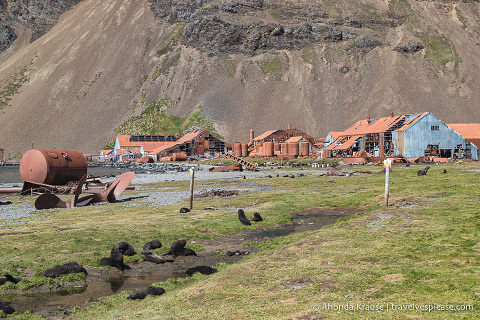 As an animal lover, it made me uncomfortable to hear about the whaling industry, especially in Grytviken where it was hugely successful. But I felt some satisfaction seeing the rusted buildings and equipment, a sign that the industry has been abandoned in South Georgia.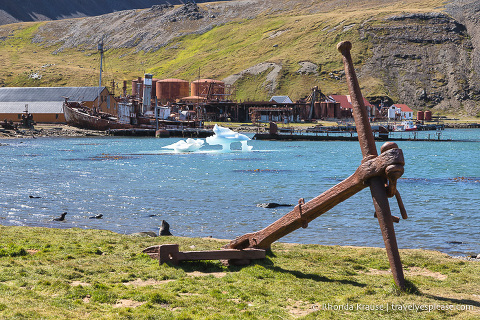 Even though the decaying whaling stations impeded the "untouched" feeling I was hoping to experience in a place so far away, the natural beauty of the landscape and its wildlife triumphed over unattractive human interference.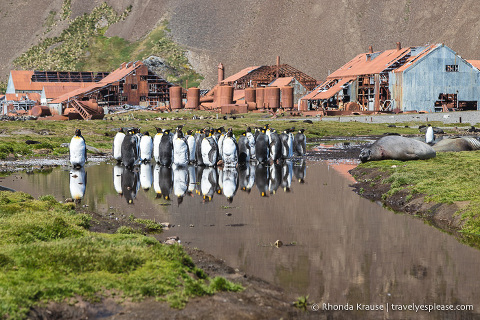 Both Stromness and Grytviken were set in beautiful harbours, surrounded by mountains and rich with wildlife. We did a short hike at each location and saw king penguins, gentoo penguins, fur seals, and elephant seals.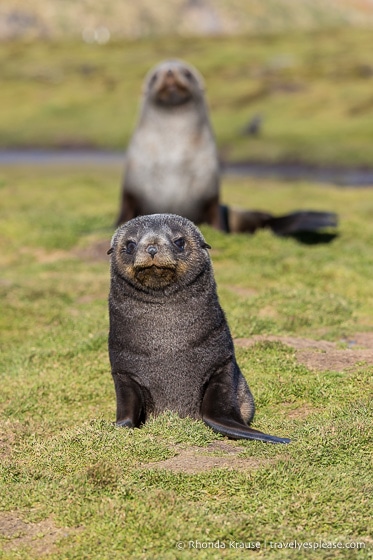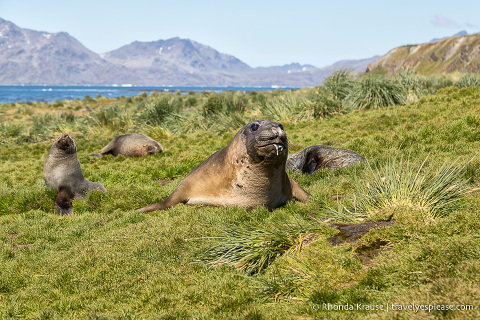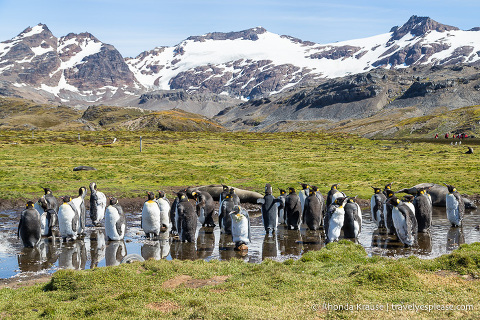 Besides wildlife and whaling stations, both sites also had connections to Antarctic explorer Ernest Shackleton.
In 1916, Shackleton walked across South Georgia to Stromness to get help for his crew stranded on Elephant Island after the Endurance sank. In 1922, Shackleton was buried in the Grytviken cemetery after suffering a fatal heart attack in South Georgia during an Antarctic expedition.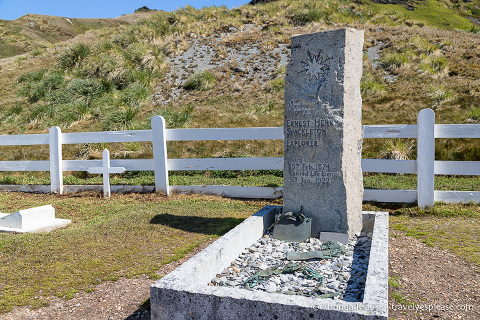 After visiting Grytviken, we returned to the ship for a barbeque out on deck, a fitting way to end a warm, sunny day in South Georgia.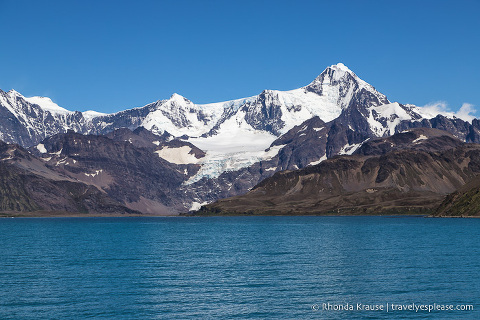 Read more: Grytviken, South Georgia- Visiting an Abandoned Whaling Station
Day 8: South Georgia (Gold Harbour, Cooper Bay, and Drygalski Fjord)
Highlights: Observing the behaviour of king penguins and elephant seals from close proximity, seeing macaroni penguins, cruising down a glacier-lined fjord.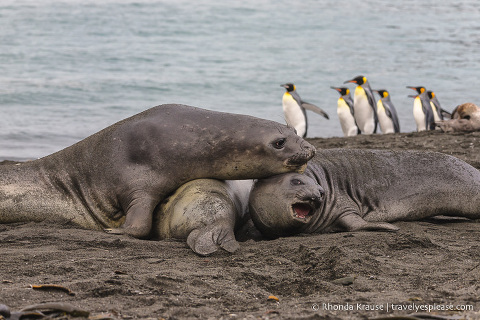 Our last day in South Georgia was unforgettable with more extraordinary wildlife encounters and striking scenery.
In the morning we visited Gold Harbour and a king penguin colony of about 25,000 breeding pairs. It was dark and drizzling rain, which made the penguins' yellow feathers pop in the diffused light of overcast skies.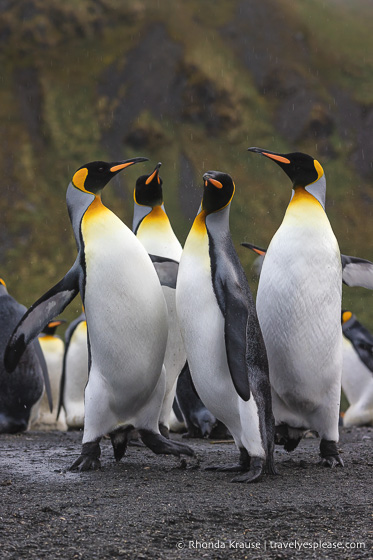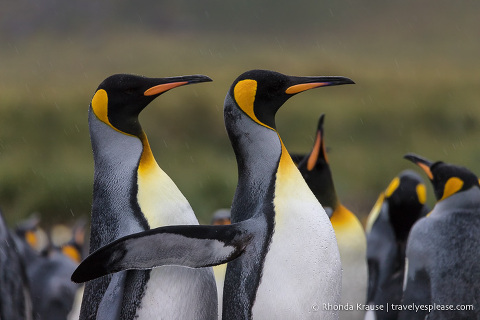 Occasionally the misty clouds lifted, revealing a hanging glacier at the end of the beach.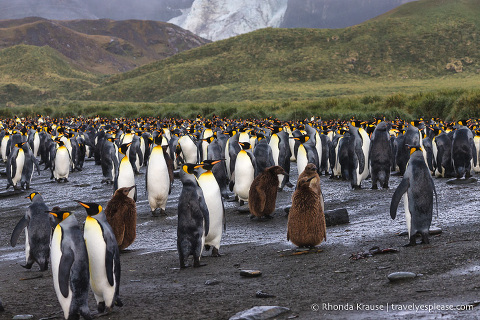 Once again, I was quite content to simply stand and watch the penguins' behaviour. They squawked at birds that got too close, slapped each other with their flippers, and frequently checked on their eggs.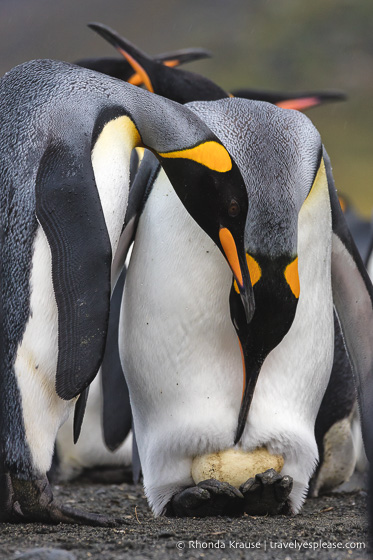 Gold Harbour was a fantastic site to see penguin eggs because the penguins were pretty close to where we were allowed to stand.
The best thing I saw was the transfer of an egg from one penguin to another. The bird with the egg lifted its pouch then gently nudged the egg forward with its beak. The second penguin then used its beak to pull the egg near, shuffled its feet under it, and enveloped it in a flap of skin for safekeeping. This wonderful moment was one we were hoping to see since Salisbury Plain, so we were ecstatic to witness it happen.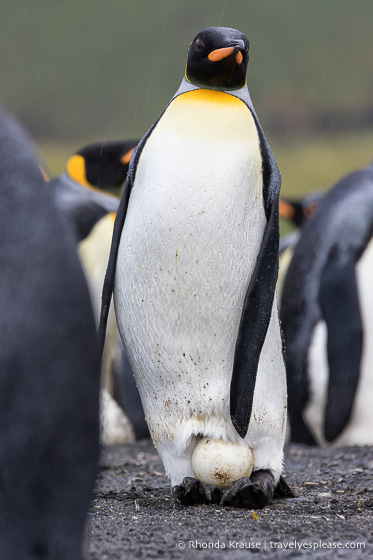 Gold Harbour was also a great place to see elephant seals. They're definitely not as cute as fur seals and the sounds they make are quite gross (almost like belching), but it was interesting to watch them play fight.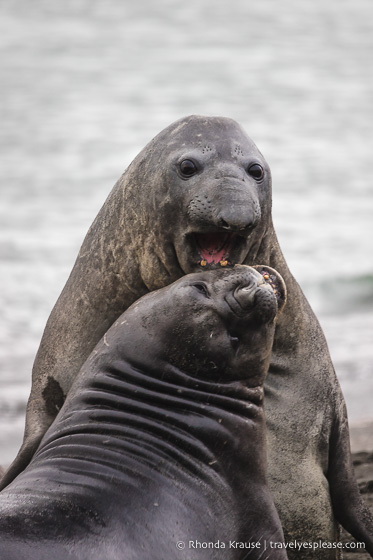 The second spot we visited was Cooper Bay. We didn't go onto land here, instead just did a zodiac cruise.
The amount of wildlife here was almost overwhelming. There was so much action on all sides of the zodiac I didn't know where to look. Chinstrap penguins were jumping out of the water, seals were swimming by, petrels were soaring above, and macaroni penguins were waddling on the rocks, beaches, and hillsides.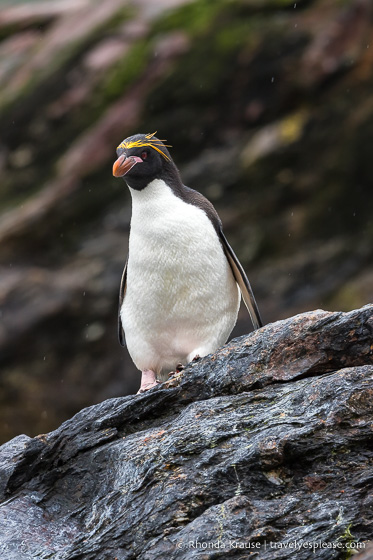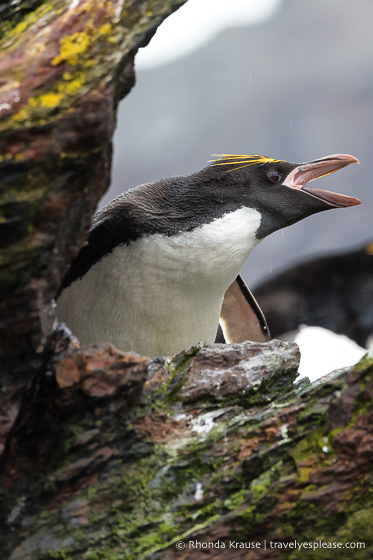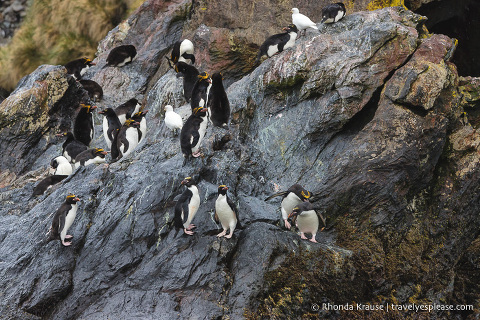 Three things that stood out about Cooper Bay were the macaroni penguins and their yellow "eyebrows", seeing a rare blonde fur seal, and watching a group of petrels ravenously feast on a dead seal floating in the sea.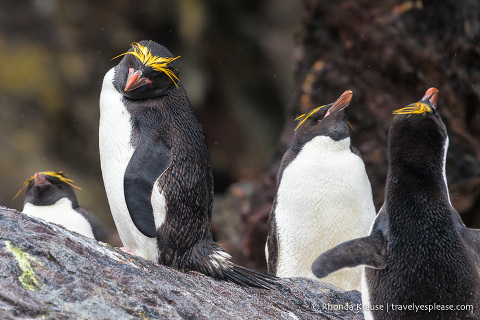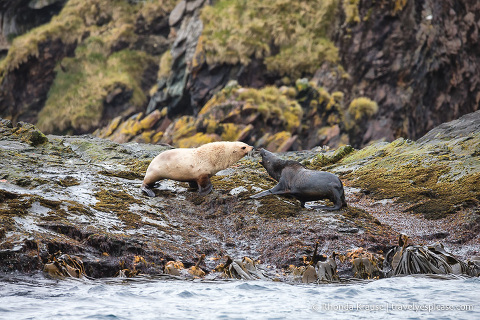 The last activity we did in South Georgia was cruise to the end of Drygalski Fjord and back. Sitting out on the bridge deck, we watched in awe as we quietly glided in calm, aqua water past glacier-covered mountains surrounding the ship on both sides.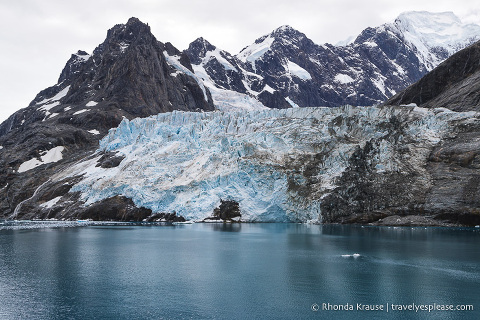 The peaceful moments and alluring scenery encouraged reflective thoughts about everything we were fortunate to experience during our trip to South Georgia. It was an absolute dream destination and I was so glad we chose to invest the extra money and time in an Antarctic expedition that included South Georgia in the itinerary.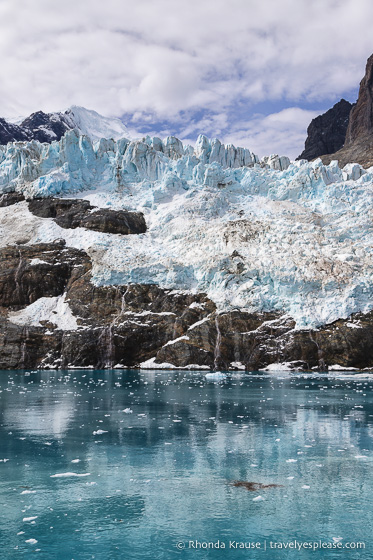 Days 9 & 10: At Sea (Southern Ocean)
Highlights: Crossing 60°S to officially enter Antarctica.
The next two days at sea were much the same as before. There were lectures, bird watching opportunities, and whale sightings to keep us entertained.
The most notable thing was passing 60°S, meaning we had officially entered Antarctica!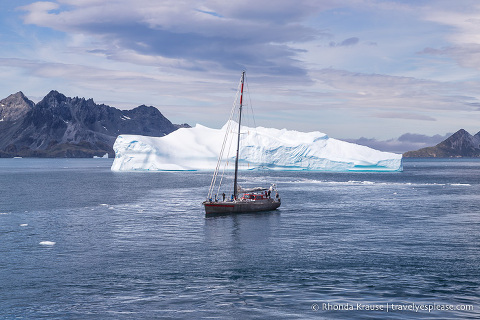 Day 11: Antarctica/South Shetland Islands (Elephant Island and Gibbs Island)
Highlights: The glaciers of Elephant Island, visiting a site that is not normally visited on Antarctica tours.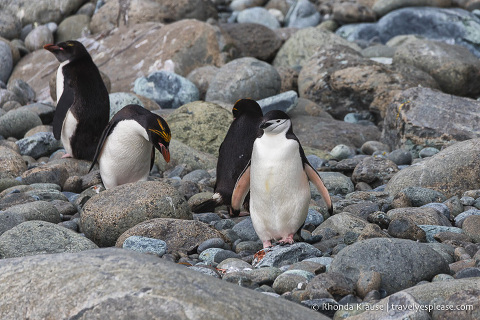 Our first excursion in Antarctica was a zodiac cruise at Point Wild on Elephant Island. This was where Shackleton's crew waited for rescue after the Endurance sank. They camped at Point Wild for over 100 days until the Chilean vessel Yelcho came to their rescue.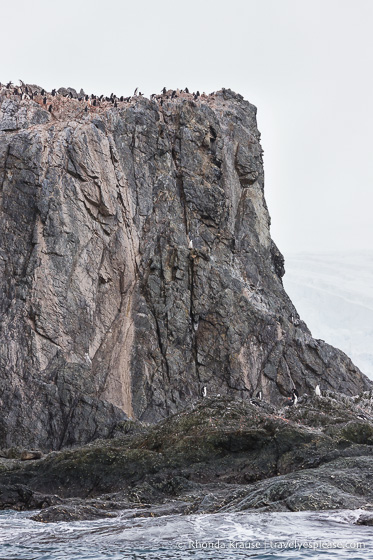 The spot where they camped is now marked with a bust of Captain Luis Pardo, skipper of Yelcho. Once I saw how little natural shelter there was from the elements, I understood what a miraculous feat of survival this was.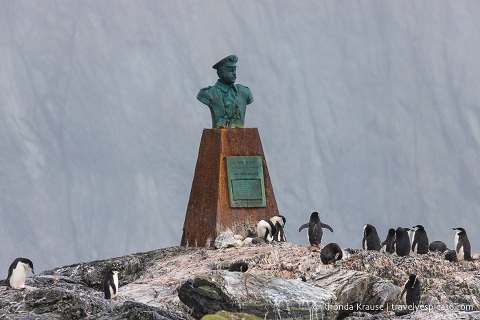 In addition to the statue, during our short zodiac cruise we saw some chinstrap penguins, a mist-covered glacier, and a tall iceberg floating in the distance.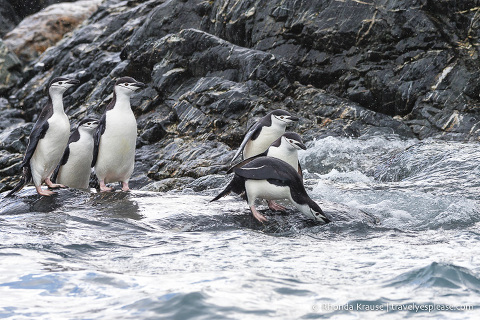 From Cape Wild, our ship sailed along the southeast coast of Elephant Island. This stretch of scenery was absolutely stunning! The Endurance Glacier covered what seemed like almost the entire coast. It has got to be the biggest glacier I've seen so far and I barely took my eyes off it until we reached Cape Lookout, at the end of the island.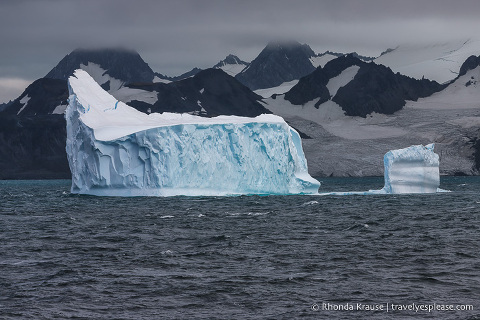 Unfortunately the water was too rough at Cape Lookout to safely lower the zodiacs, so we admired it from the ship instead. There was a glacier, some rocky outcrops, and groups of cape petrels flying around.
Since we couldn't do our excursion at Cape Lookout, our captain decided to take us to Gibbs Island, a place that ships don't normally visit. Our expedition leader hadn't even been there before, so it was a nice treat to visit a place that other tourists haven't seen.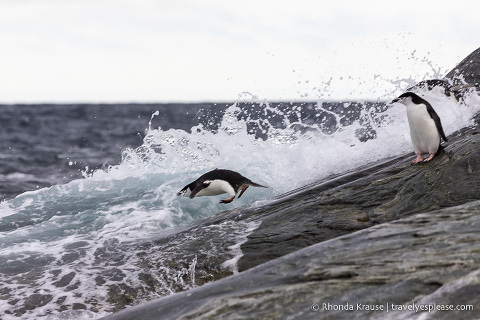 During our zodiac cruise at Gibbs Island we saw a lot of chinstrap penguins and their chicks, a few macaroni penguins, and some seals on the beach.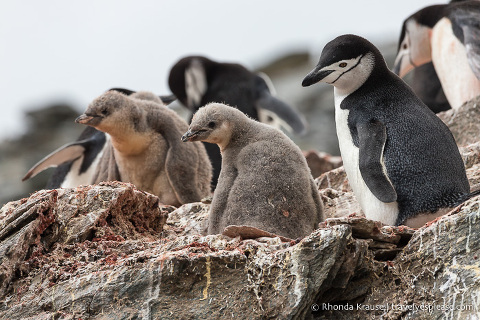 My favourite scene at Gibbs Island was of a group of penguins on a rocky peninsula backed by distant mountains. So beautiful!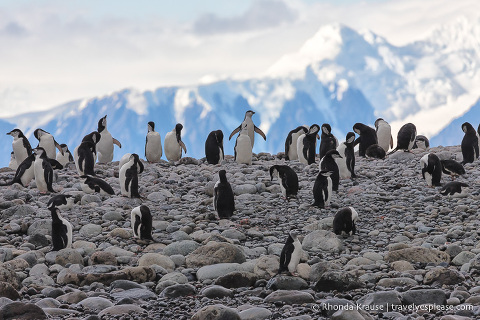 Day 12: Antarctica (Kinnes Cove and Gourdin Island)
Highlights: Visiting a large colony of Adelie penguins with plenty of energetic chicks, watching the Adelies jump into the water.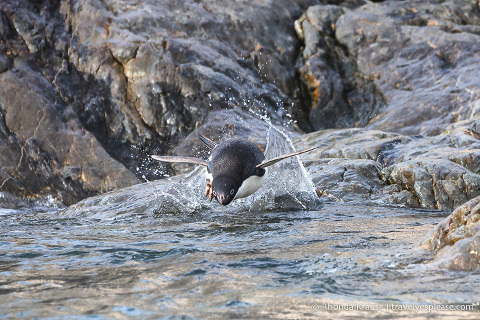 Today was all about ice and Adelie penguins as we explored the Antarctic Sound.
In the morning we did a zodiac cruise at Kinnes Cove, on Joinville Island. This was the first place we got to see Adelie penguins and their chicks.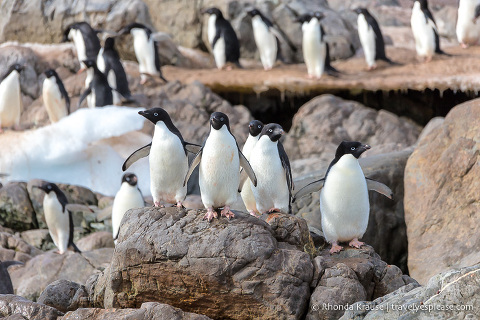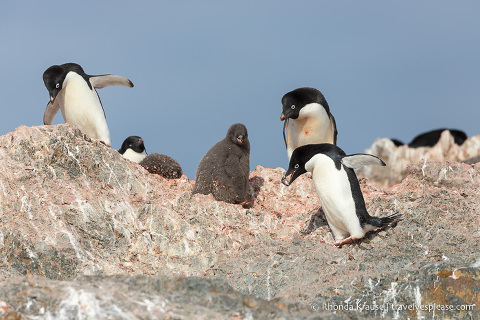 From the zodiac we watched the Adelies carry rocks to their nests, waddle up a snowy hillside, and hesitantly wade into the water. It was so funny how they would wait for one penguin to hop into the water before the rest of the group would follow suit.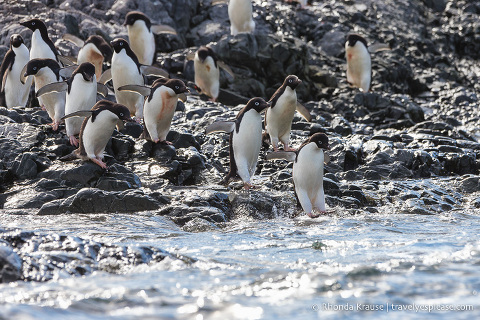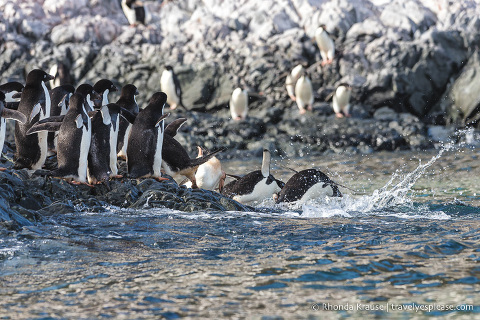 At Kinnes Cove we also enjoyed a scenic cruise through the brash ice. It was almost hypnotizing to listen to the constant popping of ice as it glistened in the sunlight.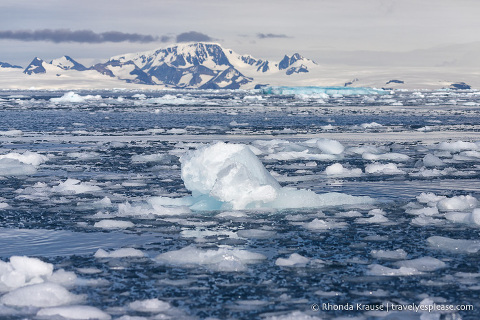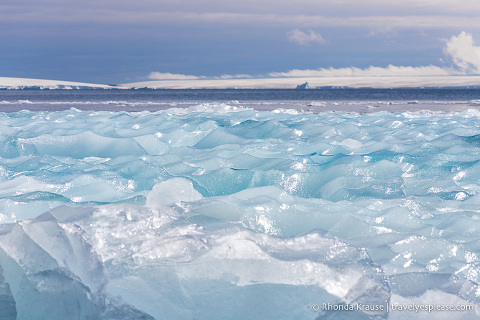 During our cruise we noticed a lone penguin standing on a floating piece of ice, but as we came around the corner saw there was also a seal on the other side. I wonder if the penguin knew what was lying just below the little ridge he was standing on?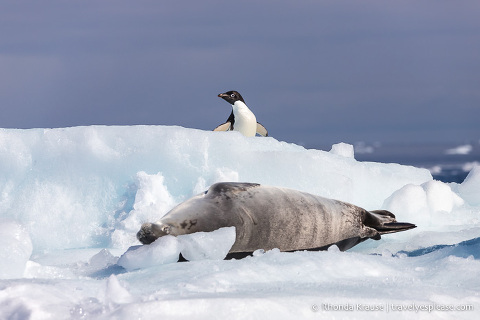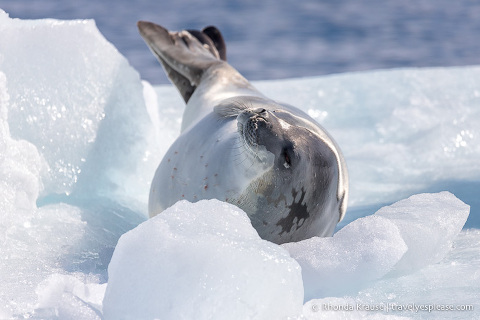 In the afternoon we did another zodiac cruise before landing on Gourdin Island. There was more brash ice, some chinstraps, swimming seals, and big icebergs, one with a small group of penguins on it.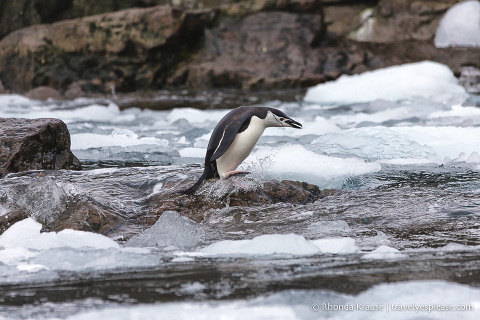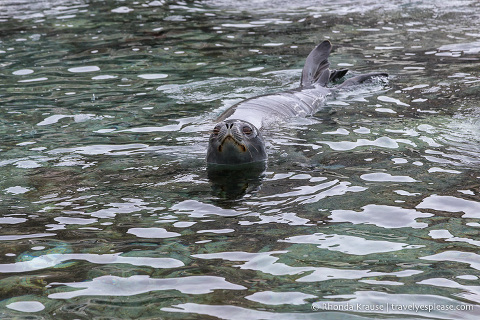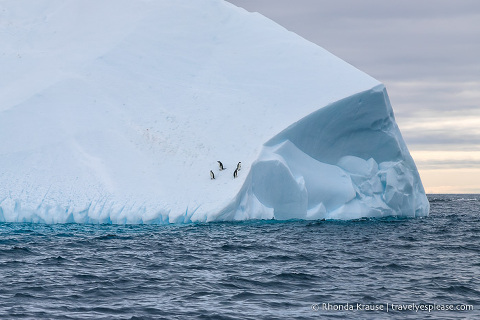 Unfortunately, we weren't in the zodiac that saw a leopard seal catch a penguin and eat it alive. I felt bad for the penguin but it still would have been incredible to see.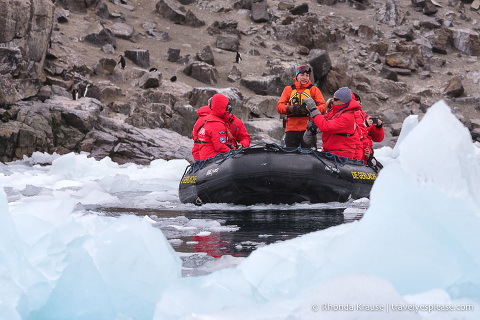 When it was our turn to land on Gourdin Island, we were met by the stinkiest penguin colony of the entire trip. We could smell the guano before we even set foot on the island, so it's no surprise the stench permeated our clothes and followed us back to the ship.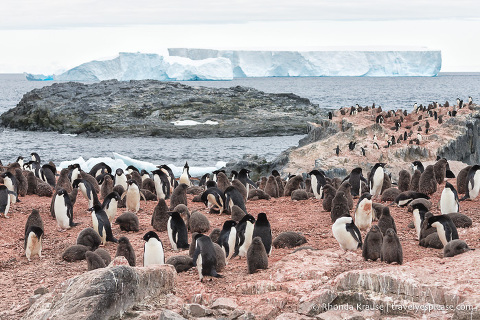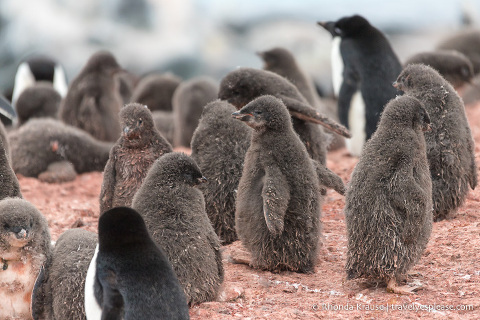 In spite of the smell, Gourdin Island was one of my favourite landing sites of our Antarctica trip. This bustling Adelie colony was brimming with activity- chicks were chasing their parents around, babies were getting fed, rocks were being stolen from nests, and penguins greeted each other with vibrating vocalizations.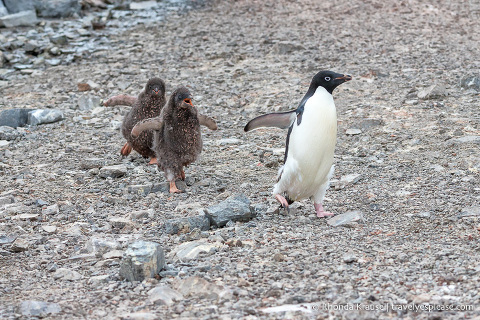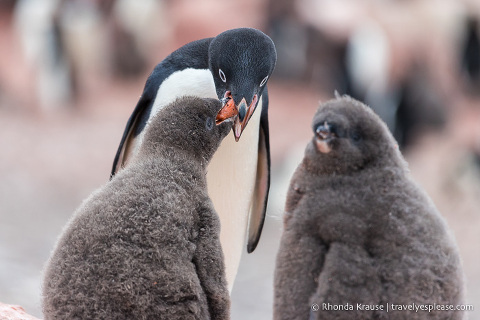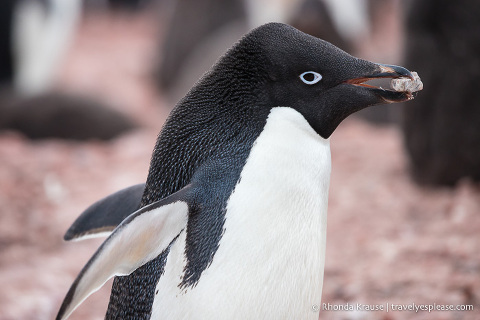 As entertaining as their behaviour and big personalities were, it was the Adelie's appearance that was most amusing. They looked like surprised little men in tuxedos. Their distinctive white-rimmed black eyes resembled those plastic "googly eyes" used in kids' crafts. It made me smile every time they looked directly at me.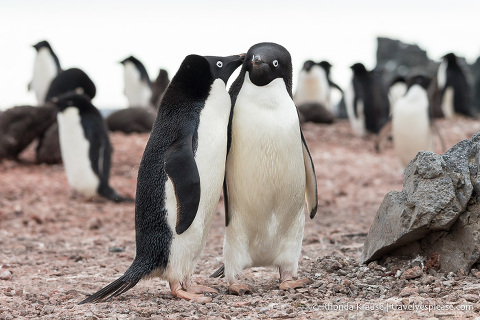 To top it all off, the colony was scenically surrounded by floating icebergs and I even got a good look at the inside of a seal's mouth as it lazily yawned on the beach.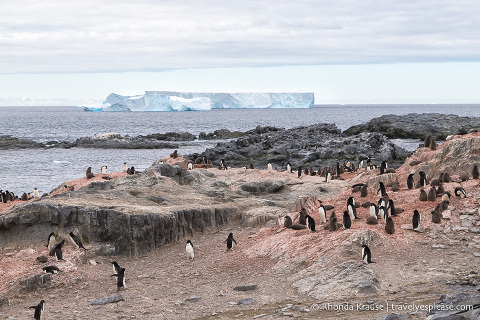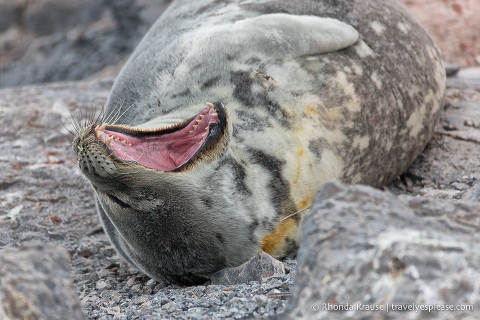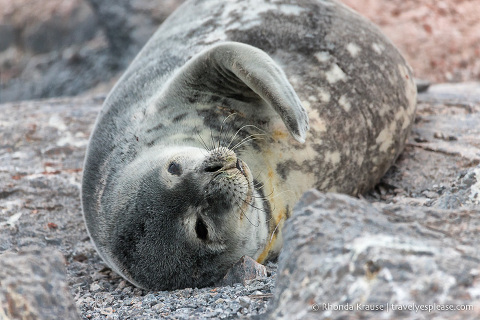 Day 13: Antarctica (Curtiss Bay and Portal Point)
Highlights: Setting foot on the mainland of the Antarctic Peninsula, humpback whales swimming very close to our zodiac.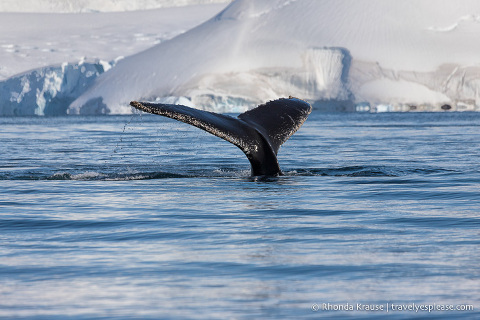 Today was a perfect day in terms of weather, wildlife, and landing sites.
It started with a zodiac cruise in Curtiss Bay to look at icebergs. I felt like I had entered Mother Nature's art gallery, lingering in front of each piece of sculpted ice with admiration as a symphony of gentle pops and cracks filled the silence.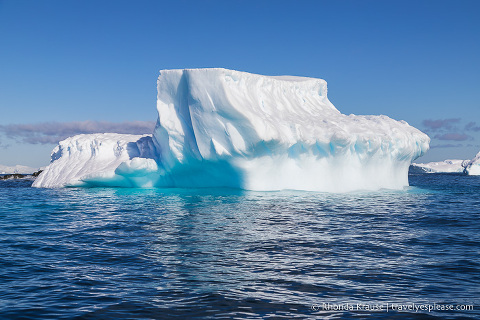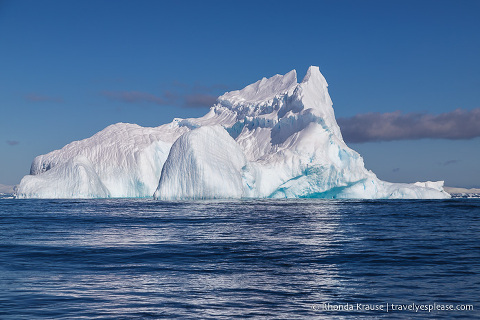 Each iceberg's shape, texture, and subtle blue tinge changed as our zodiac moved position- no two sides were the same.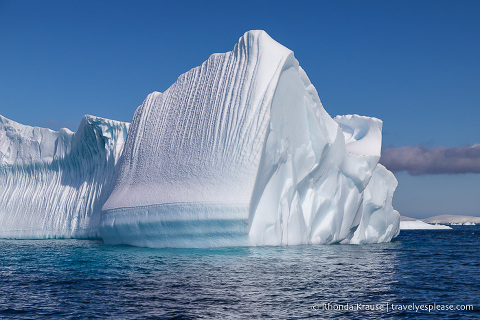 Off in the distance, we spotted a leopard seal floating on a small piece of ice so we drove over to get a closer look.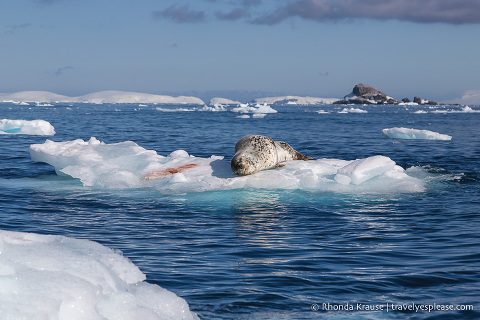 The seal was laying on its side motionless, its spotted belly shimmering in the sunlight. Occasionally it would glance at us through half-opened eyes, but took no further interest so we had plenty of opportunities to snap pictures before heading back to the ship.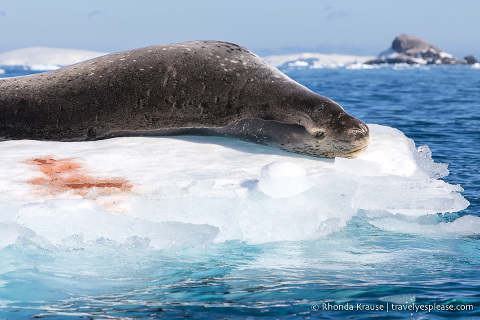 In the afternoon we arrived at Portal Point for our first landing on the Antarctic continent proper.
Before setting foot on land, it was our turn to head out in the photo boat for a short photography tour of Charlotte Bay. We immediately spotted a group of four or five whales and agreed to spend our time trying to get pictures of them.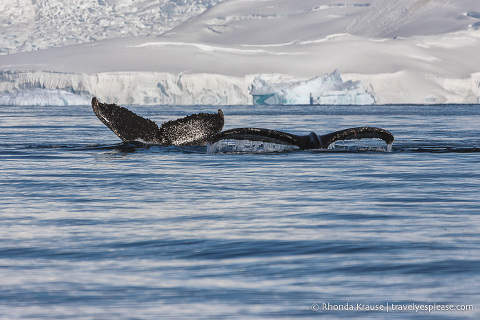 Soon we were surrounded by a myriad of whale activity. The humpbacks were gracefully flipping their tails as they descended below the surface, raising their pectoral fins out of the water, and loudly expelling moist air through their blowholes, all within really close proximity of our zodiac.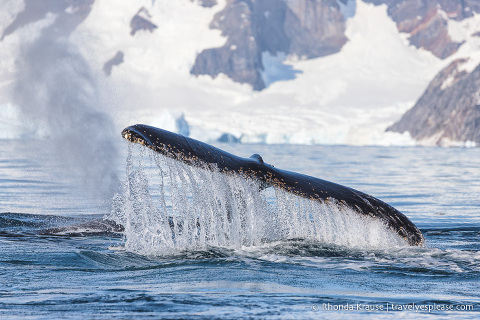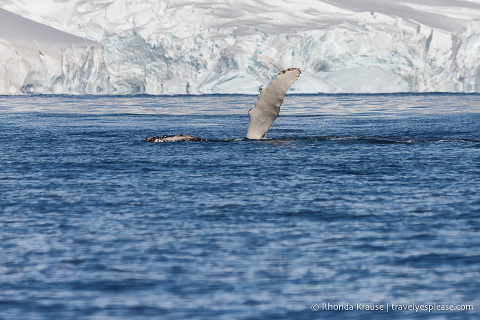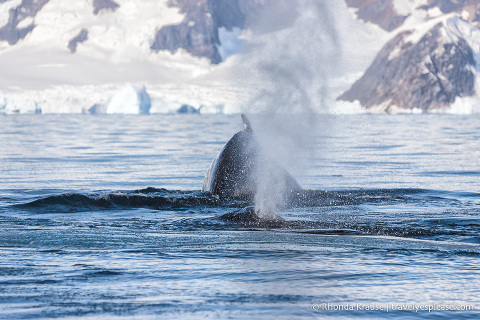 The most amazing thing was being able to hear the whales underwater as we silently anticipated their next appearance. It was so moving that tears welled up in my eyes and I exclaimed, "How do you take pictures while you're crying?"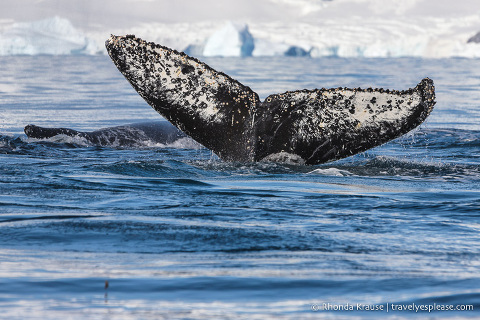 At one point a baby humpback came up within arms length of our zodiac, then swam alongside it near the top of the water. I could see its white belly as it glided by before surfacing again at the front of the boat.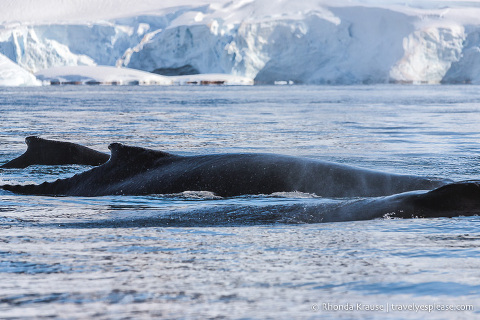 While not the most dramatic whale sighting of our visit to Antarctica, it was undoubtedly the most memorable and meaningful.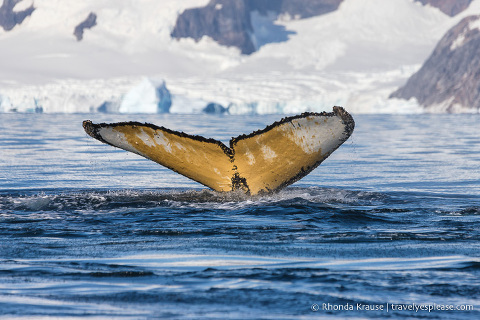 After leaving the whales, we drove to Portal Point where we took our first step on mainland Antarctica. It was such a simple act, but momentous occasion, that finally made our arrival in Antarctica feel official.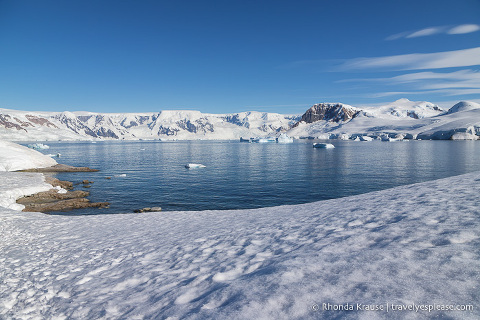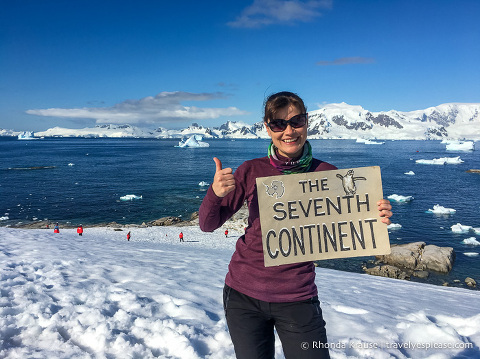 I couldn't have dreamed of a more beautiful place to make our first landing on the peninsula. Snowy mountains surrounded us while icebergs floated in the bright blue waters of Charlotte Bay and the Gerlache Strait.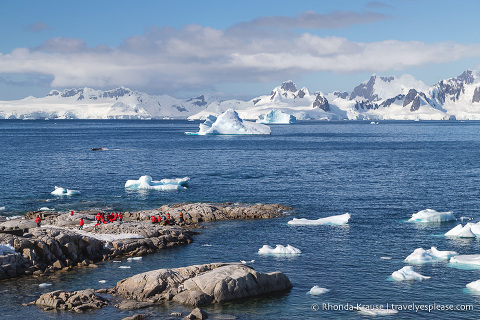 The views were even more impressive from a hill top viewpoint where we marveled at a pristine panorama of snowy scenery. It was just the type of landscape I was expecting to see in Antarctica!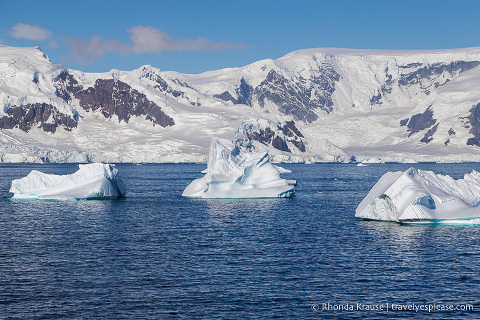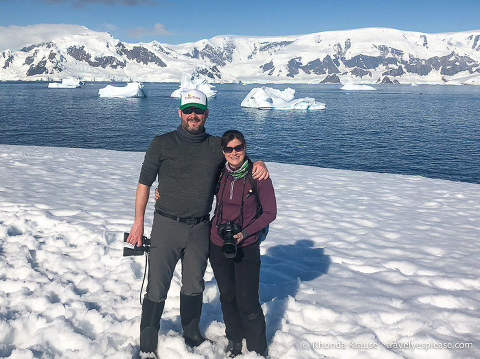 Day 14: Antarctica (Gonzalez Videla Station and Cuverville Island)
Highlights: Seeing a rare all-white gentoo penguin, visiting the largest gentoo penguin colony on the Antarctic Peninsula.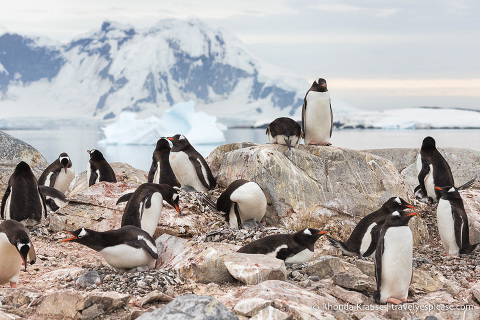 Our first landing of the day was at Waterboat Point in Paradise Harbour. Here we visited Gonzalez Videla Station, which is entirely staffed by military so little research takes place here.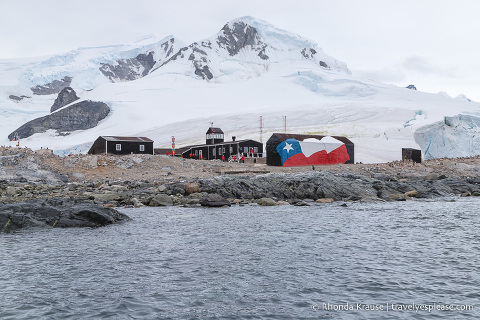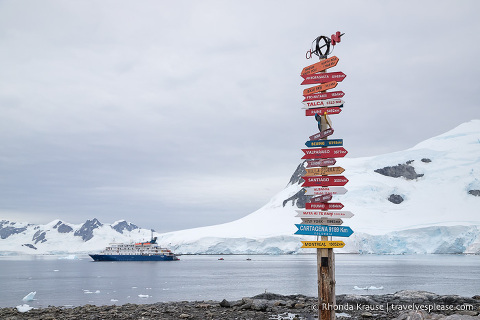 The base is surrounded by mountains and glaciers and is home to a colony of gentoo penguins. This was the first place I noticed penguins nesting with two chicks, or sometimes an egg and a chick.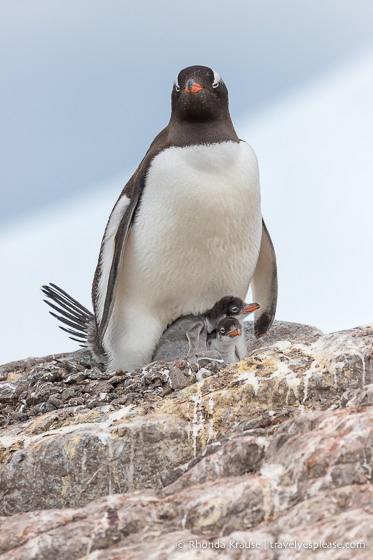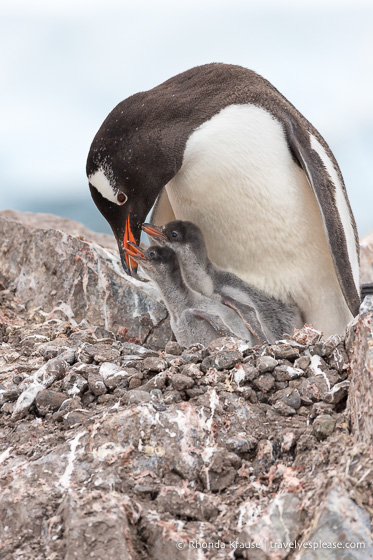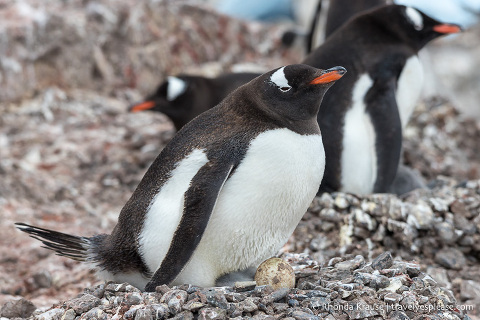 We were even fortunate enough to see Lucy, the resident leucistic penguin. Leucistic penguins have a genetic mutation that prevents pigment from being properly deposited in the feathers, so they look almost all white. She sure was pretty!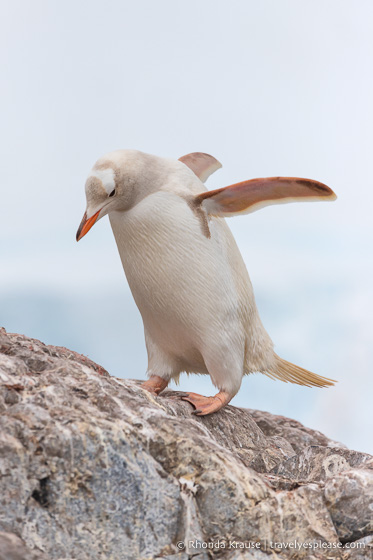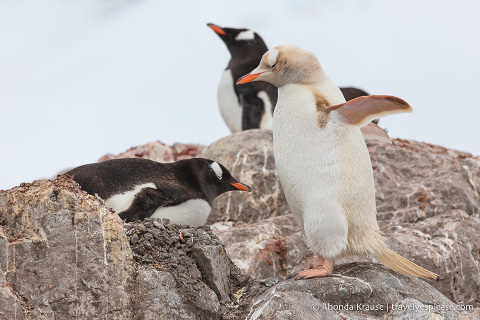 In the afternoon we sailed past icebergs and glacier-covered mountains on route to Cuverville Island.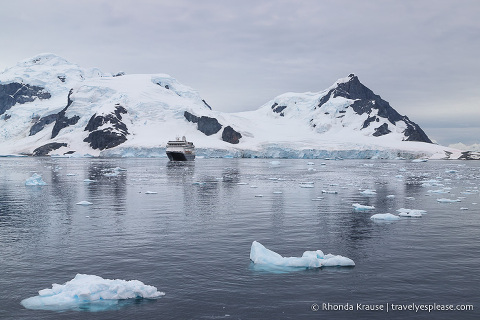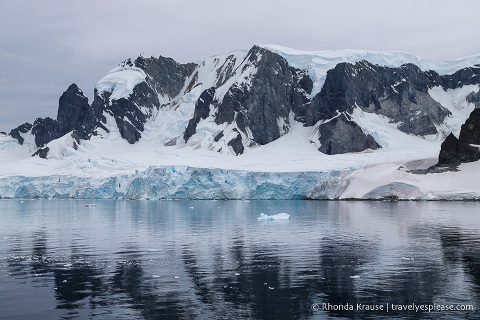 Cuverville Island turned out to be one of my favourite places in Antarctica. The site is home to the largest gentoo penguin colony on the peninsula, at about 6500 breeding pairs.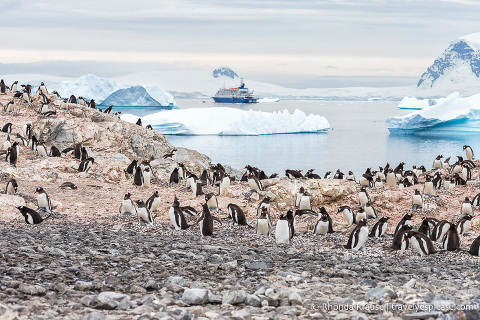 What made Cuverville Island so special, beyond the visual appeal of icebergs, glaciers, and penguins, was how I felt when I was there. Everyone dispersed and found their own space to sit in silence, watch, and absorb every moment.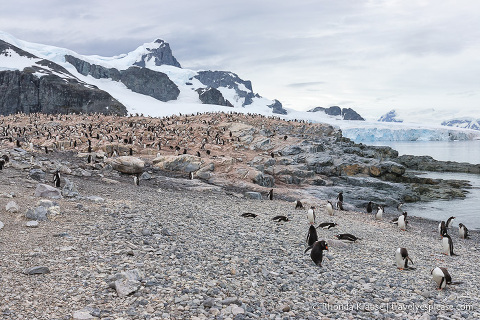 I could clearly hear glaciers cracking and penguin feet plodding on the rocks as they waddled past. With only unadulterated sounds of nature to interrupt the silence, it was easy to feel at one with my surroundings.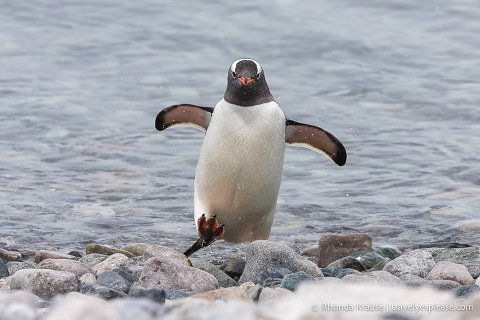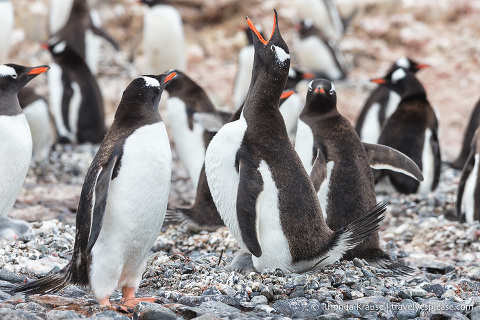 As I listened to the high-pitched chirps of tiny chicks, the protective hiss of penguins as seabirds flew overhead, and the enthusiastic splashing of gentoos swimming near shore, I couldn't help but surrender to my emotions once again.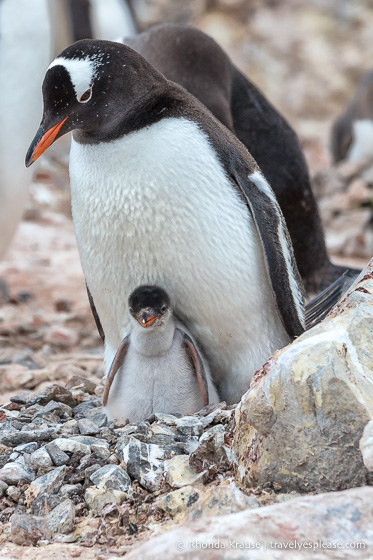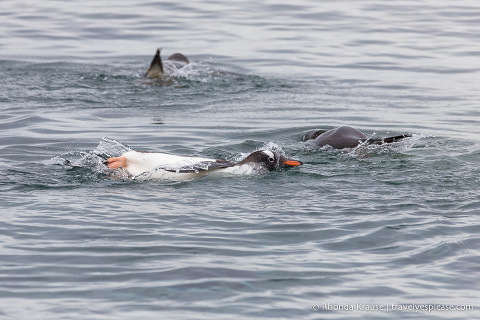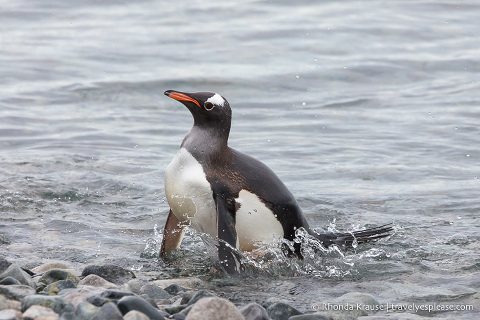 In that moment, I was acutely aware of my deep, powerful appreciation for Antarctica and everything this trip had gifted me so far.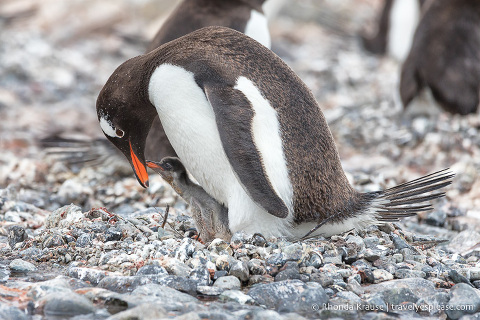 Day 15: Antarctica (Lemaire Channel and Pleneau Island)
Highlights: Transiting the icy scenery of the Lemaire Channel with cautious excitement.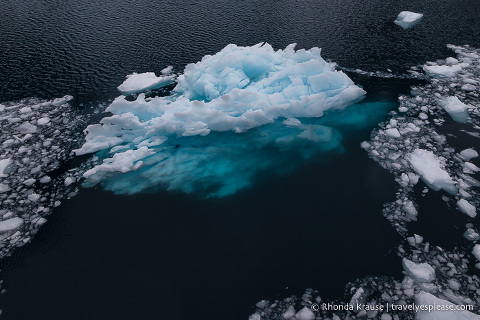 Of our 19-day trip to Antarctica, nothing felt more like a true expedition than our cruise down the Lemaire Channel.
On this gloomy morning, we arrived at the entrance of the Lemaire Channel to find it partially blocked with ice. Not wanting us to miss out on one of the most photographic straits and top attractions in Antarctica, our captain decided to attempt transit through the icy channel.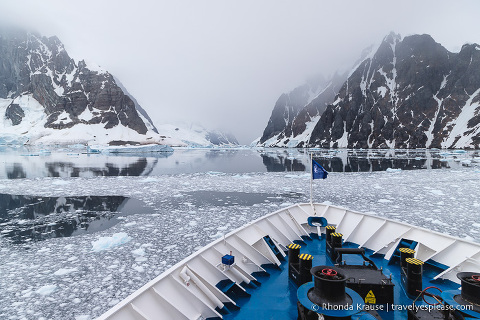 With us passengers tightly gathered at the front of the ship, our captain slowly weaved around sizeable pieces of ice, filling us with uncertain excitement as to whether or not we'd make it the full 11 km down the channel.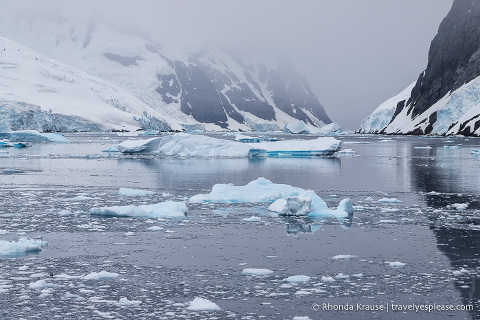 I was feeling doubtful, as far ahead it looked like a big iceberg was blocking almost the entire passageway. Lucky for us, things are not always as they appear, and there was enough room for our ship to safely sail by.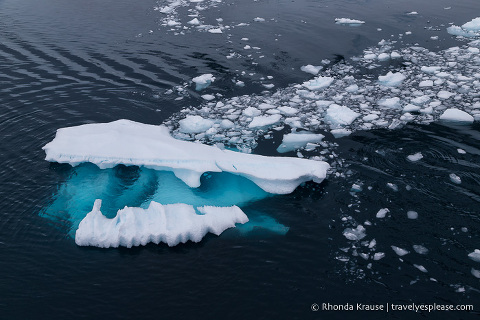 At the end of Lemaire Channel, we continued a bit further to Pleneau Island. The main attraction at Pleneau Island was the "iceberg graveyard", but it required walking across slippery granite rocks wet with algae, guano, and rain to get there.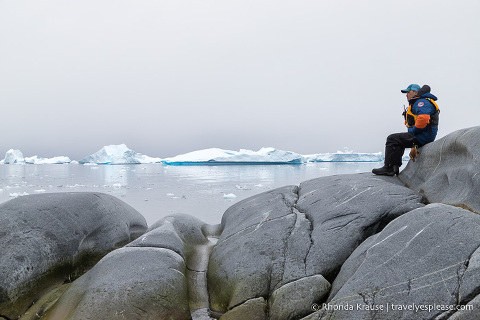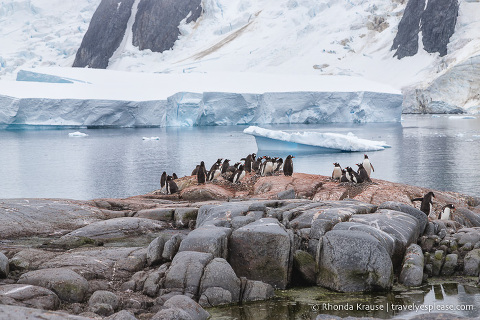 The view was nice enough, but overall not worth the risk of someone falling and breaking a bone (which likely would have ended our trip early).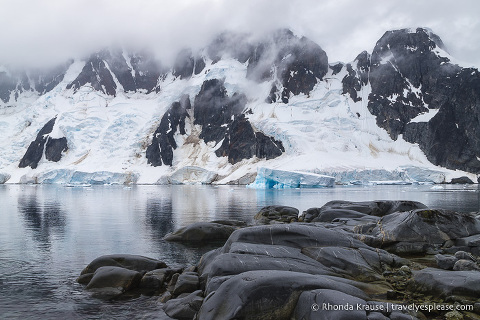 After Pleneau Island we sailed back down the Lemaire Channel. Our return trip had better visibility, so it was easier to enjoy the calm, mirror-like waters and active glaciers that prominently framed the channel.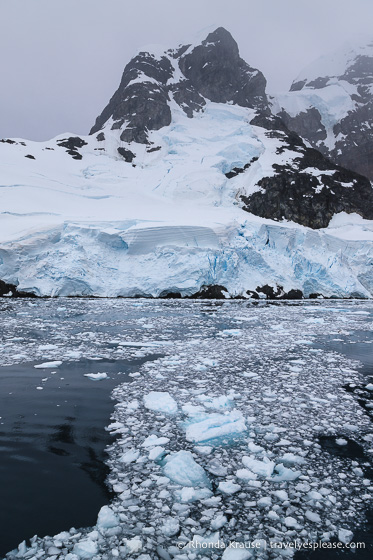 Day 16: Antarctica (Neko Harbour and Fournier Bay)
Highlights: Gorgeous glacier views, close encounter with a breaching humpback whale.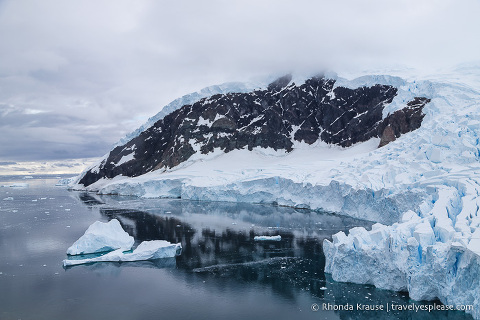 The last mainland excursion of our visit to Antarctica was at Neko Harbour, an incredibly beautiful location with a gentoo colony and active glacier.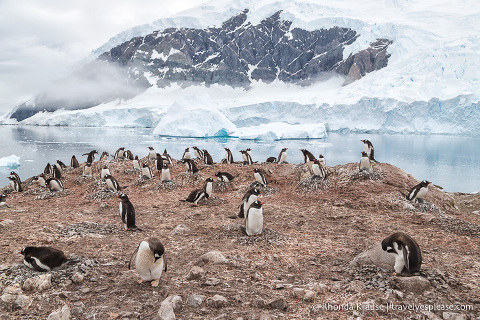 We did a short but steep hike up a snow covered hill to admire the colours and crevasses of the glacier, alongside sweeping views of the icy harbour. I even spotted some whales swimming near the shoreline.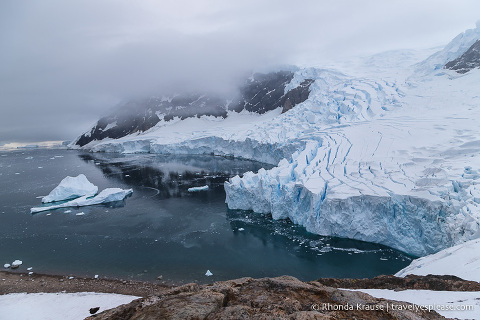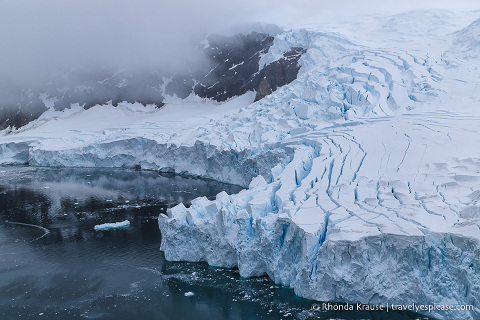 Back down at the beach, we sat and watched a penguin bring rocks to his nest while the glacier cracked loudly in the background, causing a few mini avalanches and small pieces of ice to calve.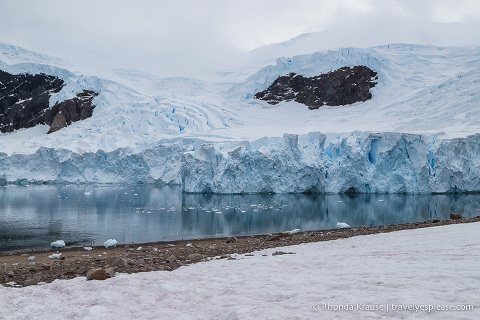 In the afternoon we did a four hour reposition to Fournier Bay. Here the plan was to do a zodiac cruise to look at ice, but some exciting whale activity ended up being the focus of attention.
A humpback whale was regularly breaching, jumping fully out of the water then crashing down into a mighty splash.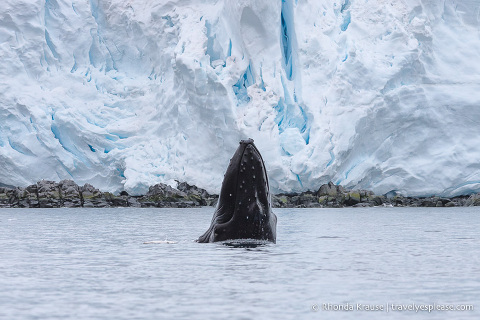 The anticipation of where the whale would breach next was so exhilarating that my heart was racing and hands were shaking. It was always a surprise where it would come up!
The most amazing, and slightly scary, moment was when the whale came up beside us to breach right between our zodiac and another. We were all looking the other direction, where the whale last appeared, but once we heard its breath and splash of its body lifting out of the water, we all turned and let out a collective loud gasp.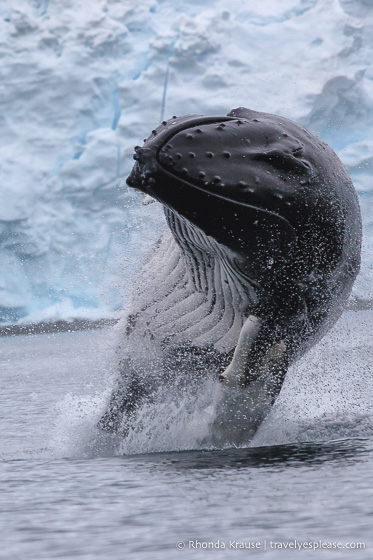 It was so close and jumped so fast, that all I saw was a giant white belly filling my field of vision then slamming into the water. It was the most thrilling and talked about wildlife encounter of our Antarctica trip.
A breaching whale was something I always hoped to see but never actually expected to witness, especially in such close proximity. Antarctica is not only a dream destination, it's a place where dreams come true.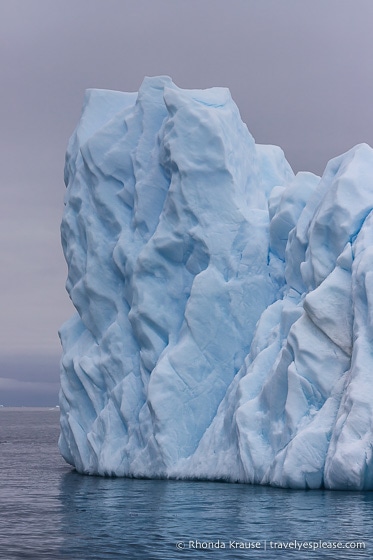 After the humpback show, we did still go cruise around some icebergs, spotting a leopard seal and some more whales.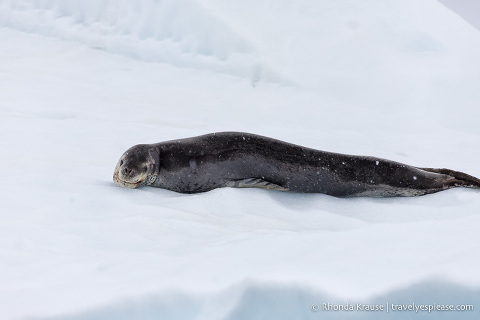 Later that night, as we sailed towards the last destinations on our Antarctica itinerary, we passed a gigantic tabular iceberg. This flat-topped chunk of ice was at least 2 km long, judging by how it felt like forever until we passed it. It was another astounding sight in a day full of surprises.
Day 17: Antarctica/South Shetland Islands (Deception Island and Hannah Point)
Highlights: Sailing into the flooded caldera of an active volcano, elephant seals, fluffy penguin chicks, and close encounters with orcas.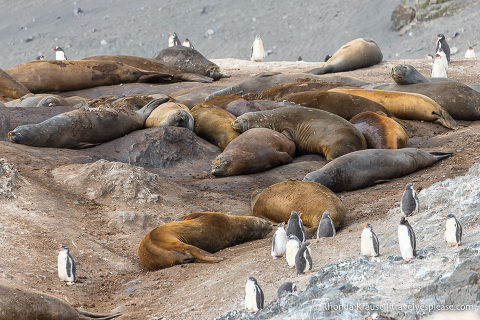 The last stops of our Antarctic adventure were at Deception Island and Livingston Island.
Deception Island had a very different landscape than the other places we visited during our Antarctica cruise because it's actually a volcano. We sailed into the sea-filled caldera through an eroded opening known as Neptune's Bellows, one of the only places in the world where vessels can travel into the middle of an active volcano.
After anchoring at Telefon Bay, we hiked up a barren, volcanic slope that overlooked a crater. Streams flowed down from melting, ash-covered glaciers, creating interesting patterns on the crater's floor.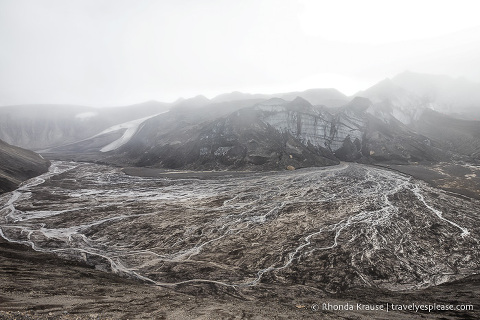 Deception Island wasn't exactly beautiful, in a conventional sense, but I appreciated the change of scenery and uniqueness of the location.
As we approached the last landing site of our trip to Antarctica, I was fighting off sadness and disappointment that our Antarctic expedition was coming to an end. However, Hannah Point was a fantastic place to say goodbye to Antarctica because it was packed with wildlife, nicely summarizing much of what we'd seen on our journey.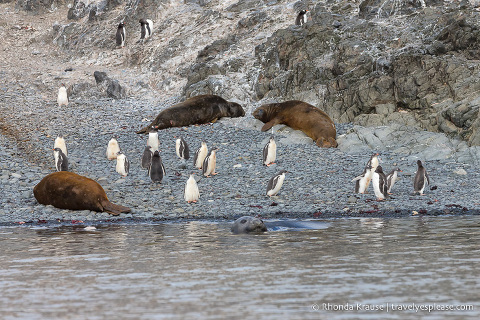 There were chinstrap penguins, gentoo penguins, elephant seals, and nesting giant petrels, but it was the penguin chicks that captured most of my attention.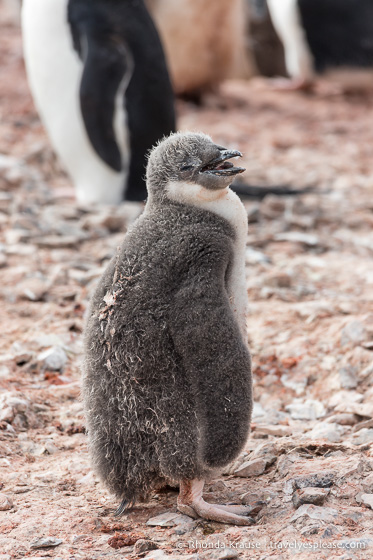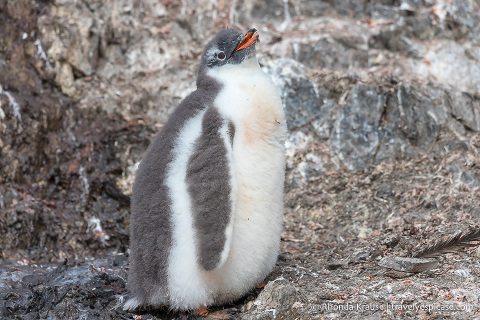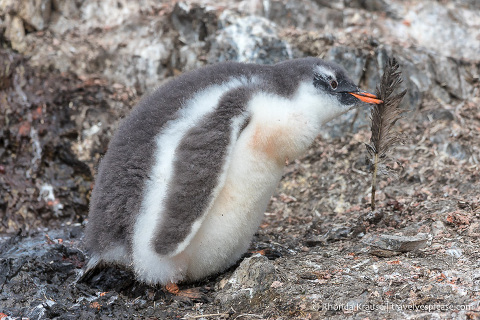 Hannah Point would have been a wonderful place to sit and reflect on how unbelievable this trip was, but since it was a sensitive site, our group of 30 only had 30 minutes to visit before it was time for the next group of passengers to arrive. Half an hour went by way too fast and sadly, this was the only place we felt rushed.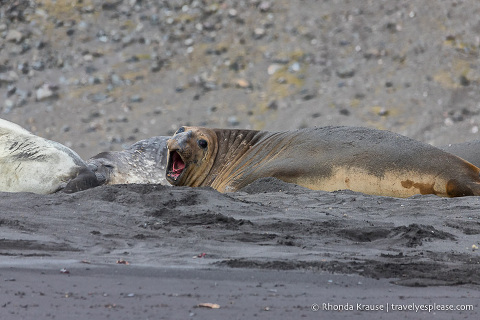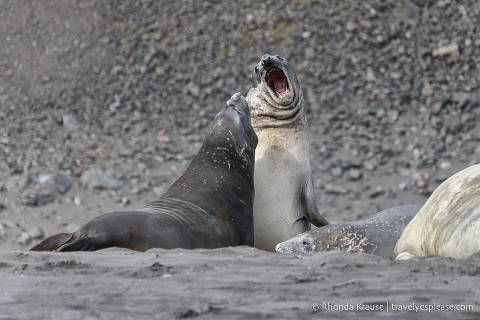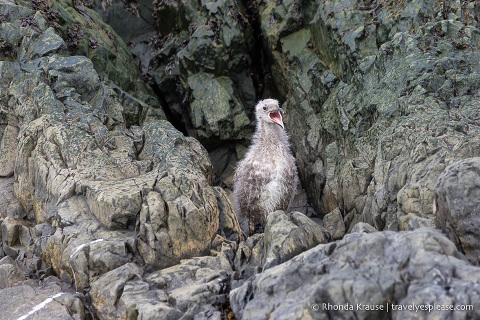 Even though our Antarctic journey was coming to an end, that didn't mean the magical moments were over.
We had one last whale encounter, as a pod of orcas swam closely beside the ship on both sides. One was close enough to see underwater and just as it was coming to surface, I snapped a picture of bubbles coming out of its blowhole. It's definitely one of my favourite photos of the trip!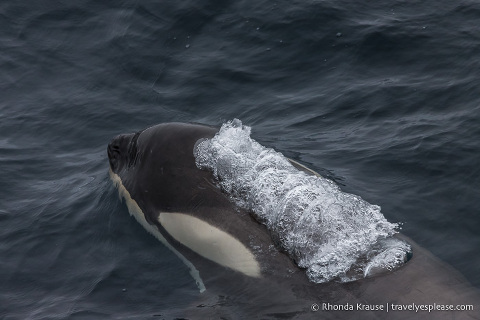 Days 18 & 19: At Sea (Drake Passage and Beagle Channel)
Highlights: A smoother than expected crossing of the Drake Passage.
The final two days of our Antarctica cruise itinerary were spent crossing the infamous Drake Passage, home to some of the world's roughest and challenging seas.
I've heard horror stories of "the Drake Shake" and its anxiety-inducing waves crashing into ships. On the contrary, I've also heard it can be "the Drake Lake", with relatively smooth seas.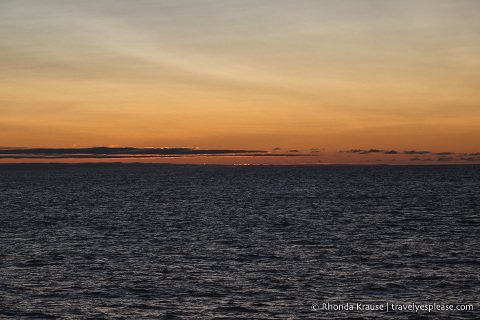 Our experience crossing the Drake gave us a taste of both temperaments. During the day the sea wasn't too volatile, but one night the ship was rocking and rolling as we were chased by a storm.
It was impossible to get a good sleep that night as waves loudly slammed into our ship. The ship would rock to one side, hanging there for upwards of 3 seconds, then lean to the other side for another 3+ seconds. With every deep sway of the ship I'd slide across the bed sheets!
As rough as the sea was that night, our Drake Crossing was not as wild and intense as I was expecting. Still, I was relieved when we arrived into the calm of the Beagle Channel, slowly making our way back to Ushuaia where our Antarctic adventure ended.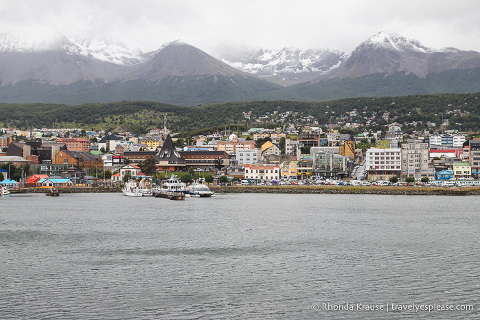 Final Thoughts About Our Trip to Antarctica, South Georgia, and the Falkland Islands
A cruise to Antarctica is often called a once in a lifetime trip, but a big part of me hopes that is not the case.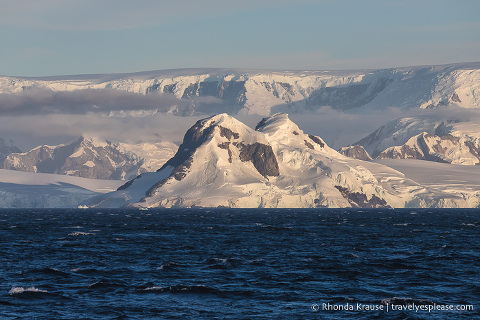 I've never had a more pure travel experience. We surrendered to Mother Nature, trusting that she would guide us to extraordinary places and unforgettable moments. The sounds, smells, scenery, and animal sightings were natural and authentic. I let myself feel deep, unrestrained emotions as I cried tears of joy, laughter, and gratitude throughout the trip.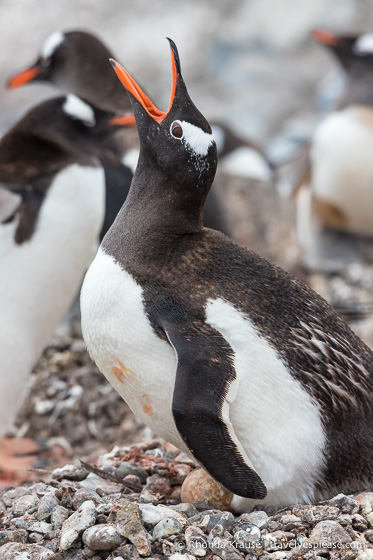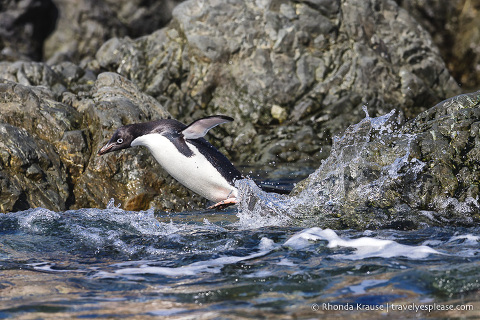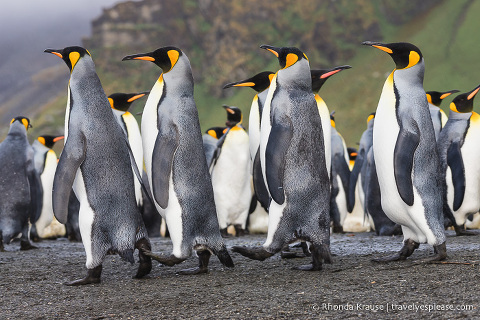 Wildlife encounters were both unexpected and better than expected. Landscapes were alive with sounds and activity as glaciers moved and rumbled, penguins gaked, and seals groaned and burped. It was the first time I've ever experienced sensory overload in nature, but it was overwhelming in the very best way.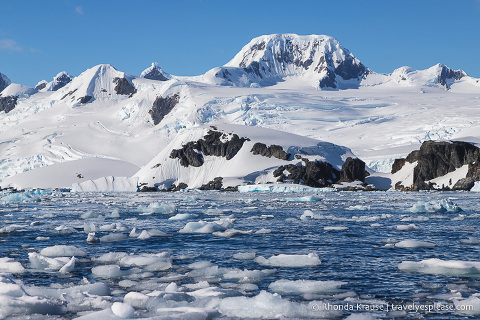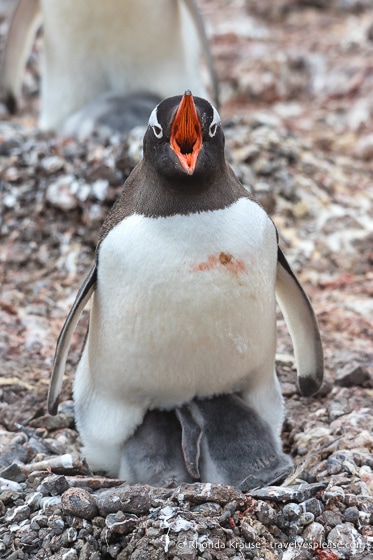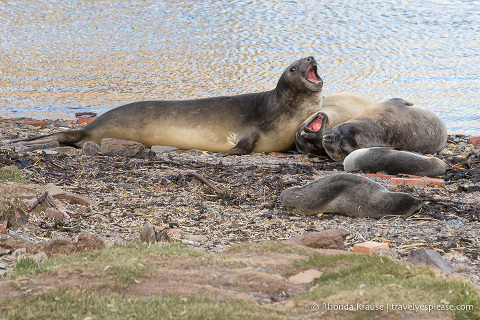 It was pure life, uninterrupted and unfiltered.
I'm so thankful we chose an Antarctica itinerary that included South Georgia. Antarctica may have been the main destination, but for me South Georgia stole the show with its enormous concentration of wildlife, especially at the king penguin colonies. I can't imagine going to Antarctica again and bypassing South Georgia.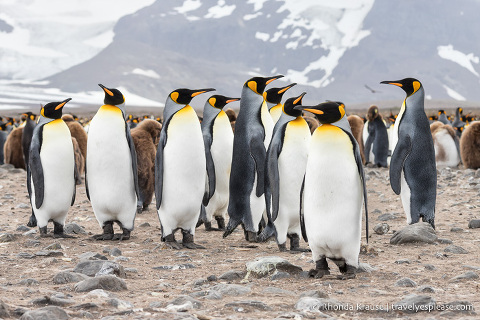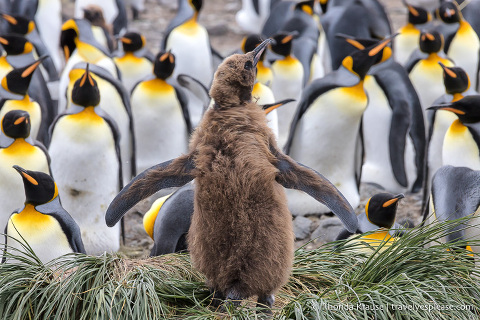 Visiting Antarctica in January was another great decision. We got to see penguin chicks in a range of stages, from still being in the egg to moulting their juvenile feathers. It was immensely satisfying to witness in real life what I had admired so long in wildlife documentaries and photographs.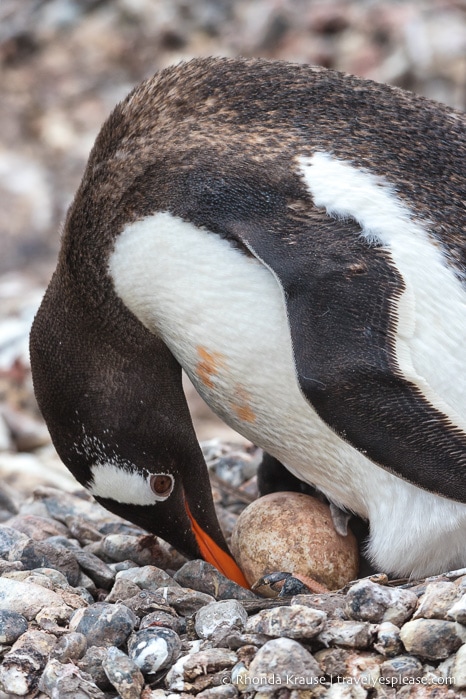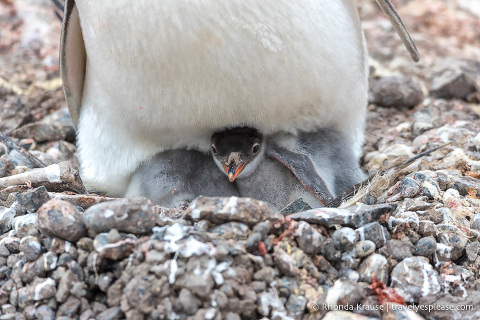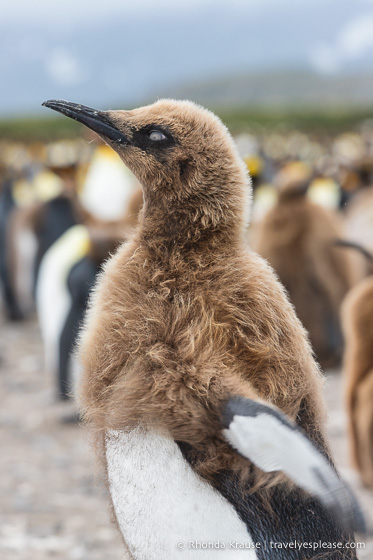 It sounds cliché, but travelling to Antarctica truly was an experience of a lifetime. South Georgia and Antarctica gave their very best to us, creating so many cherished memories.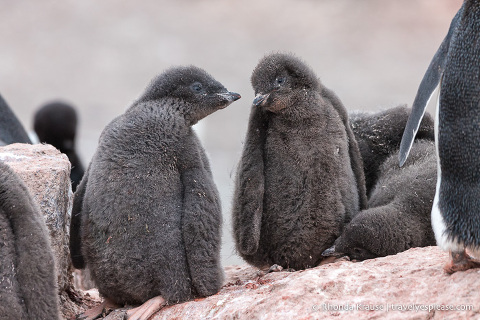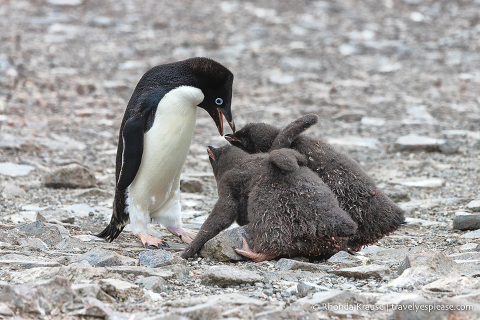 As sad as I was that our journey had come to an end, I found comfort in the words of our expedition leader- Antarctica will be there for you when you need it most.
I've already found that to be true.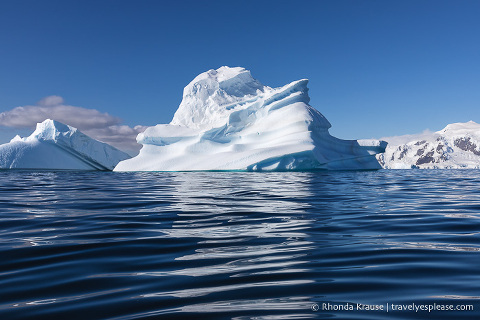 Pictures of Antarctica and South Georgia
Here are a few more photos of Antarctica and South Georgia showing what stunning and fascinating places they are!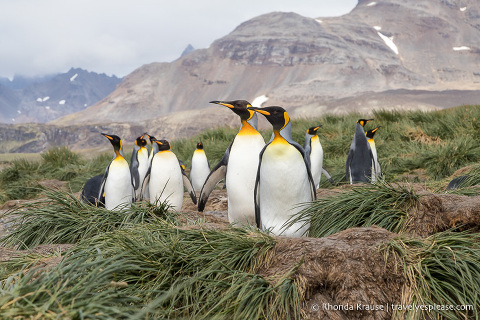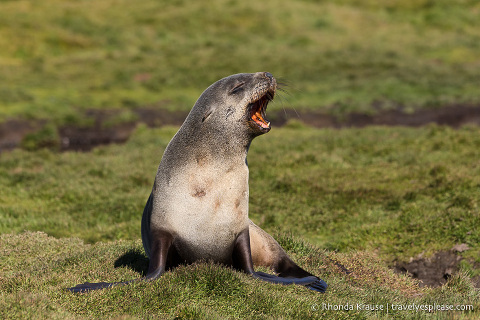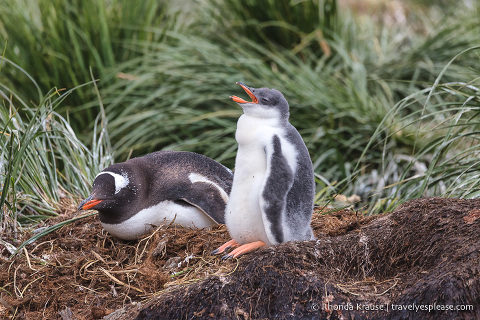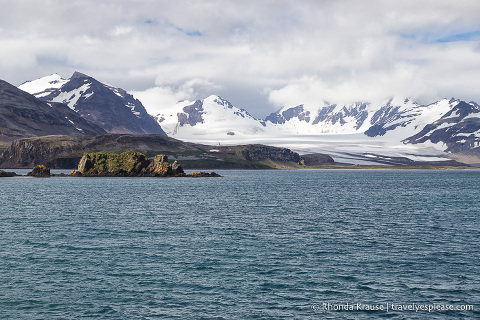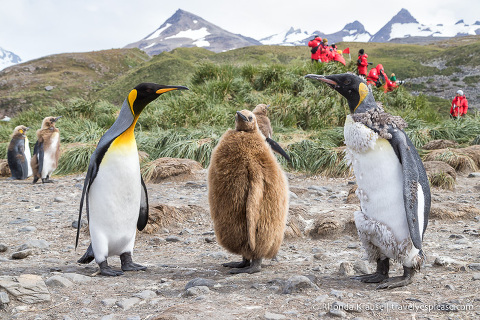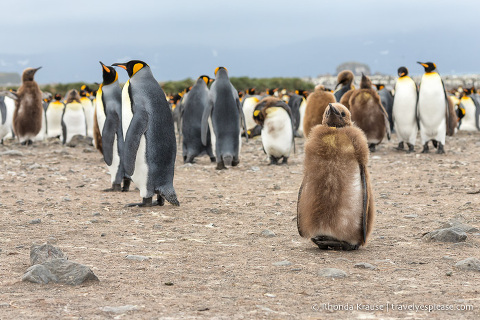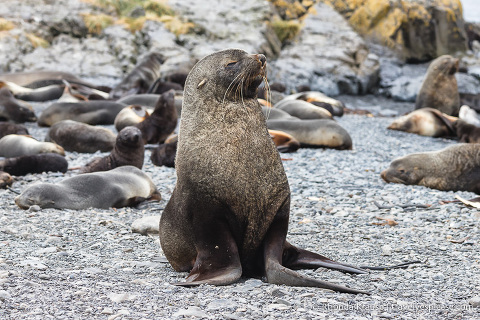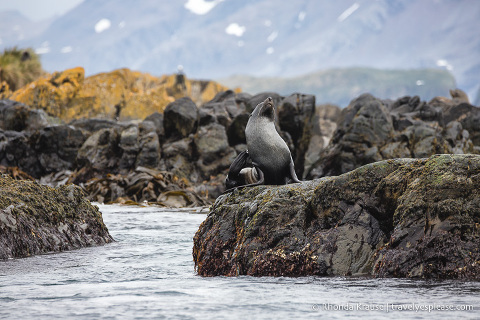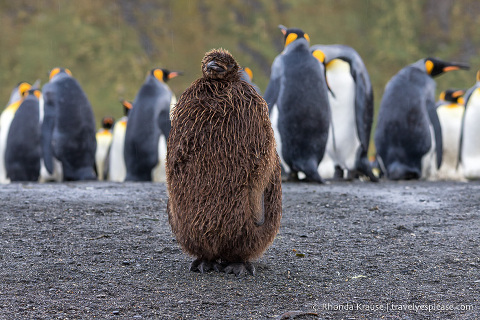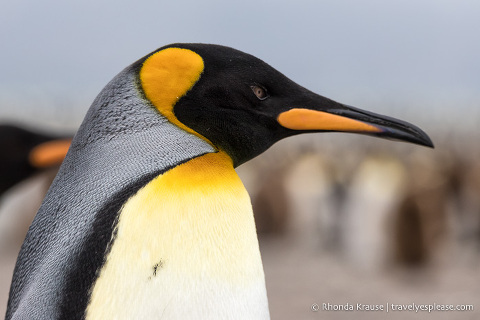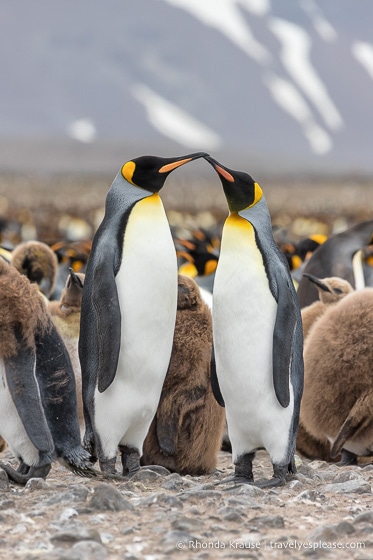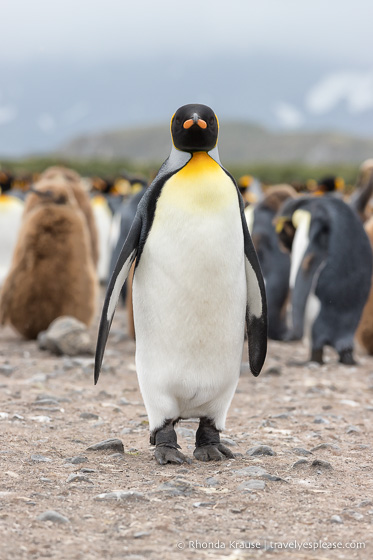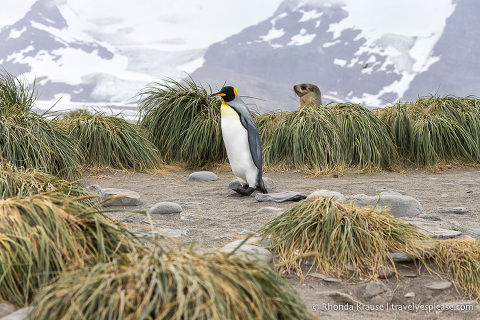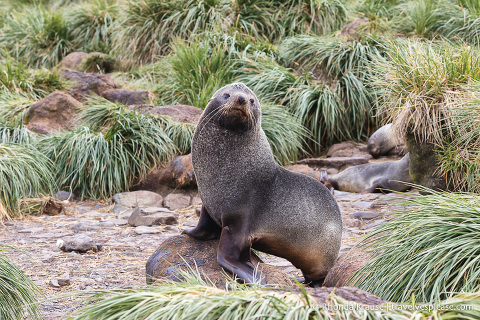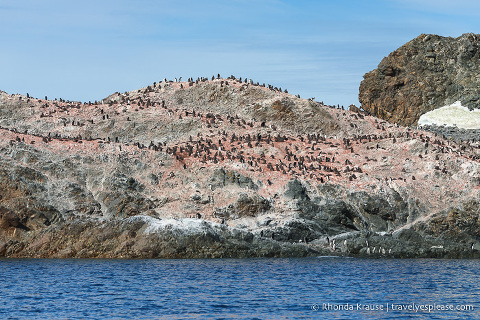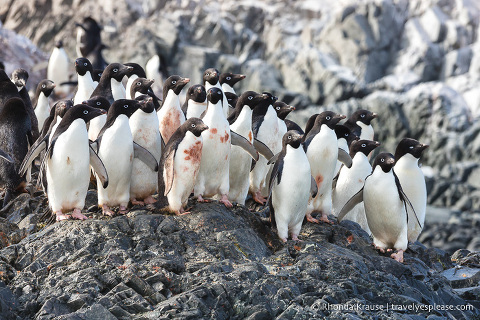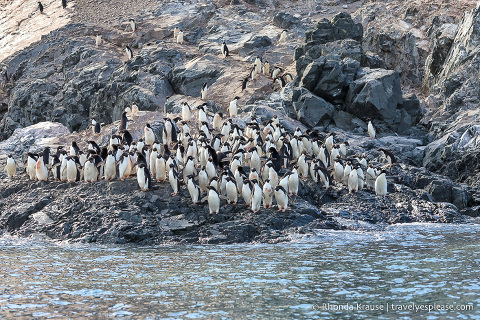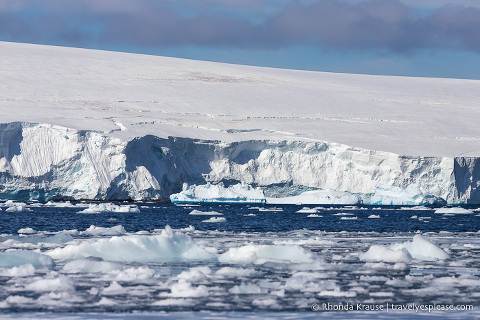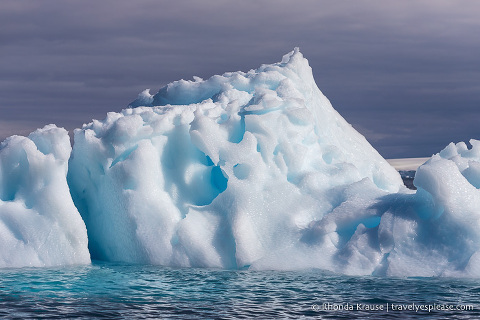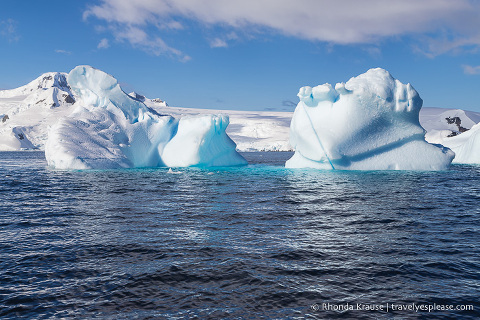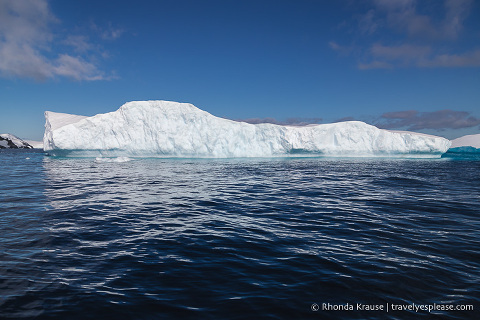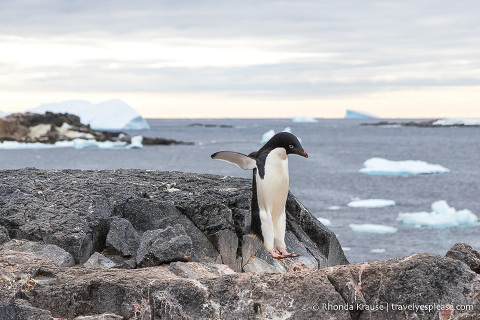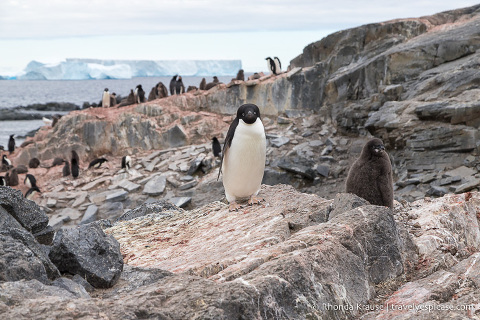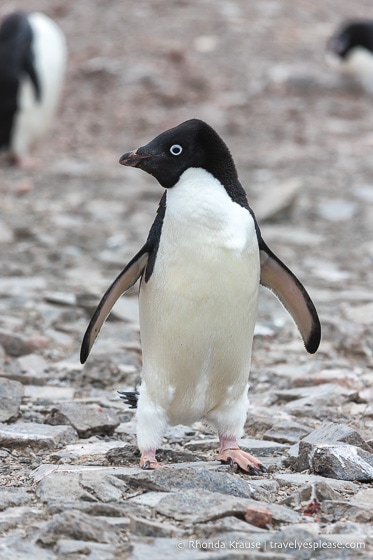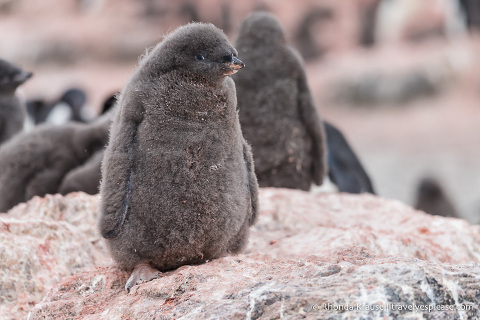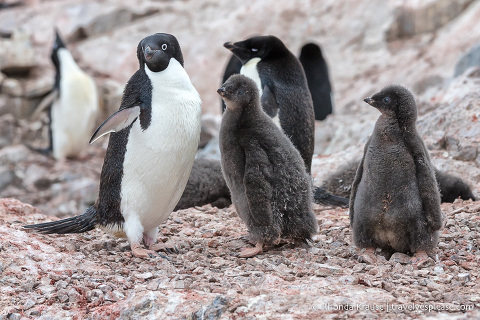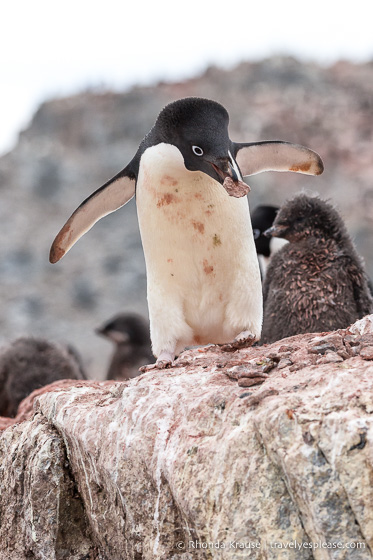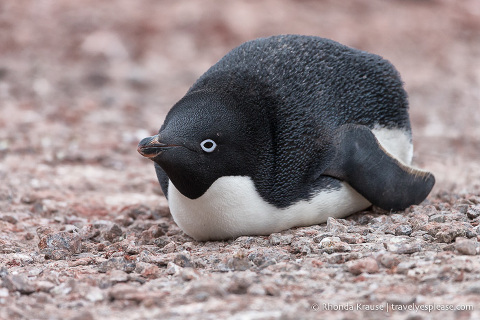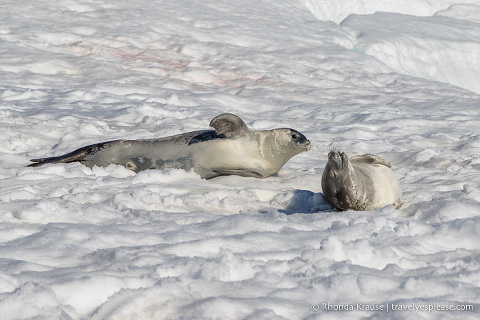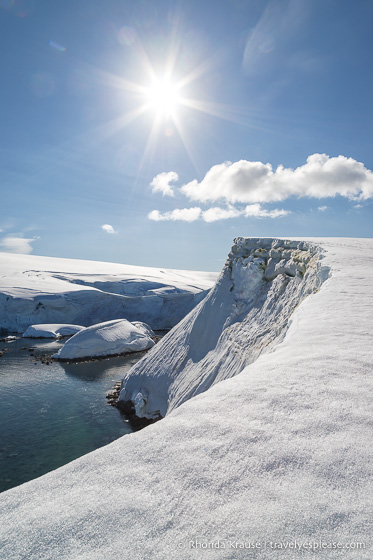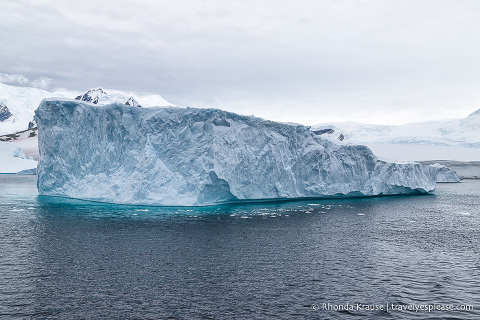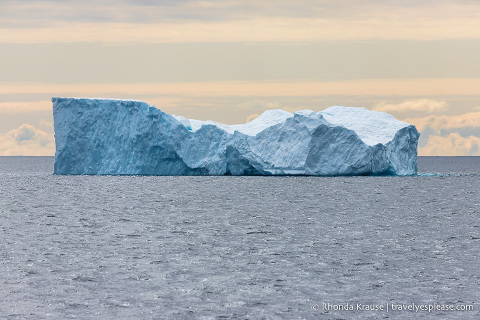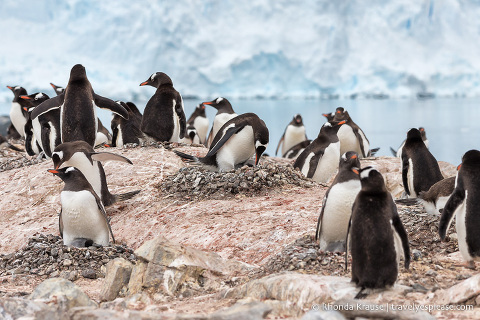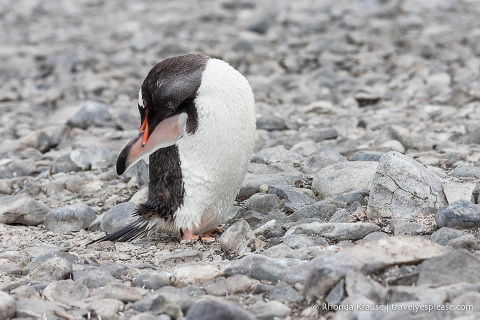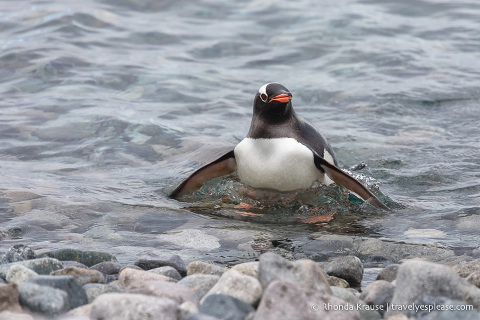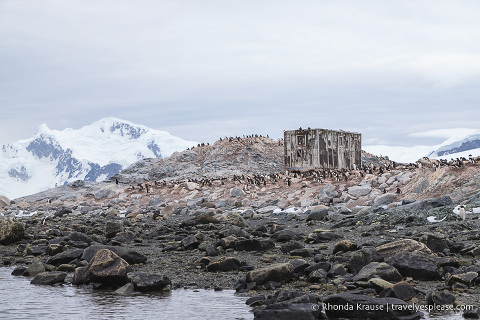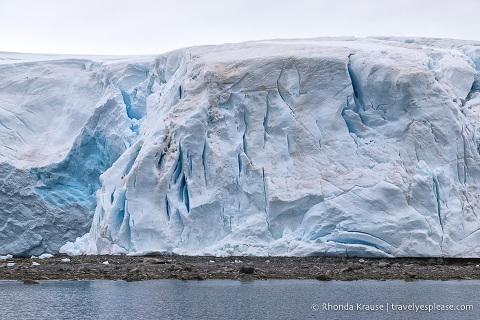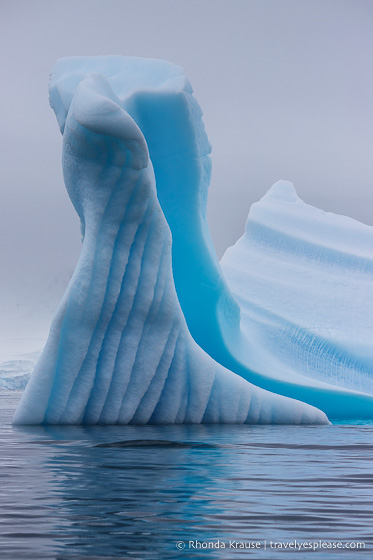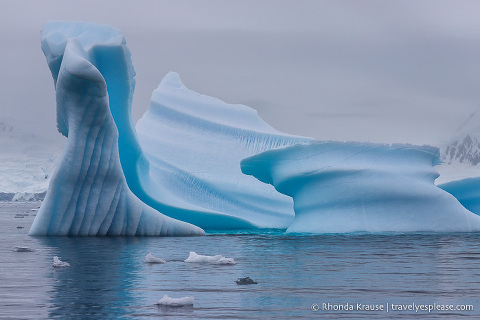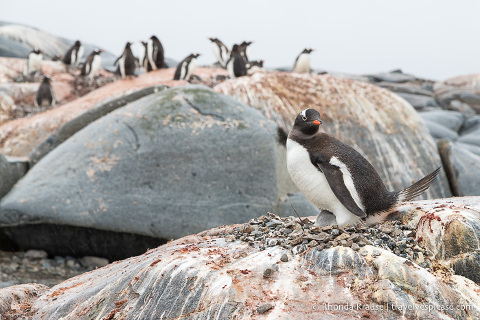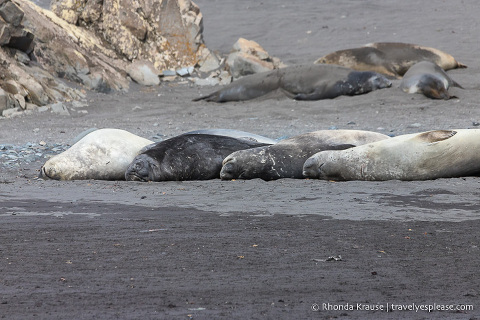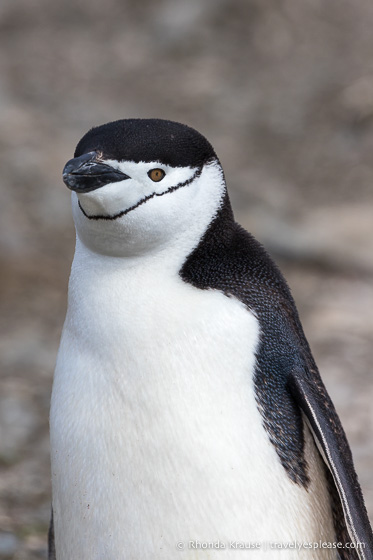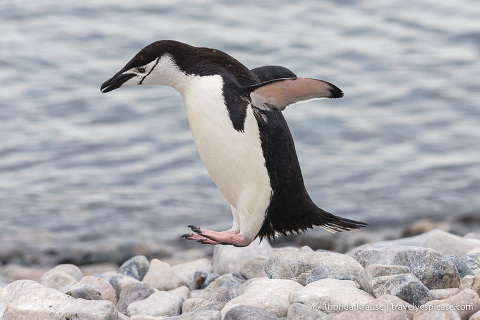 Tips for Visiting Antarctica
Getting to Antarctica: The most common way to visit Antarctica is by cruising from Ushuaia, Argentina to the Antarctic Peninsula. Another option is to fly from Punta Arenas, Chile (takes 2-3 hours) then transfer to a ship in Antarctica. You can even do a combination of the two with a one-way ship crossing of the Drake.
Less frequent ways to get to Antarctica are by sailing from New Zealand to Antarctica's Ross Sea, or by flying from Cape Town, South Africa to the South Pole.
Best Time to Go: Expedition cruises to Antarctica take place from late October/November- March, during the austral spring and summer when the weather is most comfortable. Within those months, the best time to visit Antarctica depends on what you want to see and your budget. Here's a short rundown of what you can generally expect (but no guarantees) for each month.
Late October and November: Penguins are courting and building nests to begin the breeding cycle, seabirds are breeding, seals are courting and mating, pack ice starts to melt, floating sea ice and large icebergs are prevalent, snow covered beaches, temperatures are colder.
December: Best chance for calmer crossings of the Drake Passage, glaciers actively calving, seal pups are more commonly seen, penguins are laying eggs and nesting, chicks begin to hatch late in the month, whales start to arrive, longest daylight hours.
January (when we went): One of the warmest months in Antarctica, sea ice opens up allowing access to more landing sites, penguin chicks are newly hatched or about to hatch, seal pups can be seen, whale sightings start to increase, icebergs are melting, typically the highest cruise prices.
February: Primetime for whale watching, penguin chicks and elephant seals are moulting.
March: Snow-free beaches and less sea ice, adolescent penguins grow their adult feathers, adult penguins return to the sea to feed so some rookeries are empty, good opportunities for whale watching.
Cost to Visit Antarctica: Trips to Antarctica are quite expensive and have big ranges in price depending on number of days, destinations visited, time of year, ship size, and cabin type.
Cruises that only visit the peninsula are the least expensive option. Prices go up for Antarctic itineraries that attempt to cross the Antarctic Circle or that include other destinations like South Georgia and the Falkland Islands. Smaller, luxury expedition ships also come with a higher price tag (but in our opinion, are worth saving up for).
I've seen starting prices range from $5,000 US/person to upwards of $25,000 US/person.
Early booking discounts or last-minute deals can help cut costs. We booked our trip almost 20 months in advance to get an early-booking rate. If you're not picky about the ship or itinerary and have a flexible travel schedule, you can sometimes find very last minute deals at agencies in Ushuaia. In our experience, we saw better advertised prices when booking far in advance. Note, it's not uncommon for Antarctica cruises, and optional activities like kayaking, to sell out a year in advance.
What to Pack for Antarctica: You'll want to bring warm, lightweight clothes that can be easily layered and a waterproof, breathable outer layer. Water-resistant rain pants or ski pants are essential for zodiac landings, as you'll be stepping into the water.
Some tour operators provide expedition parkas that can be borrowed or taken home after the trip. Most operators also loan rubber boats for shore landings.
Other things to pack are a waterproof backpack/camera bag, warm socks, waterproof mittens and a thin pair of gloves to wear underneath (helps with staying warm when taking pictures), neck gaiter or other face protection, a toque/knitted hat, and way more memory cards for your camera than you think you need.
Ushuaia has a lot of stores selling high quality, brand name outdoor clothing and gear. We found the prices to be comparable to what we'd pay at home in Canada.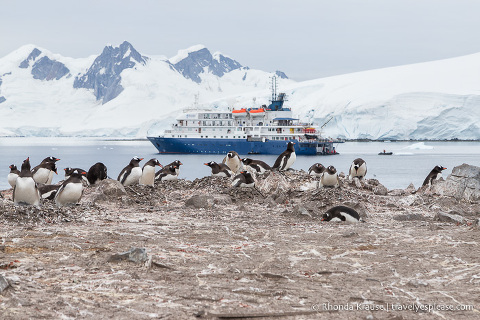 For more information about what it's like to travel to Antarctica, read our First Time Visitor's Guide to Antarctica.
Search, Compare and Book Cruises to Antarctica
Here is a helpful and reputable site you can use to search for and compare cruises to Antarctica. There's a variety of tour operators, vessels, and itineraries all in one place for easy comparison. You can even read reviews from other travellers. Once you find a trip you love you can book it!
Accommodations in Ushuaia
For your convenience, here is a list of hotels in Ushuaia, departure point for cruises to Antarctica. Please consider booking your Ushuaia accommodations through the included link. It costs nothing extra and helps support this website. Thank you!
More Antarctic Travel Guides