Purchases made through links earn us a small commission, at no extra cost to you.
A trip to Antarctica is without a doubt a bucket list worthy experience. From towering icebergs and majestic glaciers, to close encounters with an extraordinary amount of wildlife, Antarctica will fill even the most seasoned of travellers with wonder.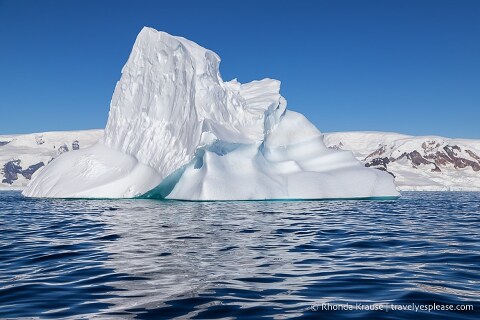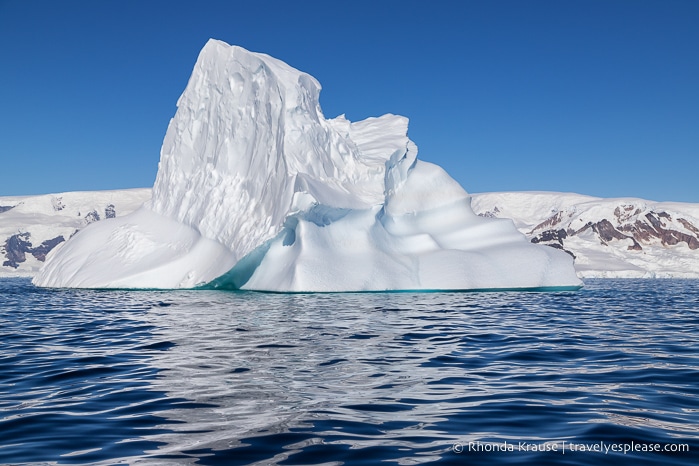 The far-off, remote location, and the high cost of travel to Antarctica, mean that the White Continent is likely a once-in-a-lifetime trip for most people. Such an important trip requires thoughtful planning and crucial decisions to be made so that your dream vacation turns out to be everything you expected and more.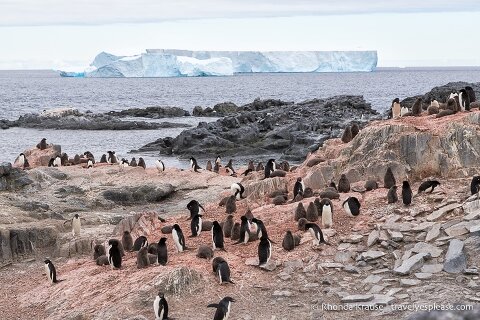 How to Plan a Trip to Antarctica- Tips and Things to Consider When Choosing a Cruise to Antarctica
Since the most common and easiest way of travelling to Antarctica is by cruise ship (how we visited the continent), we wanted to share some things we took into consideration when choosing a cruise to Antarctica.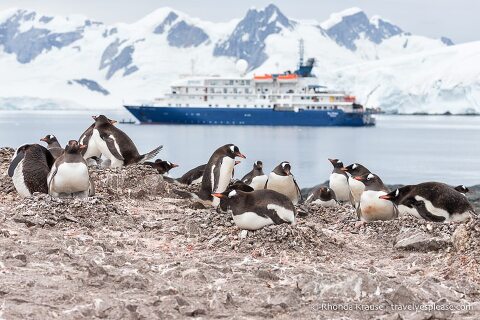 There were a lot of decisions to be made when planning a trip to Antarctica, including determining our budget, how long to be away from home, what wildlife and scenery we most wanted to see, and the type of ship we wanted to travel on.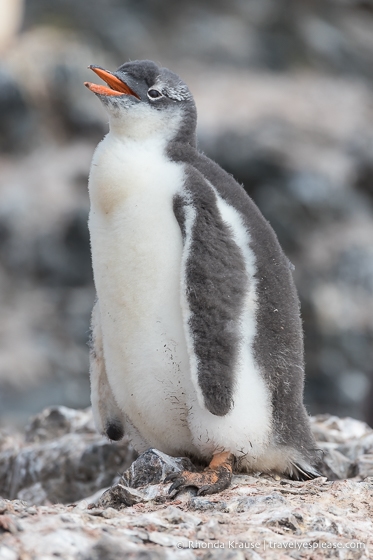 Once we determined the kind of experience we hoped to have, it made it easier to choose a cruise to Antarctica that met our wishes.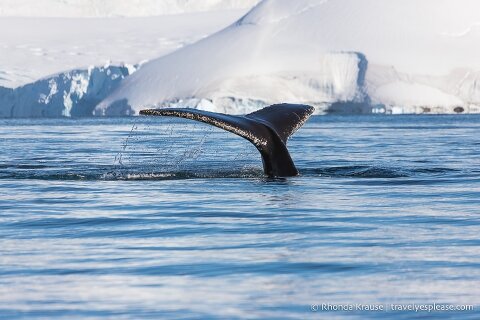 As you start to plan a trip to Antarctica, here are some essential things to consider before choosing a cruise to Antarctica.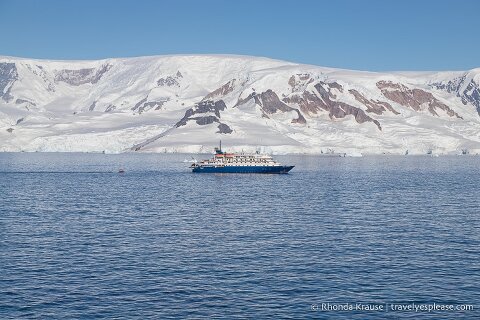 Itinerary
Choosing an itinerary is not as daunting as it appears when you first start to plan a trip to Antarctica. Yes, there are a lot of options, but the main differences are cruise length (from 8 to 30+ days) and price.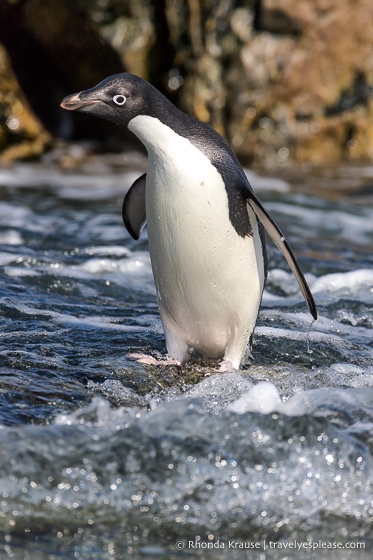 Most cruises depart from Ushuaia, Argentina and less often from Australia or New Zealand. You can also find shorter "air cruise" itineraries which involve a 2 hour flight from Punta Arenas, Chile to the South Shetland Islands where you then board a ship.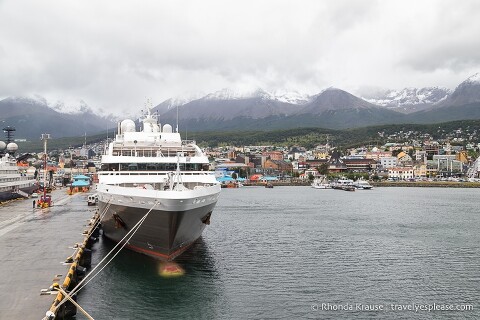 All cruises departing from South America will visit the Antarctic Peninsula, since it's only about 1,000 km from the southernmost tip and has the mildest climate in Antarctica. Cruises leaving from Australia and New Zealand explore the Ross Sea and East Antarctic coastline.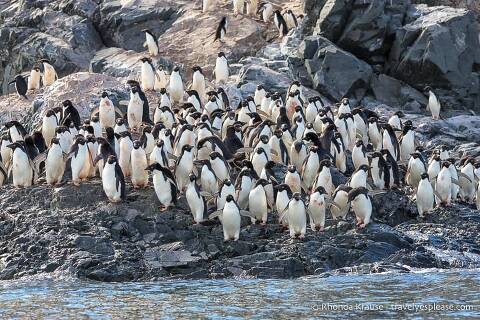 A classic Antarctic cruise that only visits the peninsula is done in 10 days, only 4 of which are typically spent on land. Longer itineraries will add in a visit to the South Shetland Islands and perhaps more time on the peninsula.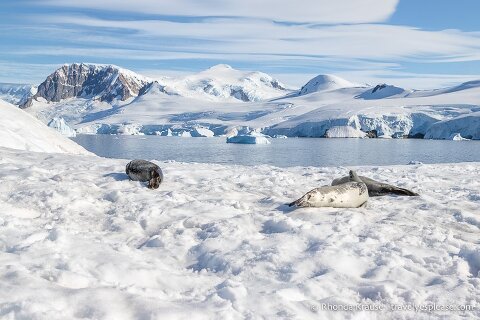 If you have the budget and time for a 17- 21 day trip, we recommend choosing an Antarctica itinerary with South Georgia and the Falkland Islands. This option allows you to see a subantarctic landscape, a larger variety of wildlife (including king penguins which don't live in Antarctica), and some important historic sites like the Grytviken whaling station where famed polar explorer Ernest Shackleton is buried.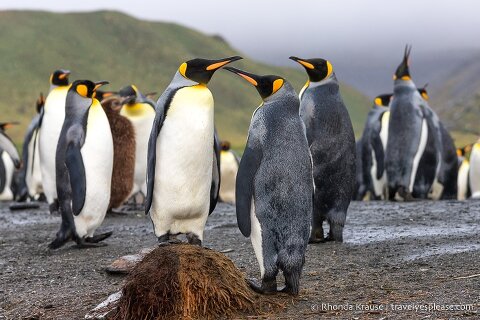 If you want to up your budget and trip length even more, you could choose a cruise that will attempt to cross the Antarctic Circle or one that will visit the Ross Sea.
When planning an Antarctica trip, you'll notice that the itineraries are not as specific as cruises to other destinations. For example, they'll say "Days 3-4 cruising the Drake Passage, Days 5-9 South Shetland Islands and Antarctic Peninsula." This is because expedition cruising is very dependent on the weather, so the itinerary will be flexible without guarantees about where you visit and how much time you spend there.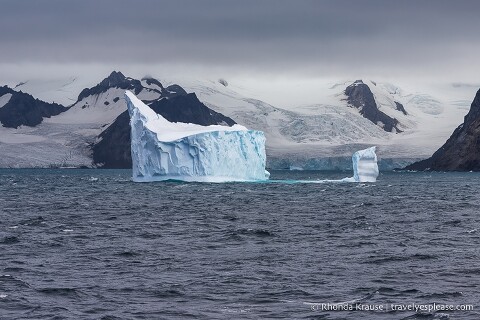 For that reason, you can pick an itinerary that will attempt to explore certain regions, like South Georgia Island, but you won't be able to choose specific places you visit there, such as the Salisbury Plain king penguin colony. The ship will land wherever conditions at the time allow.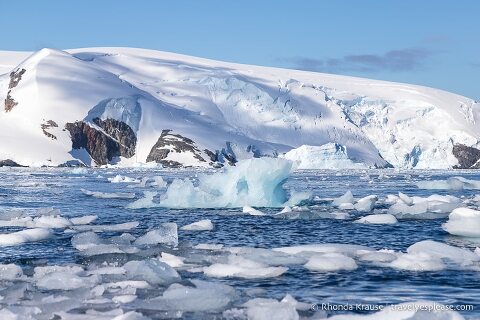 When choosing a cruise to Antarctica, you should definitely consider the rough itinerary and select something that is aiming to have more days in areas you're most interested in, but realize that Antarctica trips are very much "go with the flow" and "you get what you get" type of experiences.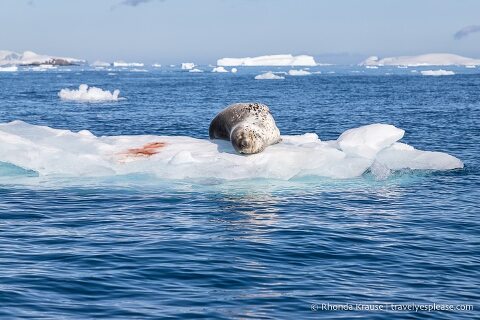 Time of Year
A big decision you have to make when planning a trip to Antarctica is what time of year you want to visit. You'll be limited to November through March, since the Antarctic cruise season takes place when the weather is the warmest.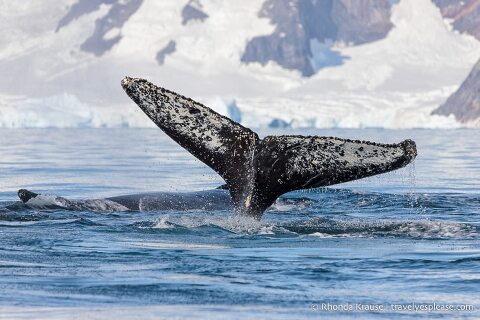 The month you choose to travel to Antarctica not only determines the price, but the type of scenery and Antarctic wildlife you're more likely to see.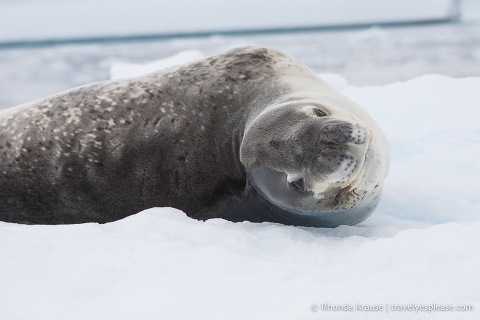 November and March are typically the least expensive months to go to Antarctica. Early in the season you'll see a lot more snow and ice, since the pack ice is just starting to melt, so ships may be limited where they can go. Later in the season (February and early March) is great for whale sightings, but penguins start returning to sea so you'll see less of them at rookeries. The icebergs are also smaller and beaches aren't snow covered.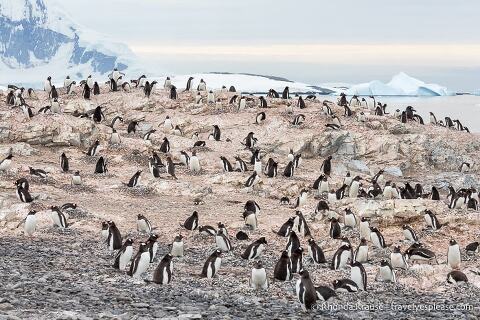 December and January are popular (and more expensive) months to travel to Antarctica. In December the weather is warming up, whales are arriving, and penguins are laying eggs. January is one of the warmest months in Antarctica and the best time to see penguin chicks. There's also less sea ice during this time so ships can visit more places.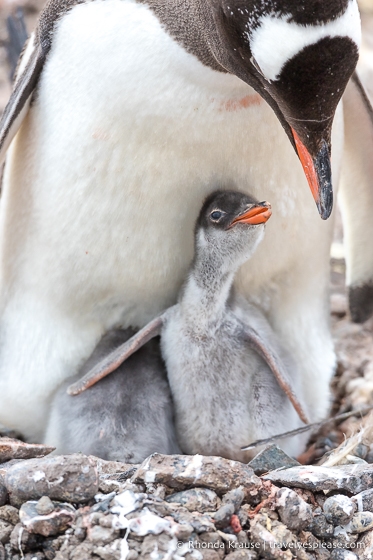 You'll pay a premium to cruise to Antarctica in January, but we recommend it if it's your first trip to Antarctica. We went in January and felt like we had the complete experience, getting to see icebergs, glaciers, whales, adult penguins (some still nesting with eggs), penguin chicks, seals, and more.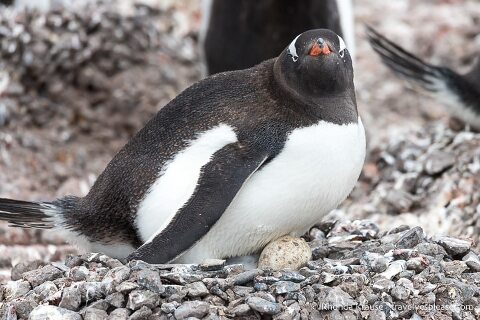 Price
A trip to Antarctica is a major investment, so of course price is going to be a deciding factor when choosing a cruise to Antarctica.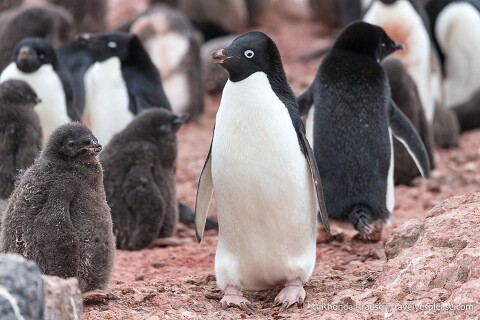 Since prices are determined by many aspects, including the itinerary, time of year, type of ship, and the amount of people in a cabin, you'll find a wide range of price points when you start to plan a trip to Antarctica.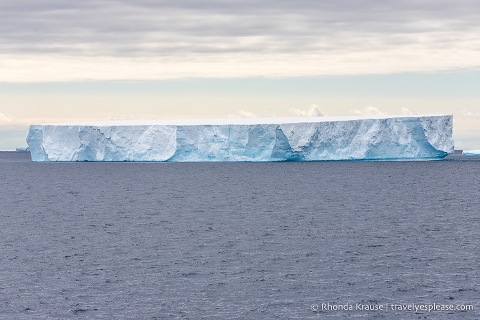 On the lower end, you can expect to pay around $5000 US for a shorter cruise to the peninsula. Mid-range prices are typically $6,000- $13,000 US. Longer cruises that include the Falkland Islands, South Georgia Island, and Antarctic Circle can go for around $18,000 US and more. The most expensive Antarctica cruises I found were over $50,000 US for journeys of 30+ days.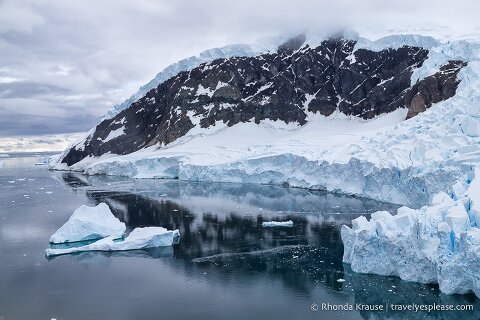 Sometimes you can get last minute discounts on cruises to Antarctica while in Ushuaia. If you have a flexible travel schedule and aren't picky about your ship or cabin, then booking last minute in Ushuaia could be a way to save money.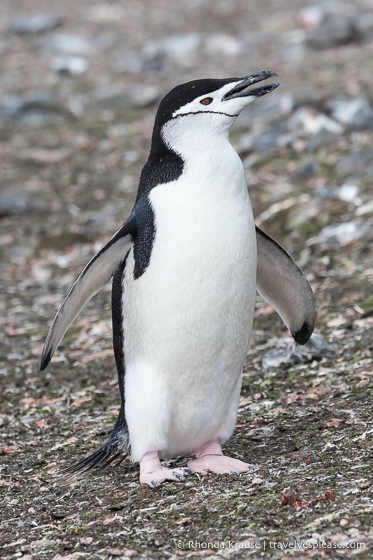 Another way to save money is by planning your trip to Antarctica way in advance, like 1.5 years before you intend to travel, because many companies offer early booking discounts.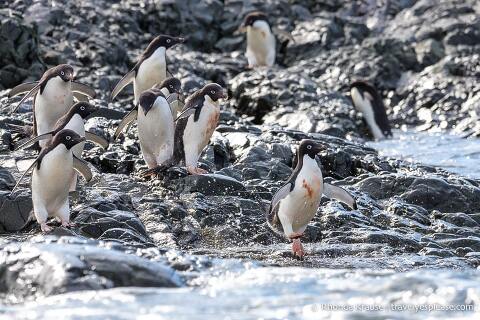 Ship Size
When I started to plan a trip to Antarctica, I quickly realized that ship size was going to be one of the most important factors, after the itinerary, that we would take into account when choosing a cruise to Antarctica.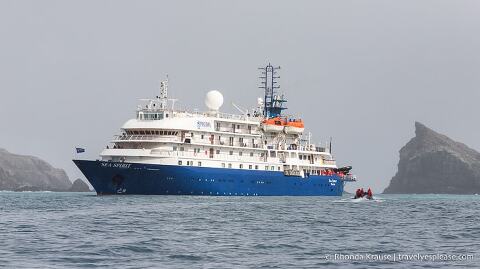 Travel in Antarctica is highly regulated to protect the environment, so there are rules limiting cruise ship access and the amount of people that can disembark the boat. Only 100 people can be ashore at a time (less at some landing sites) and vessels with over 500 passengers aren't allowed to make shore landings at all.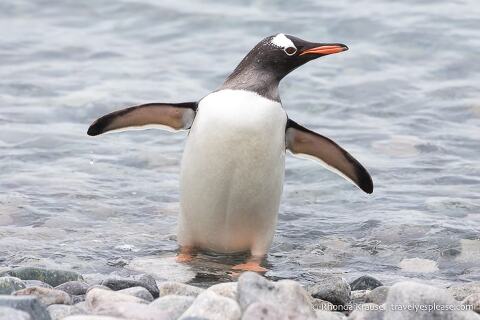 These restrictions mean that if you're on a ship with over 100 people, you will get less time on land with the wildlife. Passengers will be arranged into groups and then take turns going on land at each stop. When it's not your group's turn to be on land, you could be doing a zodiac cruise (which is also fun) or waiting on the ship.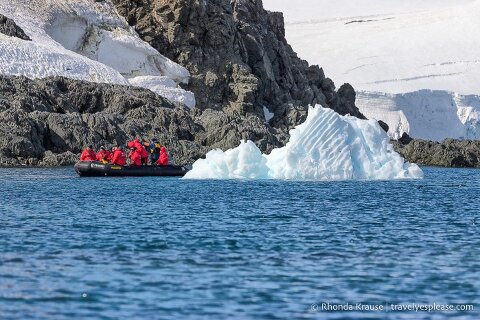 If you're on a cruise ship with over 500 people, you won't be able to set foot on the continent and will instead have to admire the scenery from the boat. That's obviously not ideal if you want to truly experience Antarctica.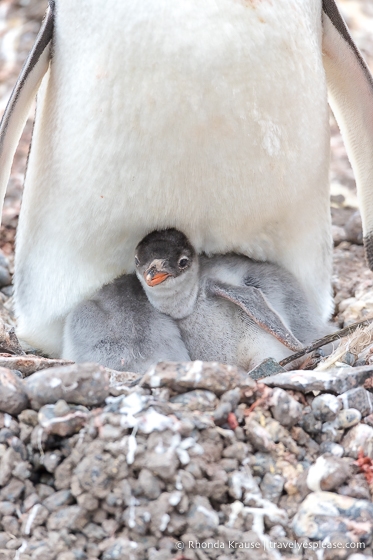 For us, a small ship was crucial and I wanted one in our price range that had as close to 100 passengers as possible. We ended up choosing a 114 passenger ship and were happy with the amount of time we got to spend on land. I wasn't going to travel that far and spend years worth of savings if I could only go on land half the time!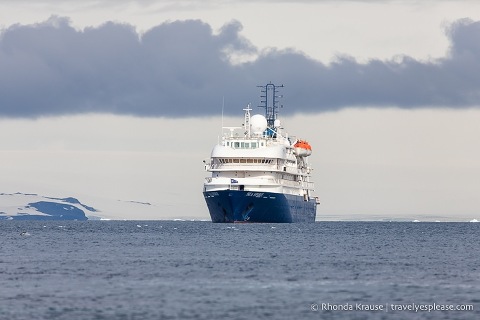 Another reason to choose a small ship cruise to Antarctica is that disembarking at landing sites is faster with less passengers. Boarding the zodiacs that shuttle people to land can take a while and we didn't want to spend our time in Antarctica waiting in line.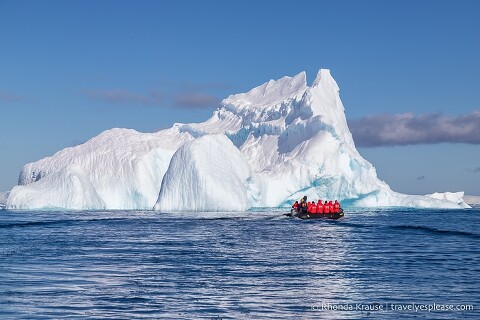 Ship Type
Another thing you'll have to consider when planning a trip to Antarctica is the type of ship you want to be on. You'll be spending a couple of full days at sea, so choosing a ship that's comfortable for you is important.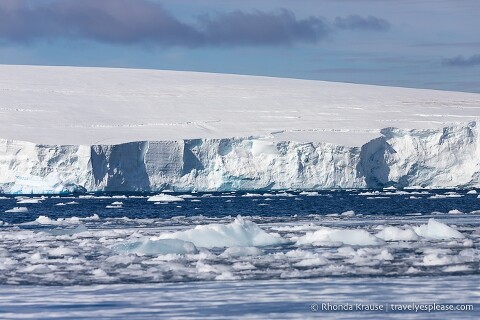 Antarctica ships can be divided into three main categories- luxury ships, expedition ships, and luxury expedition ships. The ship you choose will depend a lot on your budget and the type of experience you want to have.
Luxury ships are typically the most spacious and well-appointed. They have more facilities and amenities like a pool, hot tub, fitness centre, spa, lounge, library, theatre, sun deck, staterooms with private balconies, several restaurant options, and refined service.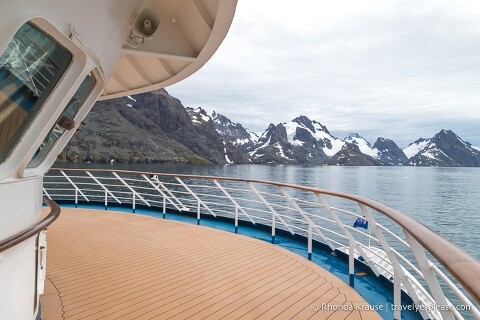 Expedition ships tend to be smaller with more basic decor, but still have facilities for socializing and recreation like a library, lounge, lecture/presentation room, and plenty of deck space.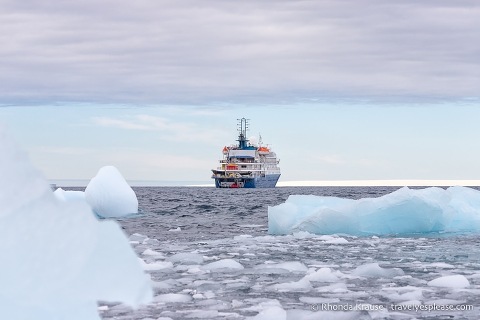 Luxury expedition ships offer the best of both worlds, mixing onboard comfort with a focus on off-ship adventure. We chose an older, but refurbished luxury expedition ship because the cabins were spacious and outward facing, it had an outdoor hot tub, and the ship was small and designed for adventure. The ship also had an open bridge policy so we could go see the captain at work.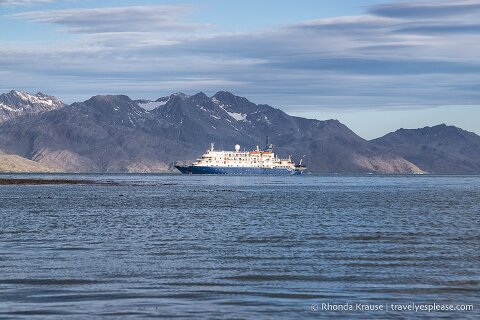 A few other things to look for when choosing your ship are deck space (a deck that wraps around the ship makes wildlife viewing easier), and ship stability (a hull that is ice-strengthened with stabilizers can decrease ship sway and the risk of sea sickness).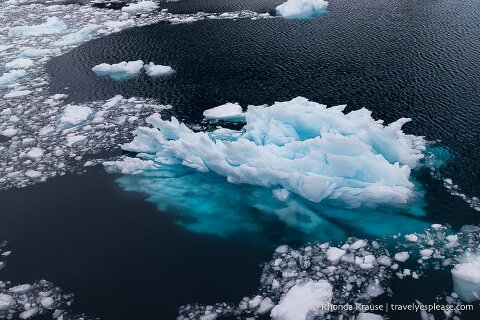 Cabin Type
After you choose your ship, the next decision is the type of cabin you want. Antarctic cruise ships have everything from three and four person cabins with bunk beds to superior staterooms and suites with king beds.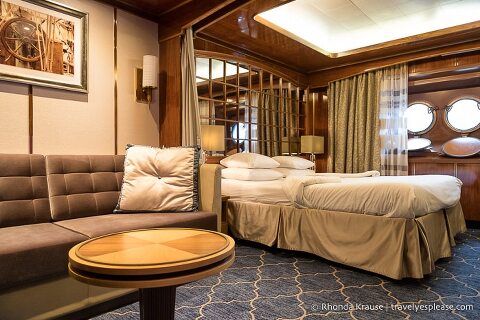 The location of your cabin on the ship is important too. Lower deck cabins will have portholes instead of full windows, but won't experience as much sway in rough seas, especially if in the centre of the ship. Staterooms on a higher deck will have bigger windows and possibly even a private balcony.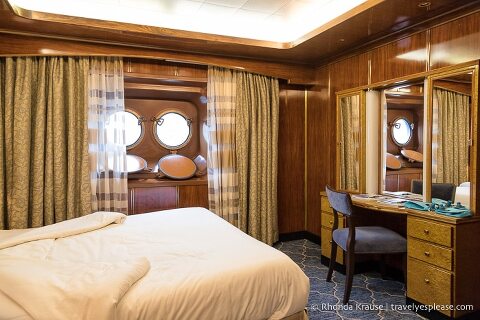 Activities- Included and Optional
As you plan a trip to Antarctica and start to compare cruises, you'll want to consider what activities are included in the price and what costs extra.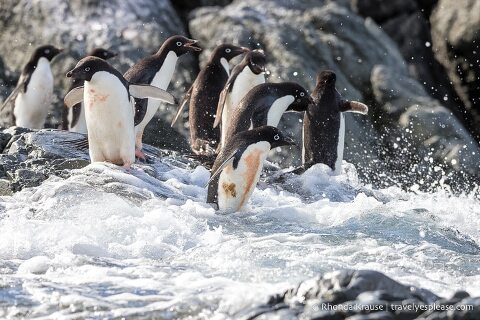 Activities that are always included are shore excursions, zodiac tours, lectures, and onboard social events. Other activities that are typically included are guided hikes, photography instruction, interactive citizen science programs, and the polar plunge. You may find kayaking included on some of the very expensive luxury cruises.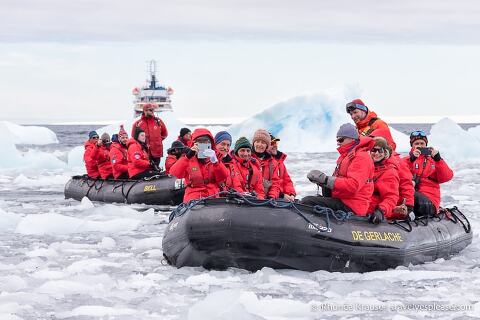 Activities that usually cost extra are kayaking, camping, stand up paddle boarding, polar diving and snorkeling, snowshoeing, and cross country skiing. These activities may not be available on all cruises and require signing up in advance of your trip.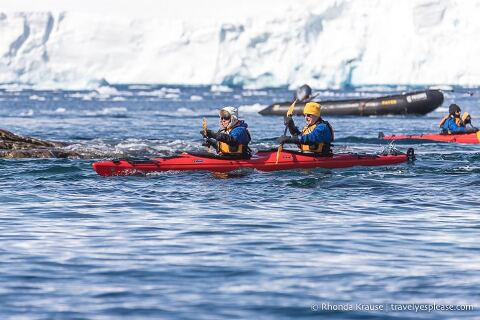 Once you find some Antarctica cruises that have the optional activities you want, then you should compare prices for those activities. I've seen full kayaking programs offered for $900- $1000 US!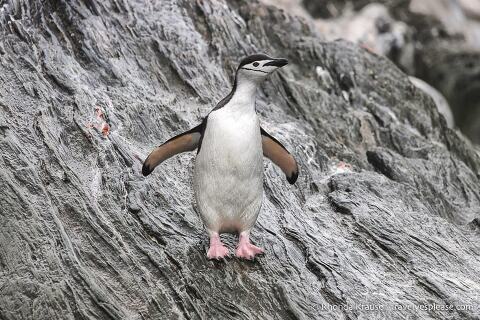 Staff
The expedition crew on an Antarctica cruise can really enhance your trip if they are experienced in polar region travel, are well-educated naturalists, and have a passion for their field of expertise. You may want to ask about staff qualifications, as well as the staff to passenger ratio, before you choose a cruise to Antarctica.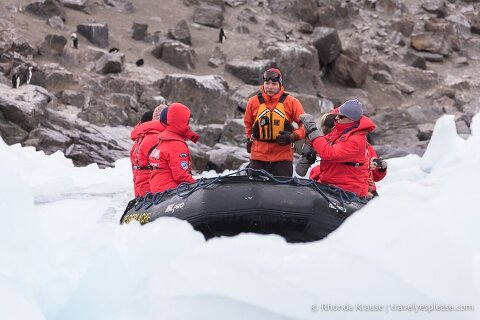 A crew that includes biologists, historians, anthropologists, and geologists will ensure that you get a well-rounded education about Antarctica during your trip. An expert photographer on staff is a nice addition as well.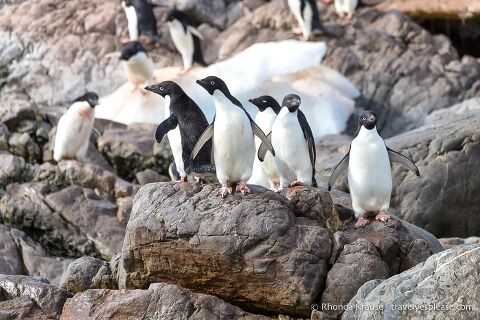 Other Things to Consider When Planning a Trip to Antarctica
Here are a few more things you should look for when choosing a cruise to Antarctica:
Includes one pre-voyage hotel night and transfer from the airport to hotel
Group transfer from hotel to ship on embarkation day and from ship to airport at the end of the cruise is provided free of charge
Parkas are included in the price and are yours to take home
Rubber boots are available to use during the cruise for shore landings
Sea sickness medication is available on board free of charge
The ship has a 24 hour tea and coffee station
A welcome and farewell cocktail is provided
Organized social activities are planned such as quiz nights, live music, wine and dessert tastings, movie nights etc.
A digital voyage log and photos of the trip (taken by the ship's photographer) are provided at the end of the trip for free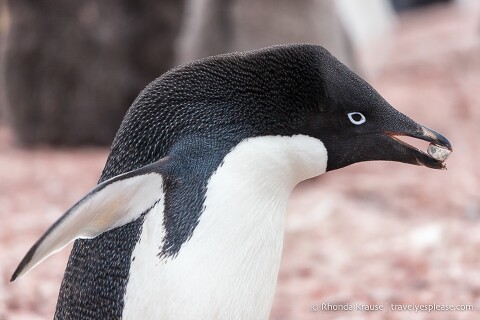 More Tips for How to Plan a Trip to Antarctica
Planning a trip to Antarctica can be both fun and overwhelming. Reading the different itineraries and trip descriptions gets you excited for what you'll see, but all the ship choices can lead to analysis paralysis.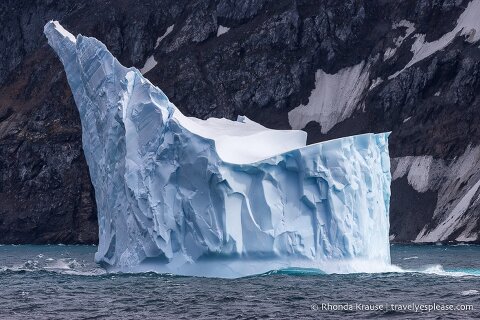 It helps to have an itinerary in mind before you seriously start to plan a trip to Antarctica. Do you just want to visit the peninsula? Or do you also want to travel to the Falklands and South Georgia Island? Is crossing the Antarctic Circle important to you?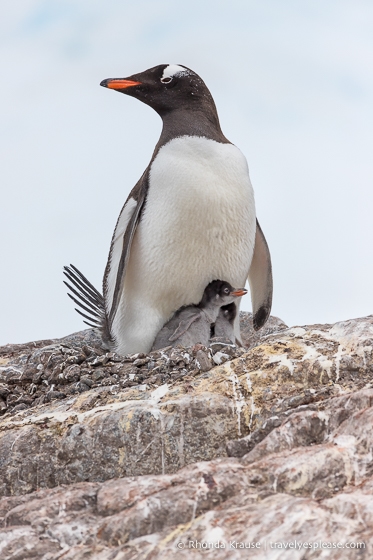 Once you know the regions you want to visit, this narrows your cruise choices so there's less information to sift through.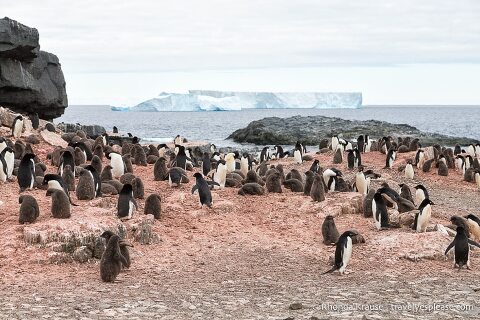 To eliminate more options before you dive into looking at cruise trips to Antarctica, set a budget as this will determine whether you look at luxury or expedition ships, as well as decide the length of your trip.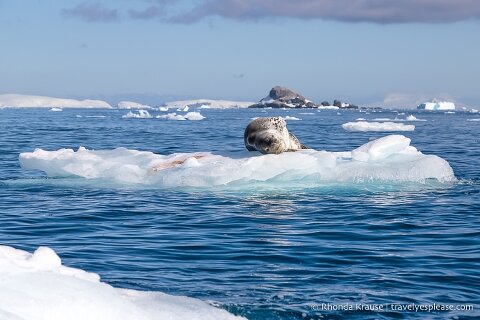 Travelling to Antarctica is a rewarding experience and we had no doubt that it was worth all the time and money it took us to get there!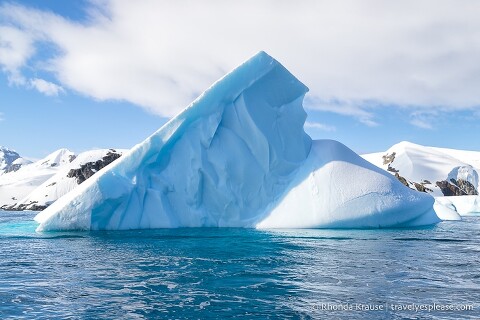 Search, Compare and Book Cruises to Antarctica
Here is a helpful and reputable site you can use to search for and compare cruises to Antarctica. There's a variety of tour operators, vessels, and itineraries all in one place for easy comparison. You can even read reviews from other travellers. Once you find a trip you love you can book it!
Accommodations in Ushuaia
For your convenience, here is a list of HOTELS IN USHUAIA, departure point for cruises to Antarctica. Please consider booking your Ushuaia accommodations through the included link. It costs nothing extra and helps support this website. Thank you!
More Antarctic and Subantarctic Destinations and Travel Guides