Purchases made through links earn us a small commission, at no extra cost to you.
The first stop on our cruise to Antarctica was at Stanley, a seaside town in the British Overseas Territory of the Falkland Islands.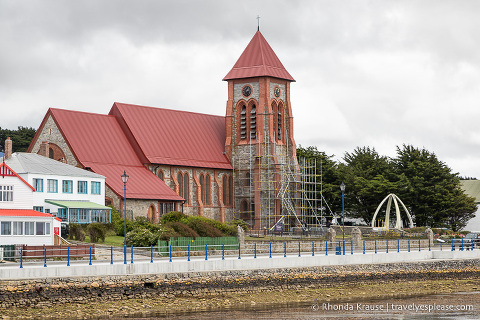 With only one day in Stanley, we made the most of it by choosing experiences where we could actively explore and learn about the history and natural environment. We went on two short hikes on the outskirts of town and also visited a few attractions in Stanley.
Here's a look at some things to do in Stanley on a short visit.
Things to Do in Stanley, Falkland Islands
Stanley is the tiny capital of the Falklands. Located along Stanley Harbour on East Falkland, this colourful town features sea views, cottages, museums, and military monuments. Throughout the town there are several examples of Stanley's British heritage, like red phone boxes and English pubs serving fish and chips.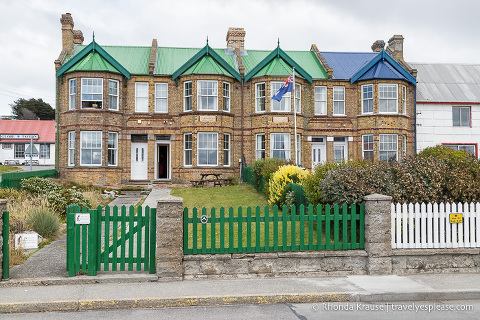 Stanley is situated near some beaches and coves that are home to penguins and other birds, while the surrounding hills are perfect for a nature walk.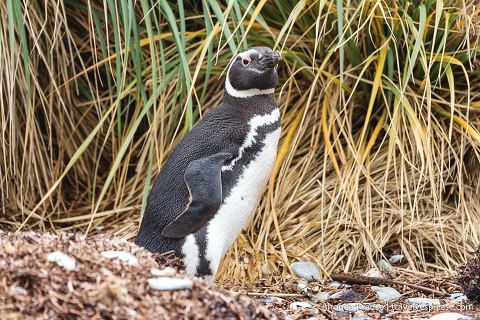 Whether you choose to explore town, venture out to the surrounding areas, or do a bit of both, you'll find plenty of enjoyable things to do in Stanley in one day.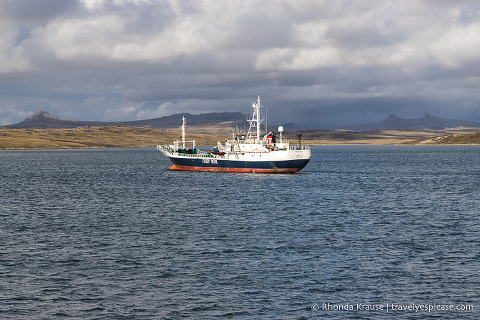 Walk Around Gypsy Cove
A walk at Gypsy Cove is one of the best things to do in Stanley because of the scenic views and opportunities to see marine mammals, penguins, and other birds.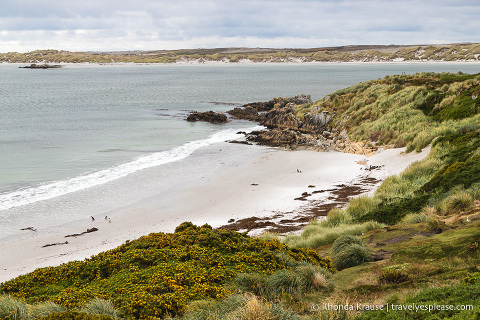 To get to Gypsy Cove we took the shuttle provided by our cruise, but you can also arrange a cab. After visiting Gypsy Cove, we continued walking along the coastline back to the port at Stanley. In total the walk was 7.39 km and took us a relaxed 2.5 hrs.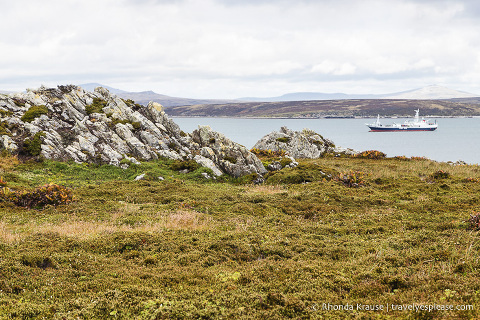 The interpretive trail begins at Yorke Bay and follows above a beach where magellanic penguins like to congregate. The beach is fenced off because it was a minefield area during the Falklands War in 1982, but it's still fun to watch the penguins from a far.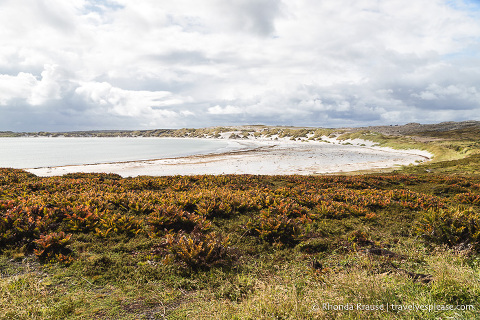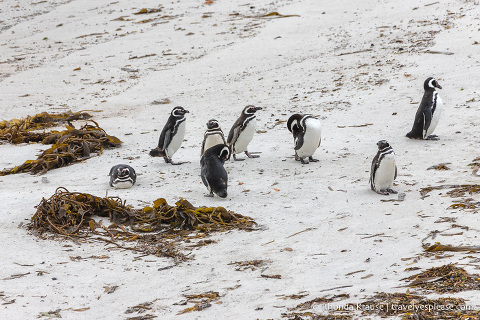 As we continued on, there were several better opportunities for viewing penguins, including seeing chicks huddled in burrows in the peat soil. There are a lot of penguin burrows in this area, some right beside the trail so you can peek in from a respectful distance and take a look.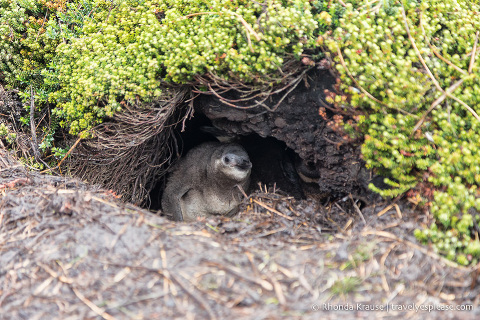 From Yorke Bay, the gravel pathway leads to Gypsy Cove. Here there's a viewing area where you can look out on the sandy cove and surrounding harbour. Occasionally dolphins and sea lions are sighted at Gyspy Cove, but we only saw penguins on the beach and other birds on the cliff edges.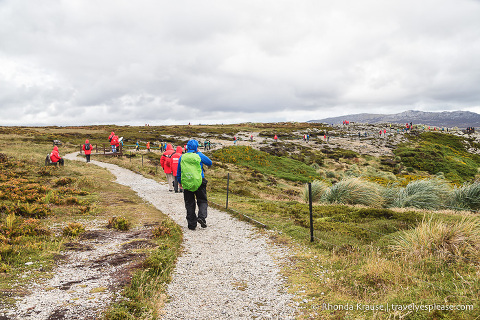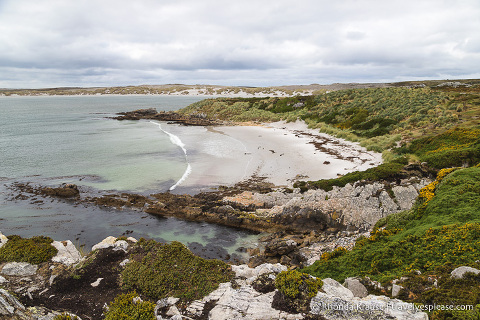 After the viewpoint at Gypsy Cove, the trail splits so there's an option to circle back to the start at Yorke Bay, or continue on to Ordnance Point then back to Stanley.
Ordnance Point was one of 14 manned defence sites during World War II and there's still a mounted gun that can be seen here. In addition to the gun, you can see views of Twelve O'Clock Mountain and Mount Low.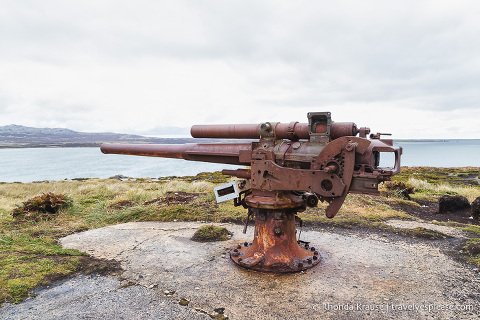 After Ordnance Point, the trail continued past tussac grass, ferns, and rocks towards a nice view of Stanley.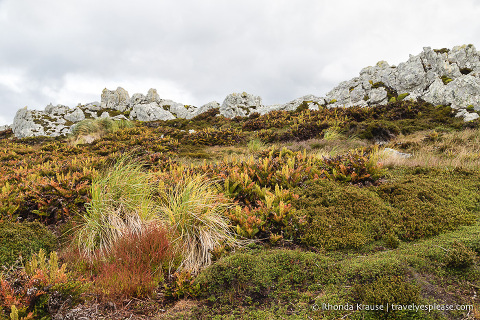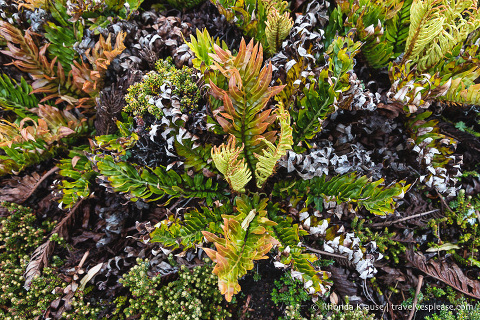 A little further and we soon arrived at a beach and magellanic penguin breeding site. This beach wasn't fenced off so we could walk along it and get a close look at the penguins that were hanging around its edge.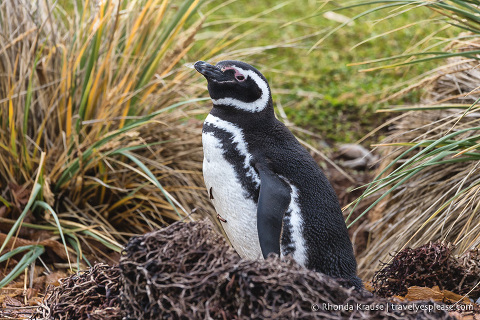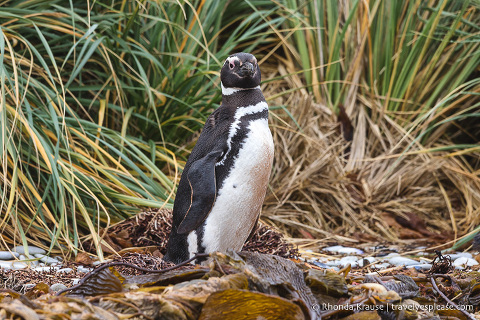 For the remainder of our walk, the path was framed by grey quartzite on one side and Stanley Harbour on the other. At the end of Stanley Harbour, we arrived at the rusted Lady Elizabeth shipwreck in Whalebone Cove.
Built in 1879, the Lady Elizabeth was damaged while rounding Cape Horn in 1913. The ship made it to Stanley for repairs but they were never carried out and the ship was abandoned.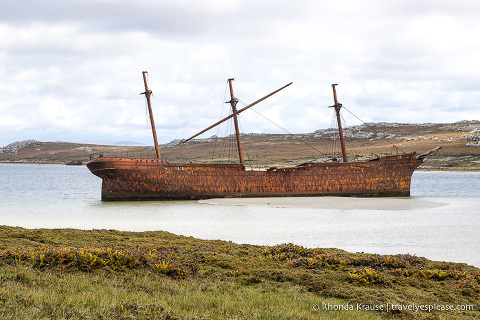 From Whalebone Cove we followed the road back to where our ship was docked and then caught another provided shuttle into Stanley so we could have lunch and explore the town.
Visit Christ Church Cathedral and the Whalebone Arch
The most well known attractions in Stanley are Christ Church Cathedral and the Whalebone Arch. They are located side by side in the centre of Stanley on the main, seafront street.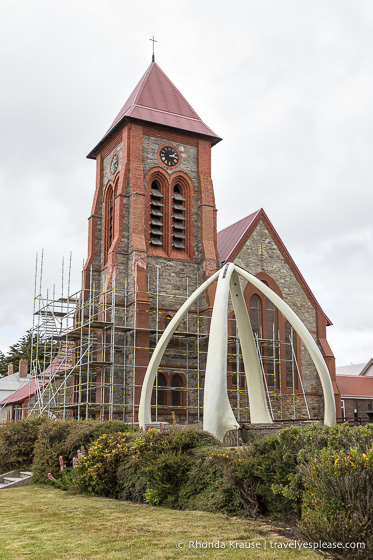 Christ Church Cathedral was consecrated in 1892 and is the most southerly Anglican cathedral in the world. It features some lovely stained glass windows, a pipe organ from Ireland, a tower with five bells, and some historic memorabilia.
The church is quite pretty but I was more interested in the Whalebone Arch outside. Built from the jawbones of two blue whales, the arch was constructed in 1933 to commemorate 100 years of continuous British administration in the Falklands.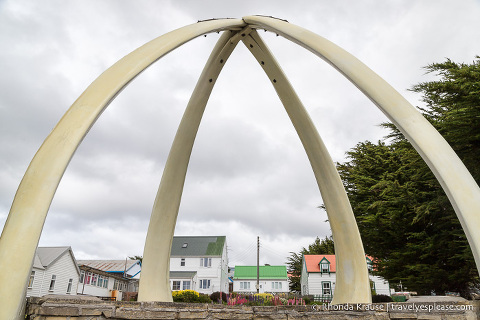 Tour the Historic Dockyard Museum
The Historic Dockyard Museum is a great place to learn about the natural and human history of the Falkland Islands.
The museum is a complex of historic buildings housing exhibits about past and present life in the Falklands, its maritime history, and the natural environment.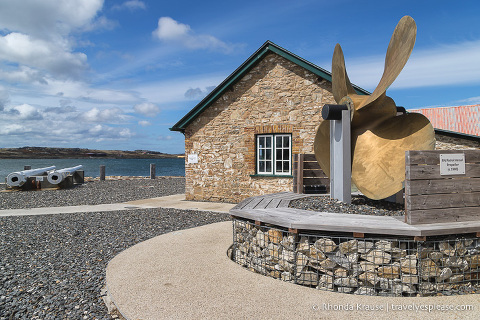 My favourite was the natural history exhibit, especially the taxidermy albatross hanging overhead. Standing underneath it gave a true sense of just how large a wingspan albatrosses have. I also enjoyed getting to touch a penguin pelt and feeling how densely packed and stiff their feathers are.
Take a Guided Hike at Mount Tumbledown
To end our day in Stanley, we took a guided walk at Mount Tumbledown just outside of town. This activity was also arranged by our cruise, but if you visit the tourist information office they will be able to set you up with a local guide.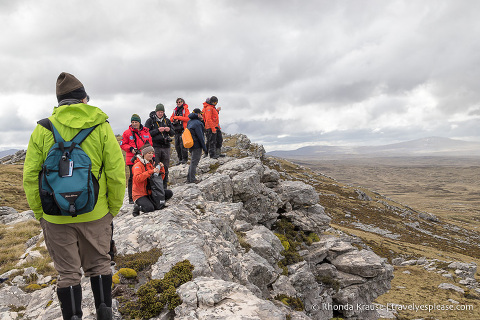 Mount Tumbledown was the site of an important battle during the 1982 Falklands War. The Battle of Mount Tumbledown led to the British recapturing Stanley from invading Argentine forces, bringing about an end to the 10-week war.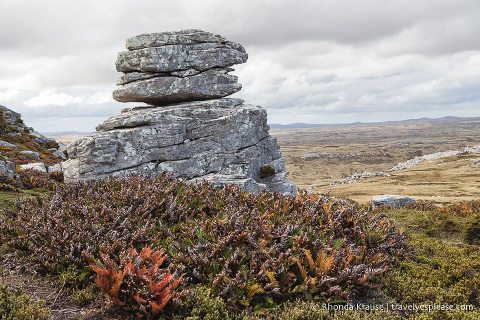 During our hike we learned all about the battle that took place here, even seeing shallow trenches where soldiers hid and holes made by bombs. The most significant remains were that of an Argentine field kitchen sheltered by the rocks of Mount Tumbledown.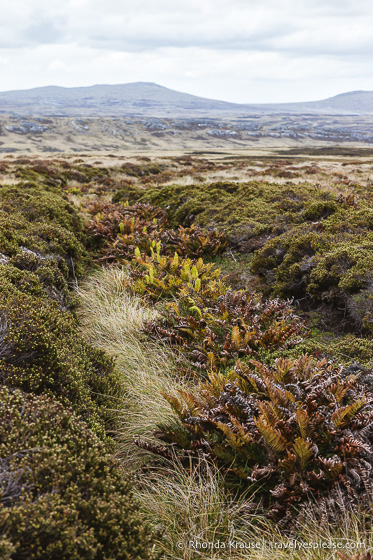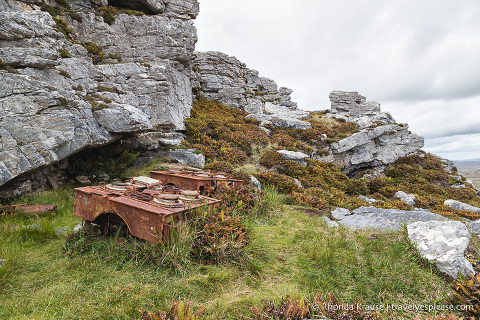 At the summit there was a large memorial cross standing in front of a sweeping view of East Falkland. It was a scenic place to pause and take in the history and landscape of this remote island.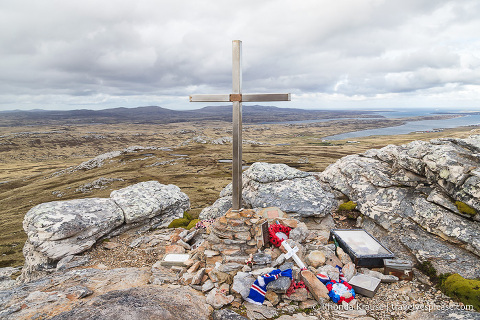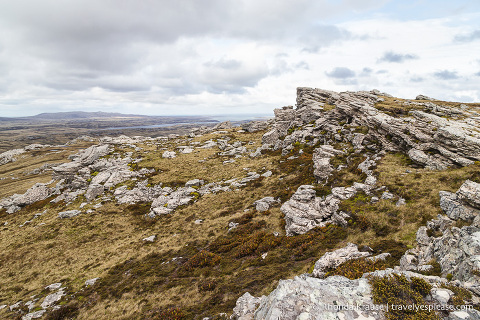 While we normally don't hike with a guide, we're glad we had one for Mount Tumbledown because there's not a marked route to follow. At the start of the hike we were blazing our own trail through a field, stopping every so often to examine the local plant life. Plus, without a guide we would have missed out on hearing some interesting stories about the war.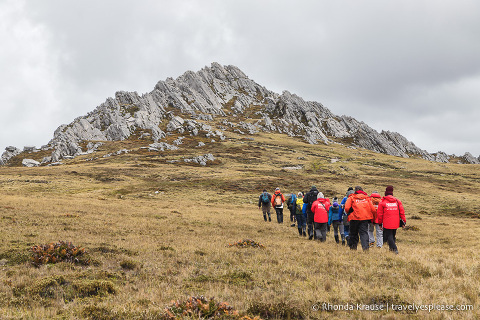 The route our guide took us ended up being 5.89 km and took us 2.5 hours to complete (lots of stops). My GPS recorded an ascent of 156 m, but it was gradual and steady, so no really tough climbs.
The hike at Mount Tumbledown was an enjoyable combination of history and nature and was a great way to finish our trip to Stanley.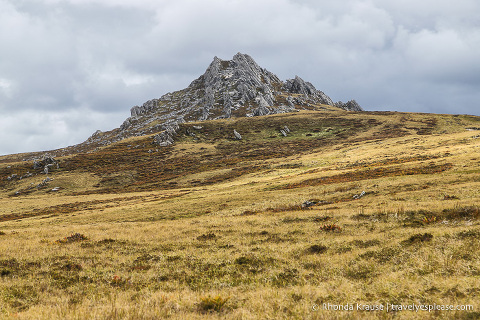 Final Thoughts About Visiting Stanley
Our one day in Stanley was a nice introduction to the Falkland Islands. We got to see some of the wildlife, explore the landscapes, and learn about life in Stanley.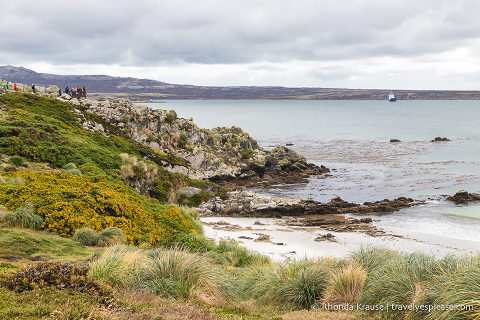 Even though the town is very small, there were enough things to do in Stanley to fill our day. My favourite attraction in Stanley was Gypsy Cove because of the penguins and coastal scenery. It made me wish we had time to visit other parts of the Falkland Islands so I could see more of the wildlife.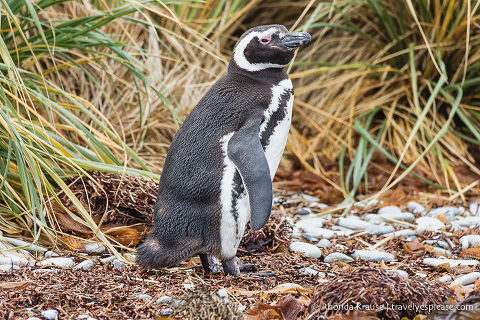 The one downside of our visit to Stanley was how expensive lunch was. The pound sterling is much stronger than our Canadian dollar so the currency conversion mixed with already high prices made for a very pricey meal!
Tips for Visiting Stanley, Falkland Islands
Location: The Falkland Islands are located in the South Atlantic Ocean about 483 km (300 mi) east of the southern coast of Argentina. Stanley is in the northern half of East Falkland, the largest island.
Getting There: Stanley is often included in cruise itineraries to Antarctica and South America.
LATAM is the only international airline operating flights to the Falklands. Flights are once a week and leave from Santiago, Chile (with a connection in Punta Arenas) and arrive at the Mount Pleasant Airport. Bus transfers are available from the airport to Stanley and must be booked in advance (it will take you directly at your accommodation).
Getting Around: Stanley is small so walking is the best way to get around town but there also is a taxi service. There is no bus service other than to and from the airport at Mount Pleasant (requires advance reservation).
If you plan to explore outside of Stanley, there are agencies where you can rent a car.
Best Time to Visit: Summer is the best time to visit Stanley and high season is from December to February.
Currency and Banking: The Pound is the currency used in Stanley. The Falkland Islands pound and UK sterling have the same value and are used interchangeably in the Falklands.
US dollars are widely accepted in Stanley and Euros can also be used in some places. We saw signs posted in restaurants and shops with the exchange rate for other currencies, but if you don't see one ask about methods of payment before ordering.
Many places accept credit cards, but ask in advance to be sure.
There is only one bank in Stanley and no ATM cash machines anywhere in the Falklands. The bank will do cash advances on credit cards and one of our friends was able to get a cash advance at the supermarket.
Tourist Information: Stanley's tourist information centre is based in the Jetty Visitor Centre on the corner of Ross Road and Philomel Street. You can get maps, ask about tours, buy souvenirs, and see displays about the Falklands.
Information was updated January 2022, but can change without notice. Please confirm directly with service providers.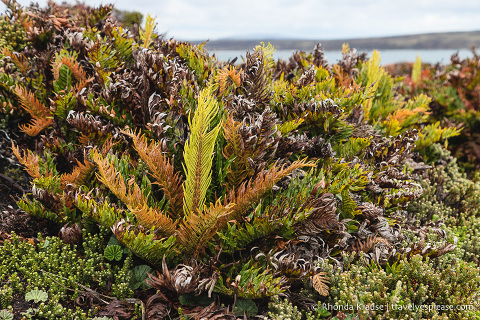 Accommodations in Stanley
For your convenience, here is a list of hotels and accommodations in Stanley. Please consider booking your Jasper accommodations through the included link. It costs nothing extra and helps support this website.
More Antarctic and Subantarctic Destinations and Travel Guides