Purchases made through links earn us a small commission, at no extra cost to you.
The isolated settlement of Grytviken on South Georgia Island is a place that few people visit, but those who do will discover interesting stories of human exploration and environmental exploitation, all set in a place of stunning natural beauty.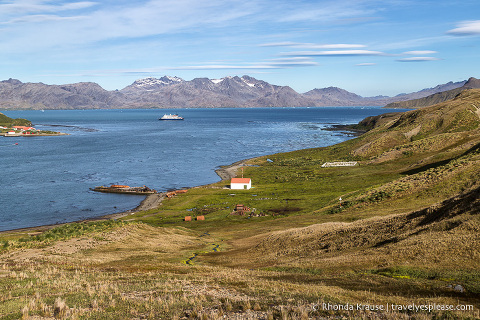 As a former whaling station, stopping-off point for polar explorers, and base for scientific research, there's no better place than Grytviken to learn about the fascinating, and sometimes controversial, human history of South Georgia Island.
Whether we were wandering among the rusted ruins of an influential whale oil factory or visiting the grave of a renowned Antarctic explorer, the human experience was always at the forefront of our visit.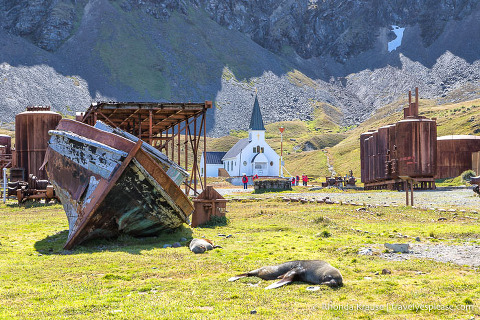 Before we share with you some things to do in Grytviken, here's a brief history of South Georgia's largest whaling station.
About Grytviken, South Georgia- History of the Grytviken Whaling Station
Grytviken was founded in November 1904 by Norwegian sea captain Carl Anton (C.A.) Larsen. In 1894, while on a trip investigating the possibility of hunting right whales in the Antarctic, Larsen observed a high concentration of whales around South Georgia and realized that whaling would be a profitable business.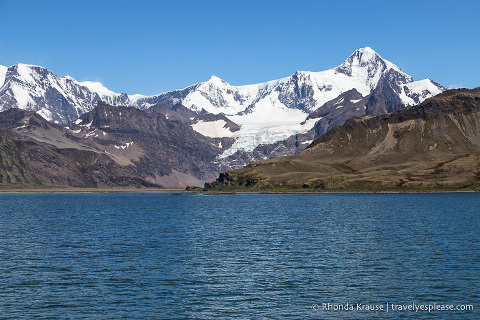 After securing some investments, Larsen returned to Grytviken to establish the first whaling station in South Georgia. His company, Compañía Argentina de Pesca (Argentine Fishing Company), was extremely successful and caught 195 whales in the first season.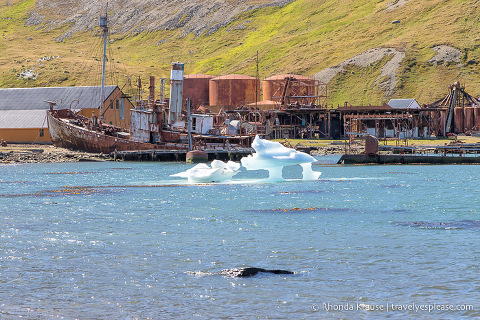 Whales were so plentiful and easy to catch in the early days that Larsen's company had no trouble keeping up with increasing demand for whale oil. The Grytviken whaling station was capable of processing 25 whales a day, but so many were being brought in that only the best blubber was stripped and the rest went to waste.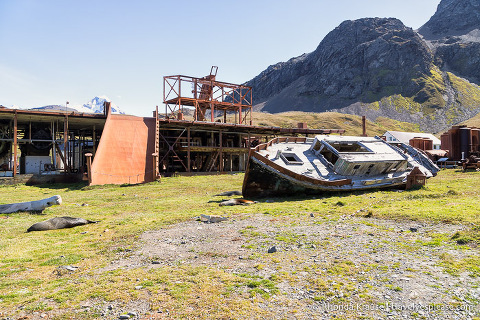 By 1906 there was already concern that the industry would wipe out whale populations. A licensing system was introduced along with rules dictating that the entire carcass had to be used. However, whaling companies found a way around the regulations by building factory ships where whales could be pulled on board and processed while at sea, thereby operating outside of government jurisdiction.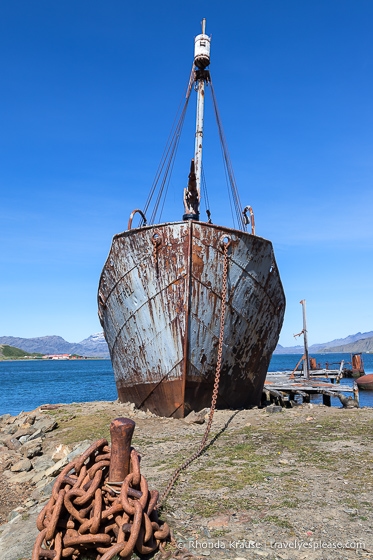 The invention of the factory ship led to a huge oversupply of whale oil, forcing prices down and whaling stations on South Georgia to close temporarily in the early 1930s.
Grytviken reopened a year later and diversified by hunting elephant seals, but economic problems continued as vegetable oil and other animal fats began to replace whale oil. In 1964, the Grytviken whaling station closed for good.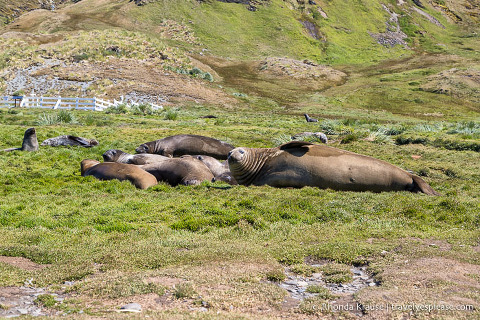 Grytviken and the other whaling stations on South Georgia fell into disrepair after their closure. Grytviken is the only station that has been extensively cleaned to remove hazards like asbestos, fuel oil, and crumbling buildings. It's also the only whaling station on South Georgia that is accessible to visitors- at all others people must stay 200 m away.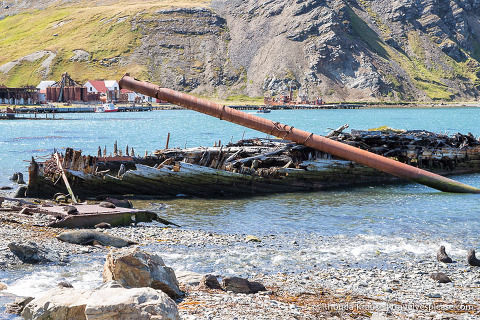 The remaining buildings, factory equipment, and ships at Grytviken stand as a historic reminder of South Georgia's whaling industry. While there are no longer permanent residents, Grytviken is temporarily inhabited in the summer months by a few museum staff. Some scientists reside nearby at King Edward Point, a British Antarctic Survey research station.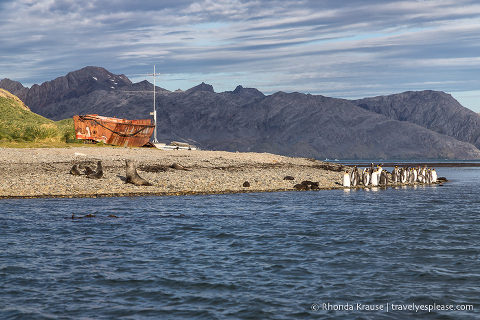 Visiting Grytviken- Things to Do in Grytviken
Grytviken is only accessible by sea, and there are no accommodations ashore, so to visit Grytviken you have to arrive by cruise ship or yacht. Most people visit Grytviken as part of an expedition cruise to South Georgia and Antarctica, which is what we did.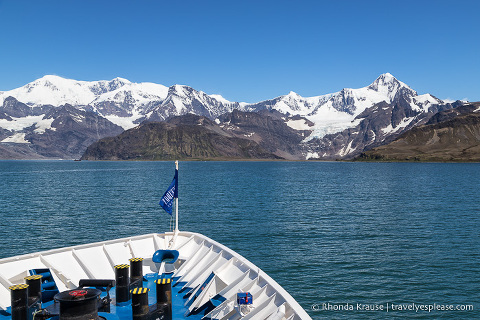 As we sailed towards Grytviken, we had a wonderful view of tidewater glaciers flowing into Cumberland East Bay. Once we rounded a corner into King Edward Cove, Grytviken and its backdrop of rocky mountains came into view.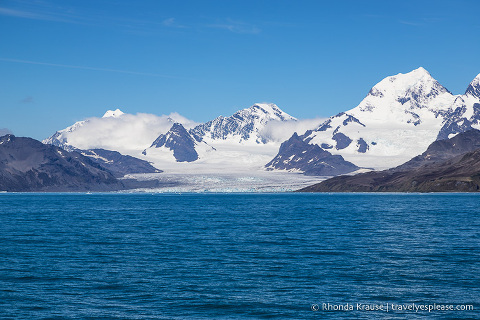 Even though Grytviken is very small, we had no trouble staying occupied for the afternoon. Here's our Grytviken travel guide sharing all the things to do in Grytviken during your visit.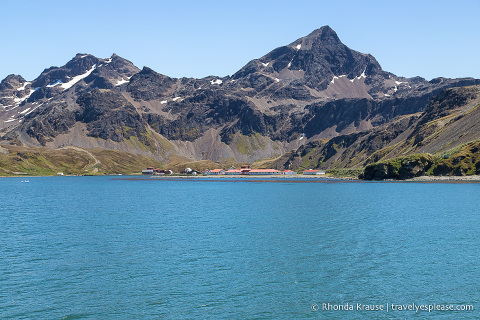 Visit Ernest Shackleton's Grave in the Grytviken Cemetery
One of the top things to see in Grytviken is Ernest Shackleton's grave in the Grytviken Cemetery.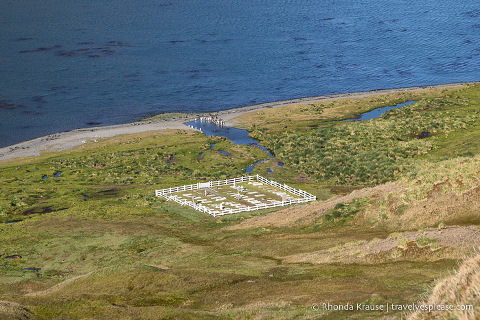 The famous explorer visited Grytviken in 1914 on his Imperial Trans-Antarctic Expedition, spending a month here before setting sail to the Weddell Sea where his ship Endurance would later get trapped in ice.
Shackleton returned to Grytviken in January of 1922 on his fourth, and ultimately final, Antarctic expedition. Not long after Quest arrived in Grytviken, Shackleton suffered a fatal heart attack. His wife wanted him to be buried on South Georgia so Shackleton's body was returned to Grytviken and laid to rest in the cemetery on March 5, 1922.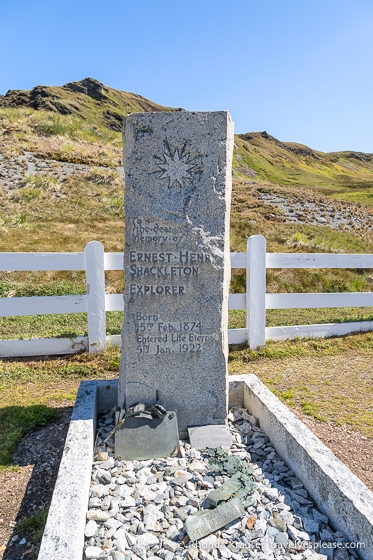 Shackleton's grave is marked with a granite headstone bearing a nine-pointed star. On the back is a quote by Robert Browning: "I hold that a man should strive to the uttermost for his life's set prize."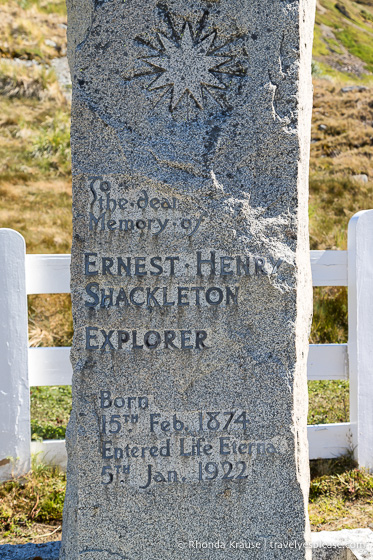 Shackleton isn't the only polar explorer buried in the Grytviken Cemetery. The ashes of Frank Wild, Shackleton's "right-hand man", are interred here as well.
In total there are 64 people buried in the Grytviken Cemetery, including whalers, sealers, and an Argentine submarine officer killed in 1982 at the start of the Falklands War.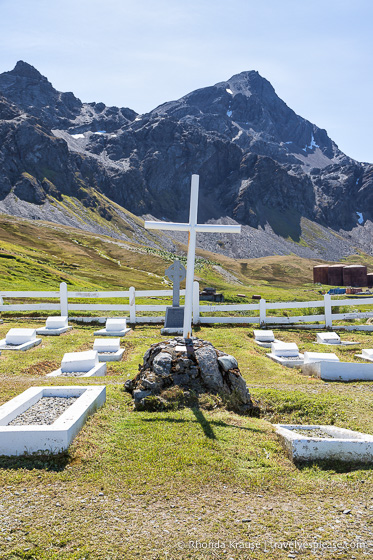 Tour the Grytviken Whaling Station
The main attraction at Grytviken is the whaling station itself and visitors are free to roam around the corroded remains of the whale oil factory.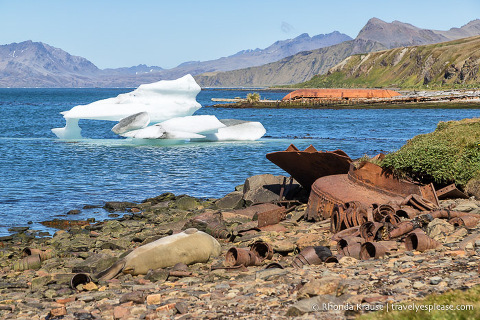 If you arrive on a cruise, a guided tour of the Grytviken whaling station will likely be arranged for you. The site is also easy to explore on your own because there are signs providing information about the various equipment and buildings.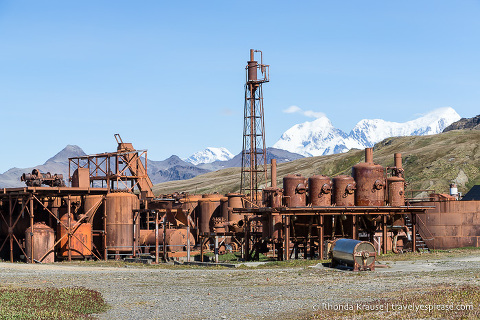 We did both a self-guided tour and a staff-led tour and would definitely recommend the guided tour because you get to hear more stories about the whaling industry and what life was like for people working at Grytviken.
As we toured the Grytviken whaling station we saw old machinery, workshops, processing plants, and abandoned ships.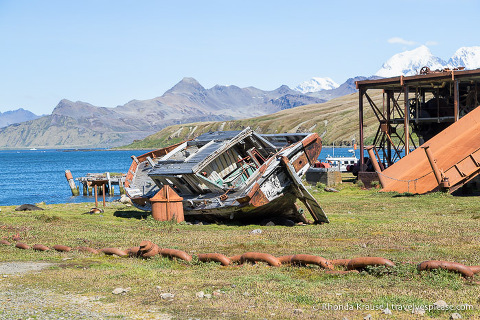 Here's a summary of some parts of the whaling station we saw and their purpose:
Flensing Plan- whale blubber was removed and meat was cut off
Meal Plant- meat and bone residues were dried and crushed into meal to be used as cattle feed and fertilizer
Meat Cookery- meat was cooked to extract the oil
Blubber Cookery- blubber was pressure cooked to extract the oil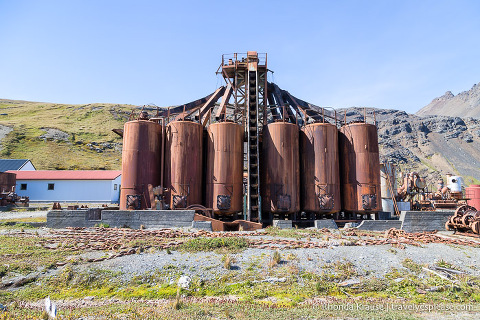 A highlight of the whaling station was seeing Petrel, a Norwegian whale-catcher boat built in 1928. Petrel was one of the first whale-catchers to have a catwalk so the gunner could quickly get from the bridge to the harpoon gun. The ship was later converted for sealing and is now rusting away at the water's edge.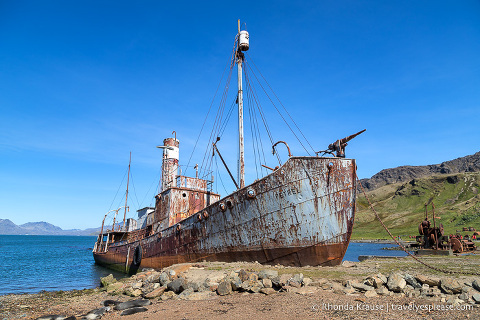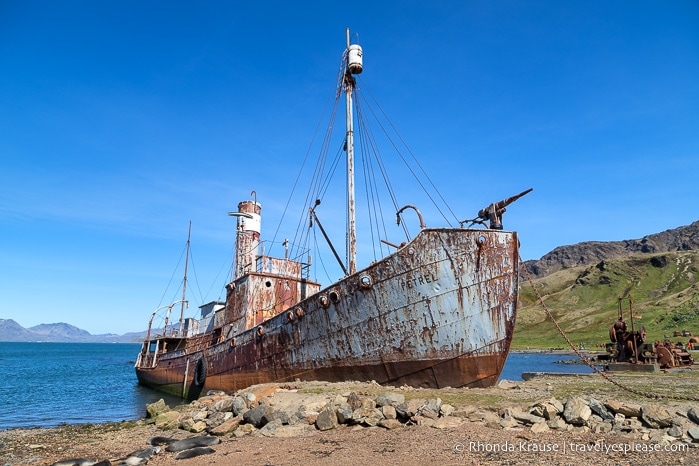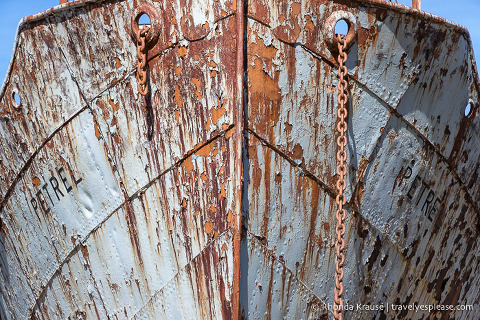 Admittedly, as animal lovers a lot of what we learned on our tour of Grytviken was quite upsetting. I could feel myself getting angry at the fact that so many whales were killed for reasons that are totally unnecessary by today's standards. I had to keep reminding myself that times were different then and at least now whales around South Georgia are protected and their numbers are recovering.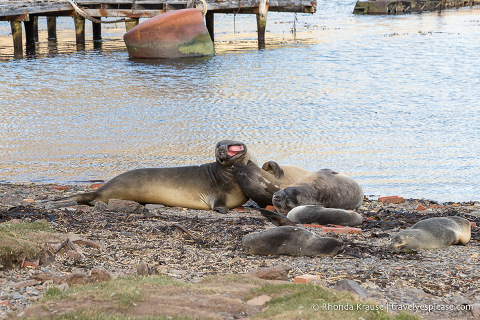 Go Inside the Grytviken Church (The Whalers' Church)
Standing alone at the back of the whaling station is the Grytviken Church, also known as the Whalers' Church.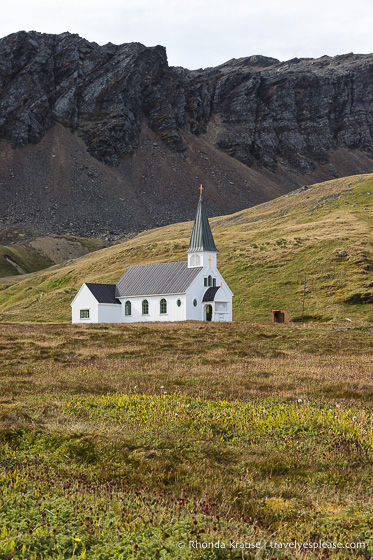 This simple wooden church was prefabricated in Strømmen, Norway and erected by the station workers in 1913. It was consecrated on Christmas Day in 1913 as part of the Church of Norway, which it belonged to for 100 years. In 2013, the church was handed over to the Church of England, changing from Lutheran to Anglican.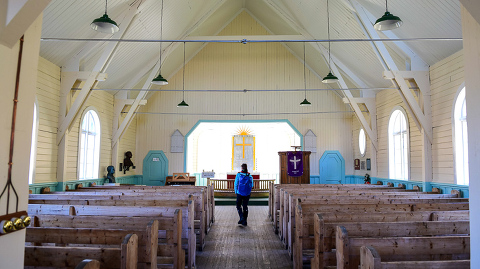 The church is the only building at Grytviken that still serves its original purpose. Throughout its history, the Grytviken Church has been used for Christmas services, baptisms, weddings, and funerals. In 1922, a funeral service for Ernest Shackleton was held here before his burial in the church cemetery.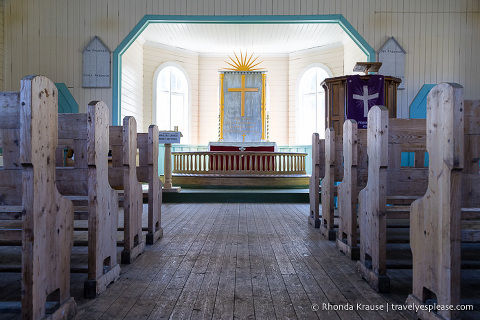 The interior of the Grytviken Church is fairly plain with a single nave, wooden benches, and an altar.  For me, the most interesting part of the church was the original whalers' library, a small room attached to the side near the altar. There were so many beautiful old books inside!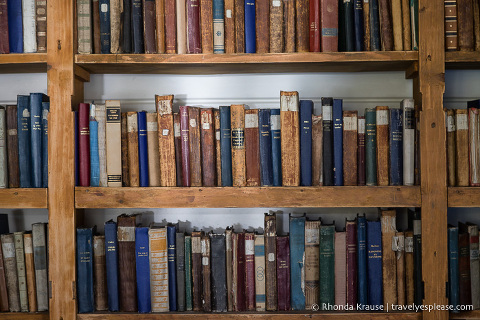 Other things you can see inside the Grytviken Church are busts of Captain Carl Anton Larson and Ernest Shackleton, and some memorials and plaques.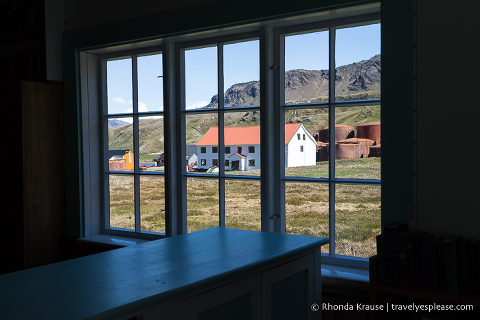 Visit the South Georgia Museum
Grytviken's museum is primarily dedicated to preserving South Georgia's whaling history, but is also a place you can learn about Shackleton's expeditions and the island's natural history.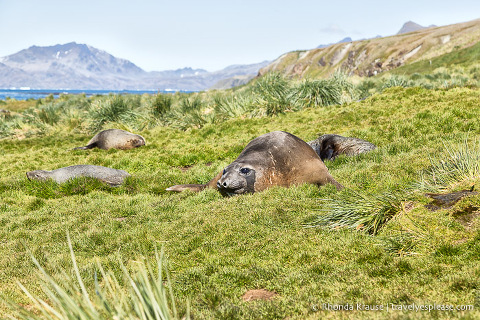 The South Georgia Museum was established in 1992 in the former whaling manager's home and office. The "villa" hosts eight small exhibit rooms, plus the museum gift shop. The Carr Maritime Gallery is next door in a separate building.
Inside the South Georgia Museum you can see equipment and artifacts relating to the whaling industry, a re-creation of a whaler's bunk room, taxidermy and skeletal displays of local wildlife, exhibits about the history and exploration of South Georgia, and information about the administration of South Georgia, the British Antarctic Survey, and the South Georgia Heritage Trust.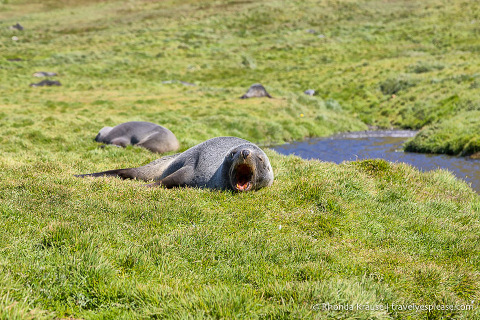 The Carr Maritime Gallery has a replica of the James Caird lifeboat that Shackleton and members of his crew sailed from Elephant Island to South Georgia in 1916 after their main expedition ship Endurance sank.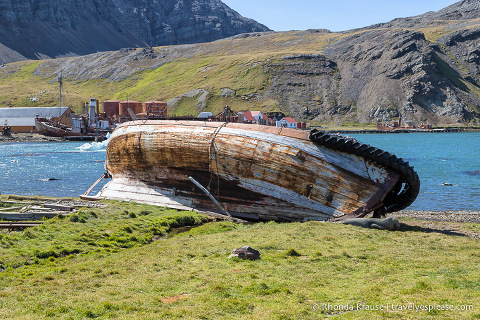 In addition to being educational, the South Georgia Museum was also a great place to buy a souvenir to remember our visit to Grytviken. I bought a locally handmade magnet but there was also some clothing, jewelry, and other souvenir items for sale. Purchases from the gift shop help support the South Georgia Heritage Trust in their mission to protect South Georgia's environment and preserve the island's history.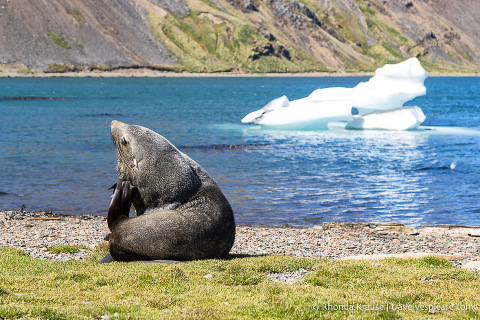 Send a Postcard from the Grytviken Post Office
Behind the museum is the Grytviken Post Office where you can buy stamps and postcards to mail home to friends and family.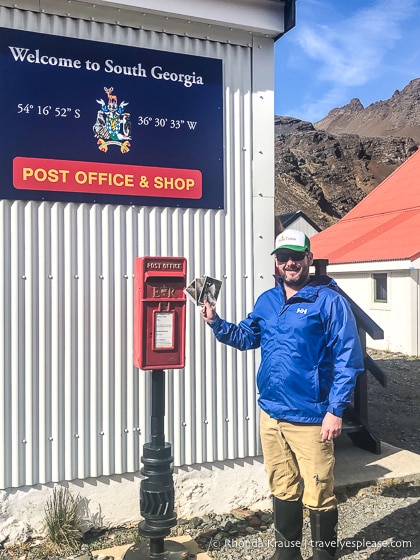 We enjoyed picking out some postcards for our family (and one for ourselves) then writing a short message about our trip so far. Once it was stamped, we dropped it into the red mailbox and wondered how long it would take to be delivered. It was oddly exciting to mail something from such a remote location!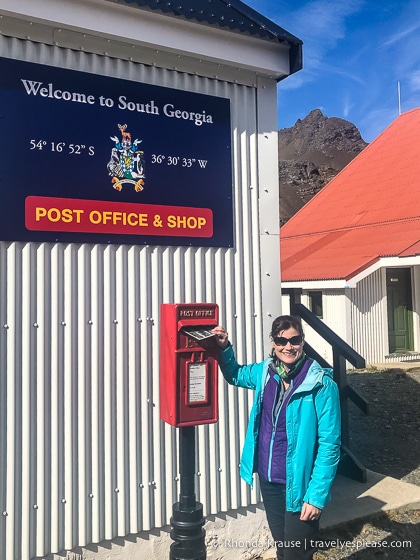 Unsurprisingly, we got home before the postcard so its arrival was a fun little reminder of our trip to Grytviken.
Watch the Wildlife in Grytviken
We didn't see a huge concentration of wildlife in Grytviken, especially when compared to the other places we visited on our South Georgia cruise, but there were still several different species of Antarctic wildlife on shore.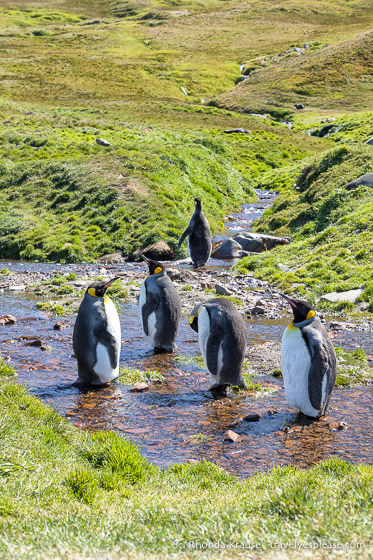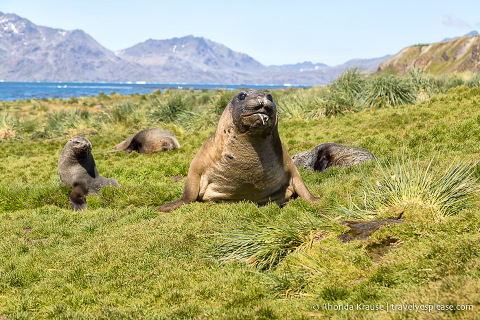 We saw groups of elephant seals laying in the grass and on the rocky beach, fur seals running around the abandoned equipment of the Grytviken whaling station, and king penguins waddling through streams. I even saw a lone gentoo penguin taking a nap.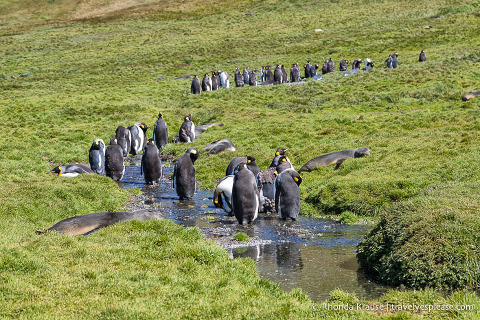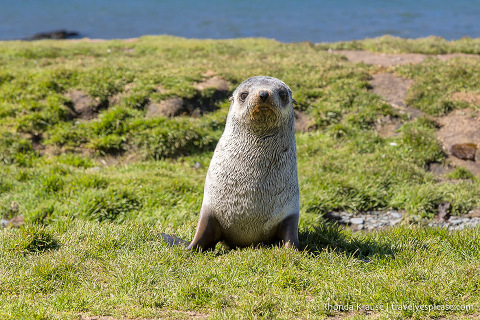 While I was pleased to see the wildlife reclaiming their territory, there was still some depressing evidence of the whales that were destroyed here. Several whale bones were on the beach and in the water as a stark reminder of how these shores were once littered with discarded carcasses. I'm so glad that whales in South Georgian waters are now protected from being hunted.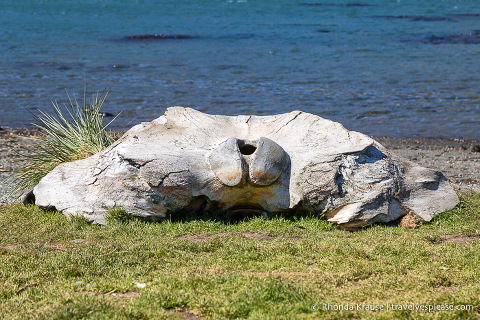 Hike to the Viewpoint at Gull Lake
We ended our trip to Grytviken by going on a guided hike to Gull Lake.
Leaving from the Grytviken whaling station, it was a short uphill walk to the lake and a beautiful viewpoint overlooking King Edward Cove.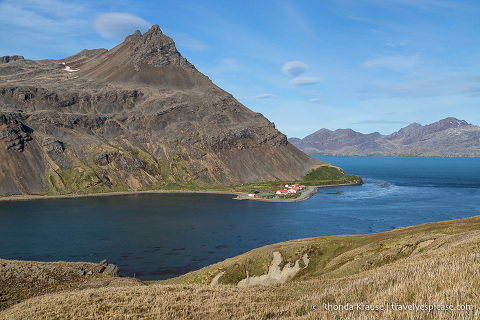 From the trail and viewpoint we could see the entirety of Grytviken, the Grytviken Cemetery, King Edward Point Research Station across the cove, and the mountain-framed Cumberland East Bay.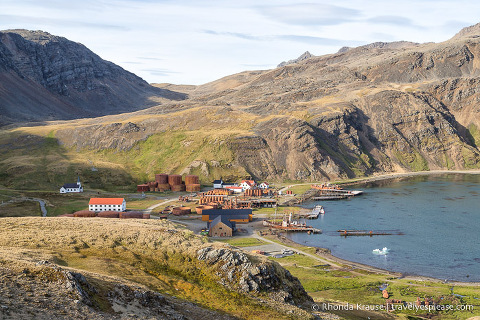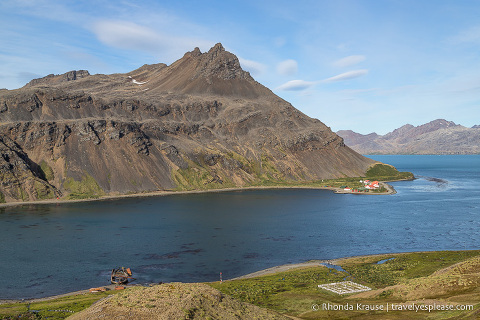 Round trip, the hike was 2.5 km/1.6 mi with 37 m/121 ft of elevation gain and took us about 1 hour to complete.
With gorgeous scenery and perfect weather, this little hike was the best way to end our visit to Grytviken.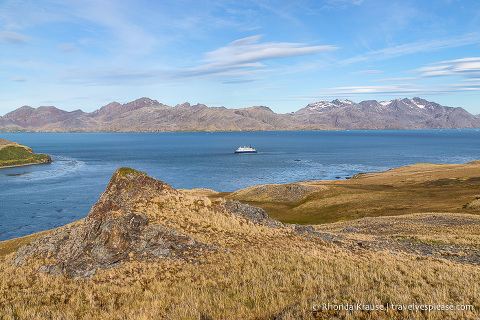 Final Thoughts About Our Trip to Grytviken
Overall, we enjoyed visiting Grytviken even though it wasn't one of our favourite places to see on South Georgia Island.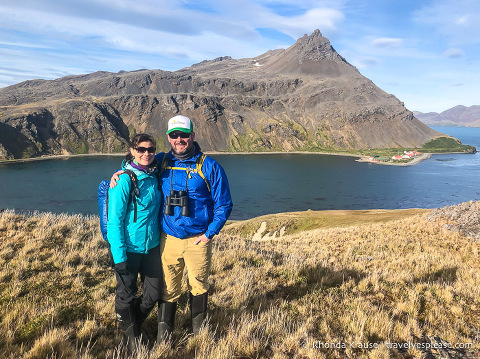 While we appreciated its impressive scenery and historic and cultural significance, we couldn't shake some conflicting emotions.
Part of me wishes that the whaling station would be torn down because it's a stain on the beautiful landscape. But the other part of me can see the educational and heritage value of keeping the site as is.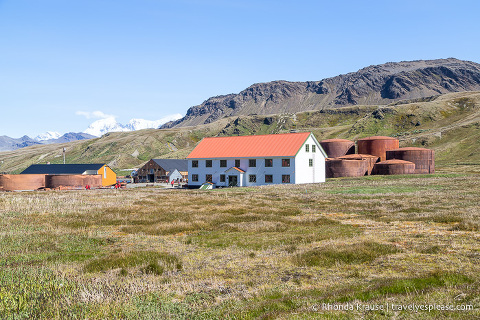 We were uncomfortable and sad hearing about the whaling industry, but maybe that's not necessarily a bad thing. I think discomfort and other strong emotions are agents for change and if people don't feel those things then there's no motivation to make the world better place. Honestly, one of the best parts of visiting Grytviken was hearing how the whale population in South Georgia is making a comeback. Maybe South Georgia's whaling story will have a happy ending after all!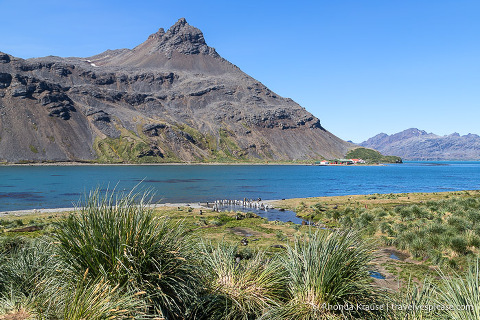 More Interesting Facts About Grytviken
The name Grytviken means "the Pot Cove". It was coined by Swedish archaeologist and geologist Johan Gunnar Andersson after finding some try pots (pots used to remove and render oil from seals) during a survey of Thatcher Peninsula, where Grytviken is located.
Grytviken was the first whaling station built in the Southern Hemisphere, kickstarting the modern Antarctic whaling industry.
One of the earliest graves in the Grytviken Cemetery dates back to 1838.
The post office in Grytviken opened in 1908.
The largest blue whale recorded at South Georgia, a 34.1 metre long female, was caught and processed at Grytviken in 1912.
Grytviken was captured by Argentine forces during the 1982 Falklands War.
It cost the government £6 million to clean up the hazardous material and structures at the Grytviken whaling station.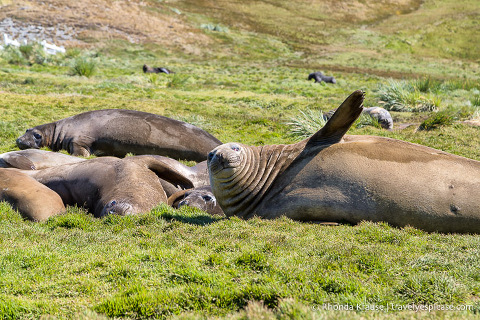 Tips for Visiting Grytviken
Location: Grytviken is located on the east side of South Georgia Island (South Atlantic Ocean) at King Edward Cove in Cumberland East Bay. The coordinates are 54°16′53.4″S 36°30′28.8″W.
Getting There/How to Visit Grytviken: Grytviken can only be reached by boat. The most convenient way to visit is on an expedition cruise because the cruise company takes care of the required visitor permit (issued for the vessel and covers all passengers on board). If you come by private yacht, you will need to apply for a visit permit.
Every tour that visits South Georgia Island has to go to Grytviken to check in with government officials and get passports stamped.
Museum, Gift Shop, and Post Office: The South Georgia Museum has free admission. The gift shop and post office accept cash in US Dollars, Sterling, and Euros.
The museum has public toilets.
Biosecurity: Before disembarking the ship, your clothing, footwear, and bags will be checked for dirt, seeds, and rocks. This is to prevent non-native plant species from being introduced. You must also clean your gear upon return to the ship to prevent non-native species being spread to other parts of the island.
Don't sit or place backpacks on the ground at Grytviken.
Visitor Guidelines: Visitors can roam freely within the whaling station and to the cemetery. You may not enter any buildings except for the church, post office, and museum. Special permission from a government officer is required to visit King Edward Point.
Do not climb any structures or board the historic ships.
Do not remove any natural or man-made artifacts as they are protected by law.
Do not feed or disturb the wildlife. Keep a respectful distance and move slowly. If an animal changes its behaviour in your presence, that means you're too close.
A maximum of 100 people are allowed inside the cemetery, church, and museum/gift shop at one time.
Information was updated January 2022, but can change without notice. Please confirm directly with service providers.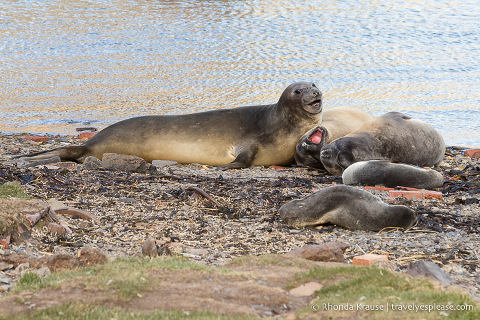 More Antarctic and Subantarctic Destinations and Travel Guides