Purchases made through links earn us a small commission, at no extra cost to you.
There was no trip that I anticipated more than our first trip to Antarctica. Almost two years in the making, I didn't know what to expect from our journey to the White Continent, but was prepared for it to be a life changing adventure.
And it certainly was!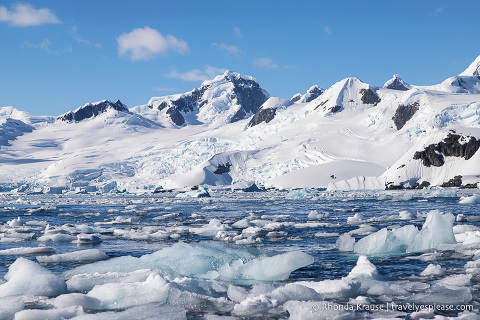 What to Expect on Your First Trip to Antarctica
Anyone who has travelled to Antarctica can attest to what a special place it is. From the abundant wildlife to the icy landscape, there were plenty of jaw dropping, bring-a-tear-to-my-eye moments.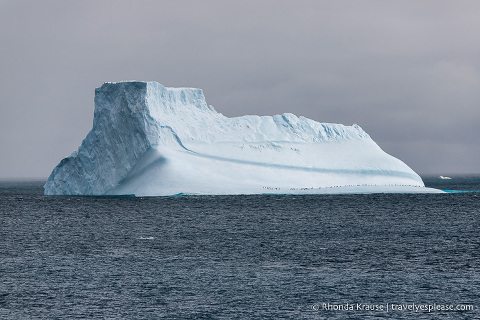 If you're planning to visit Antarctica for the first time, know that no matter how much research you do, the trip will be full of surprises, likely surpassing any expectations you have.
Still, there are a few things you need to know before going to Antarctica so that you have a successful, stress-free trip. And then there are a few things, while not essential, are just fun to know so you have more to look forward to.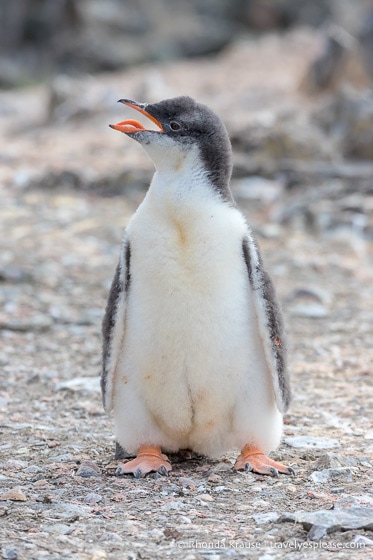 One of the most important things to know about travelling to Antarctica is that you can't explore on your own- you need to be on a guided expedition. There are strict rules for tourists in Antarctica so it's not a destination for independent travel. The easiest and most popular way to travel to Antarctica is by ship.
I'm not usually one for cruises or group tours, so I worried about this, but was happy to find out that even though tourists are on a tight leash, so to speak, the trip still feels adventurous. There's a lot of spontaneity and free time on an expedition cruise to Antarctica so my need for independence and exploration was satisfied.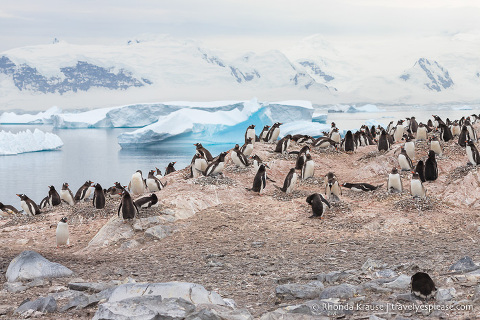 In preparation for your first trip to Antarctica, here are some observations and tips from our visit to Antarctica. We hope it gives you a good idea of what it's like travelling in Antarctica so you know what to expect when visiting Antarctica for the first time.
Antarctica Visitor Guidelines
Activities in Antarctica are governed by the Antarctic Treaty System to protect the environment and its wildlife. In addition, the International Association of Antarctic Tour Operators (IAATO) have developed best practices and guidelines that ensure safe and environmentally responsible travel to Antarctica.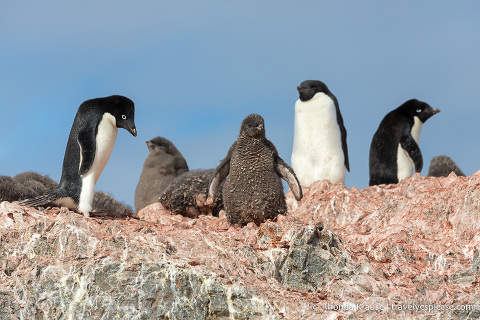 To minimize the impact of tourism, here are some of the guidelines visitors to Antarctica are required to follow:
A maximum of 100 passengers may be ashore at any one time, unless site specific advice requires fewer passengers. Vessels with more than 500 passengers are not allowed to make landings in Antarctica. Only one vessel can visit a site at a time.
Do not feed or touch the wildlife, or approach or photograph them in ways that cause them to alter their behaviour. If wildlife changes their behaviour, stop moving or slowly increase your distance.
Stay 5 m/15 ft from penguins, 15 m/45 ft from fur seals, 25 m/75 ft from jousting elephant seals. Always stay outside the margins of a colony and give animals the right of way.
Walk slowly around wildlife and keep noise to a minimum.
Do not walk on vegetation like moss and lichens.
To prevent introducing non-native species and disease, clean your boots, clothes (especially pockets and velcro fastenings), bags, tripods, and walking sticks before coming to Antarctica and in between visiting sites.
Do not collect/remove rocks, bones, eggs, fossils, or any other biological or geological specimens or man-made artifacts.
Know your capabilities, the dangers posed by the Antarctic environment, and act accordingly. Follow instructions from your expedition leaders, don't stray from your group, and don't expect a rescue service.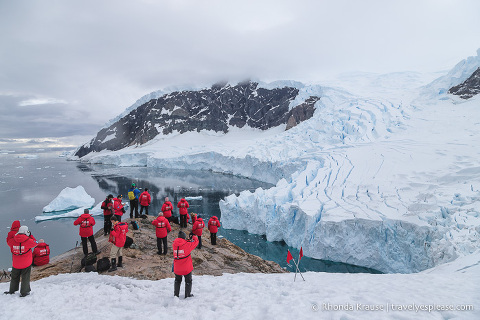 Expedition Cruising
Going to Antarctica by ship is not like a traditional cruise- it's an expedition.
Expedition cruising at its core is about exploration and adventure. This means the ships are smaller so they can access more remote places, and itineraries are flexible, often changing because of weather, wildlife, and sea and ice conditions.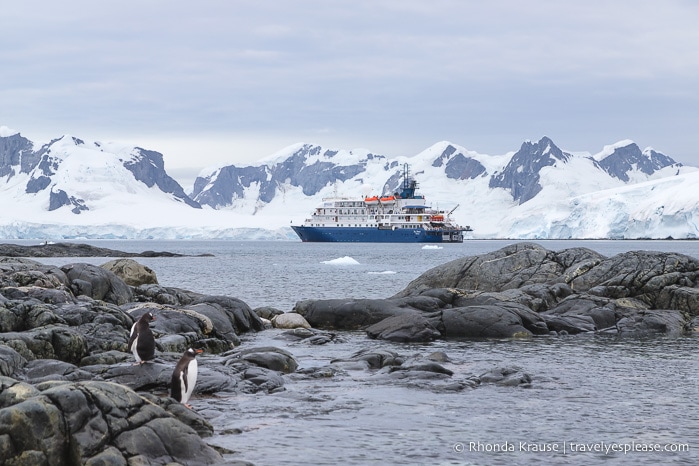 The best mindset to have when embarking on an expedition cruise to Antarctica is to expect nothing but be ready for anything.
There could be places you've read about or were looking forward to seeing that you don't get to visit, or specific wildlife sightings that don't materialize. At the same time, there could be extraordinary wildlife encounters that you never dreamed of witnessing.
Nature dictates everything in Antarctica so it's imperative to be easy-going and adaptable. Each trip to Antarctica will be one-of-a-kind and that's what makes it so special.
Tip: Limiting your expectations can increase the sense of adventure because then so many things will be unexpected surprises.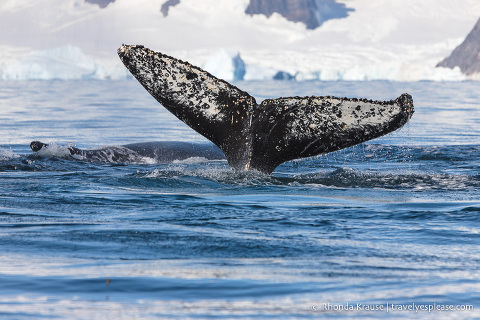 While the benefits of expedition cruising far outweigh any downsides, one important thing to be aware of is the potential for medical emergencies to affect your trip.
Since Antarctica is so remote, if passengers become seriously ill or injured there is no place or quick way to access medical care. More often than not, this means that ships will head back to South America, cutting the trip short, despite passengers being required to have evacuation insurance. Thankfully, this didn't happen to us, but a ship that left the same time ours did had a medical emergency on board and turned back.
Tip: Be a responsible traveller and don't go to Antarctica if you are unwell, in poor health, or unable to be self-sufficient, as this can jeopardize a once-in-a-lifetime (and very expensive) trip for yourself and fellow passengers. When in Antarctica, know your capabilities, take notice of environmental risks (like slippery rocks), and look out for others.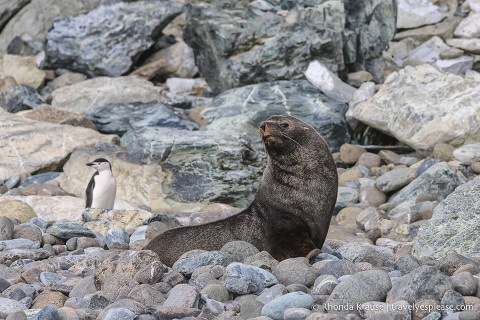 Biosecurity
In order to protect Antarctica from invasive species, there are strict biosecurity procedures that passengers must follow.
At the start of the trip, all your outer layer clothing, day bag, and other gear you plan to bring ashore will be inspected to make sure it is clean and free from soil, seeds and pebbles.
Before visiting each landing site, you will have to step into a solution that decontaminates your boots.
Upon returning to the ship, you will again have to step into the solution and scrub your boots and pants with a brush. This will remove any soil and rocks that may have got stuck in the tread of your boots.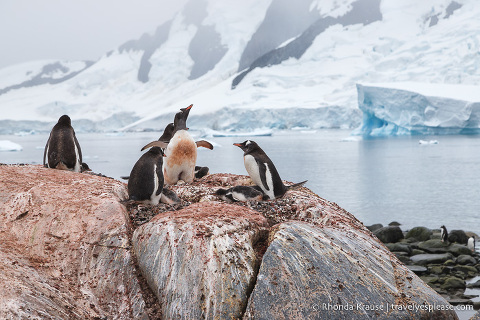 Landings/Shore Excursions
When visiting Antarctica, you will do two, sometimes three shore landings each day. In our experience, the time we had on land usually was 2- 2.5 hours, which was plenty of time to observe the wildlife and go on a small hike if one was offered. At more sensitive wildlife sites, we were given less time.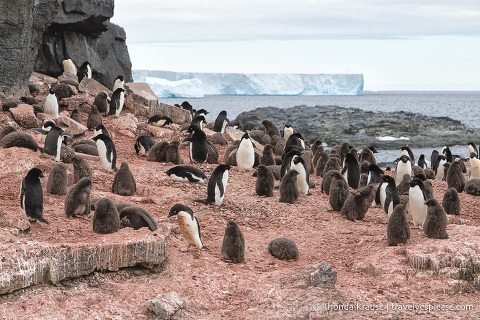 The ships in Antarctica won't be docking alongside land and instead anchor away from shore.
To get to land, guests board zodiacs (heavy-duty inflatable vessels) in groups of 10 or so and are driven to the landing site. Once there, you will have to step into the water (usually ankle or calf deep) to get on shore.
Tip: Tour operators provide rubber boots for use during the cruise but you will need to pack waterproof pants for these "wet landings".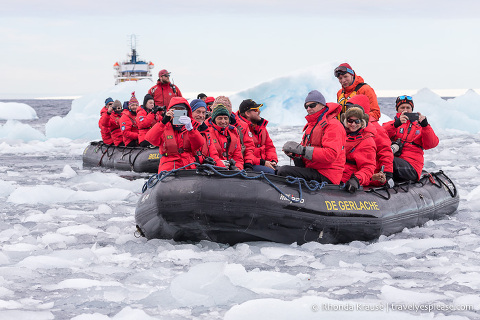 Before you arrive on site, the expedition crew will have set up flagged routes and boundaries where it's safe to walk and observe wildlife. Staff will be on shore diligently watching to make sure people stay within those boundaries and respect the wildlife.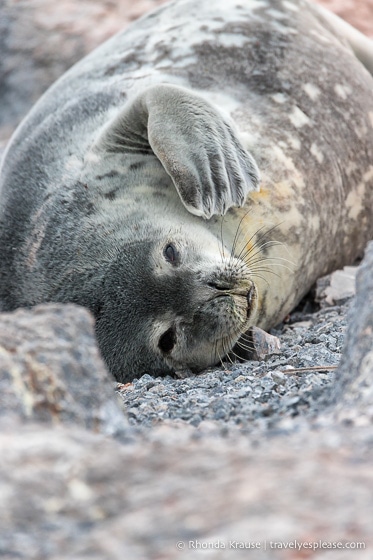 Usually 100 people can be on shore at a time, but some sites we visited had further limitations, allowing only 50, even 30 people at a time. In those cases, passengers would go sightseeing on a zodiac until it was their group's time to go on shore.
For those people who don't want to stay on shore for the full amount of time (although I highly recommend that you do), there will be a zodiac shuttling people back to the ship as needed.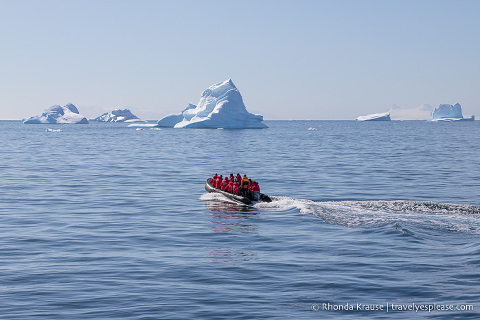 Wildlife Viewing in Antarctica
Seeing wildlife is the main highlight of travelling in Antarctica. The sheer abundance of animals more than makes up for the lack of diversity, compared to other continents.
What animals you see, and the behaviours you might witness, depend on the time of the year you visit Antarctica. The most common wildlife seen when travelling in Antarctica are penguins, seals, whales, and seabirds.
Tip: February and early March are peak times for whale sightings.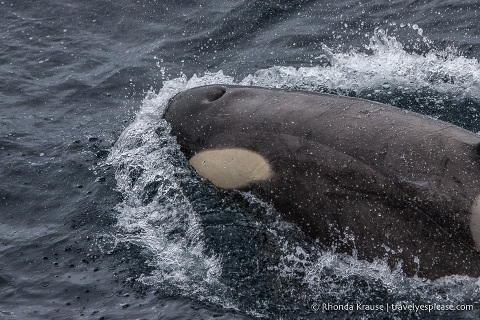 Of course, specific wildlife sightings can't be guaranteed, but rest assured that wildlife viewing is a priority of expedition cruises to Antarctica. A good crew will try to maximize both the amount of wildlife you see and the time you spend watching them.
Observing animals in the wild means you'll see life unfiltered, even the unpleasant parts. We saw predator and prey interactions, and dead and injured animals. On the flip side, we saw the cycle of life starting over again, with penguins mating and incubating eggs that were soon to hatch.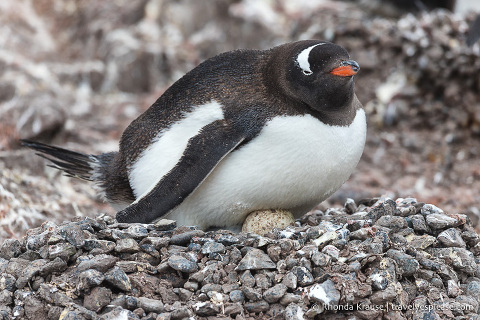 The most exciting thing about the wildlife in Antarctica is how close they sometimes get to you. We had some whales that were near enough to see their blowholes and the barnacles on their flukes. As for penguins, I could clearly see the bristles on their tongues, their long toenails, the rugged pads on the bottom of their feet, their brood pouches, and water droplets on their stiff feathers.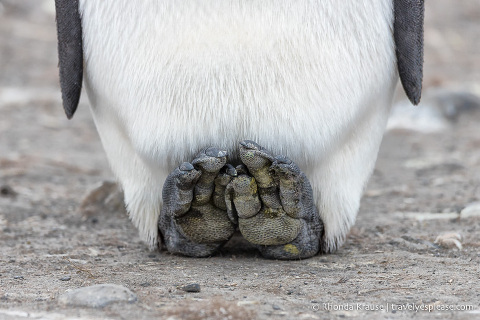 Since seeing penguins is often the main reason people travel to Antarctica for the first time, here's a look at what species you will see and what to expect when visiting penguin colonies.
Penguin Encounters
On your first trip to Antarctica you'll probably want to see penguins and that's exactly what you'll get! Antarctica is known for its numerous and large penguin colonies, home to thousands of breeding pairs. The most common penguins species you'll see in Antarctica are gentoo, chinstrap, and Adelie.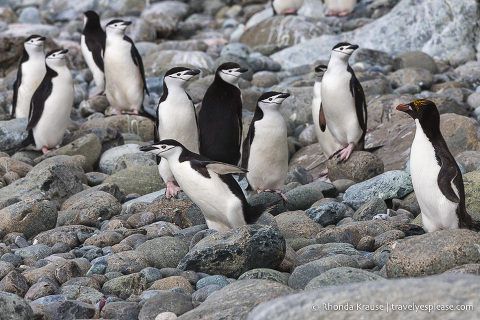 Since most expedition cruises visiting Antarctica stick to the western side of the Antarctic Peninsula, you won't see emperor penguins. Emperor penguins breed far south on sea ice surrounding the continent, making it harder (and more expensive) to get to their colonies. Don't expect to see king penguins either, since they live on subantarctic islands like South Georgia, as do macaroni penguins (there's only one macaroni colony on the Antarctic Peninsula).
Penguins will walk really close to you if you're standing still or quietly sitting on a rock. I was amazed at how close they got, unbothered by our presence. Even though as a visitor you're supposed to leave 5 m/15 ft between yourself and a penguin, if a penguin decides to approach you then that's their choice. Penguins always have the right of way so as long as you're not blocking their path or causing a change in behaviour (ex. they stop walking, give off distress calls), then your distance is fine.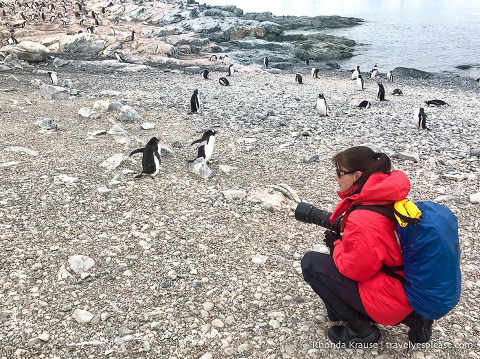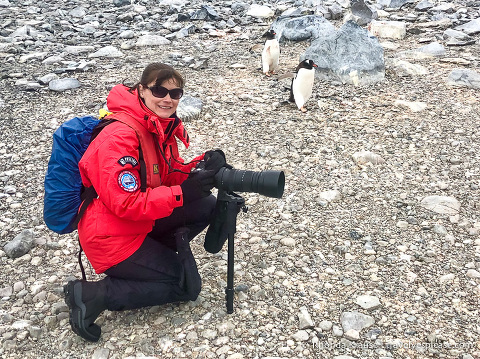 Some penguin behaviour you might observe are courtship rituals (bowing, preening, and calling to each other), mating, nesting (watch for penguin eggs), rock stealing and nest building, chick feeding, and swimming. Again, what you see depends on what time of year you travel to Antarctica.
Tip: Visiting in January is a great time to see penguins nesting and interacting with newly hatched chicks.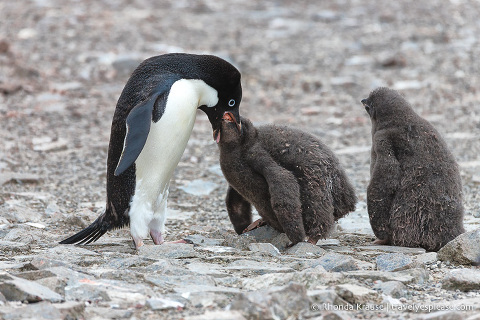 One thing that surprised me was just how bad penguin colonies smell. All the projectile pooping going on shoots guano onto rocks, snow, and even other penguins. It's hard to describe the smell, but just know that it's pungent, persistent, and will get into your clothes and stink up your cabin.
Tip: Pack some fabric refresher spray.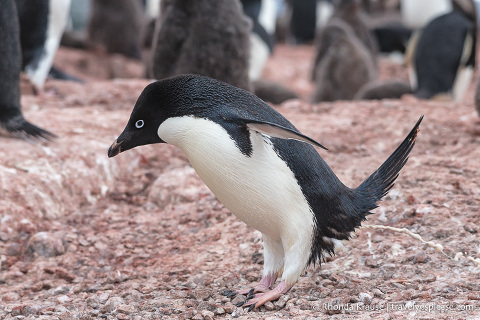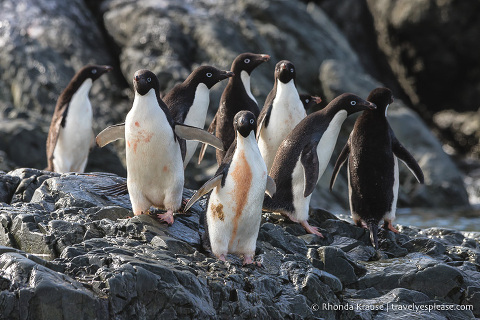 Scenery and Sounds
The scenery in Antarctica is wild and enticing, with snow-blanketed mountains, massive glaciers, and icebergs so big they're measured in kilometres instead of metres.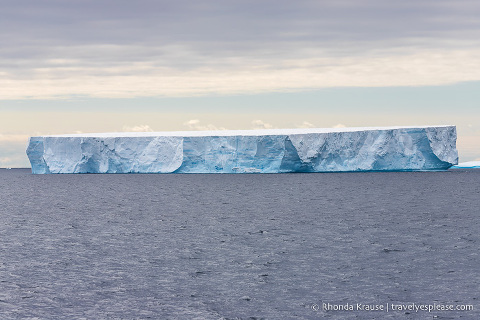 The landscapes were just what I was expecting to see on my first trip to Antarctica, but that's not to say there weren't a few surprises.
Antarctica has some volcanic islands that don't look like what people typically associate with Antarctica. Deception Island, in particular, was dusty, brown, and largely free from snow.
Antarctica is also not as quiet as you might expect, with sounds of nature interrupting the silence. Here's some of what you can expect to hear when visiting Antarctica:
Glaciers cracking and rumbling like thunder as they birth new ice into the sea.
The sputtering exhale of air from a whale's blowhole.
Water splashing and forcefully parting as a whale breaches then slams backs into the depths.
Penguins squawking and chicks chirping asking to be fed.
The slapping of penguin feet as they follow each other down their penguin highways.
Seals belching as they lazily exhale puffs of breath that condense in the cool air.
Young elephant seals growling as they play fight on the beach.
Ice gently popping as it floats in the cold Antarctic waters.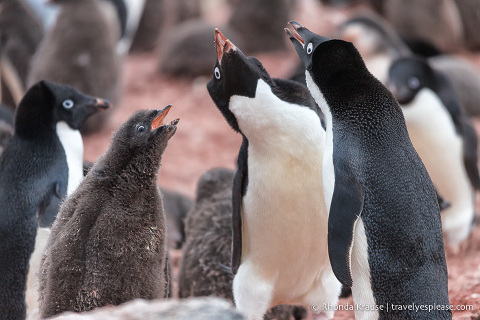 Weather
Weather in Antarctica can be unpredictable and varied throughout the day so dressing in layers is key. Even though Antarctica is the coldest and windiest continent on earth, the weather can be surprisingly comfortable during the summer months when expedition cruising takes place (November to March).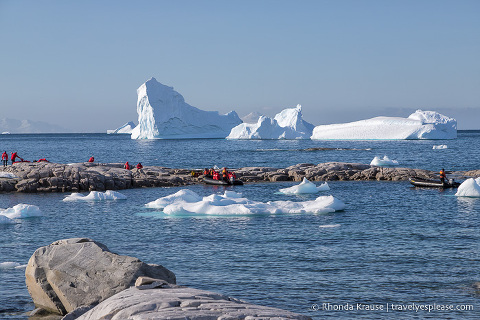 Mid-December through January is the warmest time to visit Antarctica. Average daytime temperatures in summer on the peninsula are 1-2 °C/34-36 °F. In our experience travelling to Antarctica in January, we saw daytime temperatures range from -1°C to 12 °C, but I'd say the average was between 4-5 °C/39-41 °F.
In general, we found it coldest when out on the zodiacs, since there was more wind, exposure to sea spray, and we weren't moving around much. During some landings it was warm enough to take our parkas off.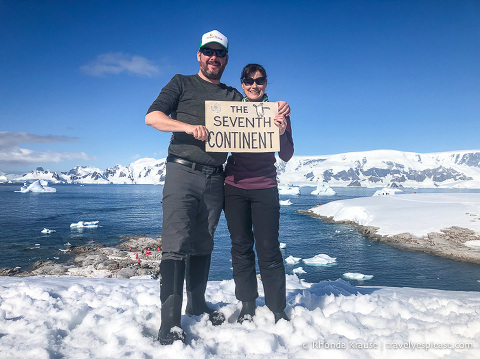 In late spring to early summer (November- early December) average high temperatures on the peninsula are around 0 °C/32 °F. In late summer (February and early March), average highs are 0-1 °C/32-34 °F.
Required Clothing
When packing for your first trip to Antarctica, bring loose fitting, lightweight, but warm clothes that can be easily layered. Nowadays you can find plenty of options for clothing that has been specifically designed to provide warmth without being bulky.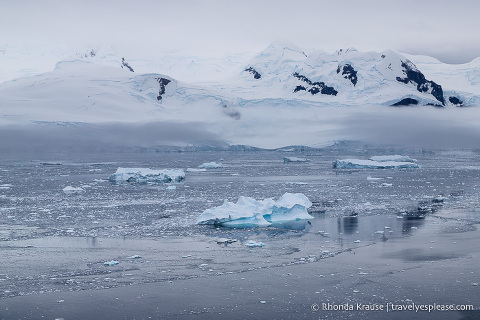 You'll want to wear a base layer (thermal underwear and long sleeve thermal top), a mid layer (arctic quality long sleeve top or fleece, loose fitting active wear pants), and a waterproof and windproof outer layer (hooded parka, ski pants or rain pants).
Tip: Synthetic fabrics and wool provide better insulation and moisture wicking than cotton.
Parkas are usually provided by the tour operator as a gift or loan, but I would double check before leaving home. Operators also provide rubber boots for use during the trip.
Life on a Ship
Life on a cruise ship in Antarctica was filled with educational and social activities, despite the small size of the vessel.
The expedition crew consisted of a biologist, a geologist, a historian, and an anthropologist who gave lectures during days at sea. There were presentations about Antarctic wildlife, icebergs and glaciers, the discovery of Antarctica, and the psychology of living and working in Antarctica, among others. The lectures were translated live via earpieces for guests who spoke German, Russian, and Chinese.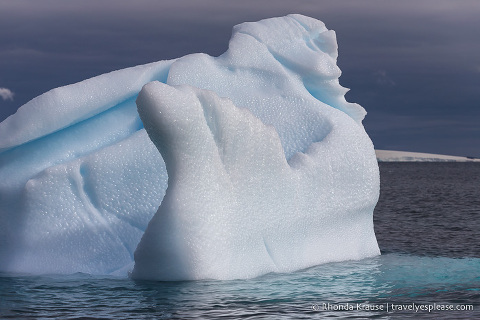 In addition to lectures, there were documentaries to watch, a well-stocked library to browse, citizen science programs to participate in, and of course marine life and birds to observe. In the evenings there were some social events, like trivia competitions, dessert tastings, and dance parties. Our ship even had a small gym and a hot tub. The days at sea went by way faster than I expected!
Unlike traditional cruises, there was no dress code on board so dining in casual clothes was acceptable and the norm.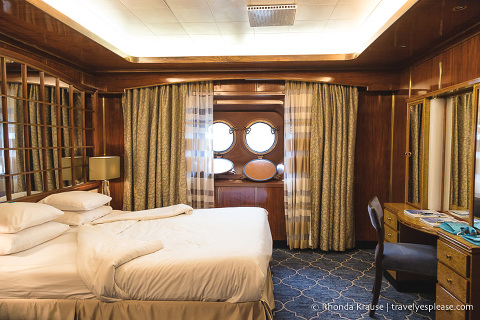 Motion Sickness
Seasickness is common on cruises to Antarctica and can cause nausea, dizziness, vomiting, and tiredness.
Passengers are most likely to experience motion sickness during days at sea, like when crossing the Drake Passage. Sometimes it was hard to walk around the ship and sleep at night because of how much the waves were swaying the boat. Once you get to Antarctica the ship is more sheltered and travelling closer to shore, so sailing is smoother.
Tip: Try and get a cabin on a lower deck near the middle where the sway of the ship isn't as pronounced.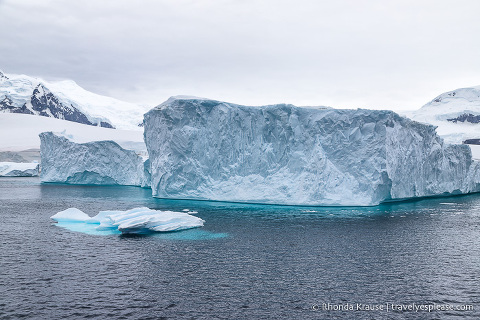 It's recommended to bring seasickness medication, but if what you brought doesn't work, the ship's doctor can give you something else to try (was free of charge on our ship).
I experienced mild to moderate seasickness most days at sea, but felt perfectly fine when we were sailing along the peninsula. I could have avoided some seasickness if I was more diligent at taking the medication, but got some relief from eating crackers and drinking ginger ale.
Tip: Motion sickness medication is preventative- don't wait until you feel sick to take it.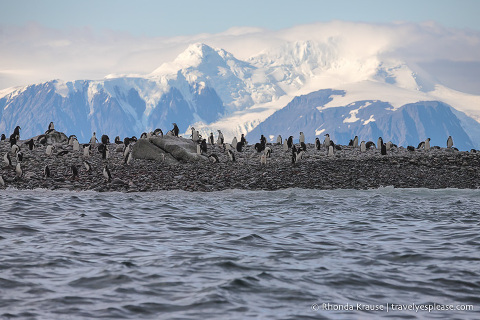 Other Tips & Observations From Our First Trip to Antarctica
Travelling in Antarctica was a far more emotional experience than I expected. From excitement, surprise, wonder, and curiosity, there was no escaping a visceral reaction to Antarctica.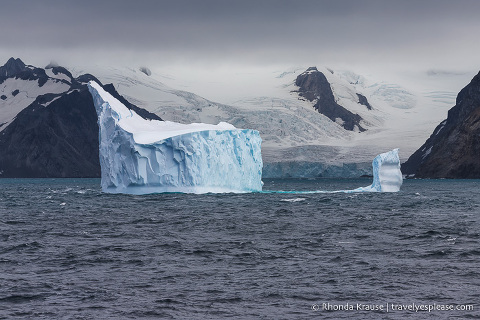 The landscapes are so beautiful and wildlife so absorbing that you'll probably take a lot more photos that you expect. I cycled through my stack of memory cards faster than I thought would (easy to do when you're shooting in burst mode to capture action shots).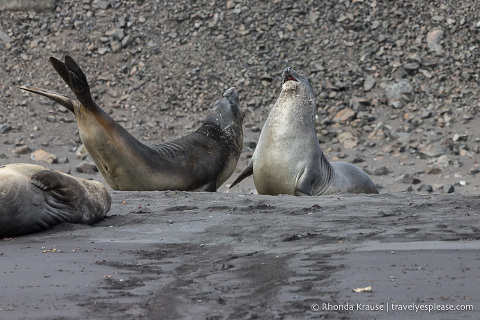 It's way too easy to become preoccupied with taking pictures, especially during the first few days, but some of my favourite moments were when I chose to put the camera down and be 100% present. This was especially true during whale sightings.
It sounds strange to say, but as our journey went on penguin encounters started to feel ordinary. Although it might seem like "just another day in Antarctica", don't become jaded because incredible things will still happen when you least expect it. Never lose sight of what a privilege it is to be visiting Antarctica.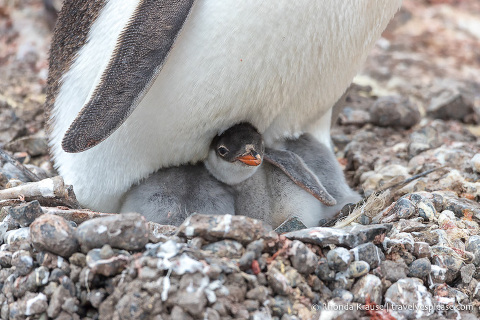 Final Thoughts About Our First Trip to Antarctica
Visiting Antarctica for the first time was a dream come true. From getting up close to penguins and whales, to being surrounded by mighty glaciers and icebergs, there were so many moments that will remain forever in my heart and mind.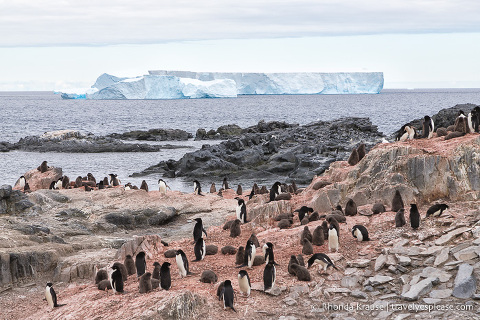 Truth is, as much as I planned for our first trip to Antarctica, nothing could ever prepare me for just how profoundly personal the experience would be. It's quite indescribable and the only way to understand the lasting impact of a trip like this is to visit Antarctica for yourself.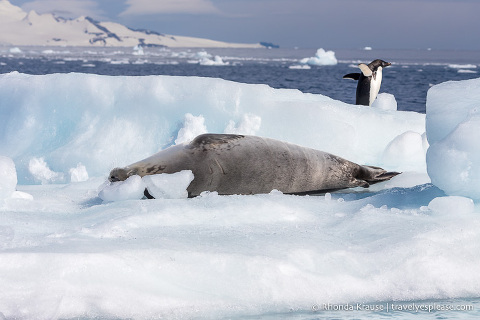 For more information about what it's like to travel to Antarctica, read our Antarctica trip itinerary.
Search, Compare and Book Cruises to Antarctica
Here is a helpful and reputable site you can use to search for and compare cruises to Antarctica. There's a variety of tour operators, vessels, and itineraries all in one place for easy comparison. You can even read reviews from other travellers. Once you find a trip you love you can book it!
More Antarctic and Subantarctic Travel Guides