Purchases made through links earn us a small commission, at no extra cost to you.
Near a bend in the River Boyne, in Ireland's Ancient East, is a complex of mysterious monuments older than the Egyptian pyramids. Known collectively as Brú na Bóinne, these three Neolithic passage tombs- Knowth, Newgrange, and Dowth- make up a fascinating archaeological landscape that dates back over 5,000 years.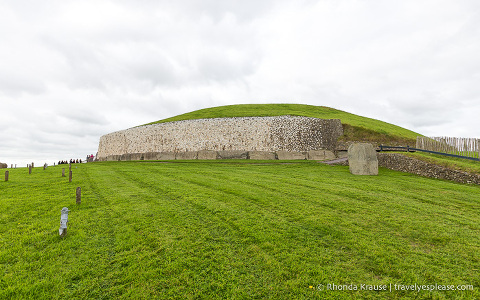 During my tour of Brú na Bóinne, I visited the two best-preserved tombs, Knowth and Newgrange. What I discovered were structures that, on first glance, looked like nothing more than grassy mounds, but actually were sophisticated constructions of ceremonial, spiritual, and astrological importance.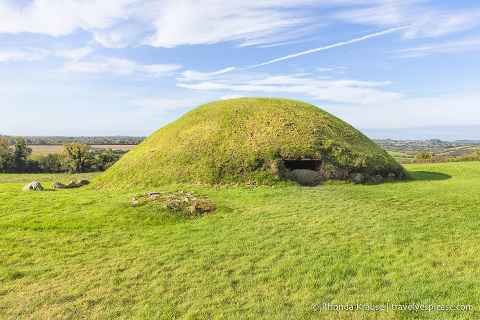 About Brú na Bóinne- History, Construction, and Archaeological Remains
There is evidence of human settlement at Brú na Bóinne from 6,000 years ago, but the most notable remains are the Neolithic tombs that dot the landscape. The principal tombs are Knowth, Newgrange, and Dowth, but at least 40 passage tombs were built in the area.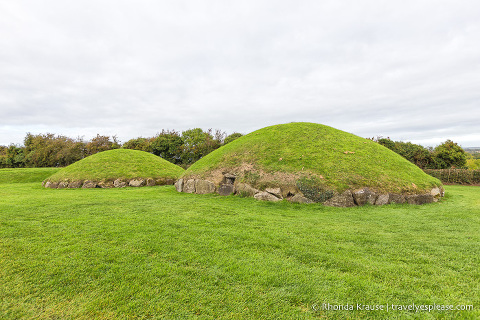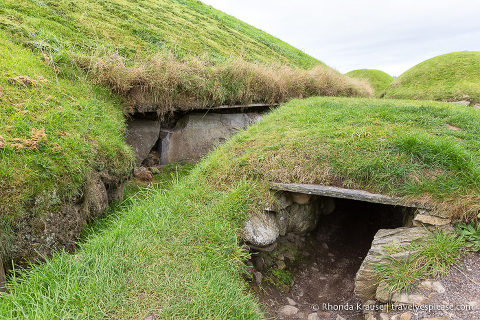 Construction of the passage tombs at Brú na Bóinne started around 3300 BC, when the Boyne Valley was already an established, organized farming community. The three main tombs were built with solar alignments in mind and the mounds were ringed with kerbstones engraved with Neolithic art. The Brú na Bóinne tombs have the largest collection of megalithic art in Western Europe.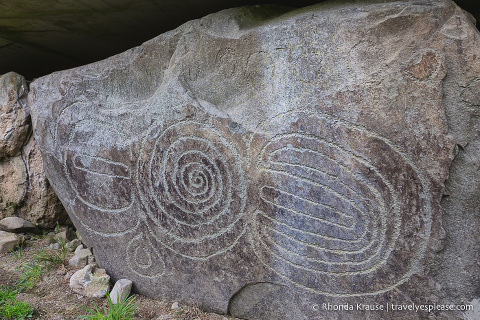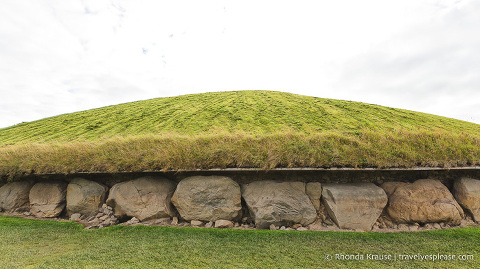 By around 2900 BC, the tombs were no longer used but the area remained an important gathering place for rituals and ceremonies, especially Knowth. Pit and wooden post circles (henges) were built, as were ring ditches for burials and burnt mounds (fulachtaí fia) for heating water.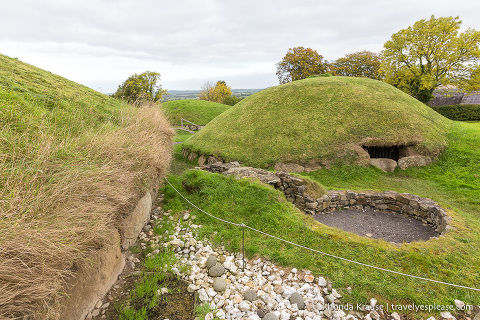 In the late 20th century, archaeological excavations and conservation work were carried out at Newgrange and Knowth. The two sites have since become popular tourist attractions in Ireland. In 1993, Brú na Bóinne was declared a UNESCO World Heritage Site.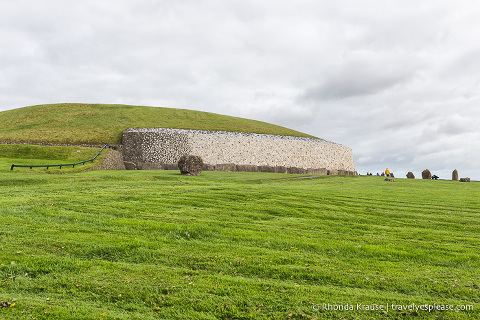 How to Visit Brú na Bóinne
Brú na Bóinne can be visited as a day trip from Dublin, but I decided to spend the night nearby in Donore so I could beat the crowds and secure a spot on the first tour of the day (at the time of my visit you couldn't buy tickets online, so it was first-come first served to a limited amount of spots).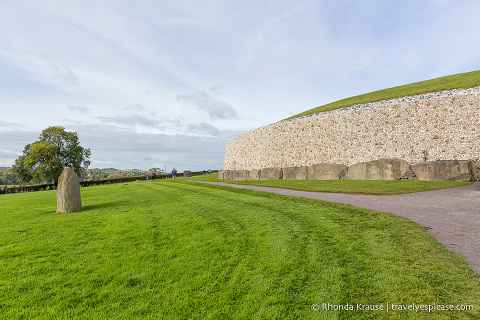 Newgrange and Knowth can only be visited on guided tours that leave by shuttle bus from the Brú na Bóinne Visitor Centre. To see Dowth, you can drive yourself directly to the site, but there is no public access inside the tomb.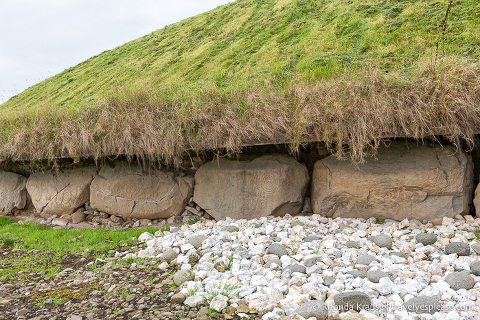 At the Brú na Bóinne Visitor Centre there are two tours of Knowth and Newgrange available- one that includes access to the chamber at Newgrange and one that visits the exterior of the tombs only. The Newgrange chamber tour is most popular and takes about 2 hours 45 minutes.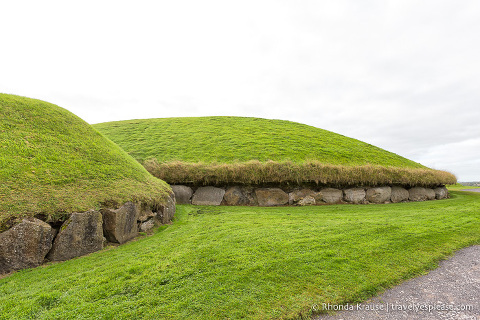 When it's time for your tour, you'll leave the visitor centre and walk across a bridge to the shuttle bus stop. After boarding the bus, it's a short drive to either tomb site.
If you're doing the combined tour, you'll first visit Knowth then be driven back to the lot to catch a bus to Newgrange. In my experience, everything was timed pretty well and I didn't wait long for the bus to leave for Newgrange.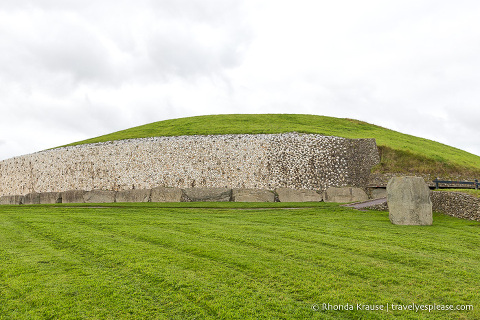 Visiting Knowth
Knowth is the largest passage grave at Brú na Bóinne. It consists of one large mound, covering about 1.5 acres, and 18 smaller mounds clustered around it. The large mound is estimated to have been built around 3200 BC.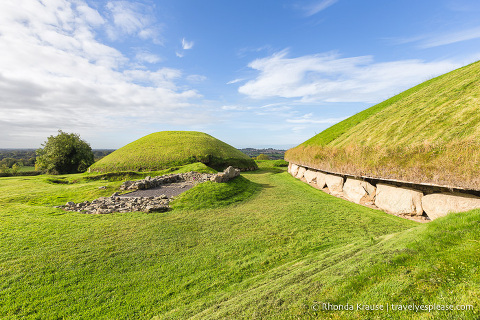 Inside the main mound are two separate passage tombs, one with an entrance facing east and the other entrance facing west. During our tour we got to go inside the mound and look down the eastern passage. We couldn't follow it into the chamber because the passage has caved inwards in places, making access difficult. It's unfortunate because I would have liked to see the beehive shaped roof and basin stones that held remains of the dead.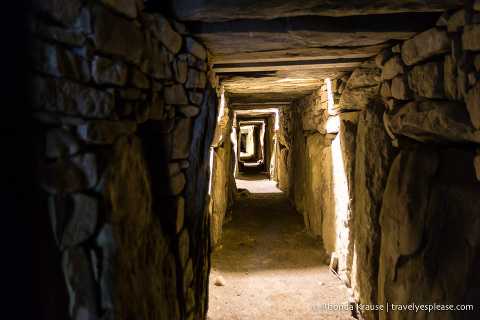 A nice alternative to seeing the inner chamber was getting to walk on top of the mound. Such a special place to enjoy a panorama of the Boyne Valley!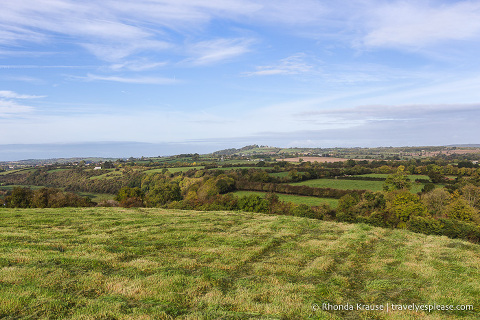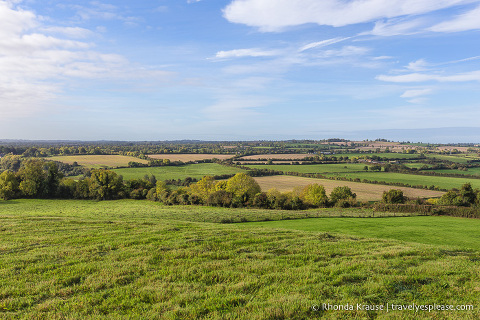 Another highlight of my tour of Knowth was getting to see the impressive collection of megalithic art. The kerbstones that surround the base of the large mound are decorated with spirals, serpents, lozenges, crescent shapes, and other images.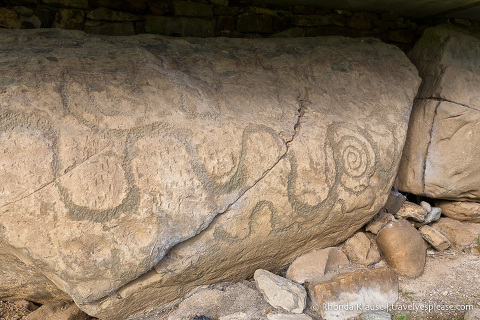 After the guided tour, we had some free time to wander around the site. There was something about Knowth that had me captivated, even though it's not the most famous tomb at Brú na Bóinne. From the different mounds, megalithic art, countryside views, and remains of a timber monument, there was a lot to admire and contemplate at Knowth, making it my favourite of the tombs at Brú na Bóinne.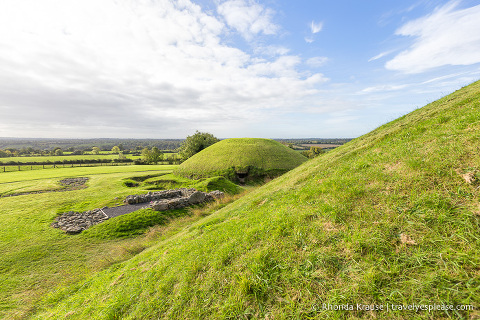 Visiting Newgrange
Newgrange is the most famous Irish passage tomb. It consists of one circular mound measuring 80 m across and dates back to 3200 BC. The base is ringed with 97 kerbstones, but unlike Knowth, the exterior features a revetment wall of white quartz stones.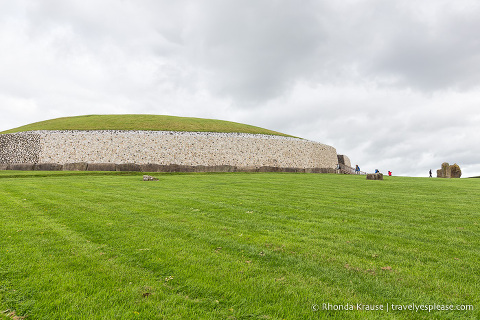 The best part of visiting Newgrange is getting to go inside the chamber. Before entering, my guide explained the significance of the entrance stone and its beautiful Neolithic art, as well as the "roof box" opening above the passage entryway.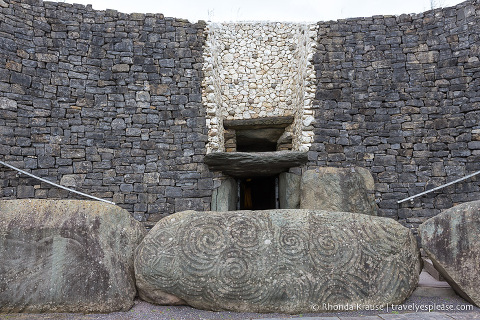 Once inside the tomb, we had to walk down a narrow, stone-lined passage to get to the chamber.
The chamber is cross-shaped with a corbelled roof rising 6 meters above the floor. There are three recesses with basin stones that were used to hold the remains of the dead. During the excavation of Newgrange, the cremated remains of five people were found, along with some pendants and polished stone balls that were placed with the dead.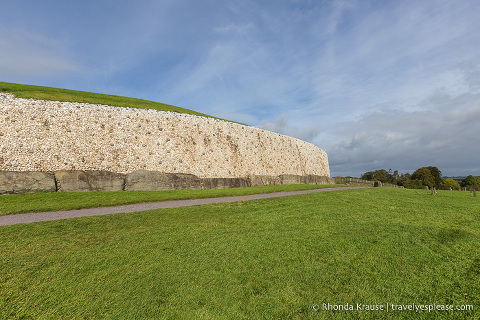 One of the most impressive features of Newgrange is its alignment with the winter solstice. At dawn on December 21, the rising sunlight shines through the roof box to illuminate the inner chamber.
To illustrate this phenomenon, my guide turned off the main light in the chamber then turned on another light that mimics a shaft of sun coming through the roof box and into the chamber. It was perfect alignment!
The winter solstice was important to the Neolithic culture of the Boyne Valley not only because it marked the start of a new year, but was also seen as a promise of new life for the spirits of the dead.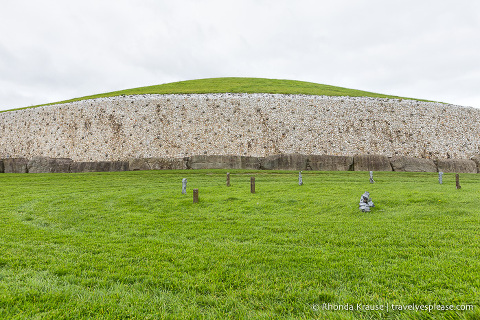 Final Thoughts About Visiting Newgrange and Knowth
I saw plenty of ancient sites during my 2 week road trip in Ireland but nothing that was quite like the Brú na Bóinne passage tombs.
Both tombs had an earthy, simplistic beauty, even though their construction and artistry were far more sophisticated than they looked.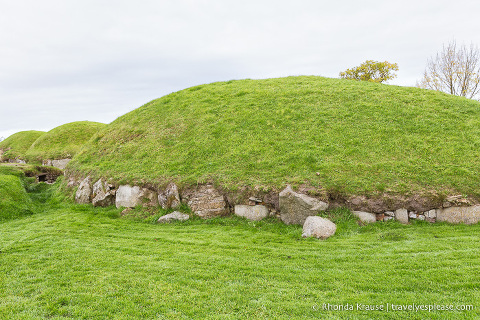 I'm really glad I decided to tour both tombs because they were completely different experiences. At Newgrange, there were more people but less things to see, with just the one large mound. Since only a few people can go into the tomb at a time, there was some waiting around. It was worth it though because the chamber was quite fascinating.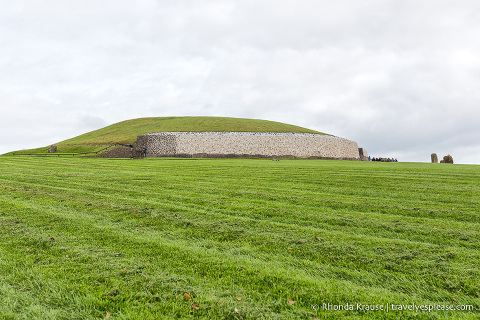 At Knowth, there were only 5 of us on the tour (in October), so it was easier to hear the guide. Since there were more mounds and other things of interest, I felt like I learned more and spent more time exploring compared to Newgrange.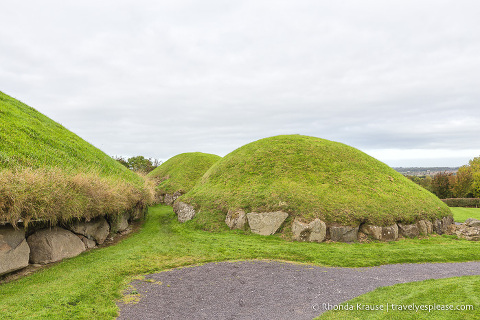 While both tombs are special for different reasons, I ended up preferring Knowth. So, if you're wondering whether to visit just Newgrange or Knowth as well, I'd say see both. Together they make up one of the best ancient sites in Ireland!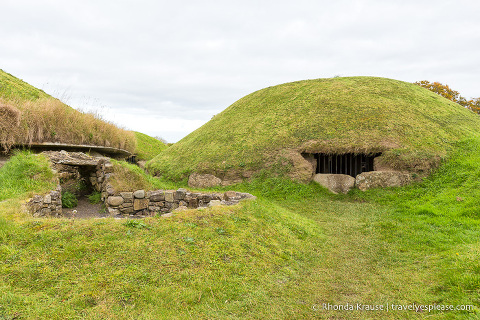 Tips for Visiting Brú na Bóinne
Location: Brú na Bóinne is located near the village of Donore (County Meath). It's about a 40 minute (50 km) drive from Dublin and 13 minutes (8 km) from Drogheda.
Access: Newgrange and Knowth can only be accessed through the Brú na Bóinne Visitor Centre. Do not use GPS to drive directly to the monuments as you will be turned away and directed to the visitor centre to buy tickets.
Tickets: There is a limited amount of tickets each day and tours regularly sell out, especially during the summer season. Depending on the type of ticket/tour you want, you may be able to book in advance (some admission tickets are available on a first come first served basis). To avoid disappointment, I recommend pre-booking your tickets online here, or arriving at least 15 minutes before opening time so you can be one of the first in line.
Tours: There are three tour/ticket options for visiting Brú na Bóinne. Tours leave approximately every 15 minutes.
Visitor Centre Exhibition– does not include a tour of the monuments. Tickets can't be booked in advance.
Brú na Bóinne Tour Plus Newgrange Chamber- includes a visit to Knowth and Newgrange, a guided tour of the chamber at Newgrange, and access to the visitor centre exhibitions. Tickets must be pre-booked.
Brú na Bóinne Tour Outside Only- includes a visit to the exterior of Knowth and Newgrange and the visitor centre exhibitions. Tickets aren't available for pre-booking (first come first served).
Brú na Bóinne Visitor Centre: For up to date information on operating hours, admission fees, and other practicalities visit this site.
Information was updated March 2022, but can change without notice. Please confirm directly with the venue.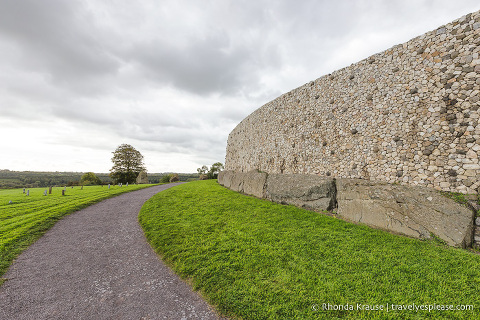 Tours to Newgrange
Here is a trusted site that has tours to Newgrange from Dublin:
More Ireland Destinations and Travel Guides