Purchases made through links earn us a small commission, at no extra cost to you.
One of the most intriguing things about Ireland is its long history and vast collection of archaeological sites. From megalithic monuments and prehistoric fortresses, to Neolithic tombs and early monastic settlements, there are plenty of alluring ancient sites in Ireland to discover.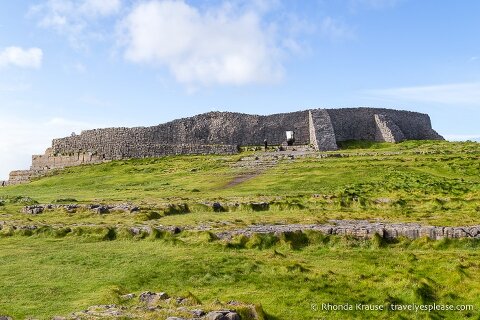 Ancient Sites in Ireland- My Favourite Archaeological Sites in Ireland to Visit
As someone who's always been interested in archaeological sites and ruins left behind by past societies, I found it extremely hard to choose what ancient sites in Ireland to visit. I tried to explore as many as I could during my Ireland road trip, but with only two weeks it was impossible to see everything of interest.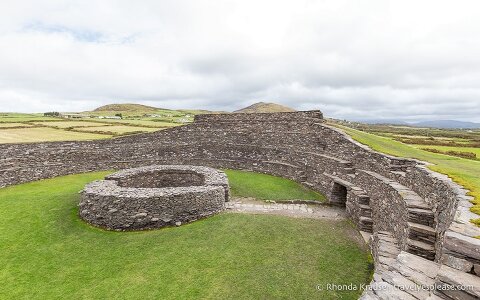 In the end, I managed to visit a nice mix of the most famous ancient sites in Ireland, plus some lesser known ruins that were a joy to visit because I had them almost all to myself.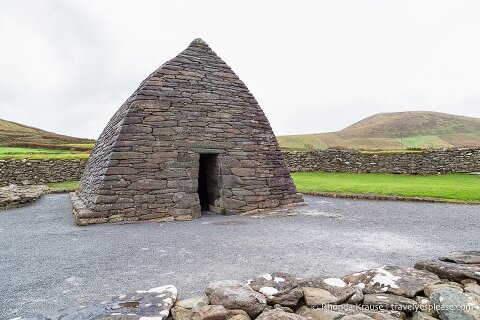 Here's a description of my favourite ruins in Ireland, plus a few more I hope to see in the future.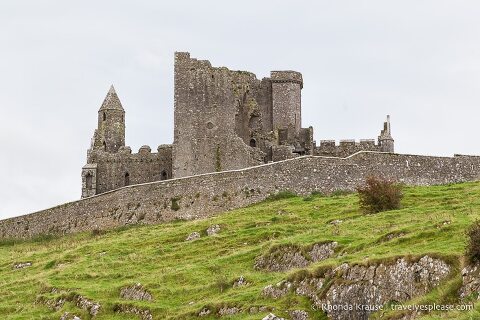 Brú na Bóinne
One of the most important archaeological sites in Ireland is Brú na Bóinne, a collection of Neolithic passage tombs near a bend in the River Boyne.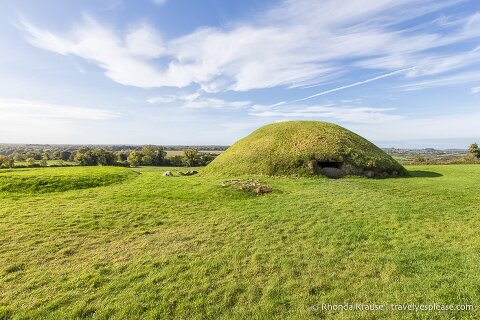 The main passage tombs dotting this prehistoric landscape are Newgrange, Knowth, and Dowth, but it's believed there were at least 40 passage tombs built in the area. The site also contained several other monuments and ceremonial spaces, some of which remain today.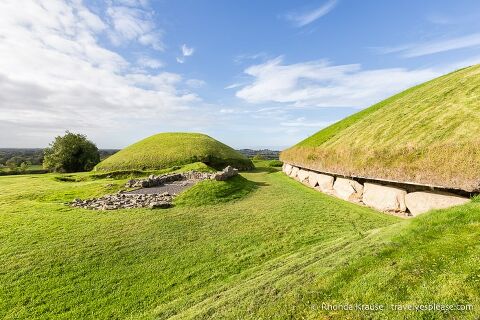 Besides being over 5,000 years old, other impressive things about the passage tombs at Brú na Bóinne are their solar alignment and artistically engraved kerbstones. The tombs are home to Western Europe's largest collection of megalithic art and Newgrange's inner chamber is illuminated by sunlight on the winter solstice.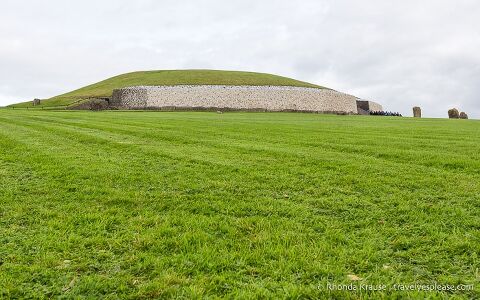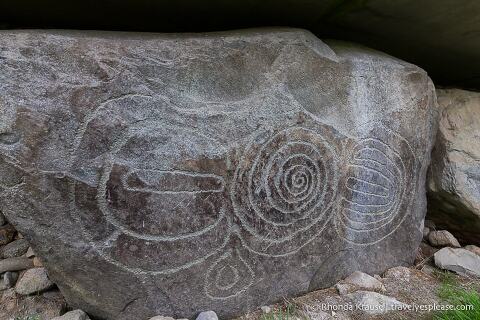 To access the passage tombs you have to join a guided tour at the Brú na Bóinne Visitor Centre. Tours visit Newgrange and Knowth, but Newgrange is the only one where you can enter the chamber.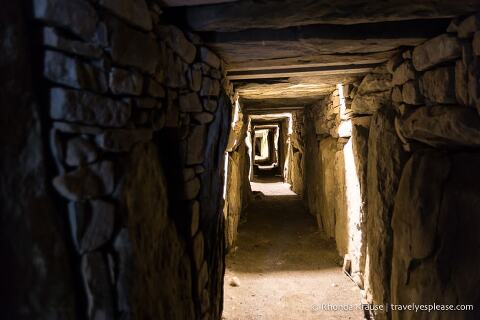 Read more: Visiting Brú na Bóinne- Newgrange and Knowth Passage Tombs
Glendalough Monastic Site
The remains of Glendalough, a 6th century monastic settlement, is one of the top ancient sites in Ireland thanks to its scenic location, some remarkably intact stone structures, and an interesting origin story.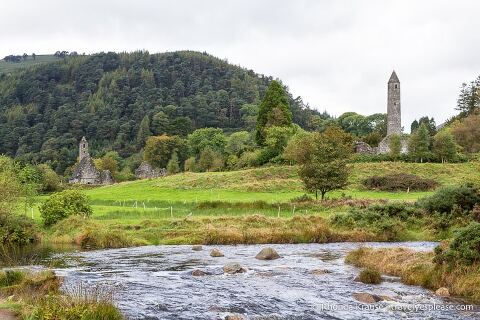 Glendalough was founded by St. Kevin, a young monk who wanted to live in isolation among nature. However, his lifestyle and reputation as a holy man attracted a group of followers who settled near him, growing the monastery. Eventually Glendalough became one of the most significant monastic sites in Ireland.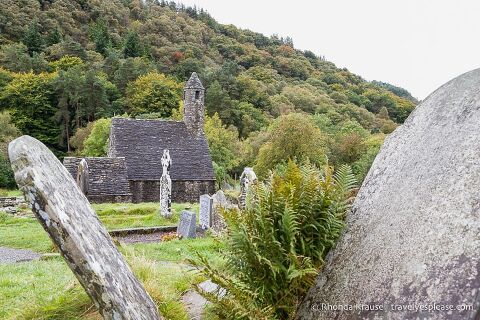 Today the monastic city is a mix of ruins and complete structures that have been relatively unharmed by the passage of time. The best preserved buildings are St. Kevin's Church and the 33 m tall round tower.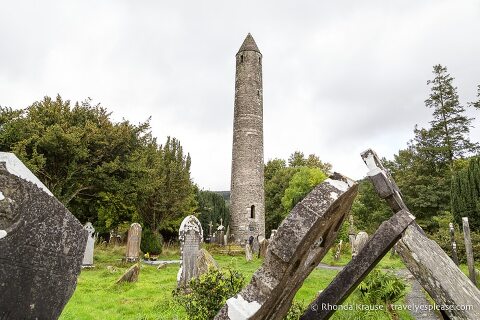 Some other compelling things you can see at Glendalough are old tombstones, grave slabs inside the ruined cathedral, and St. Kevin's Cross.
Rock Of Cashel
Another must-see ancient site in Ireland is the Rock of Cashel. This hilltop complex of stone fortifications and religious buildings is one of the most iconic and impressive collections of medieval buildings in Ireland.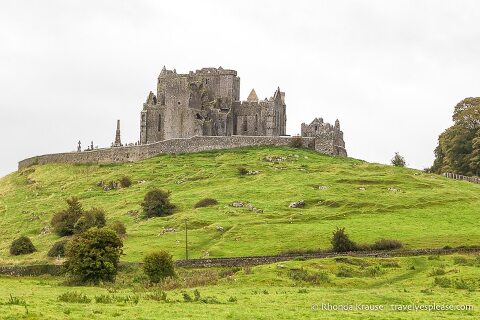 The Rock of Cashel first gained importance in the 4th century when a fortress was built on the hill. Later it became the seat of the High Kings of Munster, then a site of religious significance, as St. Patrick baptised King Aengus here.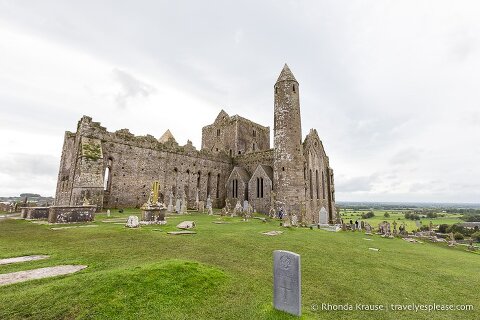 Not much remains of the early fortress, but the church buildings and cemetery still exist. The most remarkable ruin at the Rock of Cashel is the huge 13th century Gothic cathedral and its round tower.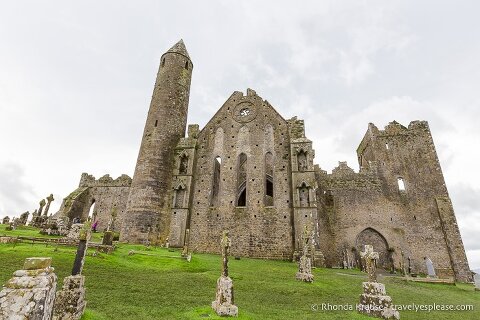 Other notable structures are Cormac's Chapel, which contains the only surviving Romanesque frescoes in Ireland, and several beautifully decorated high crosses.
Dún Aengus Fort (Dún Aonghasa)
Dún Aonghasa (Dún Aengus in English) is the largest prehistoric fort of the Aran Islands and worth making the trip to Inishmore to see.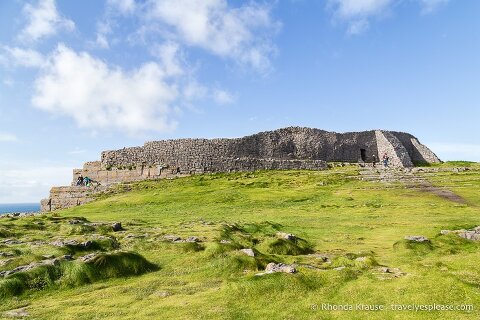 I must say, Dún Aonghasa has the most spectacular location of all the archaeological sites in Ireland I visited. This semi-circular fortress is precariously perched at the edge of a sheer cliff overlooking the Atlantic, and because there isn't a wall on the cliff side, there are broad views of the ocean.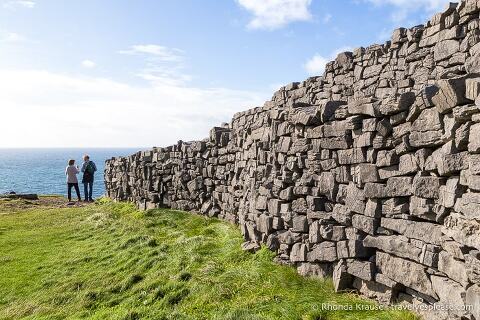 The fortress is over 3,000 years old and features three terraced, dry stone walls around an inner enclosure. For extra defence, there are thousands of closely-set jagged stones surrounding the entire fort.
It's believed that Dún Aonghasa was at one time an economic, political, and ritual centre. Foundations of seven houses have been found in the inner enclosure and there's a rock platform at the edge of the cliff that may have been used for ceremonies or rituals. Objects from the Late Bronze Age, such as tools and rings, that were found on site are now in the National Museum of Ireland.
Poulnabrone Dolmen
The rocky landscape of The Burren is dotted with ancient treasures, but perhaps none as emblematic as Poulnabrone dolmen, Ireland's oldest megalithic monument.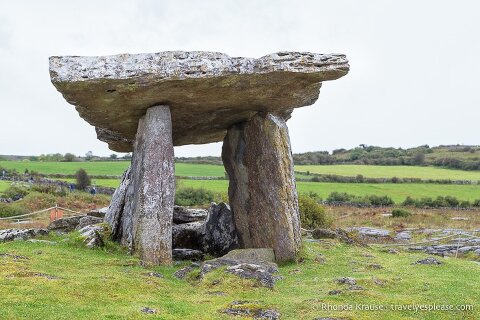 Dating back over 5000 years, this large portal tomb is remarkably well preserved. It still has two sets of stones standing on each side of the entrance and a huge sloping capstone balancing on top. The dolmen's symmetry is part of the reason why it's one of the most photographed archaeological sites in Ireland.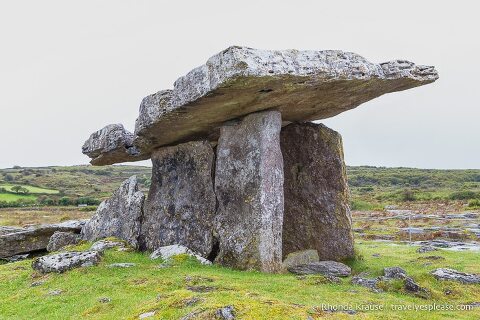 Radiocarbon dates from Poulnabrone dolmen suggest human remains were interred regularly for approximately 600 years, between 3800 BCE and 3200 BCE, after decomposing elsewhere.
Archaeologists who worked at the site also speculate, based on the slant of the capstone and uncovered artifacts, that Poulnabrone was built as a doorway to the afterlife.
Cahergall and Leacanabuaile Ringforts
Ringforts are abundant on the Emerald Isle, making them the most common ancient sites in Ireland. I chose to visit only two of them, Cahergall and Leacanabuaile, but couldn't have been happier with my choice.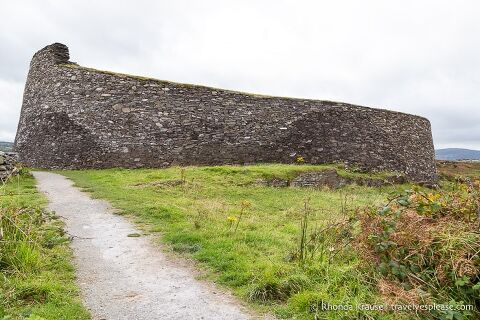 Cahergall and Leacanabuaile stone forts can be visited during a short detour when driving the Ring of Kerry. Even though they are in close proximity with each other, both offer a different experience. 
Cahergall is the older, more imposing ringfort, with a 6 metre tall wall that has terraces along the inside offering great views of the surrounding hills and farmland.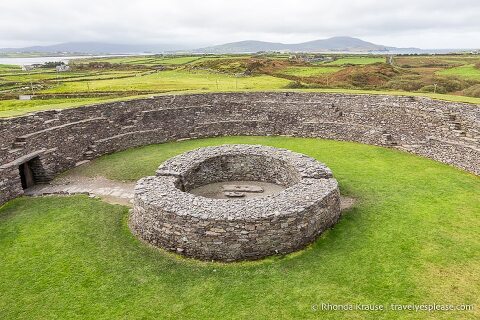 Leacanabuaile dates from the 9th or 10th century and encompasses several small, stone buildings, of which only walls remain.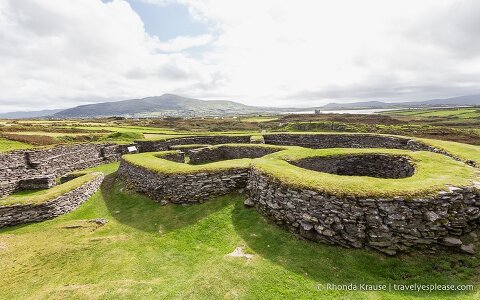 Reask Monastic Site
Reask Monastic Site is not one of the best known ruins in Ireland, but it's a pleasure to visit when driving the Dingle Peninsula. 
The history of Reask is largely a mystery, as there are no historical records of this early monastery, so what is understood about it was learned during excavations in the 1970s.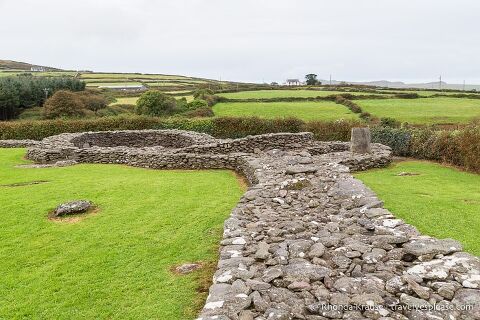 It's believed the monastery was founded in the 6th century, but there's no indication of how long it was occupied. What exists today is a low stone wall surrounding the limited remains of beehive huts, an oratory, and what might have been a workshop. There also is a cemetery with lintel graves and a possible shrine site.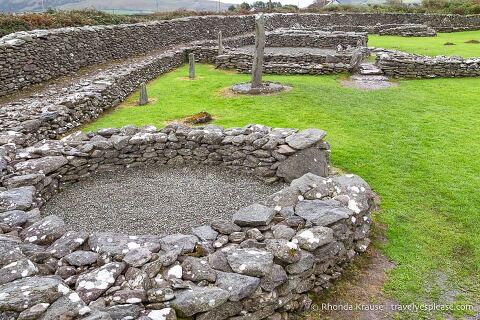 Perhaps the most interesting discovery at the Reask Monastic Site are several pillar stones inscribed with beautiful cross designs. Only one of these cross-inscribed stones is in its original position from the second half of the 6th century.
More Ancient Sites in Ireland
During my first trip to Ireland I was able to visit a lot of ancient Irish sites, but there are plenty more I was interested in but didn't get a chance to see. Here are some more archaeological sites in Ireland I'd like to visit one day:
Skellig Michael- a monastery with beehive huts on the summit of a steep rock island in the Atlantic
Carrowmore Megalithic Cemetery- over 35 passage tombs that are the oldest and densest concentration of Neolithic tombs in Ireland
Hill of Tara- site of a Stone Age passage tomb that later became seat of the high kings of Ireland
Drombeg Stone Circle- an axial stone circle with 17 pillar stones
Céide Fields- Neolithic site overlooking the Atlantic with the world's oldest known stone-walled fields
Loughcrew Cairns- group of Neolithic passage tombs situated around the summit of several hills
Clonmacnoise- a 6th century monastery with remains of a cathedral, churches, round towers, high crosses, and grave slabs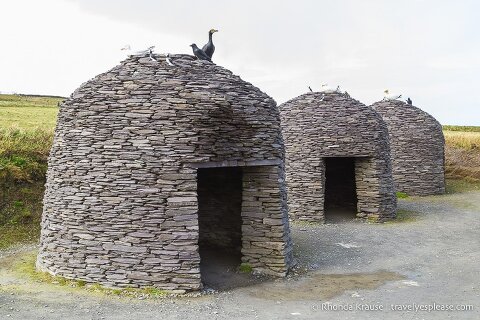 Final Thoughts About Visiting Ancient Ruins in Ireland
Visiting ancient sites in Ireland was a wonderful way to learn about the country's past. The sites not only had fascinating histories and evocative ruins, but were located in scenic locations too. This combination of ancient history, crumbling architecture, and beautiful landscapes made exploring Irish ruins my favourite thing to do during my road trip around the island.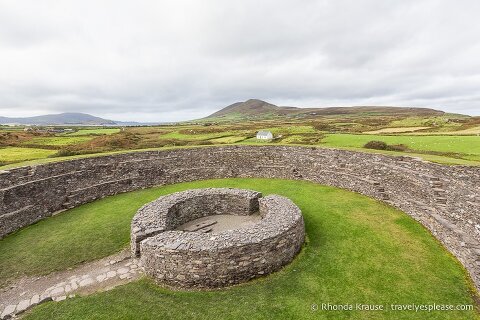 Tips for Visiting Archaeological Sites in Ireland
Allow Plenty of Time: Sometimes I really underestimated the amount of time I would want to spend at the ruins in Ireland. Even though some were not much more than partial stone walls, they had a unique atmosphere that was hard to tear myself away from. They were great places to just sit and take in the beauty and history of Ireland!
I recommend leaving some room in your itinerary for unplanned stops at ruins that catch your eye when driving.
Bring a Guidebook: Some of the sites I visited had limited information explaining their history or significance. It helps to have a good guidebook or to research what you will be seeing in advance.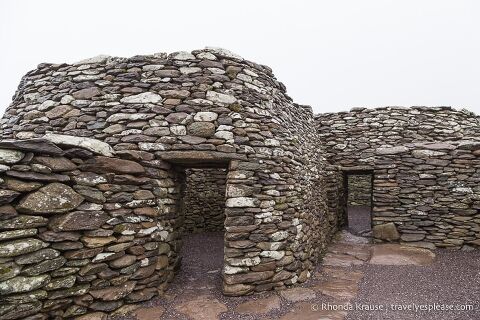 Tours in Ireland
Here is a trusted site that has a large selection of tours in Ireland. You can book everything from day trips out of Dublin, full-day regional tours, walking tours, and multi-day tours.
Accommodations in Ireland
For your convenience, here is a list of hotels and B&Bs in Ireland. Please consider booking your Ireland accommodations through the included link. It costs nothing extra and helps support this website. Thank you!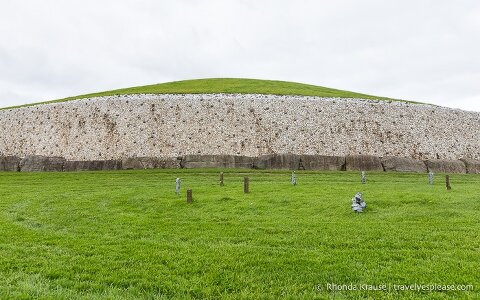 More Ireland Destinations and Travel Guides