Purchases made through links earn us a small commission, at no extra cost to you.
I've never met anyone who's done a road trip in Ireland and not loved it. After spending 2 weeks in Ireland, I am now one of those people.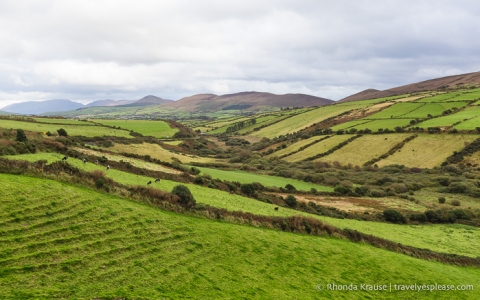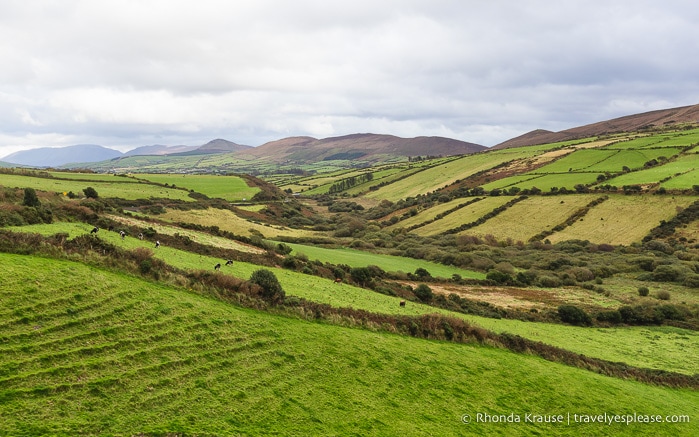 My 2 week road trip in Ireland had it all: postcard-worthy landscapes, fascinating ancient sites, evocative ruins, gratifying outdoor adventures, colourful small towns, delicious food, lively music, fun legends and welcoming, friendly locals.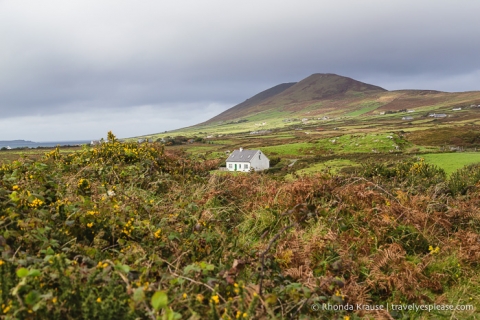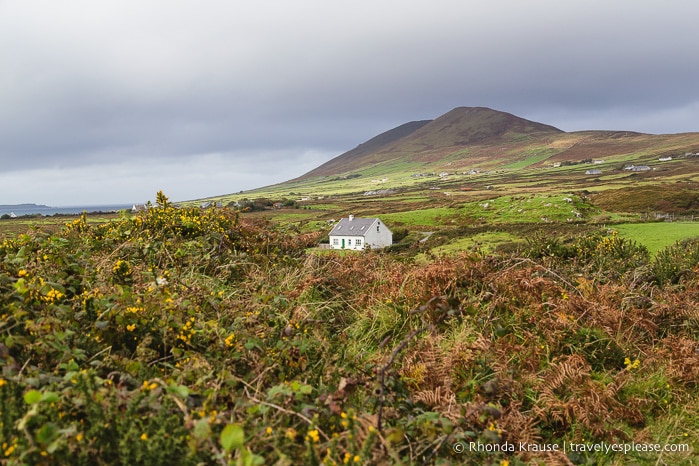 There was only one thing missing- good weather.
No, you definitely don't go to Ireland for the weather. In late September/early October I experienced a lot of rain, strong winds, even some hail.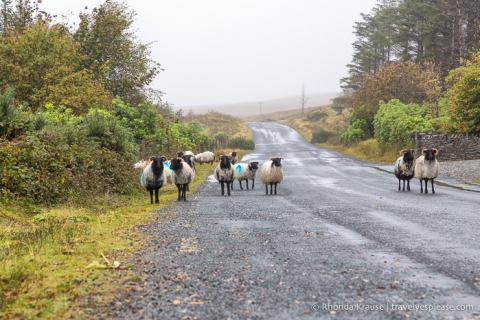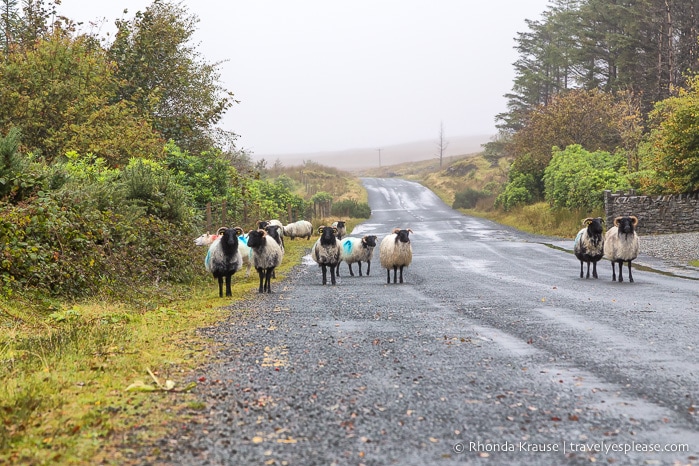 But with all that rain came some of the prettiest rainbows, arching over a patchwork of green fields and rugged coastlines. I couldn't help but smile because that is exactly what I was hoping Ireland would look like!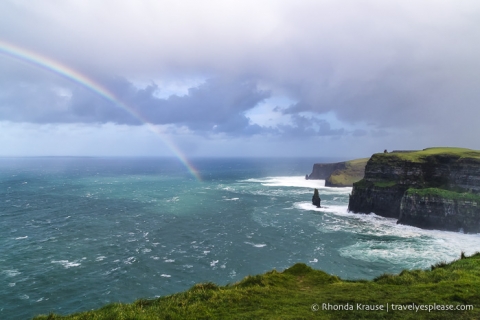 Two Weeks in Ireland- My Ireland Road Trip Itinerary
The itinerary I put together for my solo road trip around Ireland had a specific theme- beautiful landscapes, outdoor activities and archaeological sites.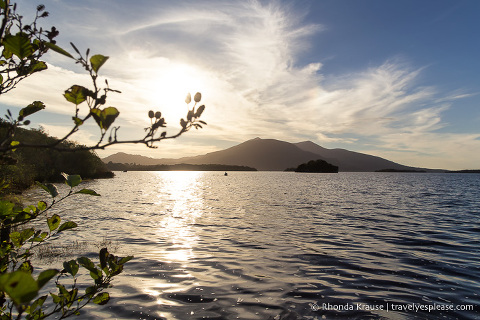 I didn't spend much time getting to know Ireland's cities or towns. It was usually after 5:00 pm once I arrived at my final destination for the day and the only thing I cared about was finding a warm, hearty meal, then getting a full night's sleep at my B&B. Most mornings I was on the road by 8:00 or 8:30 am.
If you're interested in Ireland's historic sites and diverse landscapes, then this itinerary should be a good source of inspiration. I hope it helps you plan your own 2 week road trip in Ireland!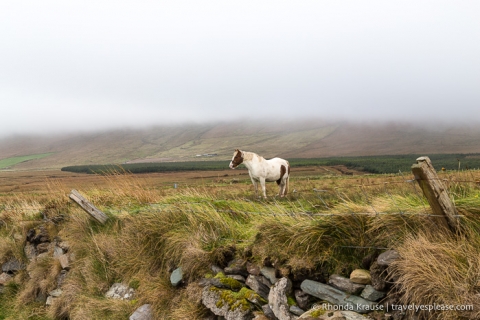 Ireland Road Trip Map
Here's a map of my 2 week road trip in Ireland. I travelled around the island clockwise, starting and ending in Dublin.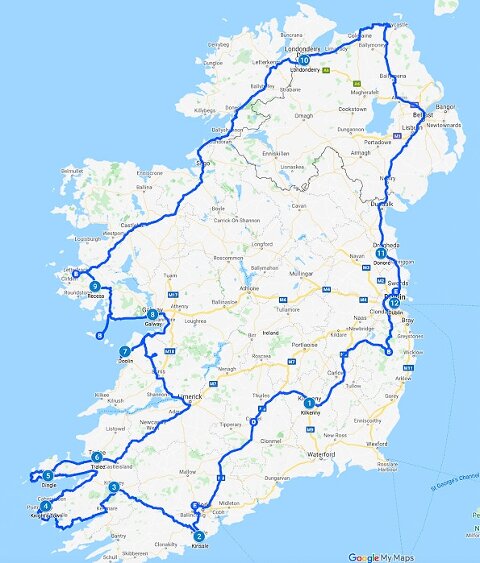 Day 1: Drive Dublin to Kilkenny via the Wicklow Mountains
Stop at Glendalough
My flight arrived in Dublin just after 6:00 am. After clearing customs, I picked up my rental car at the airport then immediately headed out on my 2 week road trip in Ireland. I began with a scenic drive through the Wicklow Mountains, making a stop at Glendalough monastic site. I arrived in Kilkenny with enough time to visit the castle before settling in for the night.
Approximate drive times: Dublin to Glendalough- 1 hr 42 mins, Glendalough to Kilkenny- 1 hr 25 mins
Glendalough
Glendalough monastic site was a great introduction to the ancient history and natural beauty that make Ireland so intriguing.
I spent a lot of time admiring the stone buildings (a highlight of which is the very tall round tower) and wandering among the headstones and Celtic crosses in the cemetery. There also is a tree-shaded walking path that follows alongside the Lower Lake to the larger Upper Lake where you'll find a few more sites of historic interest.
Read more: Glendalough Monastic Site- One of Ireland's Premier Monastic Settlements
Kilkenny Castle
Kilkenny Castle dates back to the 12th century, but its appearance today is largely from the Victorian period.
I toured the inside and saw a few furnished rooms, none of which stood out as much as the Long Gallery. The timber roof and its colourful designs were a bright spot in an otherwise average interior.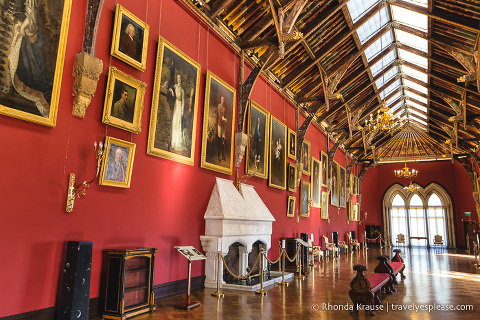 Day 1 Hits & Misses
Hits:
Driving the narrow Military Road through a remote region of the Wicklow Mountains. The sense of isolation and peacefulness was a relaxing way to start my trip.
The picturesque location of Glendalough. It was just like what I had imagined Ireland to be!
Misses:
Kilkenny Castle was mediocre and didn't make a lasting impression. In hindsight, I would have rather spent more time exploring the Wicklow Mountains and nature trails at Glendalough.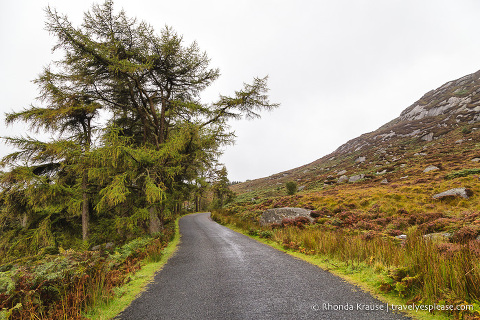 Day 2: Drive Kilkenny to Kinsale
Stops at the Rock of Cashel and Blarney Castle
Today was all about ancient sites and architecture. I first visited the Rock of Cashel and nearby ruins of Hore Abbey, then continued on to Blarney Castle, home of the famed Blarney Stone. Once in Kinsale, I went for a short walk (in the pouring rain) around the downtown and harbor area, stopping in at a pub for dinner.
Approximate drive times: Kilkenny to Cashel- 1 hr, Cashel to Blarney- 1 hr 20 mins, Blarney to Kinsale- 42 mins
Rock of Cashel
When the Rock of Cashel first came into view it made me gasp.
Towering over the surrounding fields was this green hill, its exposed rock perfectly matching the ancient stone buildings that prominently, yet delicately, stood on top of it. A 13th century Gothic cathedral, 12th century Romanesque chapel, round tower, ancient cemetery- all were surrounded by ancient fortifications.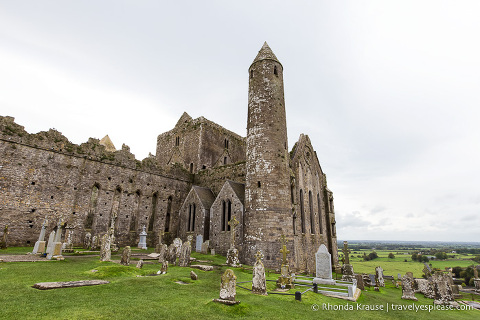 I fell so in love with this place that I ended up spending hours here. I took my time exploring the site, then went for a walk along the bottom of the hill to view it from different angles.
By the end of my 2 weeks in Ireland, the Rock of Cashel remained my favourite archaeological site.
Read more: The Rock of Cashel- One of Ireland's Most Magnificent Ancient Sites
Hore Abbey
Standing alone in a farmer's field are the incredible remains of the 13th century Hore Abbey. I loved having the site all to myself and was impressed by how beautiful the architecture was, even in its ruined state.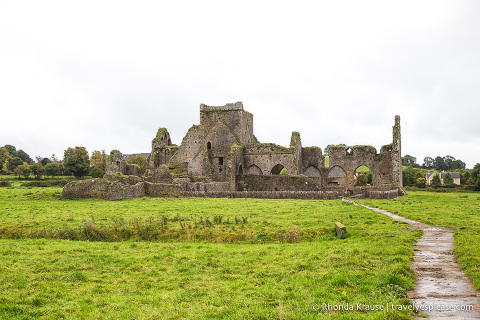 As I walked around on this gloomy morning, I had a little bit of nervous energy sensing that perhaps this place was haunted. It felt even more chilling when a large flock of black birds suddenly flew overhead and landed in a tree in the cemetery. Creepy!
Hore Abbey is only a short walk from the Rock of Cashel, but feels miles away from the tour bus crowds that flock to its famous neighbour.
Read more: The Atmospheric Ruins of Hore Abbey
Blarney Castle
Blarney Castle is not much more than an empty stone tower, but it's still fun to visit if you don't mind a good cliché.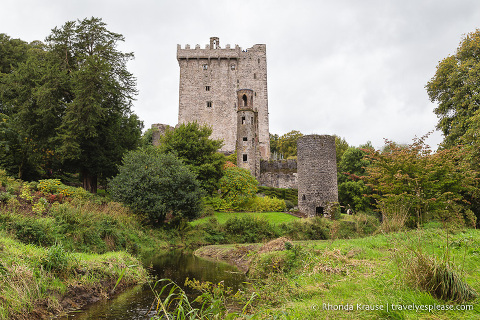 Kissing the Blarney Stone is one of those touristy things you feel like you have to do. It was the fear of missing out on a unique, albeit silly, Ireland travel experience that made me put my lips on this germ covered stone in hopes of getting the gift of gab.
The Blarney Stone may be the main attraction, but it was the gorgeous grounds that were the highlight of my visit. I was not expecting there to be such a large area of parkland to explore. While I missed out on much of it, I did take the time to visit the enchanted Rock Close.
Day 2 Hits & Misses
Hits:
The mysterious, moody (and slightly spooky) atmosphere of Hore Abbey, especially during an early morning rain.
The imposingly beautiful architecture of the Rock of Cashel.
The gardens at Blarney Castle, especially the folklore of the Rock Close.
Misses:
Underestimating how much time I would want at Blarney Castle.
Too much rain to enjoy, or even take a picture of Kinsale. I got completely soaked, even being under an umbrella!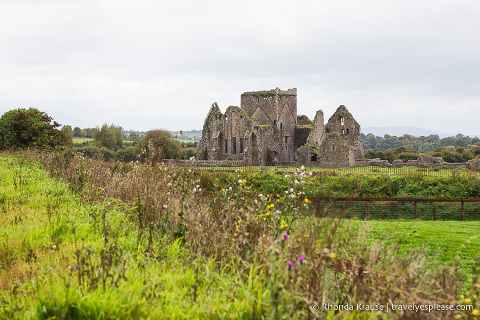 Day 3: Drive Kinsale to Killarney
Explore Killarney National Park and the Gap of Dunloe
After two days of visiting ancient sites, I was eager to enjoy some outdoor activities. The majority of my day was spent exploring Killarney National Park and the adjacent Gap of Dunloe.
Approximate drive time: Kinsale to Killarney- 1 hr 33 min
Killarney National Park
Killarney was a favourite stop on my 2 week Ireland road trip, thanks to its lovely national park. It had everything I love- big trees, calm lakes, wildlife, mountains, waterfalls, pretty stone bridges, a castle, even ruins. To me, it was perfection.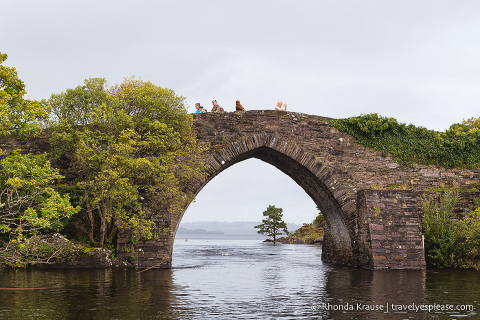 My day started with a boat trip on the lakes followed by a scenic cycle through the Gap of Dunloe. The views were fantastic and best of all the sun was shining!
I spent the rest of my time in Killarney further exploring the national park by foot, making sure to see Ross Castle illuminated at night. So pretty!

Read more: The Gap of Dunloe- Boat and Bike Trip from Killarney, Killarney National Park Photo Series
Day 3 Hits & Misses
Hits:
The boat tour through the lake. My guide was excellent and had such passion for the National Park.
Biking through the Gap of Dunloe (the downhill portion).
Misses:
Biking uphill to the Gap of Dunloe. It was so hard, especially with my terrible cardio endurance and the lousy bike I rented. Next time I'm going electric!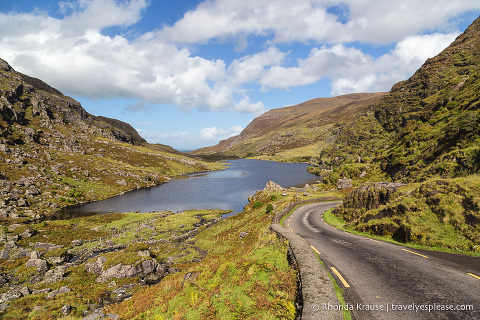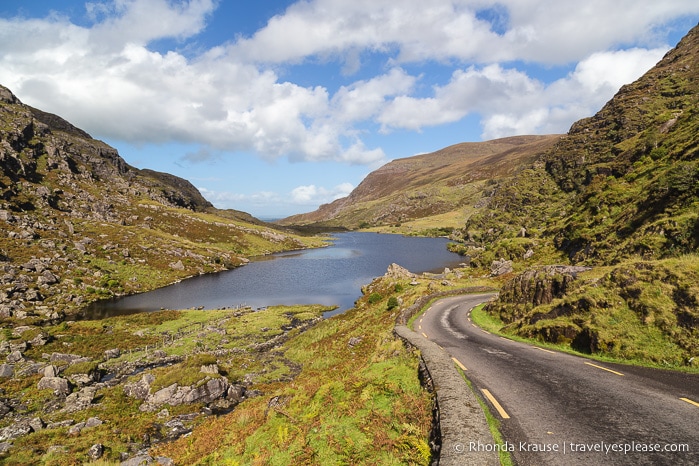 Day 4: Drive the Ring of Kerry and Skellig Ring to Valentia Island
Stops at Ladies View, Moll's Gap, and the Kerry Cliffs
This was a driving day, but with plenty of stops for photo opportunities and short walks. Starting in Killarney, I drove clockwise on the Ring of Kerry about halfway before turning off onto the less frequented Skellig Ring. I stayed overnight in Knightstown, on Valentia Island, which was close to the departure point in Portmagee for the Skellig Michael tours.
Approximate drive time: Killarney to Knightstown- 2.5 hrs (without stops)
Ring Of Kerry
The Ring of Kerry is one of Ireland's most well known scenic drives, and for good reason.
Starting in Killarney, this circuit of the Iveragh peninsula narrowly winds through the mountains, travelling alongside the lakes before arriving at Ladies View and Moll's Gap at the summit.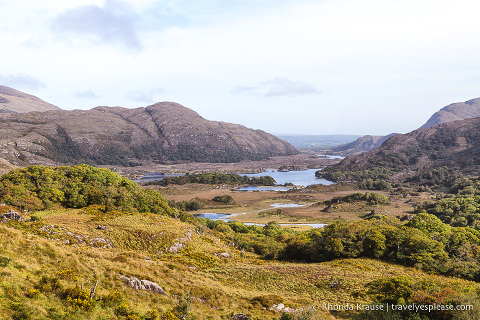 From there the road travels down towards Kenmare Bay, following the rocky coastline past small towns, beaches and islands towards Waterville.
I didn't stop at any of the towns along the Ring of Kerry because they were quite busy with the tour bus crowd, but I did appreciate the lovely coastline scenery.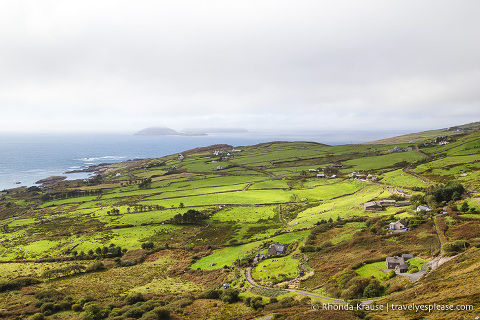 Read more: Driving the Ring of Kerry- Points of Interest and Scenic Detours
Skellig Ring
A short ways past Waterville, I turned off the Ring of Kerry onto the lesser-travelled Skellig Ring. The scenery continued to be fantastic (maybe even more so) and the lack of big tour buses made it more pleasurable to drive.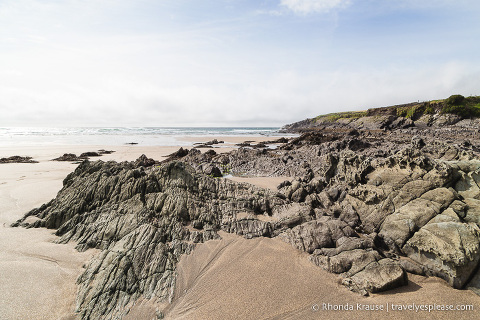 The highlight of the Skellig Ring was definitely the Kerry Cliffs, near Portmagee. They were not mentioned in my guidebook so it was an exciting surprise to come across them. They were so rugged, and in my opinion, more interesting to look at than the famous Cliffs of Moher.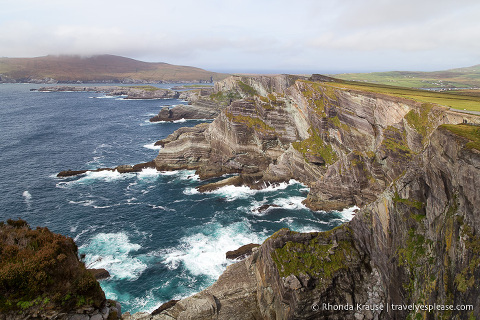 Day 4 Hits & Misses
Hits:
The dramatic appearance of the Kerry Cliffs.
The scenery around Moll's Gap, Ladies View and throughout Killarney National Park.
Misses:
Feeling like I was following the tourist trail.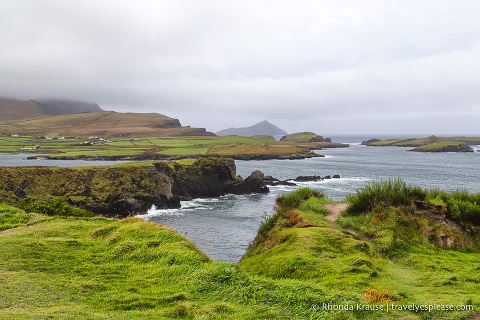 Day 5: Finish Driving the Skellig Ring and Ring of Kerry to Dingle
Stops at Ballycarbery Castle, Ring Forts, and Inch Beach
I had tickets to go on a landing tour of Skellig Michael for my birthday, but unfortunately the wind and rain made for unsafe sea conditions and the tour was cancelled (which frequently happens). So instead, I took my time completing the Skellig Ring and Ring of Kerry, arriving in Dingle late afternoon.
Approximate drive time: Knightstown to Dingle- 1 hr 55 min (without stops)
Ballycarbery Castle
Back on the Ring of Kerry, I made another short detour at Cahersiveen to go to Ballycarbery Castle.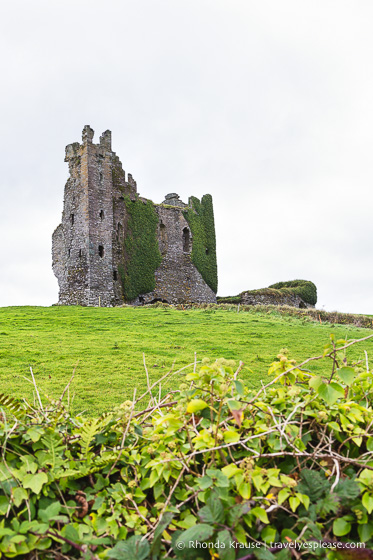 It's a small, picturesque ruin with vines growing up its crumbling stone walls. The castle is fenced off so you can't get up-close, but I liked that because then I could easily get pictures without people in them.
Cahergall and Leacanabuaile Ring Forts
If you only see one ring fort in Ireland, then it has to be Cahergall. I had no idea what to expect and was blown away by the sheer size of it. I didn't even bother stopping at other ring forts I passed because I could tell they didn't compare to Cahergall.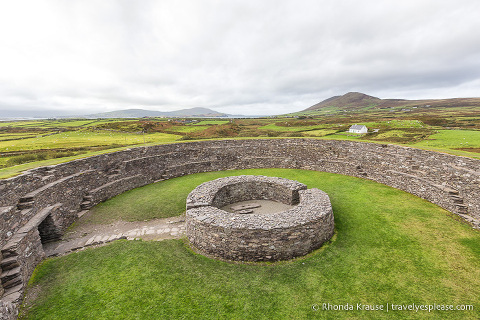 A short walk away is the smaller Leacanabuaile fort. It doesn't have as much wow factor, but was interesting to see the remains of four houses on the interior.
Read more: Visiting Cahergall and Leacanabuaile- Irish Stone Ringforts
Inch Beach
My first stop on the Dingle Peninsula was Inch Beach. It's popular with surfers and has a wide sandy shore stretching for 5 kms. I didn't do much here except walk down to the water's edge and then leave.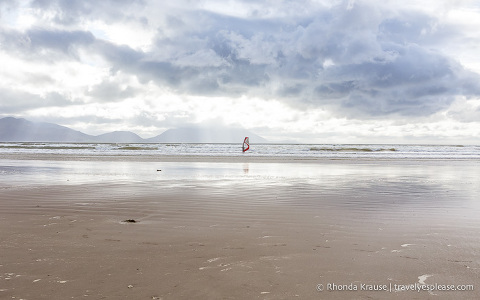 Dingle Town
Dingle is a charming little seaside town and I'm glad I arrived early enough to enjoy it before it got dark.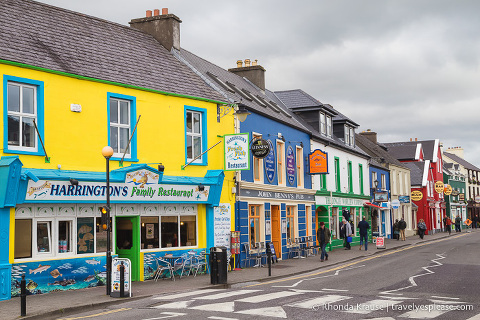 I mostly hung out on the colourful main street across from the harbor. I treated myself to a birthday sundae at Murphy's (their famous ice cream is handmade right in Dingle), enjoyed a fantastic roast turkey and ham dinner at a pub, then took in some acoustic Irish folk music at a small music shop.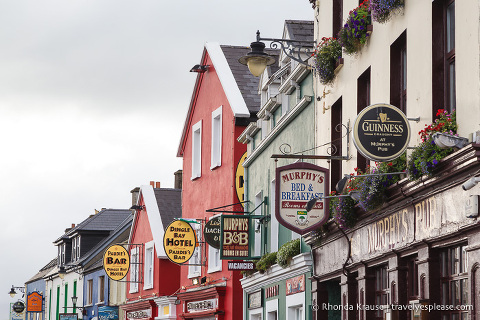 Day 5 Hits & Misses
Hits:
Lingering at the ring forts and reflecting on how incredible Ireland had been so far.
Misses:
My Skellig Michael landing tour getting cancelled. It was the place I most looking forward to visiting during my two weeks in Ireland.
The Skellig Experience centre (on Valentia Island, directly across from Portmagee). There's a lot you can learn about Skellig Michael, but the displays aren't very inviting and need to be modernized. The short movie is okay. The majority of the centre is dedicated to a café and gift shop and overall does not live up to the hype.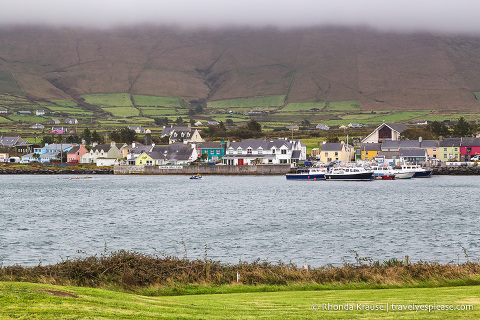 Day 6: Slea Head Drive on the Dingle Peninsula, Drive to Tralee via Connor Pass
Stops at Dunbeg Fort, Beehive Hut, Reask Monastic Site, Gallarus Oratory, and Connor Pass
The Dingle Peninsula's Slea Head is another one of Ireland's famous drives. I didn't get anywhere very fast, pulling over every few minutes to admire the beautiful landscape and historic sites. I originally planned to cycle the Slea Head, but some miserable weather in the morning changed my mind.
Approximate drive times: Slea Head Drive beginning and ending in Dingle town- 1 hr 20 mins (without stops), Dingle town to Tralee- 54 mins
Slea Head Drive
The Slea Head was a pleasure to explore, even though fog was impeding some of the views. There is a large concentration of ancient Irish sites including beehive huts, a promontory fort, monastic settlement and well preserved oratory.
Besides historic sites, there are also some fine beaches and viewpoints. Coumeenoole Beach at Dunmore Head was a great (and popular) place to stop for a break and short walk.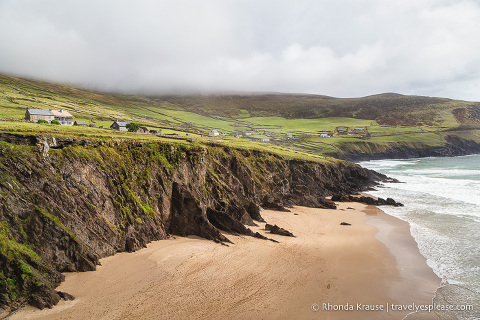 Connor Pass
It's not the fastest route to Tralee, but travelling through Connor Pass is definitely the most scenic.
At 456 metres, Connor Pass is Ireland's highest mountain pass road. At the top there is a parking area where you can pull over to take in sweeping views of the Dingle Peninsula.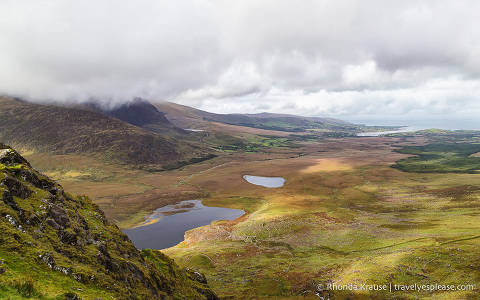 Read more: Driving the Dingle Peninsula- Points of Interest
Day 6 Hits & Misses
Hits:
Having so many choices of archaeological sites to visit along the Slea Head Drive. The beehive huts and monastic settlement were my favourites.
Misses:
Dunbeg Fort wasn't nearly as impressive as my guidebook made it sound. However, the 10-minute video in the visitor centre was interesting enough to make up for my disappointment.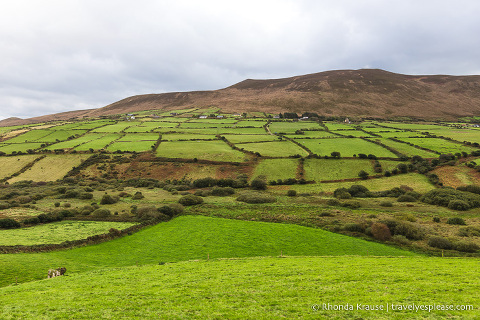 Day 7: Drive Tralee to Doolin
Stops at Burren National Park, Poulnabrone Dolmen
The Burren was the most unique and surprising landscape I saw in Ireland, so I'm glad I dedicated an entire day to exploring it. I did a fantastic hike in the National Park and then stopped at Poulnabrone Dolmen, a Neolithic/Bronze Age tomb, before driving to Doolin for the night.
Approximate drive times: Tralee to Burren National Park- 2 hrs 8 mins, Burren National Park to Poulnabrone Dolmen- 20 mins, Poulnabrone Dolmen to Doolin- 37 mins
Burren National Park
There are so many great walks you can do in the Burren, but I chose to go for a hike in the National Park. I did a 3-hour loop across the remote limestone landscape, traversing many slippery rocks on my way to the summit of Mullaghmore Mountain.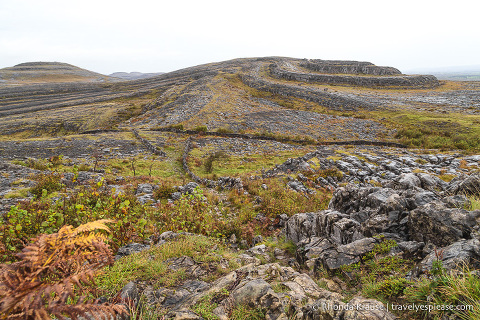 I was very much captivated by the harsh, rocky landscape- it's definitely not the green fields of Ireland you see in postcards! The surprising views and challenging trail made Burren National Park another top stop on my 2 week Ireland road trip.
Read more: Hiking in Burren National Park
Poulnabrone Dolmen
Poulnabrone dolmen (the Portal Tomb) was built over 5000 years ago and is believed to be the burial place of at least 33 people.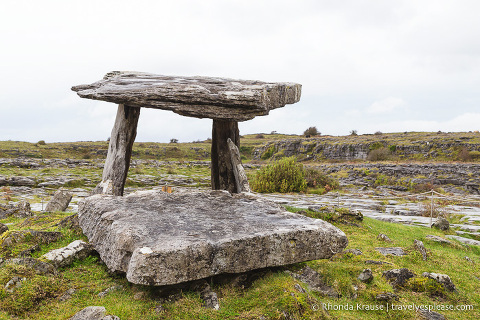 The dolmen, made up of a large slab (capstone) perched across upright portal stones, is really eye-catching, especially when surrounded by the Burren's flat, cracked rocky land. A definite must-see when in the Burren!
Day 7 Hits & Misses
Hits:
The unconventional beauty and remoteness of the Burren.
Misses:
Busloads of people arriving at the dolmen took away from its special atmosphere.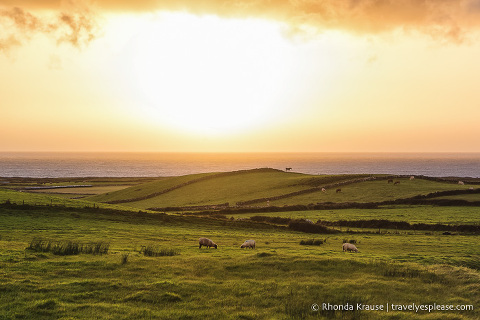 Day 8: Drive Doolin to Galway
Stops at Cliffs of Moher, Corcomroe Abbey
I dedicated this day to doing the 13 km Cliffs of Moher Coastal Walk, from Hags Head to Doolin, but because of unrelenting and extreme winds, was only able to complete the southern portion. Having some extra time on my hands, I stopped at the ruins of Corcomroe Abbey in the northern Burren, en route to Galway. In Galway I briefly walked around the City Centre before settling in for some live music at one of the pubs.
Approximate drive times: Cliffs of Moher Visitor Centre to Corcomroe Abbey- 46 mins, Corcomroe Abbey to Galway- 48 mins
Cliffs of Moher
The Cliffs of Moher quite literally almost knocked me off my feet. It was insanely windy, but that that didn't stop me from appreciating one of Ireland's most iconic landscapes.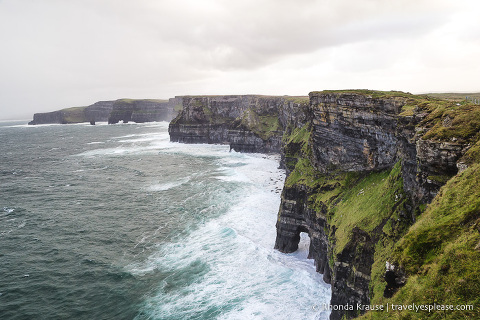 The Cliffs of Moher are so tall, rising up to 214 metres in places then making a near vertical drop into the ocean. Even on a misty morning, the views were impressive.
The best part of my visit to the Cliffs of Moher was walking the coastal trail, even though I didn't get to complete the entire route as planned. Once you get closer to the visitor centre the crowds can be overwhelming, so it was nice to feel like I had stumbled upon a cool place that no one else knew about.
Read more: Cliffs of Moher Coastal Walk
Corcomroe Abbey
The ruins of Corcomroe Abbey are very pretty, well worth a stop on the way to Galway.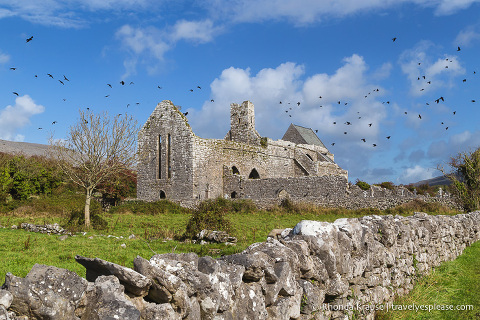 This Cisterian abbey dates back to 1194, when it was founded by Donal Mor O'Brien, King of Thomond. The small courtyard is crowded with graves, both from long ago and more modern times.
Day 8 Hits & Misses
Hits:
Having the Cliffs of Moher coastal trail all to myself.
Listening to some great live music in a Galway pub.
Misses:
The crowded visitor centre at the Cliffs of Moher.
Not connecting with Galway, a city most people rave about.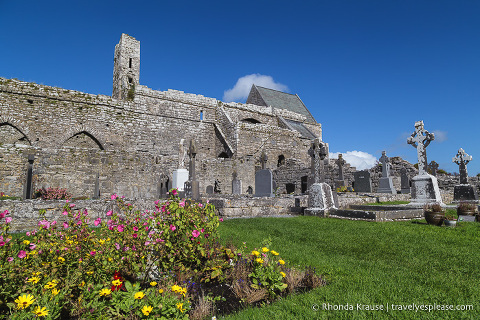 Day 9: Ferry to Inishmore (Aran Islands), Drive to Connemara Region
After catching a ferry from Rossaveal to Inishmore (Inis Mor), I rented a bike and spent the rest of the day exploring the largest of the Aran Islands. The return ferry left at 5:00 pm, then I drove towards Connemara stopping at Maam Cross for dinner and overnighting in the blink-and-you'll-miss-it town of Recess.
Approximate drive times: Galway to Rossaveal- 45 mins, Rossaveal to Recess- 36 mins.
Inishmore
It's no surprise that I fell in love with Inishmore because it offered that far-away-from-everything feeling I'm so fond of. Biking amongst the stone walls and fields of Inishmore, I discovered prehistoric forts, ruined stone churches, striking cliffs, and a unique natural wonder known as the Worm Hole.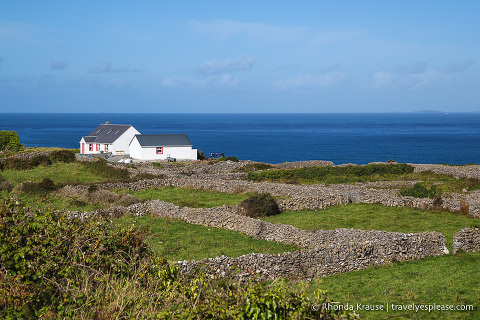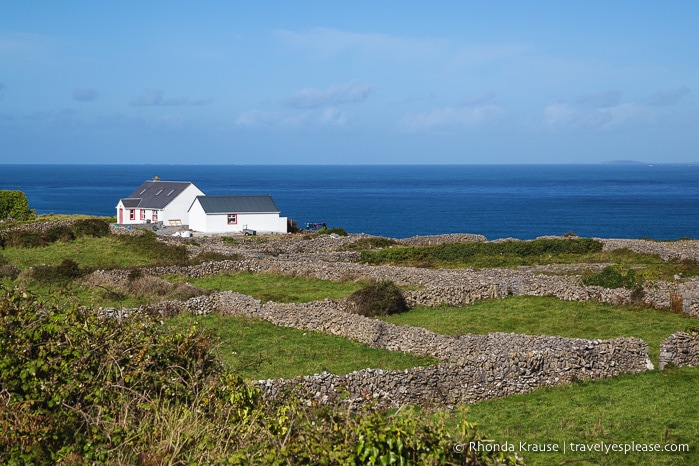 While Inishmore made for a wonderful day trip, I could have easily spent another day here searching for hidden gems on this small, but fascinating island.
Read more: Day Trip to Inishmore
Day 9 Hits & Misses
Hits:
Dun Aengus fort and the spectacular views from its cliff top location.
The freedom of exploring the island by bike.
Misses:
I wish the ferry left Rossaveal earlier than 10:30 am because I really could have used a few more hours on Inishmore.
No restaurants in Recess. There's one place at Maam Cross to eat (which is about 10 minutes away), otherwise you'll have to drive to Clifden on the coast.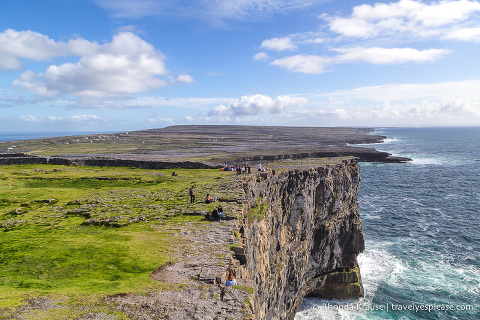 Day 10: Drive Recess to Derry (a.k.a. Londonderry)
Stops at Connemara National Park, Kylemore Abbey
In the morning I drove through the Lough Inagh Valley, which would have offered great views of the Twelve Bens mountain range had it not been raining so much. I still did a hike in Connemara National Park, then stopped at Kylemore Abbey for a photo before beginning the long drive to Derry in Northern Ireland.
Approximate drive times: Recess to Connemara National Park- 29 mins, Connemara National Park to Derry- 4 hrs 8 mins
Connemara National Park
Wild and untamed, Connemara is a region of bogs, heath, mountains, valleys, and lakes. Even though much of the views were concealed by fog, I could still tell it was a breathtaking landscape.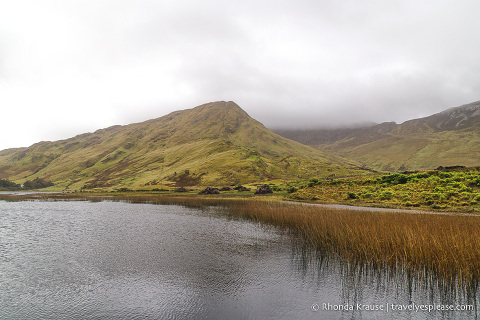 I really enjoyed my hike on Diamond Hill in Connemara National Park, in spite of the sideways rain coming at me. There's also a good visitor centre that provides information on the park's geology, flora, and fauna.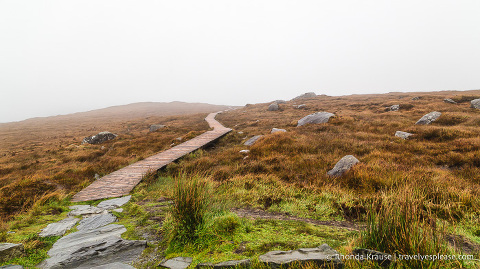 Kylemore Abbey
This lakeside neo-gothic abbey looks somewhat out of place against Connemara's untouched natural landscape, but is photogenic nonetheless (when not covered by scaffolding, that is).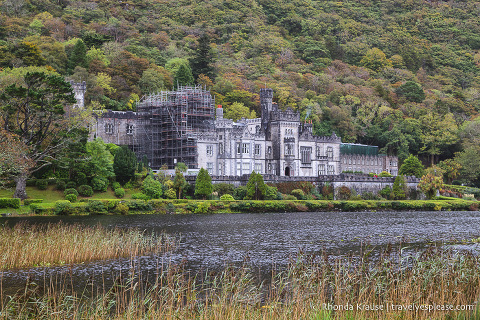 I only stopped for a photo, opting not to pay the €13 to access the abbey and its garden. I knew that only a few rooms were open to the public, and why pay a big fee to walk around in the rain when I just did that for free at the National Park!
Day 10 Hits & Misses
Hits:
Hiking in Connemara National Park.
The scenic drive through Connemara's interior.
Misses:
Kylemore Abbey being partially covered by scaffolding and the high admission fee.
Not scheduling enough time for Connemara in my itinerary. If I did another trip to Ireland, this would be the first region I'd return to.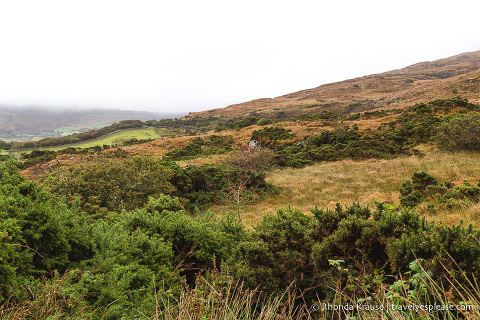 Day 11: Drive Derry to Donore
Stops at Giant's Causeway, Dunluce Castle, Carrick-a-Rede Rope Bridge, Dark Hedges
This day was dedicated to visiting some of the main tourist attractions in Northern Ireland, primarily around the Causeway Coast. Late afternoon I drove back to the Republic of Ireland, spending the night in Donore near the Brú na Bóinne Visitor Centre.
Approximate drive times: Derry to Giant's Causeway- 1 hr, Dark Hedges to Donore- 2 hrs 10 mins
Giant's Causeway
Although I can't gush about this place the way most people do, I will say that the Giant's Causeway is an interesting geological feature. These hexagonal basalt columns are so different from anything else in Ireland it's tempting to believe a mighty giant built the causeway, as local legend says.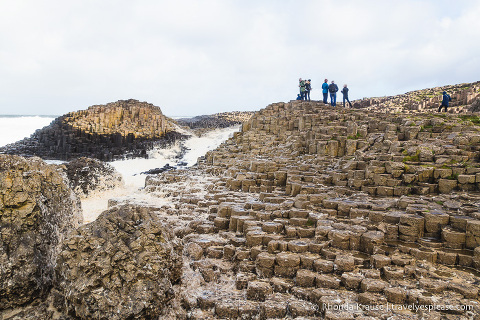 However, I was put off by the excessive fee of £10.50 (over $17 CAD) to park and access the visitor centre, which isn't much more than a gift shop, café, and washrooms. Add in some encounters with surly staff members and it didn't make for a good first impression of Northern Ireland.
Dunluce Castle
After visiting the Giant's Causeway, I backtracked a few kilometres to Dunluce Castle. Perched atop a rugged crag, this ruined castle looks as though it could fall into the ocean at any moment.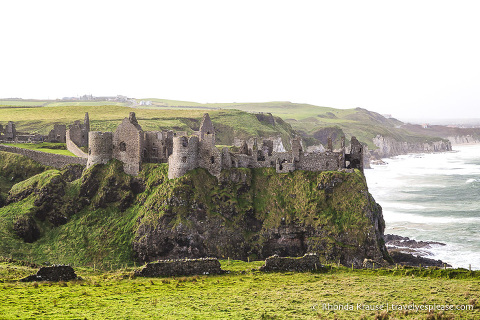 Dunluce Castle was worth seeing, but I felt satisfied viewing it from a distance and decided not to go inside.
Carrick-a-Rede Rope Bridge
The name pretty much says it all- this is a rope bridge spanning the small gap between the mainland and Carrick-a-Rede Island.
I'm glad I heard others voicing aloud what I was thinking when I first saw it, "That's it?"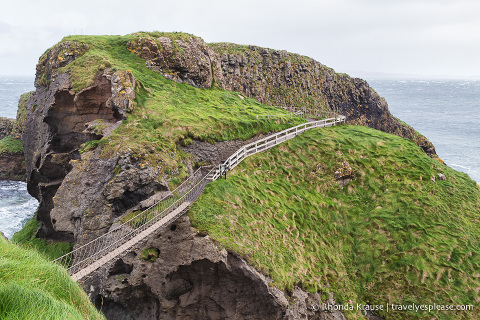 At 20 metres long, the bridge is a lot smaller than I, and apparently others, were expecting to see. Sure, the location was admirable, but I've been on plenty of more impressive suspension bridges back home in Canada.
I'm actually glad the bridge was closed because of the wind, since it saved me from spending money on doing something just to say that I did it. I honestly was more disappointed that the path to the best photo spot was unnecessarily closed.
Dark Hedges
I've long admired photographs of the Dark Hedges, a mysterious looking avenue of crooked beech trees planted in the 18th century.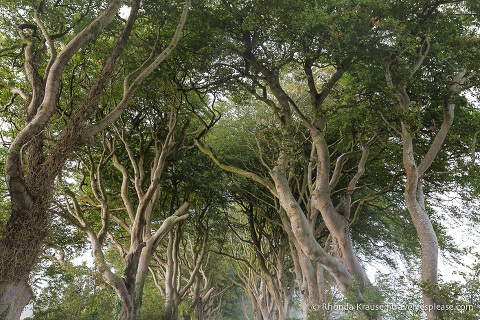 They've become hugely popular since being used as a filming location in the HBO series Game of Thrones, which means that what you see in photos is not necessarily what you'll experience in real life.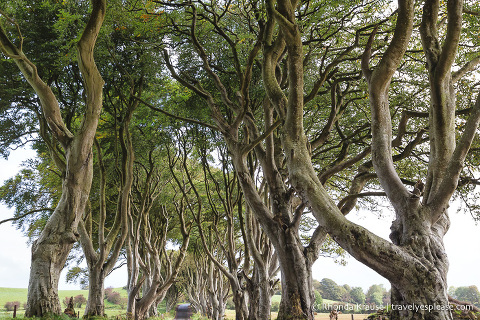 I spent a lot of time here trying to take a nice photograph but the endless parade of people and vehicles made it impossible to get a composition I was happy with. And of course, there's always got to be that one guy who drives to the most scenic part of the road and parks there, not noticing (or caring) that everyone else rightly chose to park at the end and walk up the road.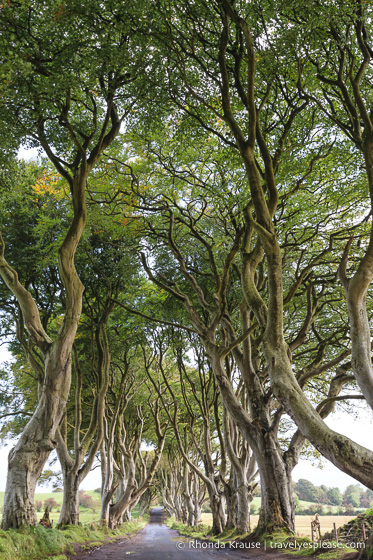 And for goodness sake, please do not carve your initials into these beautiful old trees. The destruction I saw is maddening!
Day 11 Hits & Misses
Hits:
The unusual geology of the Giant's Causeway.
Misses:
Feeling like most of what I saw was over-hyped and over commercialized. I'm probably in the minority here, but I didn't enjoy Northern Ireland. I much preferred the sights and easy-going mood in the Republic of Ireland.
My GPS taking me through Belfast during rush hour.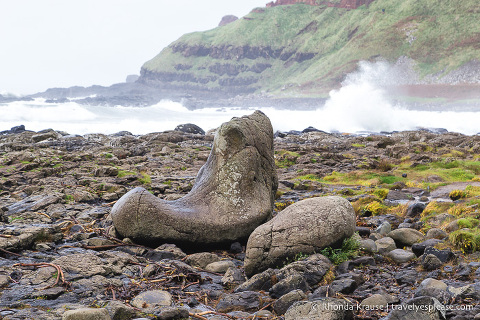 Day 12: Brú na Bóinne, Drive to Dublin
I arrived at Brú na Bóinne shortly before it opened and got on the morning tours of both Knowth and Newgrange tombs. It was between 1:00 and 1:30 pm when I left the Visitor Centre for Dublin. Once in Dublin, I returned my rental car at the airport and took the Airlink bus into the city.
Approximate drive times: Brú na Bóinne to Dublin airport- 31 mins
Brú na Bóinne
Brú na Bóinne is a Neolithic necropolis consisting of many different sites, but the main three are Knowth, Newgrange, and Dowth.
The tombs are large grassy mounds with inner passageways and chambers. They date from around 3200 BC, making them older than the pyramids in Egypt.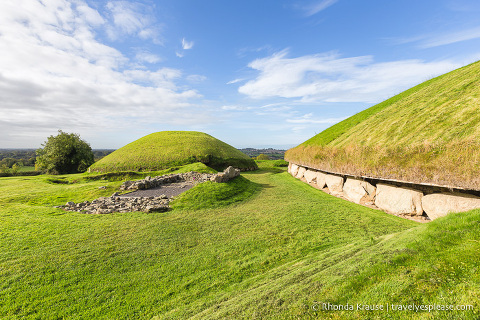 Newgrange is the most popular tomb, known for its white quartzite retaining wall, but Knowth has a large collection of megalithic art and some smaller satellite tombs. Both passage graves are worth visiting, but my favourite was Knowth.
Read more: Visiting Brú na Bóinne- Newgrange and Knowth Passage Tombs
Day 12 Hits & Misses
Hits:
Seeing the inner chamber of Newgrange.
Misses:
The tour group for Newgrange was bigger than Knowth, so it was a little hard to hear the guide talk.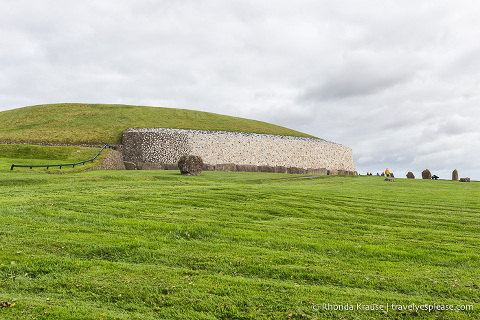 Day 13: Dublin
My last full day in Ireland was spent casually exploring Dublin. Even though I wasn't really a fan, I found a few sites of interest and went on an enjoyable free walking tour.
Dublin
Dublin doesn't have that one iconic tourist site that draws people to the city- it's more of a place to just wander and experience the atmosphere.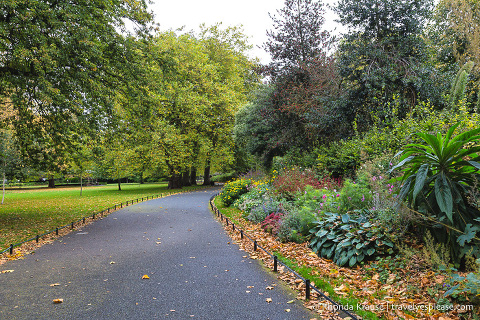 My morning started with a walk through St. Stephen's Green and the campus of Trinity College where I visited the beautiful Long Room in the Old Library.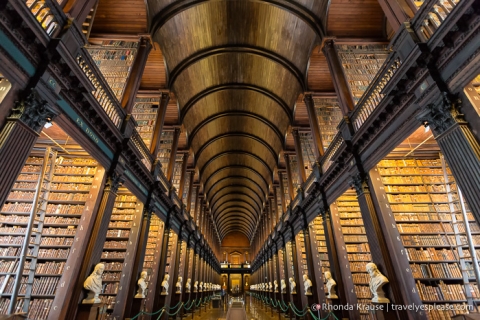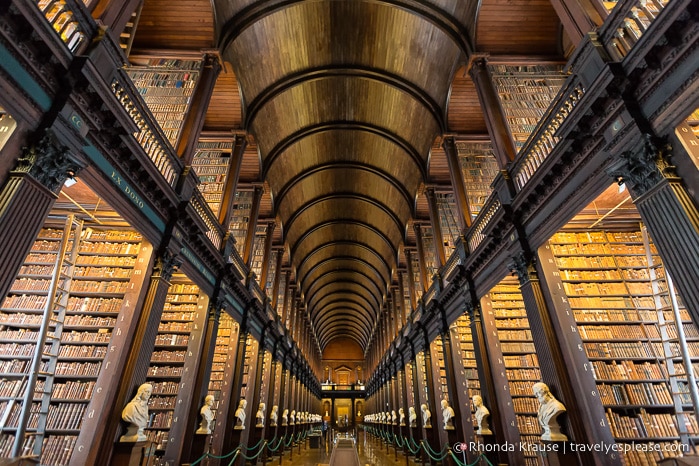 Afterwards I walked to Ha'Penny Bridge before strolling through the Temple Bar neighbourhood and joining a free 3-hour walking tour.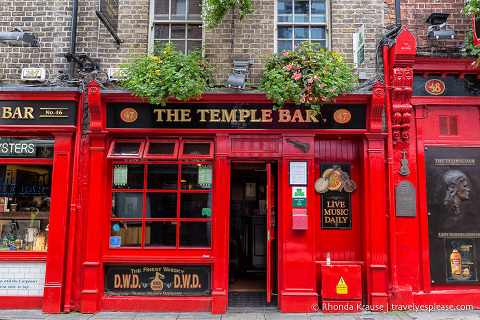 The highlight of my time in Dublin was visiting the National Archaeology Museum. There's a huge selection of artifacts and important cultural treasures on display, but most memorable were the "bog bodies", four eerily preserved bodies from the Iron Age that were found in the midland bogs.
Day 13 Hits & Misses
Hits:
Free admission to the archaeology museum.
Informative free walking tour of the city.
Misses:
The Book of Kells at the Old Library not being on display the day of my visit. Can you believe the vault it's kept in wouldn't open?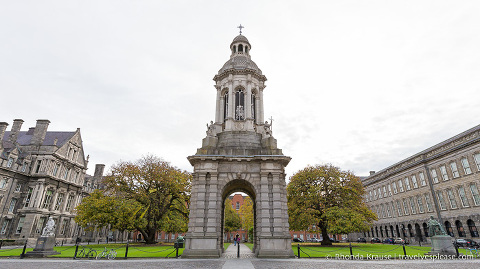 Final Thoughts on my 2 Week Road Trip in Ireland
So there you have it- my detailed road trip itinerary for 2 weeks in Ireland, plus some of the hits and misses along the way!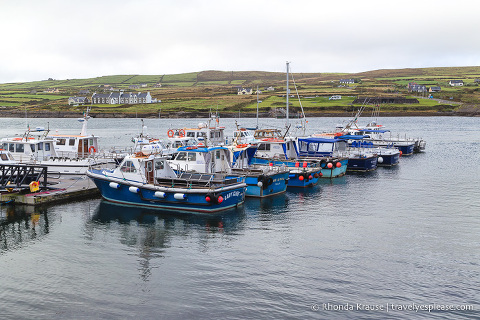 I very much enjoyed the freedom of exploring Ireland by car. Although it involved a lot of driving some days, there were plenty of interesting stops along the way to break it up.
In addition to the fantastic sightseeing, Ireland was a great place for solo travel. I always felt safe and confident exploring on my own, which is especially important when you're doing a road trip.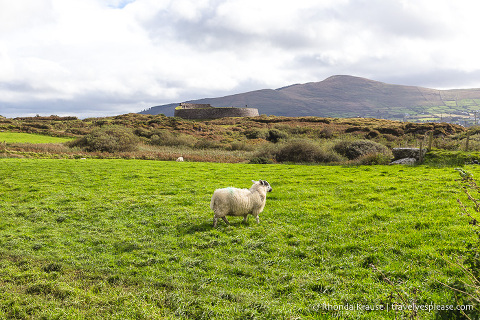 Sure, not everything went as planned and the weather was definitely not perfect, but those things were out of my control. The fact that I, a person who does not like wind or rain, was able to enthusiastically explore the country no matter the elements, speaks to how special a place Ireland is.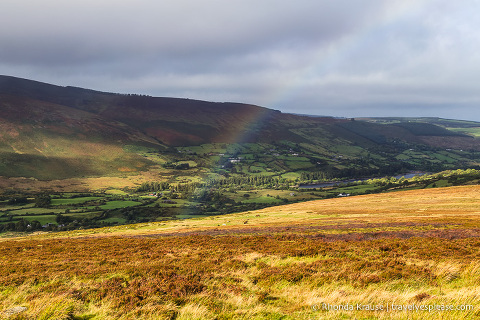 Would I Change Anything About my Ireland Road Trip Itinerary?
Overall, I was extremely satisfied with the itinerary I put together for my first trip to Ireland. Even with only 2 weeks in Ireland, I was able to see a large portion of the country, experiencing a variety of natural landscapes and range of historic sites.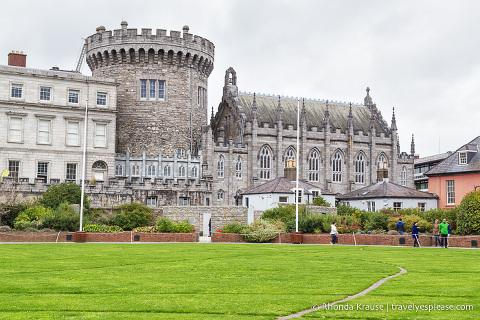 There's not much I would change about my Ireland road trip, other than to skip Northern Ireland in favour of another day in Connemara.
Apart from that, next time I would build in some "buffer days" for the locations I wanted to do hikes and bike rides. That way if the weather ruined my plans, I would at least have another day to (hopefully) make up for it.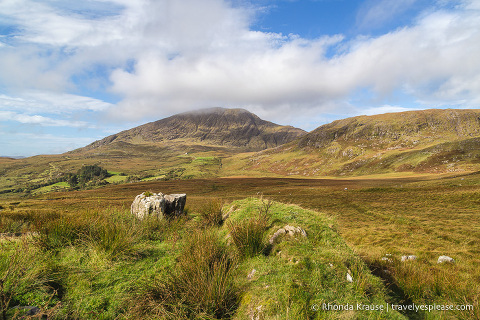 Must See Places on an Ireland Road Trip- My Top Experiences
I had to make some tough decisions when planning my Ireland road trip because there are so many incredible places to see. In hopes of helping you plan your own 2 week trip to Ireland, I've narrowed it down to my favourite places and activities.
Top Outdoor Experiences in Ireland
Boat and bike trip in Killarney National Park
Hiking in the Burren
Cycling around Inishmore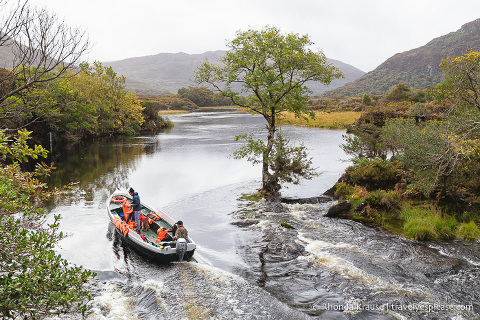 Top Historic/Archaeological Sites in Ireland
Rock of Cashel
Glendalough
Cahergall Ring Fort (County Kerry)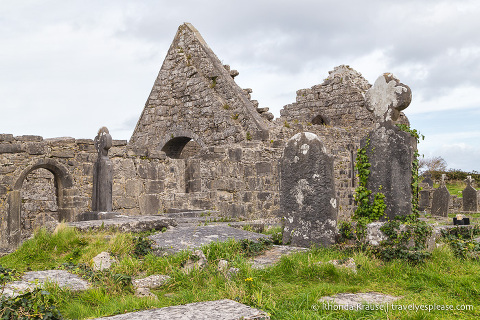 Video: 2 Weeks in Ireland
Here is a short video of highlights from my 2 weeks in Ireland.
Tips for Planning a Road Trip in Ireland
Don't try to cram a lot into one day (something I can be guilty of).

Drive times can take longer than expected due to narrow roads and getting stuck behind tractors, other slow moving vehicles, even sheep.
The posted speed limits are often much faster than is comfortable to drive (especially on secondary roads).
Allow yourself enough time to fully explore the sites, go for walks etc. I was surprised by how much time I wanted to linger at many the places I visited.

Plan for frequent stops. Ireland is very photogenic and you may stumble across some interesting things that aren't on your itinerary. Leave room for flexibility.
I used Google Maps on my phone for navigation and it worked well. No need to add on a GPS with the car rental.
The most efficient route is not necessarily the best. Getting off the main roads onto secondary and tertiary routes can take you through some wonderful countryside.
If there's a place you really want to do some outdoor activities, schedule a few days in the region so that poor weather is less likely to ruin your plans.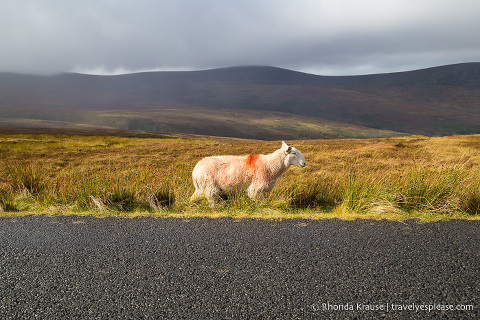 Accommodations in Ireland
For your convenience, here is a list of hotels and B&Bs in Ireland. Please consider booking your Ireland accommodations through the included link. It costs nothing extra and helps support this website. Thank you!
Tours in Ireland
Here is a trusted site that has a large selection of tours and tickets for activities in Ireland. You can book everything from day trips out of Dublin, full-day regional tours, walking tours, airport transfers, pub crawls, food tours, and multi-day tours. Here are a few highly rated tours related to what I've mentioned in this post.
Resources to Plan Your Trip to Ireland
Here are some resources to help you plan your Ireland road trip.
Click here if shopping from Canada.
Products I Use and Recommend for a Trip to Ireland
Waterproof outerwear is a must for a trip to Ireland. I was so glad I had waterproof pants and waterproof shoes that were sturdy enough for short hikes, yet lightweight enough to wear all day.
Click here if shopping from Canada.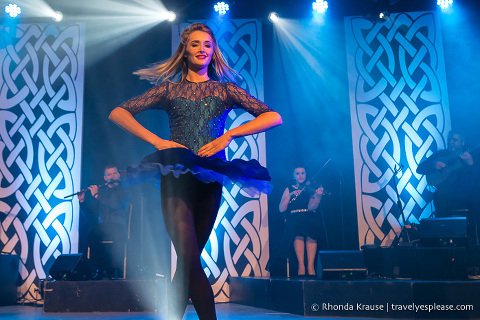 More Europe Destinations and Travel Guides