Purchases made through links earn us a small commission, at no extra cost to you.
Ireland is full of intriguing ancient sites from timeworn cemeteries to aged castles, but one of the more unique historic attractions I came across during my two weeks in Ireland were stone-walled ringforts.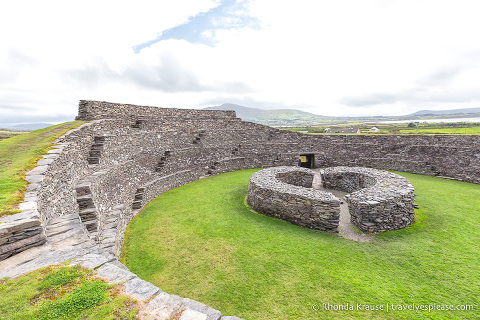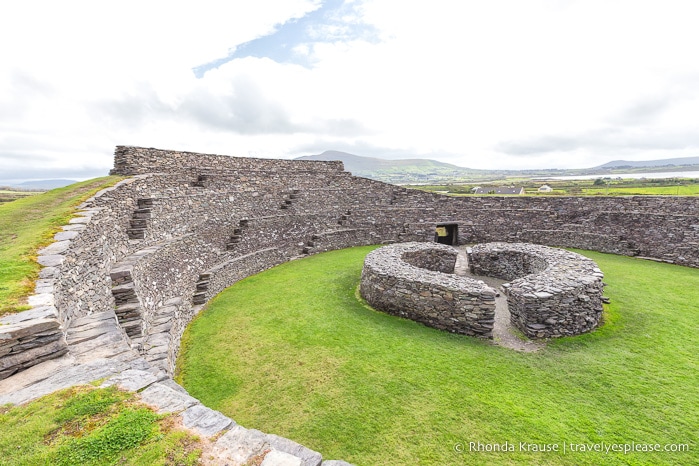 When I was driving the Ring of Kerry I took a short detour off the official route to visit two Irish ringforts- Cahergall and Leacanabuaile.
They aren't Ireland's most notable stone forts (even though Cahergall is a National Monument), but that was exactly why I wanted to visit. Free from tour groups, each fort exuded a quiet air of mystery, compelling me to linger much longer than planned.
My visit to Cahergall and Leacanabuaile not only introduced me to Irish ringforts, but made me want to see a whole bunch more of them!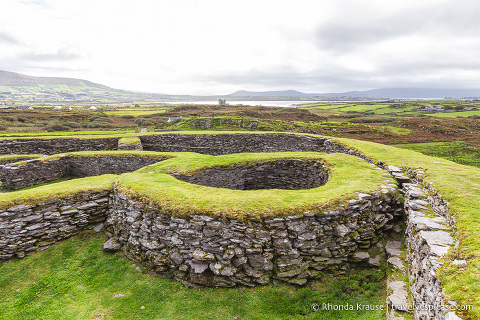 Ringforts in Ireland
Ringforts were built all over Northern Europe but are especially common in Ireland, where it's believed at least 50,000 ringforts existed.
Most ringforts in Ireland were built in a 300 year period, dating from 600-900 AD. These circular fortified settlements were made of stone or earth and likely served multiple functions in agriculture, industry, and defense, in addition to being a show of wealth.
While many have been lost due to farming and urban development, there are still over 40,000 ringfort sites that have been identified in Ireland.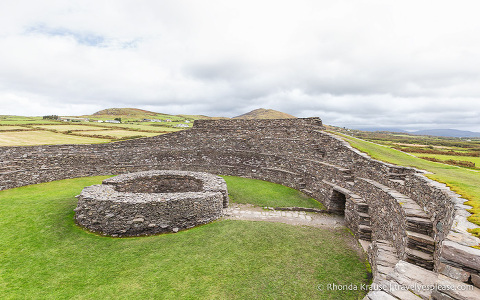 Cahergall Stone Fort
Cahergall ringfort was built around 600 AD and is one of the best examples of an early medieval stone fort on the Ring of Kerry.
The fort was so much bigger than I anticipated, its dry stone wall approximately 6 metres high and 3 metres thick. I felt so tiny when I stood beside it! Cahergall was in fantastic shape too, thanks to some reconstruction work.
Walking through the lintelled entrance, the first thing I saw was the remains of a smaller circular building. There was no indication what it was used for, but perhaps somebody of importance lived here long ago.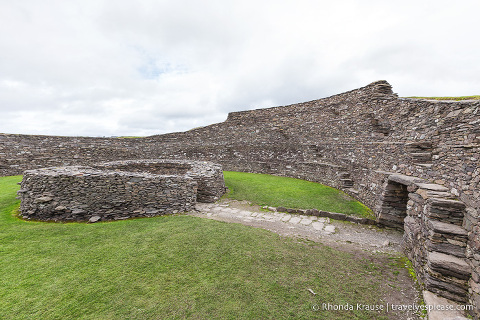 Another interesting feature of the fort was the flights of steps and terraces all around the inner face of the wall. I wasn't expecting to be able to climb up and walk the circumference of the fort.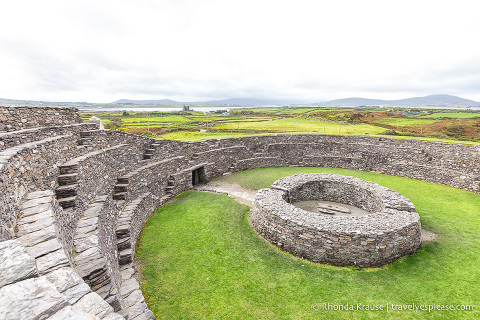 The 360-degree view from the top of Cahergall stone fort was wonderful! I could see Ballycarbery Castle and the harbour off in the distance, farmhouses with sheep roaming the fields, and the surrounding green and brown hills. It was a vista that made me, and the handful of other visitors, take a seat and linger.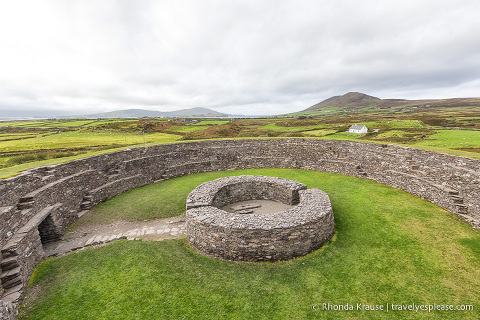 Sitting at the top of Cahergall ringfort reminded me just how incredible Ireland is. In the moments when I had the fort all to myself, I sat and reflected on how satisfying it was travelling solo in Ireland. Even this one special location had so many of the things I love- beautiful landscapes, alluring ancient ruins, and a peaceful atmosphere.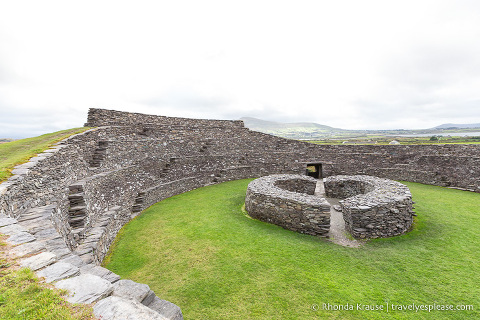 I could have sat there with my thoughts for many hours, but I wanted to make sure I had enough time to enjoy the other ring fort nearby. So, off I went on the short walk to Leacanabuaile stone fort.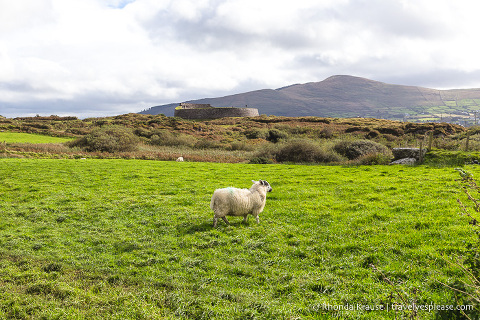 Leacanabuaile Stone Fort
Leacanabuaile ringfort was constructed in the 9th or 10th century to protect the farmstead of a wealthy landowner. The circular exterior wall is more than 3 metres thick and encloses the remains of several smaller buildings.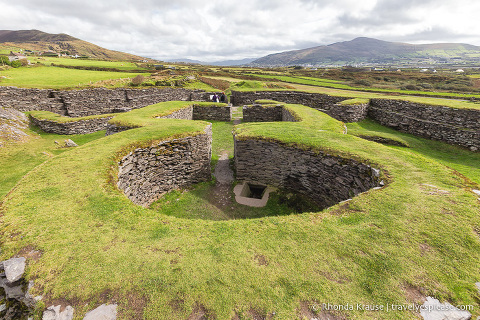 Leacanabuaile is not as visually imposing as Cahergall (it's only partly reconstructed), but what impressed me the most was the interior layout. I could see the grassy-topped walls of a square dwelling house, some circular stone buildings, and an entrance to a souterrain (underground passage).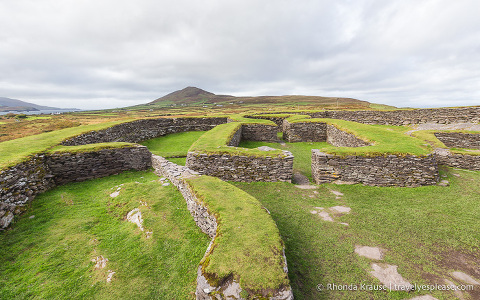 Like at Cahergall, there was access to the top of the walls so I could enjoy one last view of the Irish countryside before continuing my roadtrip to the Dingle Peninsula.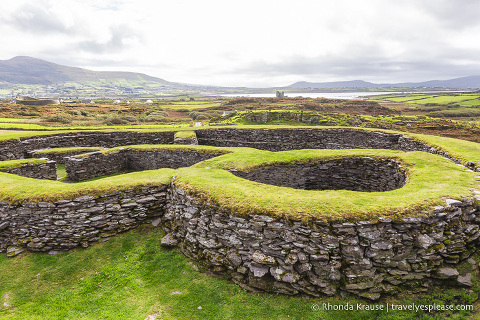 Final Thoughts About Cahergall and Leacanabuaile Ring Forts
My little detour off the Ring of Kerry was definitely worth it to see Cahergall and Leacanabuaile ringforts.
I liked how the two were somewhat different in structure and appearance, giving me a better idea of the form and function of Irish ringforts.
What I enjoyed about these two stone forts (Cahergall especially) was that they brought out a contemplative and reflective mindset. The combination of ruins, an uncertain past, and serene landscape made for a perfect environment to get lost in thought, slowing down instead of hurrying to the next attraction.
Perhaps my favourite thing about Cahergall and Leacanabuaile was that they were off the typical tourist trail. During my time here I only saw a couple of other visitors, making me feel like I had exclusive access to a piece of Irish history.
Tips For Visiting Cahergall and Leacanabuaile Stone Forts
Location: Cahergall and Leacanabuaile stone forts are located in County Kerry near the town of Cahersiveen.
Getting There: At Cahersiveen, turn off the N70 (Ring of Kerry) onto Bridge Street. Cross the bridge then at the next crossroads turn left. Follow the signs to the forts. There is a small parking lot near Cahergall stone fort and Leacanabuaile is within walking distance from there.
Admission and Opening Hours: Cahergall and Leacanabuaile are always open and there is no fee to visit the forts.
Accommodations in Cahersiveen
For your convenience, here is a list of Bed and Breakfasts in Cahersiveen. Please consider booking your Cahersiveen accommodations through the included link. It costs nothing extra and helps support this website. Thank you!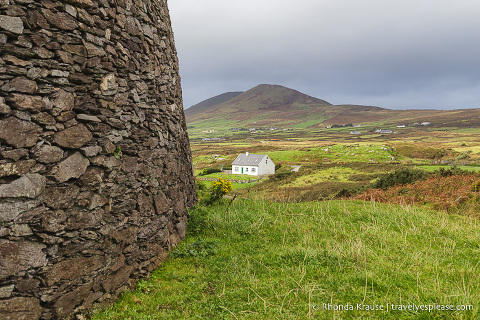 More Ireland Destinations and Travel Guides