Purchases made through links earn us a small commission, at no extra cost to you.
One of the highlights of visiting the Burren region of Ireland is seeing Poulnabrone dolmen, an outstanding Neolithic tomb and National Monument of Ireland.
Over 5000 years old, this portal tomb is one of the best preserved in the country. The dolmen's classic construction consists of a large capstone resting on top of two sets of upright portal stones flanking the entrance to the tomb.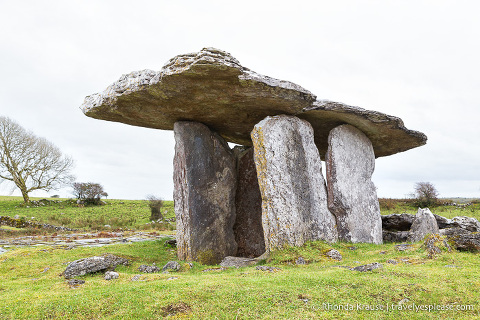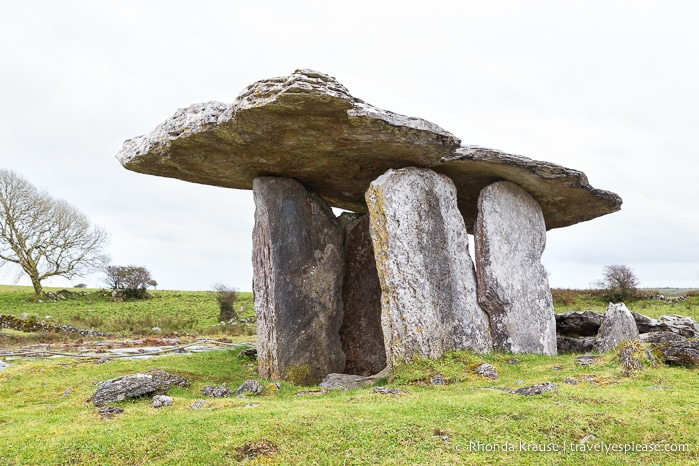 Although it's not the largest dolmen in Ireland, Poulnabrone is still an impressive size at about 5.9 ft (1.8 m) tall and 12 ft (3.6 m) long. The only Irish portal tomb larger than Poulnabrone dolmen is Brownshill dolmen.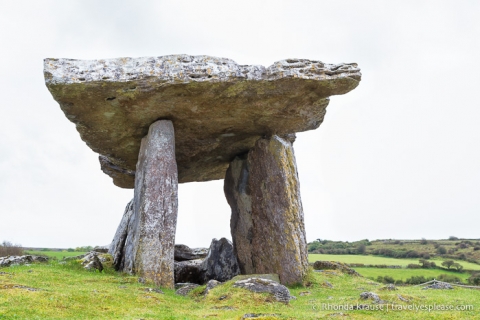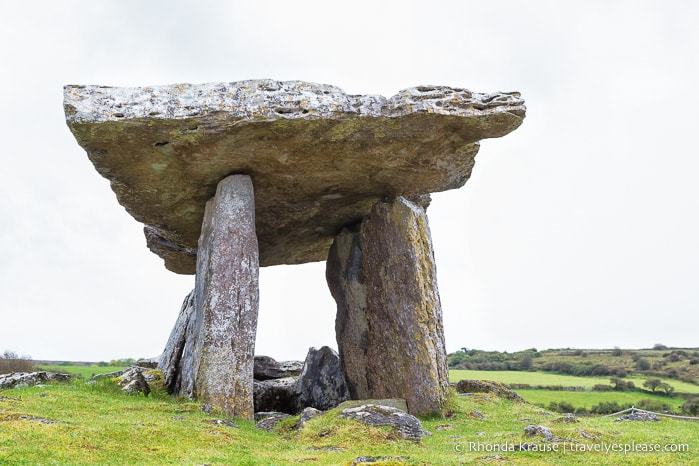 Archaeological excavations in 1986 and 1988 revealed that 33 people (adults and children) were buried under Poulnabrone dolmen after being transferred from another location where they decomposed. Personal items found with the fragmented bones include quartz crystals, a bone pendant, and polished stone axe.
Radiocarbon dating suggests that those buried here died in the Neolithic Period between 4200-2900 BCE, with the most recent burial being a newborn baby from the Bronze Age. Analysis of the bones indicated signs of arthritis, malnutrition, and a relatively short lifespan, with only one person being older than 40.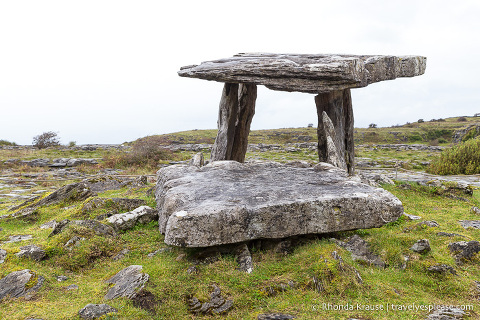 Poulnabrone dolmen is located on the R480, about 8 kms south of Ballyvaughan and 9.6 kms northwest of Kilnaboy, so was convenient to visit after my hike in Burren National Park. The site has some excellent information boards about the tomb and landscape of the Burren, plus a large free parking lot.
More Ireland Destinations and Travel Guides