Purchases made through links earn us a small commission, at no extra cost to you.
When we were in Hallstatt, our short visit meant we had to choose between visiting the salt mines or the nearby Dachstein Ice Cave. Hallstatt is known for its long, prosperous history of salt mining, so I almost felt obligated to go tour the mines. Once I tuned into my instincts, instead of the guidebook hype, I realized I very much wanted to go to the ice cave. I do not regret our choice one bit!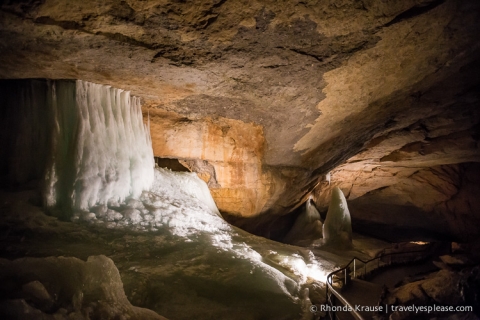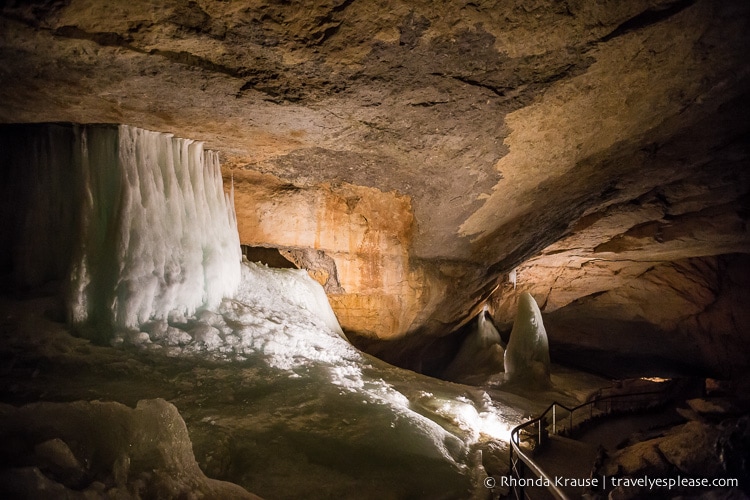 The Dachstein Ice Cave was the first ice cave I have ever visited, so it completely blew my mind! The giant cave was an impressive mixture of ice and stone, all beautifully illuminated with coloured lights. I was captivated by this underground world and would never have guessed by looking at the mountain, that this was inside.
Here are some of the photos I took during our guided tour of Dachstein Ice Cave. I'll admit, this was not an easy place to photograph. The cave was really dark so I had to bump up my camera's ISO to 6400, shoot with my lens wide open at f/2.8, and still try to handhold the camera at super slow shutter speeds (some as low as 1/20 of a second!) I couldn't lag behind the group to try and get a good shot because as the guide got further ahead, the lights behind the group would turn off. I got left behind in the darkness more than once, and it was a little scary!
Dachstein Ice Cave Photos
Here's a peek inside Dachstein Ice Cave!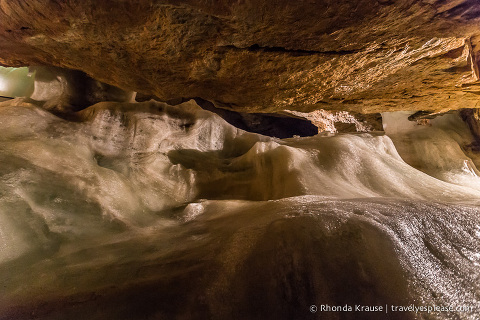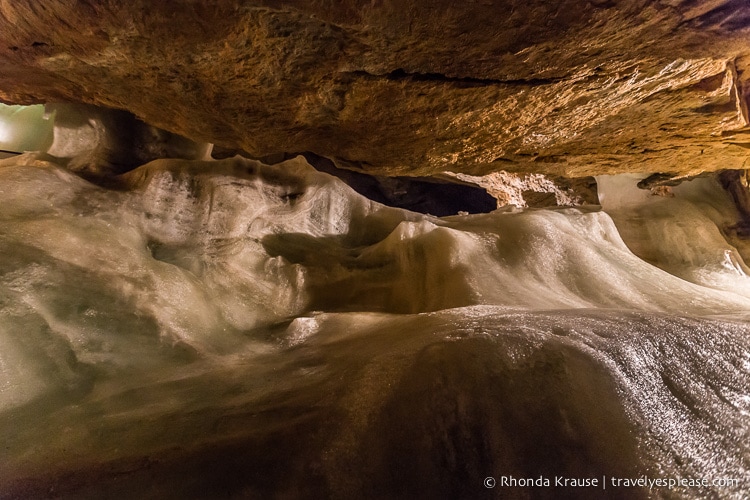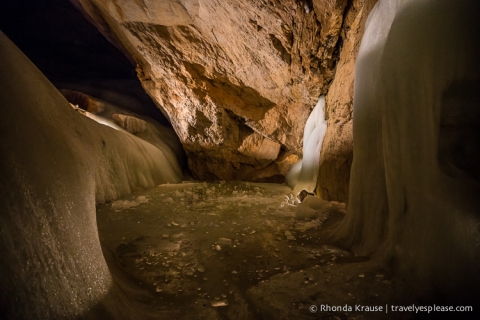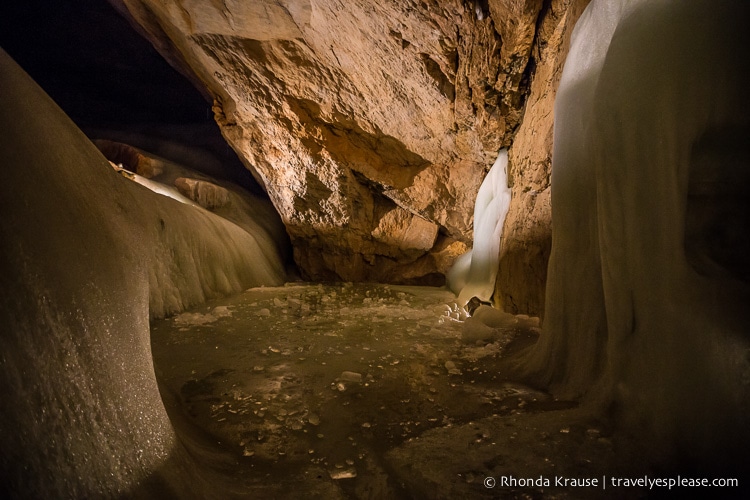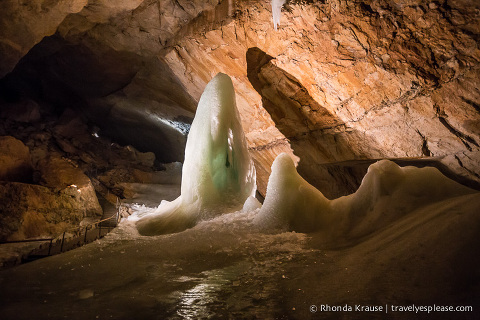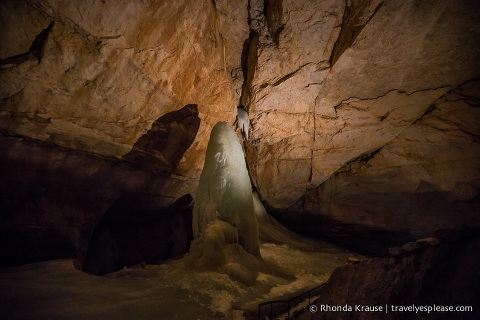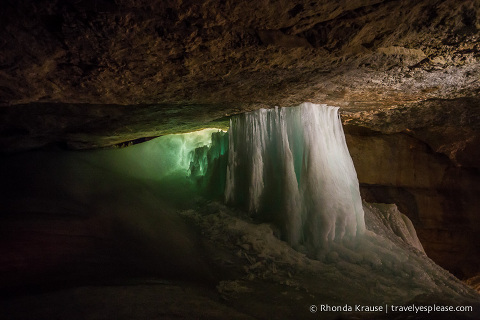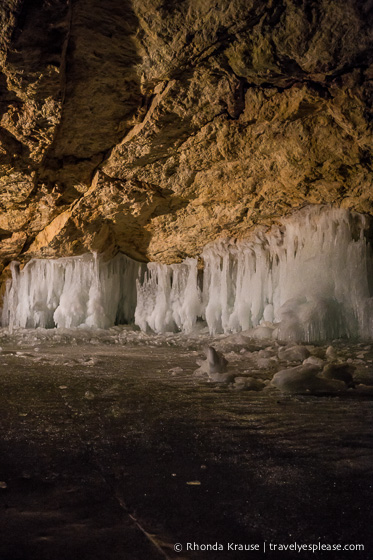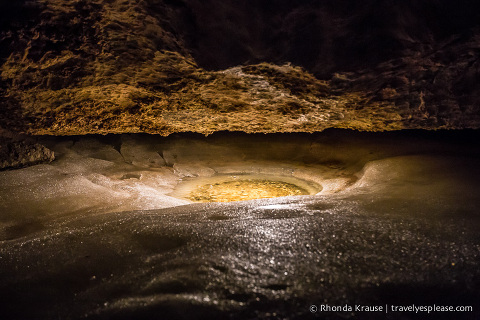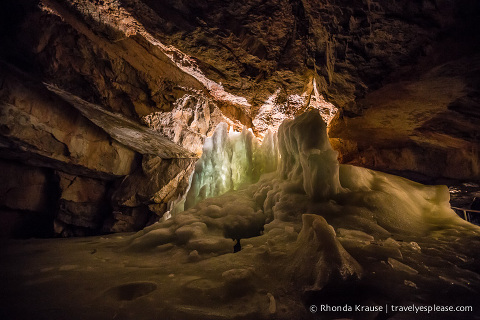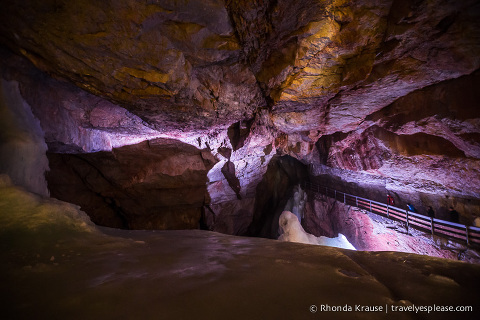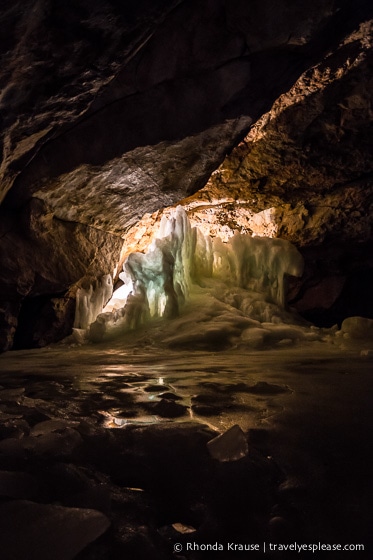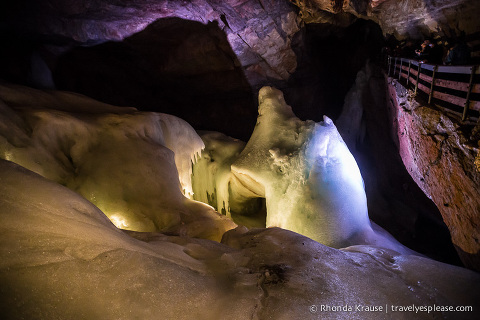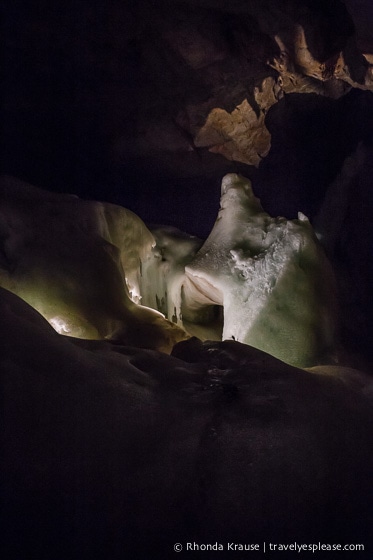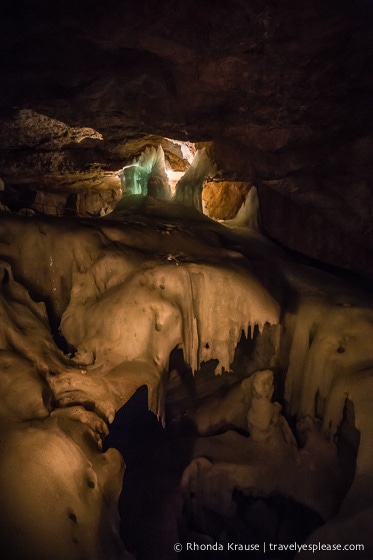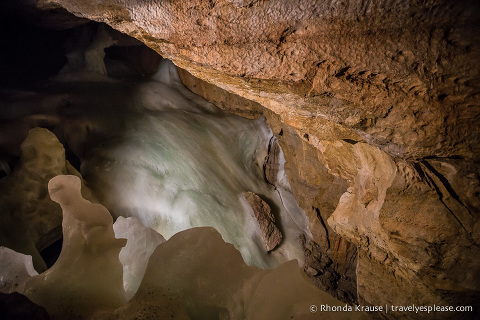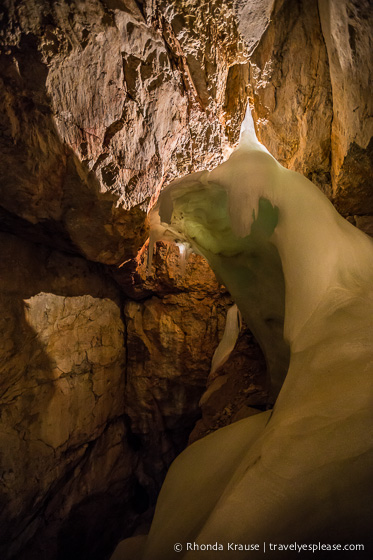 Tips for Visiting Dachstein Ice Cave
To get to the ice cave from Hallstatt, take the public bus from the nearby suburb of Lahn. The tourist information office (at Seestrasse 99) can advise you.
You will have to take the cable car part way up the mountain (operates from May to the end of October). From there, the ice cave is another 15-20 minute uphill hike.
There are some stairs inside the ice cave and they can be a bit slippery, so make sure you wear shoes with good grips.
Dress warmly- the temperature inside the ice cave is about -2 degrees Celsius.
The ticket for the cable car and ice cave tour is $28.00 for adults. Tours are conducted in German and English.
There are also two other caves you can explore further up the mountain- the Mammuthohle and Koppenbrullerhohle.
* Prices and hours were correct at the time of publishing but can change without notice. Please confirm costs and times directly with service providers.
More Austria Destinations and Travel Guides