Purchases made through links earn us a small commission, at no extra cost to you.
After happily saying goodbye to Vienna for the day, I sat on the train eagerly anticipating our final destination. We were heading towards one of Austria's most beautiful landscapes, the Wachau Valley.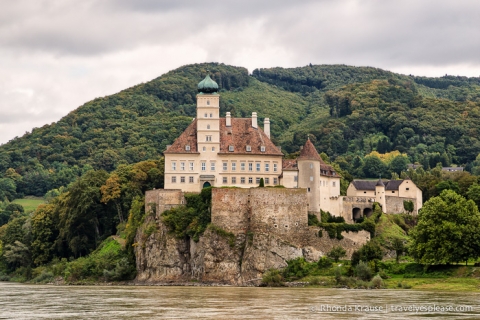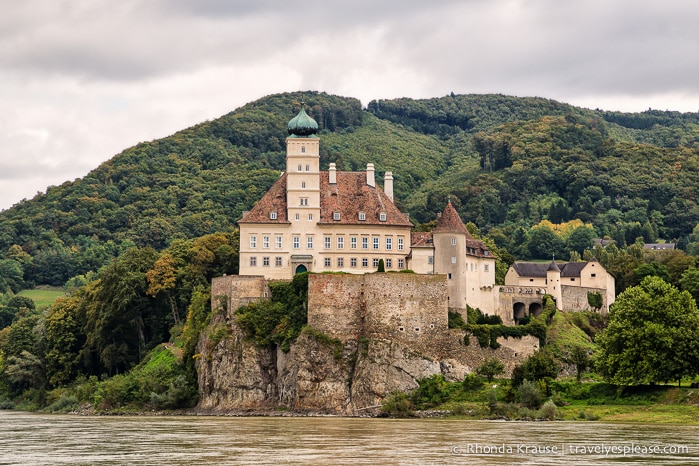 I spent much of the train ride lost in thought, imagining the dreamy landscape I was about to see during our Wachau Valley cruise. Since I was so excited to start our day's adventure, it felt like no time until we arrived in Melk, gateway to the Wachau.
After visiting the gorgeous Melk Abbey in the morning, we hurried down to the banks of the Danube where we boarded a boat that cruised the scenic Wachau Valley all the way to Krems.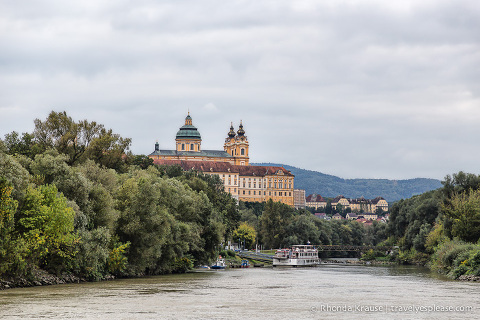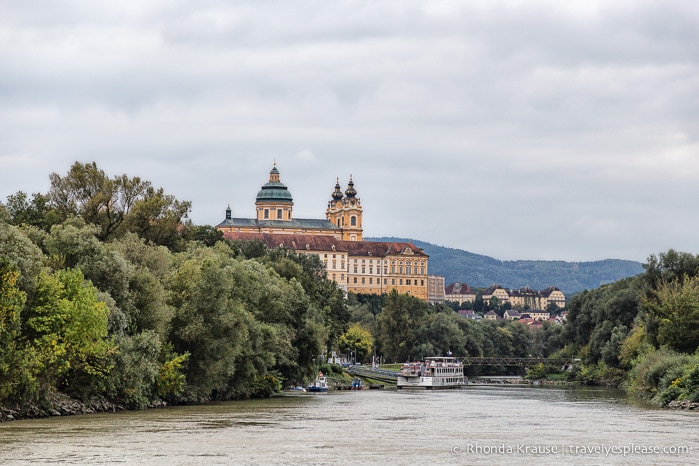 About the Wachau Valley
The Wachau Valley is located along a scenic stretch of the Danube river between Melk and Krems. At only 36 kilometers long, the Wachau Valley packs a lot of beauty and unique ambience into its boundaries.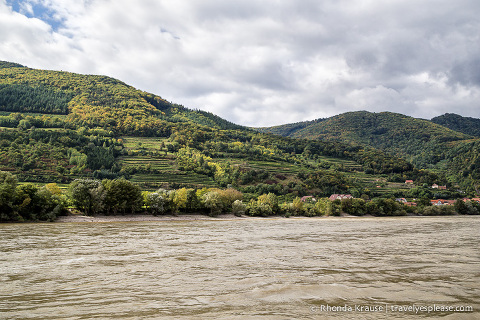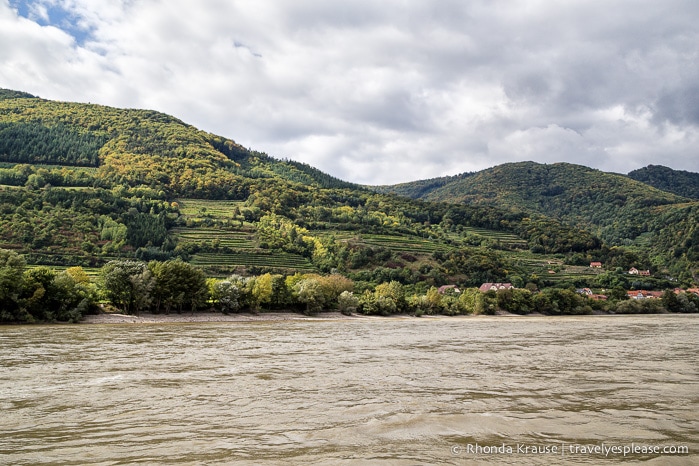 The Wachau Valley is about as European as you can get. Small villages, castles, abbeys and ruins dot the valley, neatly tucked between picturesque, sloping vineyards.
Not only is the Wachau Valley incredibly beautiful, it's culturally significant as well. The towns and agricultural landscape of the Wachau Valley have managed to evolve with the changing times, while still preserving aspects of traditional life. This authentic, living cultural landscape is why UNESCO named the Wachau Valley a World Heritage Site in 2000.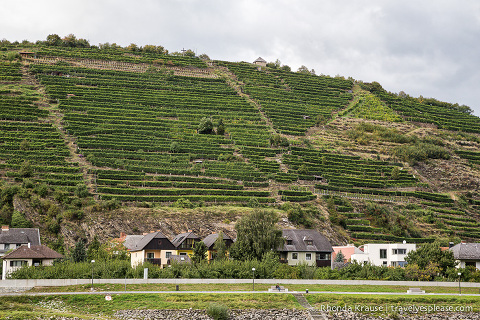 Our Wachau Valley Cruise- Melk to Krems
Our cruise through the Wachau Valley made for a wonderful afternoon filled with lovely views and diverse scenery.
We spent much of the cruise out on deck, bouncing back and forth between port and starboard, trying to take in as much of the scenery as possible. It was a little hazy and humid, as rain clouds loomed above, but we still got a decent view of the villages and castle ruins the Wachau Valley is famous for.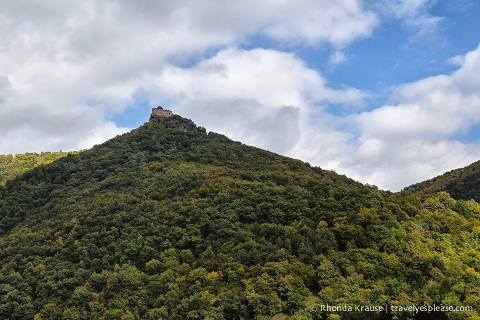 In between Melk and Krems, the Wachau Valley cruise makes stops at the villages of Emmersdorf, Spitz, and Dürnstein. The boat also floats past interesting sites such as Schoenbuehel Castle, the ruins of Aggstein Castle high on a hill, and Göttweig Abbey.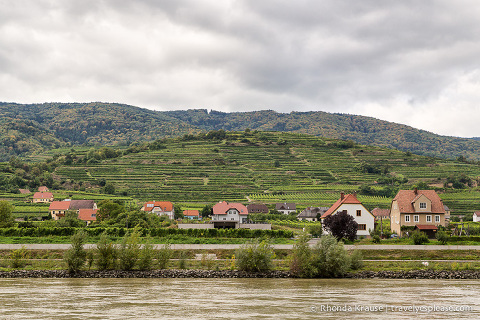 I was hoping that the boat would stop at the main towns long enough for us to disembark and explore a little bit, but sadly that was not the case. Instead we stopped just long enough for people to get on or off.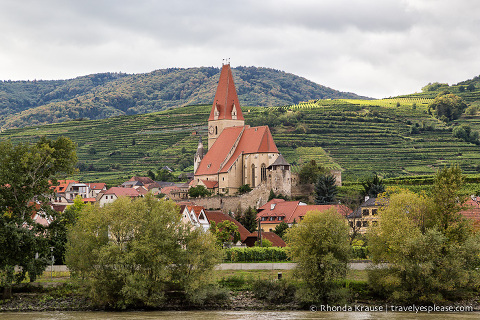 Knowing that once we got off the boat we wouldn't be able to continue downstream to Krems, we decided to stay on board until the second last stop at Dürnstein.
Getting off at Dürnstein was a great choice! The small historic town is gorgeous, its blue baroque tower instantly recognizable. Dürnstein also has some compelling historic tales, courtesy of its ruined medieval castle and famous prisoner, Richard the Lionheart.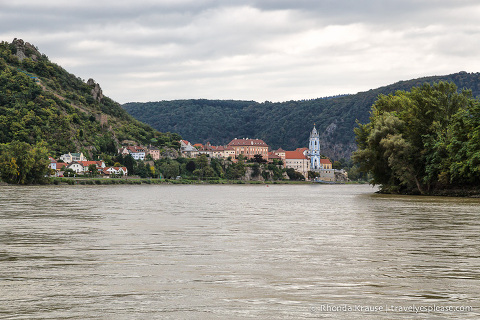 After a fun few hours exploring Dürnstein, we caught a bus to nearby Krems, had dinner, then took the train back to Vienna.
Final Thoughts About Our Wachau Valley Cruise
Apart from the disappointing weather and poor conditions for photography, we had a great time on our Wachau Valley cruise.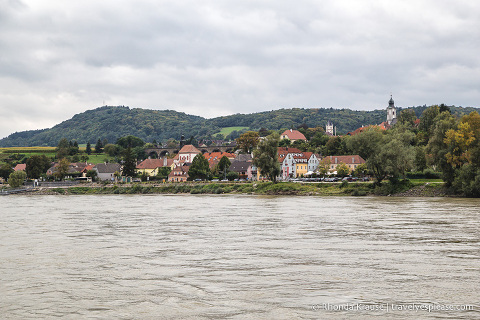 I always appreciate an endearing mix of history and natural beauty and the Wachau Valley offered just that with its hilly landscape, crumbling castles, notable monasteries, and pretty villages.
We definitely would return to this part of Austria but next time I'd like to cycle along the valley so I can experience all the sights at my own pace.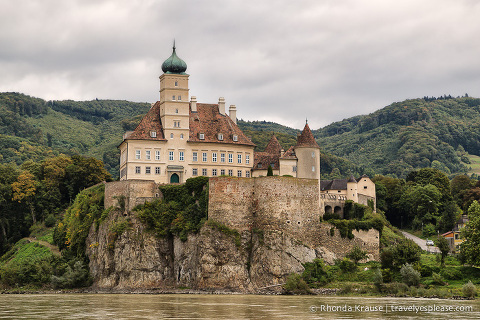 Tips for Cruising the Wachau Valley
The company that we cruised with was Brandner but DDSG Blue Danube also offers Wachau Valley sightseeing cruises. Both companies sail between Melk and Krems (upstream and downstream), have on-board restaurants, and sell one-way and round-trip tickets.
Depending on the ticket you buy, it may be possible to hop-on hop-off the boat at Dürnstein or Spitz. You definitely want to confirm this with the cruise company first, as their websites aren't always as clear as they could be about this. When we did our Wachau Valley cruise, it wasn't an option to hop off and then re-board the boat later, even though we had a ticket for the full route (Melk to Krems).
The Wachau Valley cruise from Melk to Krems takes approximately 1 hr 45 mins.
The train ride from Krems back to Vienna was about an hour long.
Information was updated January 2022, but can change without notice. Please confirm directly with service providers.
Tours of the Wachau Valley
Here is a trusted site where you can book boat trips and tours of the Wachau Valley. You can choose from a bus and boat trip from Vienna, bike tours, and wine tasting tours.
Accommodations in the Wachau Valley
For your convenience here is a list of hotels in Melk, hotels in Krems and hotels in Dürnstein. Please consider booking your Wachau Valley accommodations through the included link. It costs nothing extra and helps support this website. Thank you!
More Austria Destinations and Travel Guides