Purchases made through links earn us a small commission, at no extra cost to you.
When Mike and I arrived in Vienna, we were three weeks into our five week European vacation. We'd had long days of admiring the intricate architecture of churches and fine furnishings of the most luxurious palaces. We'd wandered through a few museums (which aren't really our thing) and strolled around many beautiful gardens.
When we got to Vienna we were tired. Not just physically tired, but tired of palaces, churches and museums. It all became a bit boring.
So, now we had ourselves a bit of a dilemma. Vienna is all about palaces and museums and we were just not into that anymore.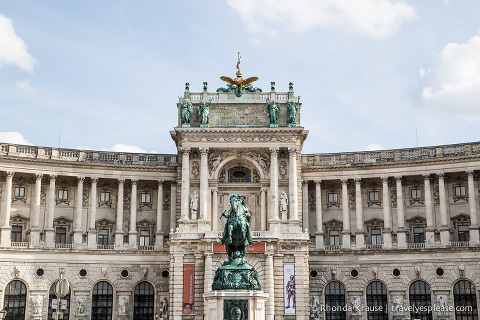 So there we were, two non-museum lovers in Vienna for three and a half days.
Fun Things to Do in Vienna
Luckily, there was more to Vienna than just imperial nostalgia. After an obligatory tour of Schönbrunn Palace, we found the fun and got to experience a more casual, playful side of Vienna.
Here are some of our favourite fun activities in Vienna!
The Wiener Prater
I was really surprised to find out that Vienna had a permanent carnival. Mike knew there was a giant Ferris wheel, but when we went to check it out we found ourselves in the middle of an amusement park!
The Wiener Prater has been around for over 200 years. Back in 1766 the Prater area was declared free for public enjoyment. Soon coffee houses, taverns, bowling alleys and carousels began popping up. After the giant Ferris wheel was put up in 1895, the Prater became more and more of an amusement park.
Today the Prater is a fun mix of carnival rides and games, restaurants, casinos and entertainment venues like the Praterdome, Austria's largest discotheque.
I loved, loved, loved the Praterturm, the world's highest chairoplane ride. The Guinness Book of Records lists it as 117 metres tall, although the swings "only" go up 95 metres. The Praterturm is not only one of the most fun things to do in Vienna, you get some stunning views of the city from the top too!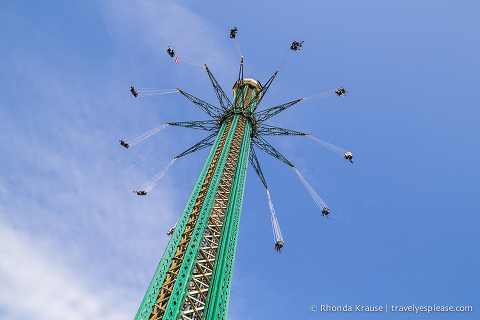 Stadtpark (City Park)
Stadtpark is a great place to relax and enjoy the beautiful surroundings. There's an abundance of plants and flowers and the small lake is perfect for duck watching.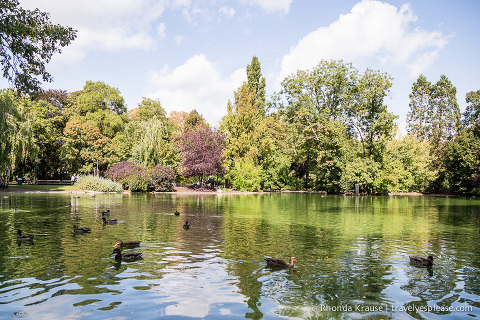 Stadtpark also has the largest number of sculptures and monuments than any park in Vienna. Walking around you will come across sculptures of Franz Schubert, Franz Lehár and Robert Stolz. The most well known monument though is of Johann Strauss. The gilded bronze statue, framed by a marble relief, was unveiled to the public in June 1921 and has become one of the most photographed monuments in Vienna.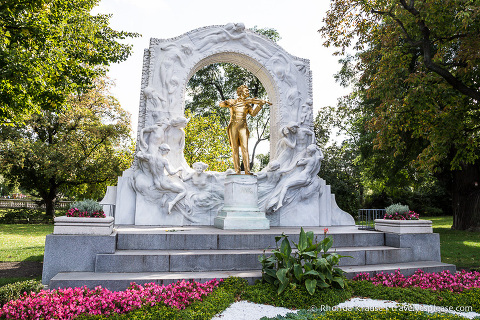 Schonbrunn Zoo
The Schonbrunn Zoo is the world's oldest zoo (established in 1752) and part of the imperial summer residence of Schonbrunn Palace.
The zoo wasn't too big (we easily explored it in one morning) but there were a lot of animals to see. The best was the Red Panda who was up walking around and climbing in the trees. I usually never get to see the Red Panda this close! It actually seemed that you get a much closer view of the animals here at Schonbrunn than at other zoos we've been to.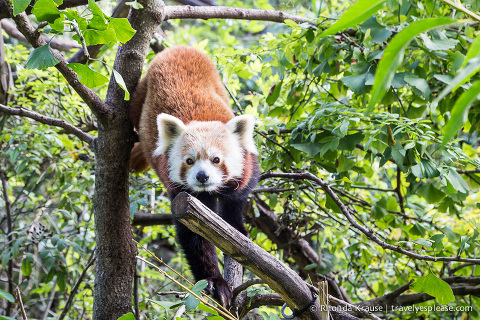 Another highlight was seeing the Arctic Wolves being fed. I thought when the zookeeper came out with all the raw meat that he would be swarmed by the wolves. They did circle around him, but stayed much farther back than I thought they would. The zookeeper just threw the meat and the wolves stood back and caught it in their mouths.
The meerkats were really funny to watch and I got a great picture of the jaguar as he was doing laps around his enclosure. We also saw deer, rhinos, caribou, penguins, a lynx and a cheetah.
We loved our morning at the zoo and it was a great break from all the "Imperialness" of Vienna.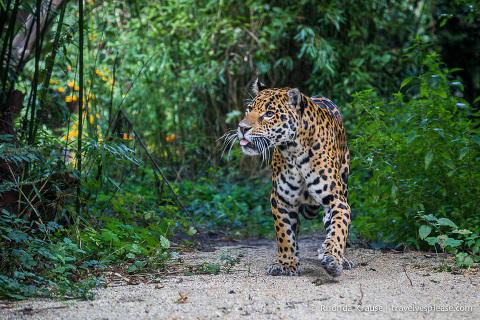 Wachau Valley Cruise
My favourite day during our trip to Vienna was actually not even spent in Vienna, but rather nearby in the Wachau Valley.
We did a short cruise along the Danube river past vineyards, castles and small villages. Not only was the scenery gorgeous, but we had a fun hike up to a ruined medieval castle in Dürnstein.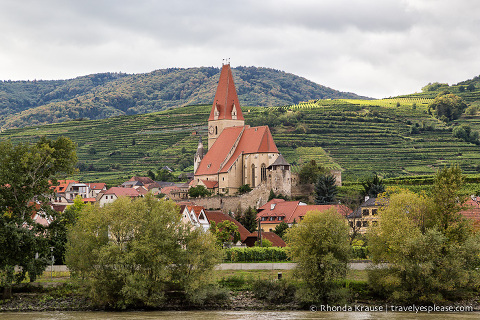 Final Thoughts- Is Vienna Fun?
Our first impression was that Vienna was rather boring, but thankfully we found some things to do beyond the Museum Quarter. Even though we did end up having some fun in Vienna, I still wouldn't say that it's a fun city, unless your idea of fun is browsing through museums and galleries. Oh well, now we know!
Tips for Having Fun in Vienna
The Prater: The Prater is open all year but the main season is from March 15- October 31. The rides operate daily starting at 10:00 am and some stay open until midnight. The Riesenradplatz area is open year round. Admission to the amusement park is free, but you pay for each ride separately. You can easily reach the Prater by metro- get off at Praterstern station.
Schonbrunn Zoo: Admission tickets to Schonbrunn Zoo are €24 for adults, €14 for children and youth, and children under six are free. The zoo is open 365 days a year. The hours are as follows: February 9:00 am- 5:00 pm, March and October 9:00 am- 5:30 pm, April- September 9:00 am- 6:30 pm, November- January 9:00 am- 4:30 pm. For up to date hours and prices visit the zoo's website.
Information was updated January 2022, but can change without notice. Please confirm directly with service providers.
Accommodations in Vienna
For your convenience, here is a list of hotels in Vienna. Please consider booking your Vienna accommodations through the included link. It costs nothing extra and helps support this website. Thank you!
More Austria Destinations and Travel Guides