Purchases made through links earn us a small commission, at no extra cost to you.
Dry Tortugas National Park was the place I was most looking forward to visiting during our trip to the Florida Keys. I first discovered it in a photograph. It was an aerial picture, giving a bird's eye view of the six-sided historic Fort Jefferson, so large that it nearly filled the entire island. I was immediately intrigued and hooked on visiting, so put a day trip to Dry Tortugas National Park onto our Key West itinerary.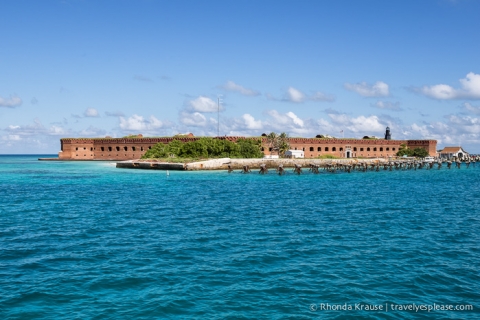 The history of Fort Jefferson, its remote location, the surrounding beauty of Dry Tortugas National Park and potential for adventure really appealed to both Mike and I.
It was a place where we could learn about the past, admire a unique piece of architecture and discover an abundance of sea life below the warm, turquoise waters. By the end of our trip, our day at Dry Tortugas National Park remained one of our fondest memories of our time in Florida.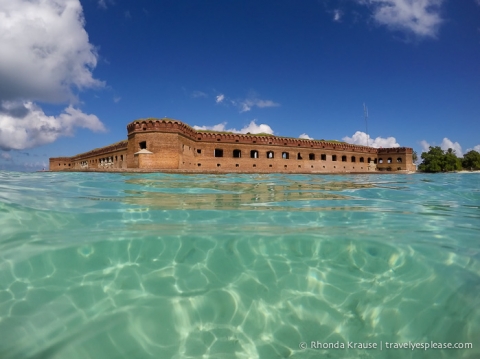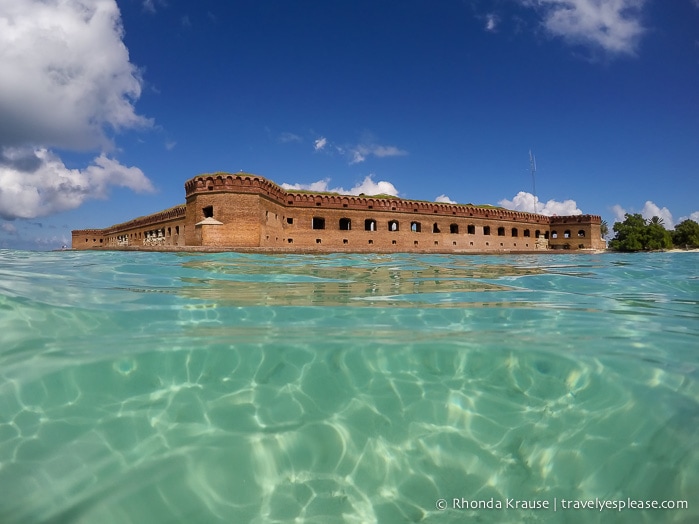 Dry Tortugas and the History of Fort Jefferson
Dry Tortugas National Park is located just 70 miles from Key West and is comprised of seven small, undeveloped coral and sand islands. Its pristine surroundings are a designated wildlife refuge, home to crabs, lobster, turtles, and numerous species of tropical fish and birds.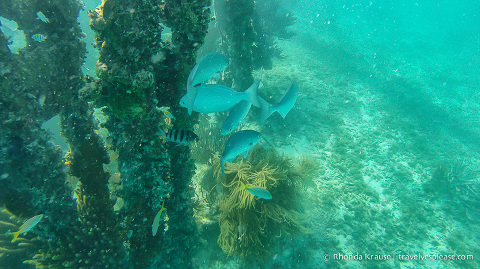 Discovered by Ponce de Leon in 1513, Dry Tortugas was originally named Las Tortugas (The Turtles). The absence of fresh water led to mariners referring to the islands as Dry Tortugas.
The centerpiece of Dry Tortugas National Park is Garden Key and Fort Jefferson, the Western Hemisphere's largest masonry structure. Construction of Fort Jefferson began in 1846, continued for 30 years but was never completed. Still, it's estimated that approximately 16 million bricks were used to construct its 8-foot thick, 50 feet tall walls.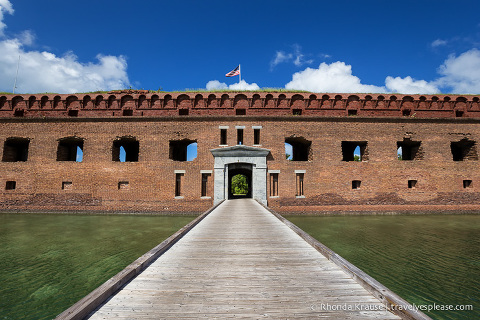 Even though the fort was never finished, it was still used by the military. During the Civil War, Fort Jefferson became a prison for captured Union deserters.
Fort Jefferson's most famous prisoner was Dr. Samuel Mudd. Dr. Mudd was the physician who set the broken leg of John Wilkes Booth, Abraham Lincoln's assassinator. Mudd, along with three others, were sentenced to life in prison at Fort Jefferson, convicted of complicity (aiding and abetting) in Abraham Lincoln's assassination. Mudd was later released from Fort Jefferson after helping to save the lives of soldiers during an outbreak of yellow fever.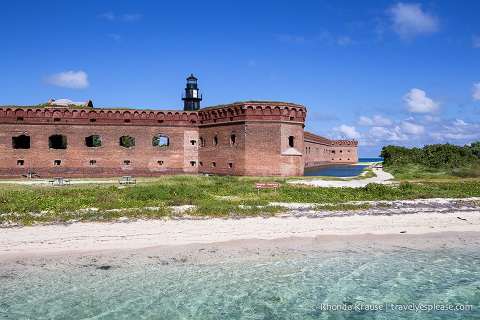 Fort Jefferson went on to be named a National Monument in 1935 and Dry Tortugas National Park was established in the early 1990's. This designation has ensured that the historic and natural surroundings are protected for future generations of both humans and wildlife.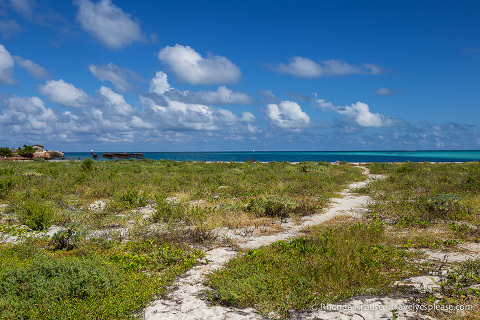 Our Day Trip to Dry Tortugas and Fort Jefferson
Our day trip to Dry Tortugas National Park started bright and early. At 8:00 am we were already on board the Yankee Freedom III ferry, setting sail from Key West.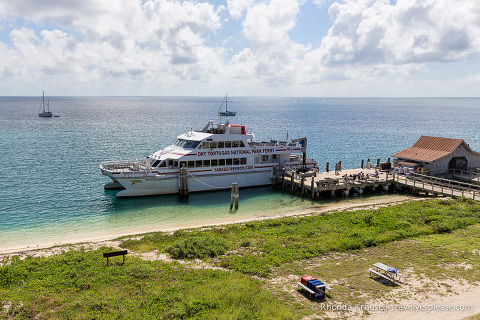 Shortly after the ferry to Dry Tortugas left Key West, we were enjoying a light breakfast of breads, cereals and fresh fruits, served buffet style. We were really glad our meals for the day were provided on-board since it saved us having to bring food along.
After breakfast, we settled in comfortably for the 2.5 hour trip to Dry Tortugas. The time went by faster than we were expecting thanks to the crew's commentary about areas we were passing by. There were also some small TVs showing videos about Dry Tortugas, Fort Jefferson and the area's marine life.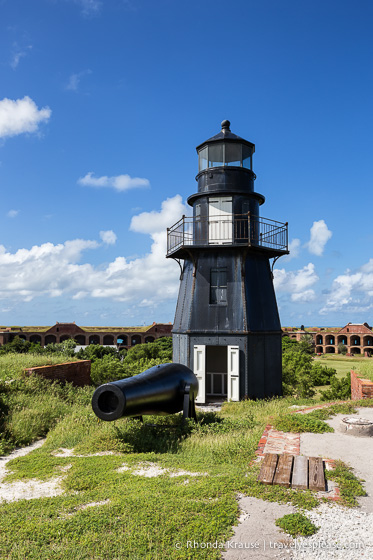 Before we knew it, we could see the shape of Fort Jefferson off in the distance. As we approached Garden Key, everyone was out on deck taking pictures of the massive 19th century fort.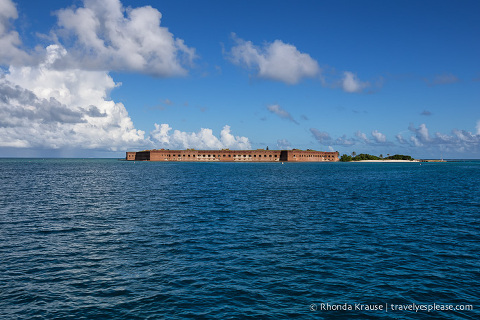 Once we arrived, we spent about half an hour wandering around the protective moat before joining the 11:00 am ranger led tour of Fort Jefferson.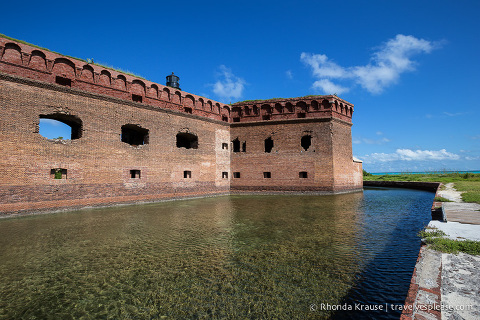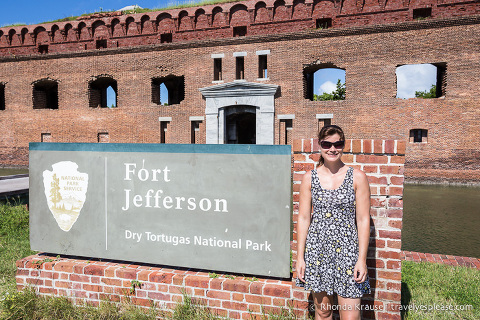 Tour of Fort Jefferson
The ranger who led our tour of Fort Jefferson was excellent and had a nice loud voice, which I appreciated since I am usually hanging back from the group taking pictures.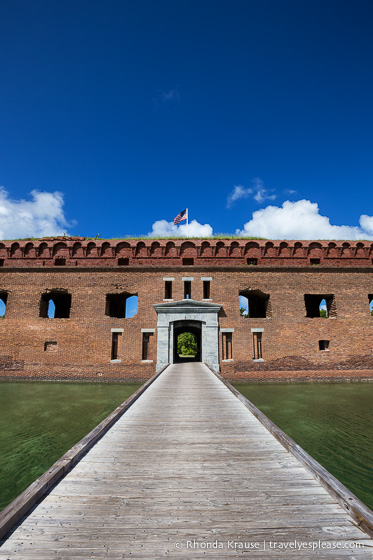 During the tour of Fort Jefferson, we got to visit cells of incarcerated soldiers and see the casemates where canons had once been mounted to fire at approaching enemies. There are even a few of the original heavy guns on top of the fort's walls. Some of these guns could fire a 432-pound projectile three miles!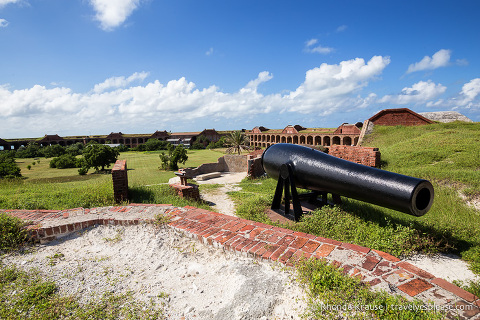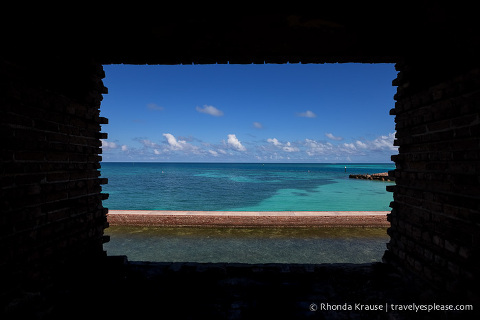 Other points of interest were the Cuban "chug", a homemade boat used by Cuban migrants, and the hot shot furnace. The furnace was used to heat up iron canon balls so they would cause more damage to the wooden warships of the time.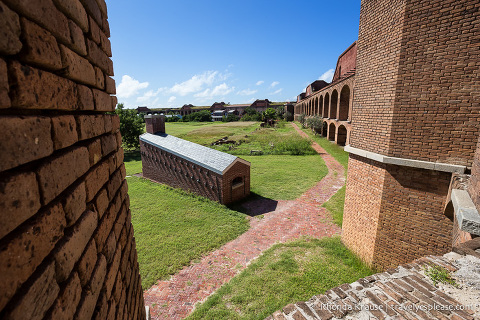 Our guide also shared with us the hardships that came with being stationed in such a remote location. We learned about what life was like in the 1860s, when almost 2,000 people lived at Fort Jefferson (women and children included). Soldiers trained while laborers, prisoners and masons continued building the fort.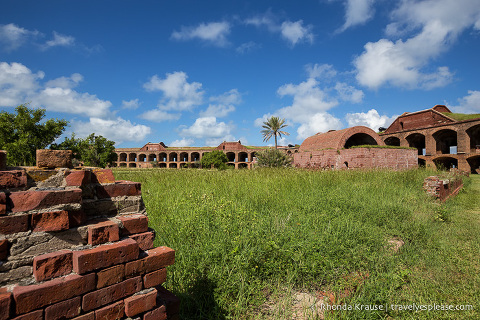 We heard tales of disease and death, as scurvy, dysentery and yellow fever all wreaked havoc at Fort Jefferson. We even learned the story of Dr. Mudd, and what many consider to be his wrongful imprisonment at Fort Jefferson.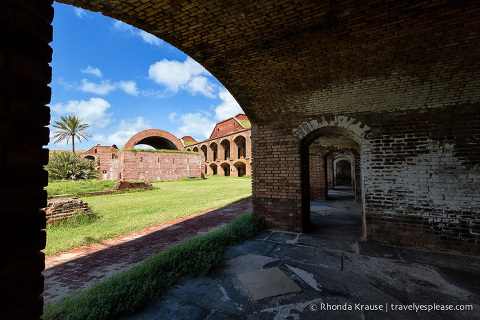 After the tour, we walked a bit further along the top of the walls towards the lighthouse. From here we got a great view of the fort's moat and surrounding blue sea.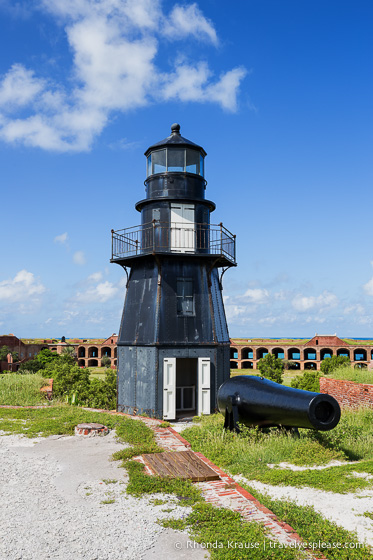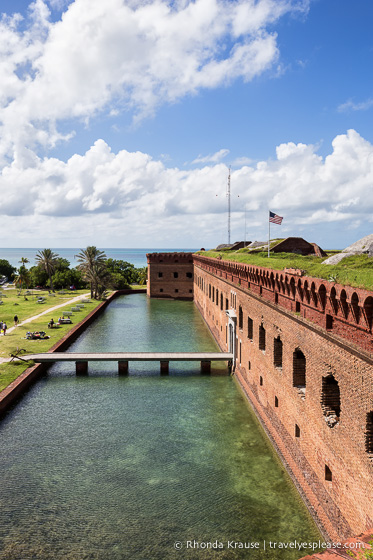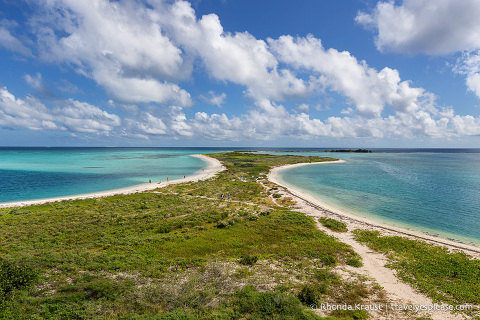 We could have reveled in those views all day, but there were more adventures to be had. So we headed back down the boat for a quick lunch, gathered up our snorkel gear, then made our way to the beach to see what lurked below the surface!
Snorkeling at Dry Tortugas National Park
The first area we snorkeled at Dry Tortugas was the south beach. I was glad the water was so calm and shallow since I have only snorkeled once before and was still a little nervous.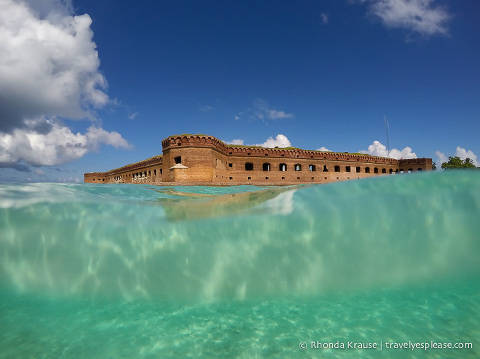 We actually didn't have to go too far out into the waters because there was a lot of great coral and sea life along the moat wall. Eventually we went out a little deeper and I found an old ship anchor. I was hoping to come across a sea turtle, but no luck.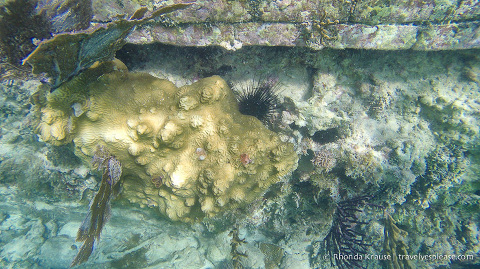 We didn't want to spend out entire afternoon snorkeling in one spot, so we decided to call it quits here and head to the north snorkel area. As we were swimming back to the beach, a big school of fish swam right in front of me! It caught me by surprise since we were so close to shore and the water was quite shallow. We watched them swim around for a bit, then got back to shore and quickly walked over to the north beach.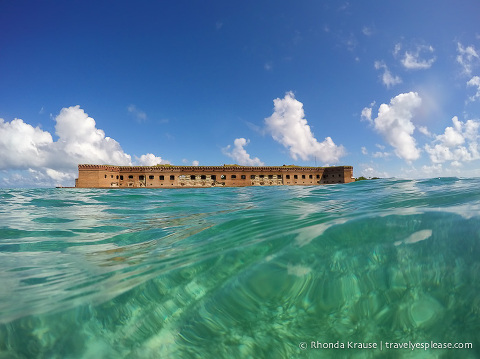 Snorkeling at the north beach was a slightly different experience for me. I was a little more nervous because the water was deeper. Since we were exploring the dock ruins, I was worried about getting too close to the metal posts and accidentally getting scraped.
Even though I was hesitant to spend a lot of time at the dock ruins, I still managed to see a lot of amazing things. The colours were beautiful and there were so many fish swimming around. I actually exclaimed "Oh my god!" into my snorkel mask because I was so taken aback. I even found a huge conch!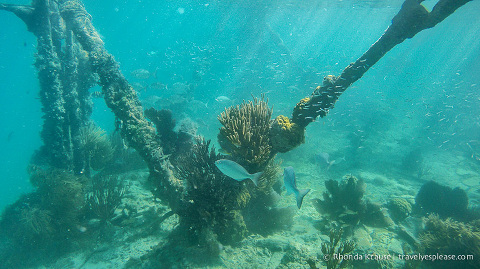 Mike and I could have snorkeled at Dry Tortugas for a few more hours, but unfortunately it was time to head back to the ferry. We saw so much great sea life that I finally understood Mike's love for snorkeling. I may even have finally put to rest some of my anxiety about "weird sea creatures!"
Final Thoughts on Our Visit to Dry Tortugas National Park
Our Dry Tortugas day trip was without a doubt a highlight of our Florida vacation. It was such a memorable experience with the perfect mix of history, architecture and adventure. It felt wonderful to be somewhere so isolated, yet only 70 miles away from Key West.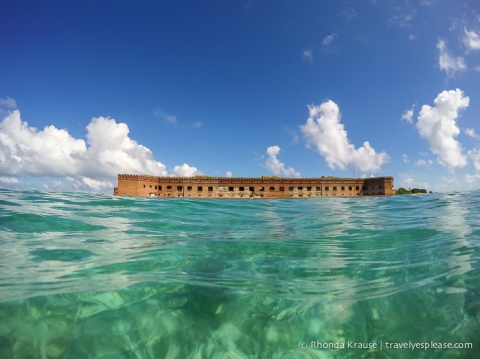 As for snorkeling, Dry Tortugas was a great place for a beginner snorkeler like myself to get more comfortable with being underwater. I was able to stick close to the moat wall until I felt safe and still see a great deal of marine life. Plus, the waters were so calm and shallow.
I'm trying to think of an eloquent way to sum up Dry Tortugas, but the only word that keeps coming to mind is "special". It's a simple but correct way to describe it. Dry Tortugas is definitely a special place!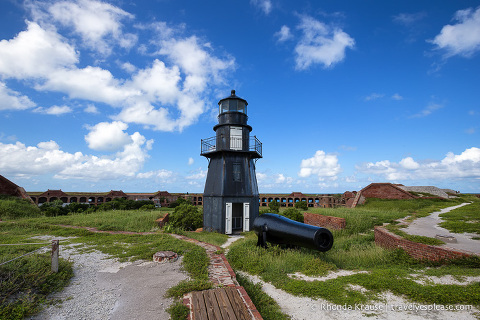 Pictures of Dry Tortugas National Park and Fort Jefferson
Here are a few more photos of Dry Tortugas National Park and Fort Jefferson to convince you to visit!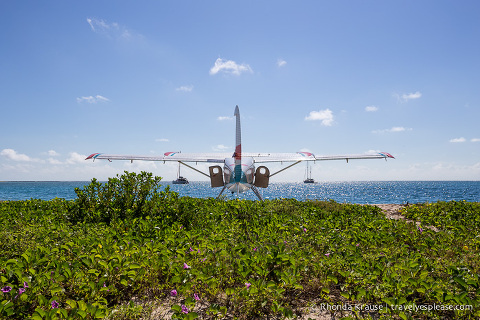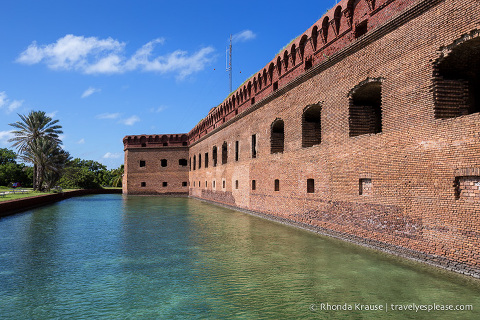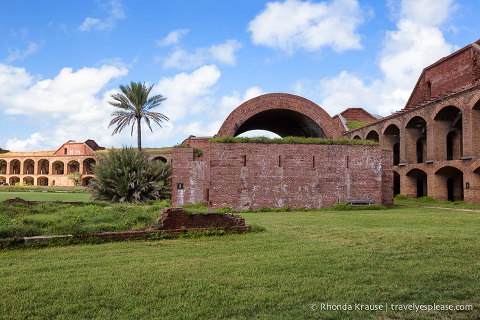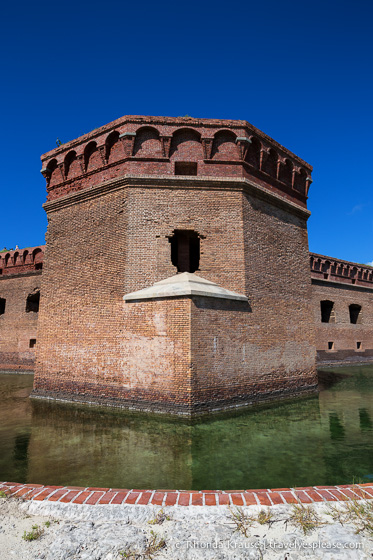 Tips for Visiting Dry Tortugas and Fort Jefferson
Getting to Dry Tortugas National Park:
Dry Tortugas and Fort Jefferson are only accessible by boat or seaplane.
Yankee Freedom III is the only ferry authorized by the National Park Service to bring visitors to Dry Tortugas.
The Dry Tortugas Ferry- Yankee Freedom III:
A day trip to Dry Tortugas aboard Yankee Freedom III cost $190 for adults and $135 for children age 4-16. Reservations are recommended and can be made online or by calling 1-800-634-0939.
The price includes entrance fees to Dry Tortugas National Park, a 45-minute ranger led tour of Fort Jefferson, use of snorkel equipment, and two meals (a breakfast snack and boxed lunch) on the ferry. Additional snacks are available for purchase.
If you prefer to explore on your own, you can download a self-guided tour of Fort Jefferson onto your phone or tablet once you arrive.
The ferry leaves Key West at 8:00 am, arriving at Fort Jefferson between 10:15-10:30 am. You'll then have about 4.5 hours to explore the park and will arrive back in Key West by 5:30 pm.
We were asked to take all our belongings off the boat with us once we arrived, so the staff could clean and set up for lunch. Just a heads up that there is no place to securely store your valuables. We weren't too worried about leaving our stuff on the beach while we snorkeled since most people on the island arrive via the ferry. If my camera gear had gotten stolen it wouldn't have been hard to find the culprit!
Facilities at Dry Tortugas:
No public restrooms are available, so you will have to return to the boat if you need to use the facilities.
There are change rooms on the ferry dock and a hose to rinse off after snorkeling.
There is a small visitor centre and store to buy souvenirs, but no place to get food other than on the boat.
It can be very hot at Dry Tortugas and shade is limited outside the fort, so be sure to bring sun protection.
Information was updated January 2022, but can change without notice. Please confirm directly with service providers.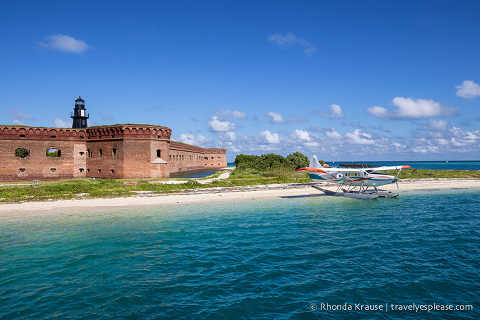 Accommodations in Key West
For your convenience, here is a list of hotels in Key West. Please consider booking your Key West accommodations through the included link. It costs you nothing extra and helps support this website. Thank you!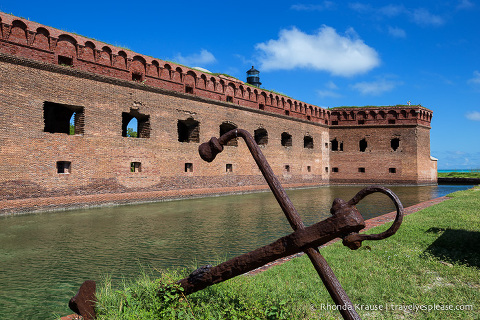 We'd like to thank Yankee Freedom III for hosting us in order to bring you this story. As always, we tell the whole truth and nothing but the truth.
More Florida Destinations and Travel Guides