Purchases made through links earn us a small commission, at no extra cost to you.
Sunsets in Key West are a much anticipated, highly celebrated, beloved event. For us, there was no better place to enjoy the changing colours of the evening sky than aboard a sailboat.
Sunsets are inherently relaxing, but add in the gentle rocking of a sailboat and you'll soon feel calmness take over. I'm not usually one to slow down and relax, but I felt so at peace that I didn't want our sunset sail to end!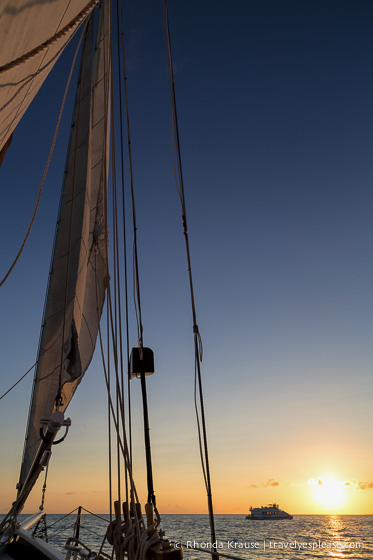 Key West Sunset Sail on the Appledore V
Both Mike and I love being on boats, so it's no surprise that taking a sunset sail was one of our "must-dos" during our 3 days in Key West.
While there are plenty of "party" boats to choose from, we opted for something more unique and romantic. Since I have always wanted to go sailing, we decided on the Appledore V, a 65 ft schooner built in the tradition of 19th century schooners.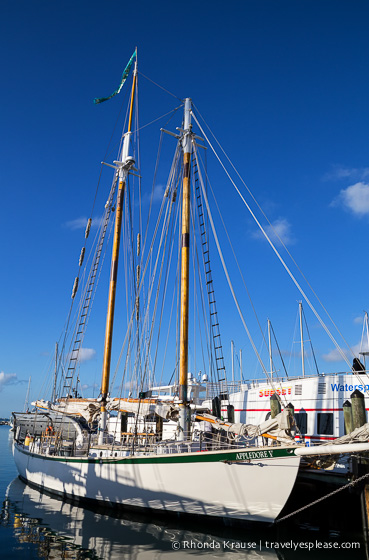 After boarding the boat, the first thing that caught my eye was just how tall the two masts were- 63.5 feet! I was eager to see what it would look like once the sails were raised.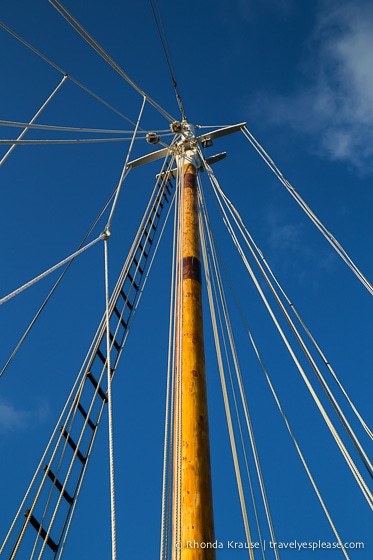 When it came time to hoist the sails, the crew asked if any of us wanted to help. My hand shot up like a rocket, "I do, I do!"
I walked over to the ropes and the crew gave me brief run-down on what to do. Once the captain gave us the go-ahead, we worked as a team quickly pulling hand over hand on the rope to lift the sails.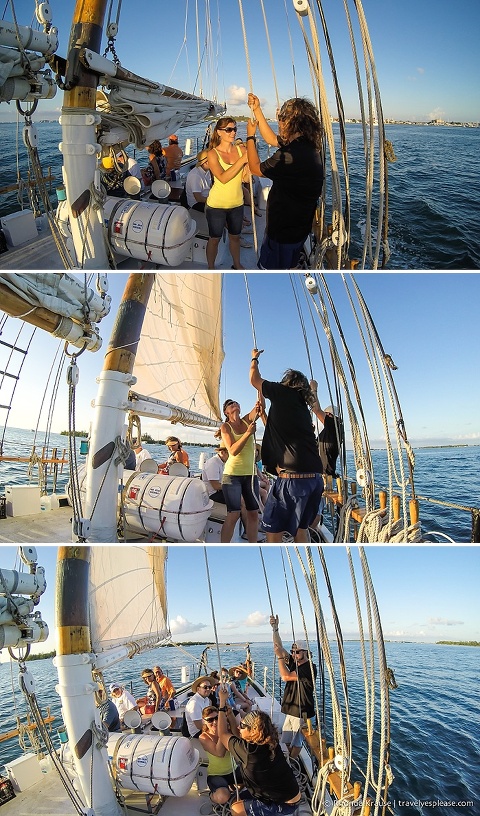 We were now officially sailing! The gentle breeze smoothly carried us across the waters, passing by Sunset Key en-route to the perfect vantage point for watching the sun slide below the horizon.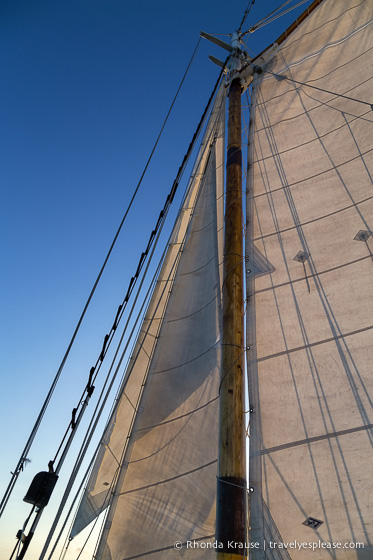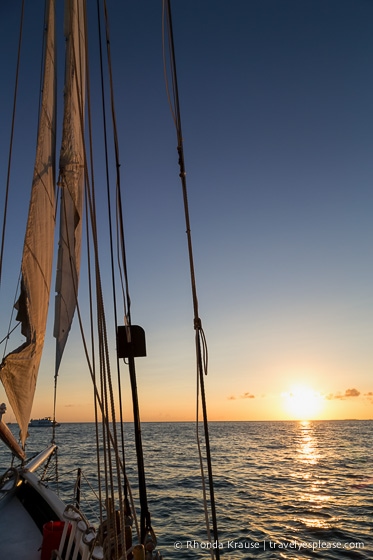 Soon the light began to soften, the sky slowly darkened as the sun's far-reaching golden rays, transformed into a fiery-orange perfect circle.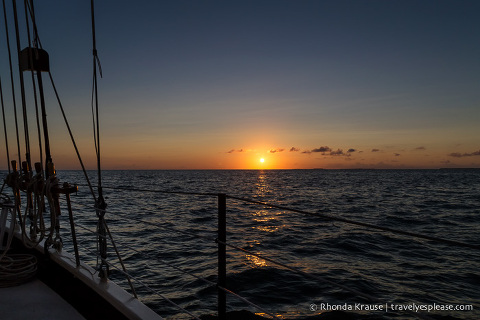 The horizon filled with brilliant colour. Sailboats off in the distance were now elegant silhouettes, gliding across the gentle waves.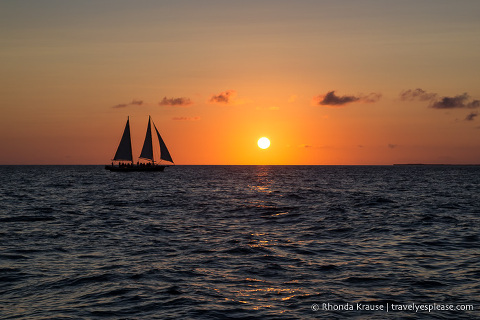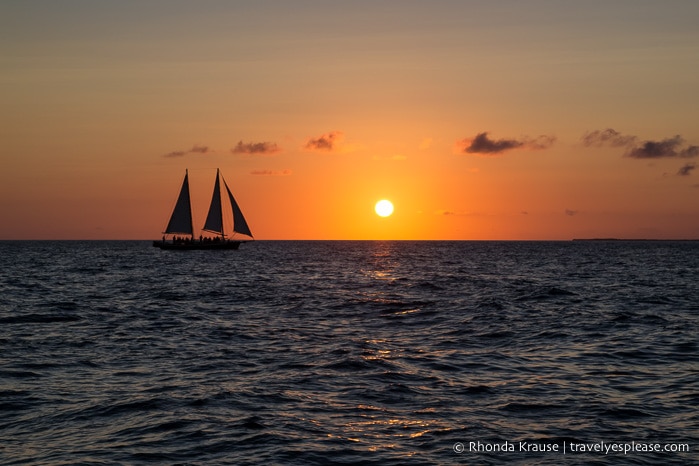 The sun inched closer and closer to the water, then dipped out of view. We all clapped, showing appreciation for the natural wonder we had just witnessed.
The sun may have called it a day, but our sailing excursion was just getting started. The crew spoiled us with fancy cheeses, crackers, fresh fruits, champagne and other refreshments.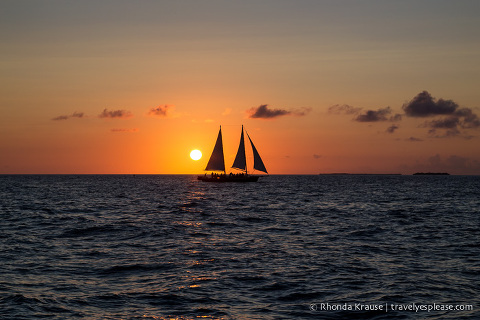 We chatted with the crew about their sailing jobs and swapped travel stories with other passengers. During a break in the conversation, I looked up to the sails. Stars dotted the darkness, shining brightly above us in the clear sky. Our sunset sail had turned into "Sailing Under the Stars", an unexpected treat.
As we slowly approached Key West, I was disappointed that our sailing time had come to an end, yet appreciative for such a wonderful night. This sunset sail was everything I had pictured it would be and more.
Stepping off the boat, I hoped that this would not be my last time on a sailboat, or my last sunset sail in Key West. One day I would love to re-live this classic Key West moment!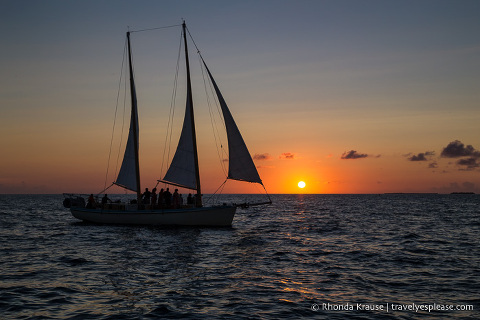 Tips for Taking a Sunset Sail in Key West
Our Key West sunset sail was on the Appledore V schooner, operated by Sebago Watersports. The crew was friendly, attentive and knowledgeable, able to answer all my questions about the ship and sailing in general. There is a passenger limit of 22, allowing for a more intimate experience. The group we sailed with was quite small, well below 22.
The Schooner Champagne Sunset Sail departs at 6:30 pm in the summer and 4:30 pm in the winter. Departure times in the spring and fall vary according to the sunset. Boarding begins half an hour before. The duration of the sail was roughly 2 hours.
Appetizers (cheese, crackers, fruit) are complimentary as are alcoholic and non-alcoholic beverages. We were able to choose from champagne, wine, sangria, beer, soft drinks and water.
There is a marine-style washroom (called a head) on board the Appledore V.
Information was updated January 2022, but can change without notice. Please confirm directly with service providers.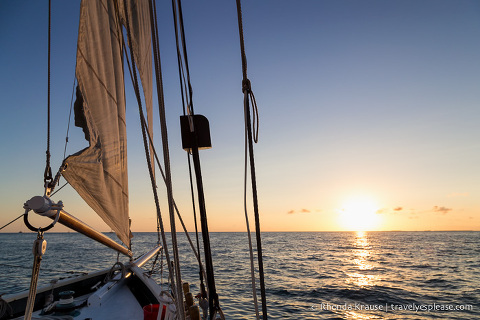 Book a Key West Sunset Sail
Here are some trusted links where you can book a sunset sail in Key West.
Accommodations in Key West
For your convenience, here is a list of hotels in Key West. Please consider booking your Key West accommodations through the included link. It costs you nothing extra and helps support this website. Thank you!
We'd like to thank the Key West Attractions Association for providing us with a complimentary Key West sunset sail. As always, we tell the whole truth and nothing but the truth.
More Florida Keys Attractions and Travel Guides