Purchases made through links earn us a small commission, at no extra cost to you.
Life. Diversity. Those are the two words that first come to mind when I think about Florida's Everglades National Park.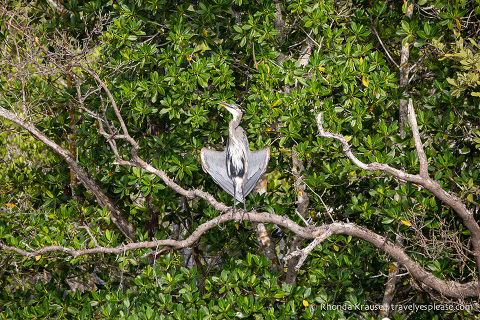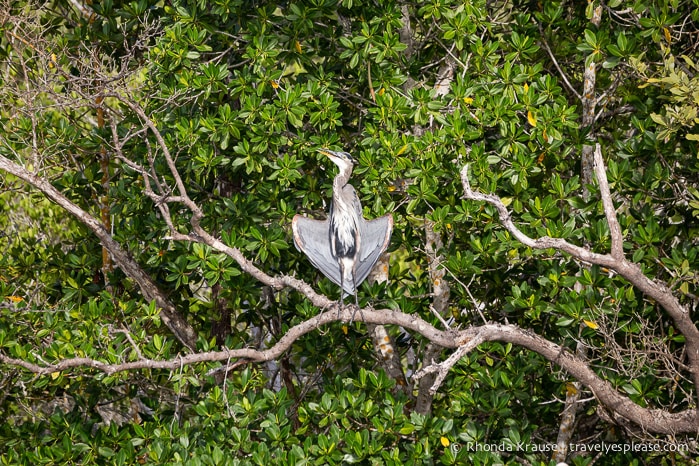 In just one park, you can enjoy an impressive variety of animals, plants and eco-systems. There's freshwater sloughs, tropical hammocks, coastal lowlands, marl prairies, pineland, cypress, mangrove, marine and estuarine environments. The medley of life is incredible!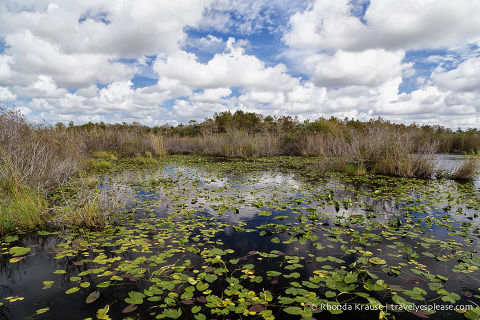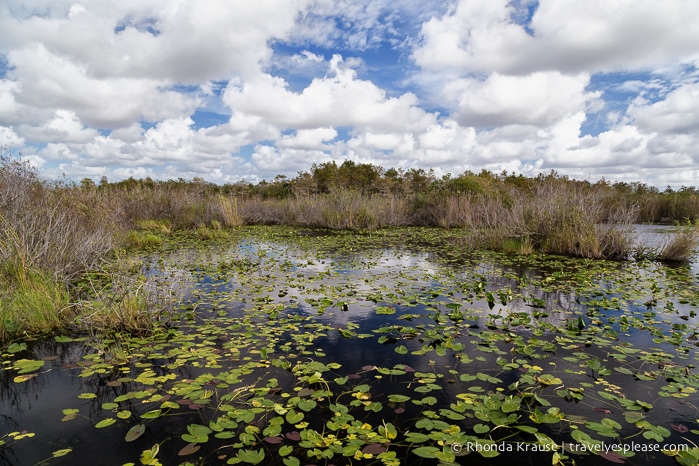 During our two days in the Everglades we saw many different species of birds, alligators, crocodiles, manatees, snakes, turtles, even dolphins. I can only imagine how many animals we might have walked or kayaked past and not even noticed.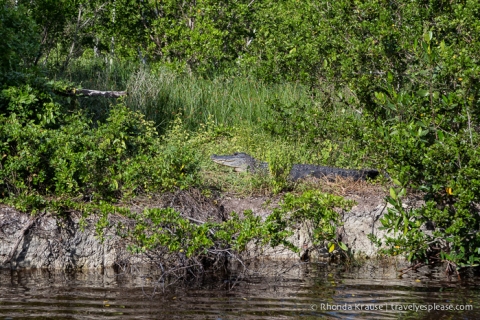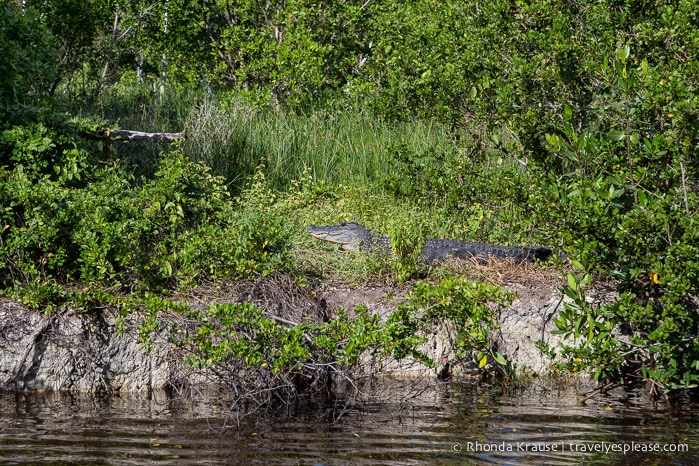 You don't have to be an outdoorsy person or animal lover to appreciate the Everglades, but if you are, you will surely fall in love!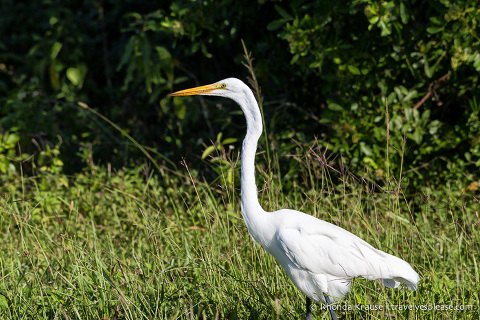 Visiting Everglades National Park
Everglades National Park is huge (1.5 million acres) and most of it can only be explored by boat. To make the most of our time, we had to pick one region of the park to explore.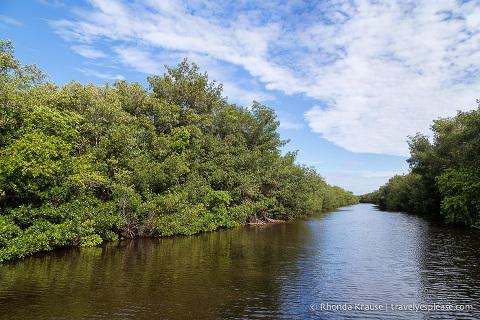 We decided on visiting the south and southeastern area of Everglades National Park because it had a great combination of water activities, guided tours, walking trails and wildlife viewing opportunities. Plus, the park entrance was close to both Homestead and Florida City, which made it easy to find accommodations near the Everglades.
We definitely had no trouble spending two days in Everglades National Park, even though we only visited one area of the park. There are plenty of outdoor activities and natural sights to enjoy!
Points of Interest in Everglades National Park- Places to Visit in Two Days (Southern Area)
The southern part of Everglades National Park is easily accessed from Homestead. We thought that two days was perfect for exploring the points of interest in Everglades National Park and enjoying the activities this section of the park has to offer.
Here's a look at some of the places to visit in Everglades National Park in two days. We hope our Everglades National Park itinerary helps you plan your own visit to this special park.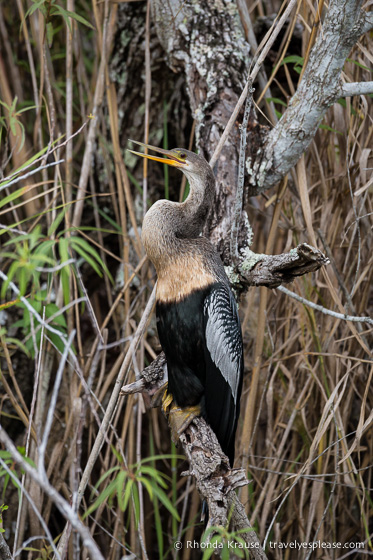 Flamingo
We spent our entire first day and part of our second day in the Flamingo area of Everglades National Park. Flamingo is as far south as you can get by road in the Everglades. Once at Flamingo, the best way to explore is by boat because it gets you nice and close to the park's wildlife and other natural wonders.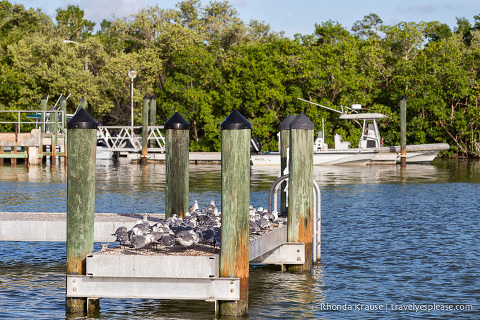 We started off by renting kayaks to explore on our own and followed this up with two narrated boat tours, of Florida Bay and the backcountry, to learn more about the area and its wildlife.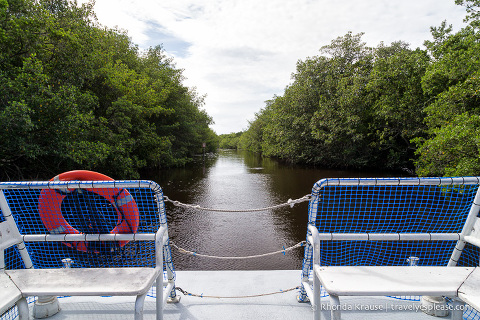 Buttonwood Canal
Kayaking down the Buttonwood Canal was our favourite thing we did at the Everglades. It was so peaceful and relaxing to have the sun shining down on us as we glided past lush mangroves, watching the birds fly overhead.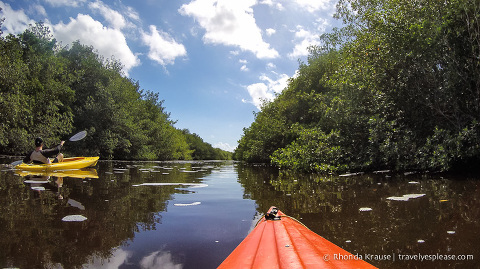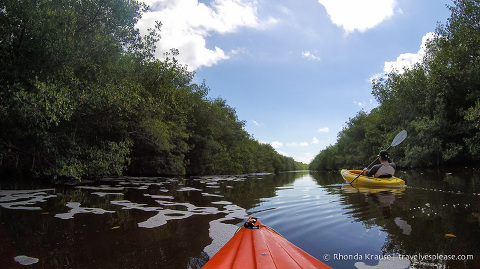 Every so often a motorized boat would come past, stirring up the waters and releasing an unpleasant odor. The smell of rotting plant materials jolted us from our paradise, if only for a short while.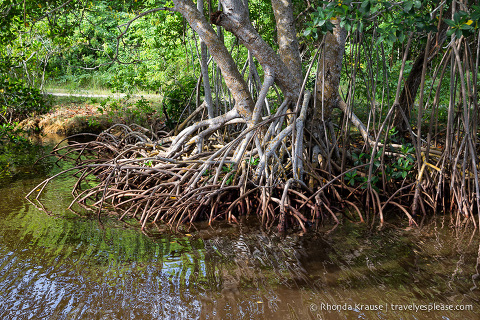 We were a little worried about encountering crocodiles and alligators while on the kayak but didn't notice any, even though we were on the lookout.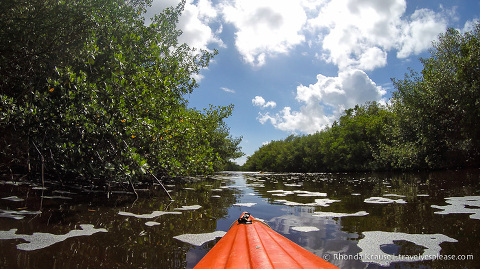 We did hit the wildlife jackpot once we got back to the Flamingo marina though. We saw a family of manatees swimming around the entrance to the canal and even found this big crocodile resting under the dock!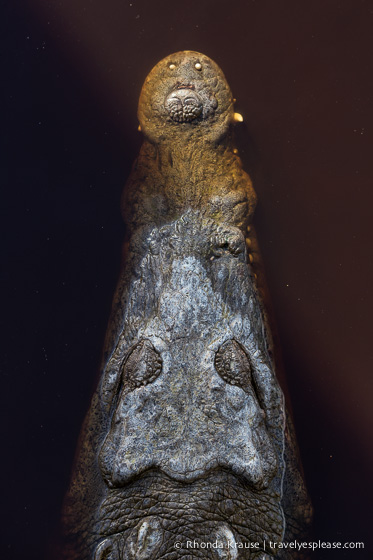 It was a fun little challenge to look down into the waters and see what else we could find while we waited for our boat tour of Florida Bay to start.
Florida Bay
Our tour of Florida Bay was perhaps not as scenic as our kayak trip through the Buttonwood Canal, only because I liked being closely surrounded by mangroves, but it was a great experience as far as wildlife goes.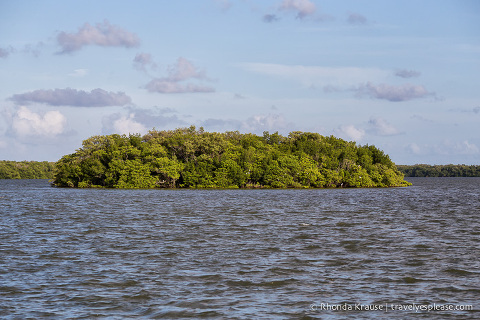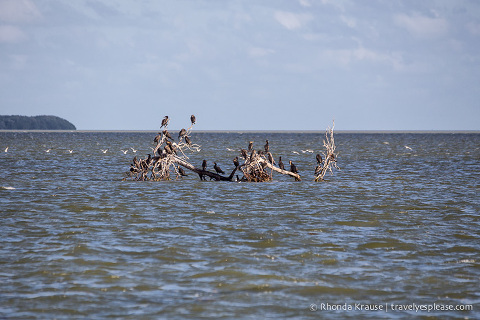 We saw a lot of different birds hanging out along the shoreline and on the Keys, but most exciting was getting to see dolphins swimming not too far from the boat. They move so fast, only appearing for a little while, so it can be challenging to get a picture of them. I didn't try very hard, instead deciding this was one of those moments where it's best to put down the camera and fully live in the moment.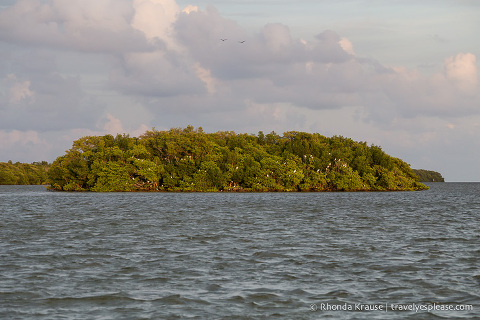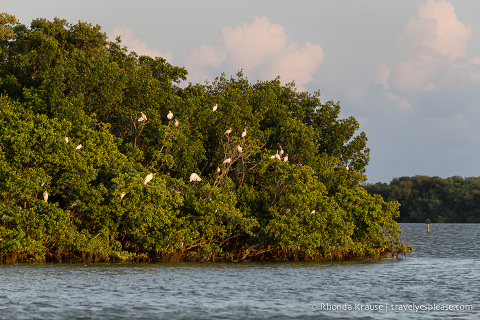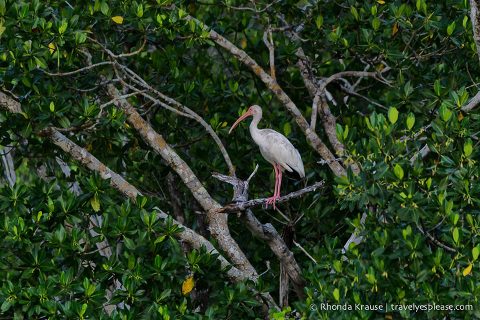 Whitewater Bay Backcountry
On our second day in the Everglades, we decided to return to Flamingo and do a narrated boat tour of the area we kayaked the day before. We wanted to go further into backcountry and it was much quicker to get there by boat!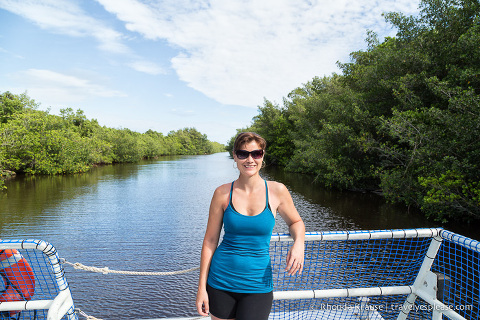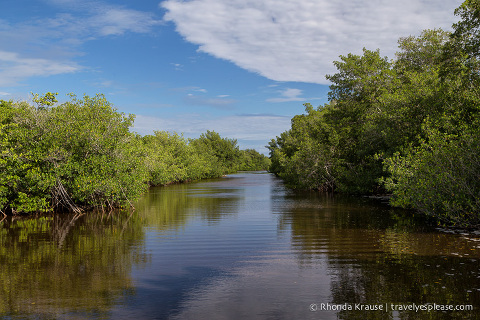 As much I love exploring on my own, we learned so much more about the Everglades by having a guide. He even pointed out wildlife that we probably paddled by the day before but didn't notice. See the baby crocodile?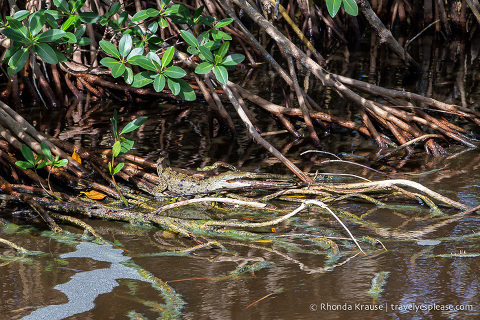 The route that our boat took is part of the 99-mile Wilderness Waterway that goes all the way to the northwest part of the Everglades. We didn't have 7-10 days to spend canoeing the entire waterway, so it was nice to see at least a portion of it on this tour.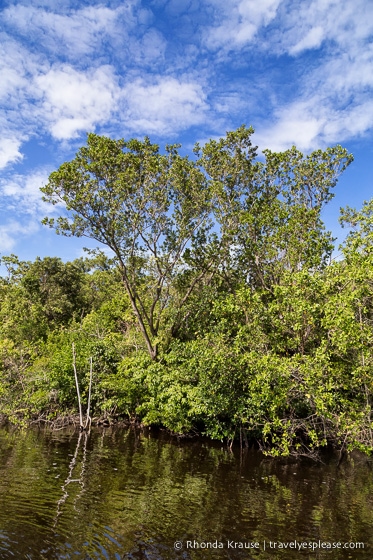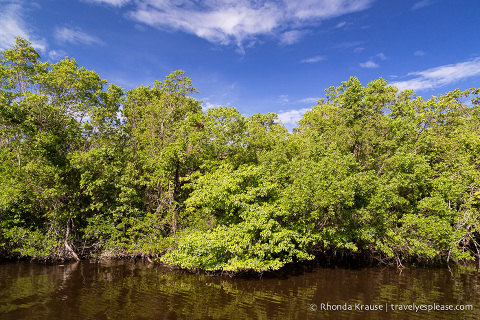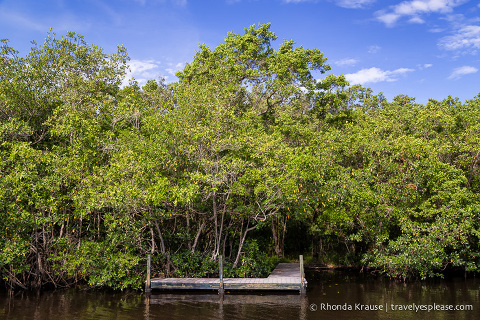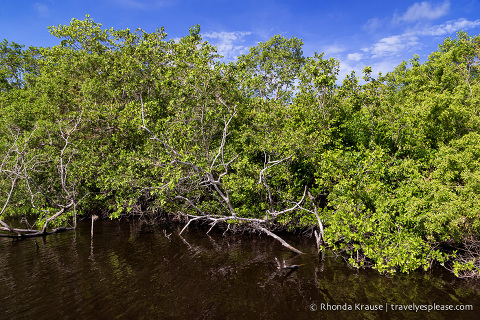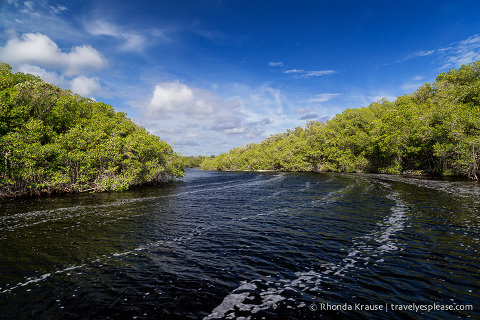 Mahogany Hammock
After our backcountry boat tour, we started driving back towards the entrance to the park, stopping to do a few short hikes along the way.
The first place we stopped at was Mahogany Hammock. Here we walked the half-mile boardwalk that crosses the sawgrass river and loops through an island of trees.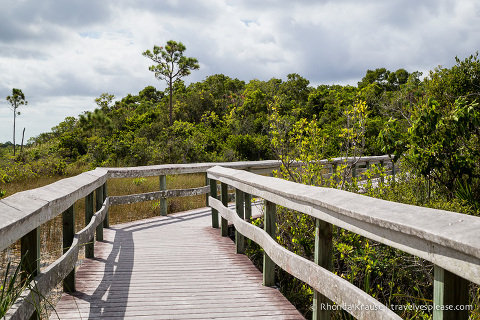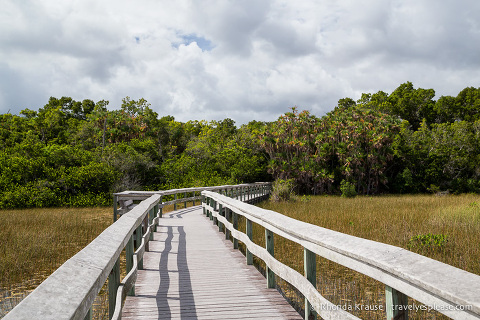 Walking this trail, I felt like I was in the jungle. Bright green subtropical plants lined the boardwalk, shaded by massive, old-growth mahogany trees towering above.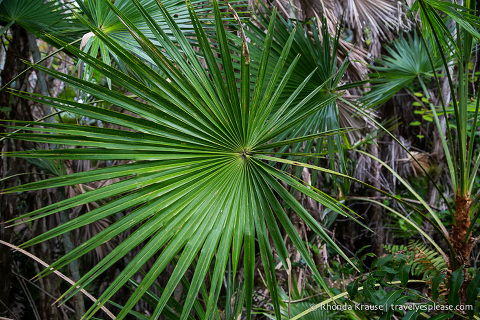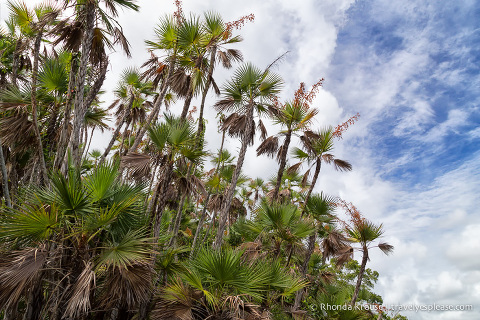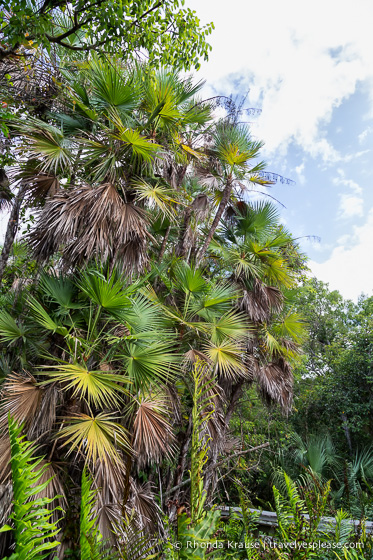 The brush was so dense that we couldn't tell what waited around the bend, so there was always a bit of anticipation for what we'd see next!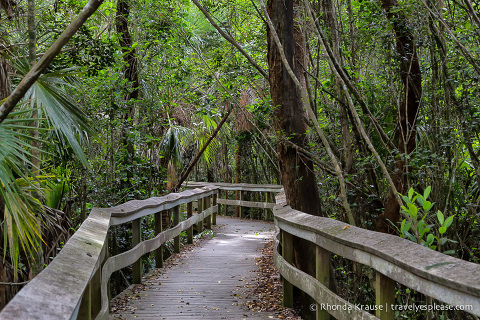 Anhinga Trail
Our final destination was Anhinga Trail and I can't think of a more perfect spot to end our visit to Everglades National Park.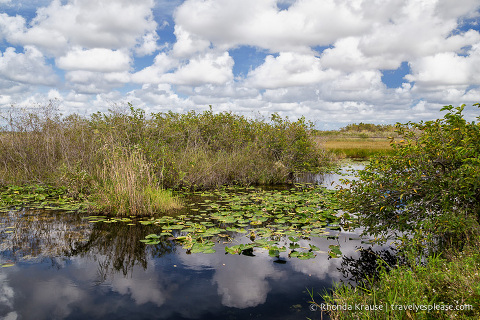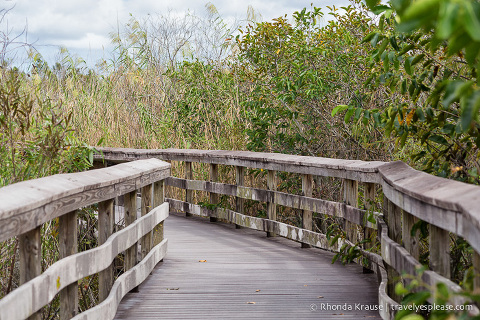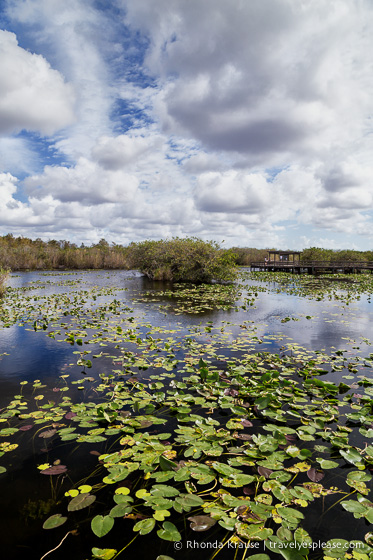 Anhinga Trail offers some of the best opportunities to view wildlife at close range. I felt like a kid playing a game of "I-Spy", always on the lookout for the next animal discovery.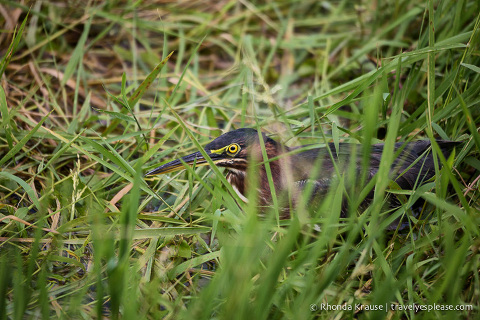 On the half-mile loop we saw an abundance of birds (many different species), some turtles, even a couple of alligators!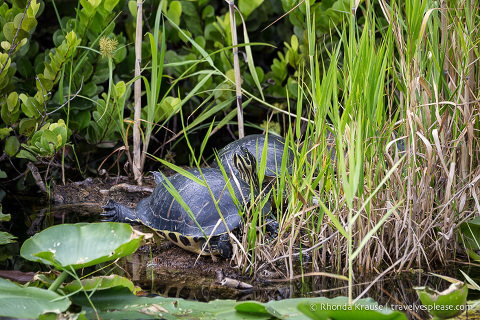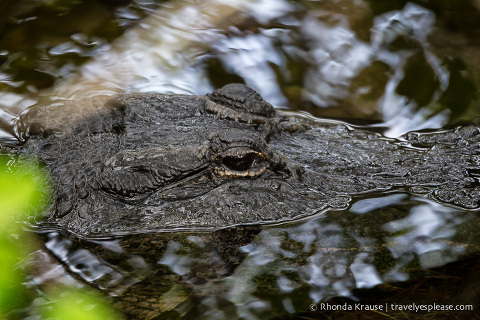 My favourite animal encounter on the trail was the Anhingas. Even though I'm not much of a bird person, I got a kick out of seeing the Anhingas with their wings spread out wide, waiting for the sun to dry them.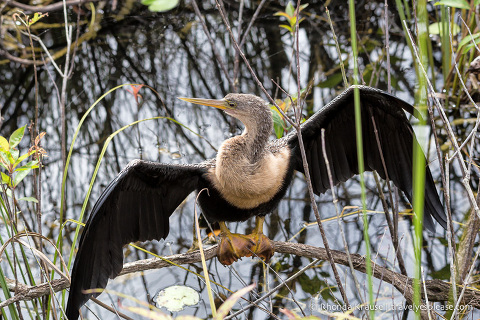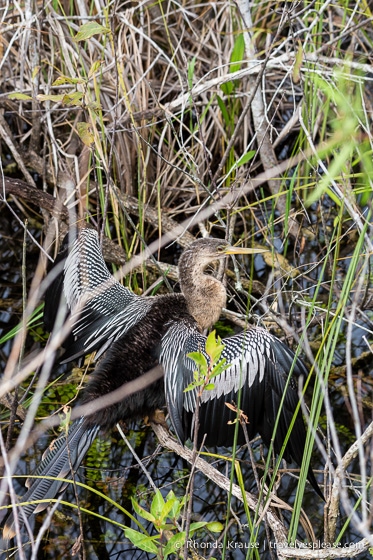 Final Thoughts About Our 2 Days in the Everglades
As we explored the points of interest in Everglades National Park, we couldn't help but think what a special place it is. In just one section of the park, we got to experience a variety of eco-systems and enjoy the flora and fauna that goes along with them.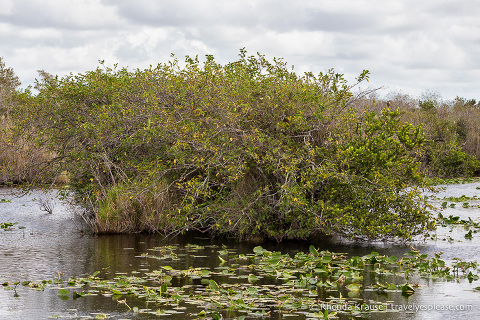 In planning our trip to the Everglades, we had read so much about the mosquitos being overwhelming. Luckily, there were barely any mosquitoes when we visited in late October. There was only one place, Nine Mile Pond, where we got swarmed seconds after leaving the car. I can only imagine how unpleasant it must be to visit the Everglades when the mosquitos are out in full force!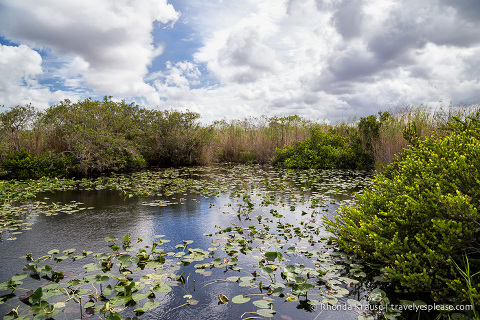 If we ever return to Florida, I would love to go back to the Everglades to explore the northern areas of the park. I'd even come back to the southern region because there are more trails we could walk and canoe.
We very much loved our visit to the Everglades and hope they can survive the water-supply stresses brought on by urban, industrial and agricultural development in Florida. It would be a shame for such an important eco-system to suffer, or even disappear completely.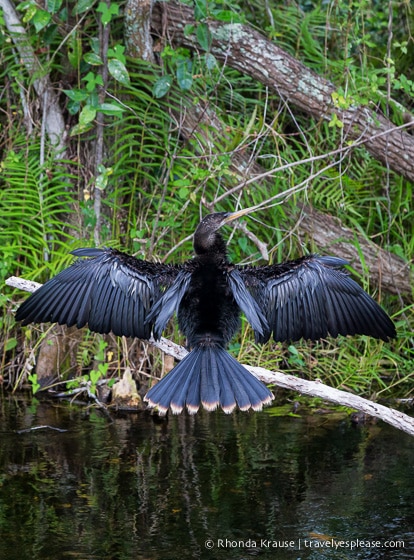 Tips for Visiting Everglades National Park
Park Entrances: There are three entrances to Everglades National Park- The Gulf Coast Visitor Centre (Everglades City/Naples entrance) in the northwest, the Shark Valley Visitor Centre (Miami entrance) in the northeast, and the Ernest F. Coe Visitor Centre (Homestead entrance) in the southeast.
You cannot drive through most of the park so if you want to visit different sections, you will have to leave the park and take the highway to the other entrances.
Hours: Everglades National Park is open 7 days a week 24 hours a day, but the park entrances are not staffed the entire time. At the Shark Valley entrance, vehicles don't have access after 6:00 pm, even though the park remains open. Confirm current operating hours here.
Fees: The entrance fee for Everglades National Park is charged by seating capacity of the vehicle you arrive in. For most people, that means $30/vehicle. The fee for motorcycles is $25 and it's $15 if you walk or bicycle. Confirm current entrance fees here.
The entrance fee is good for 7 consecutive days starting from the day of purchase.
Best Time to Visit the Everglades: There are two distinct seasons in the Everglades- wet season, from April to November, and dry season, from November to March.
The best time to visit the Everglades is during dry season because the warm winters attract the largest variety of wading birds and their predators. Wet season is plagued by mosquitos and many ranger programs are not offered.
We enjoyed visiting in shoulder season (late October) because there was still a lot of wildlife but not a lot of people.
Accommodations: There are no accommodations in Everglades National Park, only campgrounds. The closest hotels are in Florida City and Homestead.
Visitor Centre: If you decide to explore the south Everglades, we recommend beginning your visit at the Ernest F. Coe Visitor Centre. Here you can get maps, brochures and information about ranger-led activities. There also is a gallery that features monthly exhibits highlighting the park's natural and cultural resources.
Rentals and Tours: At Flamingo there is a store and marina where you can rent canoes, kayaks and boats, as well as sign up for boat tours of the backcountry and Florida Bay. Visit this site for more information about the Flamingo Marina, rentals and tours.
Ranger-led tours and programs are also available
Airboat Rides: There are three authorized airboat businesses inside Everglades National Park. They are all located at the north end of the park along Tamiami Trail/Highway 41.
Pets: Leashed pets are allowed in parking lots and campgrounds, but not on trails or in wilderness areas.
Information was updated January 2022, but can change without notice. Please confirm directly with service providers.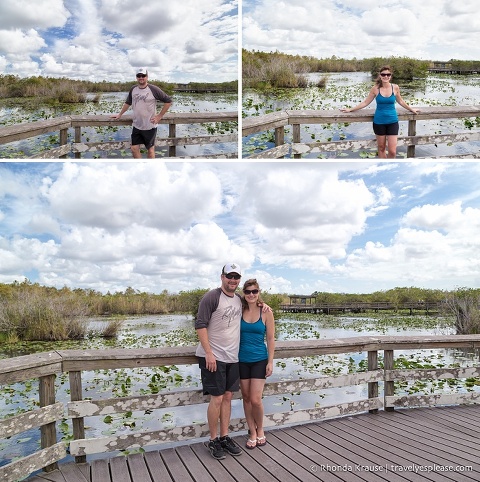 Accommodations Near Everglades National Park
We recommend staying in Homestead or Florida City (like we did) for quick and easy access to Everglades National Park.
For your convenience, here is a list of hotels in Homestead and hotels in Florida City. Please consider booking your accommodations through the included link. It costs nothing extra and helps support this website. Thank you!
More Florida Destinations and Travel Guides