Purchases made through links earn us a small commission, at no extra cost to you.
Key West is well known for its unique and historic houses, but perhaps none is more popular than the Hemingway Home.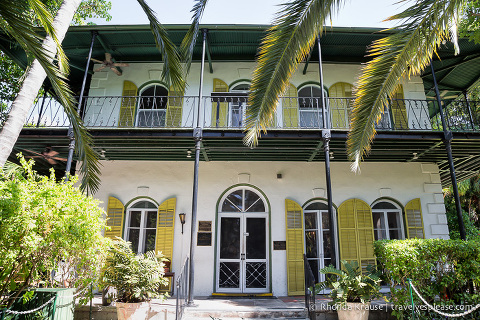 Visitors to Key West are keen on seeing the house where Ernest Hemingway, one of America's most respected novelists, lived and wrote for nine years. During his years in Key West, Hemingway completed about 70% of his works including A Farewell to Arms, Death in the Afternoon and For Whom the Bell Tolls.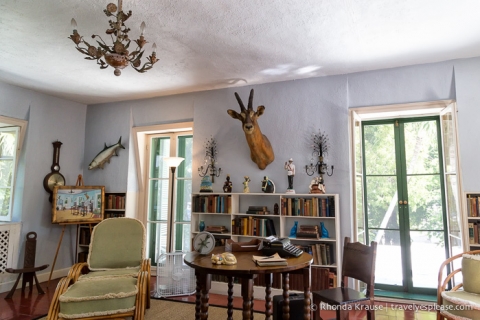 About the Ernest Hemingway Home and Museum
The Hemingway house was originally owned by Asa Tift, a marine architect and captain, who built the house in 1851.
The estate didn't become Hemingway's home until 1931. He purchased the property, which by then had been boarded up and abandoned, for $8,000 in back taxes owed to the city.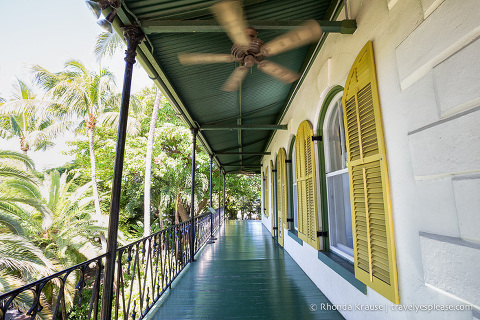 Hemingway, his wife Pauline and their two sons lived together in the house until 1940, when Hemingway left for Cuba. In 1951, Pauline (now his ex-wife) died leaving the house vacant, apart from the caretaker that lived on the property.
For the next ten years, Hemingway used the house as a place to stay during his trips between Cuba and his home in Ketchum, Idaho. When Hemingway died in 1961, his sons agreed to sell the estate.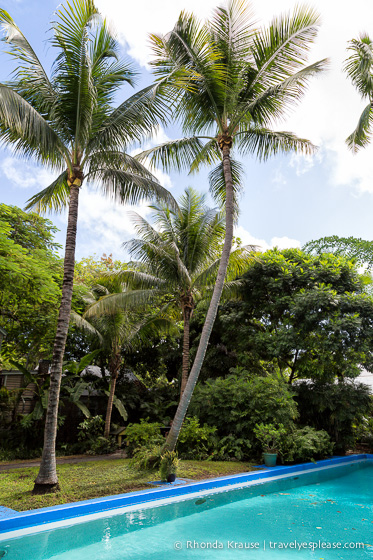 The Hemingway house was bought at a silent auction for $80,000 by Bernice Dixon, a local business owner. She lived in the main home until 1964, when she moved into the guest house and turned Hemingway's home into a museum.
After Bernice's death in the late 1980's, the estate was passed onto her family who have kept the property open to visitors wanting to learn about the life of Ernest Hemingway.
My Visit to the Hemingway Home
My initial interest in visiting the Hemingway Home was not because I'm a Hemingway fan (I've never read anything written by him), but because I love old architecture. I especially have a thing for buildings with wrap around porches and wooden shutters.
I thought the house was very pretty on the outside and had a nice lived-in feeling on the inside. There were little imperfections throughout the house like cracks in the ceiling and chips in the walls. I actually liked that the house wasn't immaculately renovated. Those imperfections remained as a reminder of the house's age. Had they been gone, the house would have lost its historic ambiance.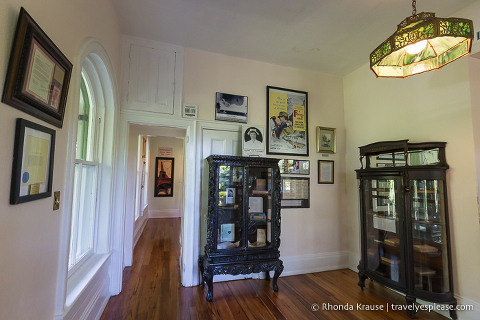 While tours are included in the admission price, I decided instead to wander through on my own. There are many personal pictures and art from Hemingway's collection on display and some of the Hemingway family's furnishings are still in the house. Hemingway collected 17th and 18th century furniture from Spain and his wife Pauline installed chandeliers she collected while living in Paris.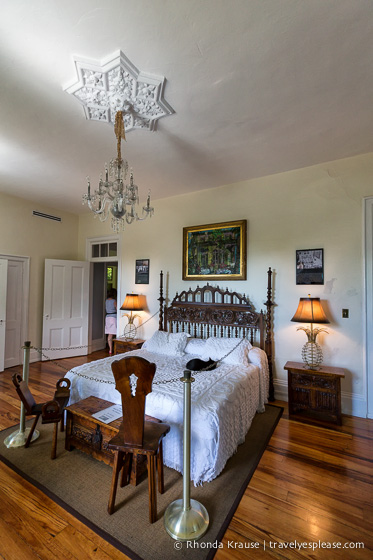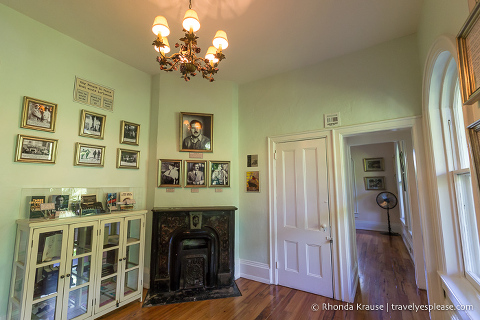 As nice as the furniture and architectural details were, the most memorable part of my visit was the cats. Yes, there are cats all over the property, even in the house!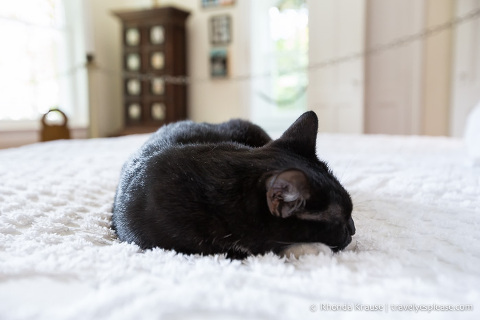 The cats came to be when Ernest Hemingway was given a white six-toed cat by Captain Harold Stanley Dexter. The kitten was from a litter of the captain's cat Snowball, who also had six toes.
Hemingway's boys named their new kitten Snow White and as Hemingway once wrote, "one cat just leads to another". To this day, many of the cats that live at Hemingway Home are descendants of the original Snow White.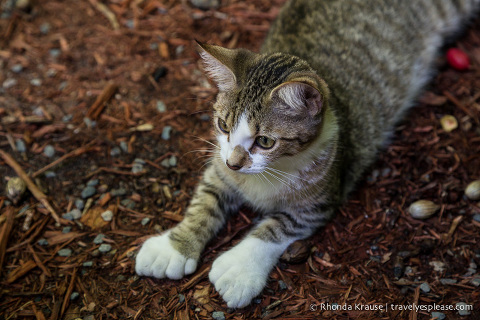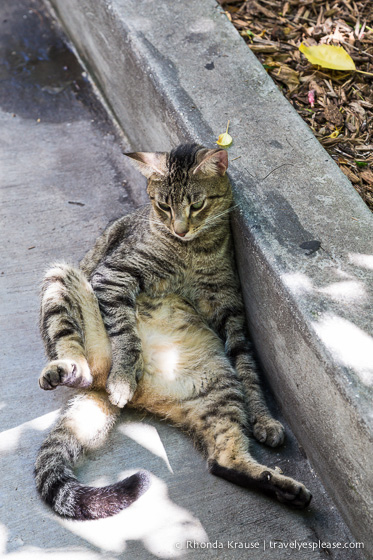 There are so many cats at Hemingway Home that the museum has its own veterinarian to care for them. Unfortunately, cats do not live forever, but you can pay your respects at the Cat Cemetery behind the house. As I was reading the plaque in the cemetery, I noticed that many of the cats were named after famous people. Charlie Chaplin, Emily Dickenson, Mark Twain and Marilyn Monroe were all cats that lived at the Hemingway house.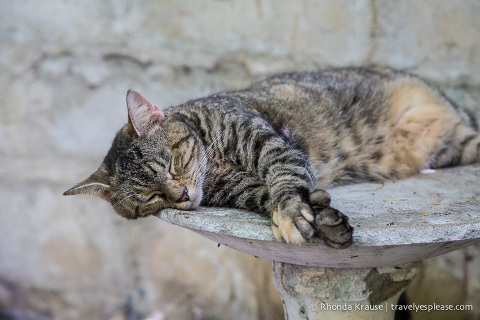 Final Thoughts About the Hemingway Home and Museum
I must admit, I didn't fall in love with the Hemingway property. I think that had a lot to do with the amount of people that were there. A cruise ship was in town that day, so there was a constant flow of visitors through the house.
I loved playing with all the cats though! There was one cutie in particular who had a great time swatting the straps hanging from my camera bag. I didn't know there was going to be cats everywhere, so this was a pleasant surprise!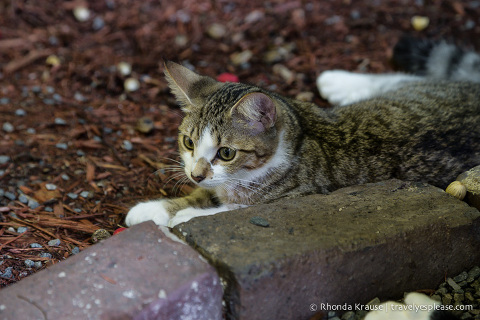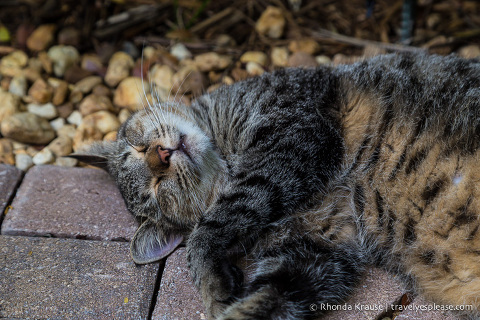 I may have left the Hemingway house thinking, "that was okay" but I bet someone who is a fan of Ernest Hemingway would connect more with the place. Still, I'm glad I visited since it's such a notable property in Key West.
As far as historic homes/museums in Key West go, I much preferred the Audubon House. There were hardly any people there and the tropical gardens were gorgeous!
Tips for Visiting the Ernest Hemingway Home and Museum
Opening Hours: Hemingway Home is open 365 days a year from 9:00 am- 5:00 pm.
Admission Price and Tours: Admission to the Hemingway Home is $17 for adults and $7.00 for children (5 and under are free). They accept cash only. Confirm current prices here.
Included in your admission price is a 20-30 minute guided tour.
More Tips: If arriving on bicycle, there is a bike rack on the property (just beyond the ticket booth) where you can lock it up.
Information was updated January 2022, but can change without notice. Please confirm directly with the venue.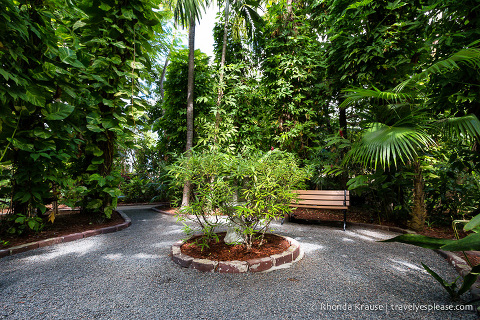 Accommodations in Key West
For your convenience, here is a list of hotels in Key West. Please consider booking your Key West accommodations through the included link. It costs you nothing extra and helps support this website. Thank you!
I'd like to thank the Key West Attractions Association for providing me with a complimentary visit to the Hemingway Home and Museum. As always, I tell the whole truth and nothing but the truth.
More Florida Keys Attractions and Travel Guides