Purchases made through links earn us a small commission, at no extra cost to you.
The scenery during our Alaska cruise was spectacular the entire way through, but nothing was quite as dramatic as sailing into Glacier Bay.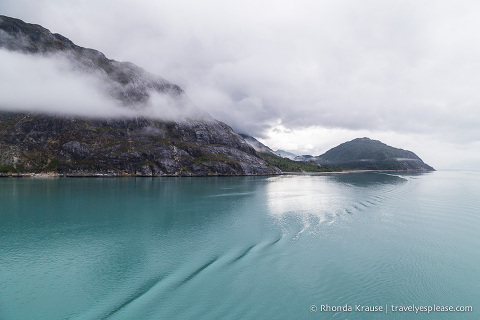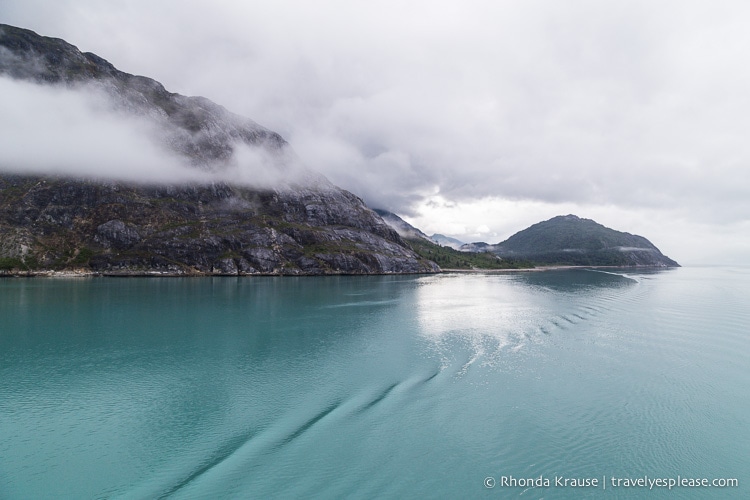 Glistening in the mist, the smooth, turquoise, water below us was mesmerizing. The bay was calm, quiet, yet I was bursting with anticipation for what was to come.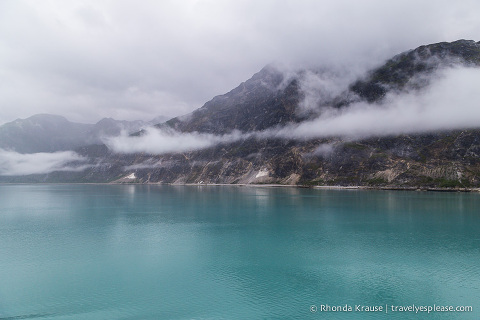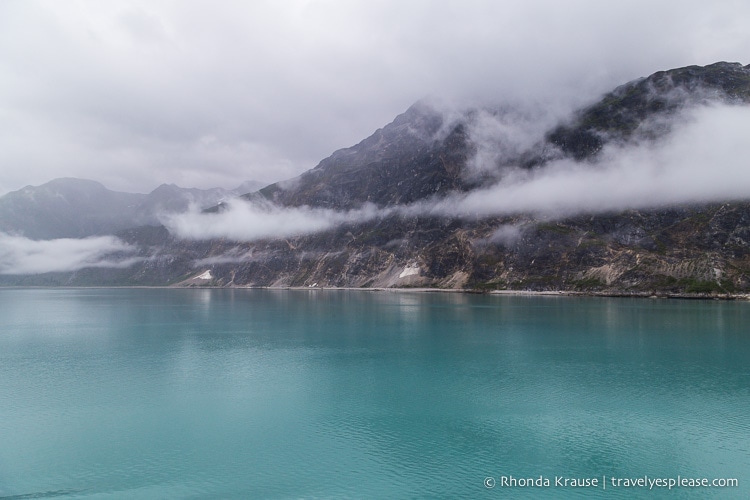 Small icebergs floated past, a sign of the calving glaciers waiting up ahead. We kept our eyes open for wildlife, and sure enough we saw a lone seal hitching a ride on a slab of ice.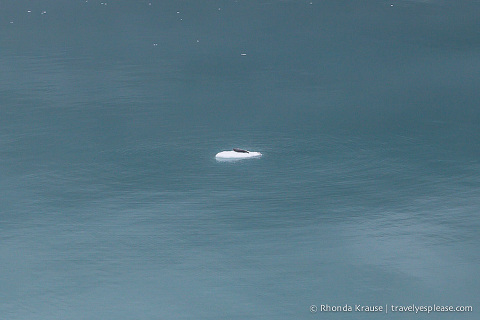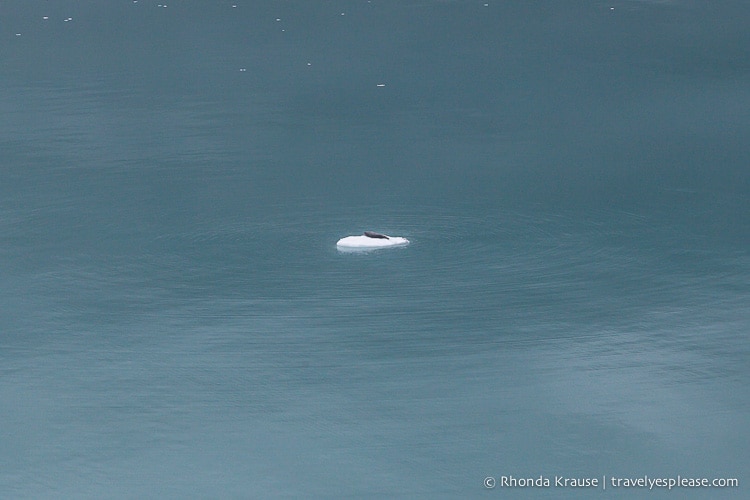 We cruised past numerous glaciers and fog covered fjords during our nine hours in the bay. Unfortunately, the fog impeded our view of some of the scenery, but it did create a nice, almost mystical, atmosphere.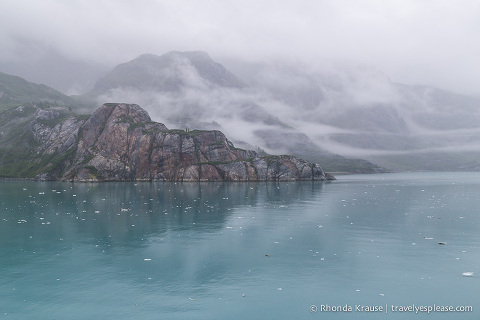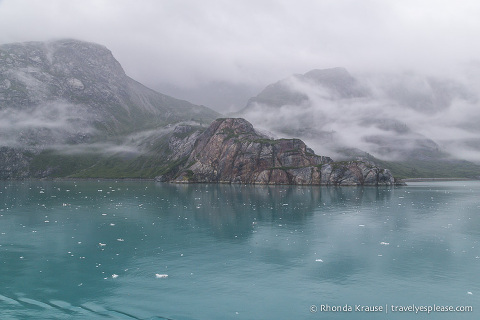 Just as we arrived at our final destination, the rain stopped and the fog parted, revealing an incredible view of Margerie Glacier.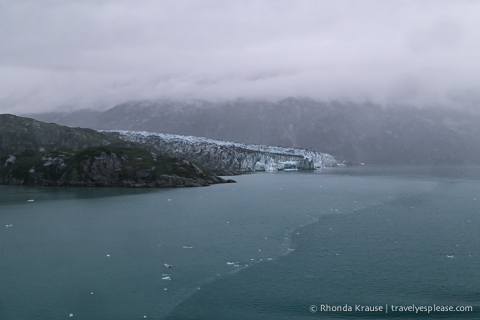 We stood on our balcony as the captain carefully navigated the ship for an up-close view of Margerie Glacier. I was not only amazed by how massive it was, but the amount of noise it made was surprising.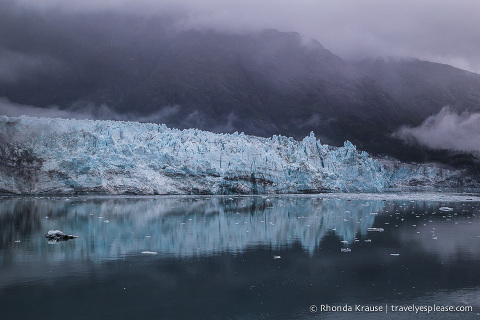 We could hear the ice creaking and cracking, so loud it sounded like thunder in the distance. All of a sudden I heard a loud rumbling. Excitedly, I turned to see a chunk of ice snap off and splash into the cold waters below.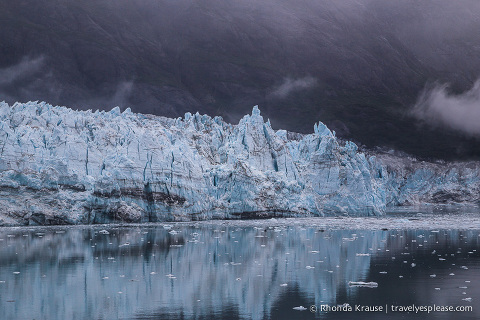 Just before the ship was about to turn around, we made our way to the bow of the boat. From here we could get an even better look at the glacier (once the crowds parted). I loved the pretty blue colour of the ice and how the different layers, built up over time, really stood out.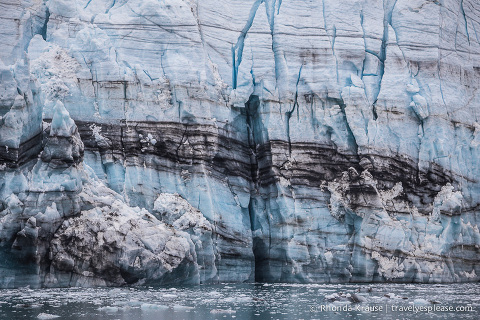 As our ship began sailing away, the rain started once again. I didn't mind though- Glacier Bay had already established itself as an outstanding moment of our Alaska cruise!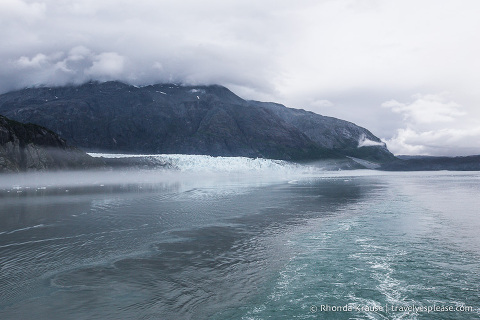 Glacier Bay Facts
Glacier Bay National Park and Preserve is one of the world's largest protected areas. Its 3.3 million acres are part of a 25-million acre World Heritage Site. It is also a United Nations Biosphere Reserve.
When Captain Vancouver passed here in 1794, there was no bay- just ice.
In 1879, when conservationist John Muir arrived at Glacier Bay, the ice had retreated about 64 kilometres.
Visitors today need to travel 105 kilometres up the bay to view tidewater glaciers.
Glacier Bay has experienced at least 4 glacial periods, the most recent being the Little Ice Age. The glaciers we see today in the park are remnants from that glacial period, over 4,000 years ago.
There are 8 glaciers that reach the sea within Glacier Bay. The glaciers flow forward about 3-6 feet each day.
The ice at the front of the glaciers is between 75 and 200 years old!
Glacier Bay is one of the few places in the world where some glaciers are still advancing. Of Alaska's more than 100,000 glaciers, 95% of them are thinning or retreating.
There are drastic tidal changes in Glacier Bay- up to 25 feet in 6 hours!
Harbour seals birth their young on the ice floes in John Hopkins Inlet. For this reason, vessel traffic is prohibited when seals are present.
About 80% of visitors to Glacier Bay arrive on cruise ships.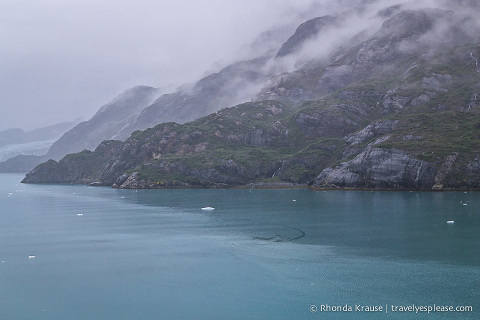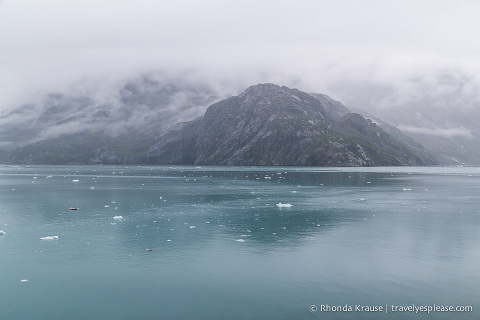 Margerie Glacier Facts and Photos
Margerie Glacier is 34 kilometres long and over 1.6 kilometres wide. Its total height has been measured at 106 metres- 30 metres are below the water surface, 76 metres are above.
Margerie Glacier is a tide-water glacier, meaning that it generates enough snow to flow from the mountains into the sea.
 It begins on Mount Root and flows into Tarr inlet.
 Margerie Glacier is considered to be stable- it's not receding or advancing.
It was named after Emmanuel de Margerie, a French geologist and geographer.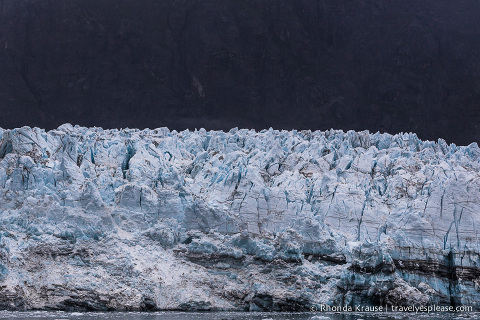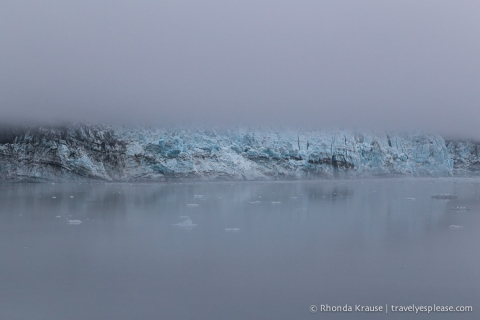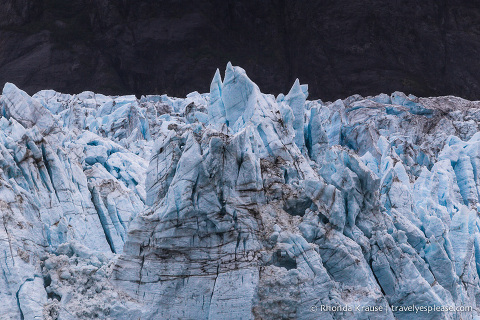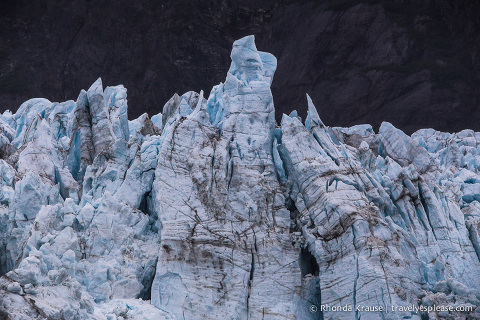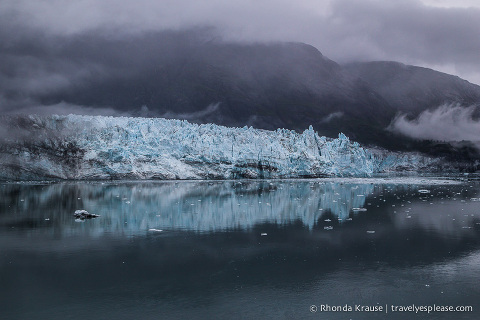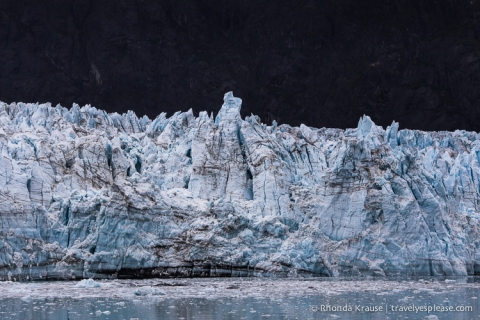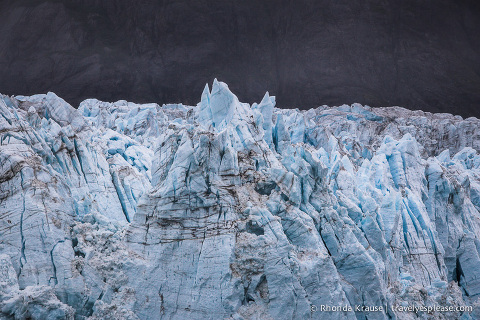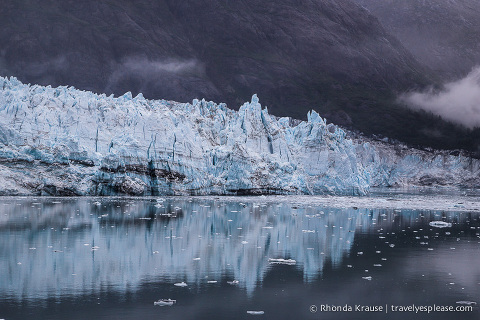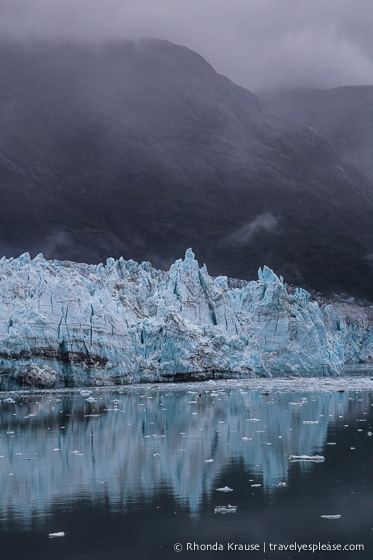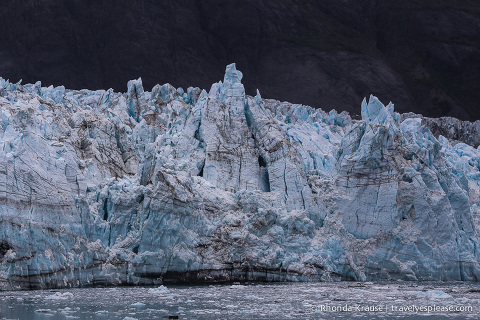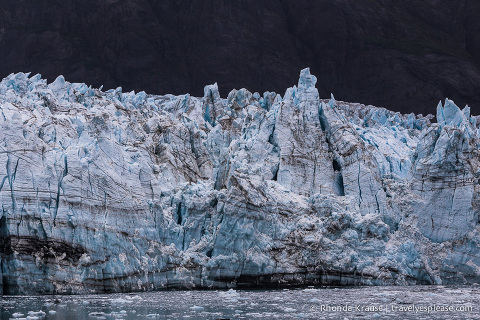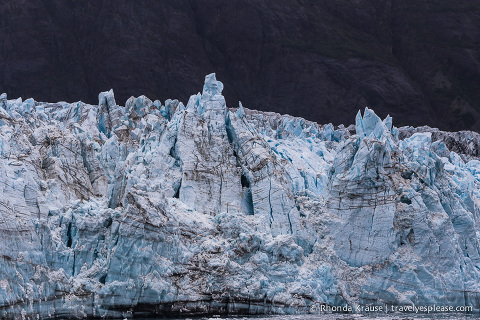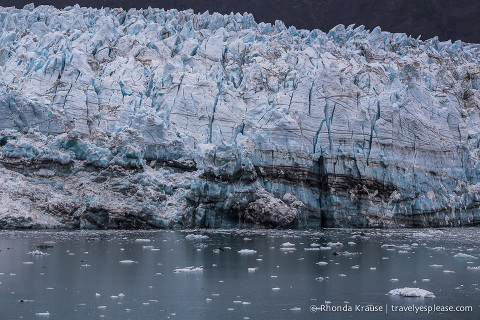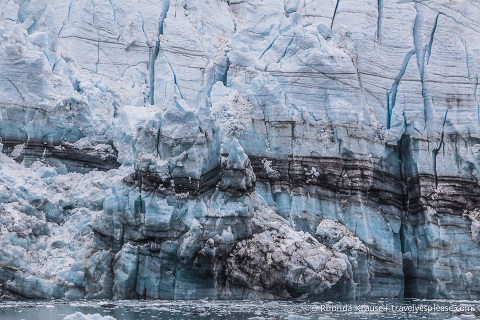 Tips for Visiting Glacier Bay
Glacier Bay can only be visited by air or water.
If you're hoping to visit Glacier Bay during an Alaska cruise, keep in mind that not all companies/ships are authorized to go in to Glacier Bay. This somewhat limits your choices when it comes to choosing a cruise line.
If you have an interior cabin on a cruise, you will want to grab a chair in front of a window or railing early in the day. With so many people wanting to see the glaciers, it can get quite crowded on the decks.
Pack clothes that will keep you warm and dry. Also bring a rain cover and cleaning cloth for your camera.
Visitors who plan on bringing their own boat into Glacier Bay are required to have a permit (required from June 1-August 31). Permits are good for up to seven days and you can make a reservation up to 60 days before your trip. Visit the National Park Service website for more information.
More Photos of Glacier Bay and Margerie Glacier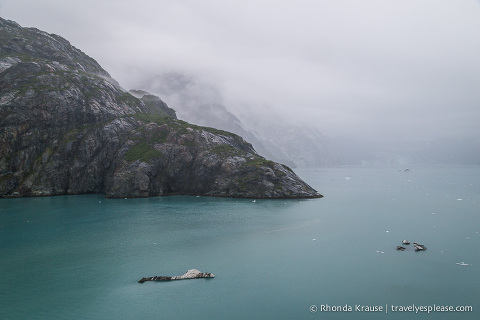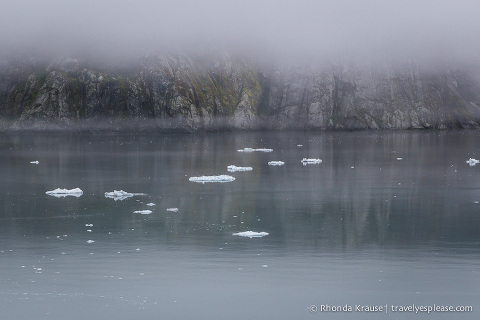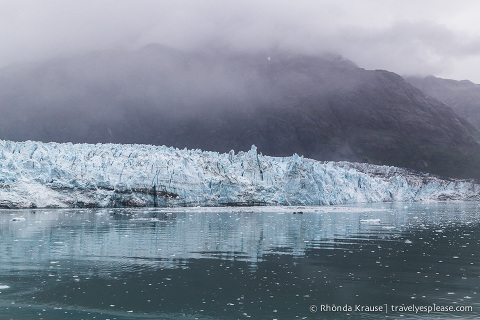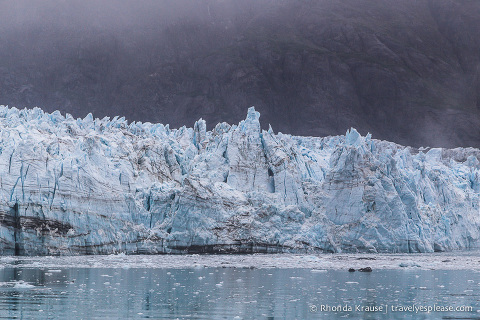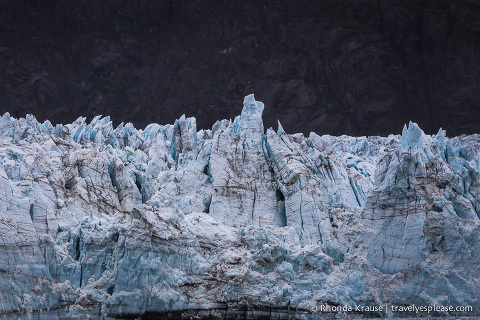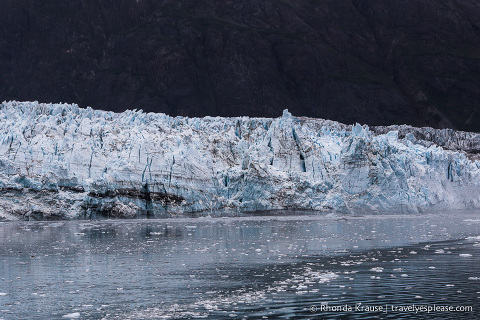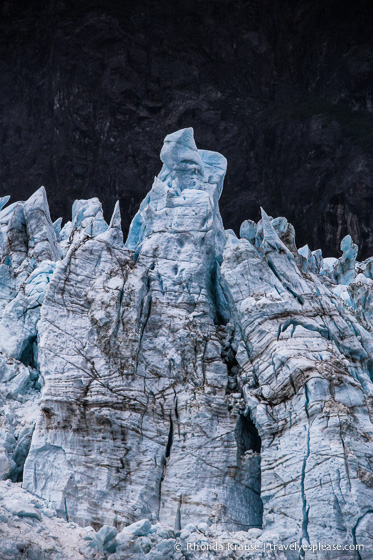 More Alaska Destinations and Travel Guides