Purchases made through links earn us a small commission, at no extra cost to you.
Mendenhall Glacier is Juneau's top tourist attraction and one of Alaska's most accessible glaciers. A short 15-20 minute drive from downtown Juneau is all you need to reach the enormous sheet of ice.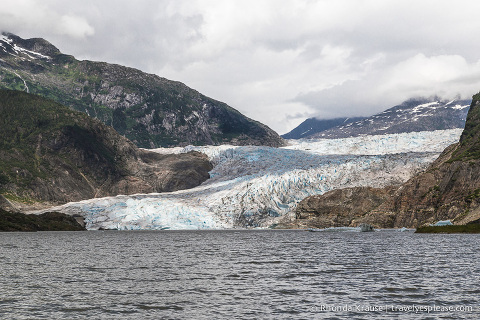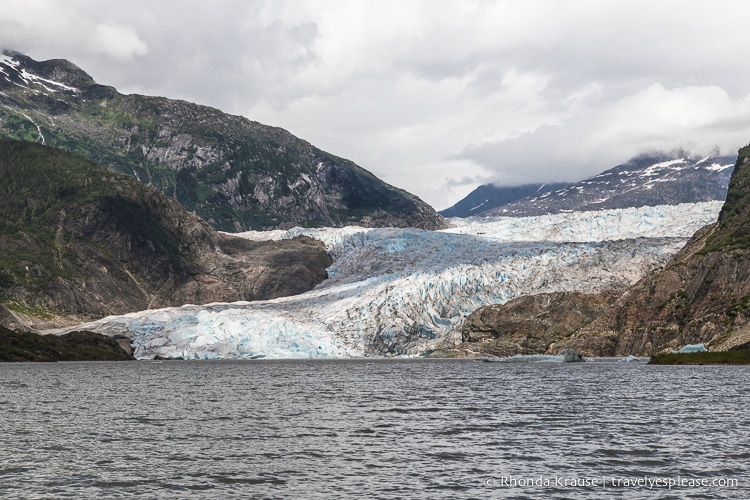 Visiting Mendenhall Glacier
Stretching over 2.5 kilometres wide and 19 kilometres long, Mendenhall is sure to impress, even from afar. We caught our first glimpse from the highway, not long after leaving Juneau, and it made my eyes widen in excitement!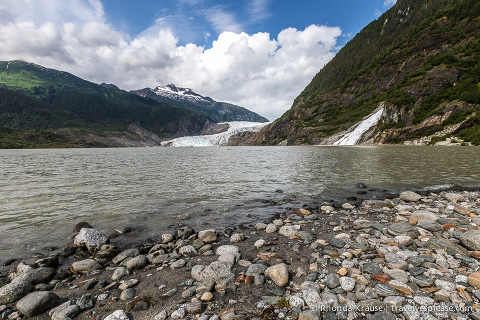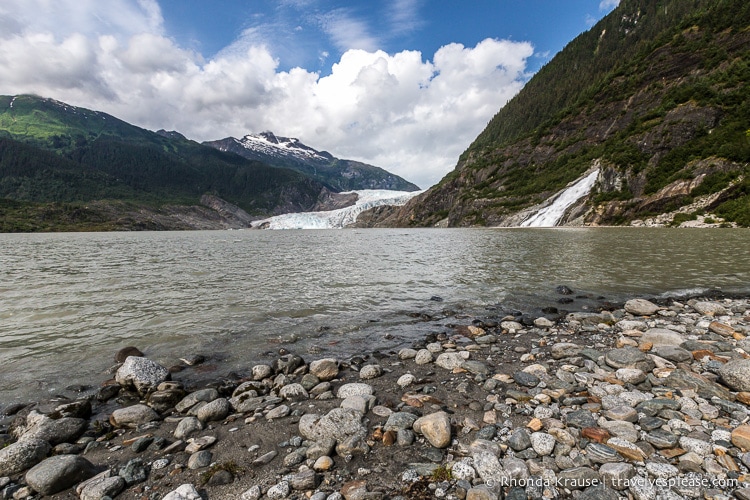 Upon arriving at the Mendenhall Glacier Visitor Centre, you'll be greeted with a sprawling view of this famous ice field. A lot of people choose to admire the glacier here, from across the lake, but to fully appreciate this natural wonder you'll need to get a little closer.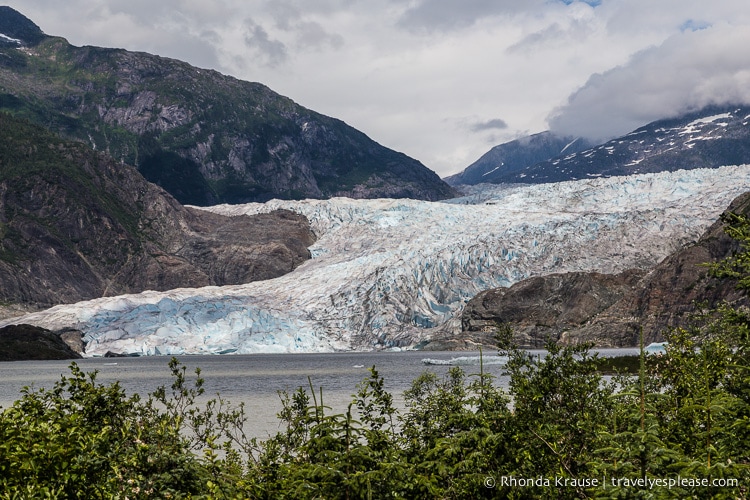 The easiest way to get near the base of the glacier is to take the Nugget Falls Trail. It's a flat, well-maintained trail, but can get pretty busy when the tour buses arrive.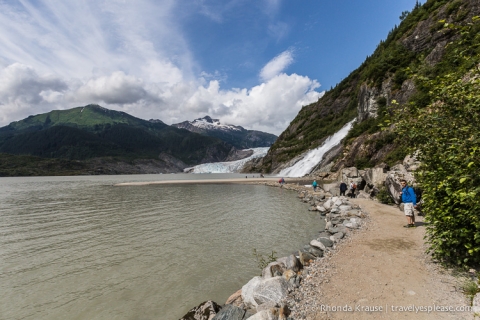 As an alternative, we chose to walk along the sandy beach of Mendenhall Lake. While the beach access is not maintained, we got to take our time and enjoy the views of small icebergs floating nearby.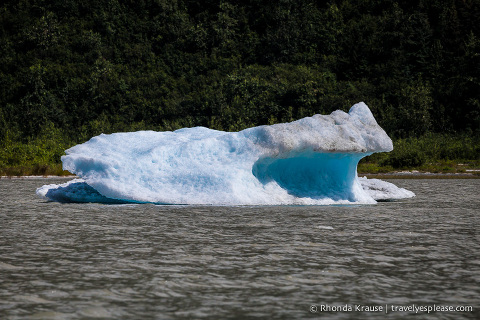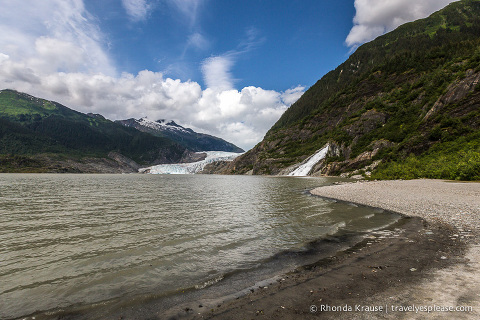 The end of the trail offers unique views of the glacier's face. The icy blue colour really stands out amid the interesting formations and layers of ice built up over the years.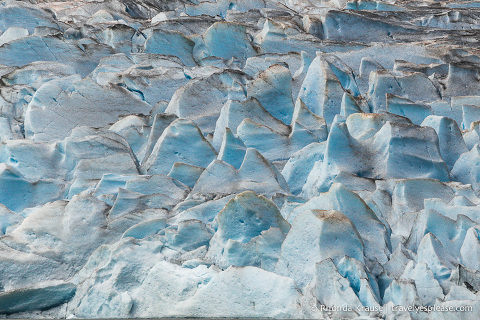 Not only do you get to see the glacier up close, but you'll get to experience the raging waters of Nugget Falls. I couldn't believe the amount of water that was roaring over the rocks!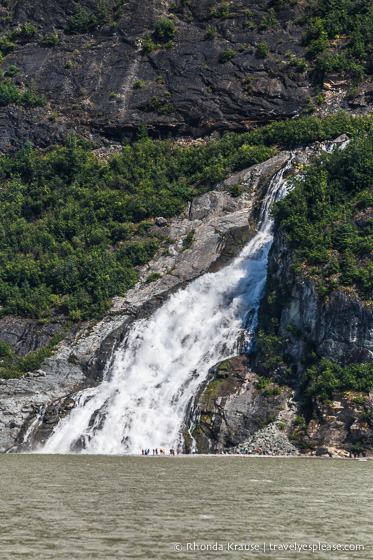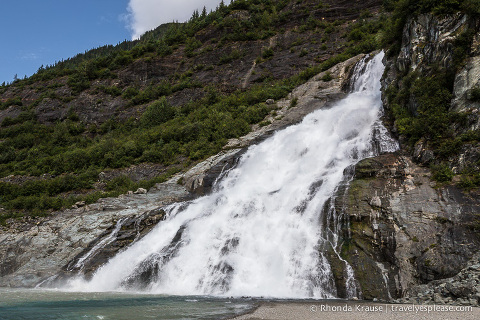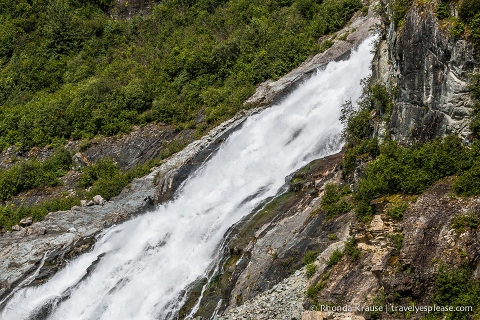 As massive as this glacier is, it has still experienced the negative effects of rising average temperatures. Mendenhall glacier has receded 2.82 km since 1958 and over 4.0 km since 1500. Mendenhall Lake didn't even used to exist because the area was covered by ice until 1958!
Many local researchers believe that the glacier will recede so far that soon it won't be visible from the Mendenhall Glacier Visitor Centre.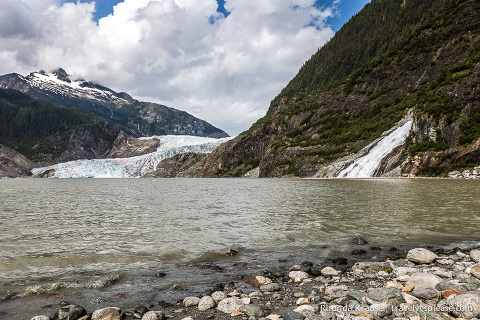 So, if you ever find yourself in Juneau, be sure you make a trip to Mendenhall Glacier before this natural beauty disappears!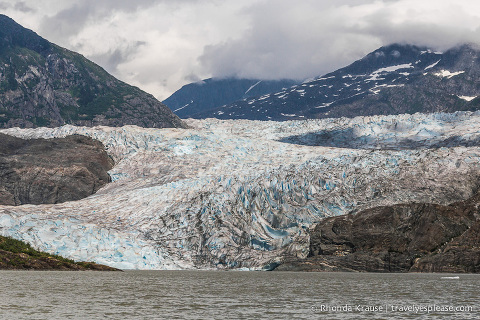 Tips for Visiting Mendenhall Glacier
Getting There: Mendenhall Glacier is easily accessible from the cruise ship docks if you don't want to do an organized excursion as part of your Alaska cruise. There is a shuttle bus that picks people up in the parking lot beside the Goldbelt Mount Roberts Tram. It's first come first served and leaves every 20-30 minutes. The shuttle schedule is synched to the arrival and departure times of cruise ships. Service is less frequent on days when ships aren't in port.
You can also take the city bus to Mendenhall Glacier, but it doesn't leave from the cruise ship dock and drops off passengers 2.4 km from the visitor centre. While significantly more affordable, this option involves a lot of walking.
Another option is to take a cab, but before you get in make sure they are authorized to go all the way to the visitor centre.
Admission: Visitors must buy a park pass to enter the Mendenhall Glacier Visitor Centre and access Photo Point Trail and Steep Creek Trail. Access to the other trails is free.
Mendenhall Glacier Visitor Centre: Current operating hours and fees can be found here. The Visitor Centre is closed for two weeks at the end of April.
Trails at Mendenhall Glacier: Here is a map of the Mendenhall Glacier trails. For the closest views of the glacier, check out the easy Nugget Falls Trail or the longer and more challenging East Glacier Trail.
Other trails you may want to explore are Powerline Trail, Moraine Ecology Trail, the Trail of Time, and the Dredge Lakes and West Glacier Trails.
Steep Creek Trail is near the visitor centre and may provide good wildlife viewing opportunities. This boardwalk trail is built off the ground to allow passage for bears and other wildlife.
Bear Safety: Make sure you read up on bear safety before your visit and respect the signs forbidding food at Mendenhall Glacier.
Information was updated January 2022, but can change without notice. Please confirm directly with service providers.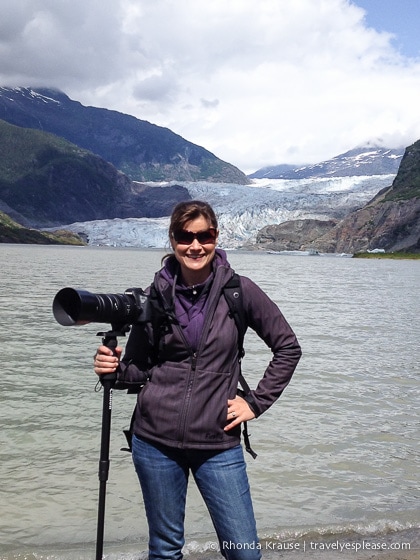 Accommodations in Juneau
For your convenience, here is a list of hotels in Juneau. Please consider booking your Juneau accommodations through the included link. It costs nothing extra and helps support this website. Thank you!
More Alaska Destinations and Travel Guides