Purchases made through links earn us a small commission, at no extra cost to you.
My favourite day of our Alaska cruise was in Ketchikan, when we went on a bear watching excursion to Neets Bay.
After a short floatplane ride flying over stunning scenery of mountains, lakes and forests, we smoothly landed in Neets Bay and glided up to the dock to meet our guide.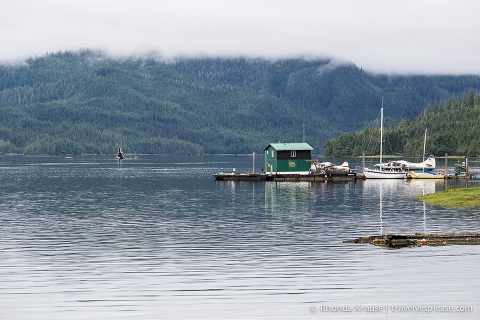 Bear Viewing at Neets Bay, Alaska
After our guide introduced himself, he slowly led us down a trail to a nearby fish hatchery. Along the way he told us some information about bears and pointed out some scratches that one had made on a tree.
We briefly stopped at the fish hatchery, but I wasn't at all interested in that. I wanted to see some bears!
Finally, we got to the lakeside, our home for the next hour while we waited for a bear to appear.
We waited…and waited…and waited. I was beginning to worry that my dream of seeing a bear in the wild was not going to come true.
"If we don't see a bear, this is going to be the biggest waste of $370 ever," I pouted to Mike.
I tried not to worry so much and occupied my mind by taking pictures of the surrounding scenery and a blue heron majestically perched on the rocks in front of us.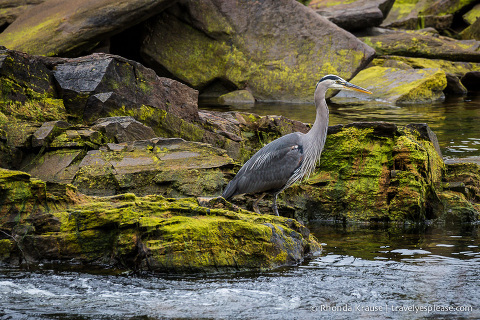 Everyone was talking amongst themselves but not me, I was constantly on the lookout.
I was expecting the bear to come down in front of us, since there were no people on that side of the stream. So when I turned my head and saw a black bear walk out the bushes behind us, I was shocked!
I couldn't even speak. I just stood there frantically pointing at the bear as it began to make its way to the stream.
Holy crap! There's a bear! There's a bear! was all I could think.
It looked right at us as it walked through the long grass.
It's so close. What do I do? What do I do? I panicked, forgetting that our experienced bear guide was right behind us with his bear spray.
The bear took no interest in us, thank goodness. He just wanted to go fishing.
In a few seconds he had caught his first salmon. Not long later he caught a second.
We watched in amazement as this beautiful, five year old male bear, feasted on his lunch. He sat himself down, using the rock in front of him as a table.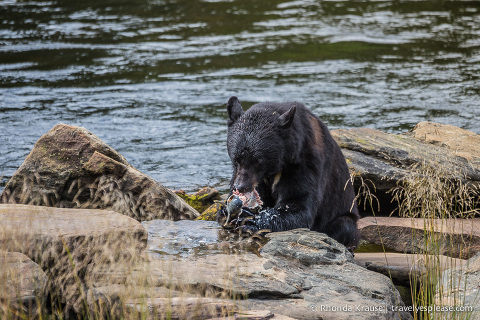 Holding his salmon in one paw, he stretched out the claws on his other paw and ran them down the belly of the fish. The salmon's skin flopped open, exposing its meaty insides.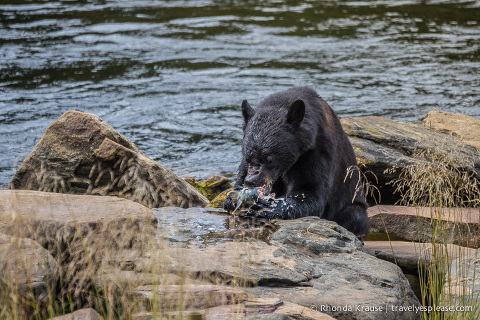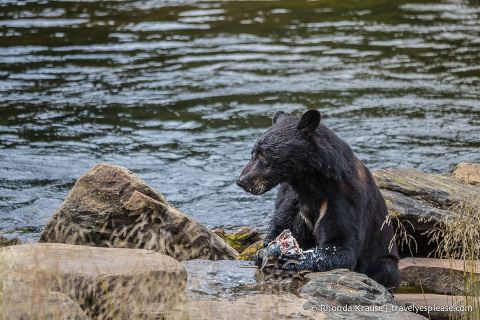 The bear bit in, his nose wrinkling up as he gnawed on his fresh catch.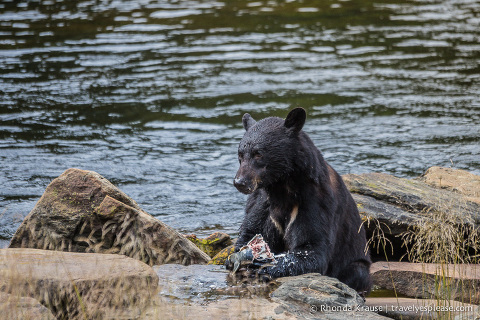 Every so often he would take a break from eating and calmly look around. Isn't he cute!
Soon he'd return to messily eating his lunch, fish juices flying everywhere!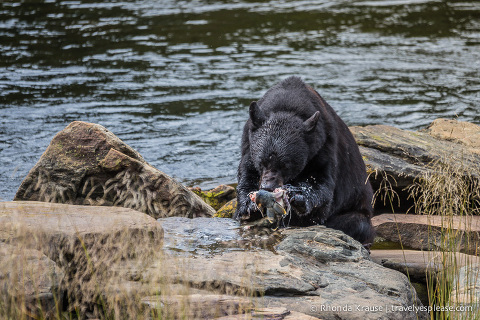 It was fascinating to watch him eat. I thought he would have swallowed that fish in no time, but he seemed to savour every bite. He even started to lick the fish skin clean!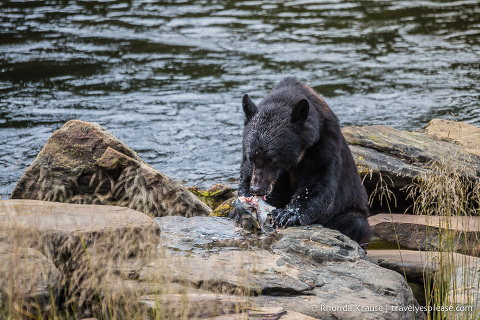 Once again, the bear took a break to survey his surroundings. I like to think he posed just for me so I could take this next picture!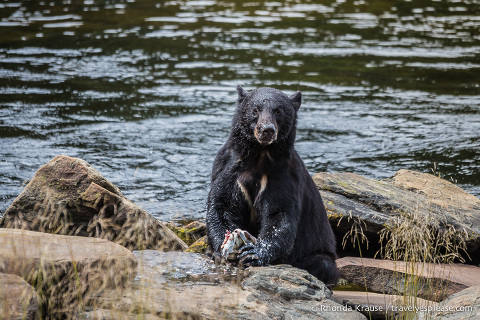 He was so cute that I couldn't help but take a lot of photos. I was thrilled that I had finally seen my first bear! I had been wanting to see one forever!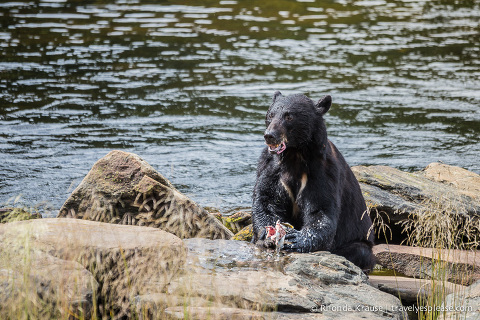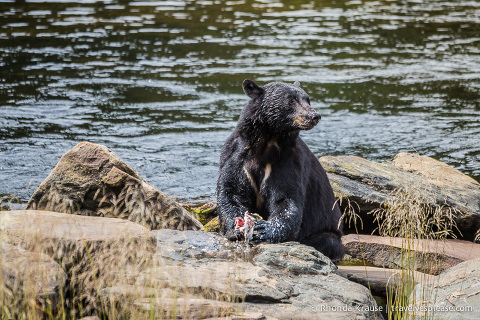 Not long after the bear appeared, our guide said we needed to start thinking about heading back.
"What!", I exclaimed out loud then thought, The bear just got here, there's no way I'm leaving yet.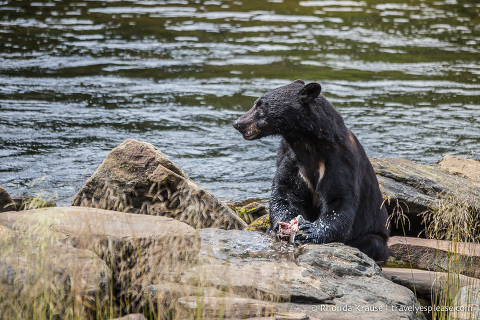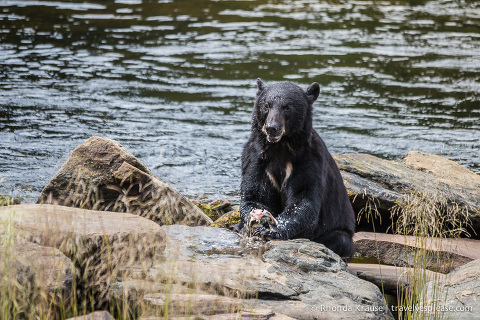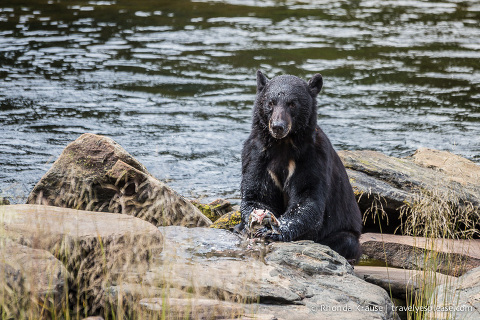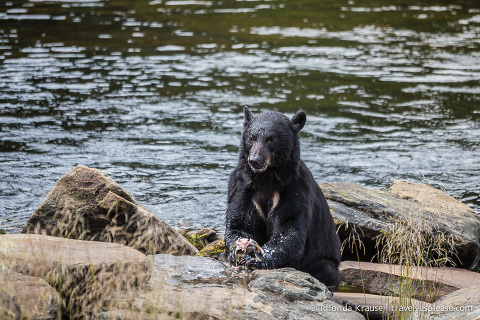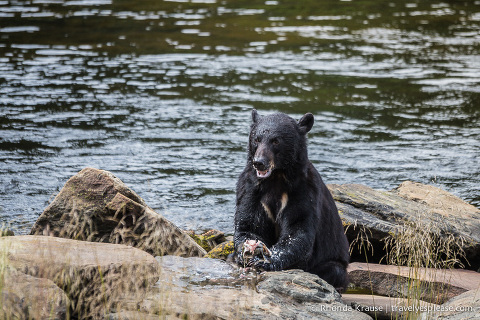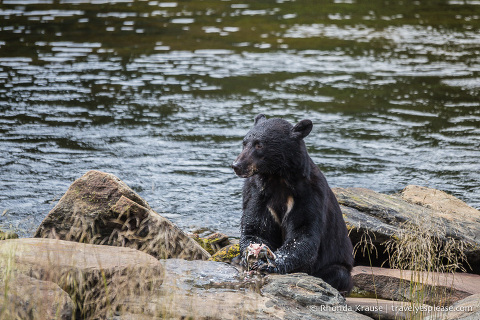 I continued to take pictures as the bear leisurely sat at his "table".
I was so caught up in the moment, that I didn't even notice that our group had left. I wanted to stay just a little while longer, feeling safe that another guide and her group were still there.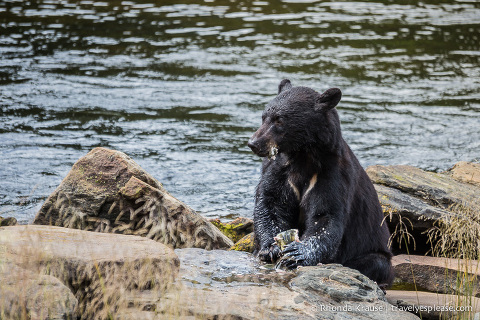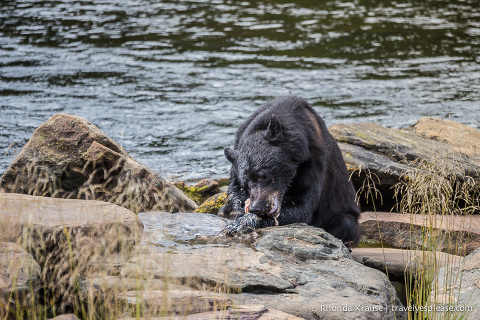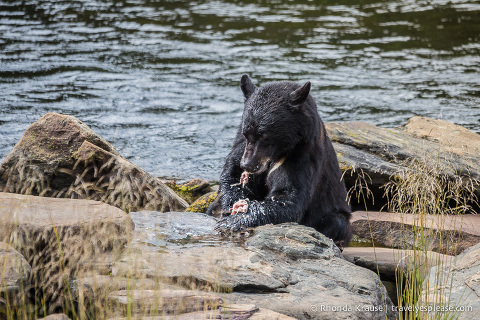 The bear must have finally got tired of eating his fish piece by piece, because he put the remaining half all the way into his mouth.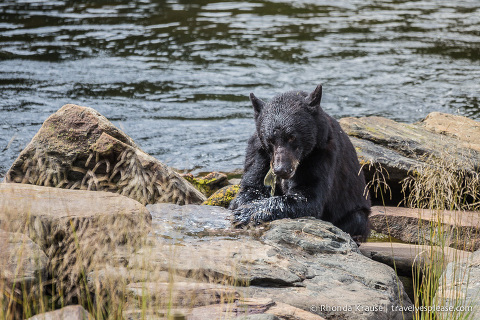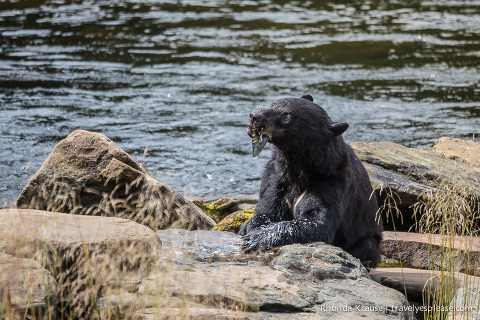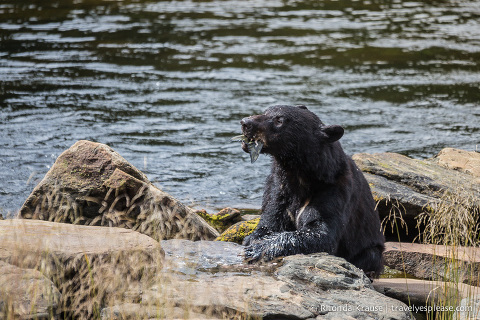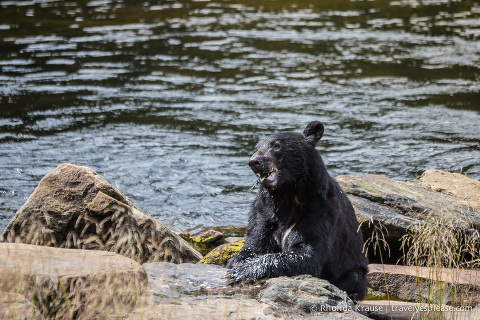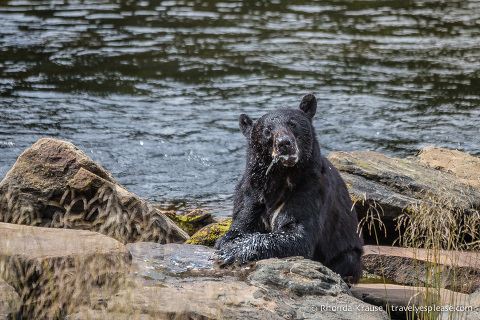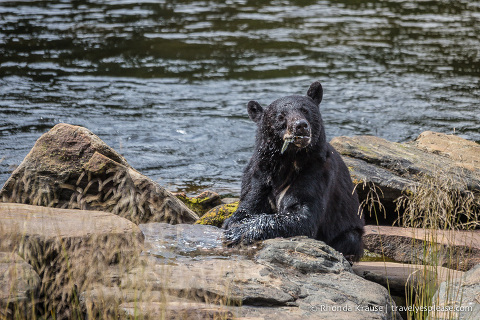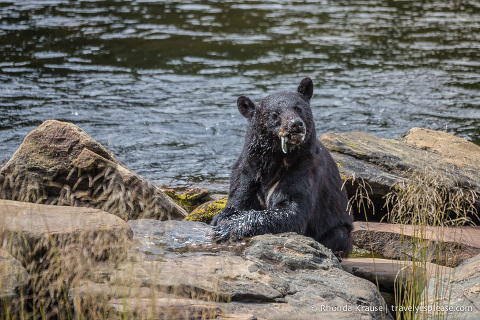 It was pretty funny to see nothing but a fish tail hanging out of his mouth!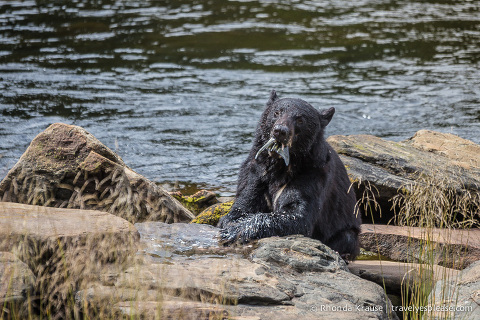 We watched him struggle to swallow the fish for a while and then realized our group was long gone.
So I took one last picture and then we were off, speed walking down the path to rejoin our group. Luckily we caught up to them at the end of the trail before they boarded the plane back to Ketchikan.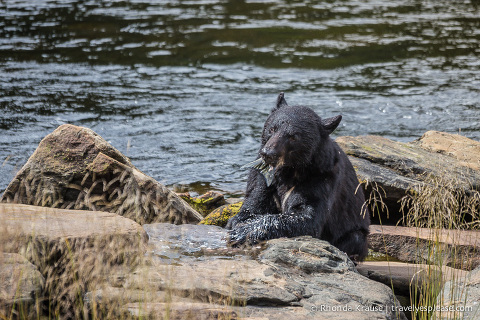 Back in town, I was euphoric. Between the excitement of seeing my first bear, and the joy and wonderment of seeing Alaska's beauty from above, I couldn't help but get misty eyed.
As we walked away from the plane, I looked at Mike and quietly said, "That was the best experience of my life."
Tips for Going on a Neets Bay Bear Viewing Excursion From Ketchikan
Neets Bay is located 64 kilometres north of downtown Ketchikan, about 25 minutes by air.
The best time for Neets Bay bear viewing is late July through early September.
After arriving at Neets Bay, it's a 1/2 kilometre walk on a well maintained nature trail to the bear viewing area.
There is a small, covered viewing area and a few benches, but most people were just standing while they waited.
The tour took approximately three hours. We were at the bear viewing spot for about an hour.
Of course, bear sightings can not be guaranteed.
More Alaska Destinations and Travel Guides