Purchases made through links earn us a small commission, at no extra cost to you.
I love visiting castles, so it's no surprise that the first place we headed after arriving in Salzburg was the fortified Hohensalzburg Castle.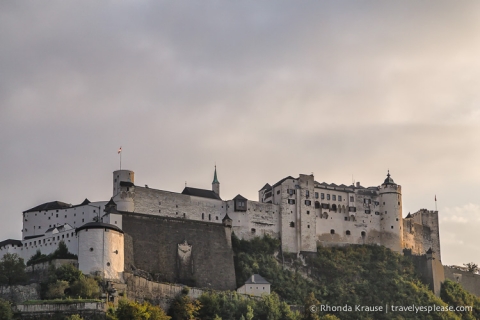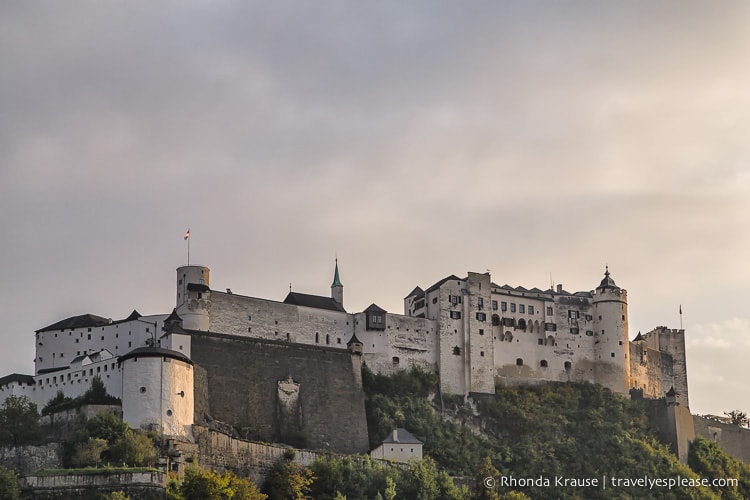 The name Hohensalzburg translates into "High Salzburg Fortress", fitting considering the castle's location atop Festungberg Hill directly overlooks Salzburg's Old Town quarter.
Hohensalzburg Castle is not only Salzburg's key landmark, but is the largest, fully-preserved fortress in central Europe.
Over its long history, Hohensalzburg Castle served as a fortification, military barracks, a prison and temporary residence of the prince archbishops. Today, it is open to the public, welcoming visitors year round.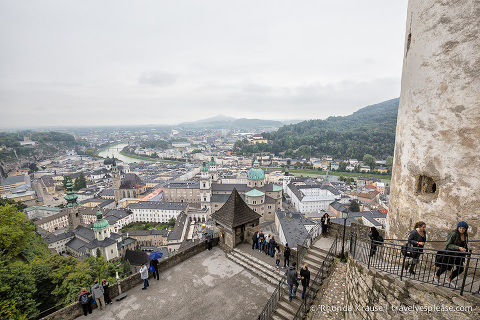 History of Hohensalzburg Fortress
When Hohensalzburg Fortress was built in 1077 by Archbishop Gebhard, it was nothing more than a simple bailey and a wooden wall.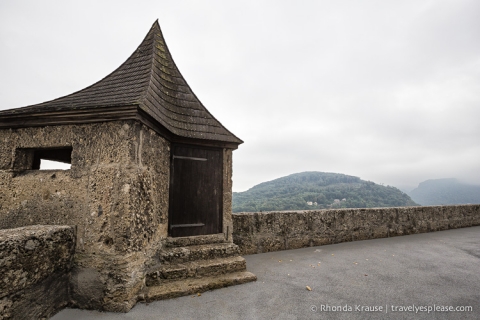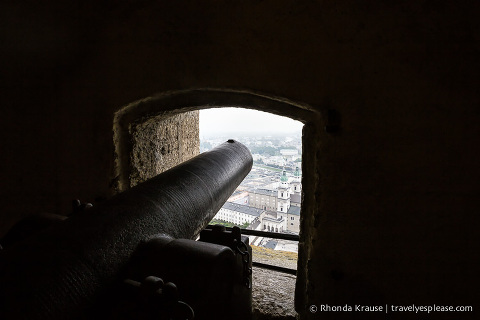 The fortress was expanded during the Investiture Controversy, a conflict between the Church and State. Gebhard wanted to protect the interests of Salzburg's archbishops against his opponent, King Henry IV of Germany.
The archbishops once again took refuge in Hohensalzburg Fortress during the Hungarian War and Peasants' War of the 15th and 16th centuries. During this time, the arsenal and granary were built and the castle's main building was enlarged.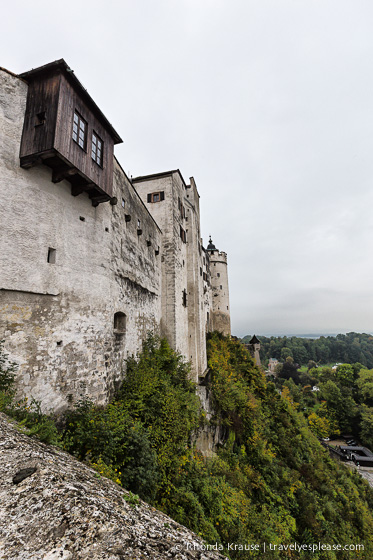 The last major modification was the addition of the Kuenberg bastion. The fortress has remained largely unaltered since then.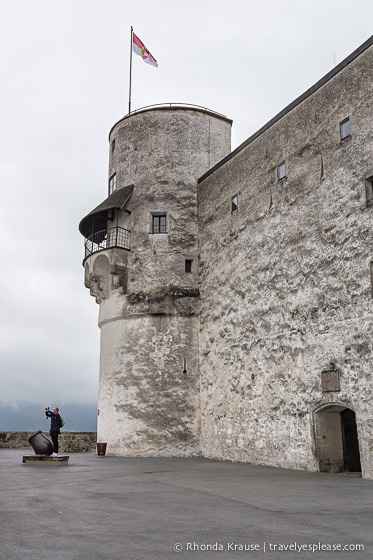 Our Visit to Hohensalzburg Castle
Austria's oldest funicular transports visitors up to the castle, but we chose to walk instead. You'll be happy to know that the walk up is not as hard as it looks!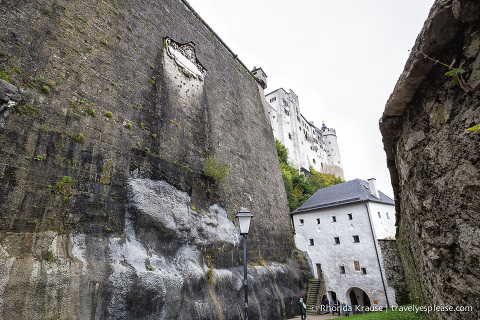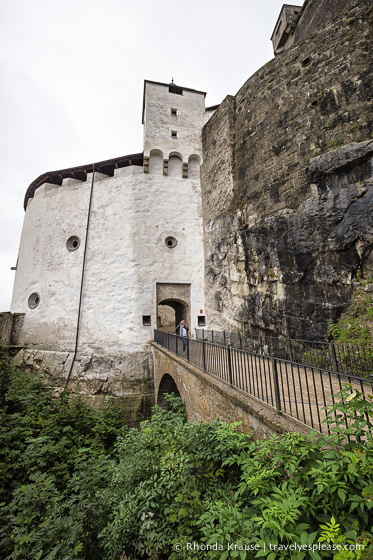 It's no secret that the views from Hohensalzburg Fortress are impressive. The view we saw was good, but it could have been great if the fog and rain weren't hiding the hills that surround the city.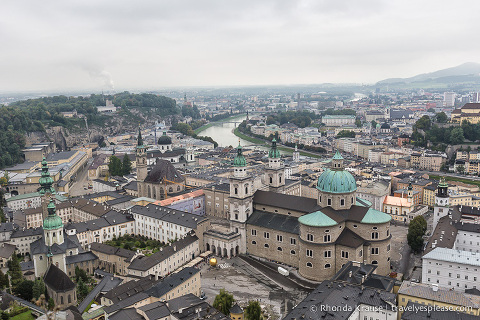 After spending some time on the lookout, we set to exploring the castle. We visited the Royal Apartment, the Fortress Museum, Rainier Regiment Museum, and very briefly, the Marionette Museum.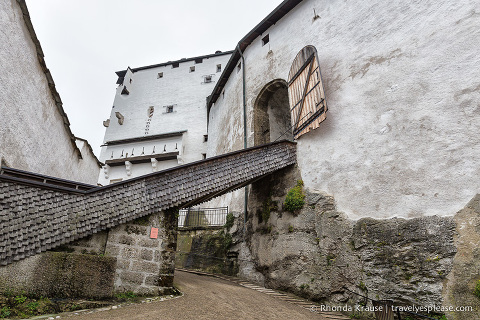 While Hohensalzburg Fortress is remarkable in many ways (it was not once conquered by enemy troops), it wasn't my favourite castle we visited during our five weeks in Europe.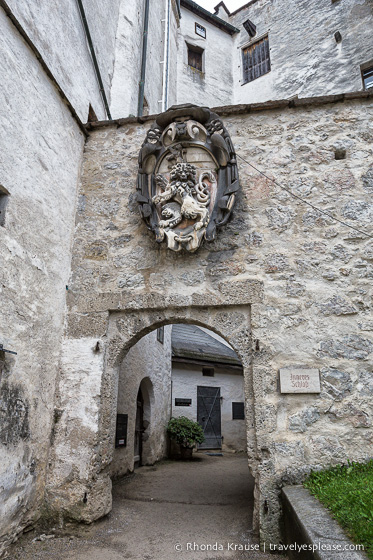 Hohensalzburg felt very… functional. Its appearance was that of a strong, imposing fortress- stark and cold (which really, is what you want a protective fortress to be like!) There wasn't much in the way of gardens or other pleasing aesthetic touches, like at Nuremberg Castle.
The unique thing though about Hohensalzburg is that inside its protective walls, it still looks and feels like an authentic medieval village.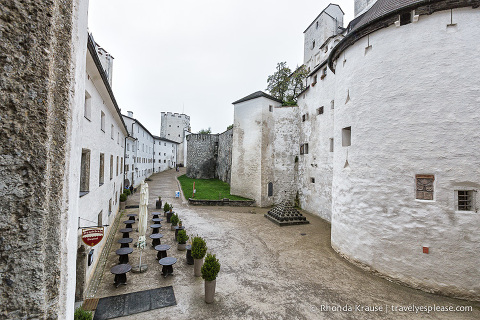 While we found our visit to Hohensalzburg Castle interesting, the fortress itself didn't wow us. Even though we left without much of a lasting impression, we still were glad we chose to spend some time exploring this historical fortress.
Photos of Hohensalzburg Castle
Here are a few more pictures of Hohensalzburg Fortress.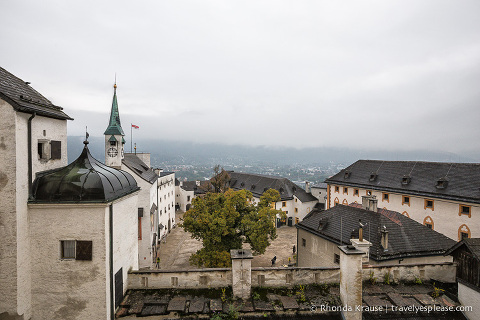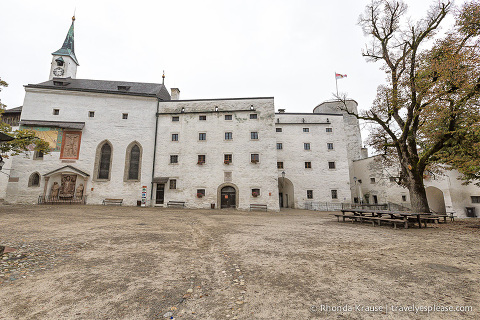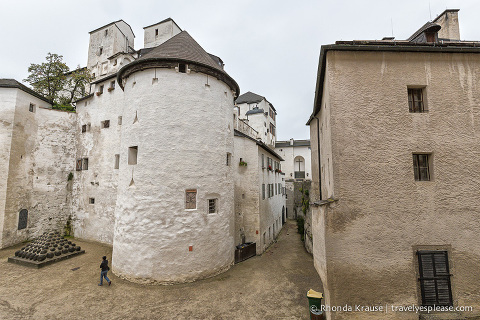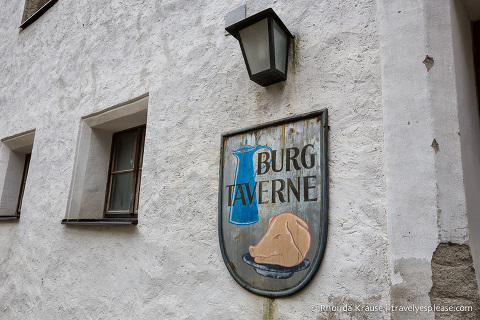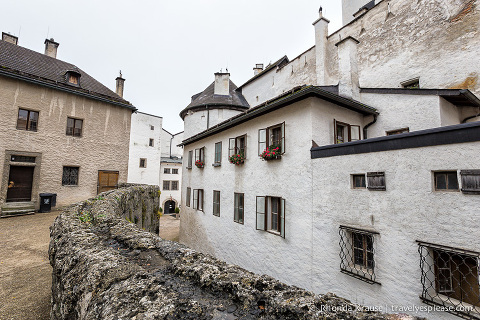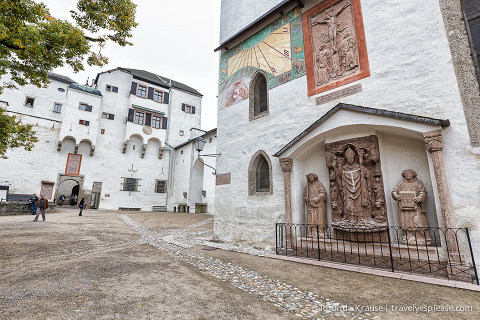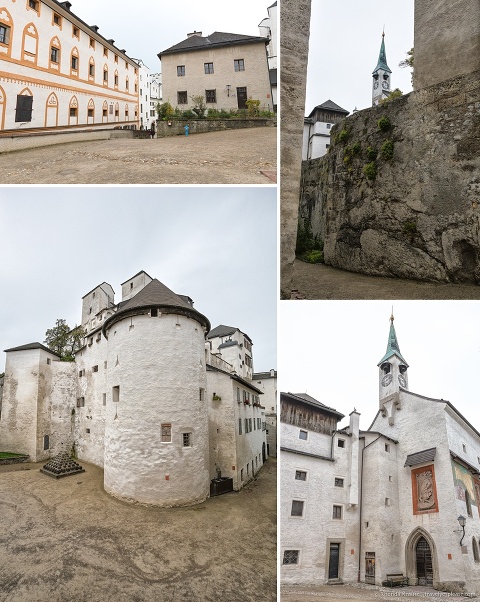 Tips for Visiting Hohensalzburg Fortress
Opening Hours: Hohensalzburg Fortress is open year round with the following hours. Confirm up to date opening times here.
9:30 am– 5:00 pm (January-April and October-December)
9:00 am- 6:00 pm (May- June)
8:30 am- 8:00 pm (July- September)
Last entrance to the inner rooms is 30 minutes before closing.
Tours of Hohensalzburg Fortress: Guided tours can be made with advance arrangements for groups of 10 or more people.
Admission Prices and Tickets: Ticket prices for Hohensalzburg Fortress can be found here. You can choose from a basic ticket or an all inclusive ticket that visits more parts of the fortress. For each ticket you can buy a more expensive option that includes an ascent on the funicular, otherwise you have to walk up. All tickets include a ride down on the funicular. There's a small discount for buying the basic ticket online.
Accessibility: For people who use a wheelchair or have other mobility issues, the visit is challenging because of the amount of staircases, steps, and inclines. The funicular can be used to reach the fortress. There is an elevator in the bell tower that allows barrier free access to the castle courtyard, the exhibition in the armoury, the tavern, the Kuenburg bastion and the puppet museum. Accessibility to the indoor areas of the fortress is limited.
Information was updated January 2022, but can change without notice. Please confirm directly with service providers.
Accommodations in Salzburg
For your convenience, here is a list of hotels in Salzburg. Accommodations booked through the included link earn us a small commission, at no extra cost to you, and help support this website. Thank you!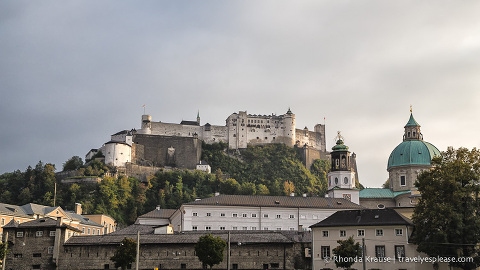 More Austria Destinations and Travel Guides