Purchases made through links earn us a small commission, at no extra cost to you.
My favourite spot in Salzburg was, without a doubt, the Mirabell Palace and Gardens. During our two days in Salzburg we kept finding ourselves back in these gardens again and again. I loved being surrounded by the bright, colourful flowers- a definite mood lifter after a string of grey, dreary weather days.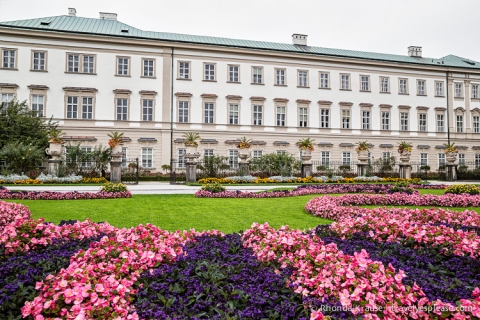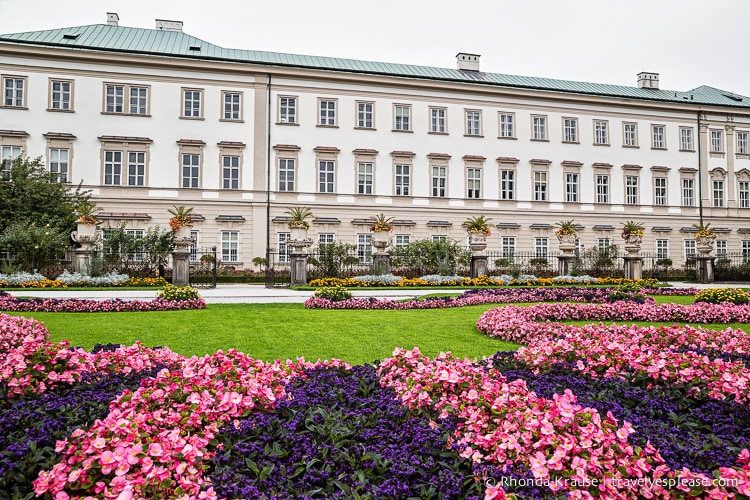 It was nice to visit the gardens early in the morning, when they were relatively quiet and calm. By the afternoon, the gardens were a hub of activity, a favourite gathering place for both tourists and locals alike.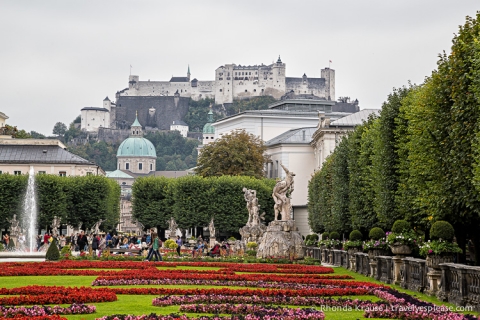 Mirabell Palace is a popular place for wedding ceremonies and the gardens a favoured location for photographs. It was interesting to see how the people here all dress up in traditional Austrian clothing for special events, giving us a sense of the local culture.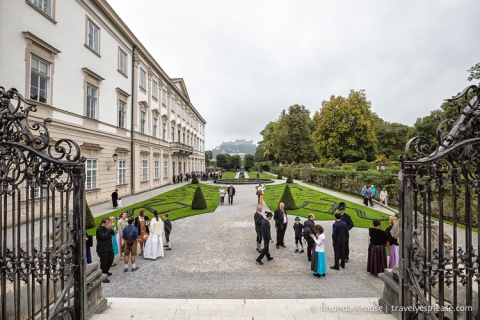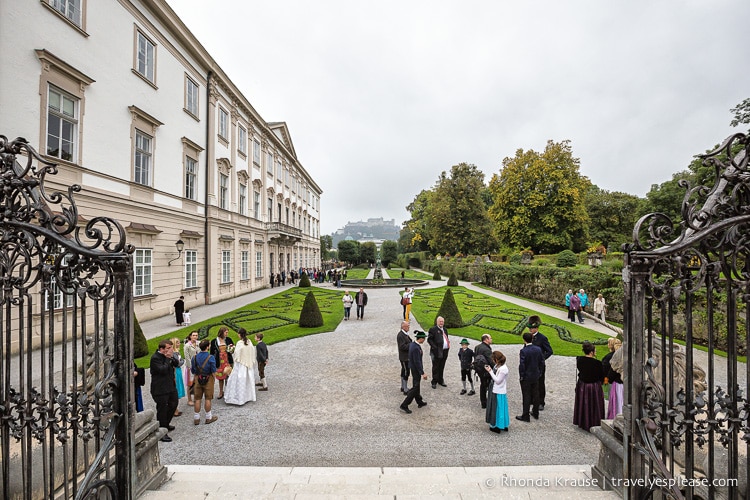 We didn't get to go inside the palace because it is closed on weekends and during special events. It was a bit of a disappointment because I would have liked to see the Marble Hall, which is regarded as one of the most beautiful wedding halls in the world.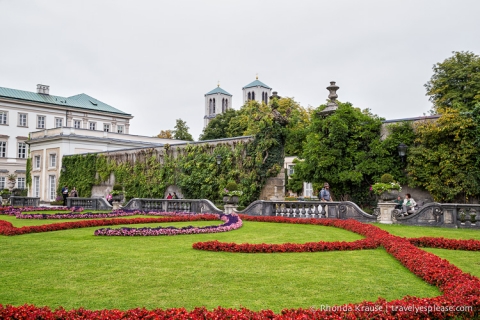 Nonetheless, we were content to roam the gardens and people watch while we rested our feet after a busy two days of wandering around Salzburg's Old Town!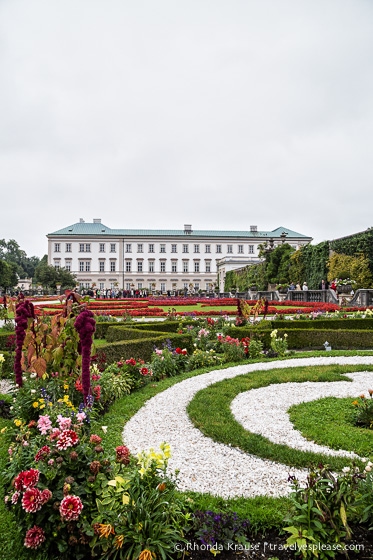 The History of Mirabell Palace
Mirabell Palace dates back to 1606, when it was then known as Altenau Palace. Prince-Archbishop Wolf Dietrich von Raitenau commissioned the building as a token of his love for Salome Alt, his common law spouse.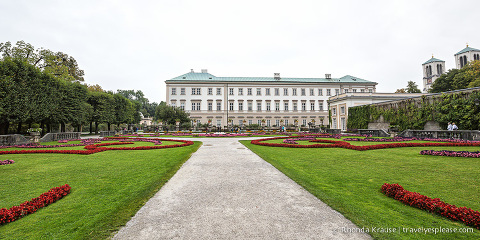 After Wolf Dietrich's death in 1617, his successor renamed the palace "Mirabell".
A redesign of Mirabell Palace was ordered by Prince-Archbishop Franz Anton von Harrach in 1721. The job was tasked to famous baroque architect Lukas von Hildebrandt, who combined the palace's separate buildings into one self-contained complex.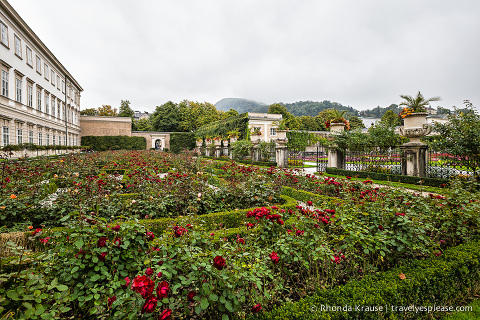 The palace's most famous room is the Marble Hall. It was originally the Prince-Archbishop's ballroom but was also used as a concert hall. Leopold Mozart and his children Wolfgang and Nannerl regularly performed here.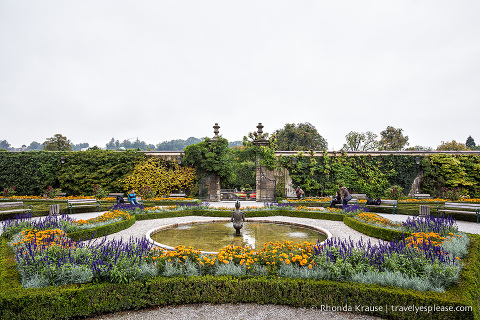 On April 30, 1818, a devastating fire swept through Salzburg, causing significant damage to Mirabell Palace. Luckily, Marble Hall and the palace's marble staircase survived unharmed.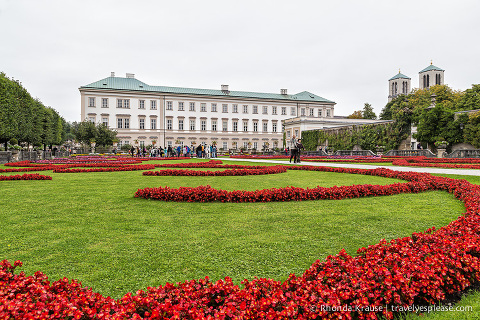 Mirabell Palace Today
Today, Mirabell Palace is used for political business. It houses the offices of Salzburg's mayor and the municipal council.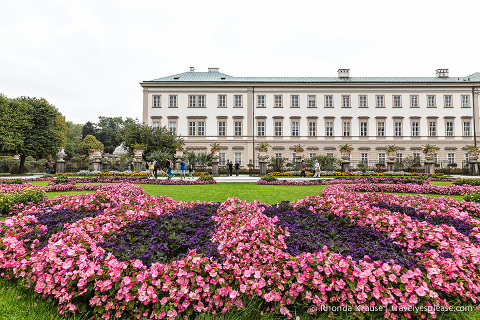 The Marble Hall is still used for special events, hosting concerts, meetings and award ceremonies.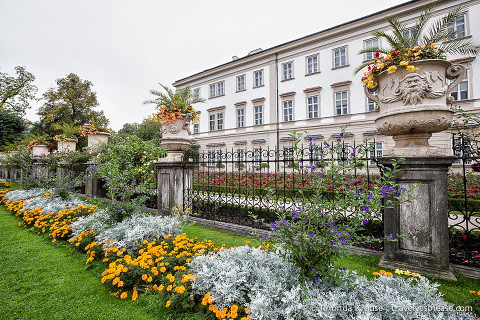 Mirabell Gardens
The Mirabell Gardens are a joy to visit. Considered to be one of the most beautiful Baroque gardens in Europe, they are world famous thanks in part to being featured in the classic movie "The Sound of Music."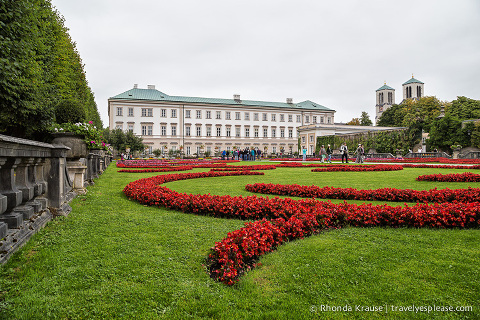 Mirabell Gardens were first opened to the public in 1854, by Emperor Franz Joseph. Ever since then, this jewel of Salzburg has been a popular retreat for locals, visitors and photographers.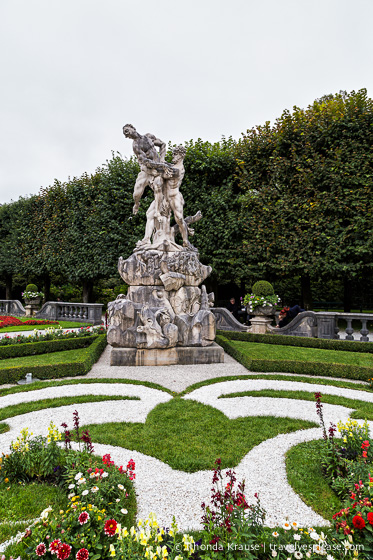 The gardens are laid out along a north-south axis between Mirabell Palace and a fabulous view of Hohensalzburg Fortress. They have been redesigned a few times throughout history- the oldest part that remains is the "Grand Parterre".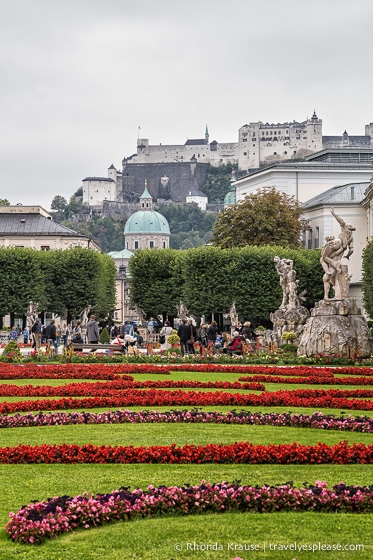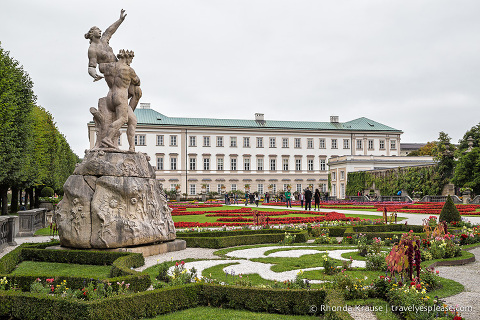 The Grand Parterre
The Grand Parterre is the heart of Mirabell Gardens. The garden's symmetrical, swirling design is embraced by a marble railing adorned with vases.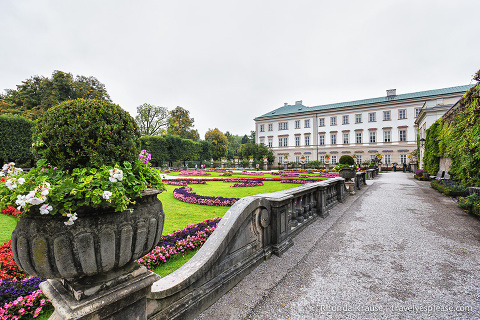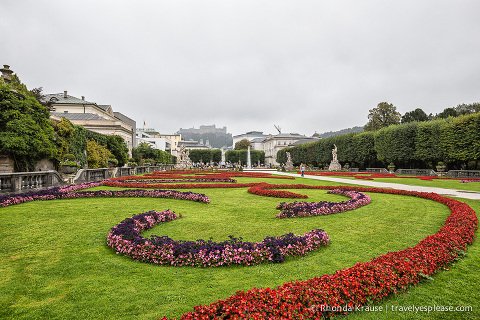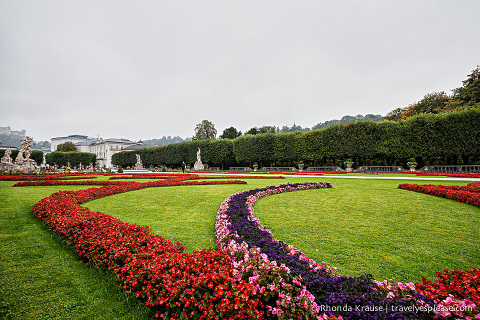 In the centre of the Grand Parterre is a large fountain surrounded by four groups of mythology-themed statues. They were sculpted in 1690 by Ottavio Mosto.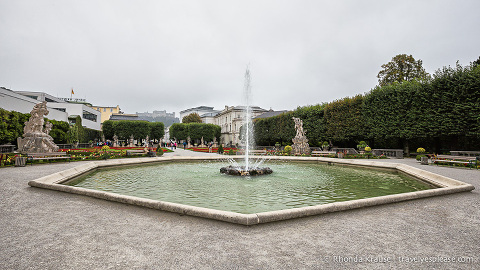 The Small Parterre
The Small Parterre lies along the side of Mirabell Palace and is attached to the Grand Parterre.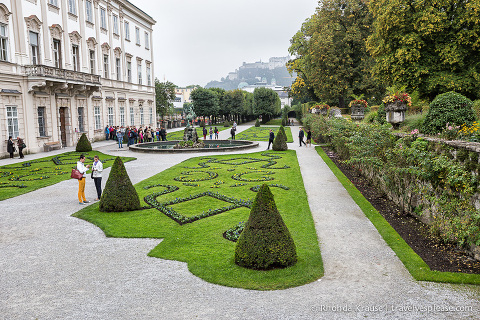 Its centerpiece is the Pegasus Fountain, which was installed in 1913. The Pegasus statue was moved here from its previous location in front of Mirabell Palace.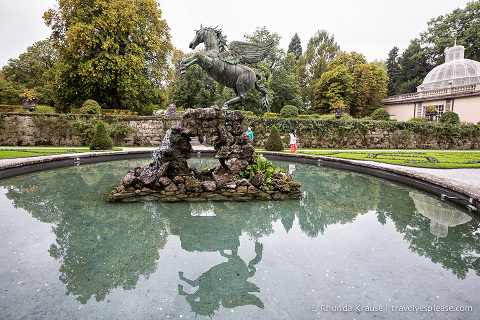 The Dwarf Garden
The Dwarf Garden is on an old bastion, a little bit removed from the main part of Mirabell Gardens. It features a display of misshapen dwarfs, sculpted from Untersberg marble. It's believed some of these sculptures are of people who actually lived on the court of the Prince Archbishops of Salzburg.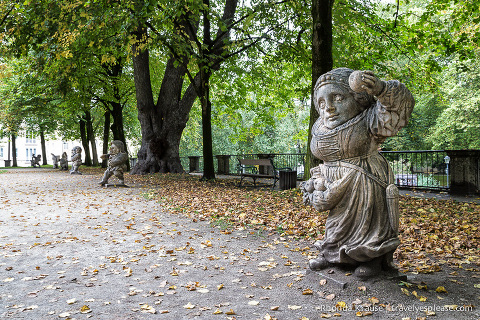 Tips for Visiting Mirabell Palace and Gardens
Opening Hours: Mirabell Palace and the Angel Staircase is open to visitors daily from 8:00 am- 6:00pm. Confirm current hours here.
The Marble Hall can be visited on Mondays, Wednesdays and Thursdays from 8:00 am- 4:00 pm and on Tuesdays and Fridays from 1:00 pm- 4:00 pm. There are no visits allowed during special occasions.
Mirabell Gardens are open daily from 6:00 am to dusk. The Dwarf Garden and Hedge Theatre are closed during the winter months. The Orangerie is open year round from 9:00 am- 4:00 pm daily.
Admission: Admission to Mirabell Palace and Gardens is free.
Accessibility: Both Mirabell Palace and the Mirabell Gardens are barrier-free accessible.
Information was updated January 2022, but can change without notice. Please confirm directly with the venue.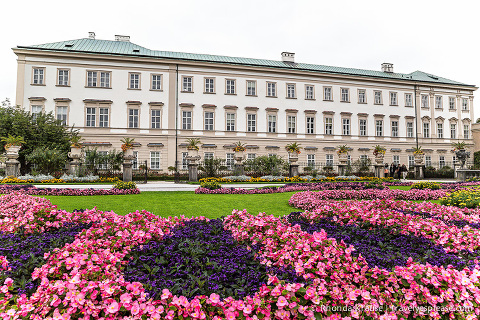 Accommodations in Salzburg
For your convenience, here is a list of hotels in Salzburg. Accommodations booked through the included link earn us a small commission, at no extra cost to you, and help support this website. Thank you!
More Austria Destinations and Travel Guides