Purchases made through links earn us a small commission, at no extra cost to you.
This blog post about Hohenschwangau Castle is Part One of a two part series about Bavaria's fairy tale castles. In Part Two we will visit Neuschwanstein Castle.
The Fairytale Castles in Hohenschwangau
Neuschwanstein and Hohenschwangau castles are well known for their fairy tale-like appearance, but it's their surreal location in Bavaria, Germany, that markedly enhances their beauty.
These two castles, one the childhood residence of King Ludwig II, the other his extravagant creation, are perched on the hills in Schwangau, overlooking peaceful Alpsee Lake and the small resort village of Hohenschwangau. Surrounded by a dense forest, these castles are especially beautiful to visit on a cool, fall morning when the leaves' vibrant colours are on display, the fog rolling in to create an air of mystery.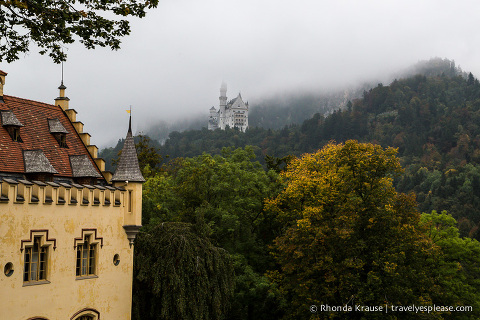 Arriving in Hohenschwangau
If you're anything like me, you'll be overcome with excitement the moment you arrive in Hohenschwangau. As soon as I stepped out of the car, I looked up to the hills and saw the brilliant white of Neuschwanstein Castle, peeking through the swirling autumn fog.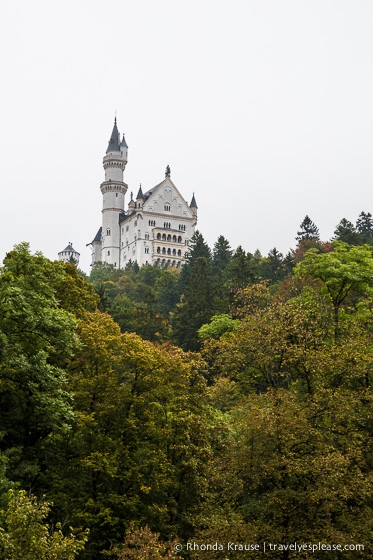 We quickly made our way up the sloped road to the ticket office to pick up our tour passes. With a little bit of time to kill before our tours started, we gladly walked around this delightfully tiny Alpine village and enjoyed the beautiful natural surroundings.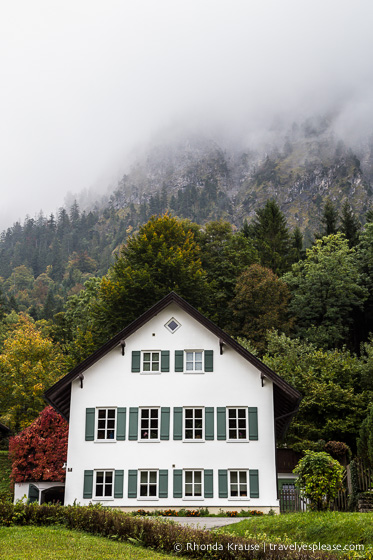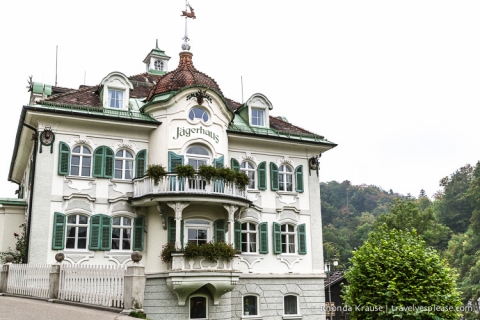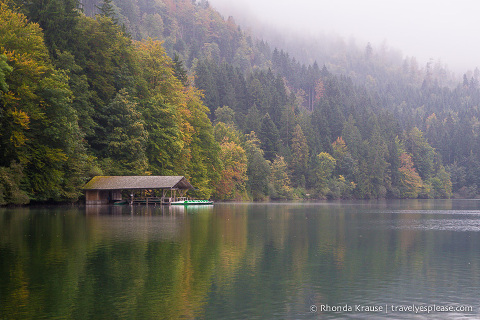 Hohenschwangau Castle- History and Architecture
The first castle we toured was Schloss Hohenschwangau, the nearer of the two castles. This was the summer residence of the Bavarian royal family, built by Ludwig II's father, Maximillian II.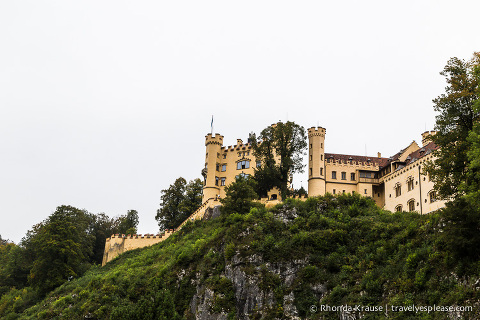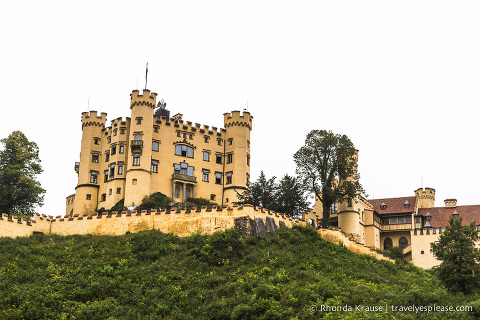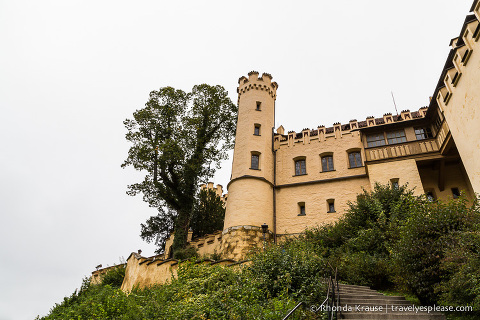 King Max, as I like to call him, first discovered this site in 1829, when he was still Crown Prince. Back then, it was nothing but ruins of the fortress Schwanstein, dating back to the 12th century. King Max loved the natural beauty of this area so much that he acquired the historic site and began construction of his own castle here in 1833.
Modelled after the neo-Gothic Tudor style of an English castle, Hohenschwangau is less theatrical than its sister castle further up the hill. However, the interior does have some unique qualities (I wish I could show you some pictures, but photos weren't allowed).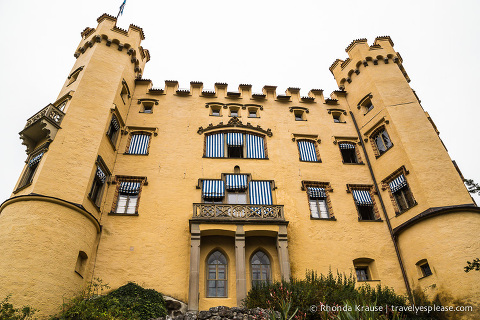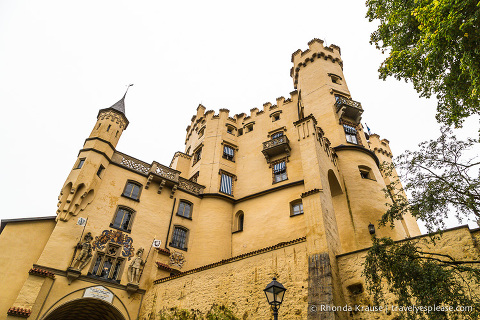 The Queen's bedroom was not what I expected at all, but I loved it! Decorated in bright blues, pinks and reds, its design is reminiscent of King Max's journey through Turkey and Greece in 1832/1833. The Kings' bedroom, or "Tasso-Room" is also a little quirky. King Ludwig II installed a starry sky into the ceiling so at night he could lay in bed and enjoy the illuminated stars and moon!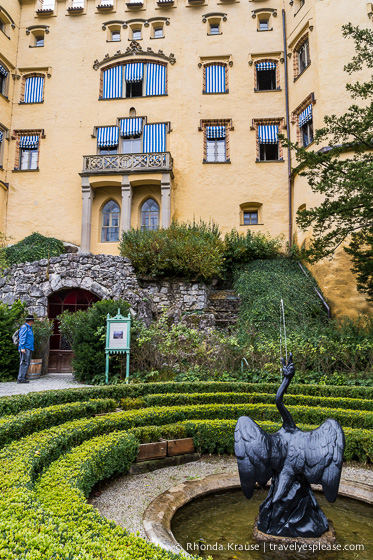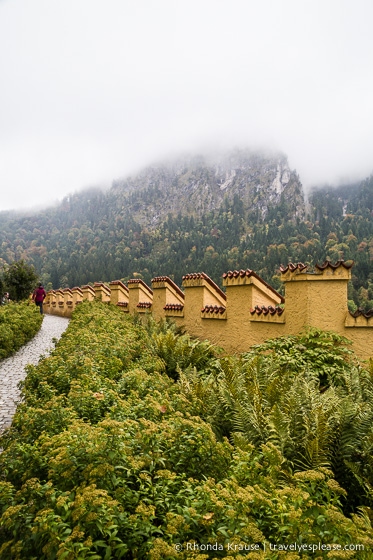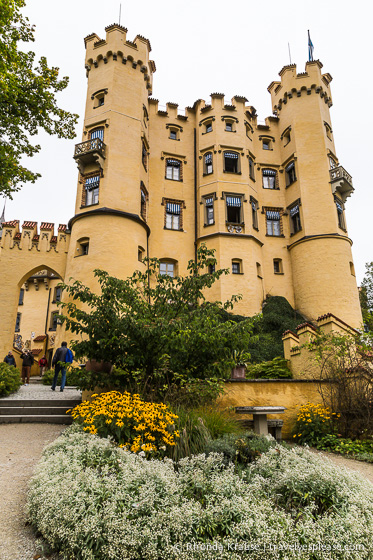 The summers that young Ludwig II spent at Hohenschwangau definitely made an impression on him. It was here he became enthralled by German sagas, legends and the musical dramas of Richard Wagner. Soon he began dreaming up fantastical plans for a castle of his own, which would come to fruition once he was King.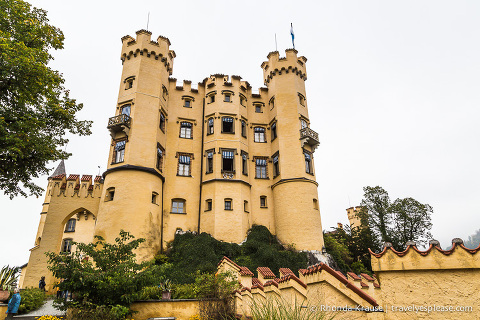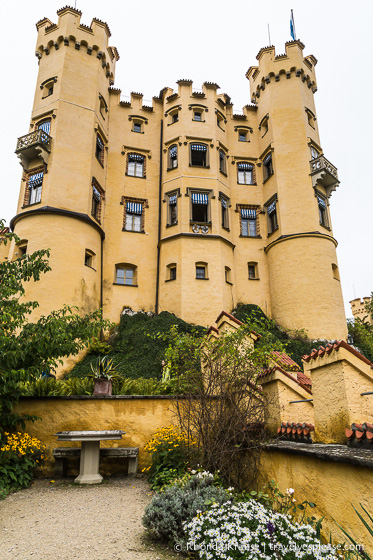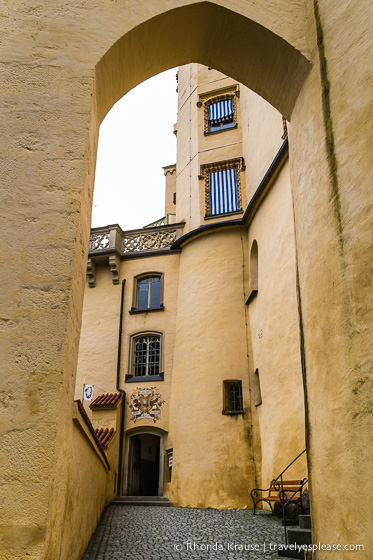 Now King, Ludwig II would sit in his room in Hohenschwangau Castle and peer through a telescope, keeping a watchful eye on the construction of his uniquely personal, fairy tale retreat- Neuschwanstein Castle.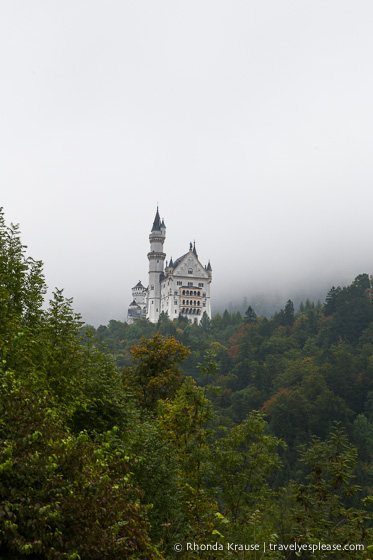 Final Thoughts- Our Tour of Hohenschwangau Castle
We thought that Hohenschwangau Castle was worth visiting, even though it's not the main castle people come here to see. The unique design choices inside Hohenschwangau Castle made it stand out from other castles in Europe we visited. Plus, visiting Hohenschwangau Castle gave us a more complete understanding of King Ludwig II and why he was inspired to build so many romantic castles.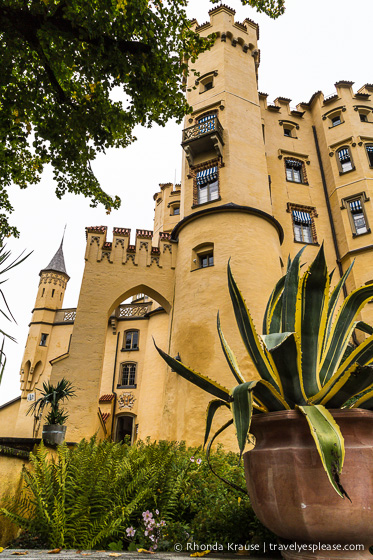 Continue to Part Two of Schwangau's Royal Castles: Neuschwanstein Castle
Tips for Visiting Hohenschwangau Castle
Location: Hohenschwangau Castle is located in southwest Bavaria, Germany, in the small village of Hohenschwangau.
Getting There: Hohenschwangau Castle is about a 1 hour 40 minute drive from Munich. If using public transportation, you can take a train to Fussen, then bus to Hohenschwangau. Get off at stop "Hohenschwangau Neuschwanstein Castles, Schwangau".
Parking: There are four paid parking lots in Hohenschwangau. Parking directly next to the ticket centre is not possible.
Tours and Tickets for Hohenschwangau Castle: The interior of the castle can only be visited as part of a guided tour. Tickets can be purchased at the ticket centre in Hohenschwangau for same day visits or in advance online. You will be allotted a specific tour time. The ticket centre is open 8:00 am- 4:00 pm in the spring and summer months. In the fall and winter, it's open from 8:30 am- 3:00 pm. Confirm current hours HERE.
To avoid the long line ups and ensure your desired tour time, we recommend buying your tickets on-line at minimum two days before your visit. There is a rather hefty reservation fee, but once we got there and saw the lineup, it was totally worth the extra money. There is a special ticket window for people to pick up reserved tickets.
You can buy different combinations of tickets depending on which castle(s) you want to visit. We purchased the King's ticket which allowed us to visit both Hohenschwangau and Neuschwanstein Castles (must be visited in the same day). If you buy individual tickets for each castle, make sure that the entry times are 2.5 hours apart.
Tours of Hohenschwangau Castle are about 45 minutes long and are available in German, English, or with an portable audio guide (available in Czech, Dutch, French, Hungarian, Italian, Japanese, Korean, Mandarin, Polish, Portuguese, Russian and Spanish).
Information was updated February 2022, but can change without notice. Please confirm costs and times directly with service providers.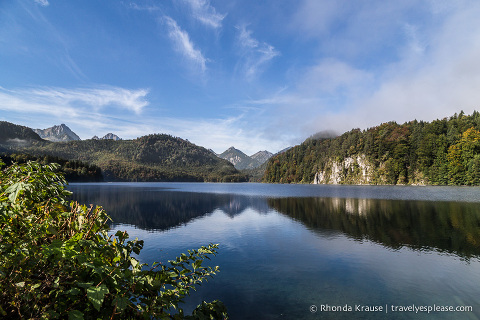 Accommodations near Hohenschwangau Castle
Accommodations can be found in Hohenschwangau, at the base of the castles, or nearby in the beautiful little town of Füssen (about 4 kms away). For your convenience, here is a list of hotels in Hohenschwangau and hotels in Füssen. Please consider booking your accommodations through the included link. It costs you nothing extra and helps support this website. Thank you!
More Germany Destinations and Travel Guides