Purchases made through links earn us a small commission, at no extra cost to you.
This blog post about Neuschwanstein Castle is Part Two of a two part series about Bavaria's fairy tale castles. In Part One, we explored the village of Hohenschwangau then toured Hohenschwangau Castle.

Neuschwanstein Castle
One of the world's most iconic palaces, Neuschwanstein Castle has captivated well over 61 million visitors with its romantic, storybook appearance and tales of madness surrounding its lonely creator, "Mad" King Ludwig II.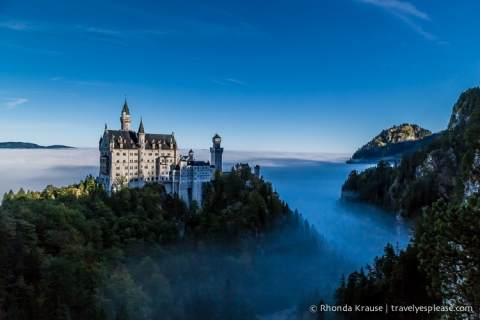 There wasn't a place I was more excited to see on our honeymoon than Neuschwanstein Castle. We speed-walked up the steep road, out of breath, heart pounding, calf muscles burning, but too excited to slow down.
When we finally reached the top I still was out of breath, but it wasn't because of the trek up the hill. I was spellbound by the fairy tale scene in front of me- a stone masterpiece surrounded by thick, mystical fog.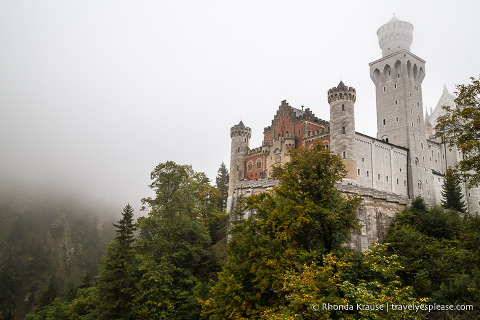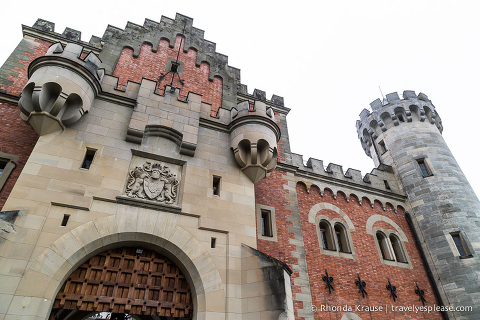 About Neuschwanstein Castle- Architecture and History
Ludwig's five-story palace is so enchanting that it has been featured in many movies and even inspired the design of Disney's Sleeping Beauty Castle. Numerous towers, turrets, balconies, and pinnacles come together to form the highly stylistic castle, an architectural fashion known as castle romanticism.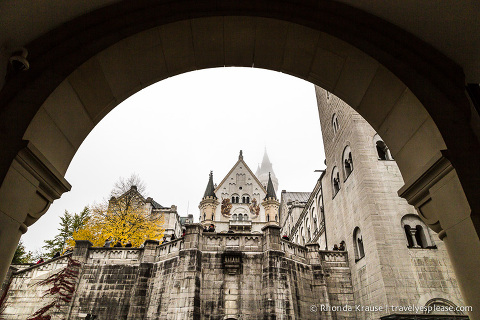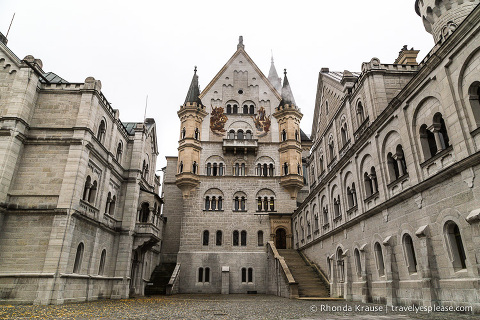 King Ludwig II ordered Neuschwanstein Castle to be built in 1869, paid for entirely from his own personal fortune and loans. Ludwig's design drew on inspiration from the Wartburg in Saxony and the operas of Richard Wagner, specifically Tannhäuser and Lohengrin.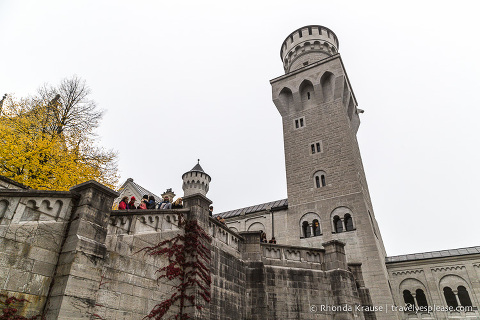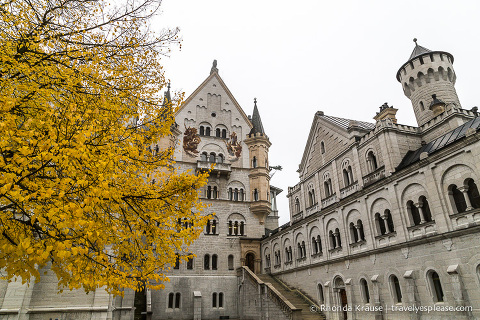 The interior of the Neuschwanstein Castle is just as magnificent as the exterior. The formal and residential rooms are decorated with pictures and symbols from German prehistory, but it's the concert hall, or "Singers' Room", that makes the biggest impression.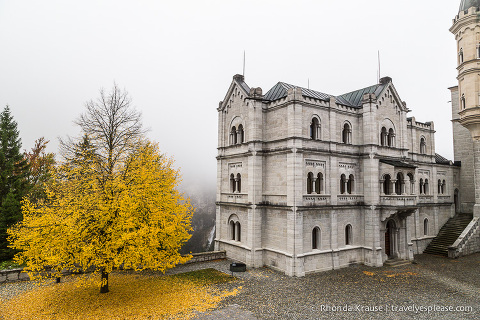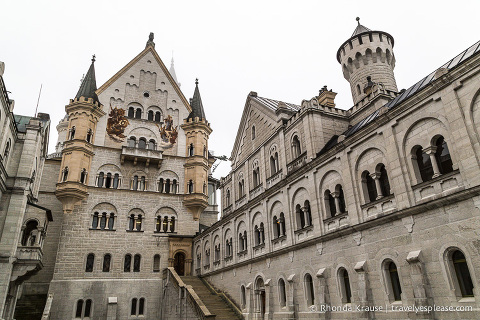 No detail was overlooked in the Singers' Room, which takes up the entire length of the fourth floor. It was elaborate and extravagant- every piece of wall was covered in vibrant, rich decoration. It almost killed me not to be able to take a picture of it!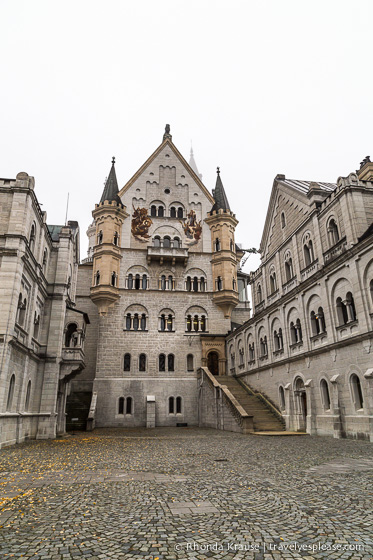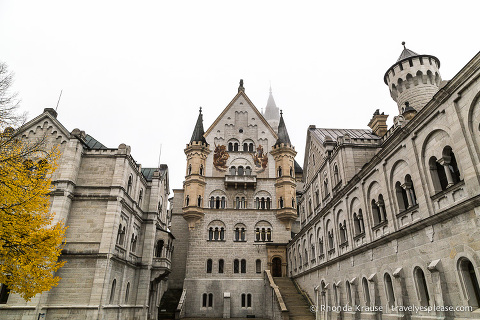 As impressive as Neuschwanstein Castle is, it's sad to think the Ludwig II didn't get to enjoy his beloved refuge for very long. He lived in the unfinished palace for only 172 days before he mysteriously died in Lake Starnberger. At the time of Ludwig's II death in 1886, just 14 rooms in the castle were finished. Had the castle been completed, there would have been more than 200 rooms.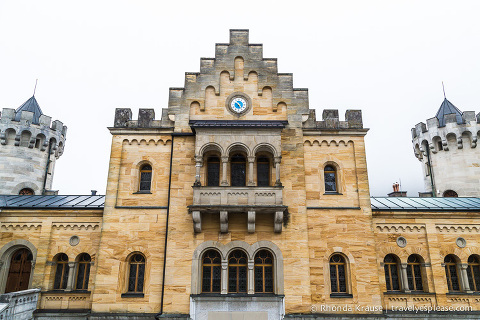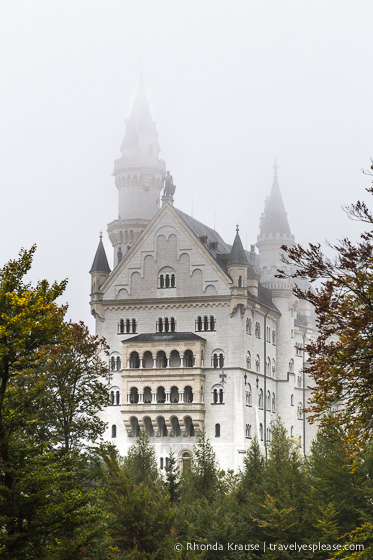 Ludwig II never intended his castle to be accessible to the public, but just six weeks after his death it was opened to paying visitors, generating a large amount of income for the Bavarian royal family.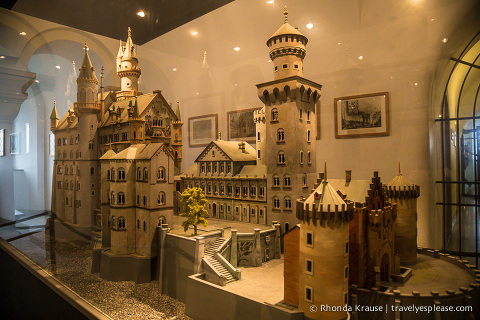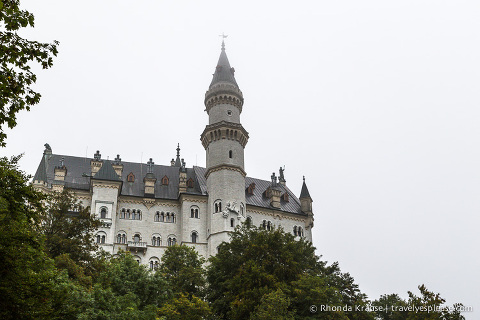 The Marienbrücke
After our short tour of Neuschwanstein Castle we walked the scenic path over to the Marienbrücke, an iron bridge offering fantastic views of the castle (when it's not covered in fog!) The 92 metre high bridge crosses a gorge near the Pöllatschlucht waterfall, a sight to see in itself!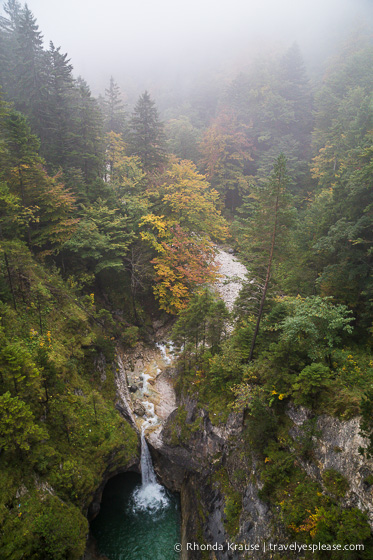 Final Thoughts- Our Tour of Neuschwanstein Castle
As captivating as Neuschwanstein Castle was from the outside, the tour of the interior wasn't very memorable. Sure, there were some very gorgeous rooms, but a lot of unfinished rooms as well. What we saw was such a small portion of the castle and before we knew it, the tour was over.
Since the tour felt rushed and the groups were quite large, it was hard to truly savour the castle experience. I would have much preferred to wander through on our own, but unfortunately that's not allowed.
Even though the tour of Neuschwanstein Castle wasn't ideal, we still were glad we went inside. The Singers' Room alone made it worthwhile for me. Had we not gone inside, I would have always wondered what was behind those elegant stone walls.
In spite of the mediocre tour, the striking architecture and romantic location make Neuschwanstein Castle one of the best places to visit in Bavaria.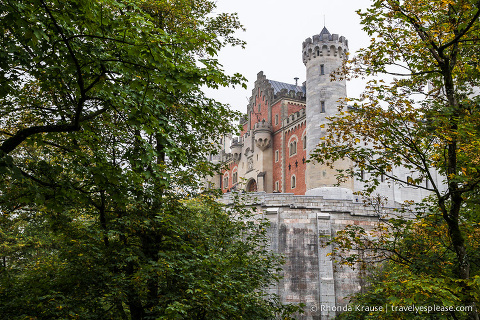 Visit Part One of our series on Bavaria's fairy tale castles- Hohenschwangau Castle. You may also enjoy this featured photo of Neuschwanstein Castle.
Tips for Visiting Neuschwanstein Castle
Location: Neuschwanstein Castle is located in the small village of Hohenschwangau in southwest Bavaria, Germany.
Getting There: Neuschwanstein is about a 1 hour 40 minute drive from Munich. If using public transportation, you can take a train to Fussen, then bus to Hohenschwangau. Get off at stop "Hohenschwangau Neuschwanstein Castles, Schwangau".
Parking: There are four paid parking lots in Hohenschwangau. Parking directly next to the ticket centre or driving up to Neuschwanstein Castle is not possible.
Reaching the Castle: Walking uphill to Neuschwanstein takes about 20-30 minutes from the ticket centre. Alternatively, there is a bus that runs from the village of Hohenschwangau to Neuschwanstein, or you can pay for a horse-drawn carriage ride up to the castle. The castle is still a short 10-15 minute walk from the bus/carriage drop off point.
Tours and Tickets for Neuschwanstein Castle: The interior of the castle can only be visited as part of a guided tour.
Tickets can be purchased at the ticket centre in Hohenschwangau for same day visits or in advance online. You will be allotted a specific tour time. The ticket centre is open 8:00 am- 4:00 pm in the spring and summer months. In the fall and winter, it's open from 8:30 am- 3:00 pm. Confirm current hours here.
To avoid the long line ups and ensure your desired tour time, we recommend buying your tickets on-line at minimum two days before your visit. There is a rather hefty reservation fee, but once we got there and saw the lineup, it was totally worth the extra money. There is a special ticket window for people to pick up reserved tickets.
You can buy different combinations of tickets depending on which castle(s) you want to visit. We purchased the King's ticket which allowed us to visit both Hohenschwangau and Neuschwanstein castles (must be visited in the same day). If you buy individual tickets for each castle, make sure that the entry times are 2.5 hours apart.
Tours of Neuschwanstein Castle are 35 minutes in German, English, or with an portable audio guide (available in Czech, Dutch, French, Greek, Hungarian, Italian, Japanese, Mandarin, Polish, Portuguese, Russian, Slovenian, Spanish, Korean, Arabic, Thai, and Hebrew).
Information was updated February 2022, but can change without notice. Please confirm costs and times directly with service providers.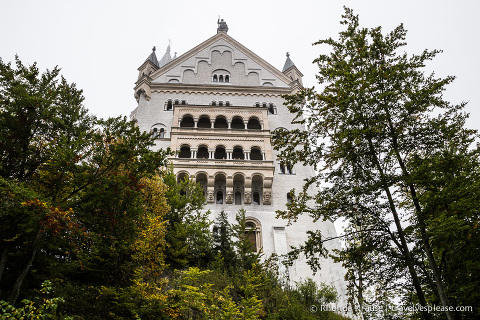 Tours to Neuschwanstein Castle From Munich
Here is a trusted site where you can book tours to Neuschwanstein Castle as a day trip from Munich.
Accommodations Near Neuschwanstein Castle
Accommodations can be found in Hohenschwangau, at the base of the castles, or nearby in the beautiful little town of Füssen (about 4 kms away). For your convenience, here is a list of hotels in Hohenschwangau and hotels in Füssen. Please consider booking your accommodations through the included link. It costs you nothing extra and helps support this website. Thank you!
More Germany Destinations and Travel Guides