Purchases made through links earn us a small commission, at no extra cost to you.
Walking up the main approach to Horyu-ji Temple, it was obvious that we were going to have a peaceful visit. While crowds were flocking to nearby Nara Park, we had Horyu-ji Temple almost all to ourselves.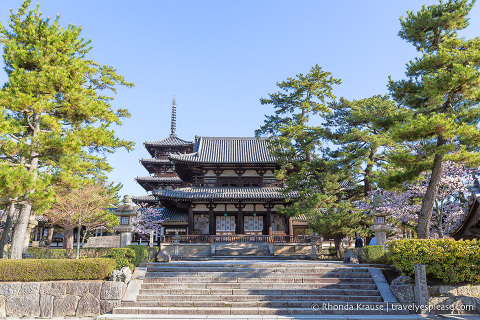 I welcomed the chance to visit a temple without groups of tourists, but wondered why there were so few visitors, considering Horyu-ji's historic significance and cultural distinctions.
Maybe it's not well known to foreigners that Horyu-ji Temple contains the world's oldest wooden buildings, or that it was Japan's first World Heritage Site, or that it houses thousands of irreplaceable cultural treasures, including some of the oldest Buddha statues in Japan.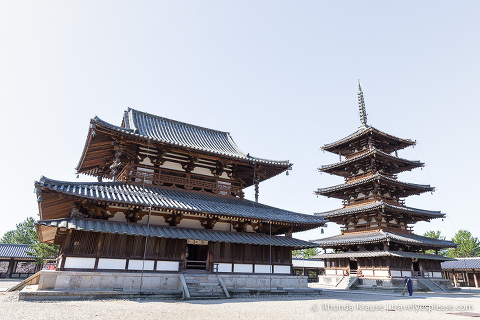 All of those qualities inspired us to visit Horyu-ji Temple as a side trip from Nara. Even though Horyu-ji is not one of the most popular temples in Japan to visit, it certainly is one of the most esteemed by locals.
History of Horyu-ji Temple
The idea to build Horyu-ji Temple was conceived by Emperor Yomei. Facing illness, he vowed to build a temple and image of Buddha as an act of prayer for his recovery. Unfortunately, he died in 587 shortly after making this promise.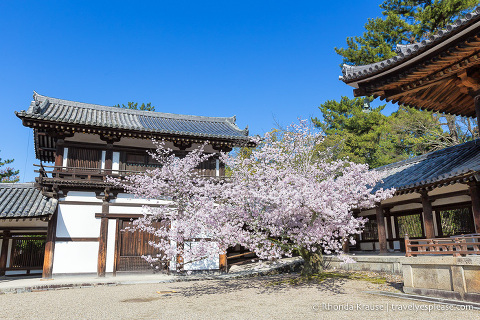 Years later, Yomei's son, Crown Prince Shotoku, was actively promoting Buddhism, which was still new to Japan. In 607, Prince Shotoku and Empress Suiko decided to fulfill Yomei's wish by building a temple and statue of Buddha in the town of Ikaruga. The temple was named Horyu-ji, meaning Temple of the Flourishing Law, and was dedicated to Yakushi Nyorai, Buddha of healing and medicine.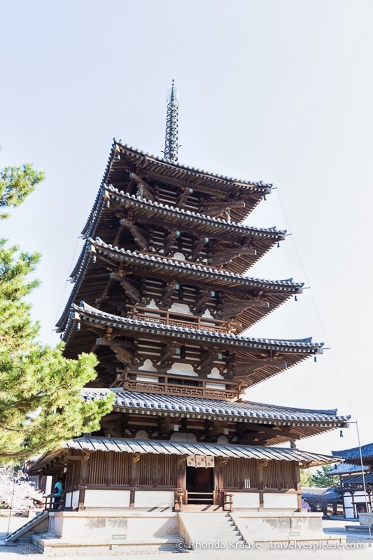 As Buddhism's popularity rose, so did Shotoku's, and Horyu-ji became one of the influential Seven Great Temples in Nara. After Shotoku's death, Horyu-ji emerged as an important site of adoration for the prince, a role it still serves.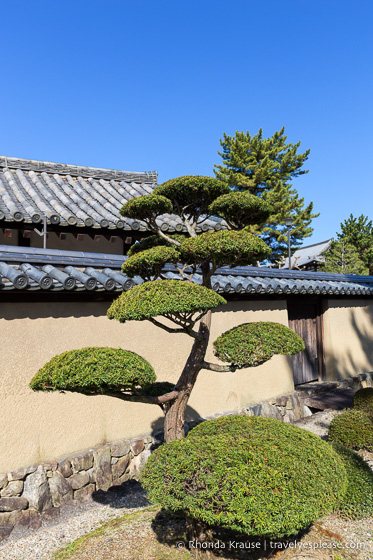 Today, Horyu-ji Temple can be thought of as a storehouse of Buddhist culture and Japanese history. Over 2,300 significant items and structures are safely kept at Horyu-ji, including almost 190 designated National Treasures and Important Cultural Properties.
Horyu-ji's early Buddhist monuments, wooden architecture, and role in the spread of Buddhism led to the temple being chosen by UNESCO as Japan's first World Heritage Site in 1993.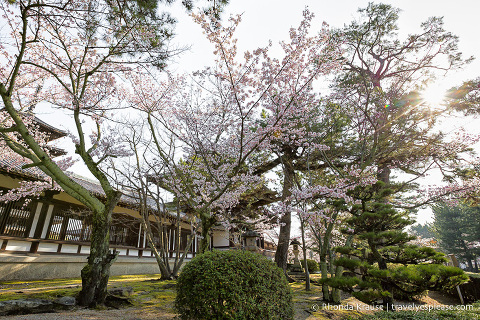 Visiting Horyu-ji Temple- Architectural Highlights
The grounds at Horyu-ji Temple cover 187,000 sq. metres and are separated into two precincts.
The Western Precinct (Saiin Garan) is home to the temple's main buildings and the world's oldest wooden structures: the central gate, main hall, and five-story pagoda. All were built sometime during the Asuka Period (538-710).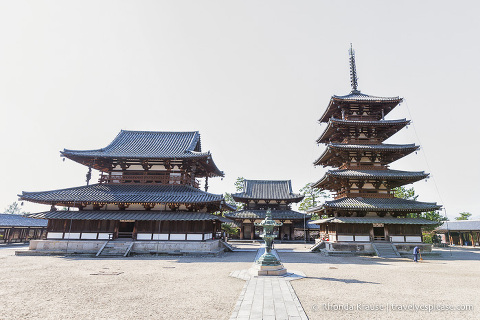 The Eastern Precinct (Toin Garan) contains the Hall of Visions, a sanctuary and monument to Prince Shotoku.
Here are some highlights from our self-guided tour of Horyu-ji Temple.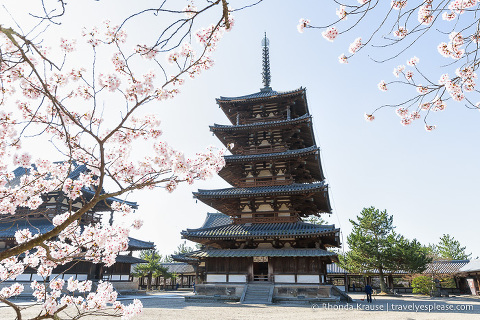 Nandaimon (South Main Gate)
The Nandaimon is the first gate we passed through upon arriving at Horyu-ji Temple. Simple and understated, the gate serves as the only opening in the long southern wall that conceals the temple. The gate was restored in 1438.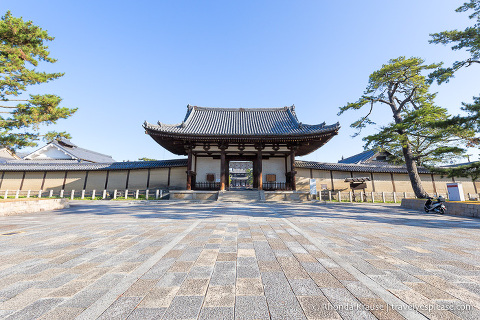 Chumon (Central Gate) and Kairo (Cloister Gallery)
Horyu-ji's central gate is where we got our first glimpse of the world's oldest wooden buildings.
The Chumon captures the essence of Asuka-period architecture, with ornamental railings, columns with a slight convex line (called entasis), and overhanging eaves.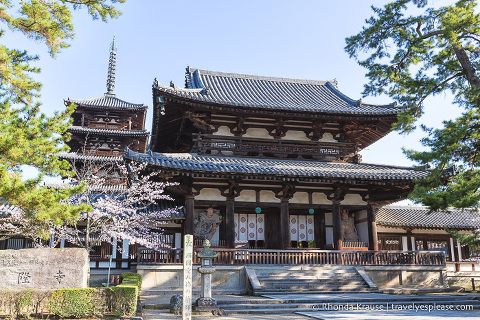 On each side of the gate are Japan's oldest statues of Kongo Rikishi, their muscular clay forms guarding the entrance to the Western Precinct, as good guardian deities must do.
Stretching out from the central gate is the cloister gallery, its lattice windows elegantly surrounding the inner courtyard.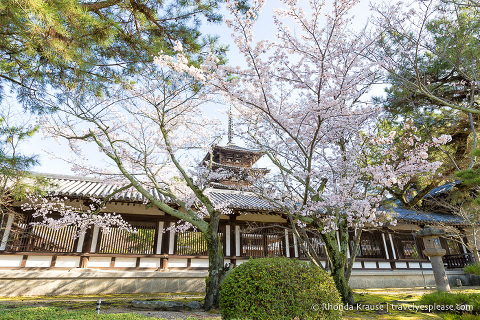 Goju-no-To (Five-Story Pagoda)
The highlight of my visit to Horyu-ji Temple was the five-story pagoda. Standing 32.5 metres tall, the pagoda at Horyu-ji Temple is the oldest five-story pagoda in Japan. An analysis of the tree rings in the central pillar estimates that its wood came from a tree cut down in 594.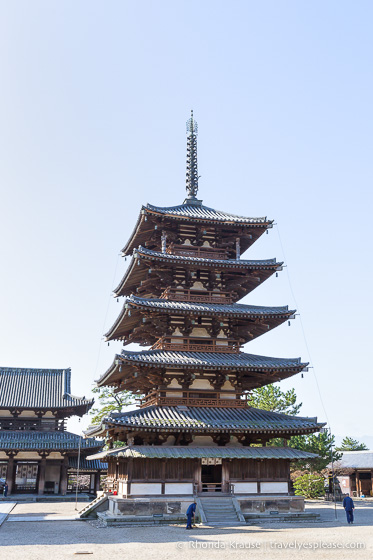 Inside the pagoda is a collection of clay Buddhist statues from the early Nara Period.
Kondo (Main Hall)
Next to the pagoda is Horyu-ji's main hall. The kondo houses many important Buddhist treasures and statues, including the Shaka Triad (623) built in honour of Prince Shotoku, and a bronze figure of Yakushi Nyorai (also from the Asuka period) created in honour of Emperor Yomei.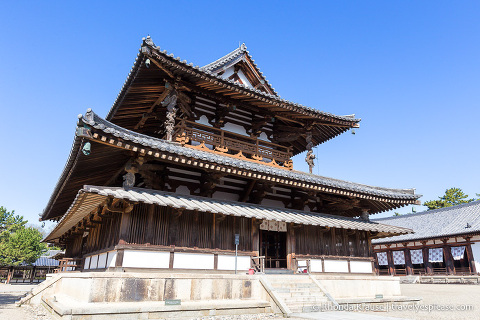 On the surrounding walls are murals considered to be the best ancient depictions of Buddhist paradise. Unfortunately, a fire destroyed the original paintings in 1949 so the murals you see today are reproductions from 1967.
Yumendo (Hall of Visions)
The Hall of Visions is an octagonal pavilion that was built in 739 in memory of Prince Shotoku. The hall was constructed on the site where Shotoku's private palace once stood and enshrines the Kuse (or Guze) Kannon, a life-size statue resembling the image of Shotoku.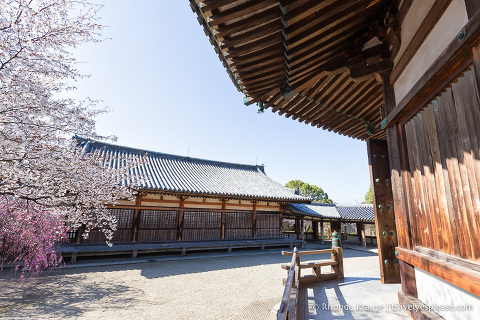 Final Thoughts About Our Visit to Horyu-ji Temple
Horyu-ji Temple has a lot to brag about, but somehow it manages to feel humble and modest.
The buildings, while notable for both their age and architectural style, didn't immediately invoke a sense of awe or excitement, but rather a quiet curiosity and evolving appreciation.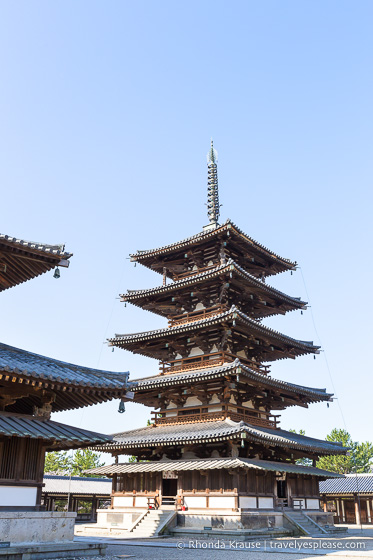 I'll admit, I didn't think Horyu-ji was the most beautiful temple we saw during our two weeks in Japan, but that's mostly because the setting wasn't as natural as other temples we visited. Apart from a few trees, there wasn't much vegetation inside the temple grounds. For some reason, it's easier for me to connect with the spirituality of a temple when it's surrounded by nature.
Regardless, what Horyu-ji Temple lacked in "wow" factor, it made up for in cultural significance. For that reason, I'm glad we visited.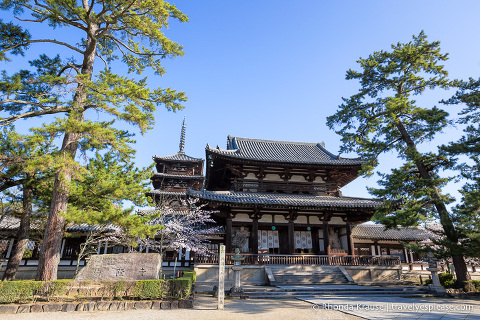 Tips for Visiting Horyu-ji Temple
Location: Horyu-ji Temple is located in the town of Ikaruga in Nara Prefecture.
Getting There: Horyu-ji Temple can easily be visited as a side trip from Nara. From JR Nara Station, take the Yamatoji Line to Horyuji Station (travel time is about 11 minutes and the Japan Rail Pass is valid on this route). From the station, Horyu-ji Temple is a 20 minute walk or 5 minute bus ride (get off at Horyujimon-mae stop).
Hours: Horyu-ji is open from 8:00 am- 5:00 pm (or 4:30 pm from early November to late February). There are no closing days. Confirm current hours here.
Admission Fee: Entrance to Hory-ji Temple costs ¥1,500.
Information was updated September 2022 but can change without notice.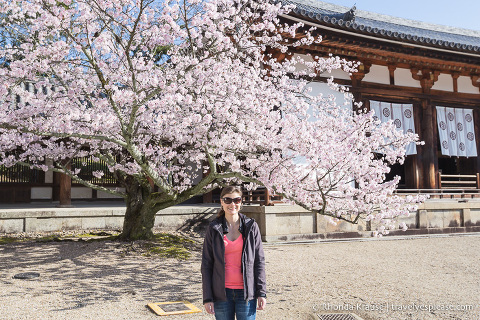 Accommodations in Nara
For your convenience, here is a list of nearby hotels in Nara. Please consider booking your Nara accommodations through the included link. It costs nothing extra and helps support this website. Thank you!
More Japan Destinations and Travel Guides