Purchases made through links earn us a small commission, at no extra cost to you.
On my first trip to Japan, I wanted to experience the country's traditional side, so I made a point to visit as many temples in Japan as we had time for. Even though we visited numerous Japanese temples during those 2 weeks in Japan, I didn't get my fill and continued to search out more beautiful temples in Japan on subsequent trips.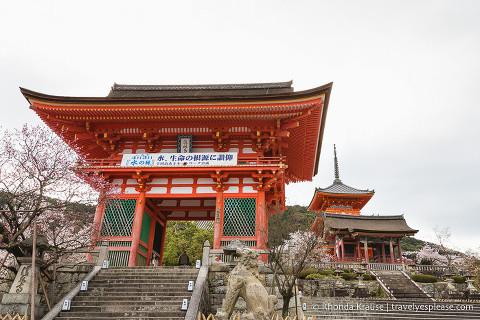 Visiting Buddhist temples in Japan is a great way to get to know the country's history and traditions. Temples are some of the oldest buildings in Japan, firmly ingrained in the culture for centuries. Discovering the folklore and rituals surrounding Japanese temples made me appreciate the history, nature, and spirituality that makes Japan such a compelling destination.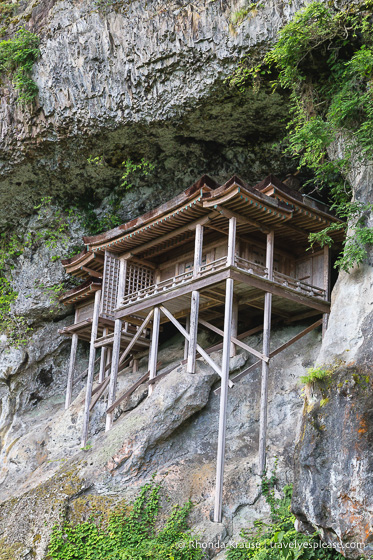 Since I spent so much time visiting temples in Japan, I wanted to share some of my personal favourite Japanese temples, along with some tips and etiquette for visiting temples in Japan. Before I share what I consider to be the best temples to visit in Japan, here's a brief history about Buddhism in Japan and the main components of Buddhist temples in Japan.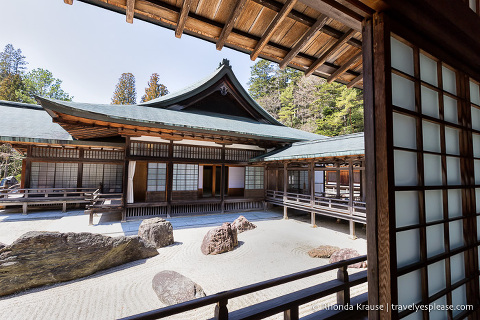 Buddhism in Japan
Buddhism originated in India but arrived in Japan via China and Korea in the 6th century.
The official introduction of Buddhism to Japan is attributed to Korean King Seong of Baekje, who sent some sutras and an image of Buddha to Emperor Kinmei. The ruling nobles welcomed and promoted Buddhism, but the religion was slow to be embraced by commoners.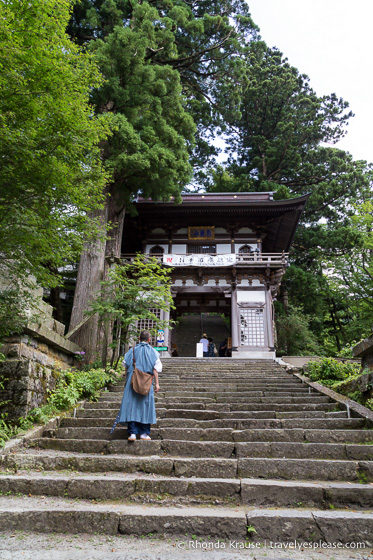 Over time, more Buddhist sects were introduced from China including the Tendai sect by Saicho in 805, Shingon sect by Kukai (known posthumously as Kobo Daishi) in 806, and Zen sect in 1191.
Buddhism eventually became one of the dominant religions in Japan, along with Shinto, Japan's native religion.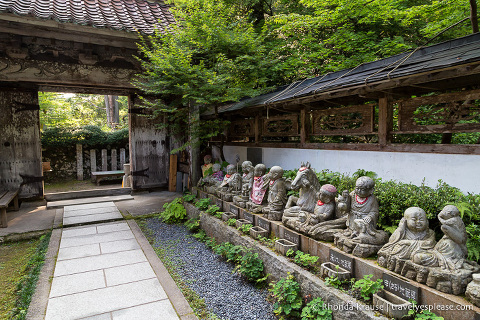 Features of Buddhist Temples in Japan
Temples (along with Shinto shrines) are the most plentiful and important religious buildings in Japan, with almost every municipality having at least one. In addition to being places for worship, temples also display and store sacred Buddhist objects.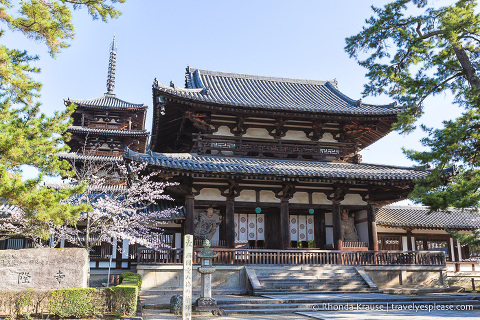 A typical temple in Japan consists of numerous structures. A main gate marks the entrance to the temple grounds, but sometimes there are additional gates along the approach to the main hall. The main hall is where Buddhist images are enshrined for worship. Temples may also have a pagoda (usually three or five stories), lecture halls, belfry, and other buildings used by monks. There is sometimes even a cemetery.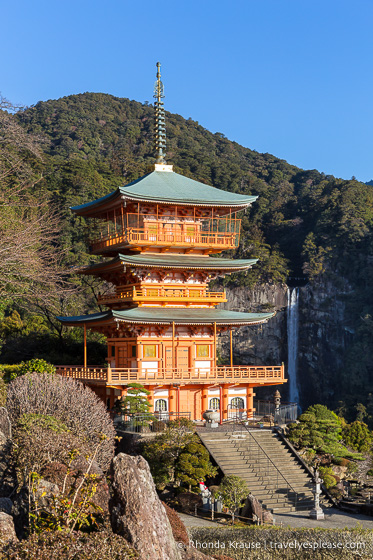 The names of Buddhist temples in Japan frequently end in the suffixes –ji and –dera, while -in usually refers to a minor temple.
Best Temples in Japan to Visit
During my three trips to Japan, I've been lucky to see many of Japan's top temples, as well as some lesser known ones that are also worth visiting.
Even though I've discovered many beautiful temples in Japan, I definitely haven't come close to visiting them all (there are over 1600 in Kyoto alone!)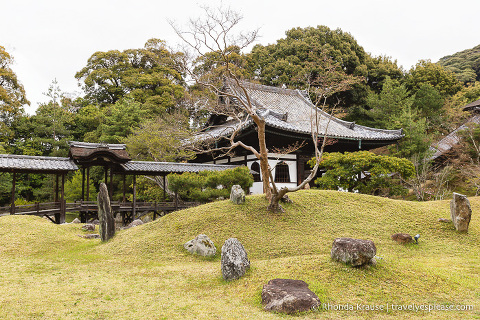 Thinking back on my travels, I've picked out what I consider to be some of the best temples to visit in Japan. These aren't all the temples I've seen in Japan, just the ones that I found especially interesting and/or beautiful.
Here's my list of the top temples in Japan!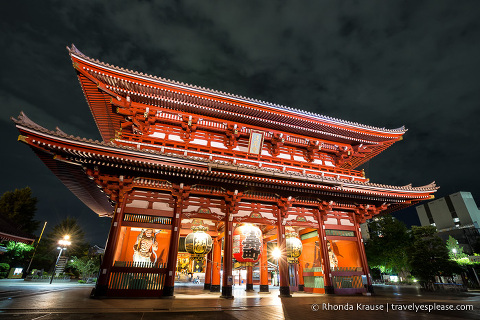 Kinkaku-ji Temple, Kyoto
Kinkaku-ji Temple is one of the most visually striking temples in Japan and a favourite from our 3 days in Kyoto.
Known as the Golden Pavilion, two levels of this Zen Buddhist temple are covered in gold leaf. Its gilded exterior attracts crowds of tourists who come to see Kinkaku-ji's glittering reflection in the large pond it overlooks.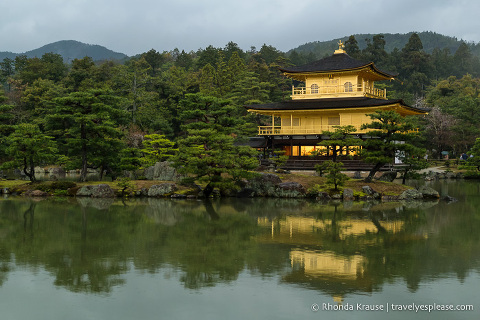 Kinkaku-ji was first built in the late 14th century as a retirement villa for shogun Ashikaga Yoshimitsu. It was converted to a temple after his death but burned down numerous times. The pavilion that stands today is an exact replica built in 1955.
Kinkaku-ji Temple was inscribed as a UNESCO World Heritage Site in 1994 as part of the Historic Monuments of Ancient Kyoto.
Read more: Kinkaku-ji Temple- Kyoto's Golden Pavilion
Todai-ji Temple, Nara
Todai-ji Temple is one of the most popular places to see in Nara Park, and for good reason.
The main hall of Todai-ji was at one time the largest wooden building in the world, a distinction it held until 1998. Even today, at two-thirds its original size, tourists look like miniature versions of themselves when standing in front of the Great Buddha Hall.
If that wasn't impressive enough, Todai-ji is also home to the world's largest bronze statue of Buddha, measuring a monumental 16 metres (53 feet) tall.
Since its construction in 752, Todai-ji Temple has been an important centre for Buddhism in Japan. It currently serves as headquarters of the Kegon school of Buddhism and is one of eight monuments in Nara included in the World Heritage Site designation.
Todai-ji's remarkable size, extraordinary Buddha statue, and historic significance make it a must-see temple in Japan.
Kongobu-ji Temple, Koyasan
If you want to visit temples in Japan, then Koyasan (Mt. Koya) is a fantastic destination.
As one of the country's most sacred places, Koyasan is home to over 100 temples, the most important one being Kongobu-ji, head temple of Shingon Buddhism.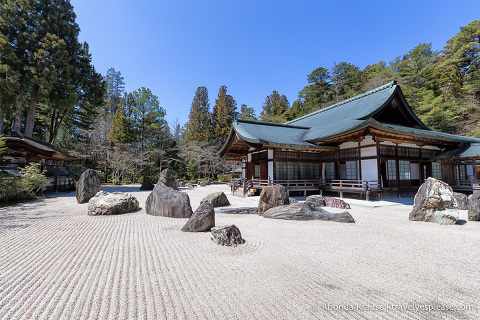 Kongobu-ji Temple has many lovely features that make it one of the best temples to visit in Japan. The interior has several sliding screen doors decorated with scenes of nature and a room covered in gold leaf.
In the temple grounds you can admire Japan's largest rock garden, its granite stones arranged to represent a dragon emerging from the clouds. There's also a bell tower, scripture storehouse, and wooden gate that are worth seeing.
Read more: Kongobu-ji Temple- Headquarters of Shingon Buddhism
Senso-ji Temple, Tokyo
Senso-ji Temple is one of the most visited temples in Japan, attracting over 30 million guests per year.
Originally built in 645, Senso-ji is Tokyo's oldest temple. It is dedicated to Kannon, the goddess of mercy, and features two gates decorated with large paper lanterns, a five-story pagoda, and main hall enshrining a golden statue of Kannon.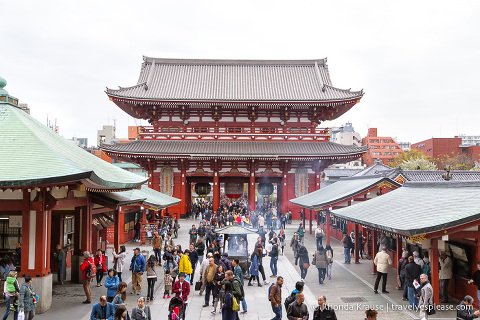 Its vermilion coloured buildings are eye-catching, but it's after dark when Senso-ji can really be considered one of the most beautiful temples in Japan. I absolutely loved how the buildings were flooded in warm light, making Senso-ji the most spectacular place I visited during my 4 days in Tokyo.
Read more: Senso-ji Temple- Getting to Know Tokyo's Oldest Temple
Tenryū-ji Temple, Kyoto
There are many things to see in Arashiyama, a popular sightseeing district in Kyoto, but one attraction that stands out is Tenryū-ji Temple.
Built in 1339, Tenryū-ji is a main temple of the Rinzai Zen sect of Japanese Buddhism. Its location couldn't be prettier, surrounded by forested mountains and a large landscaped garden from the 14th century.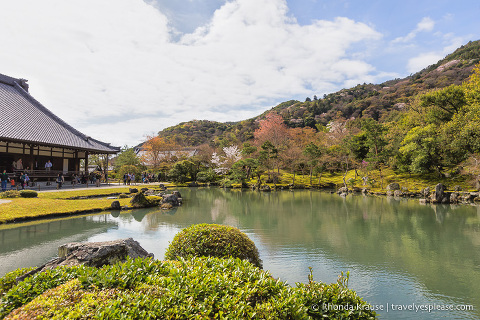 In fact, it's the garden that convinced me to include Tenryū-ji on my list of the best temples in Japan. There are pretty walking paths, a central pond, and some large weeping cherry trees that make it a great place to go cherry blossom viewing in Kyoto.
Sanbutsu-ji Temple, Misasa
Sanbutsu-ji Temple is one of my favourite temples in Japan because of its dramatic location and the adventurous hike on Mount Mitoku I had to do to get there.
Although Sanbutsu-ji's main hall is located at the base of Mount Mitoku, the temple's other, more picturesque halls are built along a rugged, steep trail up the mountain.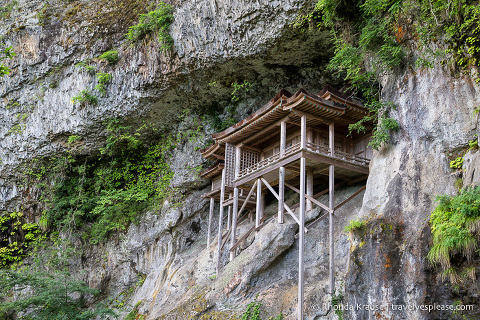 Nageiredo Hall, the inner hall of Sanbutsu-ji Temple, is a one-of-a-kind national treasure. This small wooden hall is built under a rocky ridge, balancing on stilts on the cliff face. It's an absolutely stunning structure and seeing it was a highlight of my 3 days in Tottori prefecture.
Sanbutsu-ji may not be as well known to foreign visitors as other temples in Japan, but its unique location and heart-pumping adventure to see its halls make it one of the best temples in Japan to visit.
To-ji Temple, Kyoto
To-ji Temple was founded at the beginning of the Heian Period as a guardian temple of Kyoto, which at the time had just become capital of Japan.
Years later, under the direction of monk Kobo Daishi, To-ji became a leading Shingon temple, second only to Kongobu-ji Temple in Koyasan.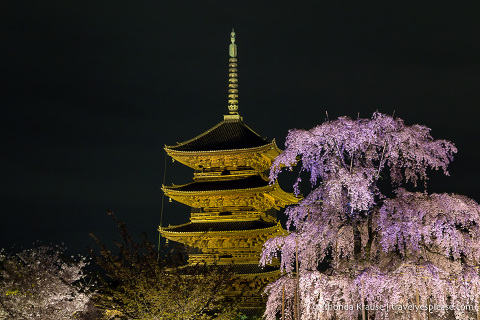 Apart from its historic significance, the main reason to visit To-ji Temple is to see its five-story pagoda. At 57 metres (187 feet), it's the tallest pagoda in Japan. The pagoda is especially beautiful during cherry blossom season when it's illuminated in golden light (the cherry trees are lit up as well).
Read more: Kyoto's To-ji-Temple- By Day and By Night
Zenko-ji Temple, Nagano
From its inception, Nagano has been a temple town, starting as a small settlement at the entrance to Zenko-ji, one of the most important temples in Japan.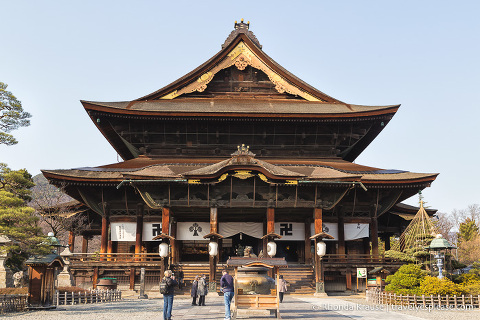 Zenko-ji Temple dates back to the 7th century and enshrines what's believed to be the first Buddhist statue brought to Japan. The statue remains hidden from the public, but there are plenty of other interesting things to see at Zenko-ji Temple including its two wooden gates, shopping street, and main hall (a national treasure). Visitors can even watch the ritual ringing of the temple bell, which welcomed in the start of the '98 Olympics.
Read more: Getting to Know Nagano and Zenko-ji Temple
Daisho-in Temple, Miyajima
Daisho-in Temple is a peaceful complex nestled in the trees at the foot of Mount Misen, the holy mountain on Miyajima Island.
Founded in 806 by Kobo Daishi, Daisho-in Temple has had close ties with the Imperial Family throughout its history. Emperor Toba even built a prayer hall here, making it the place to pray for Japan's peace and security. Today, Daisho-in is the head temple of the Omuro branch of Shingon Buddhism.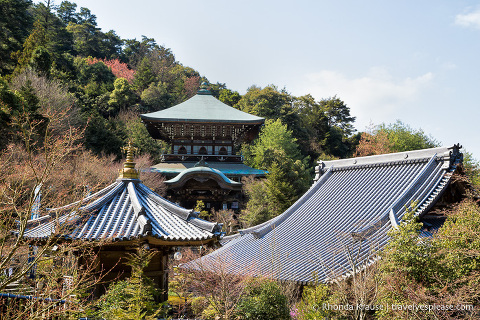 The temple grounds have several halls enshrining different deities, housing important cultural treasures, and showcasing a variety of Buddhist images. My favourite part of the temple was the 500 Rakan statues, each of them unique, lining the steps to the temple.
Seiganto-ji Temple, Nachisan
Seiganto-ji Temple is one of the best temples in Japan to visit because of its scenic location on Mount Nachi (Nachisan), a main destination on the Kumano Kodo pilgrimage.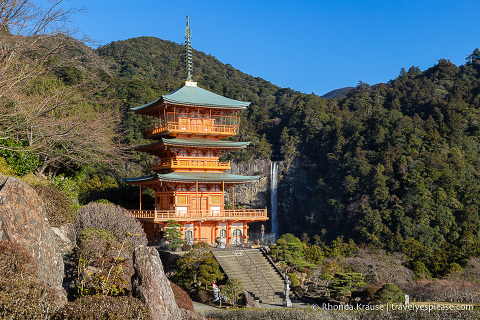 The temple's vermilion pagoda is backed by a forested mountain and Nachi Falls, Japan's tallest waterfall. The main hall is older and less colourful, but its plain wooden construction blends harmoniously with the forest around it.
Seiganto-ji enshrines Nyoirin Kannon and is the oldest structure in the Kumano area.
Kinpusen-ji Temple, Yoshino
Kinpusen-ji is the main temple in Yoshino and an important centre for Shugendo, a religion that focuses on mountain worship.
Its main hall is the second largest wooden building in Japan, at 34 metres tall, and houses three 1300 year old statues of Zao Gongen, protector deity of Yoshino's sacred mountains.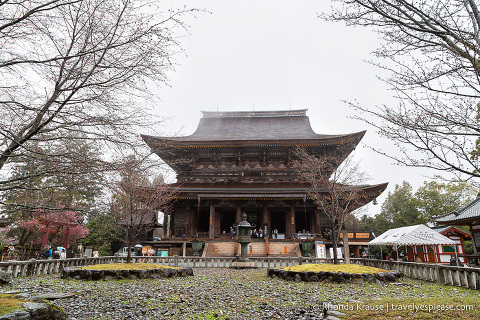 Kinpusen-ji is included on several pilgrimage routes, but is most notably the starting point for the pilgrimage to Mount Omine.
Horyu-ji Temple, Nara
Just 10 km from Nara is Horyu-ji Temple, a complex that's home to the world's oldest wooden buildings.
Founded in 607, the temple contains numerous important cultural artifacts, sculptures and structures, leading it to be named Japan's first UNESCO World Heritage Site. Especially noteworthy is the main hall, which houses some of Japan's oldest statues of Buddha, and the 32.5 metre tall pagoda, the oldest five-story pagoda in Japan.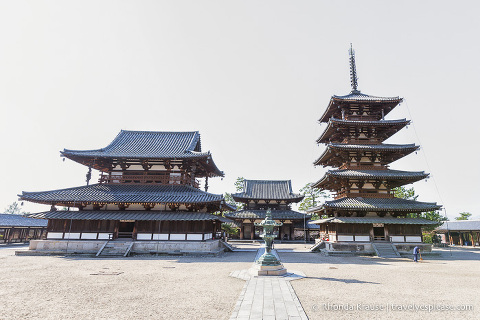 The temple's long history, ancient architecture, and extensive collection of Buddhist art, make Horyu-ji one of the most revered temples in Japan.
Read more: Visiting Horyu-ji Temple- The World's Oldest Wooden Buildings
Kiyomizu-dera Temple, Kyoto
Kiyomizu-dera is one of Kyoto's most popular temples, attracting visitors who come to drink from its sacred spring and pray to its 11-headed image of Kannon.
My favourite part of Kiyomizu-dera Temple was the main hall. It has a large wooden verandah jutting out over the hillside, offering wonderful views of the forested landscape, especially in spring and fall when cherry blossoms and autumn colours are on full display.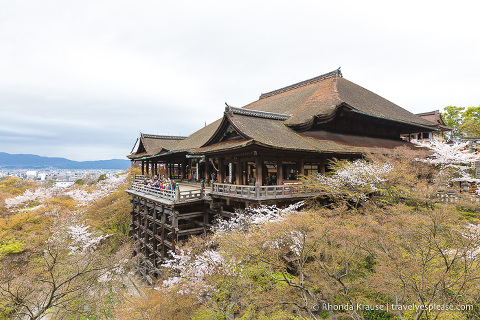 Most interestingly, Kiyomizu-dera's main hall and verandah were built without the use of nails, so the temple's architecture is just as impressive as the scenic views it offers.
Final Thoughts About My Must-See Temples in Japan
All the temples I chose for my list of must-see temples in Japan have something that makes them special. Whether it's because of their architectural achievements, scenic locations, interesting histories, Buddhist treasures, or cultural importance, each of these temples in Japan are worth seeing.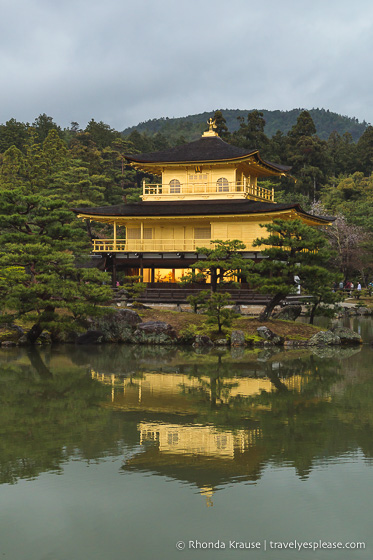 I always enjoy visiting temples in Japan and hope that I'll travel there again so I can add more beautiful Japanese temples to this list!
Customs and Etiquette for Visiting Temples in Japan
Even though the atmosphere at temples in Japan is quite casual, there are a few things to be aware of. Here are some customs and points for proper temple etiquette in Japan:
Bow slightly at the temple gate before entering.
It's customary to purify yourself at the chozuya or temizuya (water filled basin). Use the ladle to pour some water over your left hand. Switch the ladle to your left hand and pour water over your right hand. Pour some water into your left hand again and use it to rinse your mouth (don't drink from the ladle). Spit out the water on the rocks below, not into the basin. Wash the ladle by holding it vertically so water flows down the handle. Put it back on the basin scoop side down.
At the main hall, bow slightly then gently toss a coin into the box in front of you. If there's a bell, ring it two or three times. Bow slightly with your hands together (palm to palm) while paying your respects/praying. Bow once more when you're finished.
When entering temple buildings, leave your shoes at the entrance. Sometimes plastic bags are provided so you can carry them with you.
Inside the hall, worshipers kneel before the altar on tatami mats in silent contemplation.
Always show respect in a temple by not being noisy.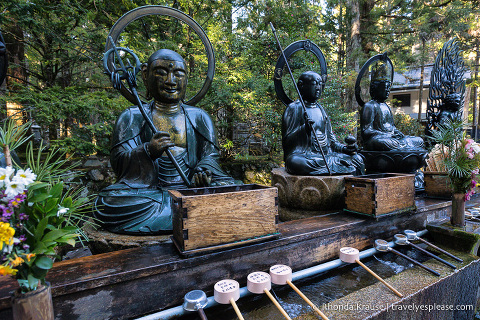 Tips for Visiting Temples in Japan
Admission to most Buddhist temples in Japan is free, but some of the famous ones in popular tourist destinations (like Kyoto) charge an admission fee.
Some destinations in Japan have temple accommodations, so you can spend the night in a Buddhist temple. We did this in Koyasan and got to experience a Buddhist meal and attend the morning prayer service.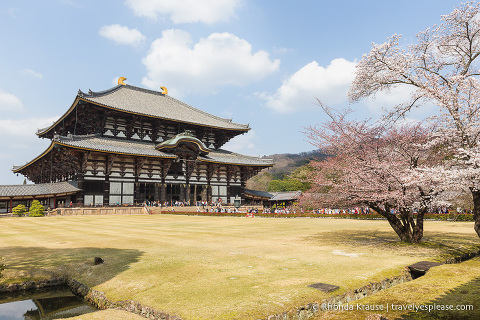 Accommodations in Japan
For your convenience, here is a list of HOTELS IN JAPAN. Please consider booking your Japan accommodations through the included link. It costs you nothing extra and helps support this website. Thank you!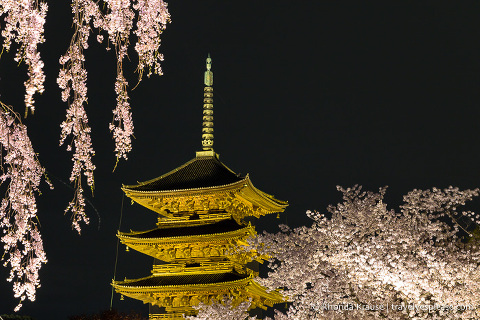 More Japan Destinations and Travel Guides