Purchases made through links earn us a small commission, at no extra cost to you.
Japan is a country I have wanted to visit ever since I was in the seventh grade. Learning about it in social studies class, I was fascinated by the history and culture, enamoured by its beauty.
As intriguing as Japan was in textbooks, it was infinitely better in real life. Just one day into our two weeks in Japan and we were already in love with this wonderful country.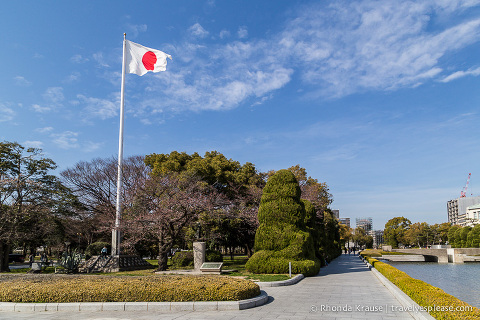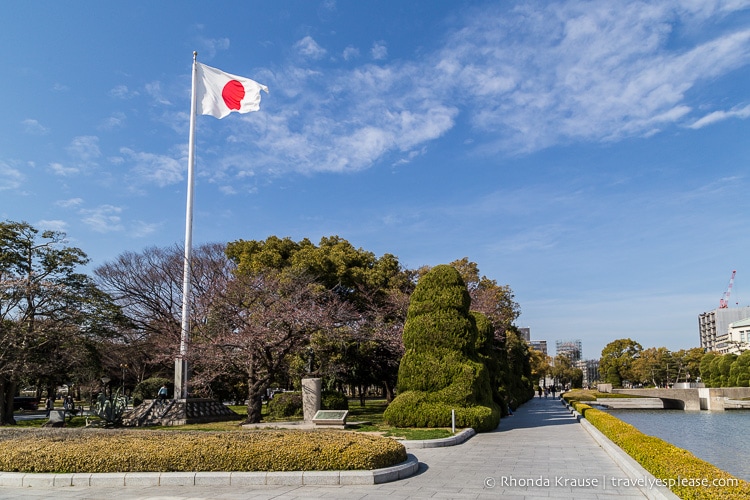 Two Weeks in Japan- Our Itinerary
We decided that spring would be a great time to spend two weeks in Japan. I specifically wanted to experience the cherry blossom season, which had long been on my Japan bucket list. Spring turned out to be a nice time to visit Japan, and although places were often very busy with other travellers and accommodations were more expensive, the beauty of the cherry trees made it all worth it!
I knew immediately into the planning process that two weeks in Japan was not going to be enough. There were so many interesting and beautiful places in Japan to visit, so many things I wanted to do. It was impossible to fit them all into our two week Japan itinerary and I struggled with having to cross places off the list.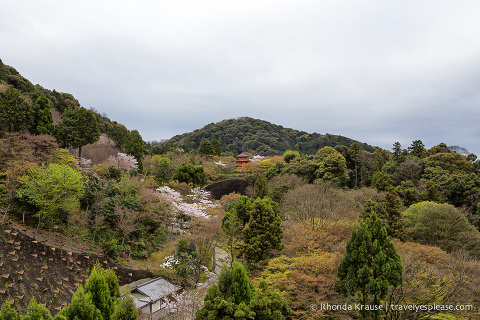 As difficult as it was, we were very pleased with the two week Japan itinerary I put together. I created a well-rounded trip that allowed us to experience both the traditional and modern aspects of Japan. Our two week itinerary included small mountain towns, bustling cities, places of historical interest and relaxing natural areas. As first time visitors to Japan, we felt this itinerary allowed us to enjoy the best of Japan in two weeks.
Here's a look at what we managed to see and do with two weeks in Japan, including thoughts about our time in each location. We hope our itinerary gives you some ideas of places to visit in Japan and helps you plan your own two week trip to Japan.
Note: All links will open in a new window for your convenience.
Two Week Japan Itinerary- Map of Our Route
Here's a map of the places included in our two week Japan itinerary.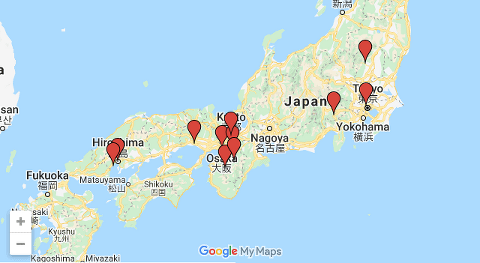 Day 1: Hiroshima
Half a day, 1 night
Our first full day in Japan was spent travelling from Tokyo to Hiroshima. It was a four hour bullet train ride, so we arrived just after noon. This gave us a full afternoon and evening to explore Hiroshima, which we found to be sufficient.
Hits
Hiroshima is a place we wanted to visit because of its historical significance. Much of our time was spent wandering around the Peace Memorial Park visiting the many monuments dedicated to the victims of the first atomic bomb. It was an eye opening and humbling experience. We felt that the city of Hiroshima has done a great job creating a beautiful space to honour those affected by that devastating event.
While we were expecting Hiroshima to be all "gloom and doom", this was not the case at all. The city itself is quite attractive- very clean, quiet with a lot of nice parks and walking paths along the rivers. We especially enjoyed visiting the reconstructed Hiroshima Castle. There is a museum inside the beautiful five storey main keep and the grounds contain a shrine, some ruins and a few other buildings, all surrounded by a moat.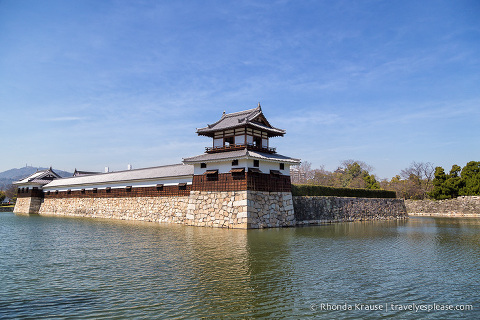 Misses
The only thing that disappointed me was that there was scaffolding covering the Atomic Bomb Dome, making it difficult to get a good look at it. Every three years the city does a full survey of the remaining structure to ensure its condition is preserved as it was immediately after the atomic bomb was dropped.
Book: Tours in Hiroshima
Day 2: Miyajima Island
1 day, 1 night
Miyajima Island is easily accessed from Hiroshima. It's a 30 minute train ride from Hiroshima to Miyajima Station, then a 10 minute ferry ride to the island. We caught an early train and set foot on the island by 8:00 am, giving us a full day to explore (which is what you need!)
Hits
Miyajima was the place I was most looking forward to visiting during our two weeks in Japan and it did not disappoint. By the end of our trip, it was still our favourite place in Japan! We had a wonderful day visiting Miyajima's many temples and shrines and exploring the top of Mount Misen. The views from up there were spectacular and it's always nice to be surrounded by nature!
In addition to our hike on Mount Misen, watching the sunset behind Miyajima's floating torii gate was a favourite memory.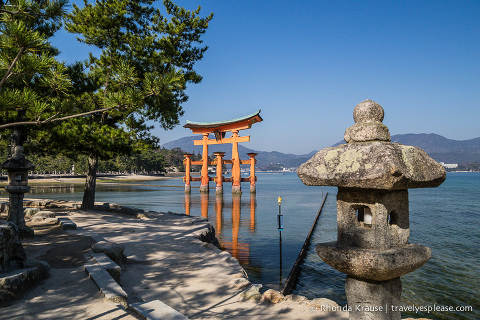 Misses
There was nothing we didn't like about Miyajima. It did get really busy with tourists during the day, but many didn't seem to venture far beyond the main temple area. Getting up early and spending the night helped us avoid a lot of the day trip crowds.
If I had to pick one negative though, I'd say the small deer that roam the island can be a little pesky. They will try and steal food out of your hands and some will even try and wrestle open your backpack if they smell something in there. One stole a pamphlet out the pocket of my camera bag and chewed it all up!
Read more: Miyajima- Exploring one of Japan's Most Scenic Spots, Itsukushima Shrine- Miyajima Island's "Floating" Shrine
Book: Tours in Miyajima
Day 3: Himeji Castle (Overnight in Osaka)
1 day, 1 night
On our way to Osaka, we decided to stop in Himeji for a few hours to visit Himeji Castle, a UNESCO World Heritage Site. From Miyajima Station, it was a 90 minute train ride to Himeji. After visiting the castle, we continued on the train for about another hour to Osaka. We just used Osaka as a place to sleep, as we were too tired to go out exploring.
Hits
Himeji Castle is a very beautiful building and was freshly restored when we visited (it was the castle's opening weekend after the main keep was closed for 5 years). The castle's elegant exterior wowed me when it first came into view. The bright white paint and intricate, ornamental designs that adorn the building are part of the reason Himeji is considered Japan's finest castle.
The castle's grounds were also very beautiful, especially since the cherry blossoms were in bloom when we were there. I preferred just sitting in the park, staring at the stunning architecture, to actually touring the interior of the main keep.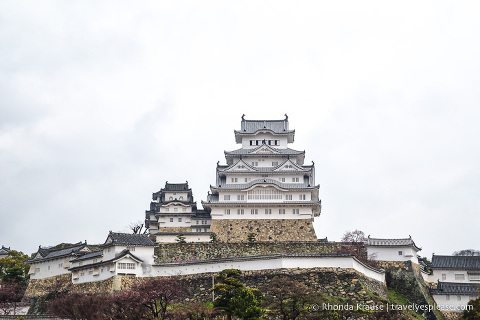 Misses
To be frank, we did not enjoy our "tour" of Himeji Castle. I use the word tour loosely because there was nothing to see inside the castle's main keep. There was nothing on display, there were no information boards, nothing. Just floor after floor of empty wooden rooms. Even if there had been items on display, we would never have been able to see them. There were so many people in the castle that we were shoulder to shoulder, being funnelled through hallways and narrow, steep staircases at a snail's pace.
We tried to give the castle the benefit of the doubt, thinking maybe they just hadn't put the artifacts back in yet after the restoration. Also, maybe it's not always horrifically busy. The re-opening after a long restoration, coinciding with cherry blossom season, probably greatly inflated the usual visitor numbers. Either way, Himeji Castle sadly ended up being an unpleasant travel experience.
Read more: Himeji Castle- A National Treasure of Japan
Day 4: Koyasan
1 day, 1 night
From Osaka, Koyasan was about a 2 hour and 15 minute journey involving a few train transfers, a cable car ride up a small mountain, and a short bus trip into the main town. A lot of people do a day trip from Osaka, but considering the amount of effort it took to get to Koyasan, and all the wonderful sights, we were glad we stayed the night in order to fully experience all that Koyasan has to offer.
Hits
We really enjoyed our time in Koyasan and it was one of the highlights of our trip to Japan. Koyasan is a sacred area on Mount Koya with many beautiful Buddhist temples and monuments surrounded by forest. We could feel the history and the spirituality as we walked around the town. Staying overnight in a Buddhist temple was a great way to get a deeper look into the traditions of Japanese religious life.
We visited a few temples, but my favourite was the Danjo Garan complex, one of the two most sacred sites on Koyasan. The two-storey vermillion and white pagoda was very impressive! My favourite part of the day though, was walking through Koyasan's large necropolis, an ancient cemetery with over 200,000 tombs!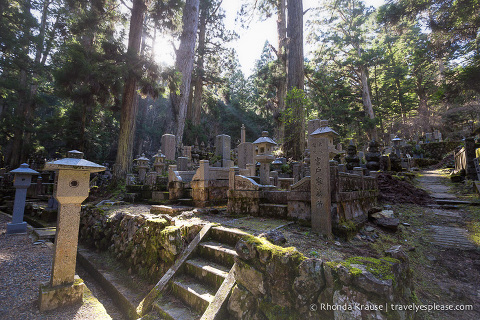 Misses
Visiting Koyasan was an enriching and rewarding experience and there wasn't much we didn't like. At night there wasn't anything to do, so we (and most other guests at the temple) were in bed by 8:00 pm. Being the picky eater that I am, I struggled with the traditional Buddhist vegetarian meals that were served at the temple, but I knew to expect that.
Read more: Koyasan- Guide to Visiting the Sacred Sites of Mt. Koya, Kongobuji Temple- Headquarters of Koyasan Shingon Buddhism
Day 5 – Nara
1 day, 2 nights
Nara was about a 2.5 hour train ride from Koyasan. We stayed in Nara for two nights but only spent one day visiting the sites. For our next day, we used Nara as a base for exploring Yoshino and Horyu-ji Temple.
Hits
Nara's main attraction is Nara Park so that's where we spent all of our time. The park is a large area with temples and shrines but perhaps more famously, 1,200 tame deer. We had a lot of fun petting the deer and feeding them "deer crackers" (which you can buy throughout the park).
Todai-ji Temple is Nara's most visited temple, and for good reason. Todai-ji is the largest wooden structure in the world and houses the world's biggest bronze statue of Buddha. We were blown away with how massive the statue is- I think the Buddha's hand was taller than I am!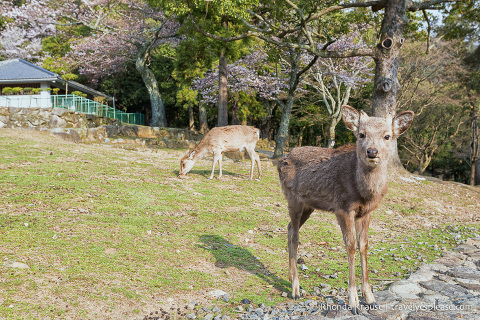 Misses
We found Nara park to be quite touristy in places, but the worst was actually inside Todai-ji Temple. I thought it was tacky to be selling souvenirs inside the Great Buddha Hall, right across from the statue. There were also trinkets for sale lining the pathway to the exit. Sure, they need money for upkeep, but at the end of the day Todai-ji is a temple, a place of faith, and it should feel like that, not a market. Having a bunch of people buzzing around buying stuff really cheapened the experience and, in my opinion, disrespected the temple.
Read more: Feeding Deer in Nara Park
Book: Tours in Nara
Day 6- Yoshino
Day trip from Nara
Our train trip to Yoshino took about 2 hours from Nara, including transfer time.
Hits
Our trip to Yoshino may not have turned out as I had envisioned, but we enjoyed it nonetheless. It was nice to spend the day in a quiet mountain town, surrounded by nature. Yoshino is a pretty town with an abundance of scenic views, beautiful gardens and, of course, temples and shrines. Our favourite place in Yoshino was Gunpoen Garden, at Chikurin-in Temple. The garden has a tranquil pond surrounded by cherry trees!
Another thing we loved about Yoshino was the people. All over Japan, we found the people to be very polite and helpful, but in Yoshino they were exceptionally kind, going above and beyond to make sure we were comfortable.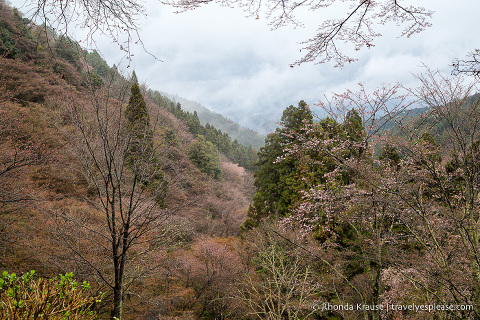 Misses
The reason why our trip to Yoshino wasn't quite what I was expecting had nothing to do with Yoshino itself, and everything to do with unfortunate timing and bad weather. Yoshino is one of Japan's top cherry blossom viewing spots because of the high concentration of cherry trees on the mountain slopes. Unfortunately, the trees were just starting to bloom at the middle of the mountain. Even if the blossoms were open, the rain and fog that plagued the day would have concealed the valley views I was hoping to see anyways.
Read more: Yoshino- Cherry Blossoms and a Whole Lot More!
Days 7, 8 & 9- Kyoto
3 days, 3 nights
Before leaving Nara for Kyoto, we made an early morning trip to Horyu-ji Temple (an 11 minute train ride from Nara). After our quick visit, we boarded the train for the roughly 1 hour trip to Kyoto.
Hits
While we may have been unlucky with the cherry blossoms in Yoshino, we hit the jackpot in Kyoto! We were lucky enough to be in Kyoto for full bloom, getting to witness the beauty and festivities that accompany cherry blossom season. There are so many fantastic places to see cherry blossoms in Kyoto. We had a nice (albeit crowded) walk down the Philosopher's Path, a well known blossom viewing site, and spent some time in Maruyama Park, another popular spot to enjoy blossoms.
Even though we included so many beautiful places in our 3 day Kyoto itinerary, I get the sense that there are many more we didn't discover. Between the temples, parks, gardens, old-world streets and surrounding foothills, there was plenty to feast our eyes on. If I had to narrow it down though, I'd say that the shimmering Golden Pavilion (Kinkaku-ji Temple) wowed me the most. It truly is one of the best temples in Japan!
Misses
Our biggest struggle in Kyoto was getting around. There are only two subway lines, which didn't always serve where we wanted to go. Plus, we couldn't figure out how to buy a pass/tickets because everything on the machine was in Japanese, except for the words Kyoto Station. There is an extensive bus network but the lineups were long and buses were jam-packed. It was impossible to walk everywhere, like we usually do, because the sights were so spread out. Armed with a long list of places we wanted to see, we opted to take cabs to save precious time. This cost us a small fortune, but we really doubt we would have seen as much as we did without taking taxis.
Read more: Fushimi Inari Shrine- A Mountain Path Like No Other, To-ji Temple- By Day and by Night, Visiting the Iwatayama Monkey Park, Exploring the Arashiyama District of Kyoto, Kodai-ji Temple- A Beautiful Zen Temple in Kyoto
Book: Tours and activities in Kyoto
Days 10 & 11- Tokyo
2 days, 2 nights
Tokyo was a 3 hour bullet train ride from Kyoto. We broke our time in Tokyo apart into two different stays, 2 nights each. We thought it would be nice to escape the big city by heading to the Mount Fuji area for a few days. Mount Fuji is really easy to get to from Tokyo, so we chose to visit from there rather than Kyoto.
Hits
The best way I can describe Tokyo is to say, it's an experience. The city is full of contrasts. Ultra modern architecture, polished shopping districts and bright neon lights, co-exist among quiet parks and temples reflective of a more traditional Japanese life. It was fun to experience a city so completely different from what we're used to in Edmonton.
For such a big city, Tokyo is very easy to get around. The subway system is incredible- very extensive, efficient and easy to use. Being able to travel so far across the city in less than half an hour made Tokyo feel much smaller than it is.
Another thing we were impressed by was how clean Tokyo was and how safe we felt. With so many people, you'd think it would get a little rough around the edges, but Tokyo was tidy, orderly and very pretty. I especially loved Tokyo at night when all the buildings are lit up. We got a great evening view of the city from the Tokyo Skytree!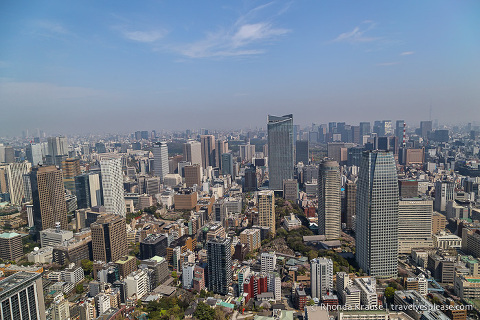 Misses
Being from a small town, I found the amount of people in Tokyo to be really overwhelming. There was one moment when we were walking on the sidewalk at the top of a small slope, and there were people as far as we could see! Walking around certain areas of town was difficult, especially in the rain (I kept getting hit in the face with umbrellas!)
As nice as Tokyo was, I found it hard to connect with the city. I found myself feeling indifferent, not sure where I wanted to go or what I wanted to see. We'd get off the subway and I see tall buildings. Then we'd move on to another neighbourhood and it was more tall buildings. I felt like we didn't really "see" anything, even though we covered a lot of ground in the city. Next time I visit I will try to have more of a plan.
Read More: How to Spend 4 Days in Tokyo- Our Itinerary
Book: Tours and activities in Tokyo
Days 12 & 13- Kawaguchiko and the Fuji Five Lakes
2 days, 2 nights
It was very easy to get to the Mount Fuji area from Tokyo by bus. It was a comfortable ride that took a little less than 2 hours.
Hits
Once again, bad weather led to a major disappointment but we tried not to let it ruin our fun. Instead of hiking around as planned, we stayed warm and dry by renting a car. We did a few laps around the lakes (which are beautiful, even in the snow), explored the nearby towns, and even drove as far as we could up Mount Fuji.
My favourite place was the Fujiyoshida Sengen Shrine, Kitaguchi Hongū Fuji Sengen Jinja. I kind of like that it was snowing when we were here because it gave the place a whole different mood, compared to other shrines in Japan we visited.
Since we couldn't be outside as much as we would have liked, we spent a lot of time eating. Every meal we had in Kawaguchiko was fabulous. We had everything from houtou, a popular local dish, to Korean barbeque and homemade pasta (possibly the best pasta I've ever had, and I've been to Italy!)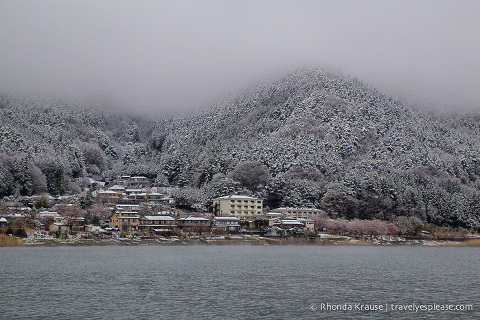 Misses
My all-time, biggest travel disappointment was that I didn't get to see Mount Fuji (apart from the 5 seconds I saw it on the train to Hiroshima). Our first day it was so rainy that Mount Fuji was cloaked in fog. The next day it snowed and thick clouds once again covered the iconic mountain. We planned 2 days in Kawaguchiko to increase our chances of seeing the mountain, since I heard the weather is often uncooperative. Unfortunately, we weren't very lucky.
Another unfortunate event was getting a flat tire in our rental car. While at Fujiyoshida Sengen Jinja, Mike noticed a huge nail stuck in our tire. We couldn't find the jack, so we asked some Japanese teenagers to help us. They called roadside assistance for us, and after much confusion, eventually told the boys where to find the jack (under the passenger seat behind a panel, in case you were wondering). Poor Mike had to change the tire in the mud! At least one of the teenagers was nice enough to hold his umbrella over Mike as he worked!
As if not seeing Mount Fuji and getting a flat tire weren't bad enough, the hotel we had was the filthiest, most run down place I've ever stayed. The carpets were full of stains, the walls were covered in grime, and there were hairs and other mysterious pieces of dirt on the sheets. So, if you're ever in the area, think twice before staying at Kawaguchiko Hotel.
Read more: Exploring the Fuji Five Lakes- Things to Do Even When You Can't See Mt. Fuji
Book: Tours to Mt. Fuji
Day 14- Tokyo
1 day, 2 nights
After Kawaguchiko, we returned by bus to Tokyo for another two nights. We spent one more day exploring the city, then did a day trip to Nikko to end our two weeks in Japan.
Day 15- Nikko
Nikko was a 2 hour train trip from Tokyo. We easily spent the entire day exploring this World Heritage Site.
Hits
I really enjoyed visiting Nikko and thought it was a nice way to end our two weeks in Japan. As a Buddhist-Shinto religious centre, there are many shrines and temples to visit. We only went into one, Toshogu Shrine, but I think we made the right choice. Toshogu is dazzling! It was colourful, accented in gold, and covered in symbolic decoration, making it the most ornate shrine we saw in Japan.
Nikko is more than just temples and shrines though. We happily left the crowds behind to wander around the park areas, especially enjoying the Kanmangafuchi Pools, a gorge formed by an eruption of nearby Mount Nantai.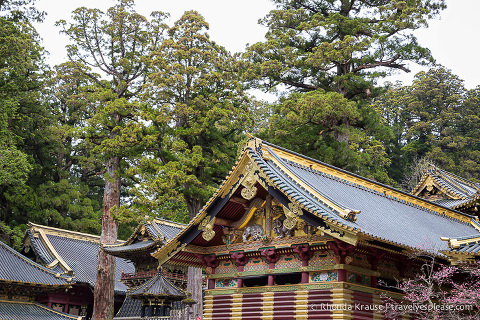 Misses
The train trip to Nikko ended up costing us a lot of money, due to a misunderstanding on our part. We planned to take the limited express train and at the last minute realized we had to buy a reservation. I thought it was odd we had to pay for a reservation, since all our other reservations on a JR (Japan Rail) train were free. When we arrived at Nikko and showed our JR pass at the exit, we were told it wasn't valid on a portion of the track (it was Tobu railways, not JR). We showed our reservation ticket and luckily didn't have to pay anything extra. Still, we thought the trip would be free with our JR pass. Now I know to pick a train that goes to Nikko station and not Tobu-Nikko!
Read more: A Day Trip to Nikko
Book: Tours to Nikko
Reflecting On Our Two Weeks in Japan
Japan was everything we hoped it would be and more. Since our return, friends have been asking what was our favourite part about our two weeks in Japan and we both answer- the people. The Japanese are some of the kindest, most polite, respectful people we have ever met. They may be reserved, even shy, but they were always willing to lend a helping hand, even with the language barrier.
It was refreshing to be able to travel around a country and feel safe the entire time. We didn't worry about getting mugged, scammed, or being taken advantage of just because we were tourists. Overall, Japanese society is very honourable and we witnessed examples of that time and time again during our two weeks in Japan. It was that sense of trust, respect and honour that made me feel so at ease in Japan and is why I am already longing for another visit!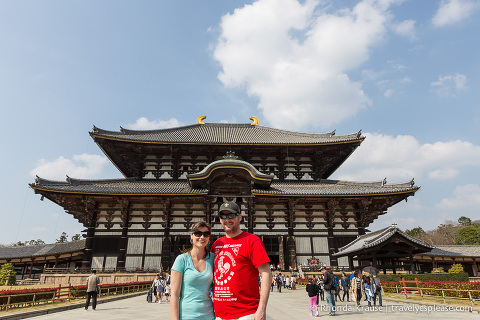 Resources to Help Plan Your Two Week Trip to Japan
The Japan National Tourism Organization has some maps and brochures that you may find helpful for planning your Japan itinerary. You can download and view them HERE.
Below are some more resources we used to help plan our two weeks in Japan.
Click here if shopping from Canada.
If you're planning your first trip to Japan, you may find our First Time Visitor's Guide helpful. For more Japan travel information and destination inspiration, visit our Japan Travel Guide.
Accommodations in Japan
For your convenience, here is a list of hotels in Japan. Please consider booking your Japan accommodations through the included link. It costs you nothing extra and helps support this website. Thank you!
Japan Rail Pass
A Japan Rail Pass is a good option if you will be doing a lot of travelling around the country. You can choose from a 7 day, 14 day, or 21 day pass. We purchased a JR Pass because it was more convenient than buying individual trip tickets, saving us time at the stations.
You must buy a JR exchange order from an authorized Rail Pass agent before coming to Japan, and only if visiting on a Tourist Visa (Temporary Visitor entry status). Use this page to help you find a sales office or more conveniently, purchase your JR exchange order online and have it shipped to you. When you get to Japan, you exchange the voucher for the actual JR Rail Pass.
Read more: Guide to Buying and Using the Japan Rail Pass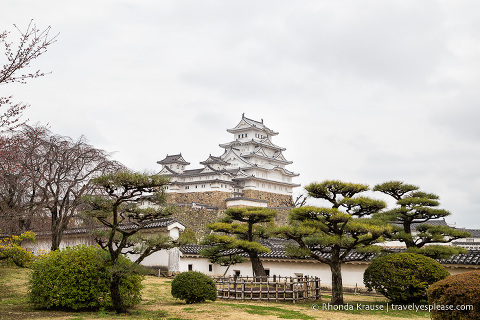 More Japan Destinations and Travel Guides