Purchases made through links earn us a small commission, at no extra cost to you.
It wouldn't be a trip to Tokyo without visiting Senso-ji, one of the city's most significant and famous temples.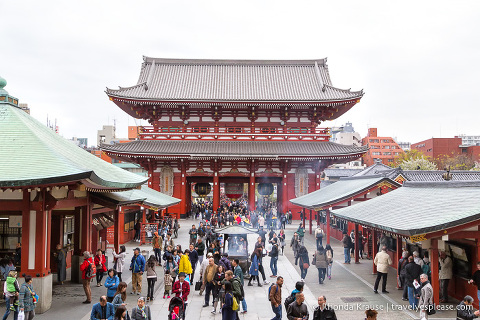 As the oldest temple in Tokyo, Senso-ji attracts thousands of visitors each day who come to worship, participate in traditional rituals, and admire the temple's vibrant red buildings.
During the day, Senso-ji Temple is buzzing with activity and energy, while at night the mood is far more relaxed, with illuminated buildings shining warm light over the quiet grounds.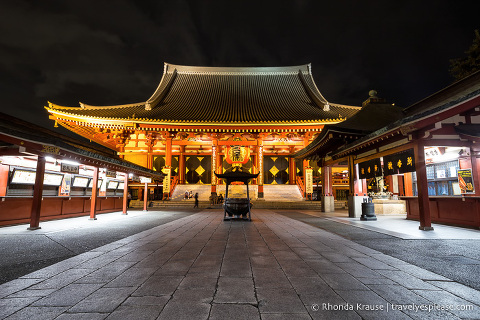 Whether you visit day or night, a tour of Senso-ji Temple is a great way to experience the traditional side of Tokyo.
History of Senso-ji Temple (Asakusa Kannon)
The founding of Senso-ji Temple is rooted in legend, when two fishermen reportedly pulled a gold statue of Kannon, the Buddhist goddess of mercy, from the Sumida River in 628. Even though they put the statue back in the water, it kept returning to them, so a temple was built near the Sumida River in Kannon's honor.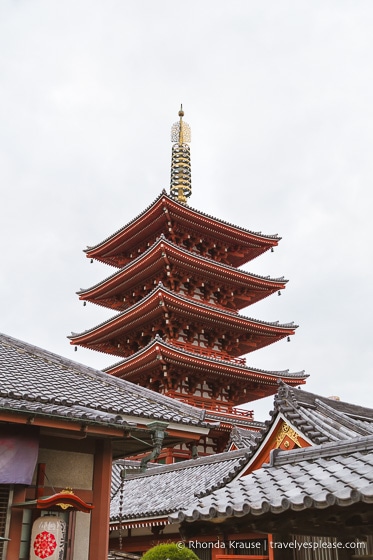 Senso-ji Temple was completed in 645, growing in size and popularity over the years.
It survived the Great Kanto earthquake of 1923, but didn't escape damage in World War II. Senso-ji Temple was destroyed in 1945 during the March 10th air raid on Tokyo, but was later rebuilt following the Edo-era layout.
Today, Senso-ji is Tokyo's most visited temple, welcoming over 30 million visitors a year.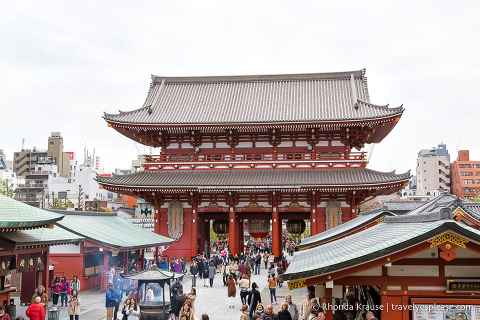 Our Visit to Senso-ji Temple- Tour of the Main Sites
Senso-ji Temple is a place where we got to experience the contrasting sides of Tokyo- its busy, energetic atmosphere, and its reserved respect for tradition.
While we enjoyed watching the locals go about their daily rituals, we were especially interested in learning about Senso-ji Temple's main buildings. Here's a look at a few things that stood out during our self-guided tour of Senso-ji Temple.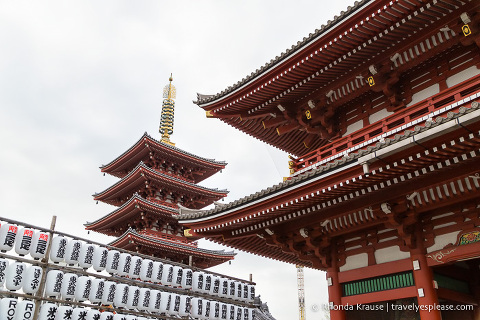 Kaminarimon and Nakamise-dori
The main entrance to Senso-ji Temple is through the Kaminarimon, "Thunder Gate."
Protected on one side by Fujin (the god of wind) and the other side by Raijin (the god of thunder), these guardian statues frame a huge red and black paper lantern hanging from the centre of the gate. The word "Kaminarimon" is painted on the lantern and a dragon sculpture graces the bottom of it, so make sure to look up as you walk underneath it.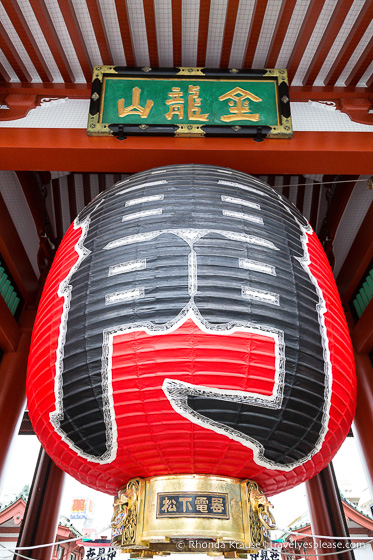 Beyond the Kaminarimon is Nakamise-dori, the temple's shopping street leading the way to the inner complex. The street is over 200 metres long and features shops selling traditional Japanese crafts, clothing, snacks, toys, and trinkets.
Hozomon Gate
At the end of Nakamise-dori is the Hozomon, "Treasure House Gate", marking the entrance to Senso-ji Temple's inner complex.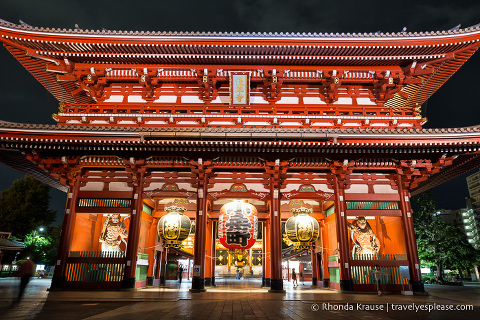 This second, larger gate is also protected by statues on each side and features three large lanterns hanging above the walkway. There is a treasure house upstairs where ancient scriptures and temple treasures are stored, including some 14th century Chinese sutras.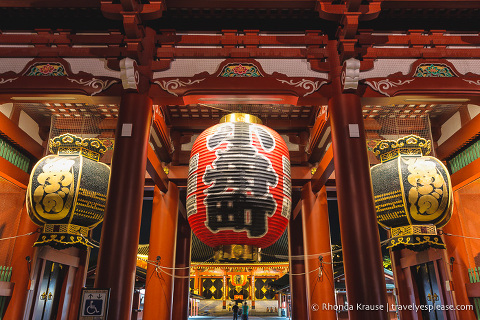 Incense Burner
In between the Hozomon Gate and main hall is a large incense burner. It's a ritual to gather around the incense burner and waft smoke over your body, an act that's believed to bring good health.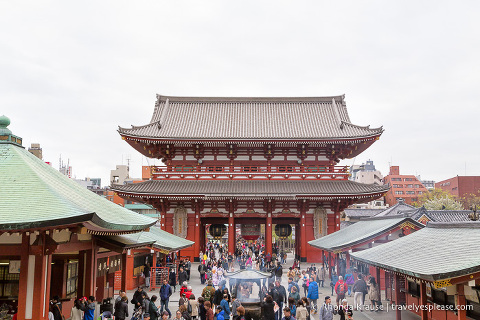 Main Hall
The focal point of Senso-ji Temple is the main hall. The original Kannon image that was pulled from the river is enshrined here and worshippers pay their respects by lighting candles and throwing coins into a box.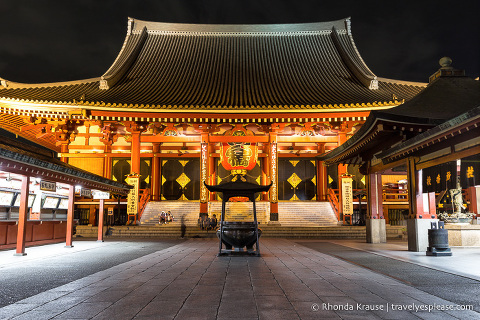 Five-Story Pagoda
At 53 metres tall, this five-story pagoda elegantly overlooks the grounds of Sensoji Temple. Like the other main buildings at Senso-ji Temple, the pagoda is not original, having been reconstructed in 1973.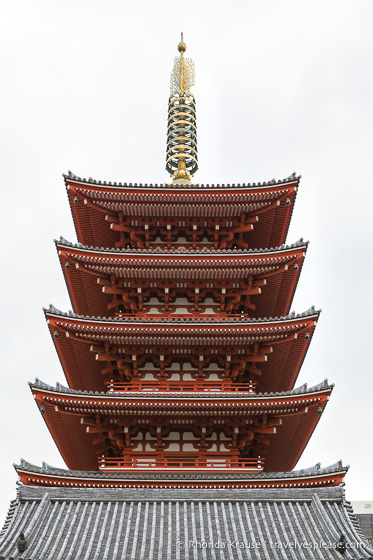 Other Things to See at Senso-ji Temple
While I was very much focused on the main buildings of Senso-ji Temple, so much so that I didn't take pictures of anything else, there are a few more places of interest at Senso-ji Temple.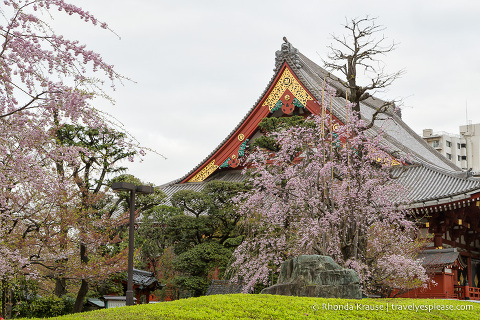 Yogodo Hall is next to the main hall and houses eight statues of Buddha. A small hexagonal temple is nearby that dates from the 15th or 16th century. Next to Yogodo Hall is Awashima Hall, dedicated to a deity that looks after women.
Neighbouring the main hall on the other side is Asakusa Jinja, a shrine that was built in 1649 to honour the fisherman who found the Kannon statue.
Tucked off to the side near Hozomon Gate is Nade Botokesan Buddha, a statue that is rubbed for good luck. Opposite that are some statues donated by a wealthy merchant and the Benten-yama Shoro belfry. In the days of Edo, the bell was rung at the top of the hour.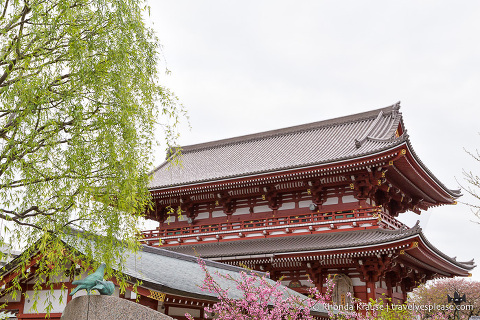 Final Thoughts About Visiting Senso-ji Temple
A visit to Senso-ji Temple should be included on every Tokyo itinerary, not only because it's Tokyo's oldest temple, but it's the most spectacular one as well.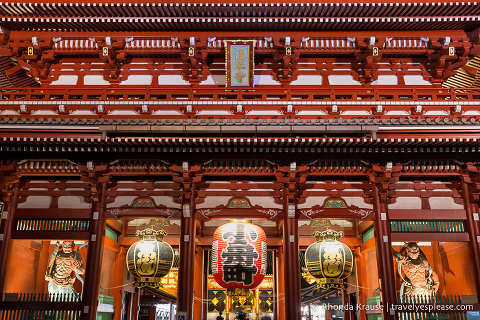 My favourite part of the temple was the massive paper lanterns hanging from the two gates. They were a unique touch and something we didn't see at any of the other temples in Japan we visited.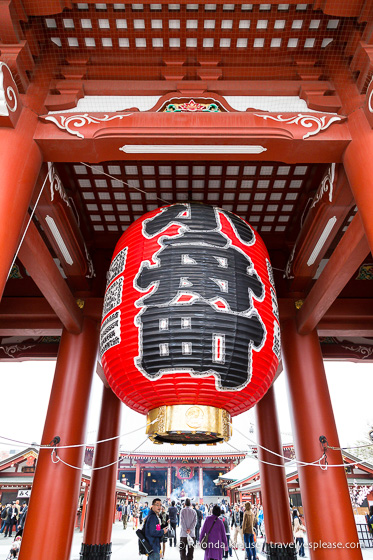 Since Senso-ji is Tokyo's most popular temple, I recommend also visiting at night to experience its quiet beauty, something that gets a bit lost in the daytime crowds. Senso-ji Temple at night is truly mesmerizing and I was able to connect with it on a deeper level when I had the grounds almost all to myself.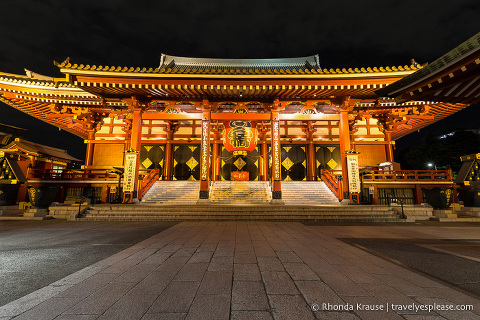 Even though Senso-ji wasn't my favourite temple we visited during our two weeks in Japan, it still was an impressive site that should not be missed on a trip to Tokyo.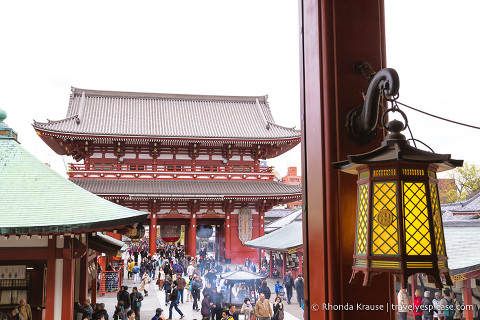 Tips For Visiting Senso-ji Temple
Location: Senso-ji Temple is located in the Asakusa district of northern Tokyo.
Getting There: From Asakusa Station, Senso-ji Temple is a 5 minute walk (at the most). You can get there on the Ginza and Asakusa subway lines, or by Tobu Railways on the Tobu Isesaki Line.
Opening Hours: The main hall at Senso-ji Temple is open daily from 6:00 am- 5:00 pm (it opens at 6:30 am October to March). The temple grounds are always open.
Admission: Admission to Senso-ji Temple is free.
Information was updated May 2022, but can change without notice. Please confirm directly with the venue.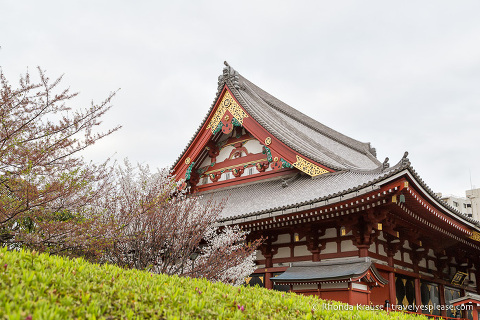 Accommodations in Tokyo
For your convenience, here is a list of HOTELS IN TOKYO. Please consider booking your Tokyo accommodations through the included link. It costs nothing extra and helps support this website. Thank you!
More Tokyo Attractions and Travel Guides