Purchases made through links earn us a small commission, at no extra cost to you.
Kodai-ji Temple is an outstanding Zen temple in Kyoto offering one of the best sightseeing experiences in the southern Higashiyama area.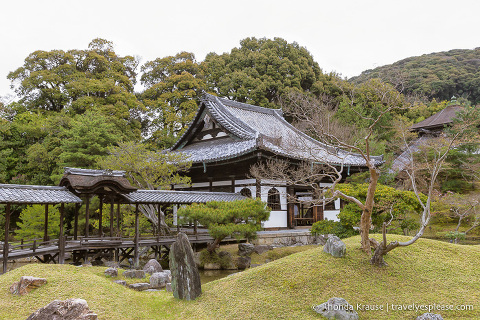 At Kodai-ji, you can admire a traditional Japanese garden, visit important cultural properties, wander through a bamboo grove, and relax at a tea house- all without the crowds that flock to Kyoto's more famous sites.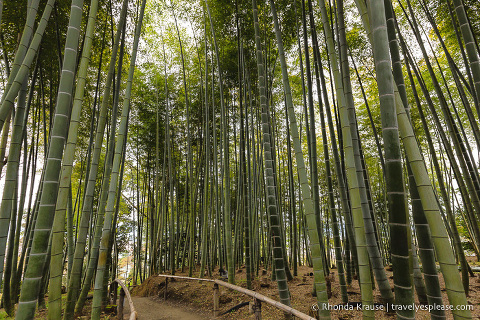 Kodai-ji may not be as well known to foreign tourists as other temples in Kyoto, like the iconic Kiyomizu-dera or golden Kinkaku-ji, but it definitely should not be overlooked as it lovingly brings together several of Japan's artistic and cultural traditions.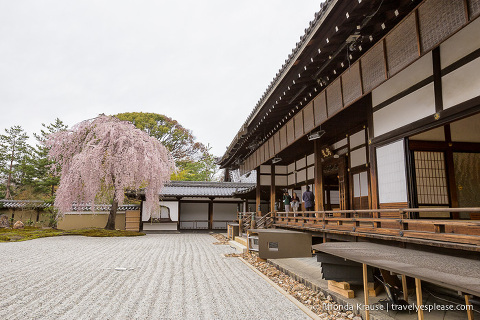 About Kodai-ji Zen Temple- History, Construction, and Design
Kodai-ji Temple, formally known as Kodaiji-jushozenji, belongs to the Rinzai sect of Zen Buddhism.
Kodai-ji was founded in 1606 to honour Toyotomi Hideyoshi, a distinguished feudal lord and politician known for his contributions to the political unification of Japan, thereby bringing an end to the tumultuous Sengoku period.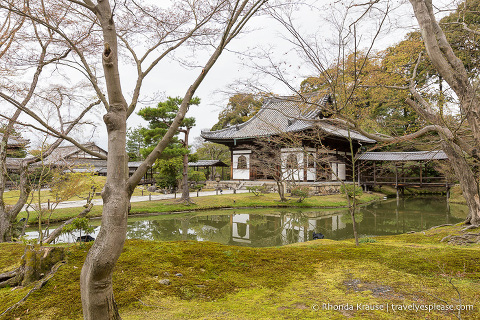 The idea to memorialize Hideyoshi with a temple was that of his widow, Kita-no-Mandokoro, also known as Nene. Kodai-ji's construction was financed by Hideyoshi's successor Tokugawa Ieyasu, founder and first shōgun of the Tokugawa shogunate.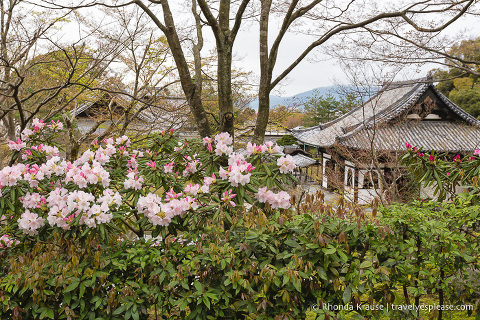 After its completion, Kodai-ji Temple became recognized for its exquisite craftsmanship, lavishly decorated interiors, and beautiful gardens. Perhaps most notable is the elegant "Kodai-ji Makie", a Japanese lacquer technique where wet lacquer is sprinkled with gold and/or silver powder.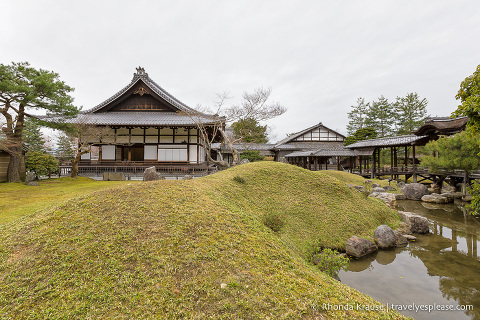 Several of Kodai-ji's buildings have been designated Important Cultural Properties of Japan, including the Kaisando (Founder's Hall), Otama-ya (sanctuary), Kasatei and Shiguretei (teahouses), Omotetmon (gate to sanctuary), and Kangetsudai (Moon Viewing Pavilion).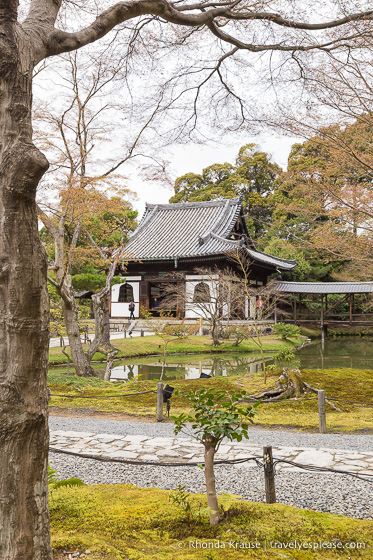 Visiting Kodai-ji Temple- Our Self-Guided Tour
Upon entering Kodai-ji Temple, we were directed down a long path leading towards the back of the temple grounds. It wasn't the sort of grand entrance with a towering gate we had experienced at other temples in Japan, but rather a simple, understated approach.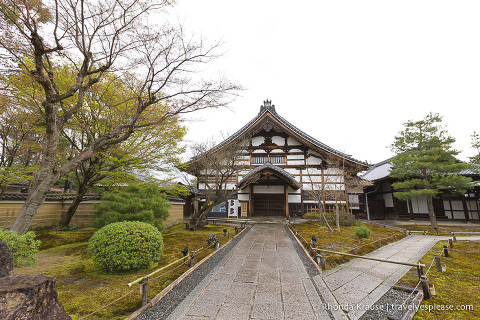 Along the pathway there were some pretty pink blossoms, a small cemetery, and lovely tree-framed view of Daiun-in Temple and its unique Gionkaku tower.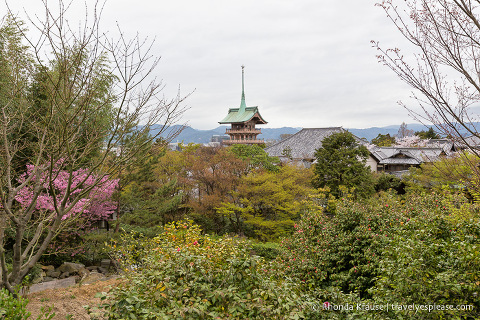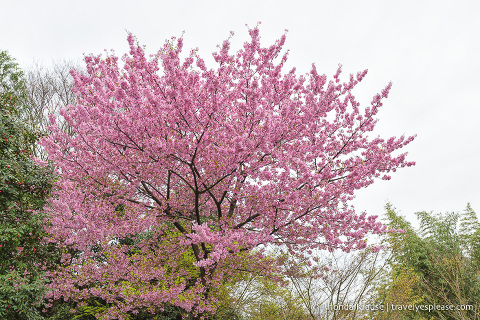 Another highlight of the path into Kodai-ji Temple was the Iho-an (Cottage of Lingering Fragrance). I thought this tea ceremony room was the cutest of Kodai-ji's historic teahouses.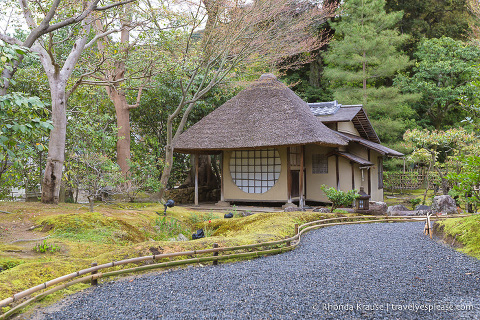 Turning the corner past Iho-an, we were met with a wonderful view of a rock-framed pond backed by the partially concealed Kaisando. It was just the type of calming scenery I was hoping to see at a Zen temple and got me excited to discover more features of the gardens at Kodai-ji Temple.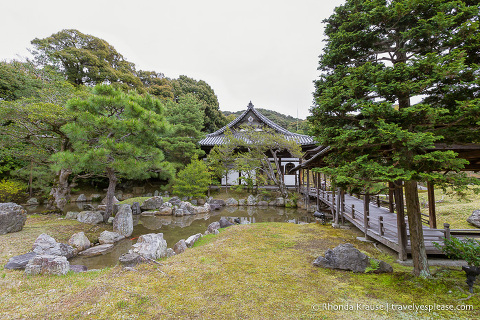 Before exploring the gardens further, we made our way into Kodai-ji's main hall, the Hojo. The current structure was built in 1912, after a fire destroyed the original. Even though the reconstruction is more modest than the original, which was covered in lacquer and gold decorations, the interior is still worth seeing.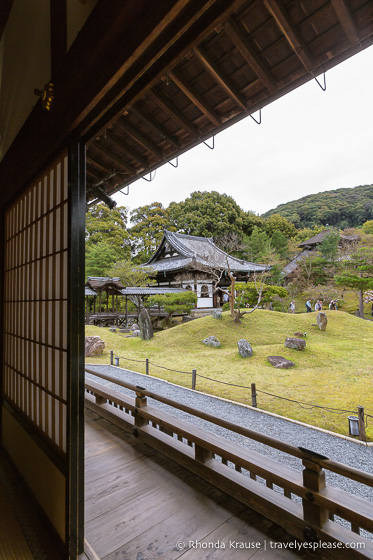 What really makes the main hall special is the view it offers of Kodai-ji's rock garden. From the verandah, we got to enjoy views of this impeccably raked rock garden that was designed to represent an ocean.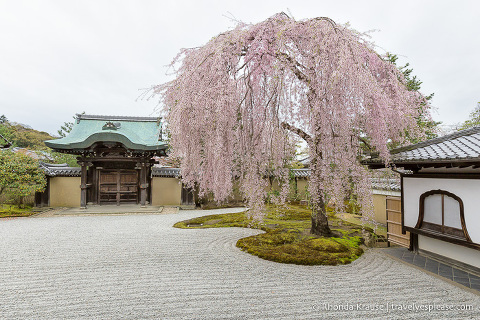 After exiting the main hall, we continued our self-guided tour of Kodai-ji Temple by admiring the temple garden. Designed by renowned landscape architect Kobori Enshu, this tsukiyama style garden incorporates artificial hills, decorative rocks, ponds, islands, and pine and maple trees.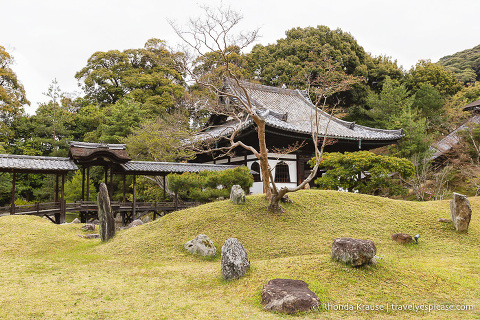 Throughout the garden there are several details adding visual interest to the space. The group of stones in the south section of the garden are said to represent a crane, whereas the island in the north end of the pond resembles a turtle.
And then of course, there's the Kaisando (Founder's Hall) and its covered walkway fitting in flawlessly among the landscaped, yet natural looking scenery. The small, four-pillared structure with the Chinese-style roof is the Moon Viewing Pavilion, built over the pond so people can easily see the moon's reflection in the water.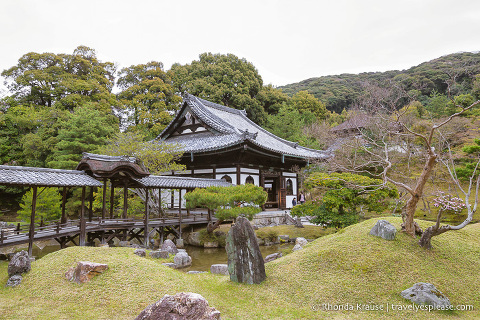 The garden backed by the hall made such an eye-catching, yet relaxing scene, that it quickly became my favourite spot in Kodai-ji Temple. I could have sat and stared at it for hours, but eventually we continued our tour of Kodai-ji Temple by visiting the Founder's Hall.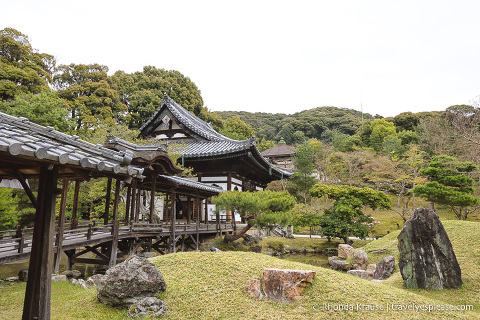 The Kaisando is dedicated to the memory of Kodai-ji's founding priest, Sanko Joeki. A statue of him is kept in the innermost section of the building, along with statues of Nene's older brother and his wife.
An interesting part of the worship hall in the Kaisando is the ceiling. A section of it came from Hideyoshi's private ship whereas another part was made from Nene's court carriage.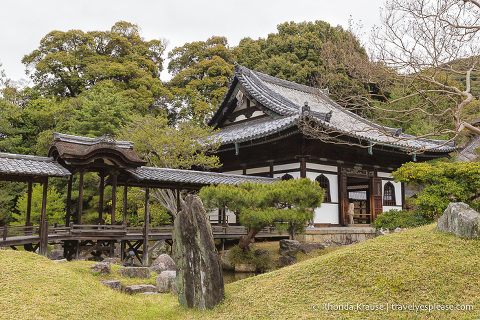 From the Kaisando, we walked around a large pond towards the Otama-ya and got a nice view of the corridor connecting the two buildings. Known as Garyoro, the Reclining Dragon Corridor, it resembles the back of a reclining dragon.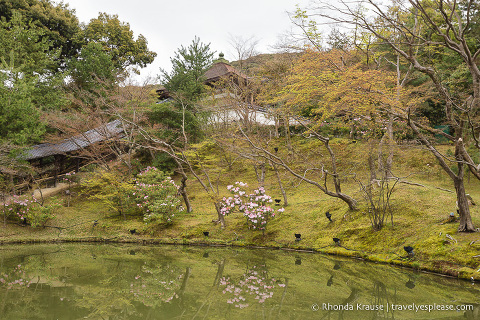 The Otama-ya is one of the most special places at Kodai-ji Temple because the sanctuary enshrines Toyotomi Hideyoshi and Nene. Wooden images of the couple are kept in a shrine decorated with Kodai-ji Makie at the back of the hall.
From the sanctuary, we followed the path up hill to the Kasatei and Shiguretei teahouses. These two teahouses were designed by Sen-no-Rikyu, a well-known 16th century tea master, and were moved here from Fushimi Castle in southern Kyoto.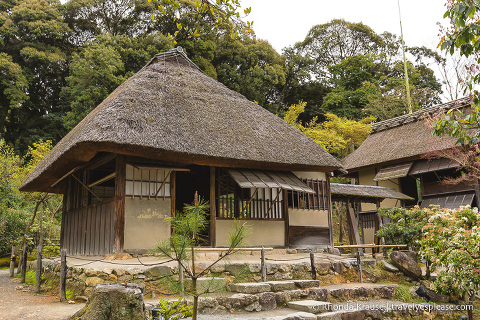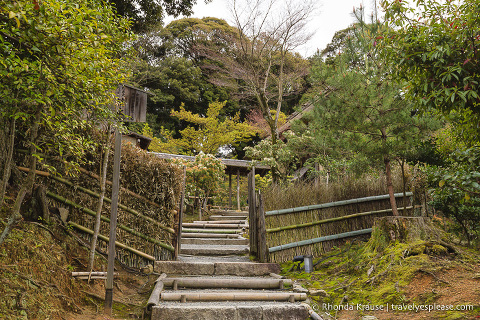 We didn't linger long at the teahouses because I was eager to get to my other soon-to-be-favourite spot at Kodai-ji Temple- the bamboo grove.
It was such a treat to walk down this bamboo-shaded path on our way back to the main temple area. While not as thick or as large as the famous bamboo forest in Kyoto's Arashiyama district, this grove was just as beautiful. The best part was that we had it all to ourselves, something that definitely wasn't the case at the bamboo grove in Arashiyama!
Exiting the bamboo grove, we found ourselves at another teahouse. We decided not to stop for some sweets and tea, but it could have been a nice way to end our visit to Kodai-ji Temple.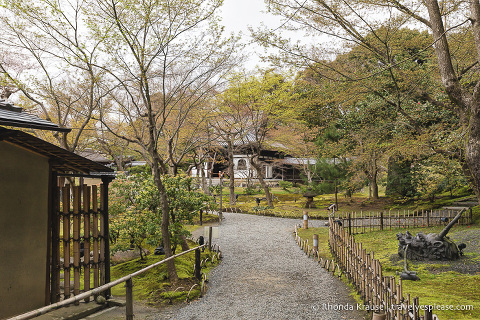 Final Thoughts About Our Visit to Kodai-ji Temple
I hadn't originally included Kodai-ji Temple on our 3 day Kyoto itinerary, but I'm so glad we spontaneously decided to visit because it was one of my favourite temples in Kyoto.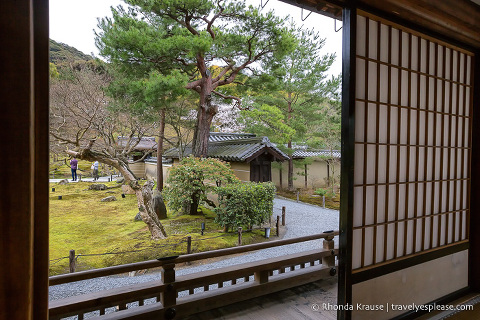 I enjoyed seeing the variety of buildings, from large halls to small teahouses, and especially loved the bamboo grove and tsukiyama garden. The garden at Kodai-ji is so beautiful it's easy to see why it was designated a "Place of Historical Importance and Outstanding Scenery".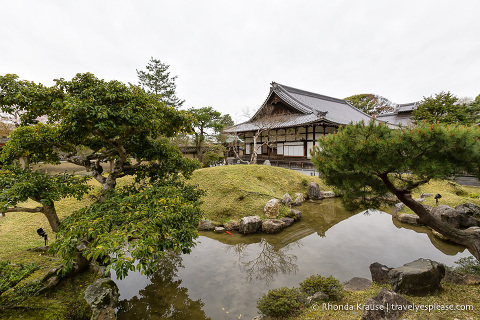 Even though our visit was during cherry blossom season in Kyoto, Kodai-ji Temple was not crowded. I was really surprised by this considering it's located in Higashiyama, a popular sightseeing district.
Experiencing a temple so rich with cultural and artistic significance made Kodai-ji a wonderful addition to our trip to Kyoto.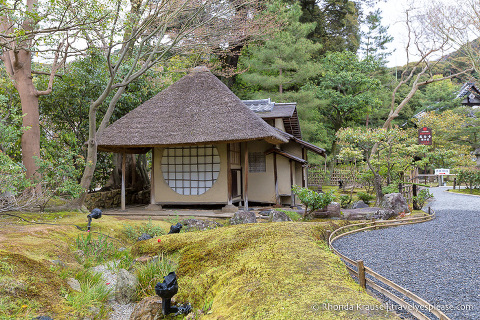 Tips for Visiting Kodai-ji Temple in Kyoto
Location: Kodai-ji Temple is located in the Higashiyama District between Maruyama Park and Kiyomizu-dera Temple. The address is 526 Shimogawara-cho, Higashiyama-ku.
Getting There: Kodai-ji can be reached by bus from Kyoto Station. Get off at Higashiyama Yasui bus stop then it's a 5-10 minute walk.
Opening Hours: Kodai-ji Temple is open daily from 9:00 am– 5:00 pm (last entry is at 5:00 pm and gates close at 5:30 pm). There are no closing days. Confirm current hours here.
Admission Fees: It costs 600 yen to visit Kodai-ji. This includes entrance to the Kodai-ji Sho Museum, a short walk from the temple.
Kodai-ji Temple Illumination: The gardens at Kodai-ji are lit up for special illumination shows in spring (mid-March to early May), summer (August 1-18), and autumn (late October to early December). Admission to the illumination events is from after sunset to 9:30 pm.
Information was updated July 2022, but can change without notice. Please confirm directly with the property.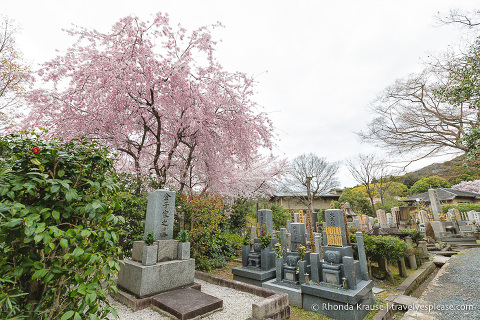 Accommodations in Kyoto
For your convenience, here is a list of HOTELS IN KYOTO. Please consider booking your Kyoto accommodations through the included link. It costs you nothing extra and helps support this website. Thank you!
More Kyoto Attractions and Travel Guides