Purchases made through links earn us a small commission, at no extra cost to you.
A trip to Japan would not be complete without visiting Kyoto. It's a city full of enchanting sites- geisha hurrying down dark streets, ancient temples rich with spiritual tradition, a natural beauty that is both appreciated and celebrated, especially during cherry blossom season.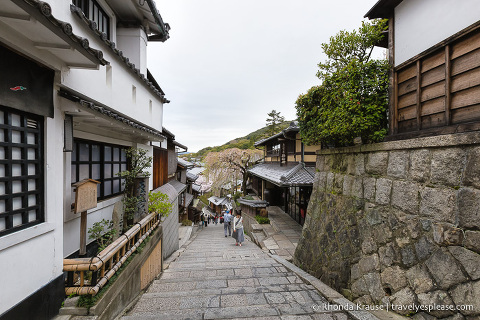 We spent 3 days in Kyoto and it was just enough time to fall in love with the city, but short enough to leave me wanting more. I probably could have spent a month there and not run out of places to see. There are more than 1,600 Buddhist temples and 400 Shinto shrines, so if you're a lover of Japanese temples and gardens as I am, then Kyoto is the place for you!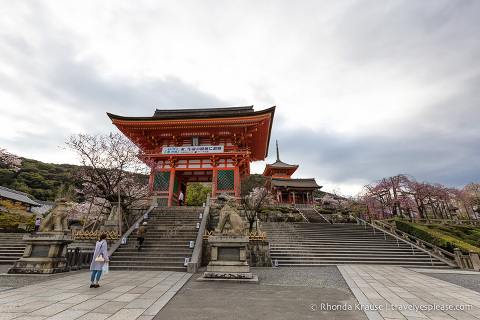 Even though we only had 3 days in Kyoto, our itinerary was packed with incredible sites and I can confidently say it's one of the most beautiful places in Japan to visit.
How to Spend 3 Days in Kyoto- Our Itinerary
Our 3 days in Kyoto were quite busy, but also felt laid-back thanks to the calming effect of many of the sites we visited. We went on long walks, relaxed in Japanese gardens, admired temples and shrines, visited popular cherry blossom viewing spots, even hiked up a small mountain to play with monkeys!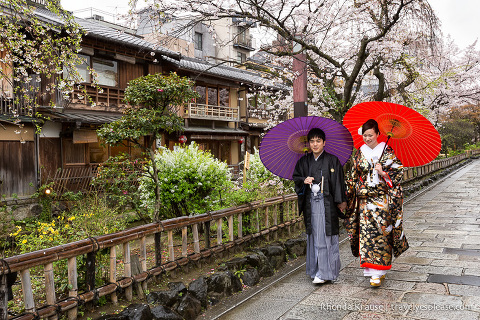 With so many fantastic things to see and do in Kyoto, we had no trouble finding ways to fill our days. Being in Kyoto in the spring and getting to see cherry blossoms in full bloom was not only icing on the cake, it was a dream come true and one of my favourite experiences in Japan.
Here's a look at how we spent a wonderful 3 days in Kyoto. We hope our Kyoto itinerary gives you some ideas of places to visit in Kyoto on your trip to this beautiful city!
Note: All links will open in a new window for your convenience.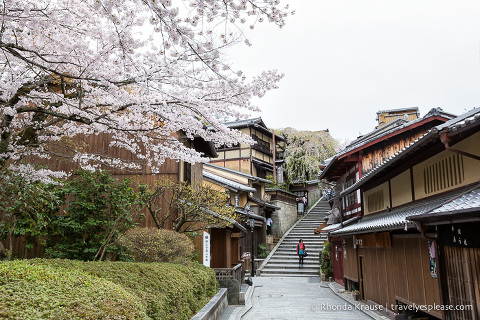 Map: Places to Visit in Kyoto in 3 Days
To help you plan your Kyoto itinerary, here's a map of the places we visited in Kyoto. I colour coded the map to show how we spent each of our 3 days in Kyoto- the orange stars are day 1, purple is day 2, and pink/red is day 3.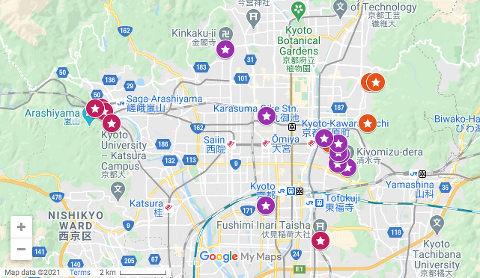 Day 1: Walk Though Northern Higashiyama by Day and Gion by Night
The first thing we wanted to do in Kyoto was experience the cherry blossoms, so we made our way to the Path of Philosophy, a popular blossom viewing spot in the northern Higashiyama area.
Before heading out on the Philosopher's Walk, we made a quick visit inside Ginkaku-ji Temple since it's conveniently located at the starting point of the path.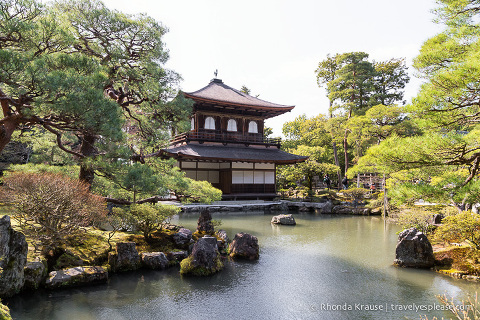 Ginkaku-ji is known as the Silver Pavilion, even though the temple never received its intended silver leaf coating. There's a perfectly raked sand garden on the grounds, but we didn't see much reason to linger here.
Next up, we began our walk down the Philosopher's Path, which was very pleasant even though it was quite busy. Cherry trees shade the narrow, canal-side path making for some wonderful photo-ops when they are in bloom!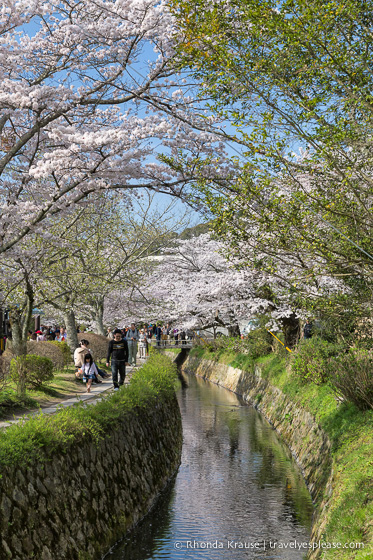 Beyond the Philosopher's Path, we carried on to Nanzen-ji Temple. This Zen temple is surrounded by large pine trees, making us feel like we were in the forest and not Japan's 7th largest city. Nanzen-ji has a massive 2-storey Sanmon gate, built in 1626, and even is home to a red-brick aqueduct, built in 1890.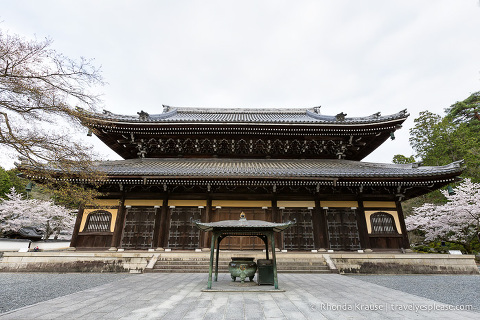 After our walk, we had a cab take us to the Gion district. This area of Kyoto had a unique vibe to it, especially when we got off the main road and started exploring the side streets. The traditional wooden buildings made me feel like we were in old-world Japan.
The Gion district is best explored after dusk when you can see geisha hurrying down the alleyways en-route to entertain men at private inns and tea houses. The geisha appear quickly, the only warning sign being the clip-clop sound of their wooden clogs hitting the stone street. Then just as fast as they appear, they are gone like a ghost in the night.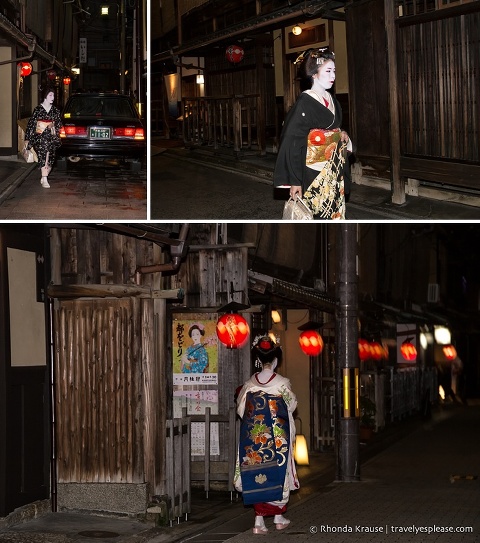 Day 2: Explore Southern Higashiyama, Central Kyoto and the Golden Pavilion
Day 2 was the busiest of our 3 days in Kyoto. It sounds like a lot (which it was), but with an early start, and willingness to take a few cabs, it was easily doable.
Our second day in Kyoto started with an early morning visit to Kiyomizu-dera Temple, one of Kyoto's most famous landmarks.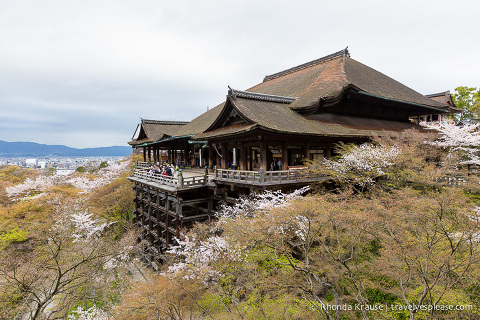 The view from Kiyomizu's huge wooden verandah is gorgeous, but perhaps even more impressive is that it was built without the use of nails.
From Kiyomizu-dera, we went for a walk through a nearby neighbourhood. Ninen-zaka and Sannen-zaka streets are lined with restored wooden houses, restaurants and shops. It's a lovely area of Kyoto, one I would return to on a future trip to explore more in-depth.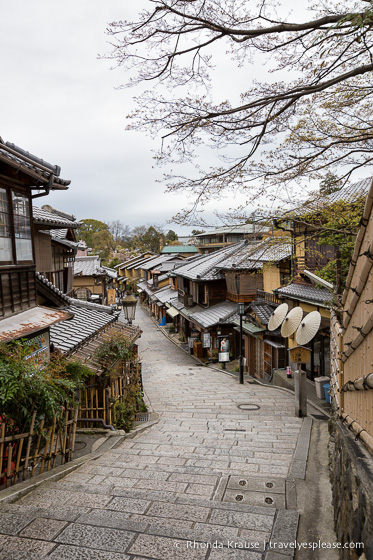 Next up, we came to Ryozen Kannon, a war memorial paying tribute to Japanese soldiers who died in World War II. We weren't planning on visiting, but decided to go in to see the giant concrete figure of the Bodhisattva Avalokiteśvara (Kannon). I guess it was neat to see, but in hindsight I would have rather spent more time wandering the streets of Ninen-zaka-Sannen-zaka.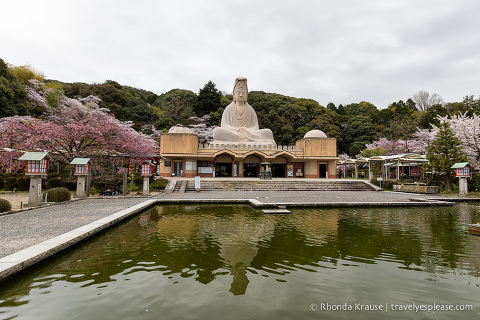 The next place we came across was another we hadn't planned on visiting, but I'm so glad we did because it turned out to be one of the prettiest places we saw in Kyoto. Kodai-ji Temple had a beautiful garden, a bamboo path, some nice traditional buildings and a rock garden. There were no crowds here making for a peaceful, enjoyable visit.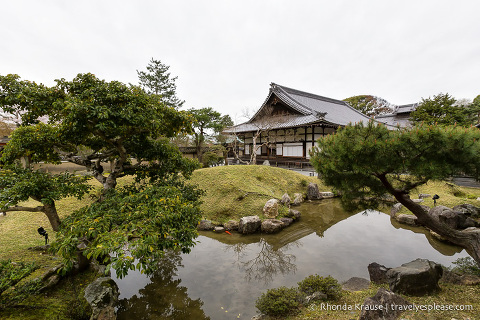 From Kodai-ji Temple, we walked to Maruyama Park to witness the cherry blossom celebrations. There were souvenir shops, food stalls, and people picnicking under the cherry trees. The happy, celebratory mood was enhanced by the park's natural beauty.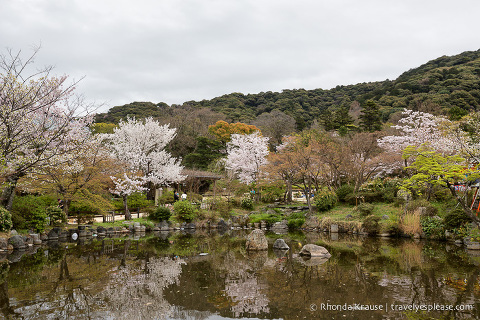 After the park, we went in search of "the most beautiful street in Asia" (according to my guidebook). Shimbashi Street lived up to the high praise, thanks in part to wooden buildings that line its side. But it was the row of blossoming cherry trees that really made the street special!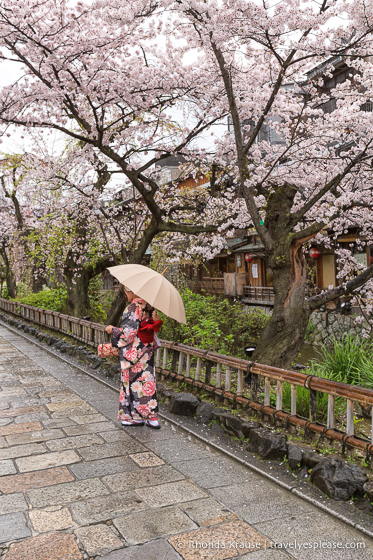 From Shimbashi Street we caught a cab to To-ji Temple, near Kyoto Station. The highlights were the huge weeping cherry tree and the five-storied pagoda, the tallest in Japan. We didn't spend too much time here, since we knew we were coming back the next day to see the pagoda and garden illuminated at night.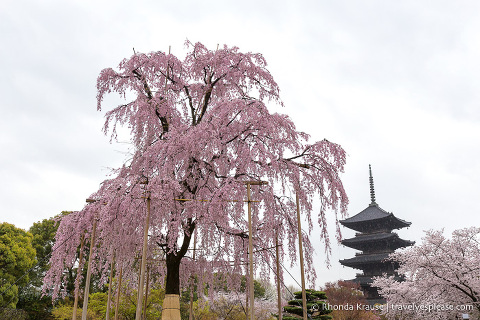 Next up, we headed north to central Kyoto to visit Nijo Castle. What stood out most was how different it was from other castles we saw in Japan. Unlike Hiroshima Castle and Himeji Castle, Nijo is built all on one level and didn't have much in the way of fortifications. It also is unusually ornate on the inside, with a lot of gold painted walls and sliding doors.
Speaking of gold, we ended our day with a visit to Kinkaku-ji Temple, Kyoto's iconic Golden Pavilion. Even though we arrived just before closing time, it still was packed with excited tourists attempting to get the perfect picture (or should I say selfie?) Crowds aside, Kinkaku-ji is a must-see because of its unique golden exterior.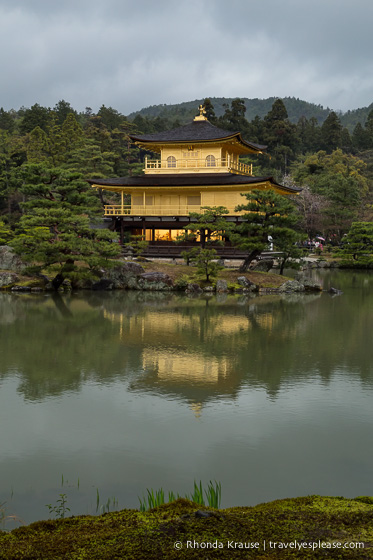 Day 3: Head West to Arashiyama then South to Fushimi Inari Shrine
Our last day was spent on the outskirts of the city exploring the Arashiyama district of Kyoto.
Arashiyama may look like a tourist trap on the main street, but if you head out to the hills there is plenty of natural beauty to enjoy, the most famous being the bamboo groves.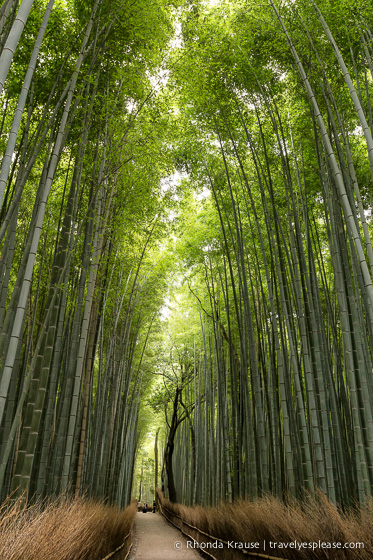 Besides the bamboo groves, we also visited the World Heritage-listed Tenryu-ji Temple, had tea at Ōkōchi Sansō, the villa of a Japanese film star, and even hiked up a steep hill to see wild monkeys at the Iwatayama Monkey Park.
After a great day in Arashiyama, we hopped on the train and headed south of Kyoto to Fushimi Inari Shrine. Fushimi Inari is most known for having thousands of vermilion coloured torii gates. The torii form a tunnel that visitors can walk through on their way to the top of Mount Inari.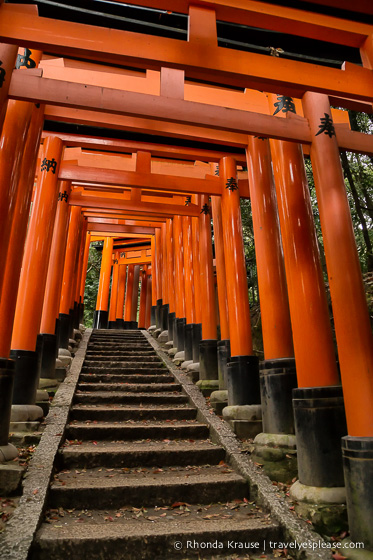 Final Thoughts About Our 3 Days in Kyoto
When we first arrived in Kyoto, it looked like any other modern city in Japan. Yet, tucked away in the side streets and surrounding foothills were plenty of hidden charms just waiting to be discovered.
My favourite thing about Kyoto was that it had everything I associate with Japan: a strong sense of tradition, old wooden buildings, ancient pagodas, pristine gardens, cherry blossoms, peaceful landscapes, and even geisha.
This may be bold, but I think Kyoto is one of a select few cities that everyone should experience at least once in their lifetime. And it definitely should be included in any Japan itinerary, especially if it's your first trip to Japan. So please, if you go to Japan, do not miss out on visiting Kyoto!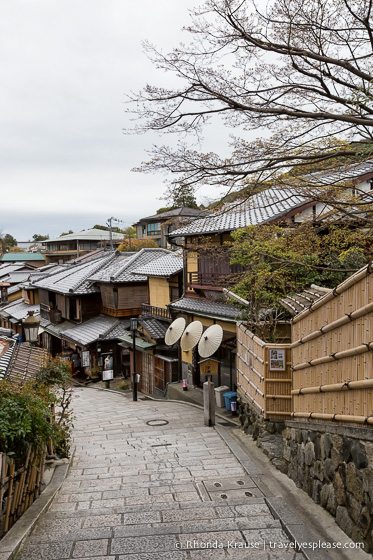 Tips for Visiting Kyoto
How Long to Spend in Kyoto: If your timeline and budget allow it, we recommend spending at least 3 days in Kyoto. Any less and you'll be missing out on a lot of what Kyoto has to offer.
Getting Around Kyoto: We found Kyoto to be a little challenging to get around compared to other cities in Japan. The subway only has two lines, one running north-south and the other east-west, and didn't serve a lot of the places we wanted to see. As an alternative, Kyoto has a large bus network and plenty of taxis that can get people to Kyoto's main tourist attractions.
Line-ups for buses were huge because the buses are small and surprisingly infrequent. We didn't want to waste time standing in line or trying to figure out the routes, so we opted to take cabs everywhere we couldn't walk to.
At the time of our visit, Kyoto taxi fares started around ¥650 for the first 2 km, and increased by ¥80 yen for each 300-400 meters. The driver will always turn the meter on, so no worries about being ripped off. It will help the driver to have the address of your destination written in Japanese.
Maybe it's just us, or the station we were staying by, but we could not figure out how to buy subway tickets. The machine's screen was entirely in Japanese, with no option to switch to English, like in Tokyo.
Sightseeing in Kyoto: Higashiyama and Arashiyama are the main sightseeing districts and both are easily walkable. The Golden Pavilion, Nijo Castle, To-ji Temple and Fushimi Inari are further away from other sites and too far to walk to.
More Kyoto Travel Tips:
Be prepared for big crowds and high hotel prices during cherry blossom season and other seasonal festivals. Visiting lesser known temples and shrines is a good way to escape the masses.
Kyoto is known for its cuisine and there are many good restaurants (both Japanese and international) regardless of your budget. Many restaurants have English menus.
For a great day trip from Kyoto visit Nara Park, which is famous for its huge temple and friendly deer. You can get to Nara in less than an hour by train and there are several departures a day.
Information was correct at the time of publishing, but can change without notice. Please confirm directly with service providers.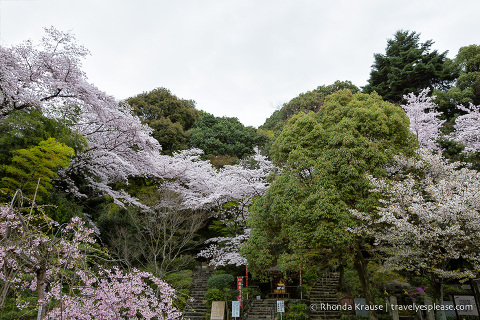 Tours in Kyoto
Here is a trusted site that has a large inventory of tours and tickets for activities in Kyoto. You can book everything from walking tours, tea ceremonies, cooking classes, food tours, shows, bike tours, photo shoots, and day trips out of the city. There's a lot of great activities to choose from, but here are a few related to what I've mentioned in this post.
Accommodations in Kyoto
For your convenience, here is a list of hotels in Kyoto. Please consider booking your Kyoto accommodations through the included link. It costs you nothing extra and helps support this website. Thank you!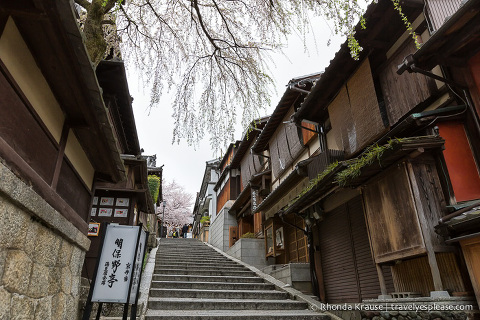 Japan Rail Pass
A Japan Rail Pass can be of good value if you will be doing day trips from Kyoto, travelling to the outskirts of the city, or visiting other regions in Japan. You can choose from a 7 day, 14 day, or 21 day pass. We purchased a JR Pass because it was more convenient to use than buying individual trip tickets, saving us time at the stations.
You must buy a JR exchange order from an authorized Rail Pass agent before coming to Japan, and only if visiting on a Tourist Visa (Temporary Visitor entry status). Use this page to help you find a sales office or more conveniently, purchase your JR exchange order online and have it shipped to you. When you get to Japan, you exchange the voucher for the actual JR Rail Pass.
Read our Guide to Buying and Using the Japan Rail Pass for more information.
More Japan Destinations and Travel Guides