Purchases made through links earn us a small commission, at no extra cost to you.
When choosing our flights home from our trip to Florida, we had the option to have a 4-hour layover in Montreal, or a 10-hour layover in San Francisco. I had been to San Francisco before but Mike had not, so I saw this as a great opportunity to show him around a city I really enjoyed and have wanted to return to.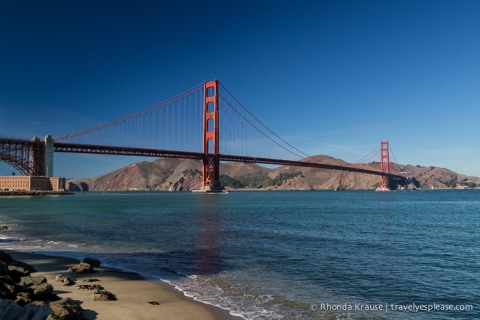 San Francisco turned out to be the perfect city to enjoy a long layover in. With a train connecting the airport to downtown, this meant we could quickly (and easily) get into the city to start exploring. Once downtown, we had a variety of transportation options to get us around, including the subway, cable cars, streetcars, hop on-hop off sightseeing buses and the rideshare service Lyft.
By the time we stored our luggage, got downtown and had a quick snack, we were left with about 5.5 hours to explore San Francisco before having to head back to the airport. This was definitely not enough time to do San Francisco justice, but Mike said he was still able to get a good feeling for what the city was all about.
So, with a little strategic planning and prioritizing, here's what we managed to see and do with only 5.5 hours in San Francisco!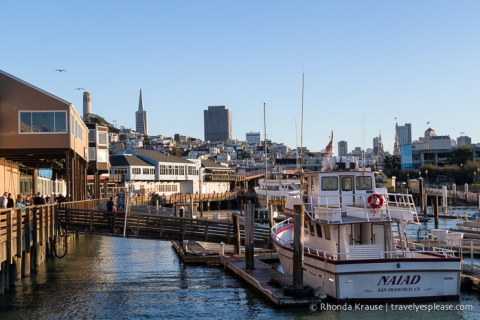 How to Spend a 10 hour Layover in San Francisco
If you're anything like us, you'll have a hard time narrowing down what to see in San Francisco. There are so many great options!
Since we had limited time to work with, we opted to visit some of the most well known places of San Francisco, saving the other areas for hopefully a longer visit one day!
Visit the Golden Gate Bridge
The Golden Gate Bridge was number one on our list of places to see in San Francisco. How could it not be?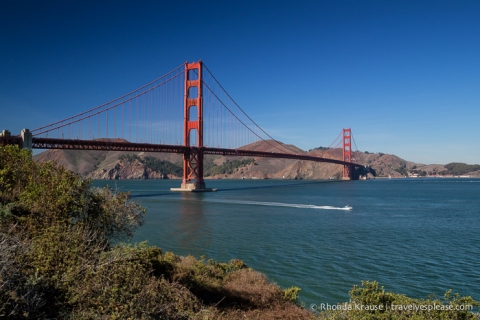 An icon of the city, this suspension bridge spans the Golden Gate strait, linking San Francisco to Marin County. It's graceful design, soaring towers, Art Deco elements and International Orange colour have helped make the Golden Gate bridge one of (if not the most) photographed bridges in the world.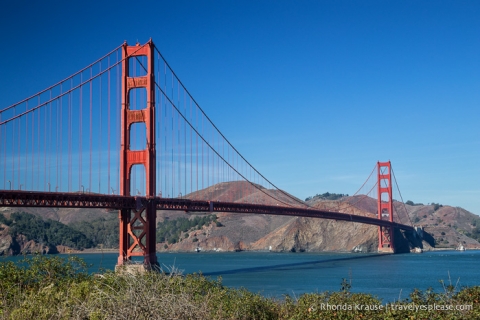 To maximize our enjoyment of the bridge, we had our Lyft driver drop us off at Crissy Field. We then walked along the bay towards the Golden Gate Bridge. We continued on the path up to Fort Point, which offers some truly wonderful views of both the bridge and bay.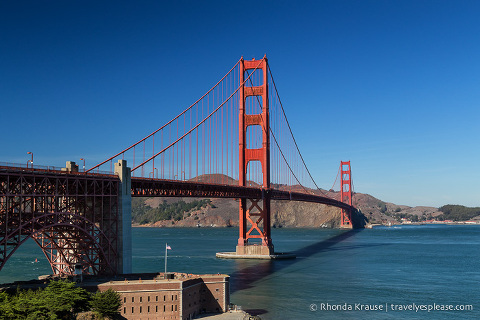 We decided seeing the bridge wasn't enough, so we walked across it to get the complete Golden Gate experience. It was windy up there, but worth enduring because the views of the city were fantastic!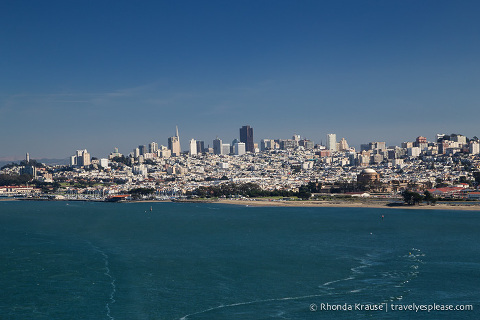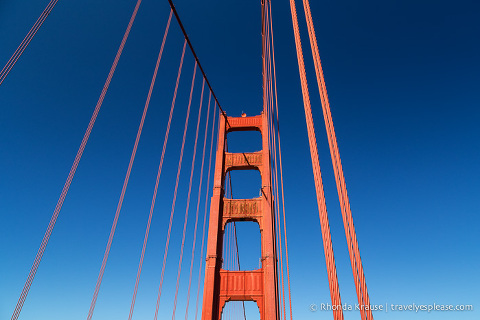 As the cars noisily whizzed past us, it was somehow peaceful to look out at the sailboats enjoying a sunny day out on the water.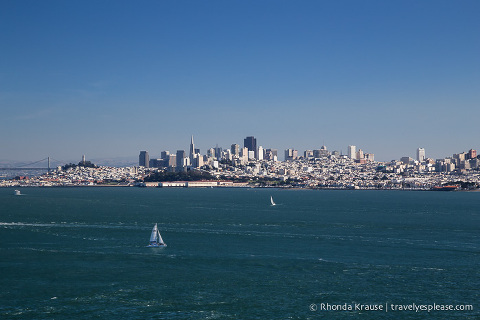 Walking across the bridge, I started to think about how a piece of architecture, an achievement in engineering, can inspire so many people. Numerous writers, photographers, painters and musicians have had their creative energies stimulated by this bridge. People travel from all over the world to see it. It seemed to be a place the locals appreciated as well.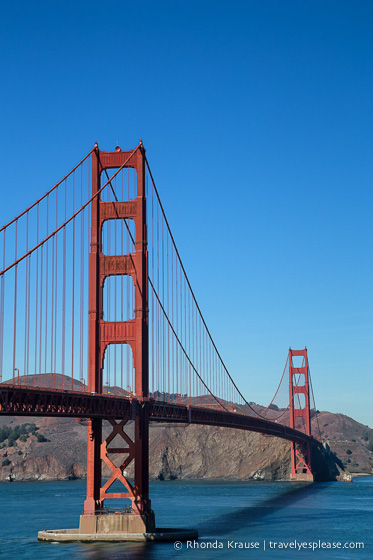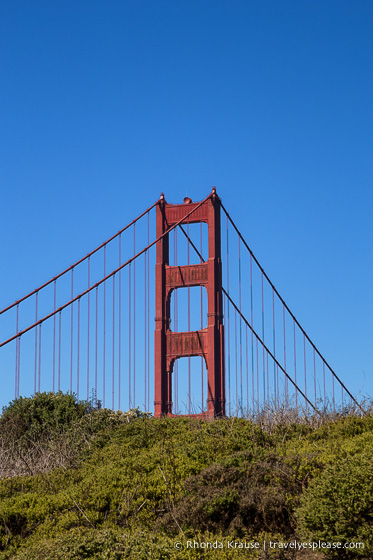 Every great city has an icon, a signature landmark. For San Francisco, that symbol is the Golden Gate Bridge.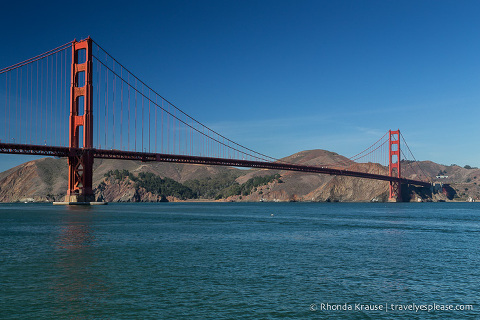 Tour Around on a Hop on-Hop off Sightseeing Bus
After walking across the Golden Gate Bridge, we boarded a hop on-hop off bus. On the way, we passed through the small, but scenic waterfront city of Sausalito.
Unfortunately, we didn't have time to get off at any stops until Fisherman's Wharf, but it was a great way to see a bit more of the city while learning about it from the driver's live commentary.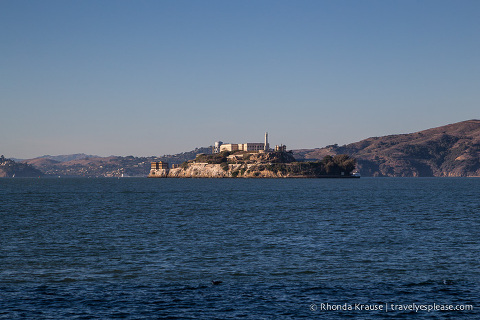 Fisherman's Wharf
Fisherman's Wharf is a bustling part of town with many restaurants, shops and tourist attractions. It's not my favourite area of the city, but was a great place for us to have a meal because Mike could enjoy some fresh seafood, while I savoured some of San Francisco's famous sourdough bread.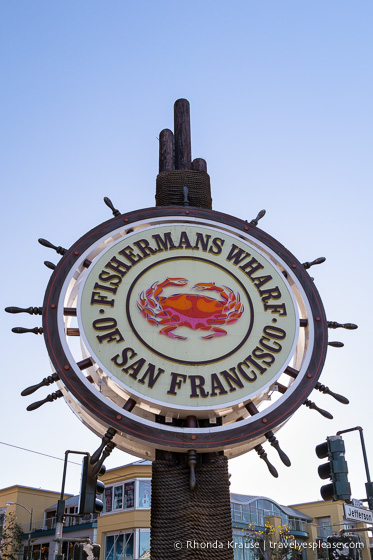 Pier 39
After eating at Fisherman's Wharf, we walked to Pier 39. This area also has a lot of restaurants and shops. What makes it unique though, is the sea lions that hang out on the pier.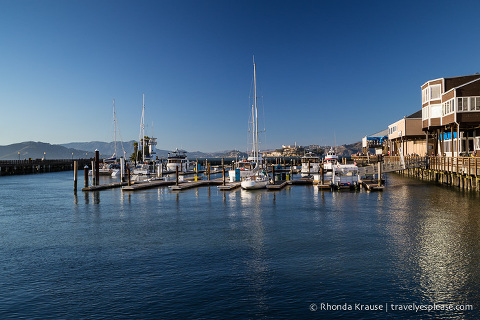 It was quite the sight to see a big group of sea lions all huddled together enjoying the last bit of afternoon sun. Most just laid there, but a few were quite active, playing and swimming about.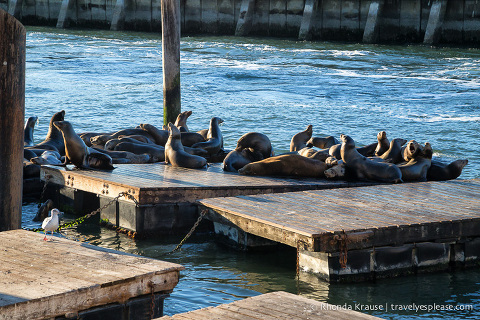 Walk Along the Embarcadero
Nearing the end of our layover in San Francisco, we continued to walk along the Embarcadero towards the Ferry Building. From the walkway we got some views of Coit Tower and the Transamerica Pyramid, the tallest skyscraper in San Francisco.
Once at the Ferry Building, we headed away from the water and into the Financial District where we boarded the BART train at Embarcadero station and sadly headed back to the airport.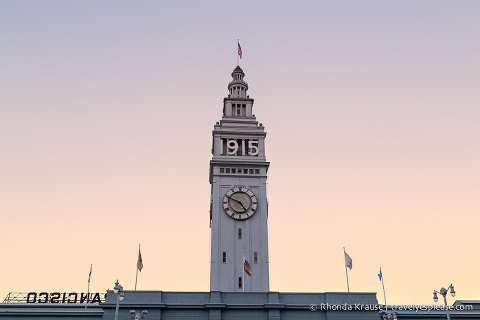 Final Thoughts About Our Layover in San Francisco
Both Mike and I were happy that we chose to have a long layover in San Francisco. With 10 hours between flights, we had enough time to get acquainted with the city and see the main sights.
Of course, we didn't see everything we wanted to- that would require a few days! I think we could have saw more via the sightseeing bus had we not lingered so long at the Golden Gate Bridge. It was such a beautiful day, in a beautiful location that we didn't want to rush around too much, instead making sure to take in the moment!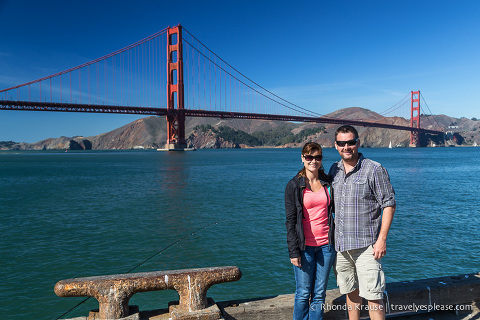 Tips for Making the Most of a Layover in San Francisco
Getting to San Francisco from the Airport:
We took the BART train (Bay Area Rapid Transit) from the airport into the city. We got off at Embarcadero Station, which is in the financial district, near the San Francisco Bay and Ferry Building. The trip took about 30 minutes.
From Embarcadero, you'll be close to a cable car line, streetcar line, subway line and hop on-hop off bus stop.
Storing Your Luggage:
If you have a carry-on bag, you'll be able to store it at the airport. The Airport Travel Agency offers baggage storage for 24 hours, but the service is quite pricey. You can see the prices here.
The Airport Travel Agency is located in the International Terminal (departure level, near the entrance to terminal G). Hours are 6:00 am- 11:00 pm.
Getting Around San Francisco:
We decided to try Lyft, a rideshare service based in San Francisco, because we wanted to get from the Financial District to the Golden Gate Bridge as quickly as possible. We popped into a Starbucks and used the free WiFi to download the Lyft app. Minutes later, a driver was there to pick us up. It turned out to be cheaper and faster than a taxi (not sure if this is still the case), so we would definitely use Lyft again.
We also used the City Sightseeing hop on-hop off bus to get around. The bus had 3 different tours/routes to choose from, ranging from 75-90 minutes to complete the full loop. The frequency of departures varies between routes, so make sure you consider this before choosing your tour. Also make note of the last pick-up time of the day. Another option for hop on-hop off sightseeing tours is Big Bus San Francisco.
Buying Digital Tickets to San Francisco Attractions:
For quick and easy access to San Francisco's attractions, here is a trusted site where you can buy advance, mobile tickets to some sites/activities. Digital ticket delivery is instant and you can show your phone at the ticket holders entrance- no need to print your tickets.
Information was updated January 2022, but can change without notice. Please confirm directly with service providers.
Accommodations in San Francisco
If you decide to stay longer, here is a list of hotels in San Francisco. Please consider booking your San Francisco accommodations through the included link. It costs nothing extra and helps support this website. Thank you!
More California Destinations and Travel Guides