Purchases made through links earn us a small commission, at no extra cost to you.
There are plenty of hikes near Palm Springs but one that really impressed us with its variety of scenery and adventurous spirit was the Painted Canyon and Ladder Canyon Trail.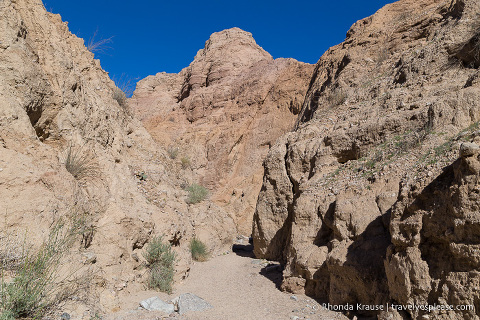 Whether we were walking in the shade of towering canyon walls, climbing up rickety ladders, or meandering through a slot canyon, we were completely engaged in this fun-filled hike!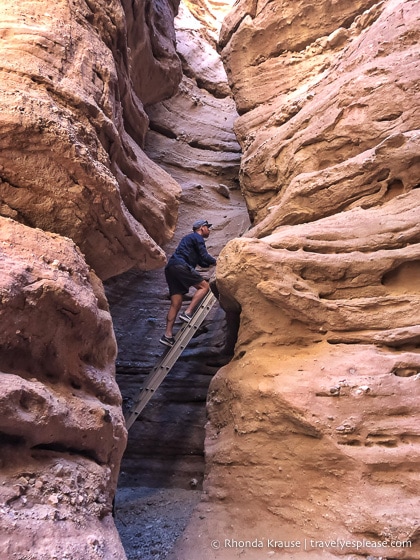 Here's a look at our experience hiking Ladder Canyon Trail, plus some tips to help you plan your own Ladder Canyon hike!
About Ladder Canyon Trail
Ladder Canyon Trail is a 7.2 km (4.5 mi) moderate hike in the Mecca Hills Wilderness Area of southern California. The trail is a loop that passes through a slot canyon, climbs up to a ridge, then returns along the bottom of Big Painted Canyon. Elevation gain is 295 m (967 ft) and the hike takes between 2-3 hours.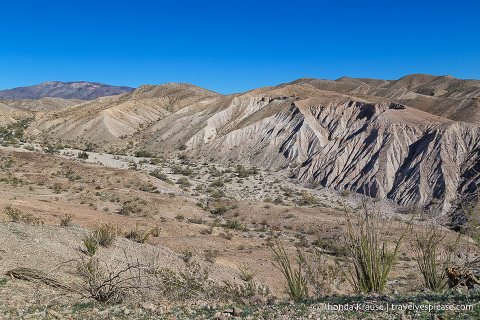 Much of the trail surface is sand, deep enough in places that it feels like walking on a beach. Other parts of the trail are a mix of sand and loose gravel. During the hike there are places where you need to climb ladders and use your hands to scramble up rocks.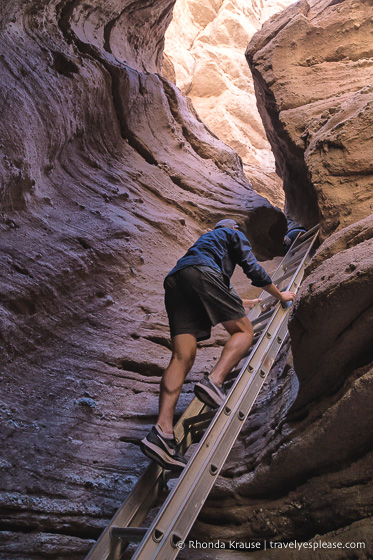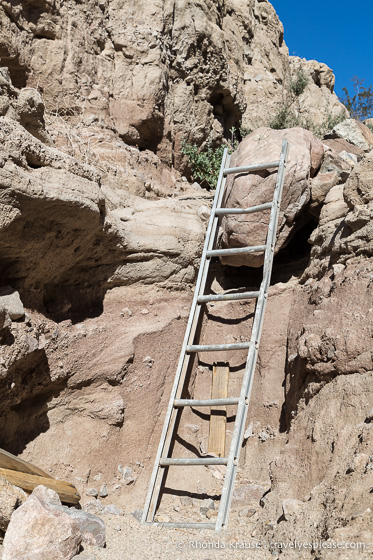 The trail can be hiked in either direction, but I recommend going clockwise so that you are climbing up the ladders to the ridge instead of coming down them at the end of the hike. Also, the trail going clockwise is better marked with arrows showing the way (so you accidentally don't end up on one of the other trails).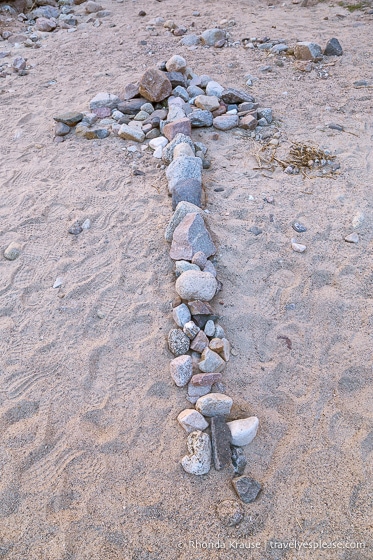 Hiking Ladder Canyon Trail- Our Experience and What to Expect
Our Ladder Canyon adventure started with a slow, bumpy ride down a long dirt road towards the Mecca Hills. The sign warning "passable for 4-wheel drive vehicles only" primed us for adventure and got us excited for both the road and hike ahead.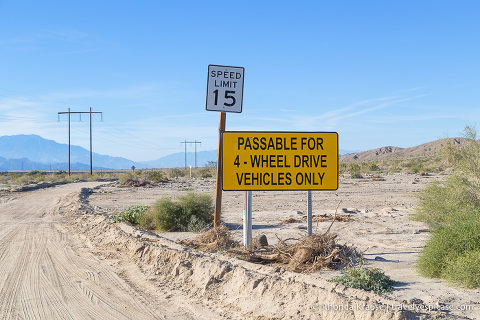 Once we arrived at the parking lot at the end of the road, we took a look at the map posted at the trailhead and quickly realized that it was useless. Luckily, the AllTrails app had a much better map that could guide and keep us on course.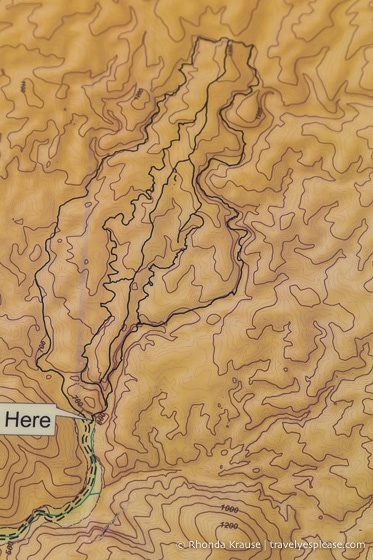 The hike started by entering into Big Painted Canyon where we immediately were framed by mighty walls of rock.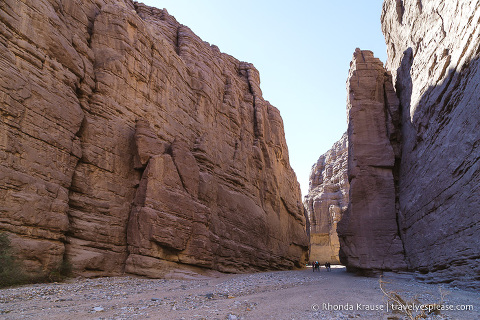 About 400 m (0.25 mi) into the hike, just after a bend in the canyon, we noticed a pile of huge boulders on the left. It didn't look like a trail, but this indeed was the entrance to Ladder Canyon.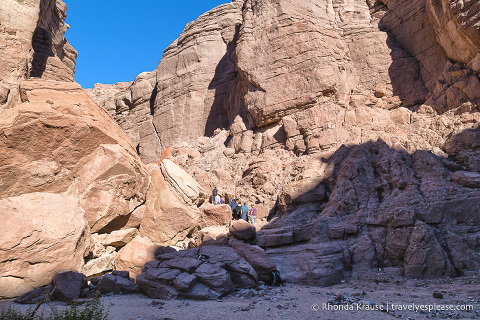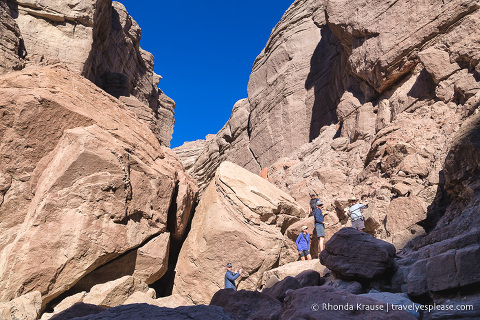 Had there not been an arrow made out of rocks pointing towards it, and other people climbing past the boulders, I wouldn't have guessed this was the beginning of Ladder Canyon Trail. The signpost on the far right side of the canyon pointing to the trail is very easy to miss (we actually didn't even see it until the end of our hike!)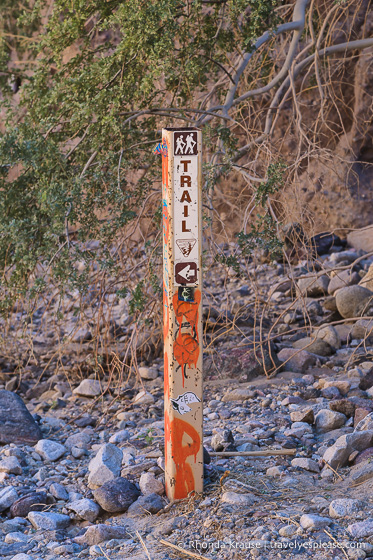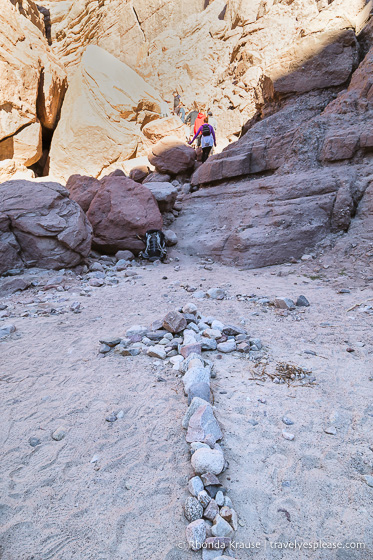 So, off we set down this "hidden" trail, climbing over the rockfall towards the heart of Ladder Canyon.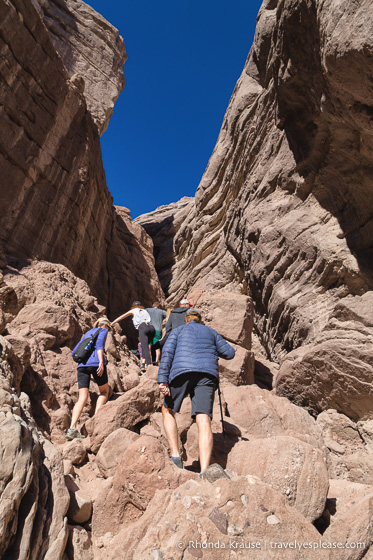 Soon we reached the trail's first ladder, tucked among the fallen rock. You can choose to climb it or go around by scrambling on the boulders.
Once we were past the rockfall, the trail headed into the canyon. It wasn't long until we arrived at the most picturesque ladder of the hike, this one leading up to a slot canyon.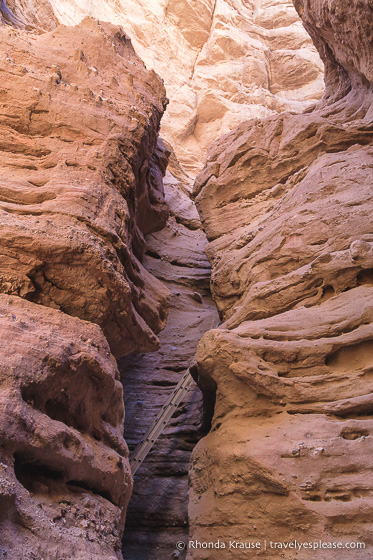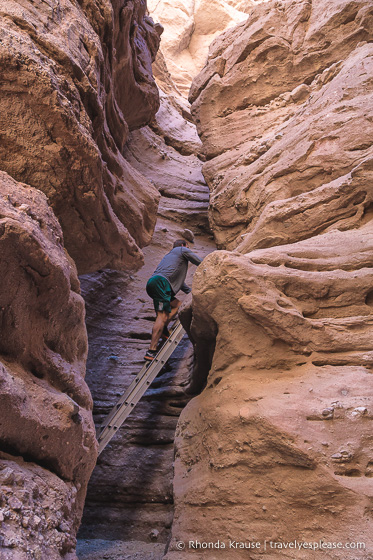 There's was no avoiding this ladder, as the canyon was much narrower than before, with walls that were straight and steep. As I eagerly began to climb, I thought it was funny how a simple thing like climbing a ladder, could add so much excitement and entertainment to a hike!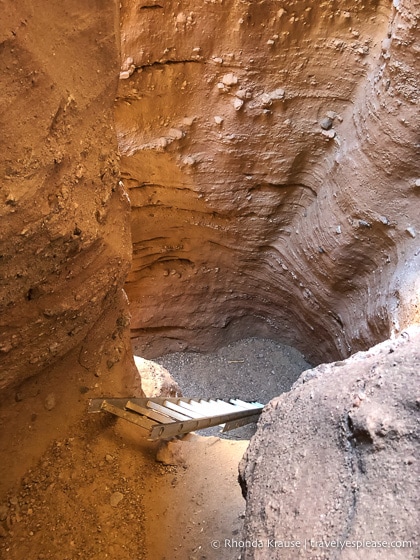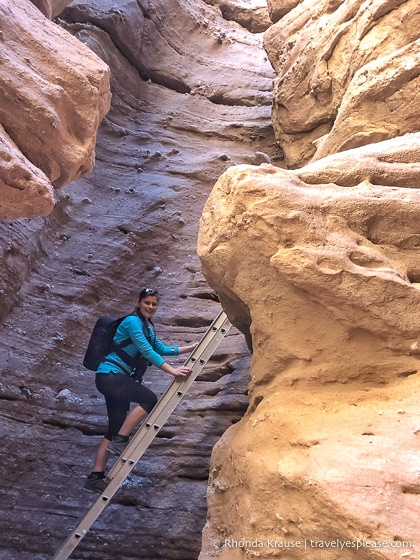 At the top, the trail continued on to more ladders and through a dimly lit slot canyon. The slot was my favourite part of the hike, even though it wasn't as colourful as the famous Antelope Canyon in Arizona. I just loved the rugged curves and grooves in the rock!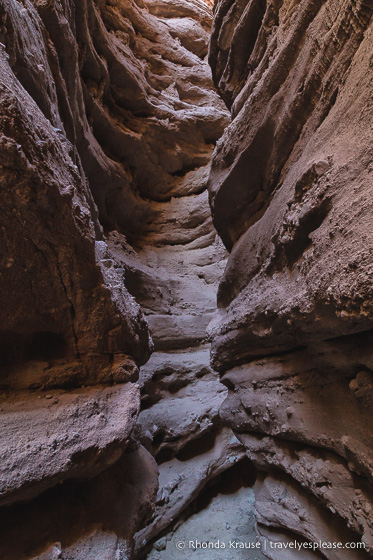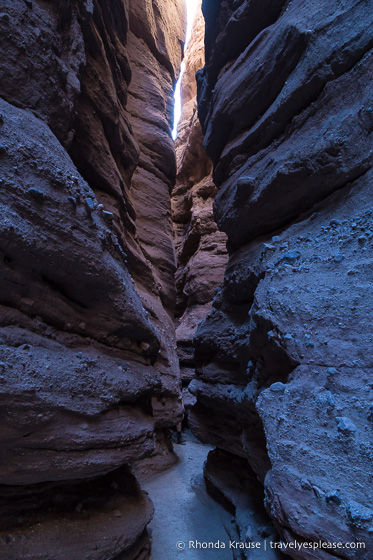 After climbing up and out of the slot, the canyon widened a bit but tall walls of rock still closely surrounded us.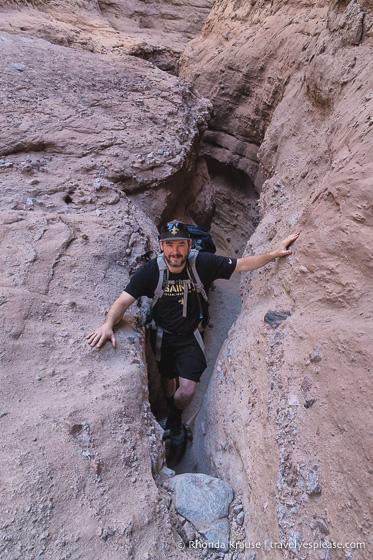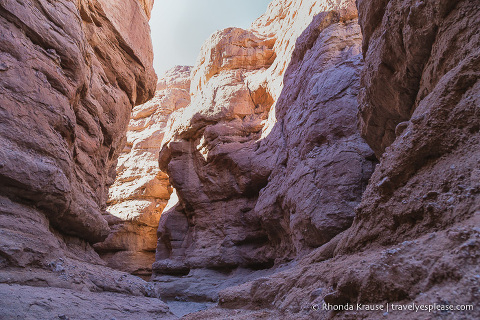 We walked though this section for a while, following the arrows painted on the canyon walls, before coming to a trail that eventually led us up to the top edge of Painted Canyon.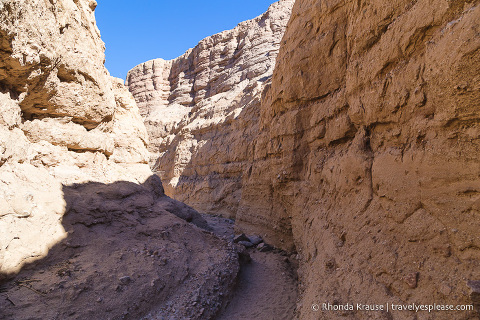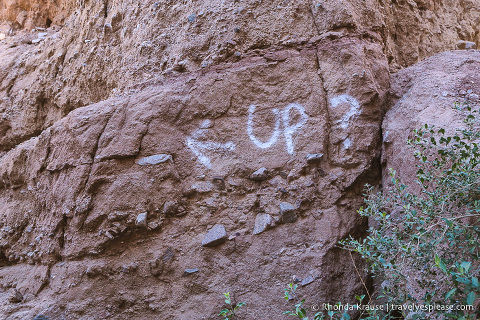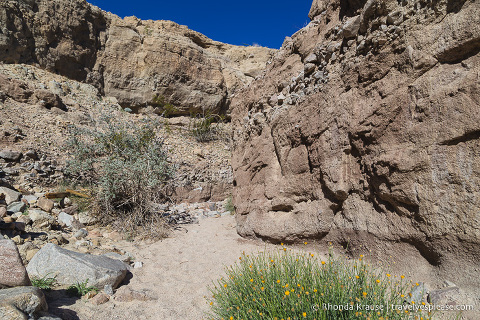 From the top of Painted Canyon, we had a panoramic view of the surrounding desert. Straight ahead were layers of hills and off in the distance to the left was the Salton Sea.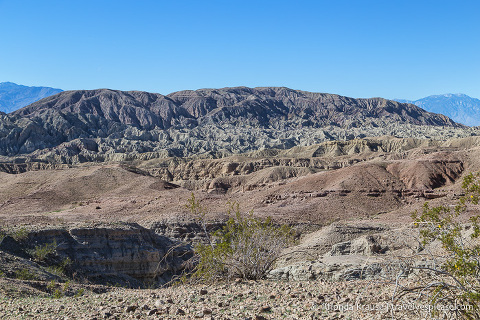 After a short photo break, we continued right on the trail and began the uphill climb to more beautiful views of the Mecca Hills and Painted Canyon. Along the route there were some large ocotillo and low bushes, but for the most part the landscape was rocky and barren.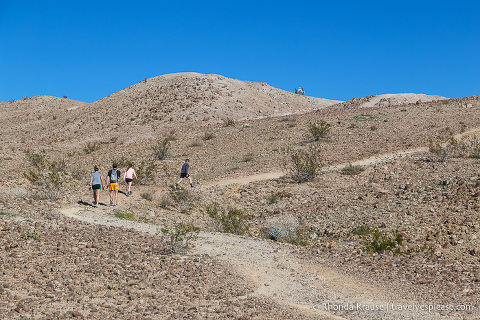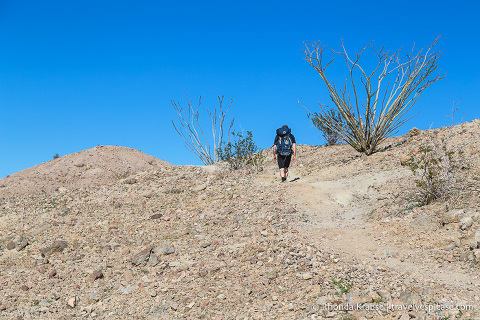 At the top of hill, the trail continued towards some cell towers then curved and began to descend back to the canyon floor. This part of the trail is a little steep and slippery because of the loose dirt and gravel, and was the only part of the hike we used our hiking poles.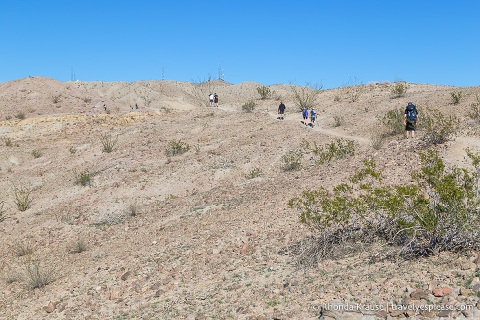 Once we reached the bottom of the canyon, we turned right and headed down the sandy wash.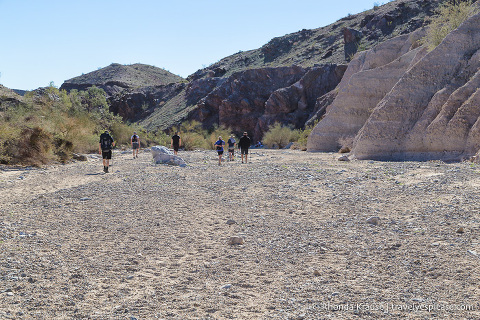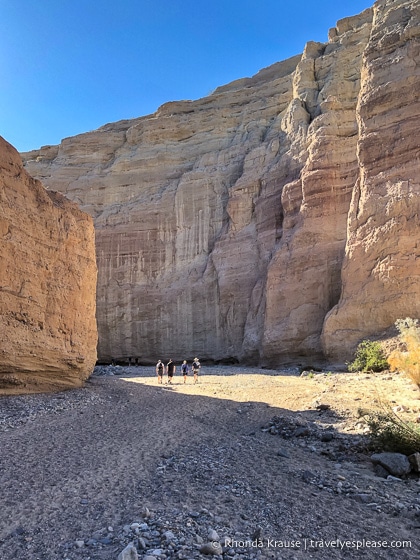 The final leg of the hike through Big Painted Canyon was quite interesting, from a geological perspective, because the canyon walls had so many beautiful textures, patterns, and formations.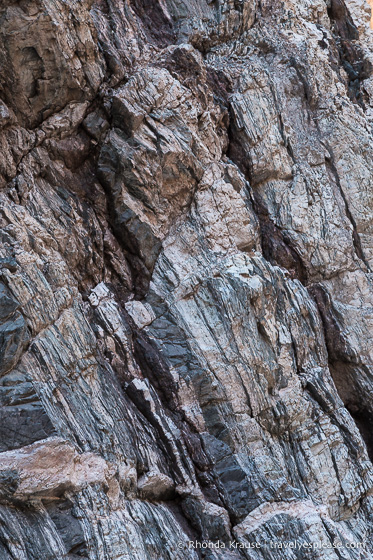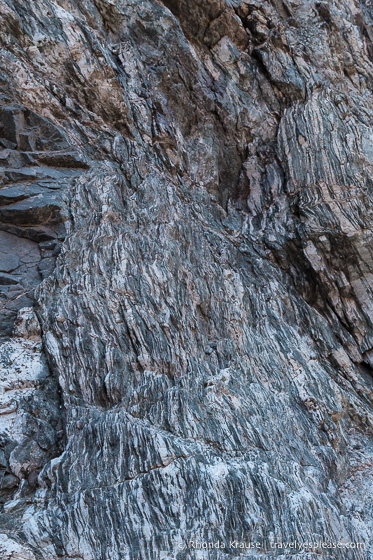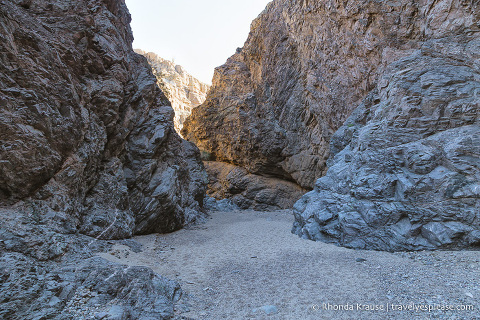 Following the canyon floor, we came to a few more small ladders before arriving back at the boulders we climbed over to enter Ladder Canyon. We had successfully completed Ladder Canyon Loop!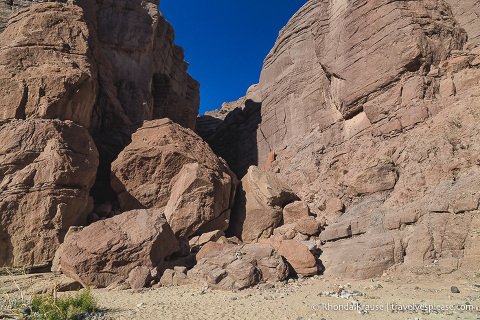 As we returned to the parking lot, we both agreed that Ladder Canyon was the most fun hike we did in southern California. It was so enjoyable we'd even do it again on a future visit.
Final Thoughts About the Ladder Canyon Hike
Ladder Canyon Trail was a unique hike with the perfect amount of adventure and scenery changes to keep us engaged.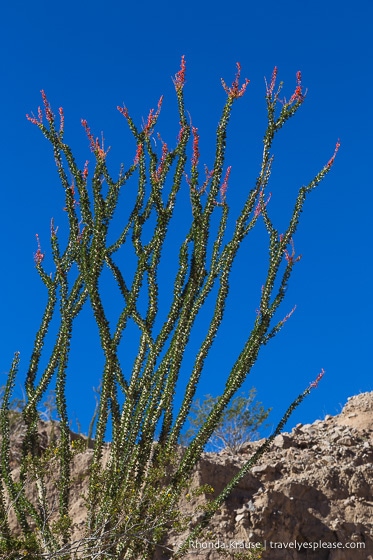 Having to climb ladders and follow rock arrows added some novelty to the hike, whereas the two canyons provided beautiful views and ambience.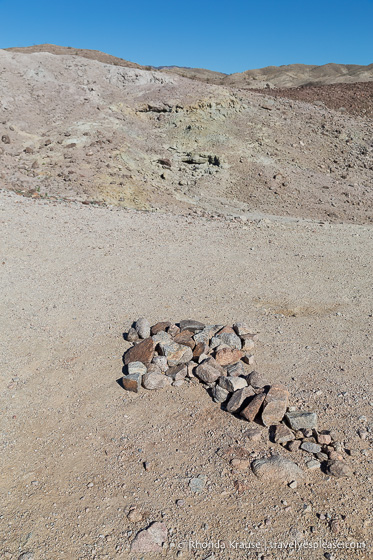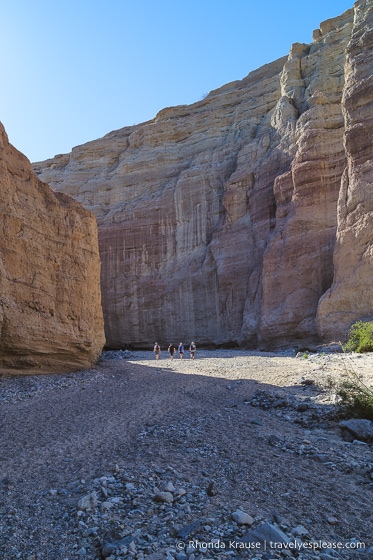 Overall, we thought this hike wasn't as wild or difficult as some reviews of Ladder Canyon made it out to be, but the stellar scenery and ladders made it one of our favourite day trips from Palm Springs and a top hike of our southwest road trip.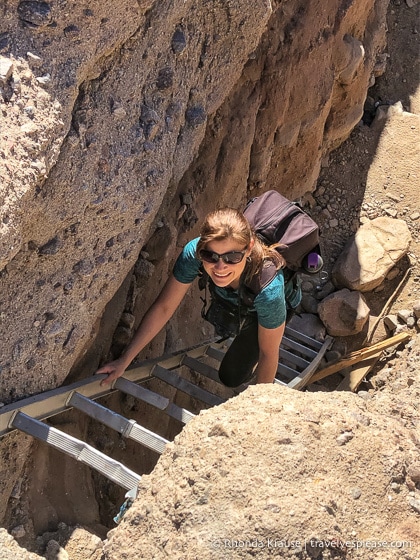 Ladder Canyon Hike Guide- Tips for Hiking Ladder Canyon and Painted Canyon Trail
Location: Ladder Canyon Trail is near the community of Mecca, California, in the Mecca Hills Wilderness (between Highway 111 and Interstate 10). It's about a 70 minute drive from Palm Springs.
Getting There: From Highway 111 (Grapefruit Blvd), turn into Mecca on 4th St, then take the first right on Hammond Rd. Go around the bend onto 66th Ave, which later becomes Box Canyon Road, then turn left onto Painted Canyon Road. Follow this dirt road to the end where there's a parking area at the entrance to Painted Canyon.
From Interstate 10, turn south on Box Canyon Road then turn onto Painted Canyon Road. If Box Canyon Road is closed/washed out (which it often is), access from Highway 111.
At Painted Canyon Road, there's a sign saying it's passable for 4-wheel drive vehicles only. The road is bumpy and sandy, but as long as it's not too soft, 2-wheel drive vehicles can get through if you keep a slow, steady pace. Cars with lower clearance have a higher risk of bottoming out in places.
Trail Details: Knowing some facts about the Ladder Canyon hike can better prepare you for your adventure.
Type of Trail- Loop
Distance- 7.2 km/4.5 mi
Elevation Gain- 295 m/967 ft
Difficulty- Moderate, but may not be suitable for everyone. You need to be comfortable climbing ladders, using your hands to scramble at times, and being in narrow spaces.
Length of Time- 2-3 hours
Trailhead- At the end of Painted Canyon Road in the Mecca Hills Wilderness Area.
Signage and Maps- Signage is lacking along this trail. I only saw one poorly placed signpost pointing to the start of the Ladder Canyon section. The rest of the route is marked with arrows made out of piles of rocks or painted on the canyon walls. Straight lines of rock across a path are an indication not to go that way. There is a map posted at the parking lot, but it's rather useless since it just shows trails in the area without distinguishing between routes. I recommend using a hiking app like AllTrails to download a map of the hike.
Best Time to Hike Ladder Canyon: The hike is best done from October to April, when temperatures aren't so hot.
Facilities: There is no water or washroom facility at the trailhead. There is a washroom building on Painted Canyon Road, but it was closed when we were there in late December.
Gear/What to Bring: Wear hiking or running shoes, bring plenty of water, and have sun protection (there's no shade once you get to the top of the ridge). We brought hiking poles but only used them for descending from the ridge back into the canyon. A hiking app with a map of the trail comes in handy.
Safety: The state of the ladders can vary, so make sure you assess their condition before climbing (they're maintained by volunteers). Most of the ladders were okay when we did the hike, but there was one with a couple bent rungs about to break.
Avoid this area during and after heavy rain because of the potential for flash floods. Also, keep in mind that heavy rains may wash away the rock arrows on the canyon floor.
Car break-ins at the trailhead have been reported, so don't leave valuables inside your vehicle.
Information was correct at the time of publishing, but can change without notice.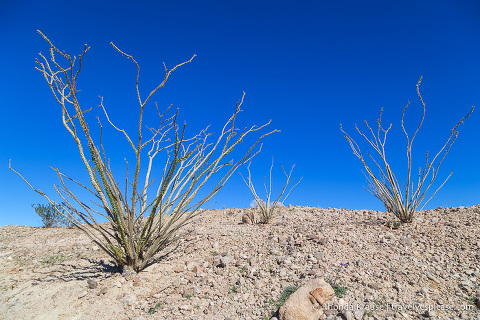 Accommodations Near the Mecca Hills
The best place to stay if you plan to hike Ladder Canyon/Painted Canyon is in Greater Palm Springs.
For your convenience, here is a list of hotels in Palm Springs. Please consider booking your Palm Springs accommodations through the included link. It costs nothing extra and helps support this website. Thank you!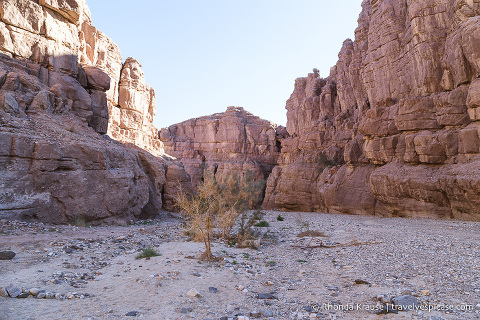 More California Destinations and Travel Guides