Purchases made through links earn us a small commission, at no extra cost to you.
One day in Joshua Tree National Park was all it took to become completely mesmerized by this unique protected area in California.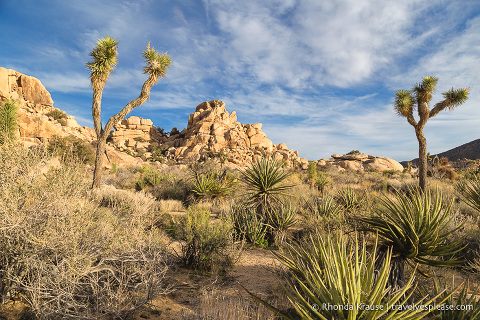 It was a weird and fascinating landscape, almost cartoonish, and I wouldn't have been surprised to see Dr. Seuss' Lorax or everybody's favourite Stone Age family, the Flintstones, go walking by.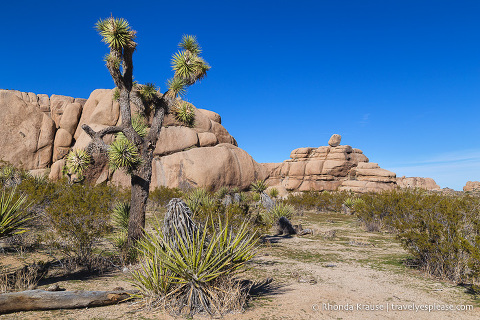 The desert plains were strewn with piles of rocks and eroded boulders, so big they formed imposing walls. Odd-looking trees, with clumps of sharp, pointy leaves capping the end of each crooked, bristled branch, defiantly grew in the harsh conditions. At the foot of a dusty mountain range sat a sea of fuzzy cacti tempting me to touch them, but ready to punish me with their barbed spines if I did.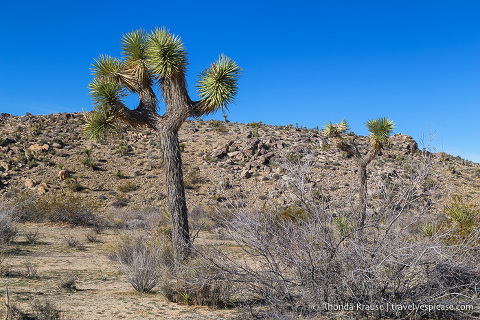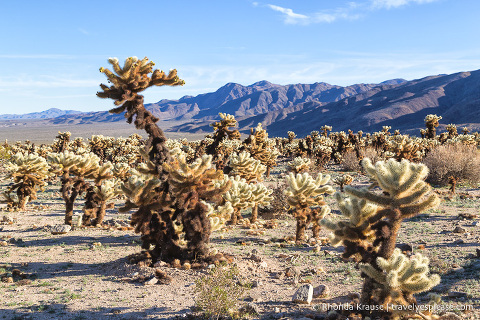 Joshua Tree National Park looked unlike any place I've visited before, bringing out lasting feelings of wonder, curiosity, and creativity.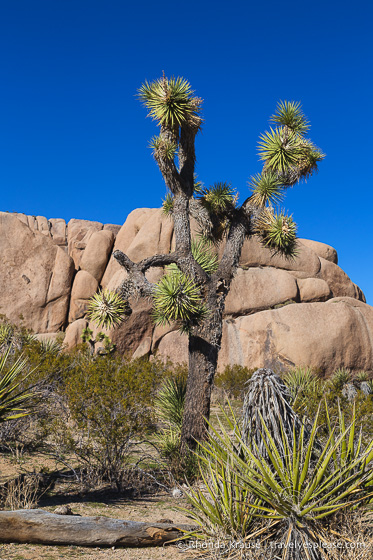 There were so many things to do in Joshua Tree National Park but no matter how we chose to spend our time, whether it be hiking to a hidden oasis or exploring rock enclosed-valleys, we were always in admiration of the surreal landscape.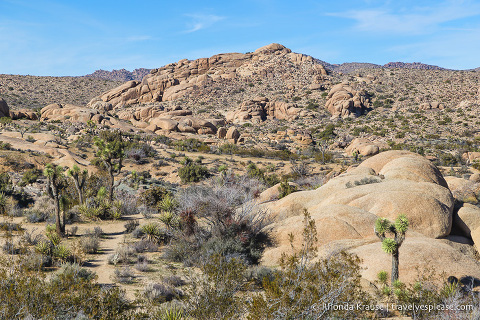 One Day in Joshua Tree National Park- Things to Do
To make the most of our one day in Joshua Tree National Park, we began by visiting the north end of the park (arriving through the North Entrance/Twentynine Palms Station), then exited at the south end. This allowed us to drive the entire main road through the park and conveniently access some of the best places to see in Joshua Tree.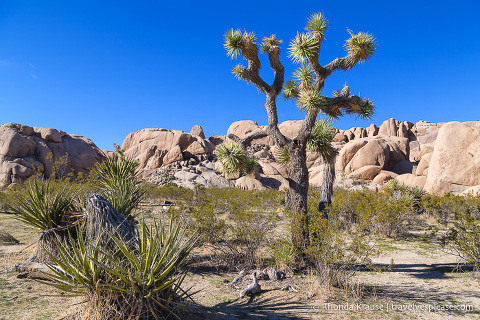 Although we covered a lot of ground while driving, we still had plenty of time to get out and enjoy the attractions in Joshua Tree National Park.
In order to have a well-rounded visit to Joshua Tree National Park in one day, we decided to do one longer hike, walk a couple of easy nature trails, and make some stops at scenic places along the road.
Here's a look at how we spent one day in Joshua Tree National Park, including our favourite hikes, walks, and scenic spots. We hope our itinerary helps you discover some fun things to do in Joshua Tree National Park!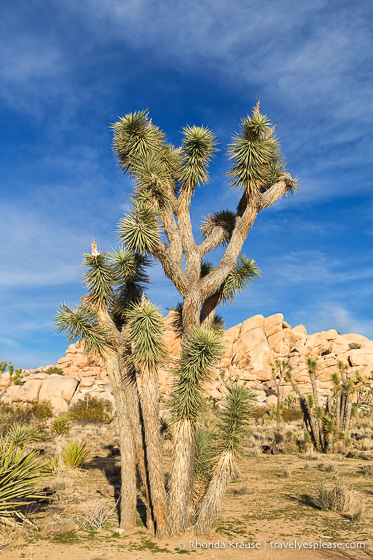 Hike to Fortynine Palms Oasis
We started our visit to Joshua Tree National Park by hiking to Fortynine Palms Oasis.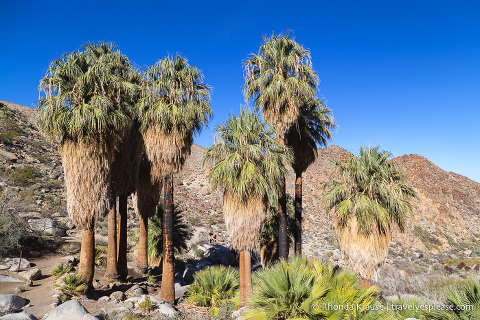 This moderate, 4.8 km (3 mi) hike is located in the north end of the park and takes 2-3 hours to complete. It's somewhat isolated from other attractions in Joshua Tree, so it's not as busy and crowded as other places in the park.
The out and back trail begins by climbing 107 m (350 ft) up and over a stone covered ridge, then descends 91 m (300 ft) into a rocky canyon before arriving at a small oasis.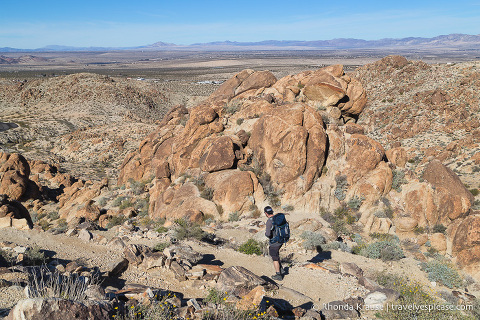 At first we weren't that impressed with the scenery. The hills were drab, covered in small grey and brown rocks, with only a scattering of vegetation.
But as soon as we descended into the canyon there were larger boulders with warmer tones and some flowering plants adding colour to the landscape. Once in the canyon, we realized we preferred being surrounded by piles of rock, instead of looking out over them, and got back our enthusiasm for the hike.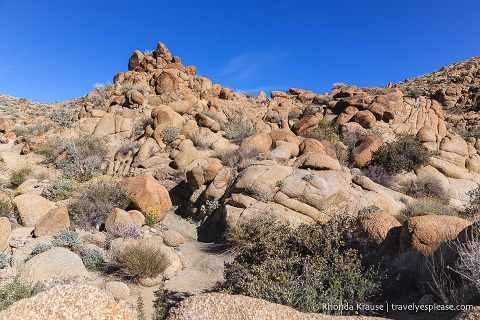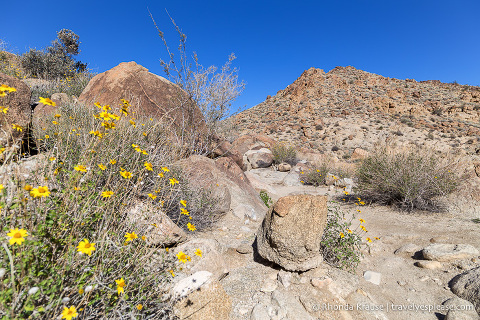 Soon a small group of fan palms came into view and we eagerly made our way to the Fortynine Palms Oasis at the end of the trail.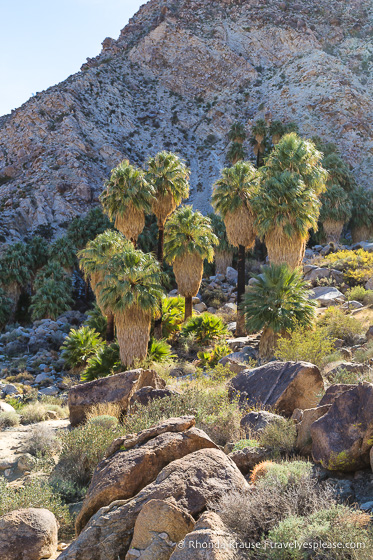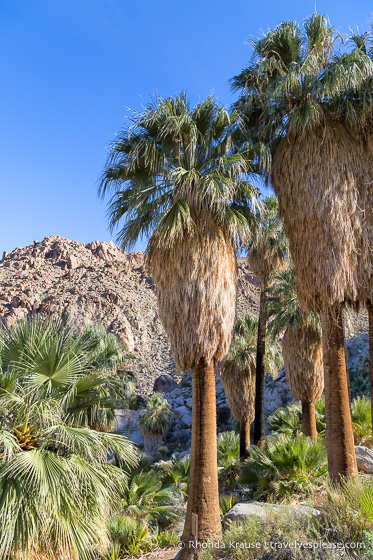 This pretty little oasis was the highlight of the hike and I loved photographing the palm trees backed by the rocky hills we just hiked down. Throw in a cloudless blue sky and it made for a perfect scene!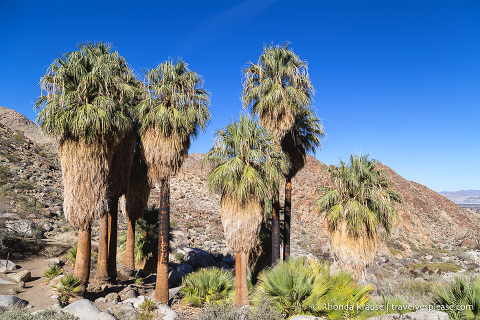 What I liked best about this hike, and the oasis in particular, was that it was something I wasn't expecting to see in Joshua Tree National Park. I was familiar with the giant sculpted boulders and Joshua Trees the park is named after, but I wasn't expecting to find palm trees. Plus, it was fun to explore part of the park that most people don't seem visit. We had the oasis and most of the trail all to ourselves!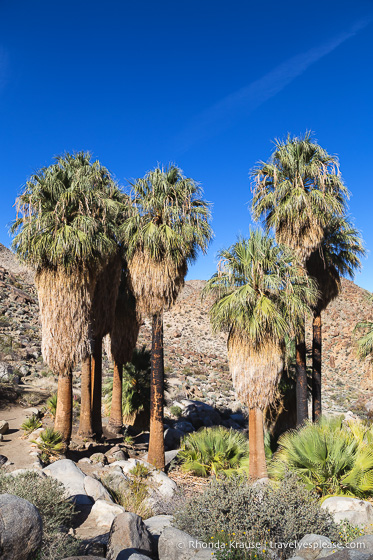 If you want to do this hike, I recommend starting in the morning before it gets too hot. There isn't shade along the trail and no safe drinking water at the oasis, so come prepared.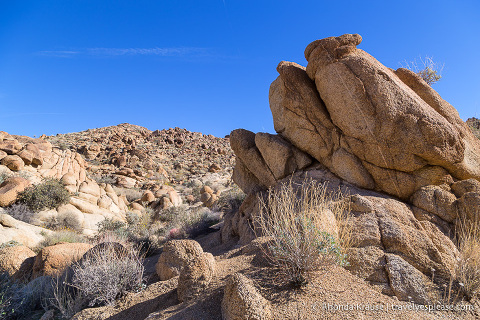 Directions: The Fortynine Palms Oasis trailhead is accessed off Highway 62, near the city of Twentynine Palms. Turn south on Canyon Road. You won't have to go through one of the park's entrance stations but should still have a park pass.
Visit the Intruder
The first stop we made during our drive through Joshua Tree National Park was at the Intruder rock formation.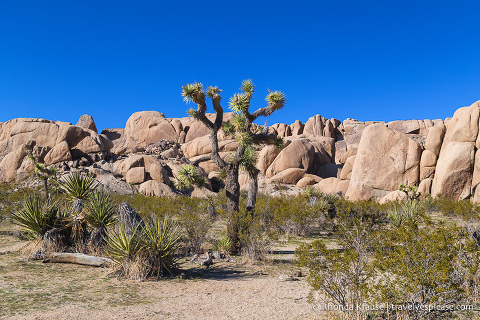 Located on the north side of Park Boulevard, between Live Oak Picnic Area and Jumbo Rocks campground, this long formation was a great introduction to the huge boulders the park is known for.
The Intruder is a monzogranite formation, one of two predominant types of rock found in the park. It formed when hot magma pushed upwards then cooled into a crystallized mass of granite below the ground.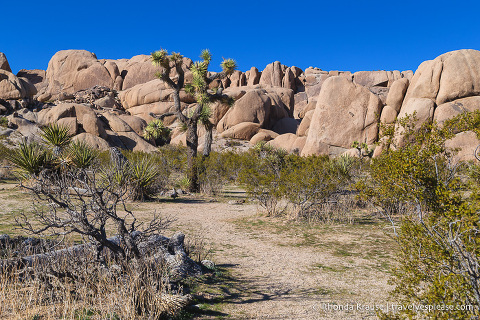 Over millions of years, earthquakes shook and squeezed the granite, causing cracks and splits where groundwater could flow down. The water slowly eroded rock along the joint fractures, creating round, smooth edges.
After movement of the Earth's crust lifted the rock, further erosion from flash floods washed away the ground surface, exposing the sculpted granite formations.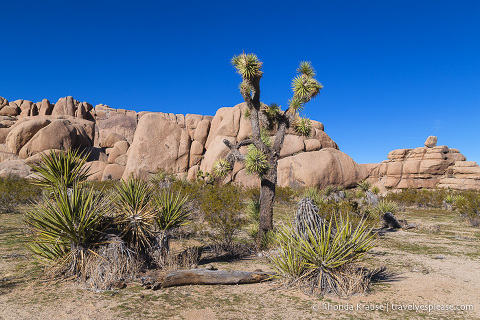 Geologists believe that the Intruder formation represents 85 million years of time. As is often the case, I was left speechless at the ongoing power of nature to shape and transform landscapes.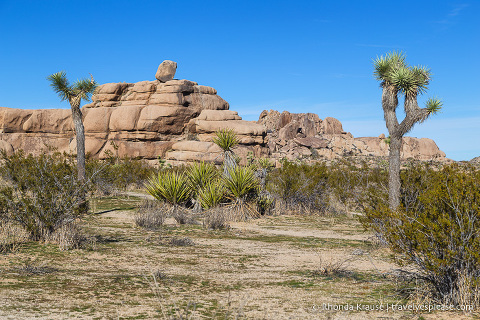 Directions: To get to the Intruder from the north and south park entrances, turn west onto Park Boulevard. After passing Live Oak Picnic Area, watch for a little brown sign that says "Exhibit Ahead". There will be a pull out on the right side of the road with an interpretive panel about the Intruder rock.
Visit Skull Rock
Skull Rock is the most unique formation we saw in Joshua Tree National Park, making it a very popular stop for visitors.
The name says it all- it's a rock that looks like a skull, complete with hollowed out eye sockets and a nose cavity formed by erosion.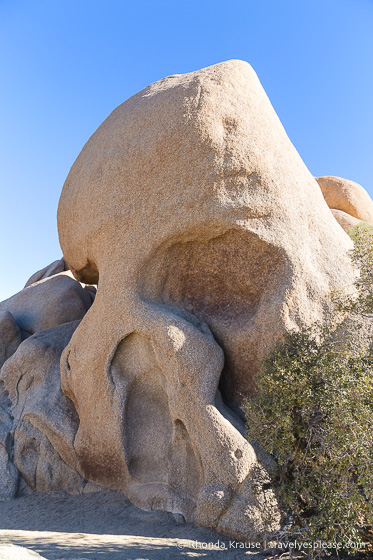 There is a 2.7 km (1.7 mi) nature trail here, but since Skull Rock is at the start of the loop, we decided there was no need to do the 1-2 hour walk. Instead we chose to spend our time on trails with more Joshua Trees.
Directions: Skull Rock is located on Park Boulevard, between Live Oak Picnic Area and Jumbo Rocks Campground. There are pullouts on each side of the road for parking.
Walk the Hidden Valley Nature Trail
If you only have time to do one nature walk in Joshua Tree National Park, make it Hidden Valley Trail.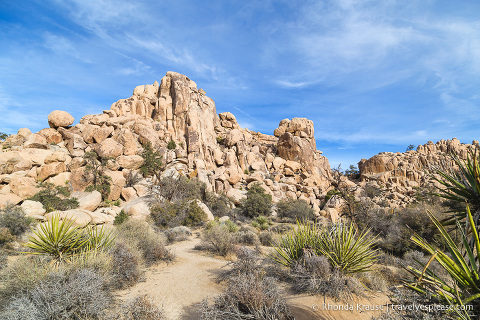 This short 1.6 km (1 mi) loop has all the most prominent features of the park. There are Joshua Trees, towering walls of rock, and giant boulders that are fun to scramble on.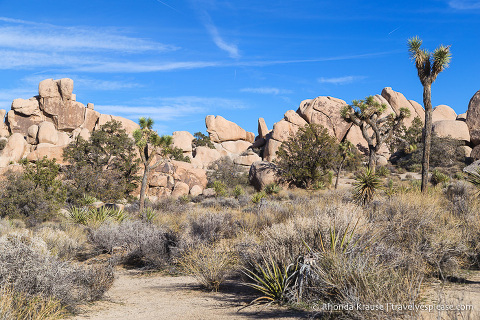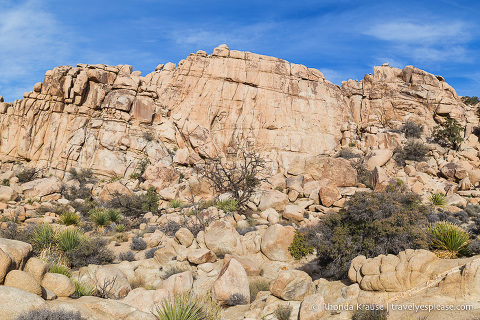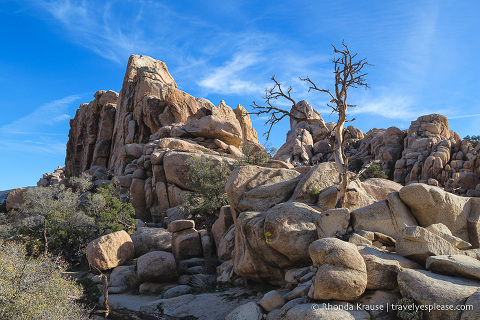 The trail starts by passing through a gap in the rock piles, then arrives in a sandy valley bound by boulders and dotted with Joshua Trees and other desert loving plants.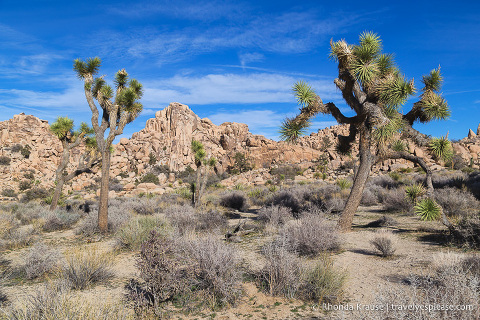 It was just the type of scenery I was expecting to see in Joshua Tree National Park, yet I still felt like I had entered an unfamiliar world.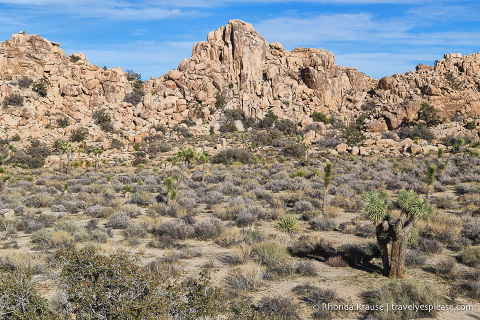 Although we were following a marked path, I felt like we were explorers discovering new and uncharted lands as we meandered between larger-than-life rock piles, dry desert bushes, and peculiar looking trees.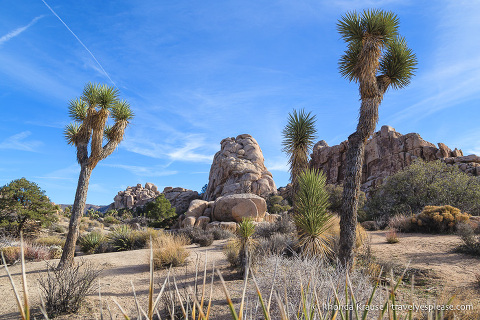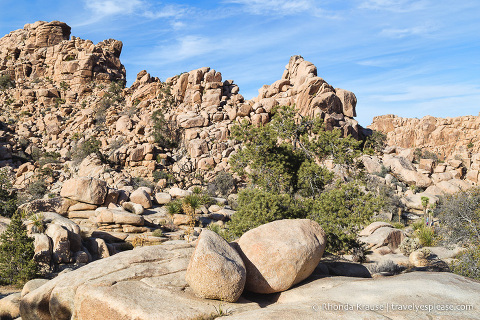 I stopped so often to take pictures, read the interpretive panels, and quietly gaze across this intriguing landscape, that it probably took us longer than the recommended hour to walk Hidden Valley Trail.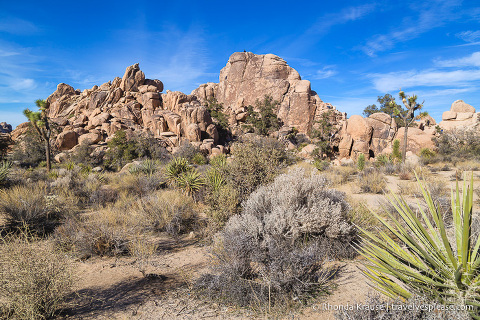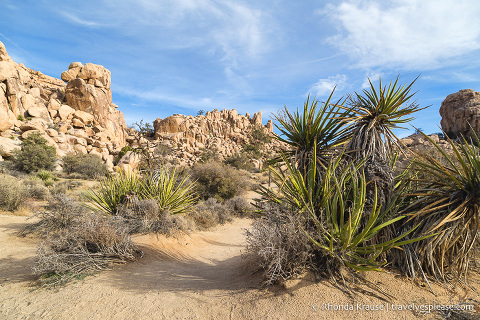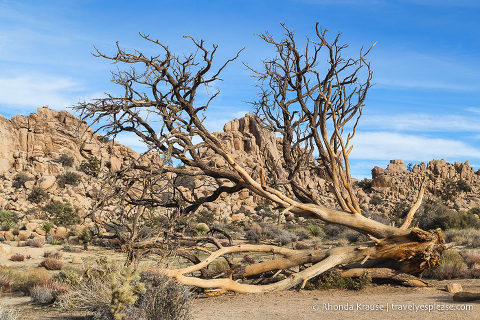 Hidden Valley was my favourite of all the places to see in Joshua Tree National Park because the geology and biodiversity complemented each other so well, creating an unforgettable scene!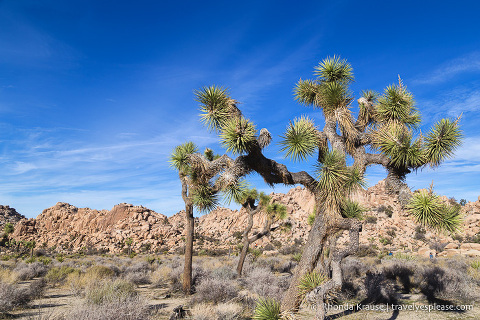 Directions: The trailhead for Hidden Valley is at the Hidden Valley picnic area, just off Park Boulevard.
Walk the Barker Dam Nature Trail
The Barker Dam Trail is similar to Hidden Valley, in that it showcases mounds of boulders and a flat area with Joshua Trees. However, what makes this trail unique are the archaeological and man-made remains including an old dam, cattle trough built by early ranchers, and some petroglyphs.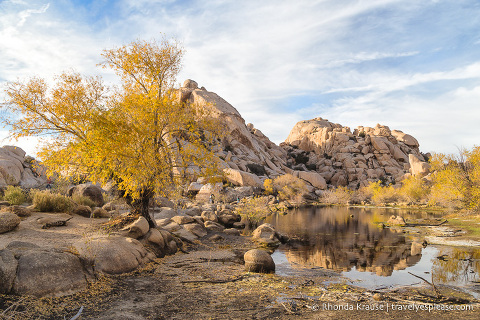 The 1.8 km (1.1 mi) loop begins by passing in between two tall piles of boulders. Eventually the trail emerges at the shore of a small reservoir before continuing towards a historic dam.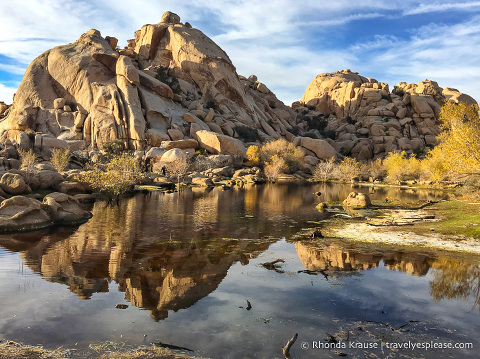 Next up, the trail navigates down some rocks, providing an elevated view of an old cattle trough before reaching the open desert.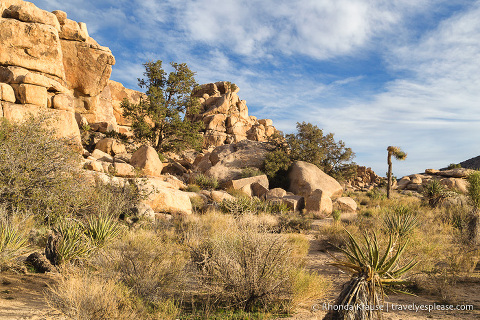 This part of the trail was my favourite because there were plenty of tall Joshua Trees, looking especially beautiful in the warm glow of late afternoon light.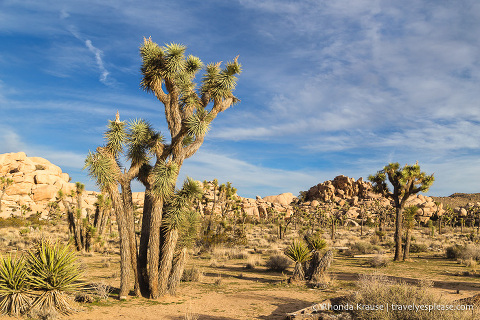 We took our time walking down the sandy path appreciating the gorgeous views that surrounded us. From the interesting shapes of the Joshua Trees to the backdrop of naturally sculpted rock, everything about it was a photographer's dream.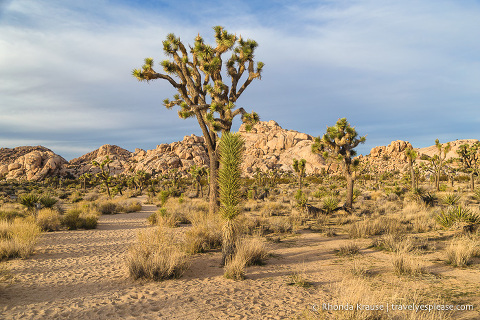 Before looping back to the parking lot, we followed a very short detour to a petroglyph-covered rock. I was surprised to see that the colours of the drawings have been enhanced, which makes them easier to see but also takes away some of their mystique.
While the petroglyphs added a bit of variety to this trail, they in no way compared to the natural beauty of a desert of Joshua Trees!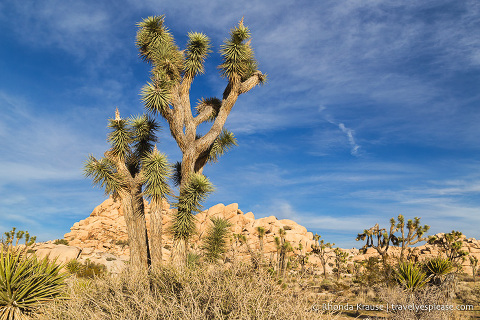 Directions: The Barker Dam Trail can be reached by taking Park Boulevard to Barker Dam Road. The trailhead is at the parking lot on the left.
Visit the Cholla Cactus Garden
Driving towards the south entrance, we made one more stop before leaving the park. The last scenic spot in Joshua Tree National Park we visited was the Cholla Cactus Garden.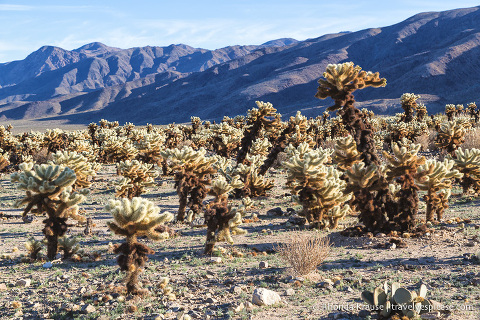 The garden consists of thousands of densely concentrated cholla cactus and a short 0.4 km (0.25 mi) trail that loops through the stand.
Don't let the cacti's fuzzy appearance and cute name fool you- these teddy-bear cholla have barbed spines that will tightly hitch a ride on you if you get too close.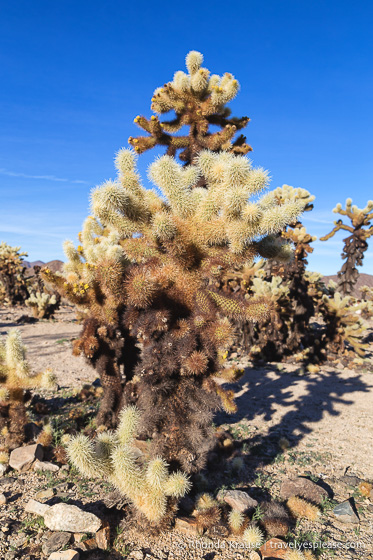 Much like the Joshua Tree, teddy-bear cholla are interesting to look at because of their odd, crooked shapes. I've never seen cacti like this before so a walk around the Cholla Cactus Garden was a fun way to end our day trip to Joshua Tree National Park.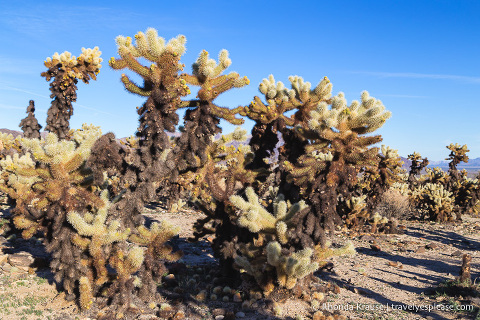 Directions: The Cholla Cactus Garden is on Pinto Basin Road, about 32 km (20 mi) north of the Cottonwood Visitor Centre (the south entrance to the park).
Final Thoughts About Our Day Trip to Joshua Tree National Park
We did several day trips from Palm Springs but our visit to Joshua Tree National Park was my favourite.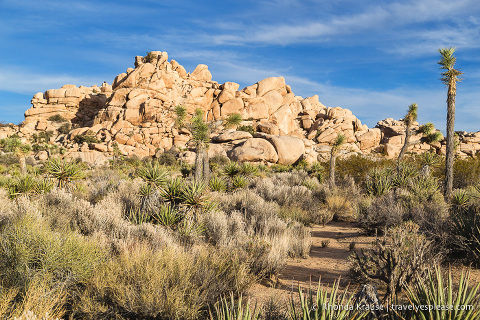 The scenery was unparalleled and even after a whole day in Joshua Tree National Park, I was still captivated by those funny looking trees. The park not only lived up to my high expectations, it surprised me in ways too.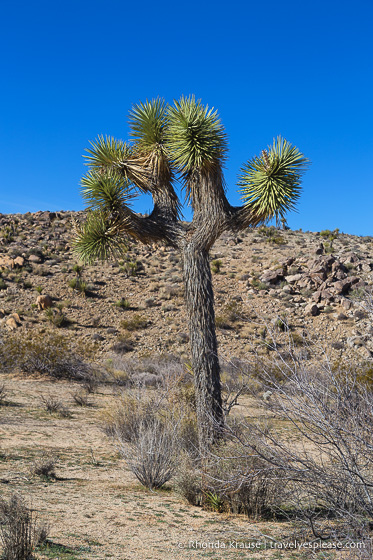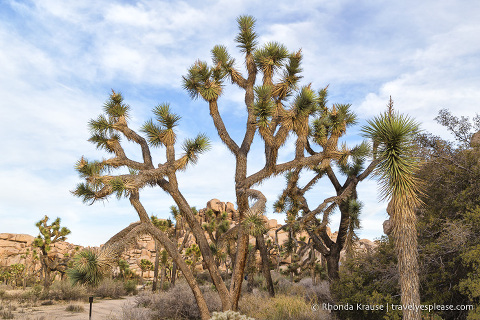 We were very happy with our one day Joshua Tree itinerary and felt like it included some of the best hikes and nature trails in Joshua Tree National Park. Even though I don't necessarily feel like we missed out anything, I'd still like to go back and explore more of the park. Perhaps next time we do a road trip in the southwest USA we'll visit Joshua Tree National Park again.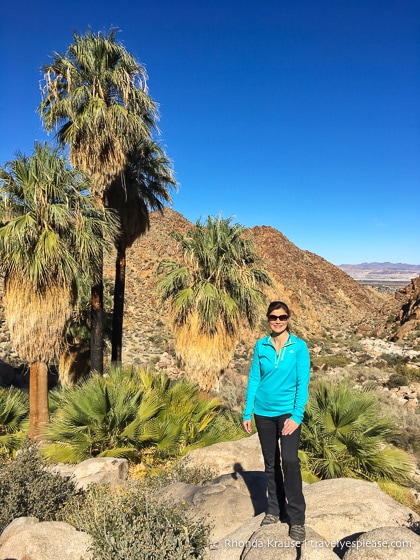 Tips for Visiting Joshua Tree National Park
Location: Joshua Tree National Park is located in southeastern California, near Palm Springs.
Getting There: Joshua Tree National Park is most conveniently accessed from Palm Springs and its neighbouring cities in the Coachella Valley. From Palm Springs, it's about a 50-70 minute drive to any of the entrances to Joshua Tree National Park.
There are three entrances to the park. The west and north entrance stations can be accessed from Highway 62 (Twentynine Palms Highway). The south entrance is via the Cottonwood Visitor Centre and can be accessed off the I-10 E.
Operating Hours and Seasons: Joshua Tree National Park is open year round.
Park Passes: Visitors are required to buy a park pass at an entrance gate. Passes are valid for seven consecutive days.
Best Time to Visit: The spring (March- May) and fall (October- November) are generally the best times to visit Joshua Tree National Park because temperatures are warm but more comfortable than the summer, averaging around 29°C (85°F). Summer temperatures can surpass 38°C (100°F), so too hot to be hiking around in a desert without shade. We were happy to visit in winter when the daytime temperature was about 15°C (60°F).
The park is the busiest in early spring when the wildflowers are in bloom.
Visitor Centres: There are visitor centres near all three park entrances. They have exhibits and bookstores/gift shops.
Joshua Tree Visitor Centre is in the village of Joshua Tree, just south of Highway 62 before the west entrance.
Oasis Visitor Centre is at the Oasis of Mara in Twentynine Palms, just south of Highway 62 before the north entrance.
Cottonwood Visitor Centre can be found inside the park, after arriving through the south entrance.
Restaurants: There are no restaurants inside the park so you'll need to pack a picnic lunch.
Campgrounds and Accommodations: There are several campgrounds in the park, but no hotels. Some of the campgrounds are first-come, first-served, while others require reservations. Note that some campgrounds close in the summer when visitation is low because of the heat.
Information was updated January 2022, but can change without notice. Please confirm directly with the park.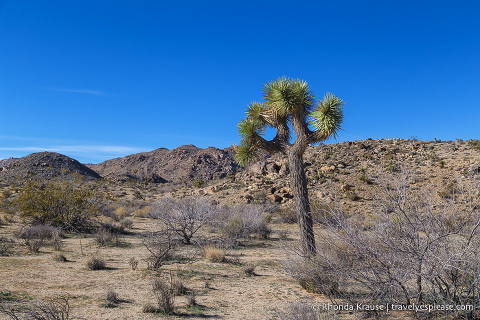 Accommodations Near Joshua Tree National Park
Palm Springs and its neighbouring cities are the nicest places to base out of for a day trip to Joshua Tree National Park.
For your convenience, here is a list of accommodations in PALM SPRINGS, CATHEDRAL CITY, RANCHO MIRAGE, PALM DESERT, and INDIO. Please consider booking your accommodations through the included link. It costs nothing extra and helps support this website. Thank you!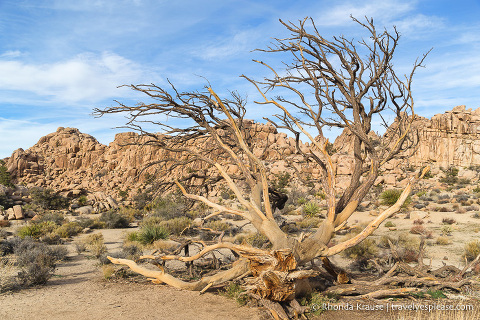 More California Destinations and Travel Guides