Purchases made through links earn us a small commission, at no extra cost to you.
Scattered along a stretch of road near Anza-Borrego Desert State Park are dozens of large metal sculptures dotting the landscape, their rusty forms blending naturally with their sandy surroundings, despite not being what you'd expect to find in a desert.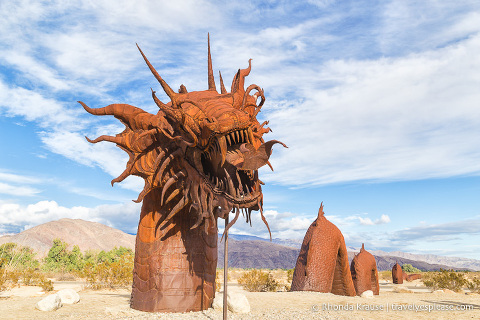 Super-sized dinosaurs, horses, sloths, tortoises, mammoths, saber-toothed cats, dragons and more, appear to be roaming across barren land surrounding the tiny village of Borrego Springs, just waiting to be found by curious tourists.
As we set out on this whimsical scavenger hunt, attempting to find all 130+ sculptures, I couldn't help but wonder who made them and why they were here.
The Metal Sculptures of Borrego Springs- History and Designs
This fanciful attraction in Borrego Springs was the vision of local landowner Dennis Avery. He wanted to add free standing art to his property, the Galleta Meadows Estate, so commissioned artist and welder Ricardo Breceda to craft some sculptures for him.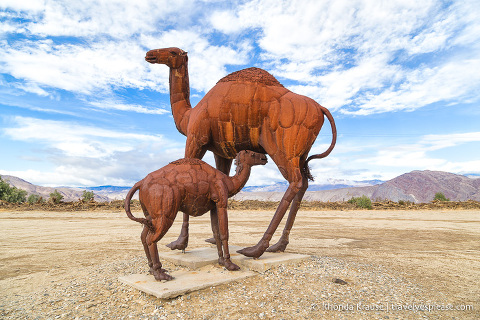 The first sculptures appeared on Avery's land along Borrego Springs Road in April 2008, and ever since then the collection has continued to grow. At the time of our visit, there were over 130 metal sculptures in Borrego Springs.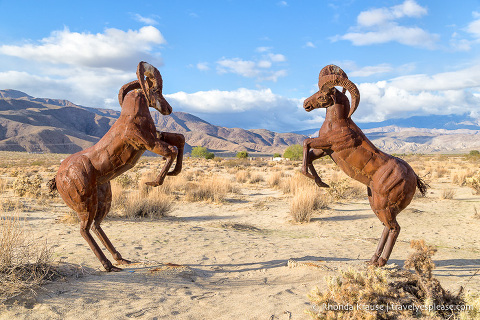 Breceda's Sky Art sculptures in Galleta Meadows were inspired by three different themes- Fossil Treasures of the Anza-Borrego Desert, History and Nature of the Anza-Borrego Desert, and Whim and Fantasy.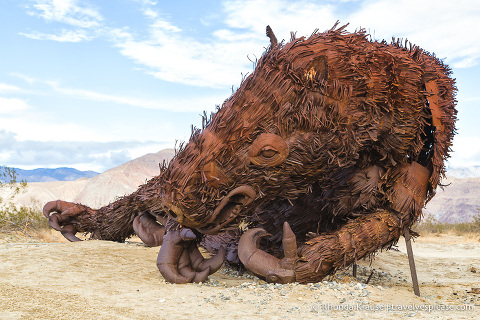 Most of the sculptures around Borrego Springs are of animals, both real and mythical, but there are also works that represent people significant to the area's history.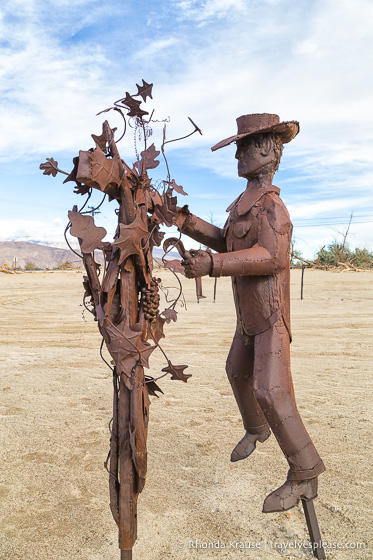 Searching Out Sculptures in Galleta Meadows
We made a trip to Borrego Springs specifically to see Breceda's sculptures in the desert. Our excursion from Palm Springs turned into a half-day event, as I wanted to revisit a few of my favourite pieces to photograph them at night. Since Borrego Springs is a Dark Sky Community, I knew that I'd be able to get some cool shots of the sculptures under a starry sky.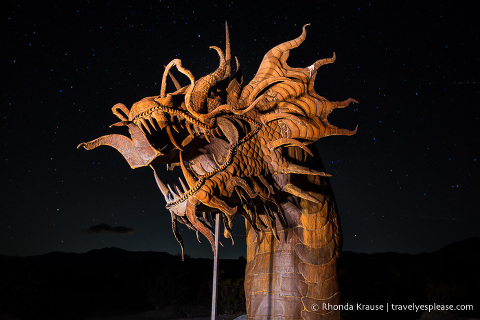 Armed with a Sky Art Map we picked up at the visitor centre, we set out on our little desert adventure, searching for scrap-metal sculptures near Anza-Borrego.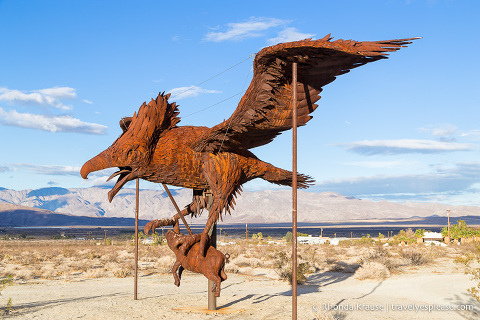 We started by driving north of Christmas Circle on Borrego Springs Road. Soon sculptures started popping up alongside the road and further off in the distance. It was oddly exciting to see them appear out of nowhere, and just as much fun to wonder what crazy creation we'd see next.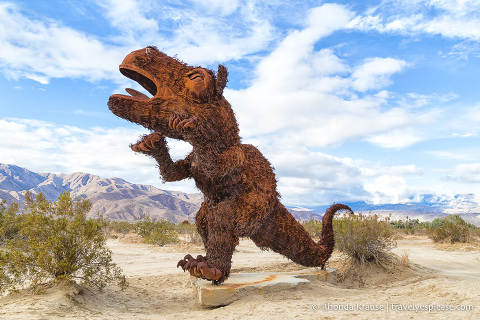 At each group of sculptures we'd hop out of the car and take a walk around, admiring the craftsmanship and detailed features. The way the fur of some of the animals was made was so intricate, with hundreds of thin pieces of metal curled to add dimension to the artwork.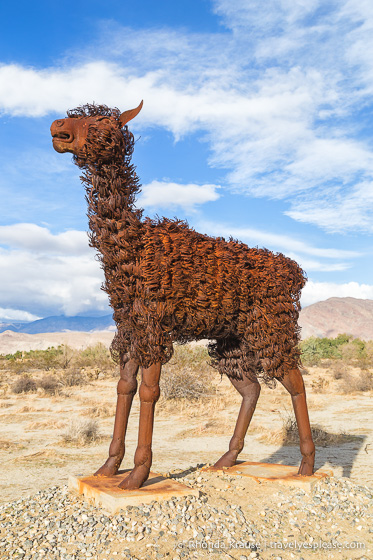 We spent quite a lot of time north of Borrego Springs, since this was where most of my favourite pieces were, but eventually made our way south on Borrego Springs Road to visit the final collection of sculptures. This is where you'll find the dinosaurs and other extinct animal sculptures.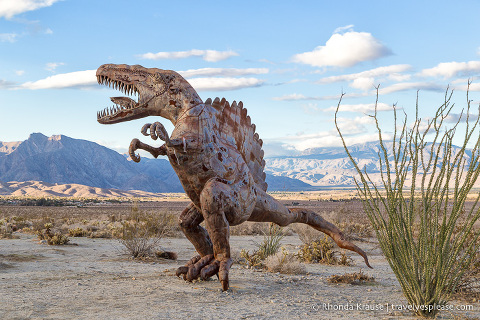 Once it got dark out we went back to two sculptures, the Serpent and Gold Miner, to do some night photography. It wasn't easy to find them because it was almost completely black out, as there's not much light pollution. It was even harder to photograph them, since it was our first time trying light painting. But the pictures turned out great and we had so much fun playing with long exposures and different coloured lights.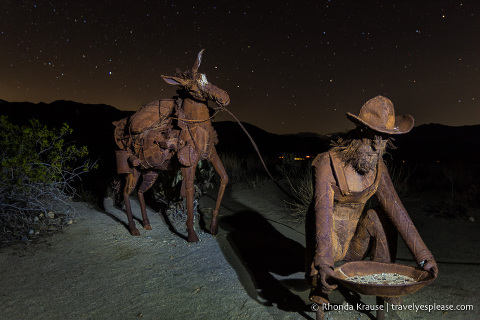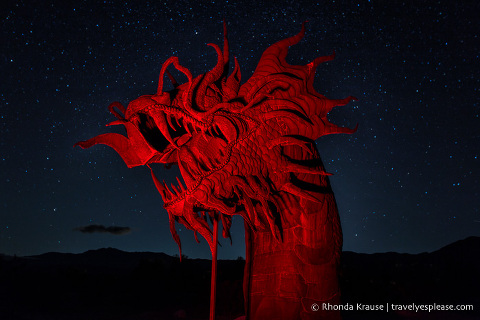 Viewing Breceda's sculptures was definitely the most unique thing to do in Borrego Springs!
Our Favourite Sculptures in Borrego Springs
Here's a look at some of our favourite sculptures on the Galleta Meadows Estate in Borrego Springs!
Serpent
The serpent is the most eye-catching sculpture because it's so big and dramatic. It looks as though it's swimming in the sea, parts of its body arched above the surface. The serpent is so long it even crosses the road.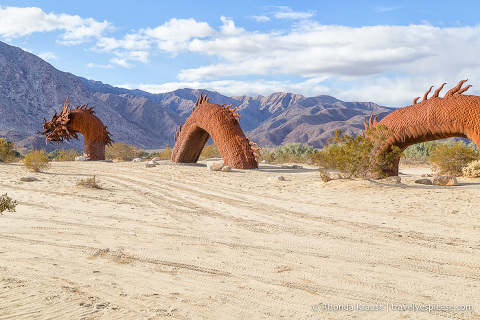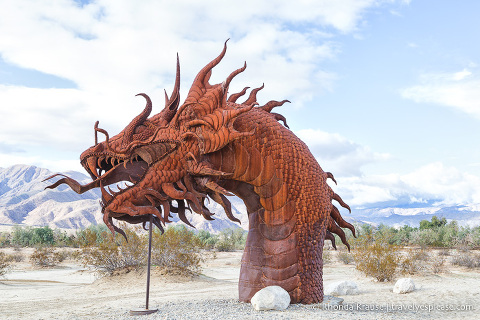 What impressed me the most about the serpent was the attention to detail. The bottom of its tongue even had texture! The serpent was Mike's favourite sculpture because of the imagination that went into its creation.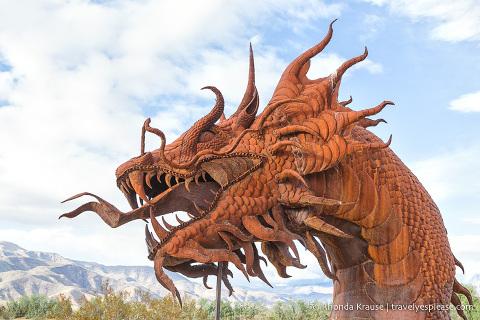 Gold Miner
The Gold Miner was my favourite sculpture because of how intricate it was, from the prospector's scruffy beard to the horse's heavy pack. It represents the miners that came through this area when the gold rush started.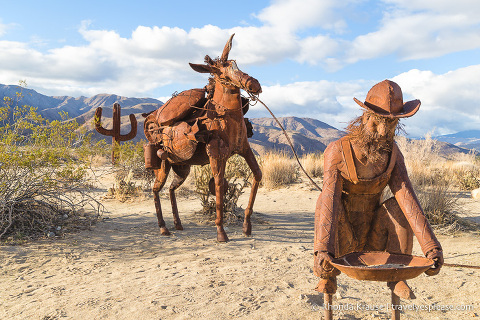 Jeep
The jeep was a fun sculpture because it's climbing over a pile of boulders, conveying the excitement of going on an adventure. It reminded me of the bumpy trail we had to drive to reach some of the sculptures in Galleta Meadows. The jeep was my Mom's favourite sculpture.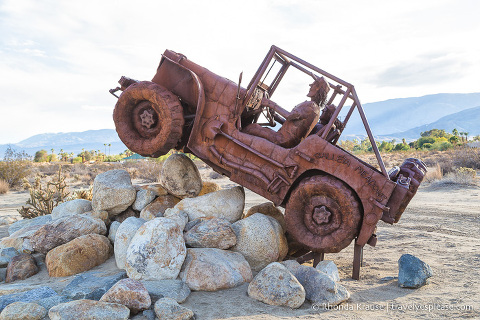 Horses
There are a few horse sculptures in Galleta Meadows and they were made to look as though they're in different states of activity from galloping, fighting, and grazing. They had so much life that from a distance they almost looked like real horses. The fighting horses were my dad's favourite sculpture.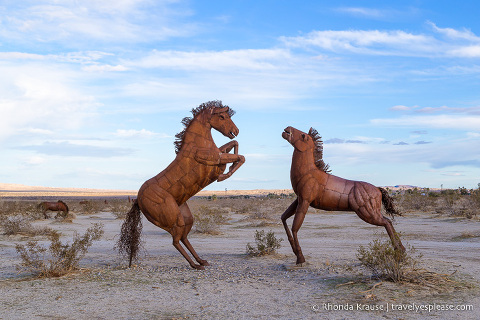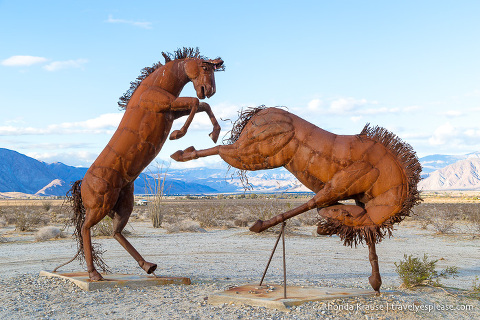 Indian Head
The Indian Head stands out among the other sculptures in Borrego Springs because it's the only one that has a different colour other than rust-red. Its golden face shines brightly in front of a feathered headdress.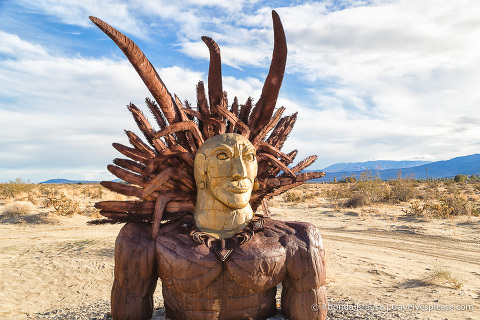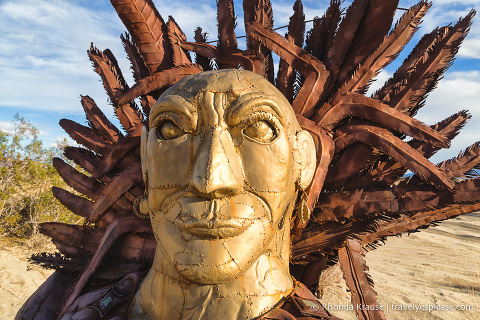 Farm Workers
The farm workers are a group of sculptures tending to a vineyard. I liked this set because of the variety of actions- they can be seen picking grapes, carrying boxes, and building a trellis. Based on their stern facial expressions, I'd say they take their work very seriously!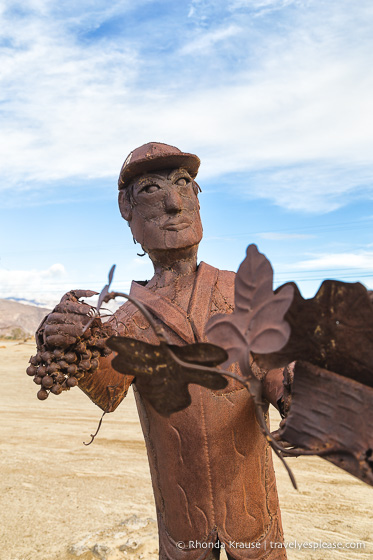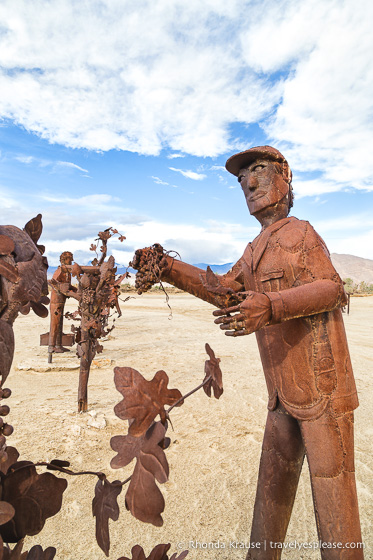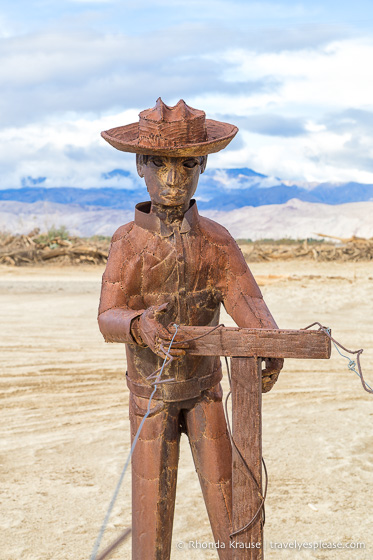 Photos of the Sculptures in Borrego Springs
Here are some more pictures of Ricardo Breceda's sculptures near Anza-Borrego Desert State Park.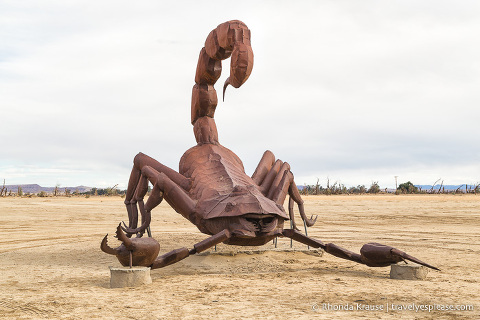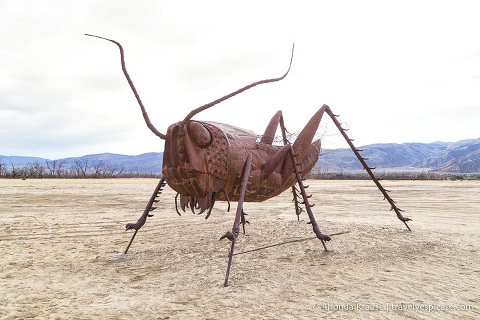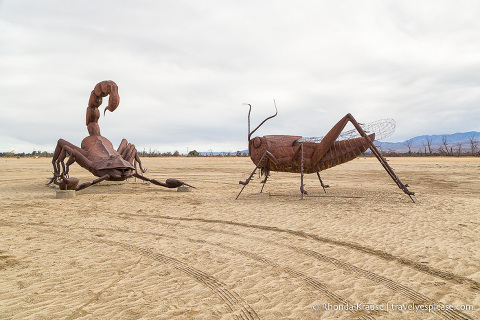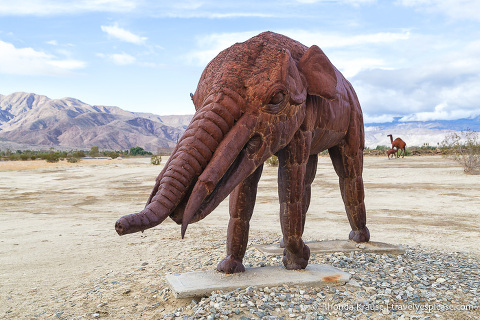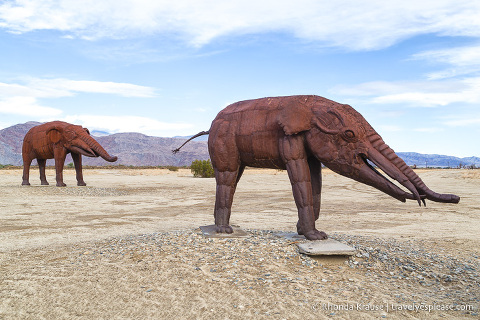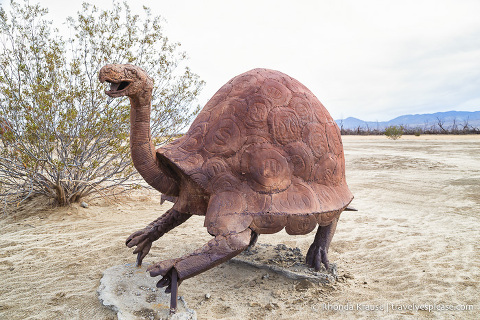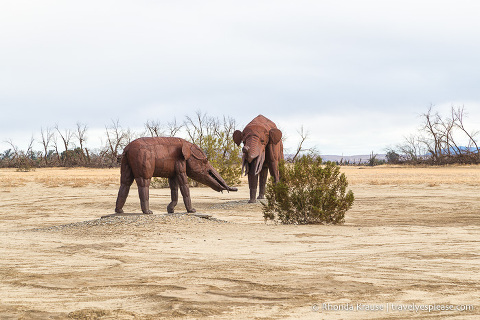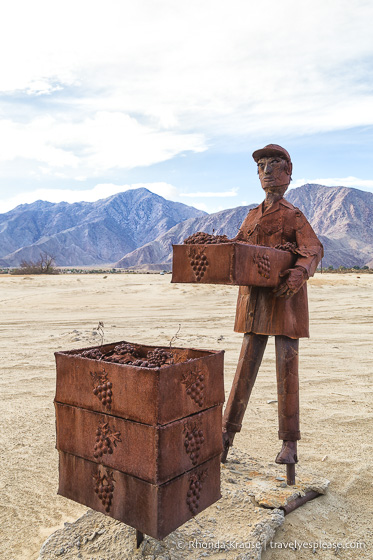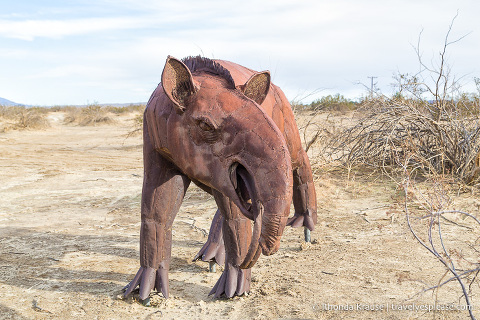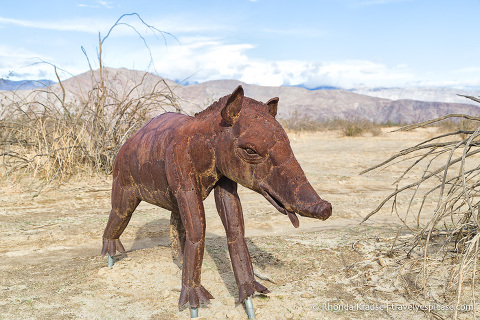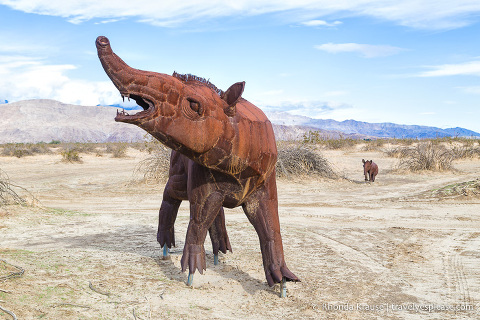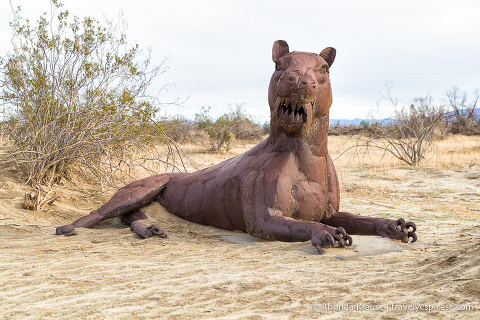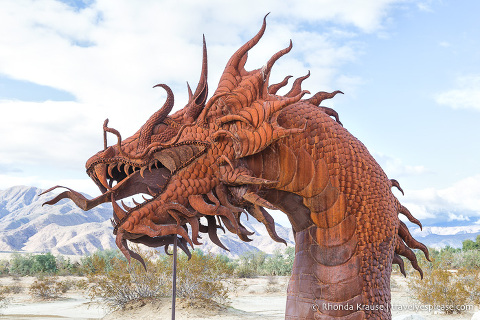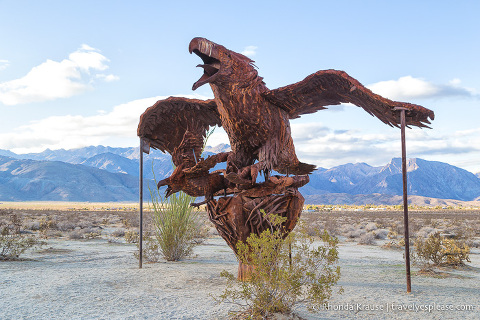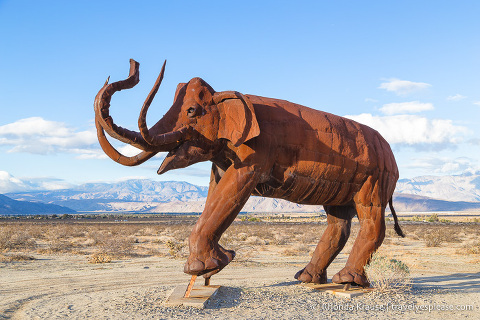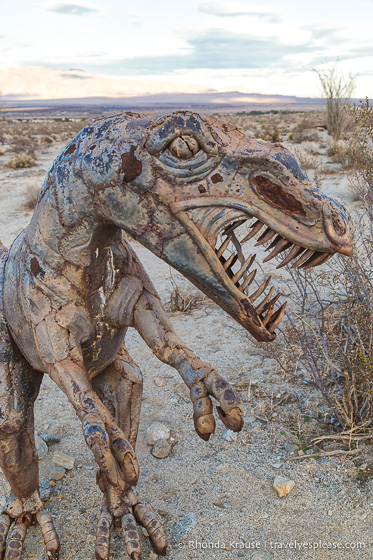 Final Thoughts About Our Visit to Borrego Springs
The sculptures at Borrego Springs are a wacky and wonderful attraction in Anza-Borrego Desert State Park. Searching out these imaginative works of art was a fun way for our family to spend an afternoon on our southwest U.S. road trip. The concept is a creative way to combine art with the outdoors- perfect for someone like myself who would rather be outside than in a museum!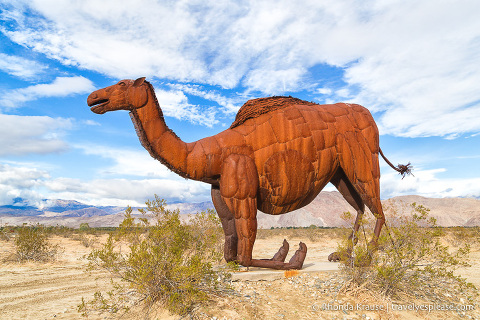 Tips for Visiting the Sculptures in Borrego Springs
Location: Borrego Springs is in San Diego County, California, completely surrounded by Anza-Borrego Desert State Park. It can easily be visited as a day trip from Palm Springs (1 hr 35 min drive).
Where to Find the Sculptures: The sculptures can be found north and south of Borrego Springs along Borrego Springs Road. Most of the artworks are located close to the roadside, but a few you have to drive off the main road on a dirt track to reach.
You can pick up a map of the sculptures from the Borrego Springs Chamber of Commerce and Visitors Bureau.
Getting Around: The sculptures are quite spread out, so you will need to drive to see them all.
Admission Fees and Opening Hours: The sculptures in Borrego Springs are free to see and they are open all the time.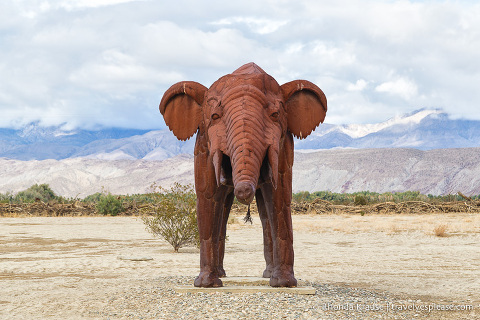 Accommodations in Borrego Springs
For your convenience, here is a list of hotels in Borrego Springs and Palm Springs. Please consider booking your  accommodations through the included link. It costs nothing extra and helps support this website. Thank you!
More California Destinations and Travel Guides