Purchases made through links earn us a small commission, at no extra cost to you.
Palm Springs is a beautiful desert city in California full of golf courses, stylish hotels, spas, and boutiques.
If that's what you're into, it's a great place to spend some time. But for me- someone who loves active travel, getting out into nature and exploring- it was harder to connect with the city.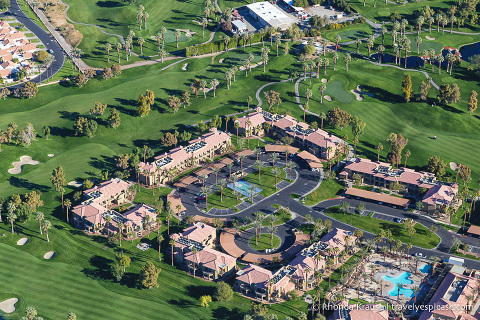 So, we decided to set out on some day trips from Palm Springs to see what cool things we could find in the surrounding desert and mountains. Luckily, the area did not disappoint and we found several interesting places to visit near Palm Springs.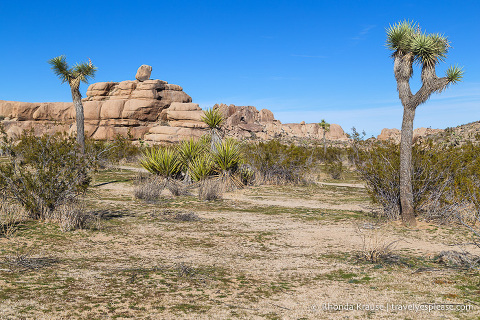 Day Trips From Palm Springs
Here's a look at our side trips from Palm Springs, followed by some thoughts on each place we visited. I hope you find this guide helpful for deciding where to visit around Palm Springs and planning some enjoyable day trips out of the city.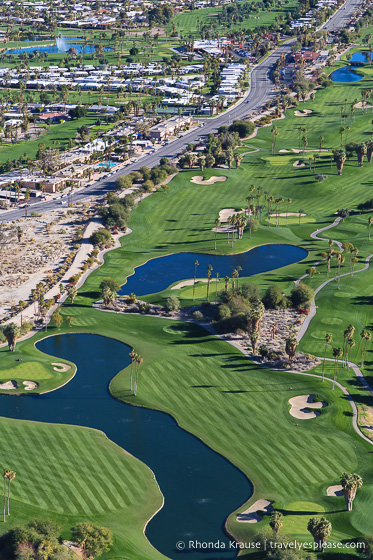 Joshua Tree National Park
The best day trip from Palm Springs is Joshua Tree National Park, thanks to an ancient landscape that is both geologically interesting and visually captivating.
From its namesake Joshua Tree, a curious looking plant with contorted branches and dagger-shaped leaves, to the massive eroded boulders forming walls across the desert, it's a park that'll make you feel like you've gone back in time and to another planet.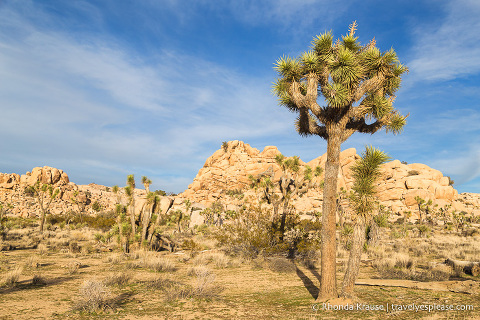 While you can see plenty of great scenery during a drive through the park, the best way to experience Joshua Tree is by getting out and walking. There are numerous nature trails and hikes of varying degrees of difficulty that showcase the park's most iconic terrain.
Whether you're strolling through a cactus garden, hiking to a hidden oasis, or bouldering above a valley, there are plenty of fun ways to actively explore Joshua Tree National Park.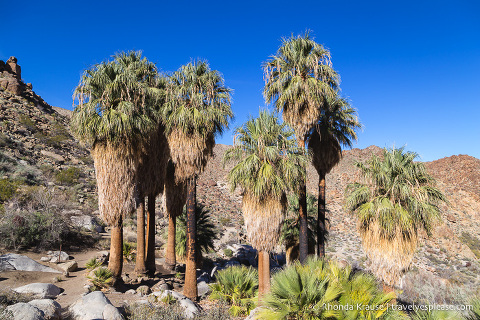 Borrego Springs
The tiny town of Borrego Springs could be overshadowed by the surrounding Anza-Borrego Desert State Park, but is an attraction in its own right because of the vision and creativity of a local landowner and artist Ricardo Breceda.
There are over 100 metal sculptures scattered across the desert near town and setting out to find them is a fun day trip from Palm Springs for the whole family.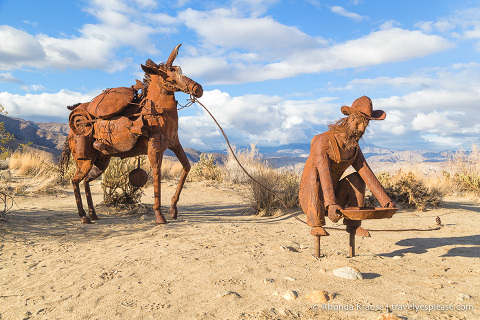 Most of the super-sized sculptures are of animals, both real and imagined, including mammoths, dinosaurs, camels, horses, and more. The most famous sculpture is that of a serpent so long it crosses to the other side of the road.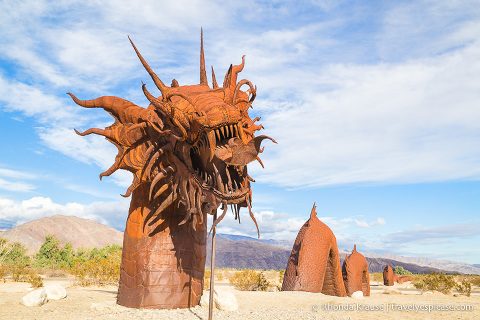 Borrego Springs is also a Dark Sky Community, so if you stay until after sunset, on a clear night you'll be able to see a dazzling sky full of stars.
Painted Canyon and Ladder Canyon Trail
For an active and adventurous side trip from Palm Springs, head to the Mecca Hills Wilderness to explore Painted Canyon via the Ladder Canyon Trail.
This moderate, 7.2 km (4.5 mi) trail has a bit of everything you'd expect from a great hike, plus a few fun extras. The trail scrambles over a rockfall, passes through a slot canyon, climbs up to a ridge with a view of the Salton Sea, then returns along the bottom of a wide canyon.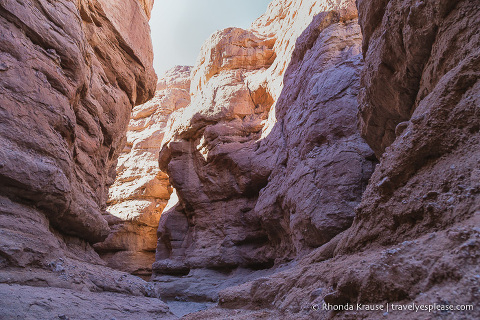 Throughout the hike there are several ladders you have to climb, some up steep canyon walls, which can test your nerve but adds excitement to the adventure.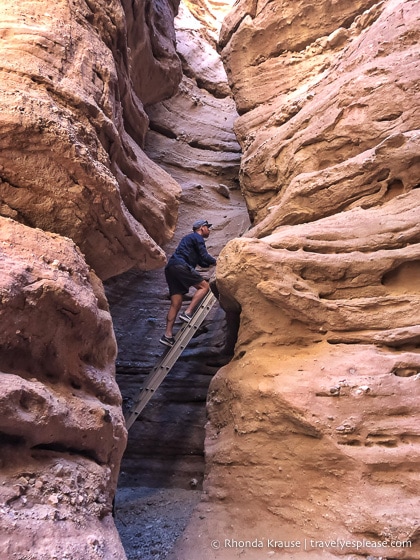 Read more: Ladder Canyon and Painted Canyon Trail- A Unique Hike in the Mecca Hills
Details and Tips:
Ladder Canyon Trail is located near the community of Mecca, in the Mecca Hills. The trailhead for Painted Canyon is about a 1 hr 10 min drive from Palm Springs.
This hike may not be suitable for everyone and the signage isn't the greatest, so be sure to research the route in advance.
Bring plenty of water and plan for the hike to take 2-3 hours.
Idyllwild and the San Bernardino National Forest
A trip to the San Bernardino National Forest brings both a change of elevation and scenery.
During the winding drive up the mountains, you'll see the dusty, desert landscape transition to a wilderness area of coniferous forest. Take notice of the trees and the huge pine cones hanging from their branches. Coulter pines produce the heaviest cone of any pine tree, so heavy they're jokingly referred to as "widowmakers" by locals.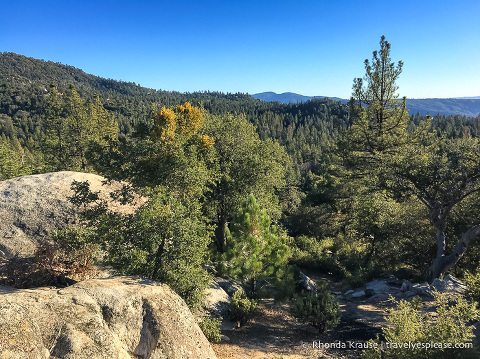 Two worthwhile stopping points on the scenic drive through San Bernardino National Forest are the Idyllwild Nature Centre and community of Idyllwild. The nature centre has some hiking trails, a viewpoint, and a small museum, whereas Idyllwild is a creative, unpretentious small town with locally owned shops, restaurants, cafes, and galleries. The best thing about Idyllwild though is that the mayor is a dog. Look how cute Mayor Max is in his tie!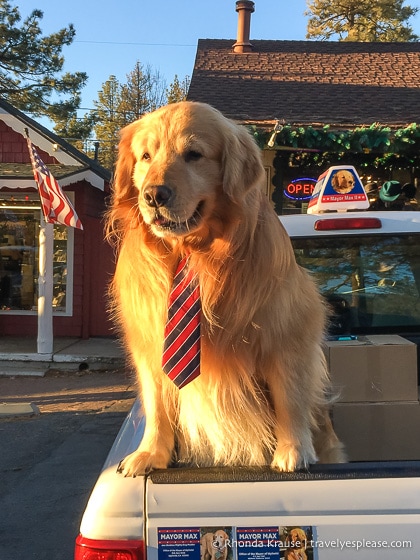 Details and Tips:
For a round trip through San Bernardino National Forest, enter from the northwest on State Route 243 (also known as the Banning-Idyllwild Panoramic Highway and Esperanza Firefighters Memorial Highway). From Idyllwild, take Highway 74 (Pines to Palms Highway) through Santa Rosa and San Jacinto Mountains National Monument. You'll exit at the city of Palm Desert.
Travel time to Idyllwild is about 1.5 hours, but you'll want to allow time for stopping at viewpoints.
Pioneertown
Another enjoyable place to visit near Palm Springs is Pioneertown.
Founded in 1946 by a group of Hollywood investors, including big stars like Gene Autry and Roy Rogers, Pioneertown was built to be an Old West movie set, but also a community where people could live and visit.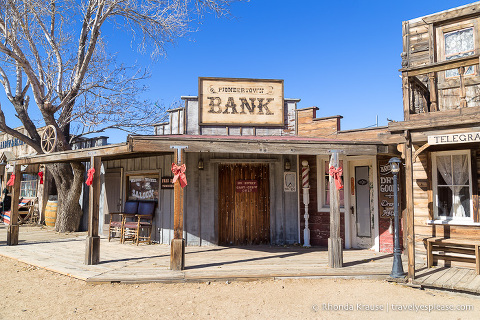 While the 1880s-style false front buildings on "Mane" Street were perfect for filming westerns, the interiors had real, operating businesses that were open to the pubic.
Based on outwardly appearances, Pioneertown looks like it might be a living history museum, but rather it's a community where artists and entrepreneurs have set up shop. You can buy pottery, clothing and other goods, then enjoy a meal and some live music at the town restaurant and saloon. There's even a theatre group that puts on cowboy themed shows.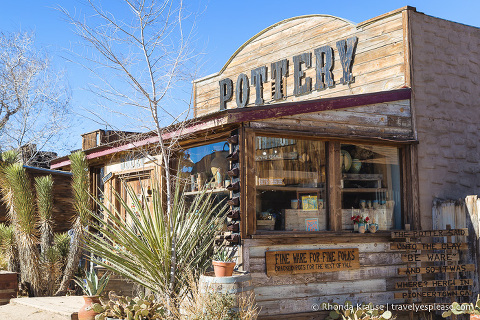 Pioneertown is small and doesn't take long to explore, especially if you're not into shopping, but it can still be appreciated for its frontier town buildings.
Details and Tips:
Pioneertown is a 40 minute drive north of Palm Springs. Once you reach Yucca Valley, go northwest on Pioneertown Road.
Plan to spend an hour, longer if you want to eat at the restaurant.
Coachella Valley Preserve and Pushwalla Palms Trail
The Coachella Valley Preserve is a nature area encompassing several palm groves and oases, a portion of the San Andreas Fault, and the bluffs and mesas of the Indio Hills. A great way to experience these features is by hiking Pushwalla Palms Trail.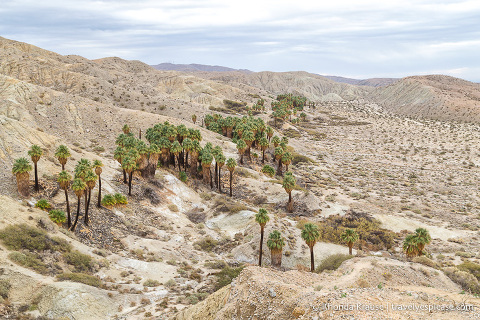 This 7 km (4.4 mi) easy/intermediate hike is a loop that drops down into a canyon, follows a wash past clusters of palm trees, then arrives at the Pushwalla Palms Oasis before heading back up and along the ridgeline.
The trail offers panoramic views of the fault, distant mountains, and the barren beauty of the desert. It's quite the treat to come across the groups of palm trees, as they add some colour and life to the otherwise rocky landscape.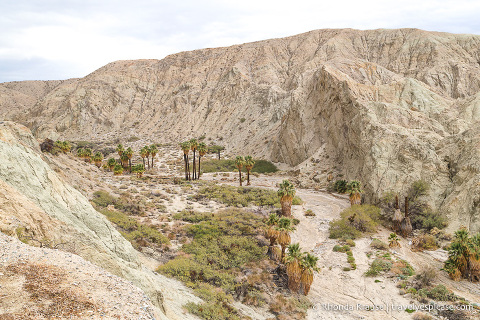 Details and Tips:
The Coachella Valley Preserve is east of Palm Springs, near the community of Thousand Palms. It's a 25 minute drive to the Pushwalla Palms trailhead, which is on Thousand Palms Canyon Road.
There is no shade on the trail until you get to the oasis, so the hike is best done on overcast or cooler days.
Plan for the hike to take 2- 2.5 hours
Final Thoughts About Our Palm Springs Day Trips
Seeing as I'm not into golfing, shopping, or lounging around at a spa or fancy hotel, it was a big relief to find some interesting places to visit near Palm Springs. These day trips from Palm Springs redeemed my vacation, turning what I thought would be a lackluster, uneventful trip, into an active one full of hikes and special sites.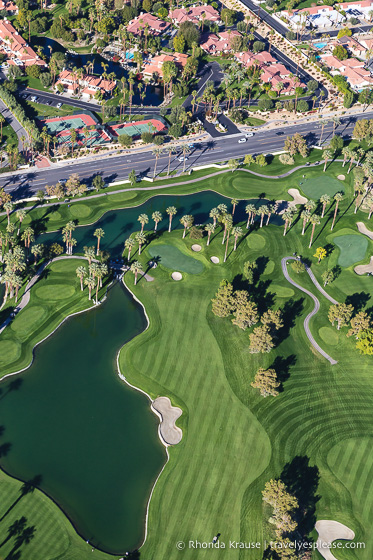 To help you decide which places to visit near Palm Springs, especially if you're only there for a short while, here are my thoughts on each of the day trips we did.
My favourite day trip from Palm Springs was to Joshua Tree National Park because the scenery can't be beat. It's definitely a must-see place near Palm Springs so if you only have time for one day trip, it should be this one. The park was not only a highlight of our time in Palm Springs, but of our entire southwest USA road trip.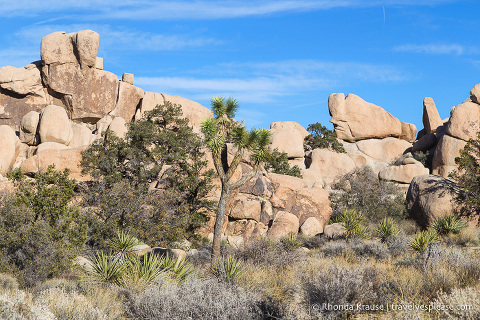 The uniqueness of Borrego Springs and adventurous spirit of Ladder Canyon Trail made them highlights as well, whereas I felt at home in the San Bernardino National Forest. It was surprisingly fun to forage for giant pine cones and nice to see some greenery that wasn't a golf course!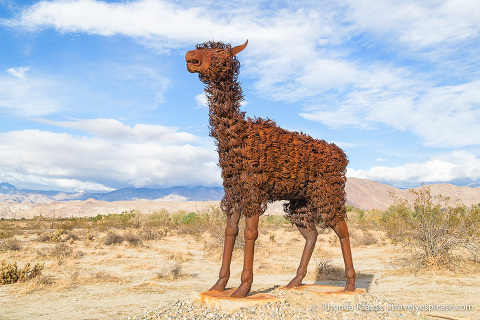 Pioneertown was just okay. I really like western-themed towns and that style of architecture, but it's pretty small and doesn't take long to explore. I would have liked it better if it was a history museum instead of stores (but that's just my dislike of shopping coming out again!)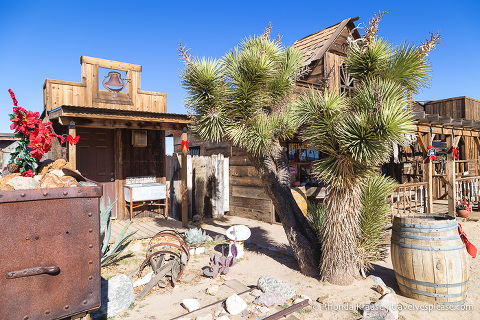 Pushwalla Palms was good for a shorter hike, but I liked the scenery at Painted Canyon and Joshua Tree National Park better, so would give the hikes there priority if I only had time for a few side trips from Palm Springs.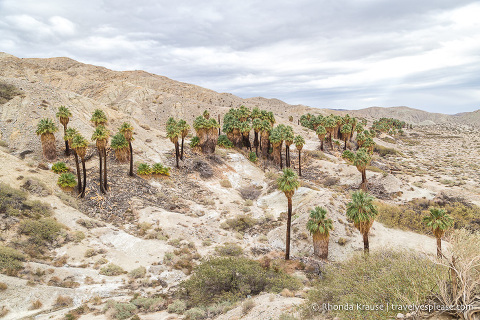 Tips for Visiting Palm Springs
Location: Palm Springs is located in southern California within the Coachella Valley.
Getting There: Palm Springs has an international airport so can easily be accessed by plane from many destinations. By car, Los Angeles is about a 2 hour drive away and San Diego is approximately 2 hr 20 min.
Best Time to Visit: The best time to visit Palm Springs is from late fall to early spring (November to April) when the weather is most comfortable. During this time temperatures are warm but not too hot for outdoor activities.
Winter is peak tourism season, so expect higher prices and more people at attractions.
Information was correct at the time of publishing, but can change without notice. Please confirm directly with service providers.
Accommodations in Palm Springs
For your convenience, here is a list of accommodations in Palm Springs. Please consider booking your Palm Springs accommodations through the included links. It costs nothing extra and helps support this website. Thank you!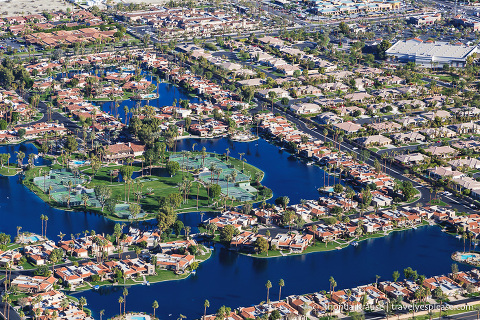 More California Destinations and Travel Guides